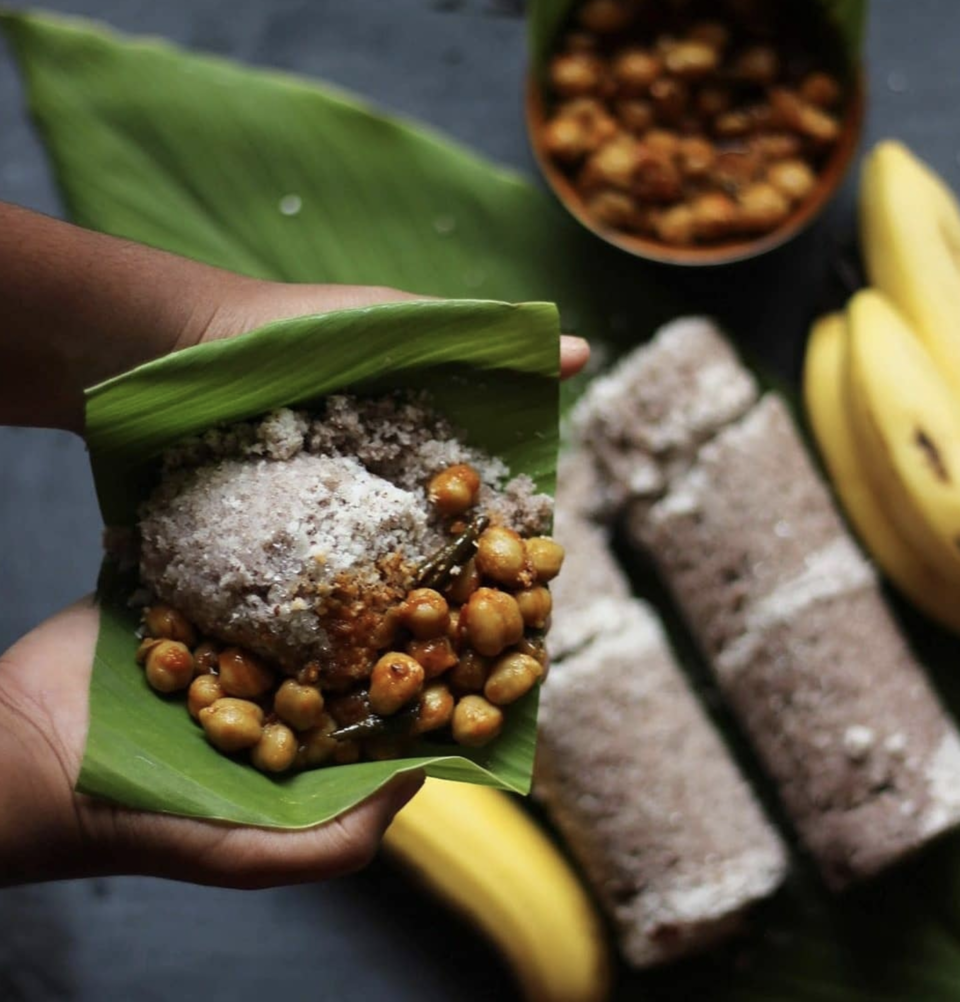 Why do you travel besides being mind blown by the gorgeous locales of tourist destinations?
It's the experiences and definitely the plethora of cuisines!
And when visiting God's Own Country, Kerala, you must indulge in their gastronomical delights. Kerala is famous for its cuisine that you probably know about. The coastal state comes with endless seafood dishes that you simply cannot miss. From the classic beef parotta to meen curry (fish curry), some of the classic dishes of Kerala are must-haves. I have actually listed out a handful of food to eat in Kerala that would surely leave you smiling following a fancy feast! Check them out below.
Most popular dishes from Kerala cuisine
1. Idiyappam with curry
Easily one of the most famous dishes in Kerala, Idiyappam with any kind of curry is pure divine! Also known as noolappam, the delicacy is made out of rice, flour and a few other ingredients. It is basically a variant to some of the many rice-based dishes which form the perfect symphony for curries and sambars.
One of the best curries that idiyappam blends with is the classic egg curry. You would surely enjoy this blend of flavours and dishes.
2. Erissery
Every kitchen is well-endowed with erissery, a famous dish of Kerala that is loved by travellers and locals! The curry is made out of plantains or sliced yams, depending on the choice made by the cook. Erissery actually holds religious significance and is quite popular during Onam and other such festivals. It is also a great indulgence of flavours from God's Own Country that you might enjoy.
3. Puttu and kadala curry
When in Kerala, it is imperative that you choose to diversify your breakfast choices. As a South Indian state, there are plenty of versions of dosas and idlis that you will find here. One of the versions of flavourful idli is a puttu. The cylindrical steamed rice cake comes with flavours of coconut that only make for a delicious breakfast meal. Add the lip-smacking taste of kadala curry, a Kerala version of kala chana, and you are in for a flavoursome journey!
4. Appam with ishtu
Well, it would be a waste of a trip to Kerala if you haven't tried out the traditional appam with ishtu. The popular dish in Kerala is often teamed with all sorts of curries, stews and even eaten plain. Appam is basically a thin pancake or what you would call a South Indian version of pancakes with crispy edges. Appams can be enjoyed with any sort of curry, be it vegetarian or non-vegetarian. However, the one dish that best compliments appam is ishtu, a traditional Kerala stew originally derived from Europe.
If you are planning a trip to Kerala, then you'd to glad to know that it's ranked as the best destination in India for travellers.
5. Erachi varutharacha curry with Malabar Parota
One of the most traditional and famous dishes in Kerala, Erachi varutharacha curry is a must-have if you are a non-vegetarian. Originating from the Syrian Christian community, the dish is every bit loaded with flavours that amp up the meat's taste. You surely have never had mutton prepared in this manner, and we suggest you do try it out. The best way to eat the mutton curry is to have it with the famous Malabar parotta.
Yes, that very Malabar parotta which is a major specialty of Kerala. Visiting Kerala and not trying out Malabar parotta would be a crime. And a bigger crime would be not to try it with some of the popular curries of Kerala cuisine!
6. Parippu curry
Better understood as Dal Curry, Parippu curry is basically a Kerala-style dal curry that is made from small gram and ghee. There is a good balance of spices and chillies in the curry to bring out mouth-watering scents and complement the rice it is usually served with. For all the vegetarians out there who would not be able to delve into the delicious array of non-vegetarian delicacies of Kerala cuisine, this dish is practically perfect for you.
7. Pazhampori (Banana fritters)
Right from their homes to the food stalls on the street, the banana fritters are an old-time favourite snack with the Keralaites and understandably so – they're crispy, yummy and you can't just eat one! Ripe bananas are dipped in flour and fried and that's all it takes to make this snack. In most of the cities, hill stations and towns of Kerala, this snack is one that you'll find everywhere.
8. Dosa ghee roast with Kerala-style sambar
Delicious ghee-soaked dosas dipped in Kerala-style sambar would be an explosion of flavours in your mouth! The food combination is a very famous dish in Kerala.
Well, have a bite at it, and you would know too why it is such a sought-after breakfast dish in Kerala. The dish can be found in every Kerala restaurant as it is a staple South Indian dish. You can find dosa anywhere in South India or other parts of the country too!
9. Nadan kozhi varathathu
A simple yet delicious method of cooking chicken to perfection, Nadan kozhi varathathu is eclectic and certainly would go down well with your taste sensibilities.
The spicy chicken fry is loaded with flavours of spices and is often served with onion, garlic, vinegar and spices on a banana leaf. That is the best way to enjoy this Kerala dish. Perhaps team it with some delicious appams or even rice. After indulging in Nadan kozhi varathathu, you might as well kiss goodbye to KFC!
10. Kumbilappam (steamed jackfruit dumplings)
Did you know that you could make dumplings with Jackfruit? That is what Kumbilappam is for you and it has been one of the most popular dishes of Kerala which has made its way onto street food as well. While many households usually make it during the time of Onam, you can find it through-out the year on the many street stalls here.
The dumplings are wrapped in the leaves of elamangalam – an aromatic plant with cinnamon like aroma. This is surely one authentic Kerala dish that you shouldn't miss out on while you're here.
11. Kerala-style fish molee
Splurge on athleisure if you must, but it should give you the drive you seek to stay true to your routine. Often, people choose to purchase gym and workout outfits to motivate themselves to indulge in workouts. Use this opportunity to indulge in some athleisure shopping and get yourself some envious outfits that would amplify your desire to workout at home.
12. Karimeen pollichathu
What water is to fish, fish is to Kerala cuisine. The way fish is prepared in Kerala is quite eccentric and one of a kind. Fish is basically a staple, and Karimeen Pollichathu, it's a standout dish. This Kerala dish is pretty famous in Alleppey, so if you plan to add the lovely backwaters haven to your travel bucket list, do try out the delicious fish they prepare.
The preparation is quite unique and exotic as the rich flavours of Kerala spices reflect as you down the first morsel of Karimeen pollichathu.
13. Thattu dosa
A small steamed dosa – which happens to be Kerala's own creation is one of the most popular street foods here. In fact, the very name of the dosa means that it is found on the small street stalls. This one's a healthy version of dosa being steamed and is usually had with coconut chutney or sometimes even one of the many curries of the land.
14. Fish fingers
The many fish-based foods found in Kerala are quite popular and rule the streets too. Apart from all the curries made of fish and the fried fish, fish fingers are quite a hit with the locals these days in their stalls and food trucks. It is used as a snack most of the time and is made with fish, flour and flavours added to that. While fish fingers don't solely belong to Kerala, there's a special unique flavor to the ones we find here.
15. Sundal
Sundal is yet another popular snack that we find on the streets of not just Kerala but other states in South India such as Tamil Nadu and Karnataka as well. Chickpeas stir fried with coconut and some other spices and wrapped in leaves or papers is what Sundal from the streets is for you. And while it tastes great, it makes for a highly proteinaceous snack too.
My list of exquisite Kerala dishes would actually give you a good gastronomy tour of the state. Be it fish, mutton or local vegetables, there's plenty of Kerala dishes available to keep you wanting for more!