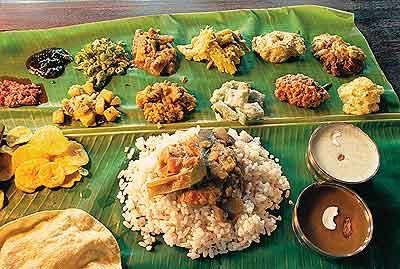 Kerala, the Gods own country, nature bound state, enjoys unique geographical features. The cuisine of Kerala is simple, zesty, flavourful and spices.
Staple food -Rice being their staple food, Red Rice is commonly eaten all through Kerala. 
Cooking method - Every dish is cooked in coconut oil. Coconut is grated, grounded and used in many dishes.
Kerala has many mouth watering vegetarian and non vegetarian dishes. One bite of them or one spoon will make you say, "yummy". Here is a list, travellers should taste in Kerala.
-Mologoshyam- It is a dish made out of pumpkin or white gourd. Boiled Tuvar dhal is added. This dish is boiled on low flame and garnished with green chillies and curry leaves. 
-Erachi Varuthavacha curry -It is called the King of Kerala curries. The spices are grounded and added to mutton, fried onions and tomatoes. It is garnished with curry leaves.
-Kappa- It is a dish made out of Tapioca. They are boiled and mashed. Fish curry is prepared and paired with kappa. They are finally garnished with mustard seeds and curry leaves.
-Kerala pomfret fry - They are marinated and added to spice powder, masala paste. They they are deep shallowed and fried in low flame.
-Avial - It is a dish where lot of vegetables are boiled and mixed with grated coconut, jeera and green chillies. They are cooked on coconut oil and garnished with curry leaves.
-Puttu and kadala- The chickpeas(kadala/chenna) are soaked overnight, pressure cooked and made as a gravy with masala. Pounded rice layered with coconut are steamed in a cylindrical contraption. The most popular, famous and filling dish.
-Appam with stew - With Rice and urad dhal, appam batter is prepared. Stew is made out of vegetables or chicken. The most famous and mouth watering dish of Kerala. 
Malabar Biryani - It is very tasty and gives an authentic aroma which makes our mouth very watering. They are prepared with vegetables or meat, spices and masala are added and finally they garnished with mustard seeds, curry leaves, cashew nuts and raisins. 
Thalassery biryani - It has a unique fragrance, as it is made out of a rice variety called Kaima. The masala is prepared and layered with rice. 
I have tasted the above dishes, which not only filled my stomach, but made it grumbling many a times and gave my soul lot of peace.