"May I have your attention please, Ranikhet Express, traveling from Jaisalmer via Delhi to Kathgodam is scheduled to arrive at 10 hours 5 minutes, is delayed by an hour on platform number 7, The inconvenience caused is deeply regretted".
Mike on the old Delhi Junction railway station announced.
As the train approached us, I looked at my wife and smiled, she crossed her fingers, asking for luck, We had booked first tier AC and passengers get seat numbers only after the chart is prepared manually. We definitely wanted a couple cabin and thank god we got it.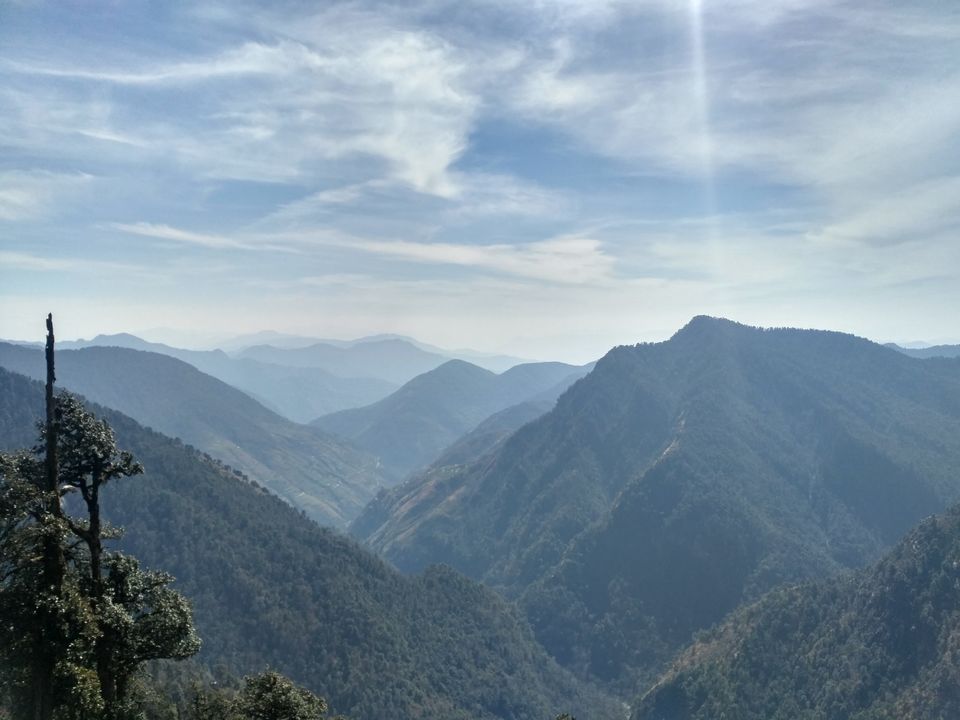 7 hours journey was pleasant as the berths were comfortable and spacious. We reached Kathgodam around 5.30AM and our driver was waiting to pick us. We enjoyed the quick breakfast at "Nanak Restaurant" watching the boats sailing across the Nainital and sipping one of the best tea of my life. After taking a boat ride ourselves we continued our journey towards Munsiyari.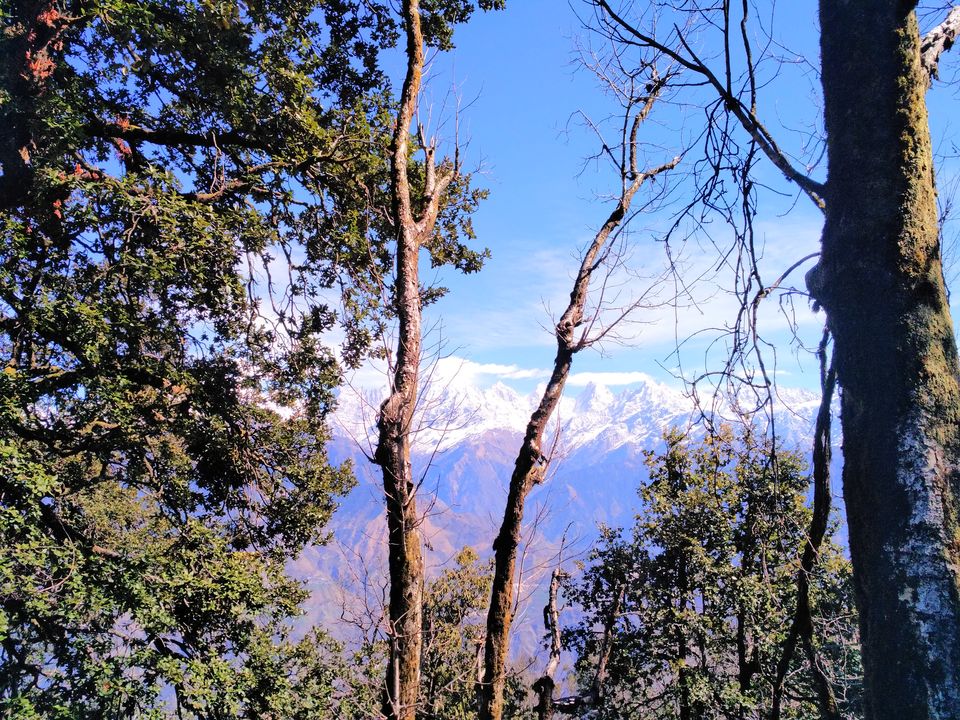 It was a very long drive but our driver Jagadish and the amazing songs of Gajender Rana made it bearable. Being a bird guide himself he stopped whenever he saw a bird and gave us some insight. Thanks to the changing pattern of western disturbances, Rhododendron flowers bloomed early and made our journey through the Himalayas captivating.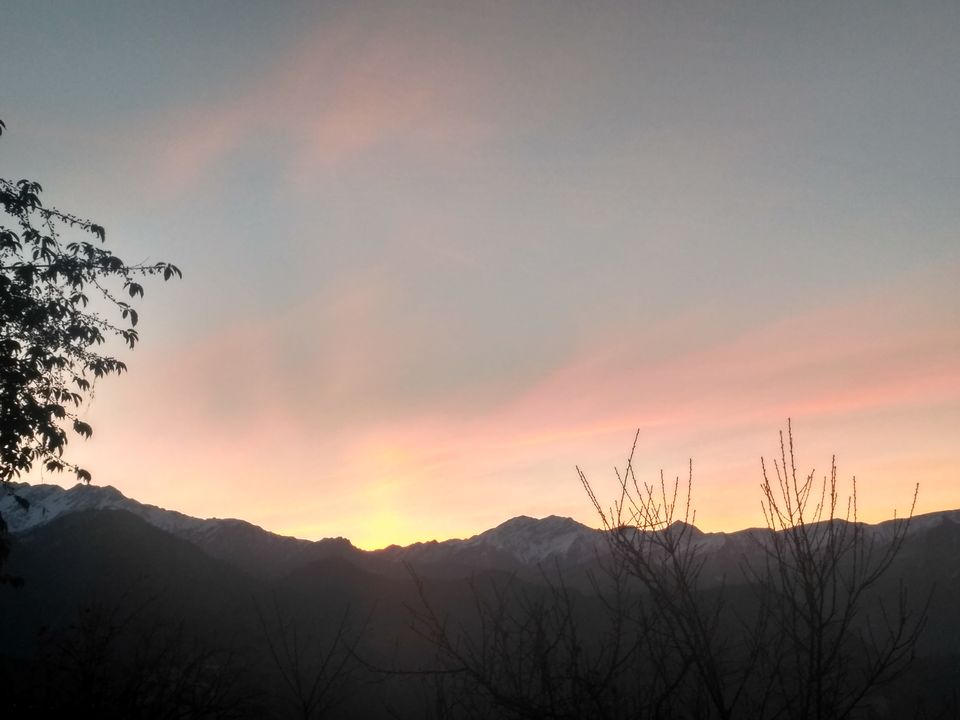 It was already night when we reached little hamlet of Munsiyari. Our host Kamala Ji welcomed us with yummy juice made out of Rhododendrons and escorted us to our room. Made out of mud, the room was very beautiful and spacious enough for a couple. She also offered us some warm blankets along with hot water and bid us adieu. On a cold and rainy day, I just wanted to cuddle up under a blanket and get some sleep.
I yawned, woken up from the tapping of a chirping sound of birds against my ears, opened my eyes to see slightly broken clay pot painted with Tibetan strength symbols, Shining from the rays of golden sunlight coming through the woods. Wondered how long I'd been sleeping.
I blinked, managed to get out of the thick warm yak wool blanket and fully open my eyes.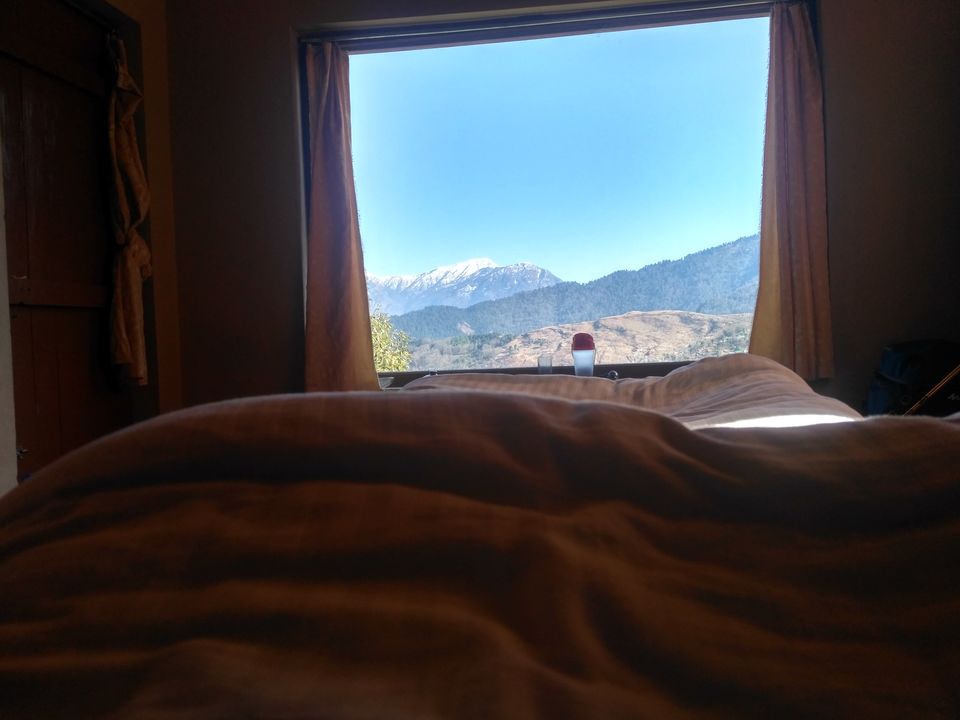 Huge window in my room opened up to the fascinating views of the Himalayan village Sarmoli. A site so magnificent, worlds could hardly make justice describing it. Clouds faded away to make way for a clear view. It was as if I was sitting in front of the old fashioned cinema hall where giant curtains being pulled away to show the first scene of the movie. The Village was surrounded by many lush green hills that connected the village to snow clad grater Himalayan mountains.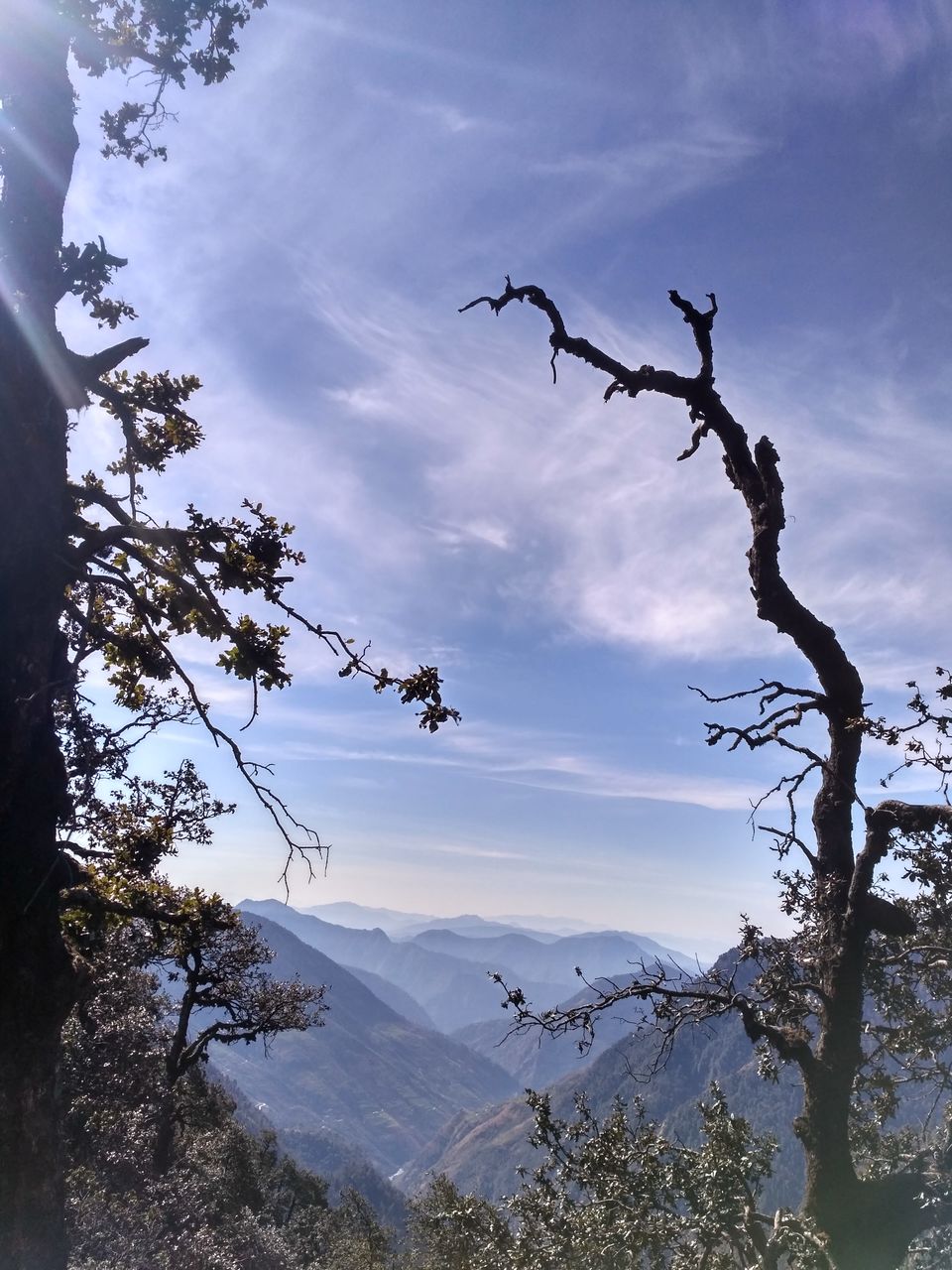 We had our homemade breakfast and started our journey to "ThamriKund". A local guide accompanied us describing the countless number of different species of birds sharing the cloudy sky. The short 3KM trek was very much rewarding, we spent time playing with the snow all along the way. Even though snow was already melting near the Lake it was quite a site. Lying on the banks of Tamrikhund, We spent time gazing at the sky.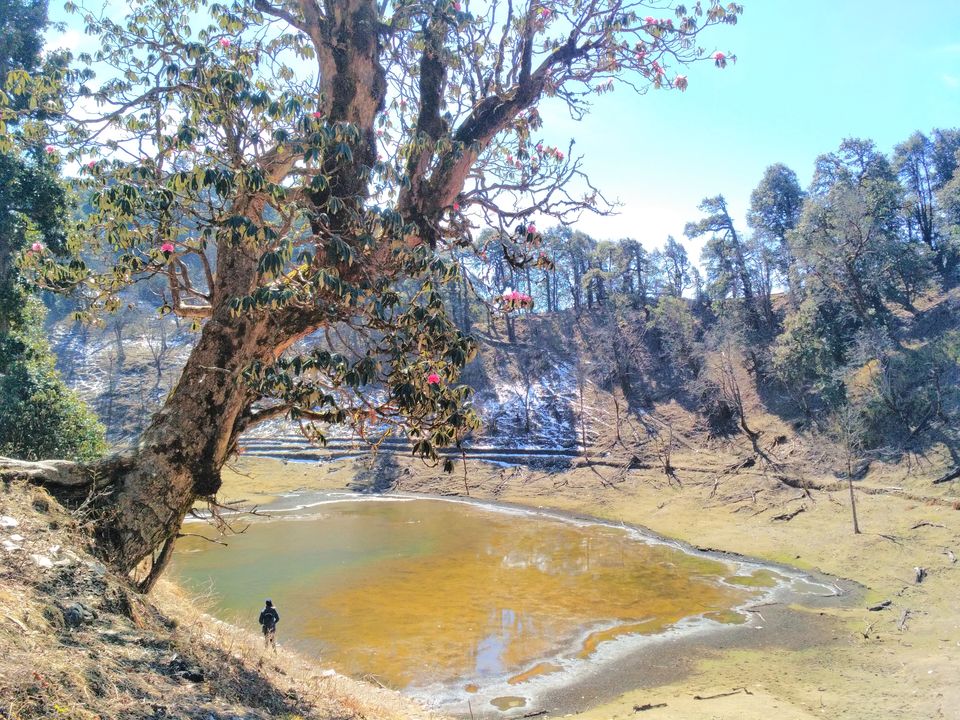 The next Morning we covered beautiful Mesarkund and other local attractions. We spent our evening watching kids play on the yellow fields of mustard. As the sun started to set The famous Panchchuli Peaks turned crimson, and the air was filled with the joy of the holy. The village was preparing itself for the local festival. I could hear people singing songs and playing harmonium from all corners of the village. Kamalaji asked us to join the celebration. Spending time with lovely people of Munsiyari made us feel right at home.
Even though we had to return only after a few days of stay "It was the best time of our lives".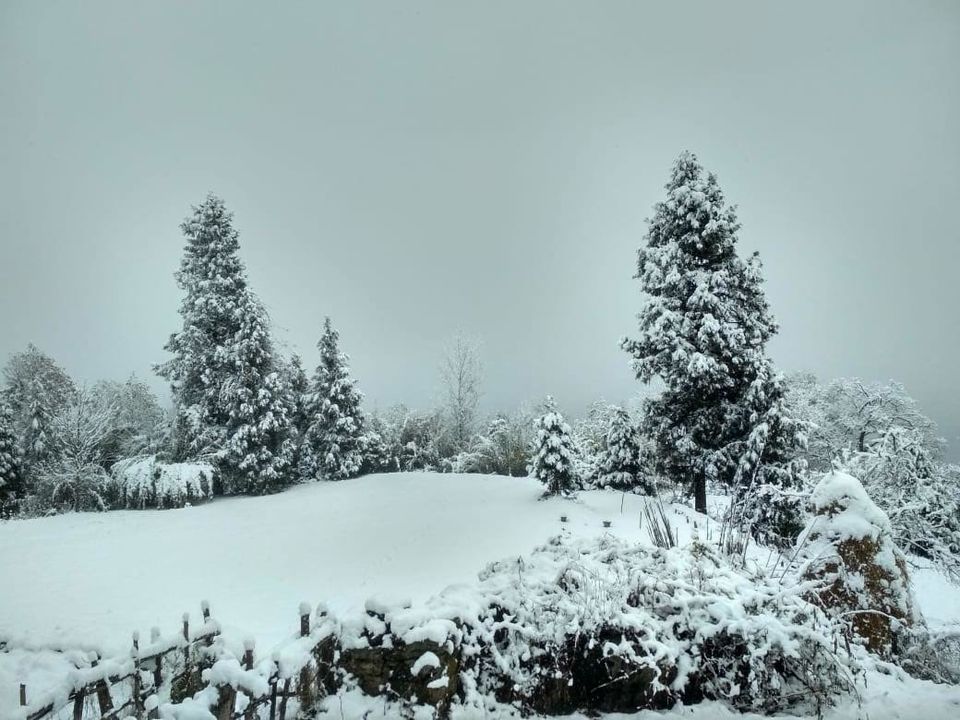 *******************************
Our trip had also included some of the best homestays/properties in the Kumaon. please reach me at - suhasaithal53@gmail.com to know more.