Tawang had been on our radar since a long time. The beautiful land of the Monpas, with its heady cocktail of history, religion and legends had been alluring us since some time. Despite a lot of friendly admonition on the perils of mountainous terrain and virtually non-existent roads, my friend and I held our ground strongly. Our Arunachal odyssey finally boiled down to the Tezpur-Bhalukpong-Bomdila-Tawang circuit, covering a distance of 350km starting from Tezpur to the Tawang valley at an altitude of 10,000 ft.

On a bright sun drenched August morning I flew into the Ahom capital where I met my journalist friend. Throughout the rest of the day I ambled around as a passive onlooker while my friend used her 'connections' to procure the Inner Line Permit (ILP), reserve accommodation at the circuit houses and called up acquaintances in the Indian Army for a final inspection of ground realities in Arunachal Pradesh. We retired early for the day as we were to start at the crack of dawn the next morning.
Sleep had deluded us that night. Before there was any sign of life on the eastern horizon, we were speeding out of Guwahati towards Tezpur, one of the three entry points from Assam to neighbouring Arunachal, the other two being Jorhat and Tinsukia. We crossed the mighty Brahmaputra and witnessed a fascinating sunrise across the sluggish river, pregnant with the rapture of monsoon. From Tezpur we were to cross into Arunachal through Bhalukpong, ascending the mountainous terrain thereafter and halting at Dirang before proceeding to faraway Tawang on the Indo-China border.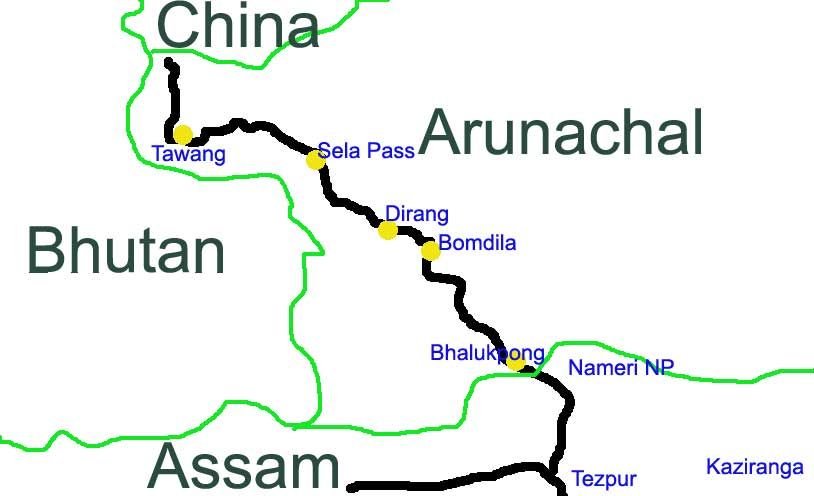 Driving to Arunachal Pradesh requires one to be on the roads for intimidatingly long hours. And no degree of forewarning, foreboding or foretelling is sufficient to prepare the discerning traveler for the road conditions. However, the striking beauty of the landscape serves as balm for aching limbs and cramped necks, translating the arduous journey into a surreal experience.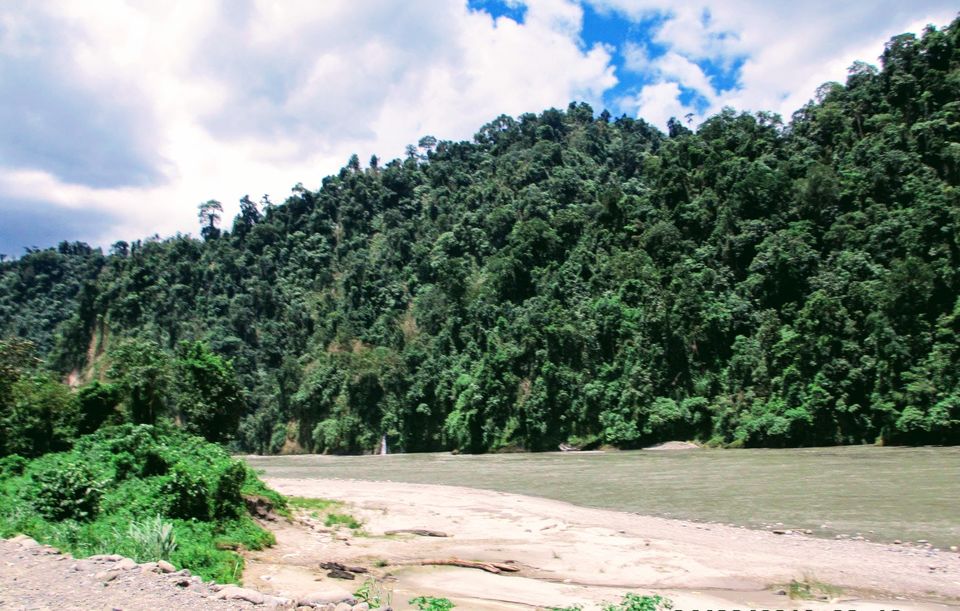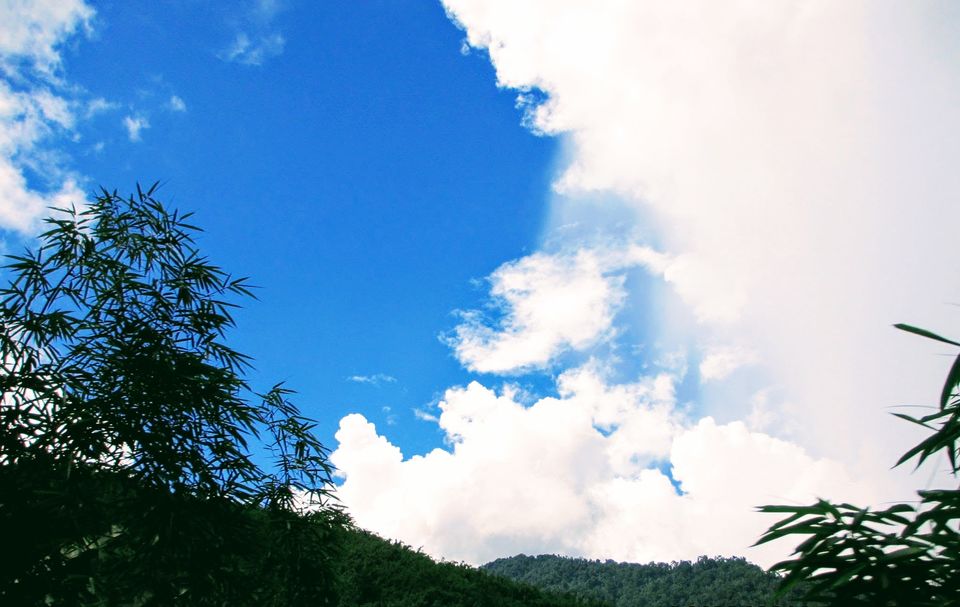 So, after driving for two hours on dry and dusty roads, past Balipara and the Nameri National Park, the blue green hills of Arunachal, till now looming in the distance, started coming into view. Quite naturally, colors changed along with the landscape – bright yellow mustard fields merged with brilliant orchids and eventually morphed into dense forests as we crossed Assam-Arunachal border at Bhalukpong.
A small town located along the southern reaches of the Himalayas, Bhalukpong was the location for the inner line check post. Border security was rigorous and we had to show our papers several times over. The journey resumed after the clearances; the Kameng chu (river) was our constant companion, resembling a silver ribbon meandering across a sea of green.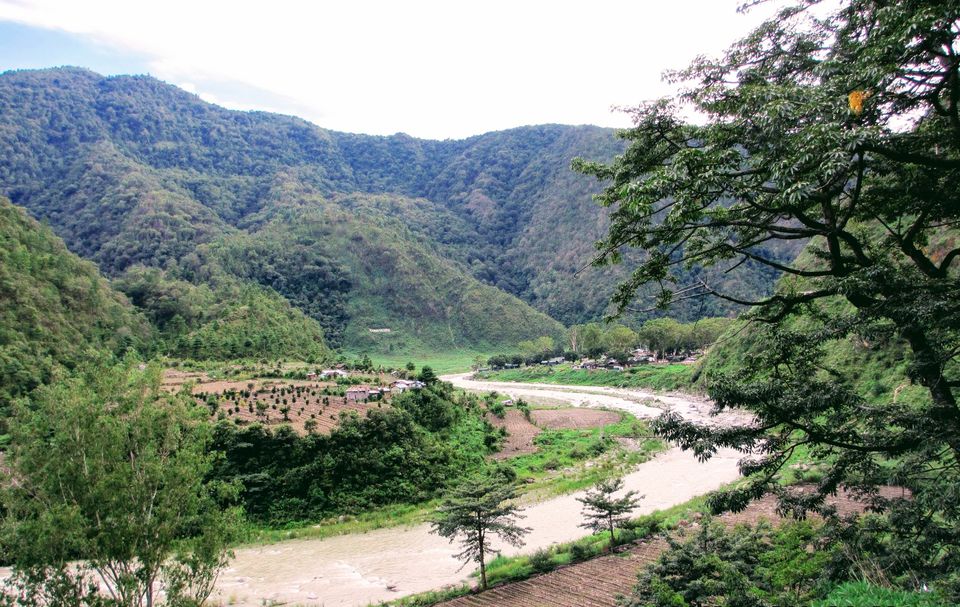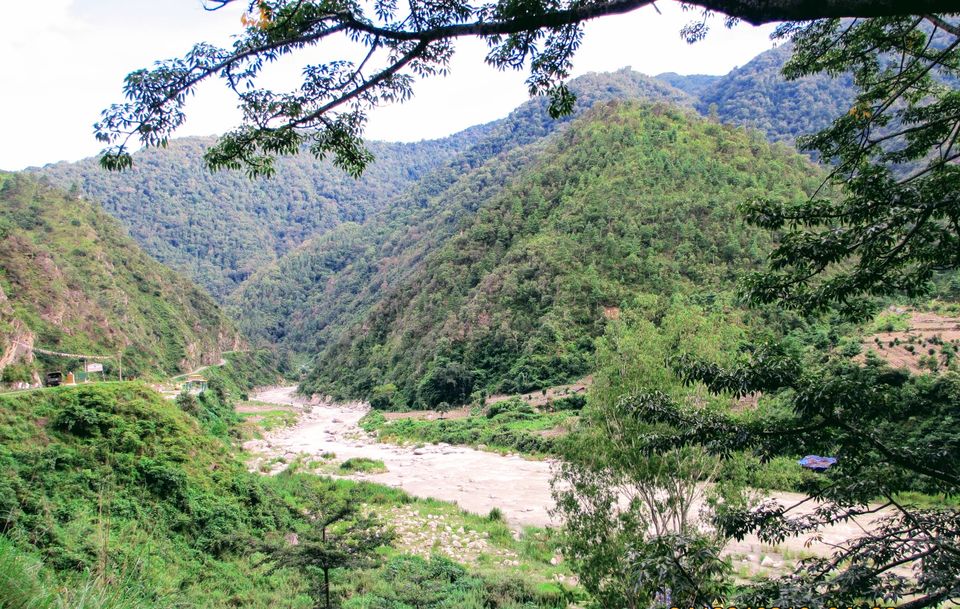 We were supposed to reach Dirang in 6-7 hours but soon enough we realized that schedules meant nothing here and they were meant to be broken. For ever so often one is compelled to stop, gape, muse and marvel at the stunning spectacle that greets the eyes - be it a roaring waterfall, a suspension bridge swaying languidly over a gushing stream or a rustic little hamlet. Our driver Sange, a strapping young lad, had his eyes riveted on the road ahead. Long stretches of dirt tracks, rocks and pebbles strewn across the tracks and plunging gorges camouflaged by bushes had us clinging on to the side doors for the better part of the journey.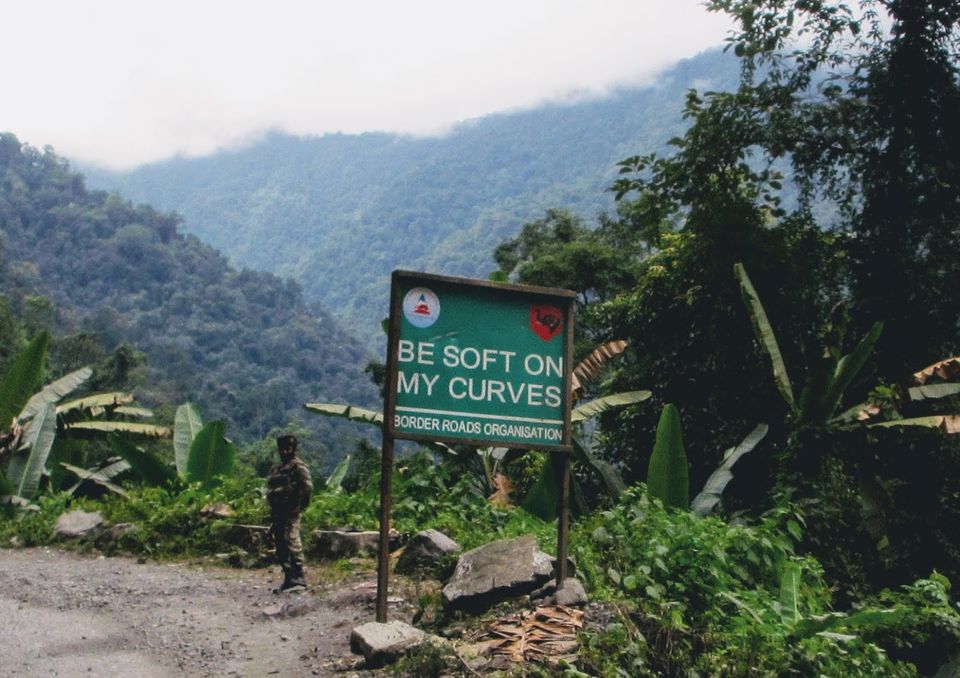 By late afternoon, as our stomachs grumbled in unison, we came across a tiny hamlet. Small plumes of smoke were rising from the fires; little boys in dirty trousers swarmed around the shacks like urchins escaped from a Dickens novel. Lunch arrived in the form of two steaming bowls of maggie noodles, which seemed like manna from heaven! The journey resumed and the mountains and rivers kept us company. After fourteen long hours of being on the road, we finally reached Dirang, a hill station cozily tucked away in a valley of orchards.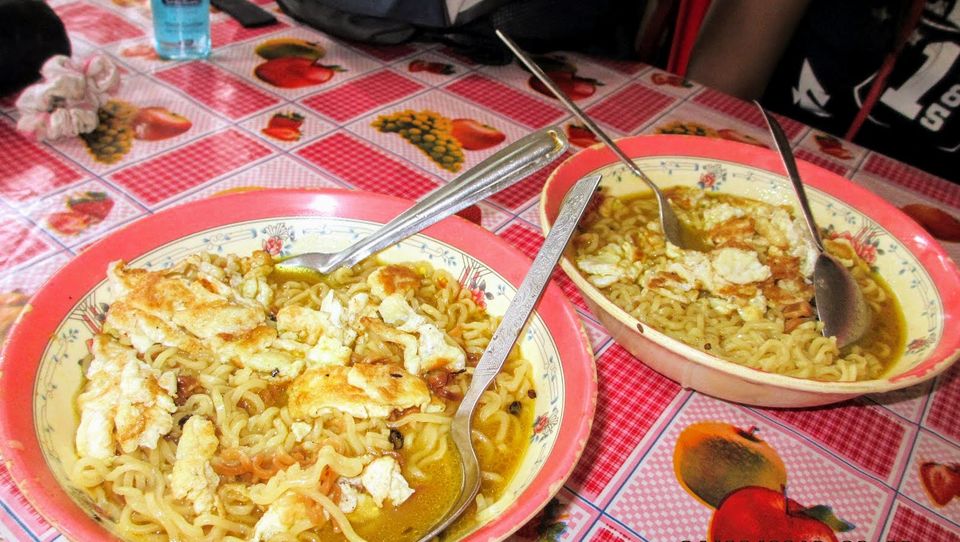 Here we were booked at a home-stay at Thembang village, at none other than the village headman's hut. We were not only provided with a cozy room with clean warm blankets, but also refreshing cups of hot tea and later steaming rice with dal and omelettes, freshly cooked by the women of his household. As we crashed on to our beds that night, we were two contented souls; we were among simple yet honourable tribesmen, our bellies were full and we had a roof above our heads - we couldn't have asked for anything more.