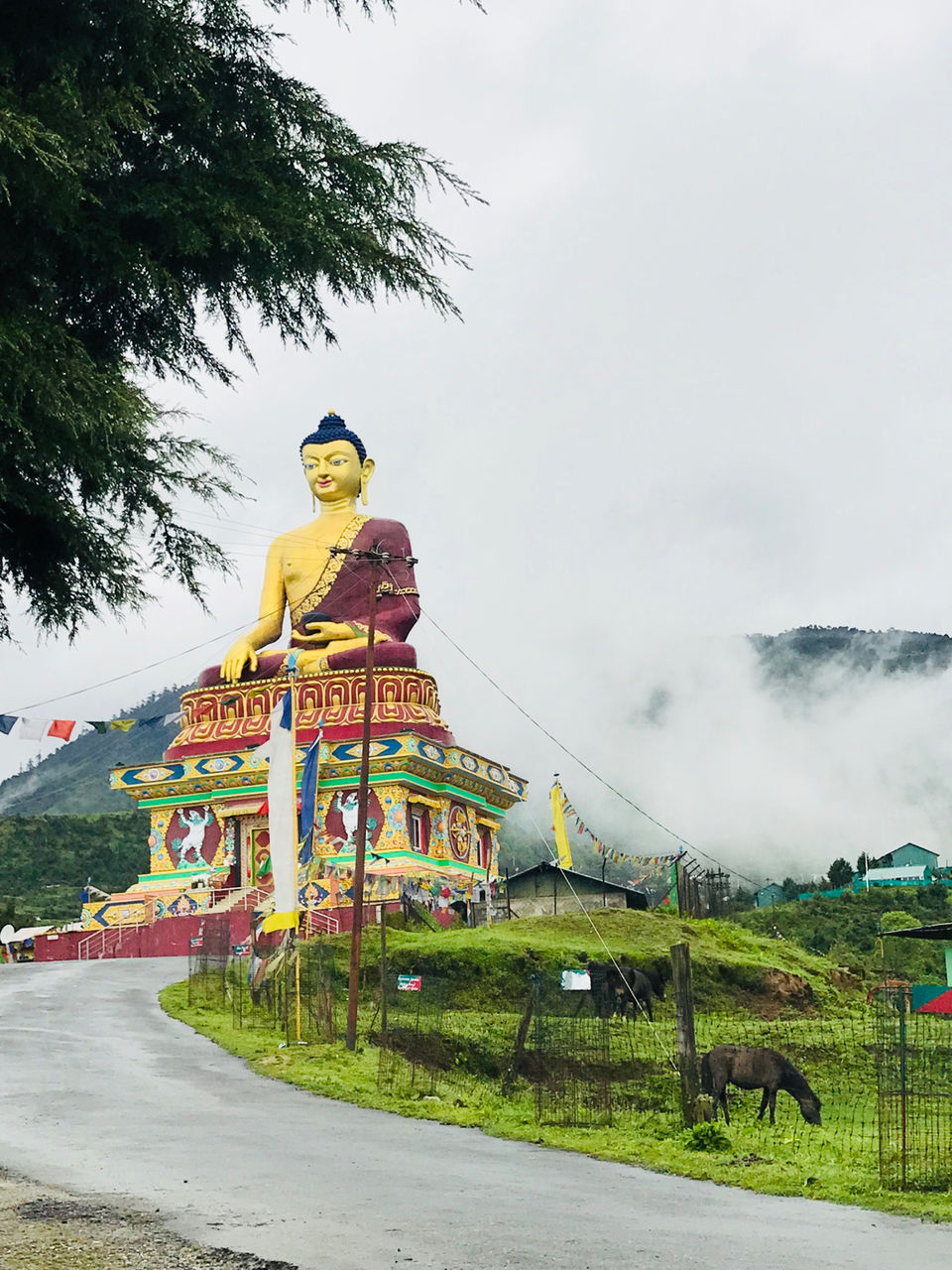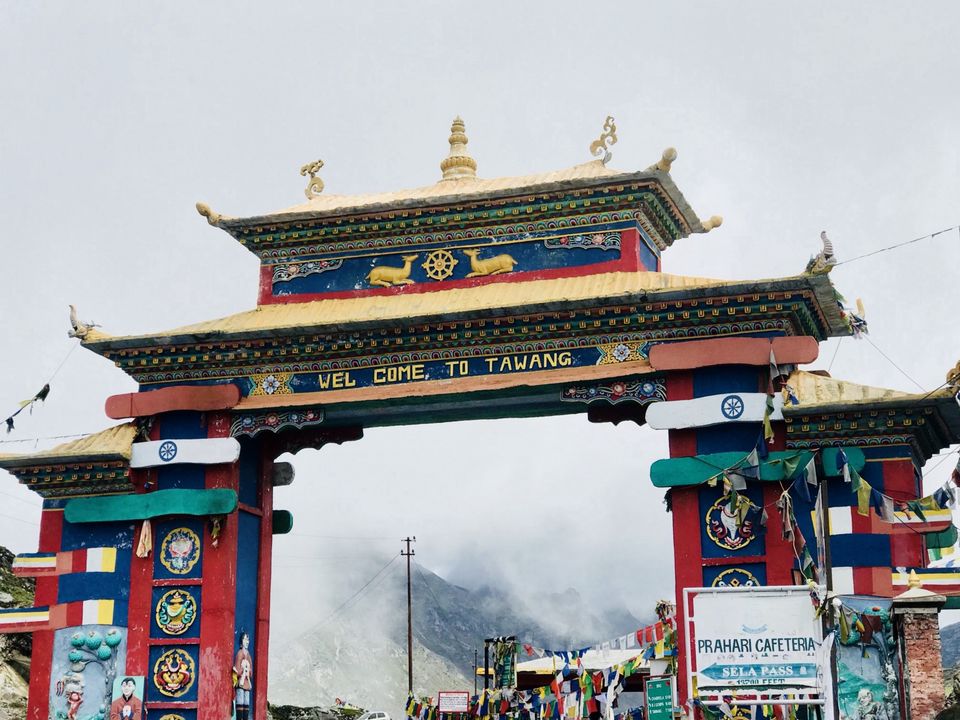 Travelling to Tawang was always like a dream for me. Because I always wanted to see what is beyond the other side; like what was there in the other world; in the far away fairyland because it was indeed a fairyland for me. When one sees the Map of India they will find that Arunachal Pradesh seemed too far that it looked like it lies in another country. And yes! Travelling there justified the above presumption (not because how I was made felt there?) nope, it was because the journey was the longest & one of its own kind of all my trips that I have been to in India.
When one searches on the internet there is very little information about travelling to Tawang during monsoons because people in general tend to avoid mountains during rainy season. Most of them was filled with that the best season is between October to November or between February to mid-may, but none I could find is what it looked like when you travel there in June?Okay! Like it has always been, me and my friend decided to visit Tawang in mid of June, because our next extended weekend was in June( it was eid that time) and we had already searched about Tawang so much that it had to be Tawang.
We book our respective flight tickets, while I was flying from Delhi to Guwahati my friend was coming from Bangalore. To save time, we had booked another flight from Guwahati to Tezpur. As Tawang is situated at a high altitude of around 13k ft above sea level, it has no accessibility from train and the only option left was to reach there by road. From road too, one usually travels from Guwahati to Tawang or from Tezpur to Tawang (if one books a flight).Distance from Guwahti to Tawang is 450 kms and from Tezpur to Tawang is 325kms. In this way, we thought that we were quite smart to have booked a flight to Tezpur though it cost us some extra bucks but we could cut down on the travel time! Similarly, we had booked all the hotels as per our itinerary of 5 days as we thought that everything will go as per our itinerary which we prepared by ourselves researching from the internet! We googled about the tours and travel operators as we were just two girls who were traveling there, so we ought to be safe and cannot just choose to travel through any cab driver. Arunachal tourism website has a list of tour and travel operators as well as list of hotels where to stay but to tell you as the place is so small and isolated that most of the hotel websites did not carry much information and most of the people on the internet were staying almost in the same hotel which were exorbitantly costly!
Confused about what to book and what not, as our basic requirement was just good bed ,hot water, and safety we booked our hotels based on our gut feeling.We did also applied and had our inner line permit done which is a must for people who are travelling to Arunachal Pradesh. Inner lime permit can be easily taken from the internet.
It was three weeks before the scheduled departure date that I receive a message about the cancellation of Air India flight to Tezpur from Guwahati and vice-versa.They declined to give any reason for that and told us that it was because of some unforeseen circumstances. We were given the option to fly from an alternative flight either before our scheduled arrival day or post arrival day. Thinking of what to do next,we changed our plan and now we were travelling from Guwahati to Tawang.
Tawang cannot be reached in a single day as the route is arduous and the journey is tiring so people take a break either at Bomdilla (situated at a distance of 338kms) or at Dirang ( at a distance of 380kms ) from guwahati. We had already pre-booked our hotel at Dirang. Below is our day wise detailing of the most adventurous trip:
We started early in the morning at 6am from Guwahati as our driver was more tensed than us to reach to Dirang ( not to mention the continuous ranting of why we chose to come in this off season).The route from Guwahati to Tezpur to Bhalukpong is so damn beautiful that none of us talked much in between with everyone seemed to be lost in the luscious greenery around them (this is what I assumed).We reached Bhalukpong around 12pm (our driver's target met).It is at Bhalukpong that you need to show your inner line permit to get entry to Arunachal. It was raining cats and dogs that day still we traveled because we were already so eager to cover as much as we can.We would have covered like only 5kms after entering Bhalukpong when we saw a long queue of vehicles plying in front of us.We got to know that it was due to the continuous landslide that occurred due to the road cutting that movement on that road was stopped for a while.During the time of landslides,people there as well as the army people don't take any risk and stop the movement of vehicles completely.We thought that the road might get cleared in a while and hence we decided to take a break there with all passerby's. To our surprise the landslide did not stopped even while three hours had passed.It was like some devil was dancing on top of that hill and was throwing rocks like some Rohit Shetty movie. And then came the most unexpected news that the entire road had been blocked,with no news that when it will get cleared.So day 1 plan was definitely not going as per our itinerary and one can only imagine that what was going inside our heads that time.With this wonderful piece of information , we decided to break at Bhalukpong unexpectedly and thought to continue with the journey next morning with hope and confidence that the road will get clear for sure.
It was 5am when I woke up with the sound of the alarm,and all I could hear was rain and rain.We saw each other's face but we encouraged to ourselves that we will make it today! We got ready and were on vacant road in an hour with no sign of any vehicle moving in any direction! Our driver gave us another piece of sad news that the road had not opened till now as the BRO guys decided that it's better to clean it when there was no rain and landslide and why to waste energy unnecessarily. Wondering what to do now, we reached to the police barrier just to cross check whether the driver was actually right or just making up? But, to our disappointment the news was correct and we had no clue what were we going to do next; even we thought that we will never be able to made it to Tawang and even cursed ourselves that why we chose to come now! We were sitting and having our first bad cup of tea for the day when the driver came and told us that there is one alternative route via Tezpur but for that one needs to travel 150kms backwards and also the scary part that route is new, had dense forest ,was via bhutan border, was less traveled, and he had traveled just once in his life on that route. And also that route will take extra 6 hrs to reach to Tawang! It cannot have got anything more bad than that at that moment! The two wonderful ladies then decided that they will go and check by themselves that what is the condition of that route via Bhalukpong and then they will settle on the alternative route.To our bad luck ,the road was yet not opened and there was no concrete piece of information that when or whether It will get opened or not? It was 8 am that time and we had never felt the clock ticked so fast in our entire lives as we were really tensed that what if we could not cover even the half of the distance as the alternative route was also prone to landslide. As we all (including our driver) was freaking we talked with other cab drivers and decided to travel in group so that in case of any emergency we could help each other. It took us around 1.5hrs to reach to Tezpur,with me wishing all the time that God! Please clear the road even now and I could still travel via the shortest route possible to Tawang but god almighty like always was testing my patience level. After reaching Tezpur, me and my friend who were still trying to figure out where the alternative route was on google maps became more horrified when we could not locate it. Yes! According to google maps the route by which we were about to travel did not existed! We were scared to hell and told this to the driver to which he assured that as we moved further the navigation will get alright and yes for sure there was a route and we should trust him. We were left with no other option and considering the fact that there were other vehicles moving with us, we started on the gorgeous road that was breathtakingly beautiful with one side hills,other side green valleys,rivers,and mystical clouds.I can never forget that route in my entire life,when I was also the one who sat next to the driver and had to stay alert all the time in case the guy passes out.It was 6pm when we reached Dirang. I could not have been more happy at that time when I saw the milestone read:" Tawang only 140kms away!!".A big relief came to us that yes, we had covered the unimaginable and now the destination was not far away! We stayed at Hotel Pemaling, with the guys being so sweet that they allowed us to stay there though we were late by a day.The lesson we learnt that day-Never book early in an unexpected place in an unexpected season.Though note down everything which comes handy when you reach there. The amazing view from our room took all our pain away and now we were all set for next day.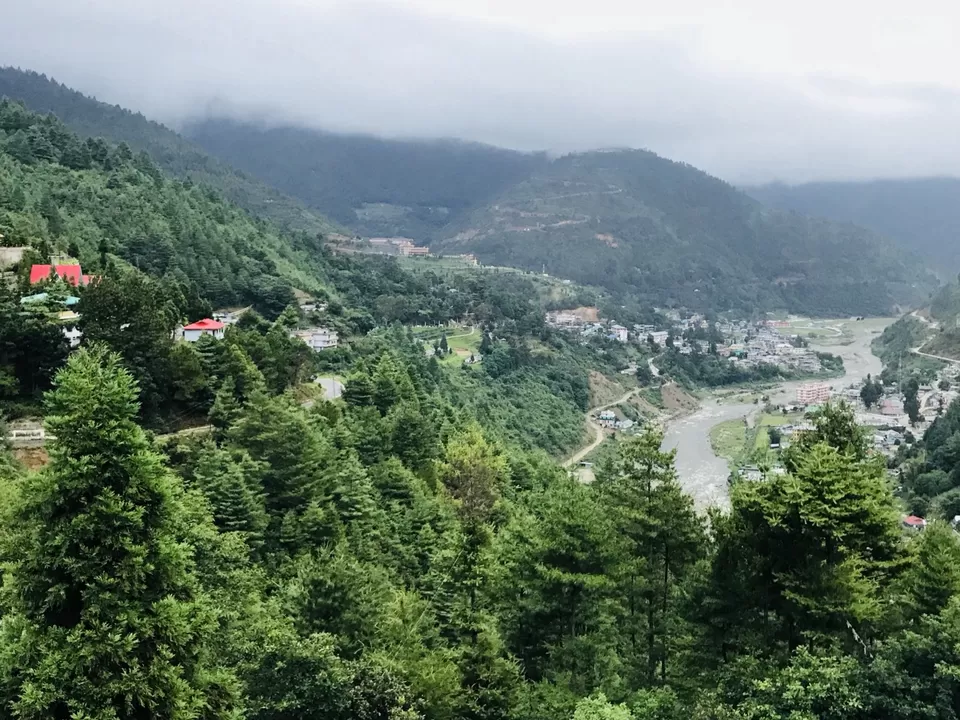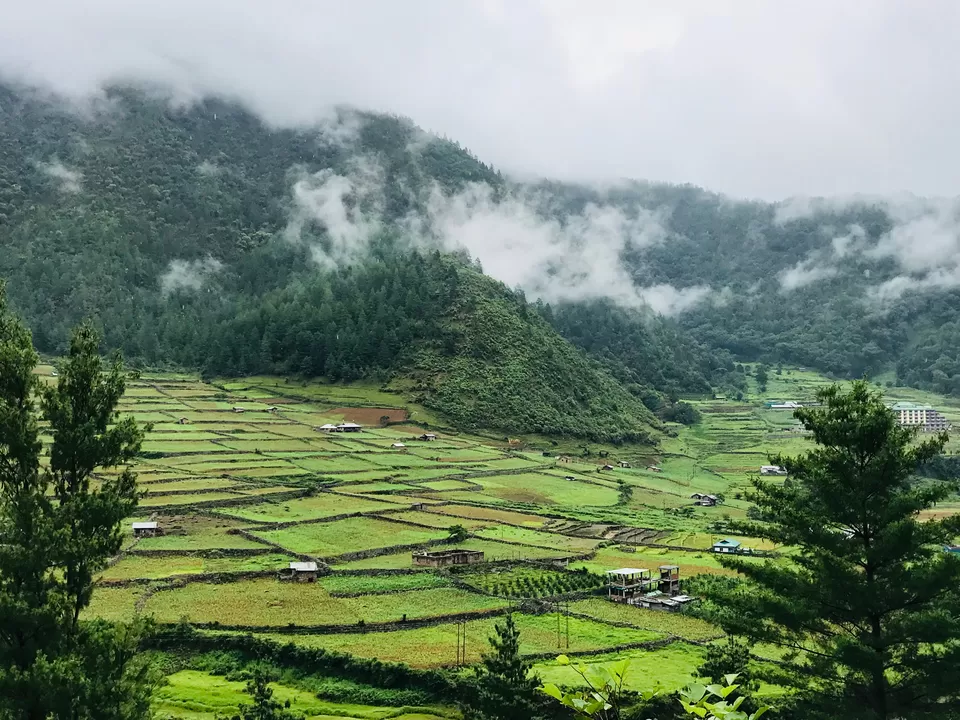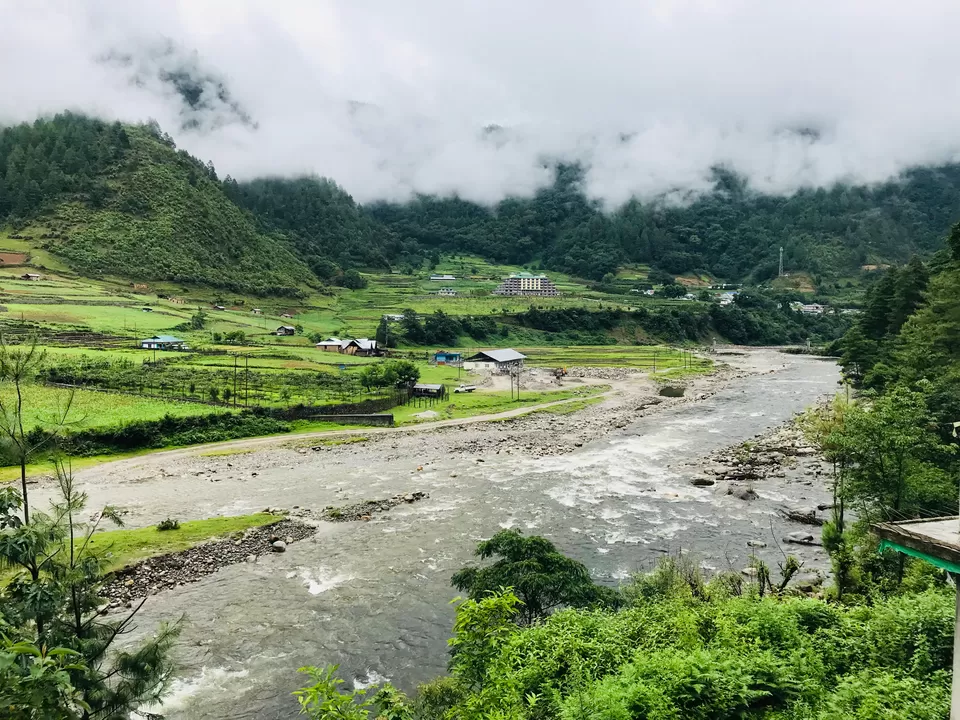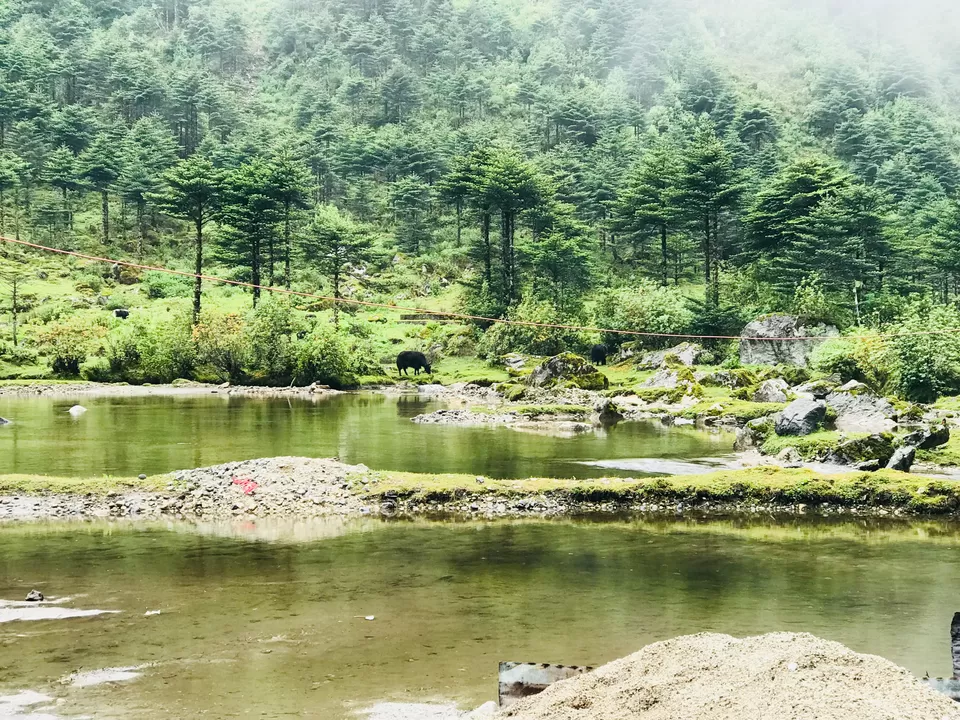 Arunachal is called as the land of rising sun.The sun gets so early that people start their day very early and wrap up early by evening. Though I can say this about most of the north east but here it was exceptional.The early sunrise accustomed us to get early daily even before the alarm went on. We were again ready for day 3 and were full excited today as today we were going to make it to Tawang. The journey from Dirang to Tawang was more beautiful than the previous route. The entire valley was filled with flowers,greenery,streams, natural hot water springs,yaks and sheep grazed away in clusters as the place looked like an entrance to heaven.We made our driver to stop by at various places wherever we saw a surreal scenery and he seemed to enjoy our child like excitement.We also stopped mid way to have the best thukpa and momos in town.
As Tawang is near to India china border one can see army barrage everywhere on the way and at some point due to strict surveillance even photography was not allowed. However, army people never troubled civilians and are very courteous and friendly to them. It was 45kms before Tawang that there lied the beauty~North east's second highest plunge waterfall: Jang waterfalls. One can just stand there keep looking at those cascading waterfalls and never get bored. It provided a different level of calmness. It was also told by our driver who was now more of a guide to us as he was from Dirang, that Koyla movie featuring Shahrukh Khan and Madhuri Dixit was shot here. I wondered in amazement how the staff and crew came to that place.It did was so difficult to get here and kudos to people who locate such spots and make them popular.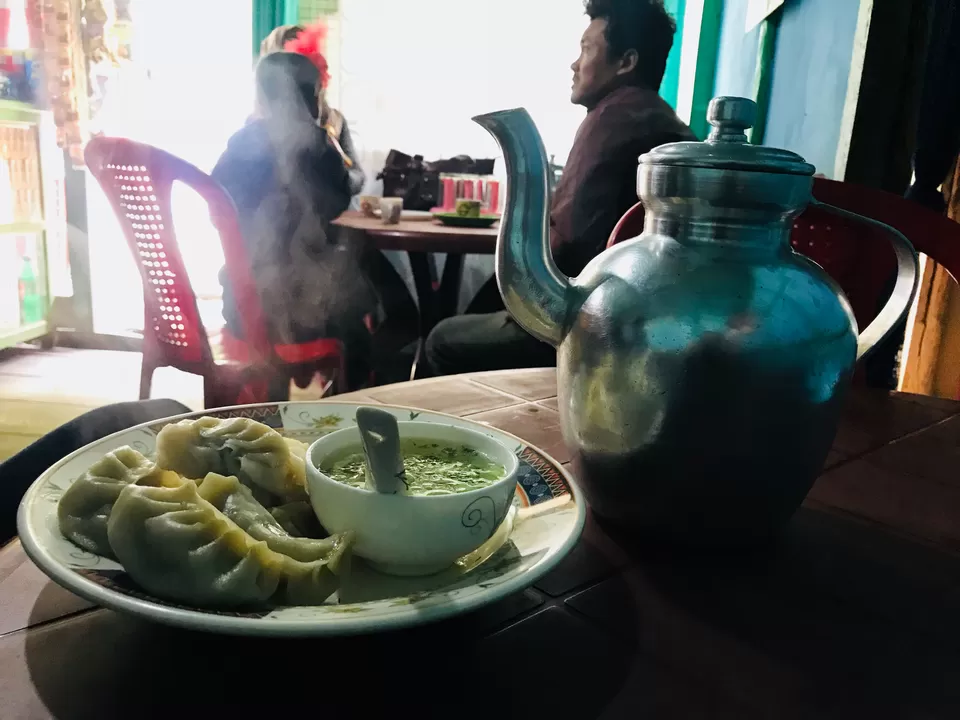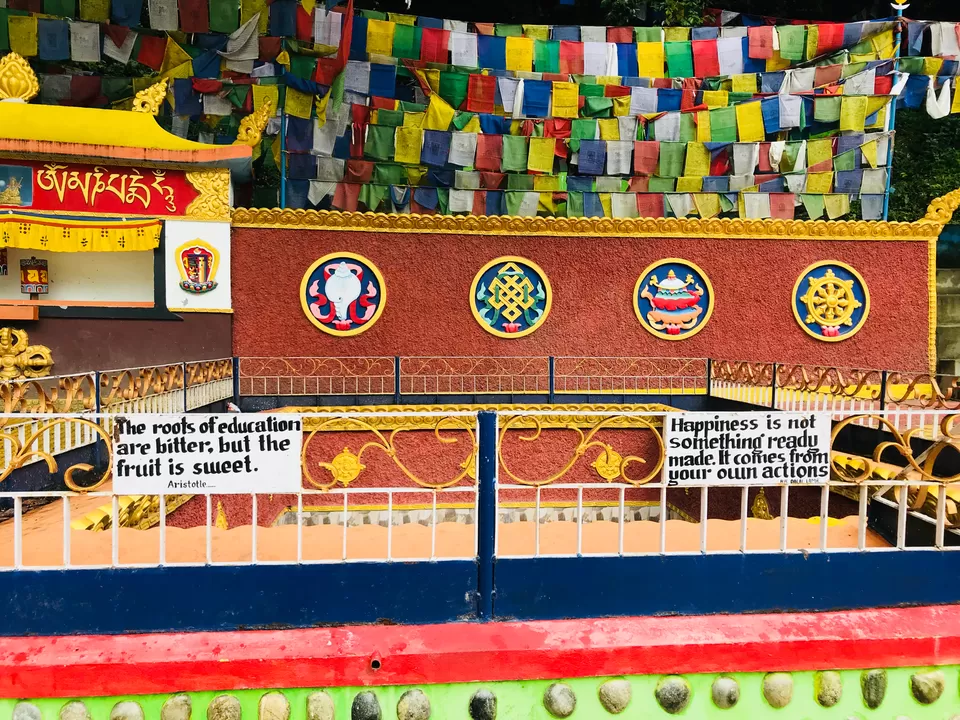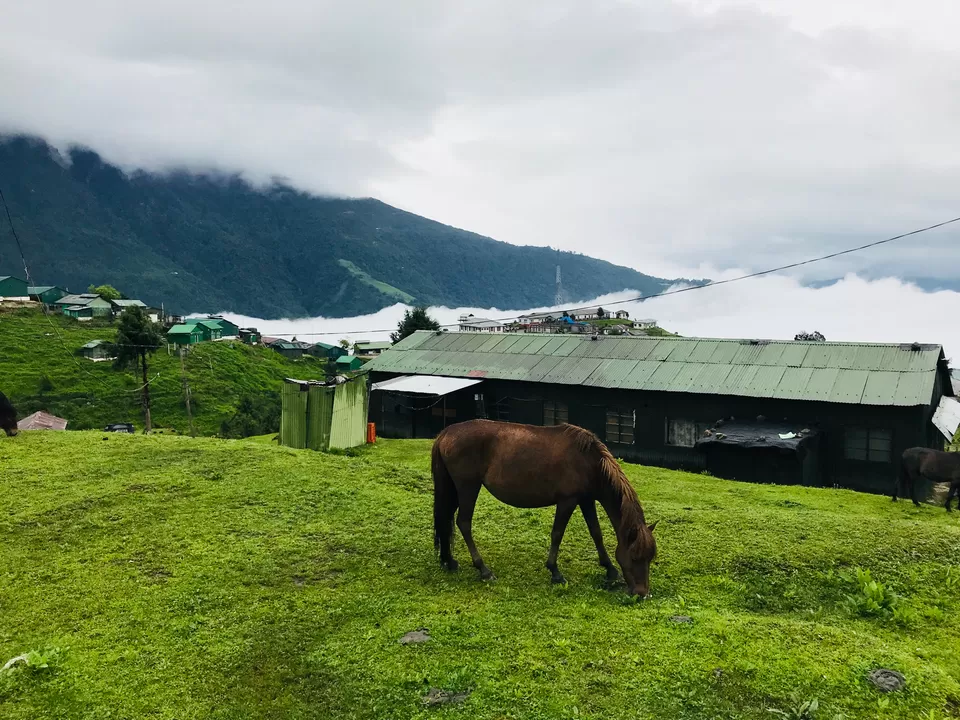 We spent an hour at Jang and left the place with fond memories and reached Sela Pass which was at an altitude of 13k above the sea level and also gateway to tawang. Sela was the name of the girl who died when she heard about the demise of Indian sepoy Joginder Rawat who fought chinese army single handedly for many days during the Indo-China 1962 war and was also awarded Vir Chakra posthumously. Sela pass has Sela lake which is so gorgeous that you keep wondering how it was created in amazement. There were all yellow flowers around it as if someone had planted them against the green background.We had tea there as it started to get cold which was full with warmth with the sweetness of the local people. We decided to also cover Tawang monastery which is the largest monastery in India on the way to our hotel.
We reached our hotel at 7pm. Yes, we had been traveling on the road daily for 12hrs but the happiness that we saw on the face of the local people took our tiredness away, not to mention the special hospitality which was thrown to us because of the off season as well because we were only two girls who had traveled to a far off place just because they were crazy enough to do so.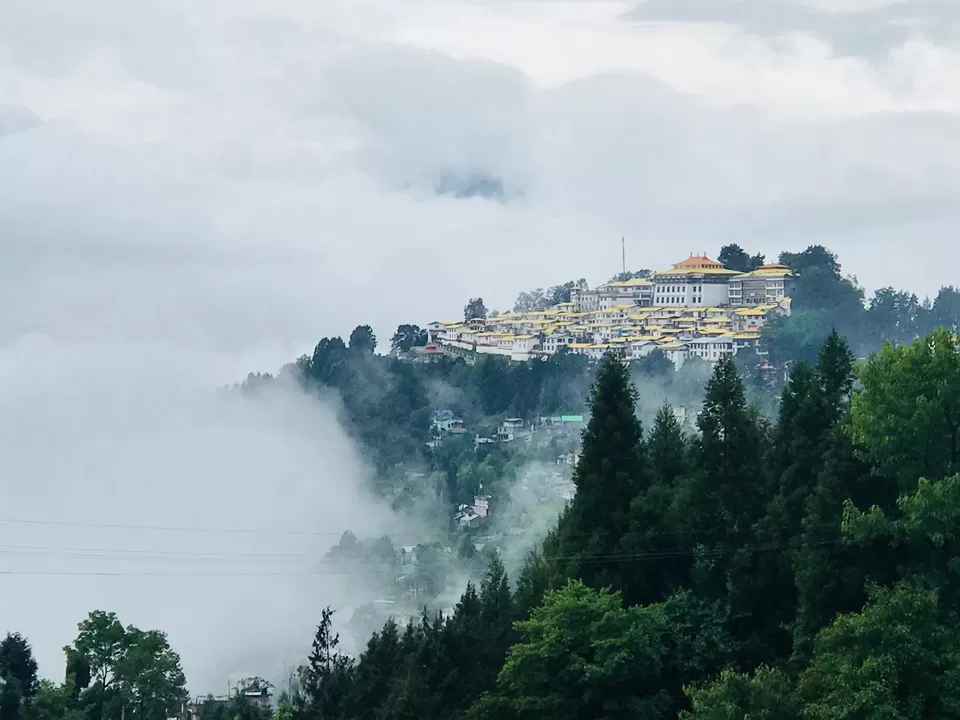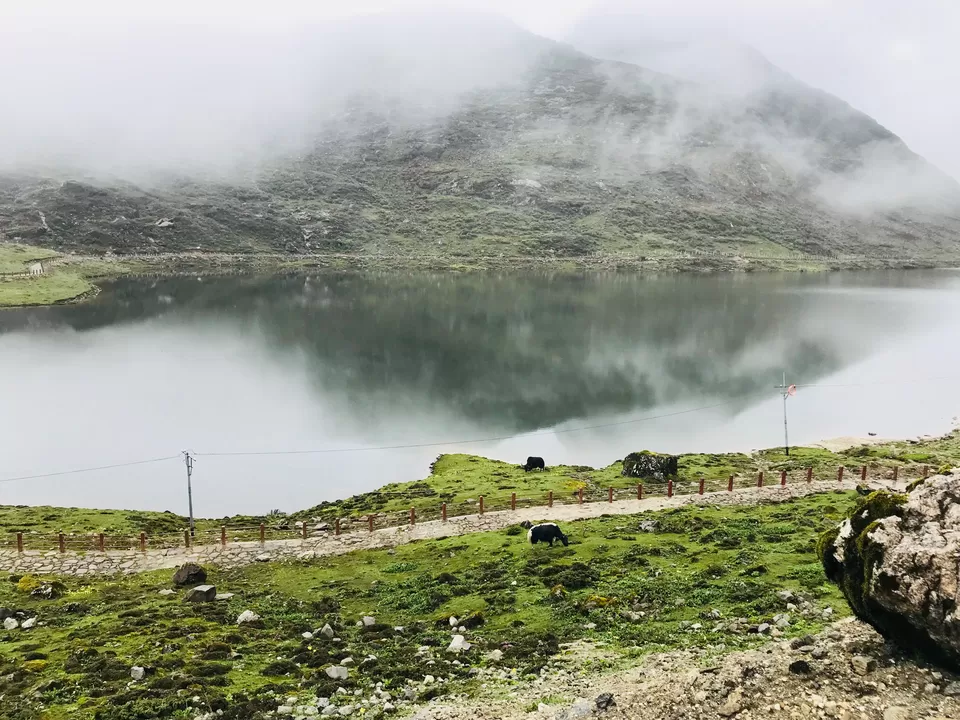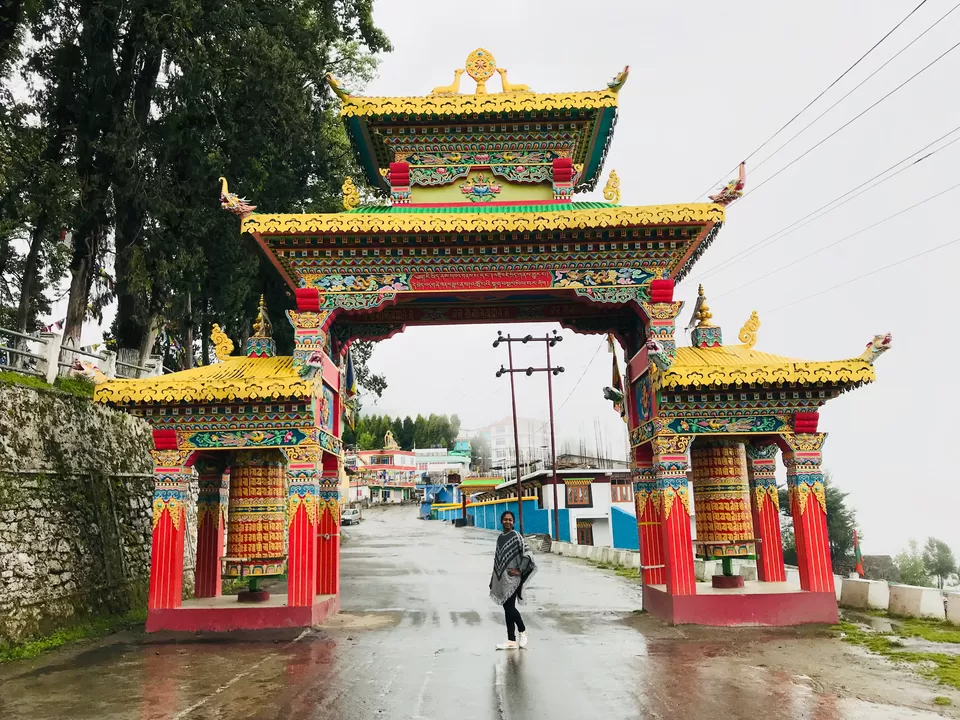 Yay the D day had finally arrived!! Wondering what special was that day? Bumla pass!!We would have seen hell number of pictures, read hell lot of blogs about Bumla and were so eager to get there. For Bumla, separate pass and vehicle is required which is arranged from local Tawang community. Our hotel host was generous enough to have arranged it earlier for us.We started at 7am as the road to Bumla was rough because rains had cut it at most of the places and one had to get in there by 11am , not beyond that. Also, Sangetsar lake fondly known as Madhuri lake was also on the way to Bumla and you needed to spend some time before returning because you have no other option than to spoil yourself by its beauty. By the way,Tawang has 108 lakes. Anyways it was always a great idea whenever you are travelling to a new place to get on time everywhere so that you can enjoy the best timings and take best shots.Our driver was an uber cool guy.He was too fun and gave us thorough knowledge about the local people,cuisine and how the monks have stopped the killing of animals there on the philosophy of "jeeyo aur jeene do" to which he cursed them in his language. But what struck me most was his awesome collection of Bollywood songs.Man his choice was so similar to ours and we were so happy to know that we won't have to say him to change songs.We reached Bumla by 10am,it was raining and the place was covered with blanket of fog.Oh and how can I forget to write about the way to pass which was filled with red and pink roses like somebody had sprinkled them all around it.We were greeted by the Indian Army Jawans at the pass whose first question to us was,"Where you not scared at all coming this long way all alone?To which we replied, "No , sir it's because of you we are safe and we are always thankful to you for that"!At that time Bihar regiment was serving at the battalion. There is a rotation period of two years after which the regiment changes. The army jawans took us to the pass, which is India China border and briefed us about it's historical significance. The pass was a way through which China attacked India in 1962 India china war and we were extremely proud to know that Indian army maintains world's highest artillery there. At the border, Indian and Chinese people met 8 times a year on each other's respective special days with India's 26 january and 15 August being one of them. As a part of meeting cultural shows and lunch/dinner was organized which was equally enjoyed by army as well as local monpa people.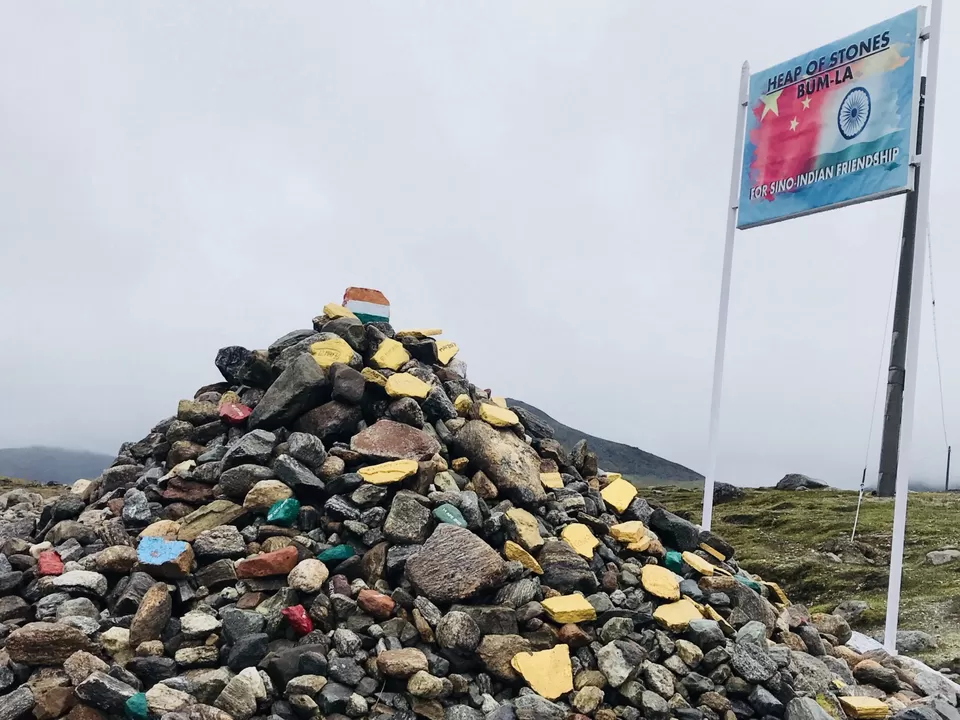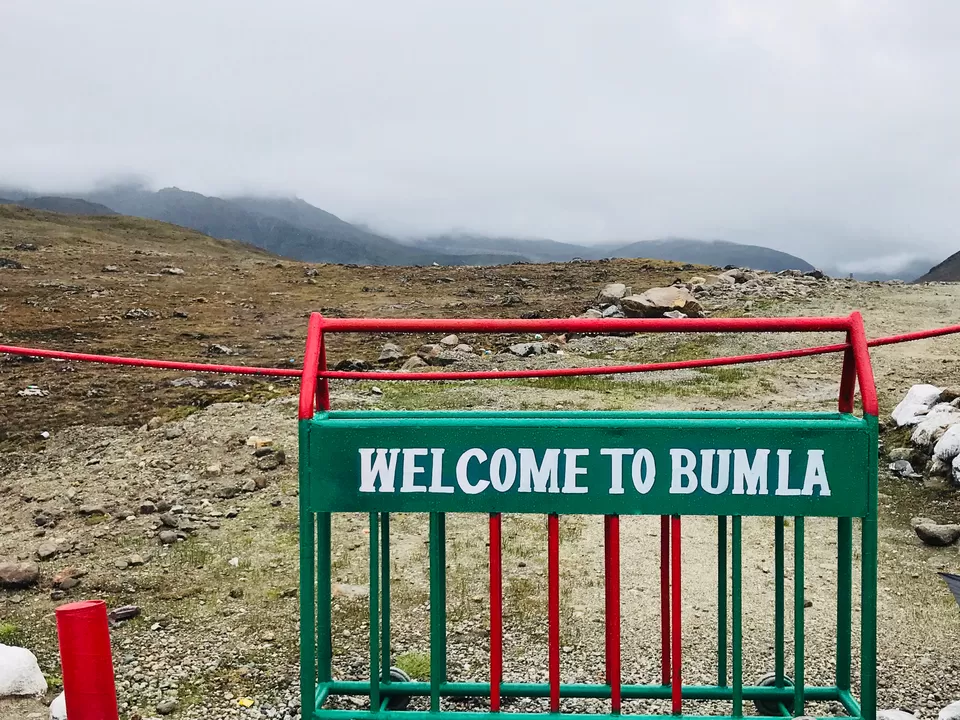 After spending an hour there and collecting some most lovely memories, we went towards our way to madhuri lake when we were stopped by army jawans who told us to have Prasad for langar .I was so touched by the way they served us with us not getting any second thoughts that we were so far away from our homes. Langar was organized there every Sunday and we were just in time to be there. After having the sumptuous langar Prasad we continued towards our way to Sangetsar lake and when I reached there I was speechless! The most beautiful creation of mother nature I would have seen so far.Sangetsar lake was a lake that was formed due to result of earthquake, earlier it served as pasturage for local villagers.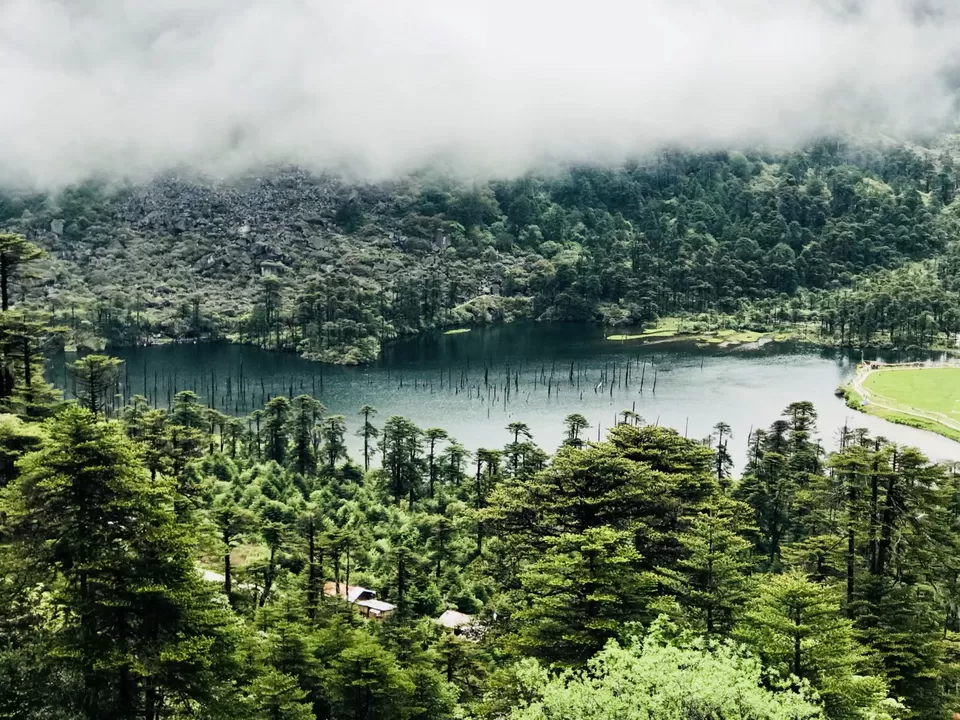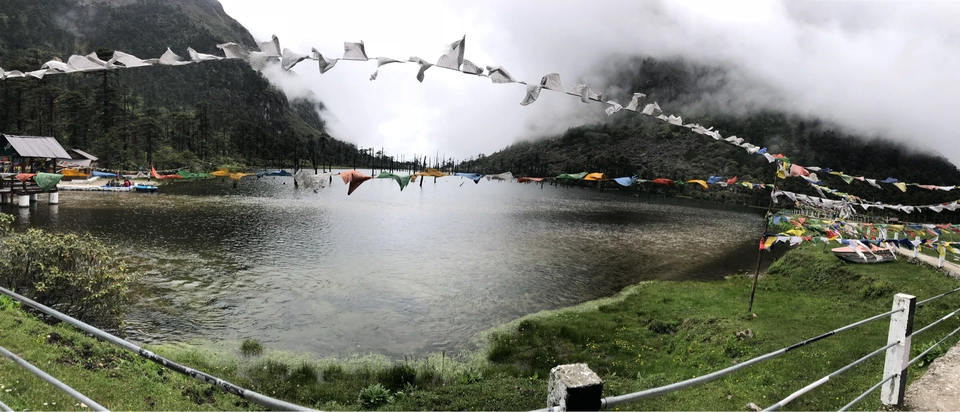 We went down to the lake, spent an hour there , mesmerized, clicked photos and were about to get our coffee in cafe when someone outside shouted, "Golden duck is here!" We left our coffee midway in frenzy, ran towards the lake and watched that all alone near the shore of the lake there was just one duck which was golden in color and that why it is referred as golden duck.We had tears of joy, thanked to god almighty for this rare sight as that golden duck is an endangered species and a rare phenomena to be seen by eyes in this season.They usually appear in flocks in winters and foreigners are crazy for these and other rare birds for which they come from far away to see them and award profoundly to locals when they succeed in their target. We clicked with best angles, best focus, best zoom whatever we could but captured the sight of it in our eyes for forever and returned from there to reach to tawang war memorial. It was 5pm and it was getting insanely beautiful that time. The light and sound show at tawang war memorial was about to start at 6pm.We sat there fell in love with the sunset beneath the clouds and went to the market to have awesome momos and thukpa once again and returned with a beautiful smile and memories to always cherish them for forever. The journey was about to end.But the memories remained for forever. Next day we had to return to Guwahati to catch our respective flights the other day but we did not want to.
PS: Want to see more of my travel pics? Check and follow me @ https://www.instagram.com/i.am.vandana/