The caves belonging to Paleolithic age must be inhabited by Stone Age people some 25,000 years ago.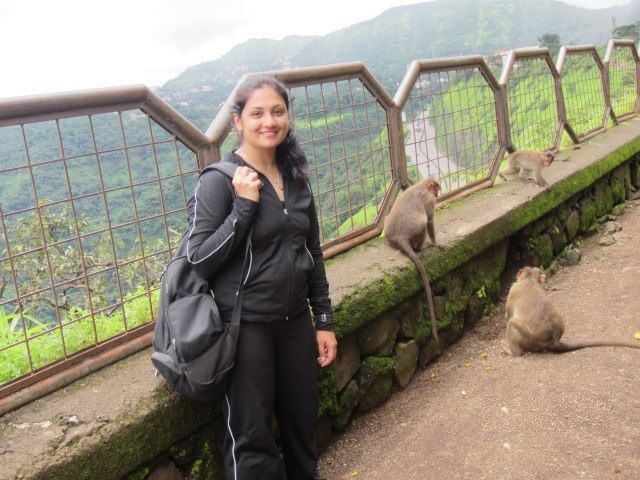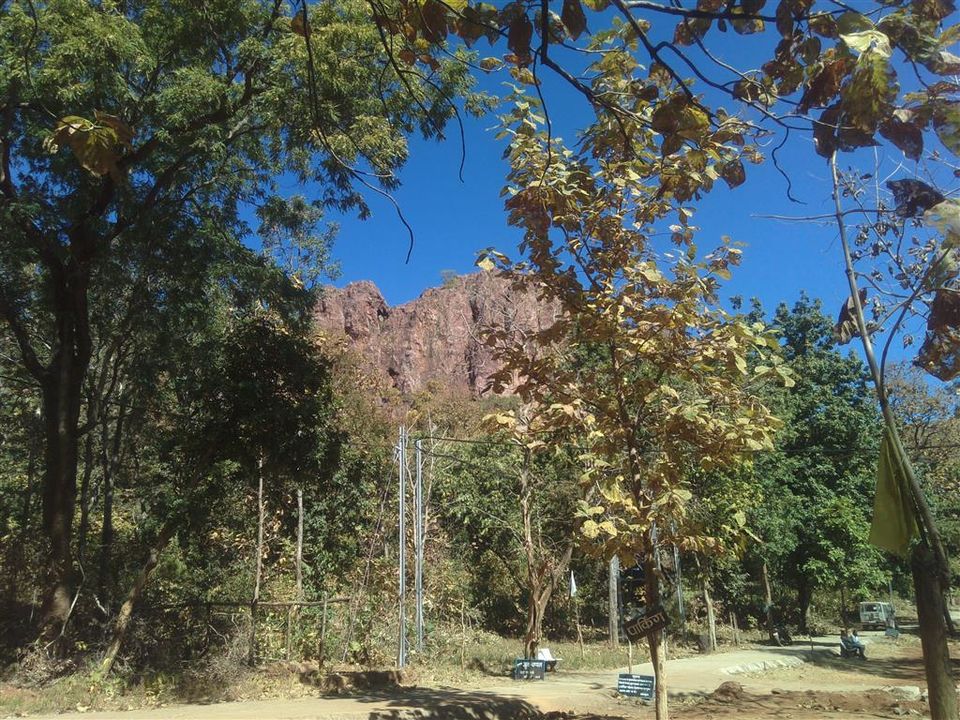 Folks,
Looking for out-of-the-way places with an aura of legend about them? Well, just the place for you could be the Kachargarh caves!
Kachargarh caves are in the centre of India. Some 230 km east of Nagpur, these caves are easily approachable by an easy 3-hour drive either from Nagpur or from Raipur, the capital of Chhattisgarh.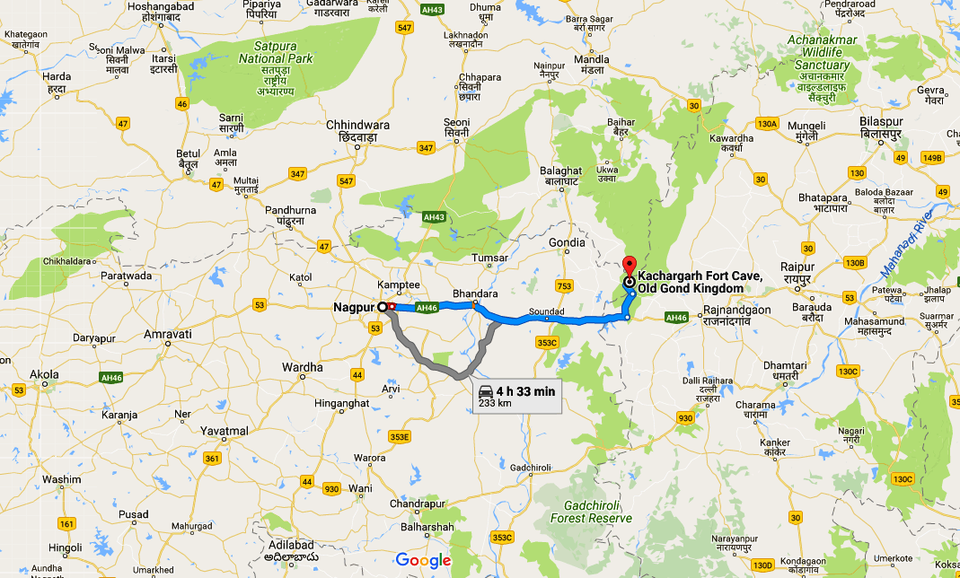 The Kachargarh caves are located in Bhandara district's Salekasa Tehsil with Darekasa as its nearest railhead from where it is 3 km.
I started from Nagpur at 7 am and reached Kachargarh at 11 am. After driving through farms, you reach these caves. This place is not much visited by tourists; but on Gondi festivals, it sees a large number of pilgrims.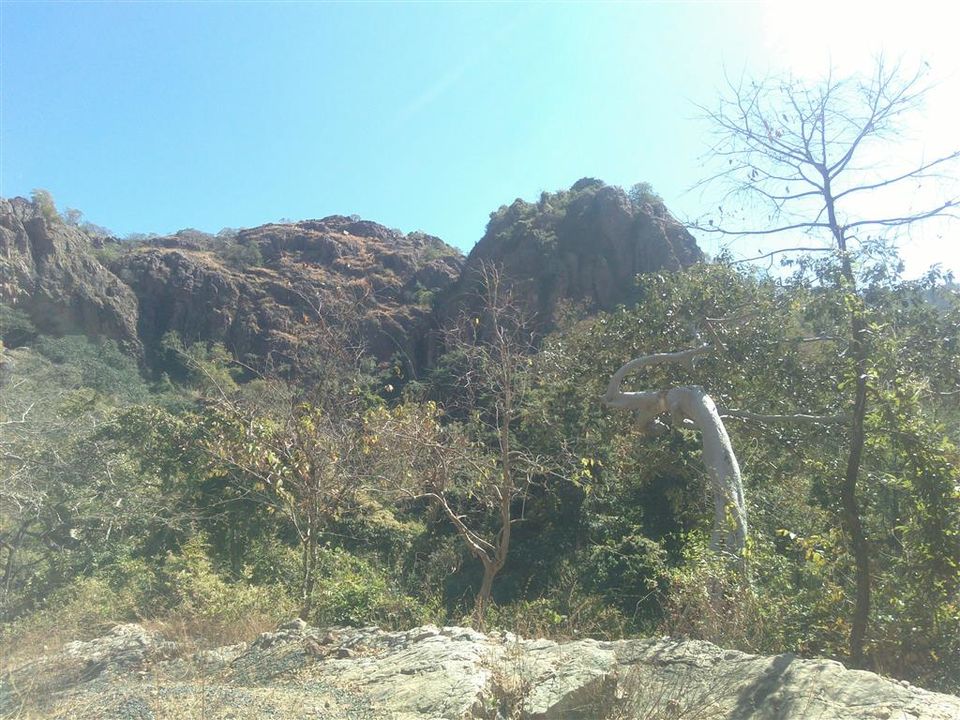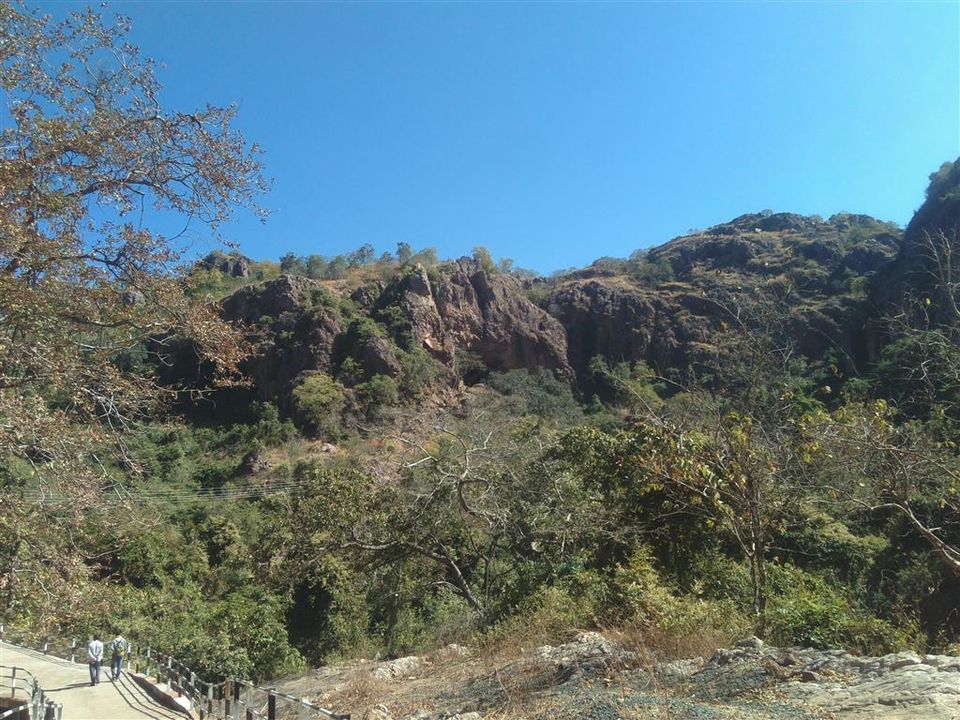 The caves aren't 'huge'. In the middle of the hill ranges the caves are located admeasuring 200 x 100 sq feet and 50 feet high where 2000 people can sit together.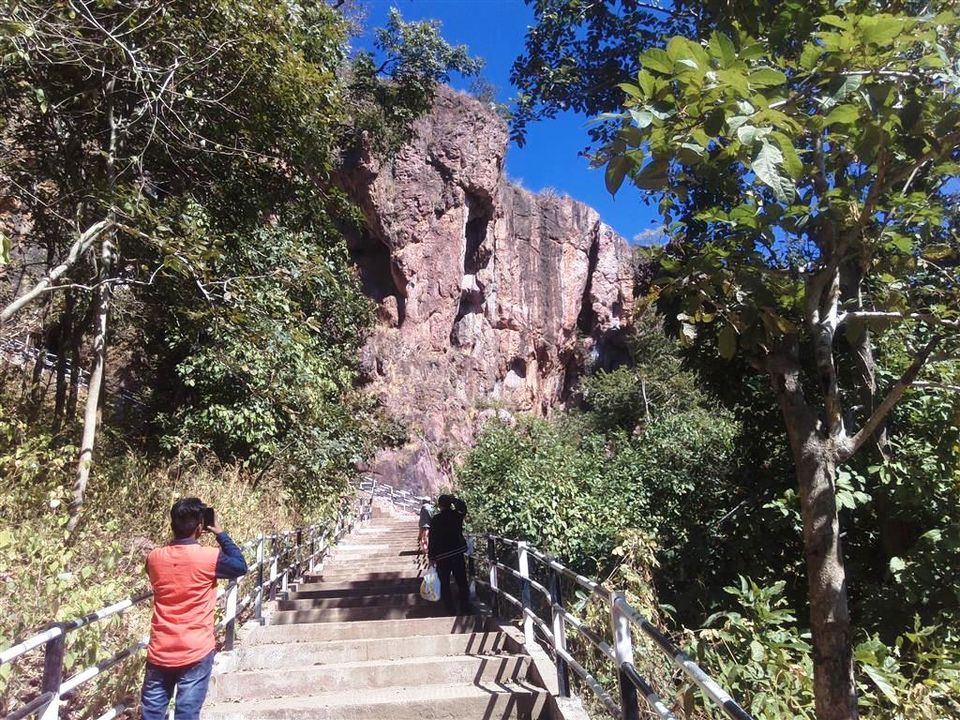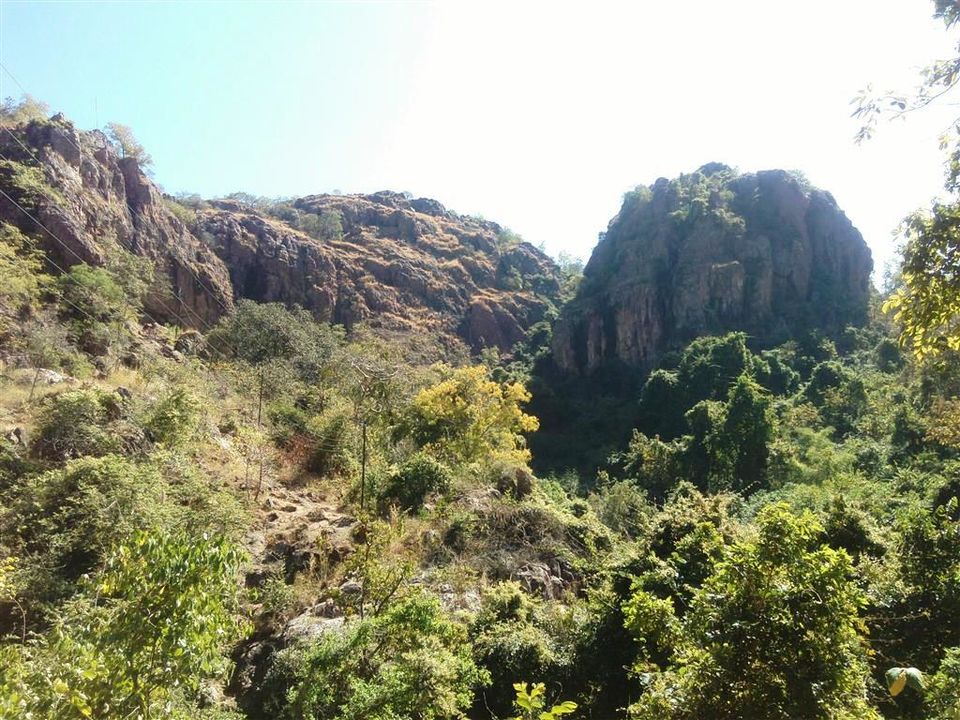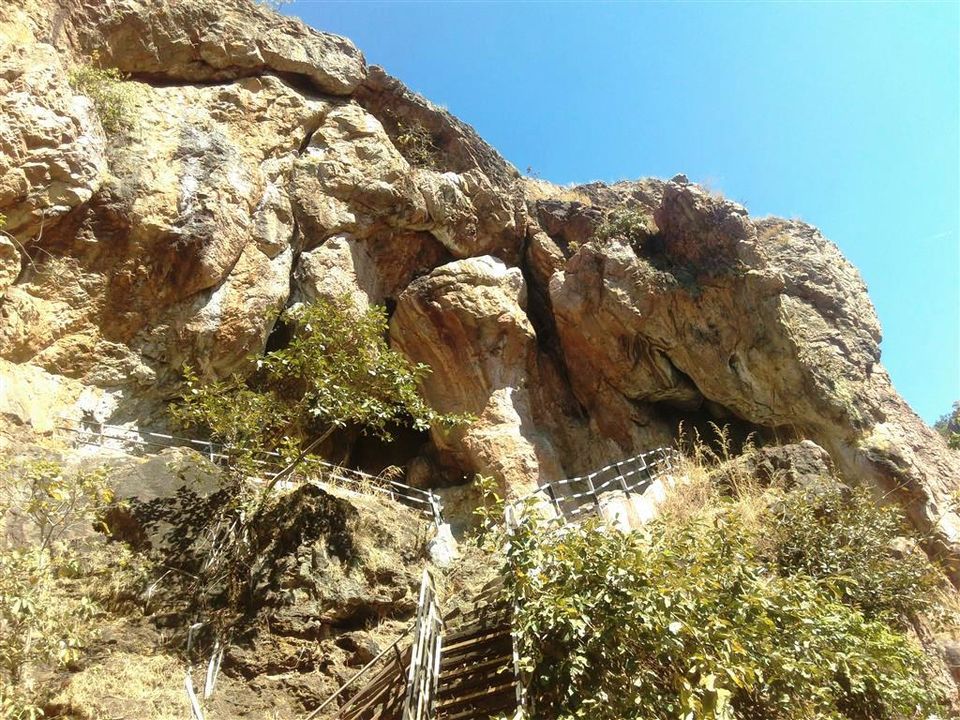 After we parked our vehicle, we started climbing some 100 steps to enter the caves. The place has concrete steps and railings. Other than this, it is untouched. The caves are deep and uneven.
The caves are sacred to the Gond tribes. Though it is a place of pilgrimage for Gondi tribe, there are no big temples, just a small one, which has come up lately. As tribal people live in sync with the nature; they regard the entire cave as sacred.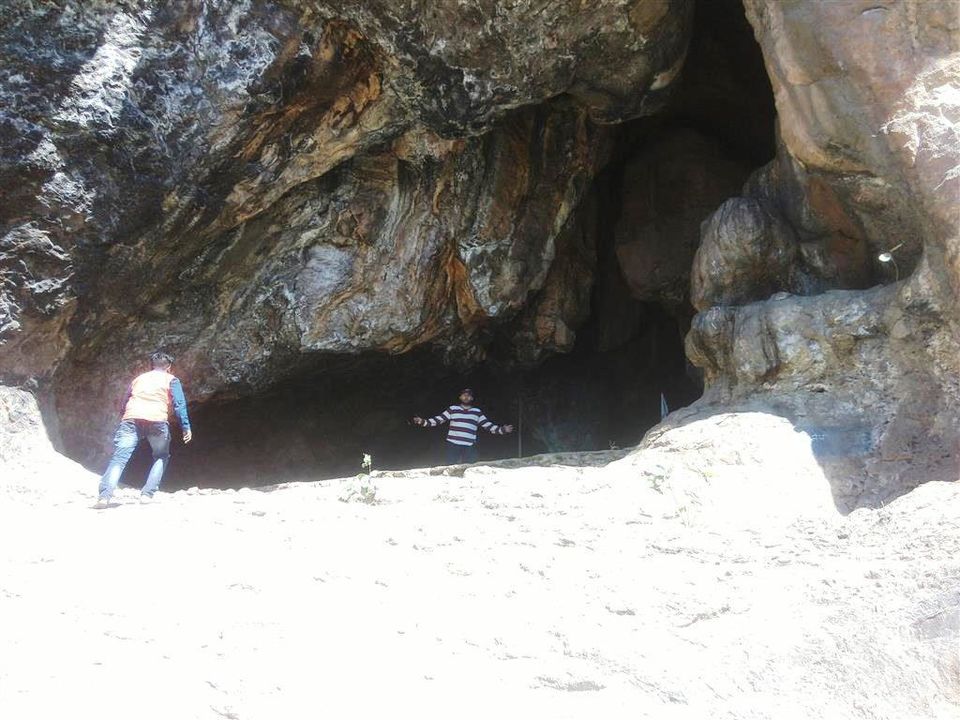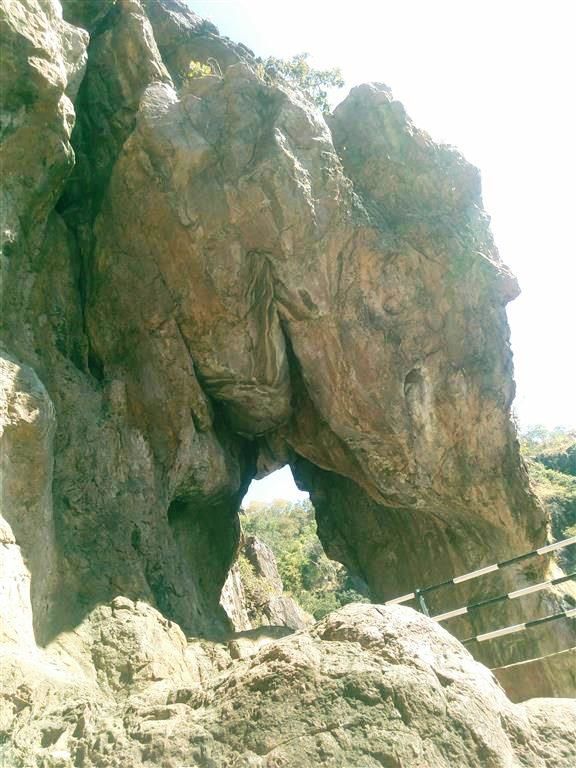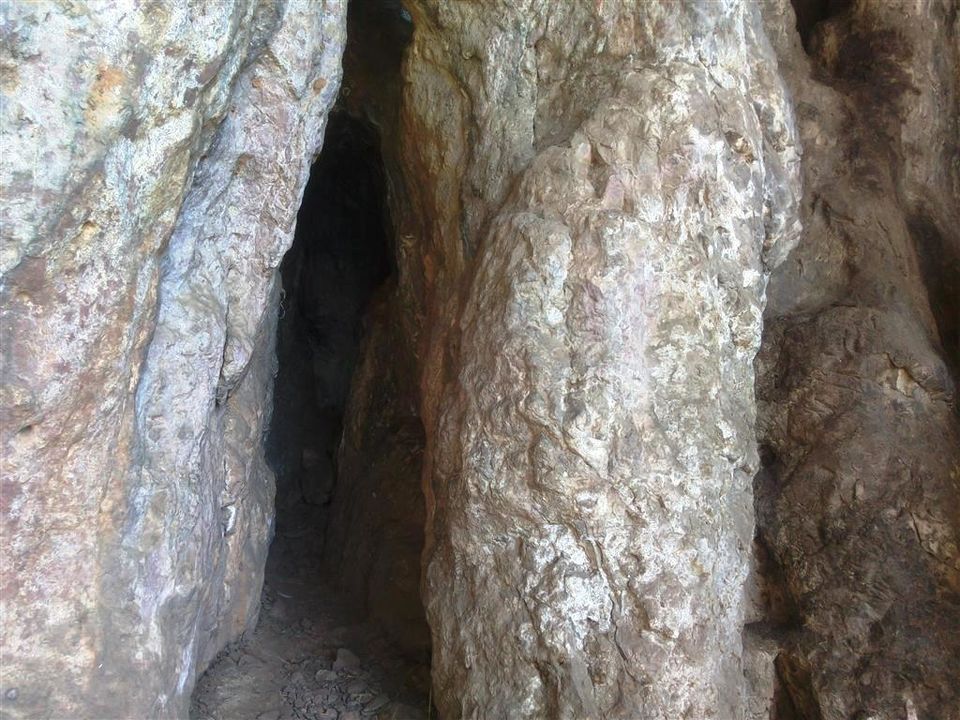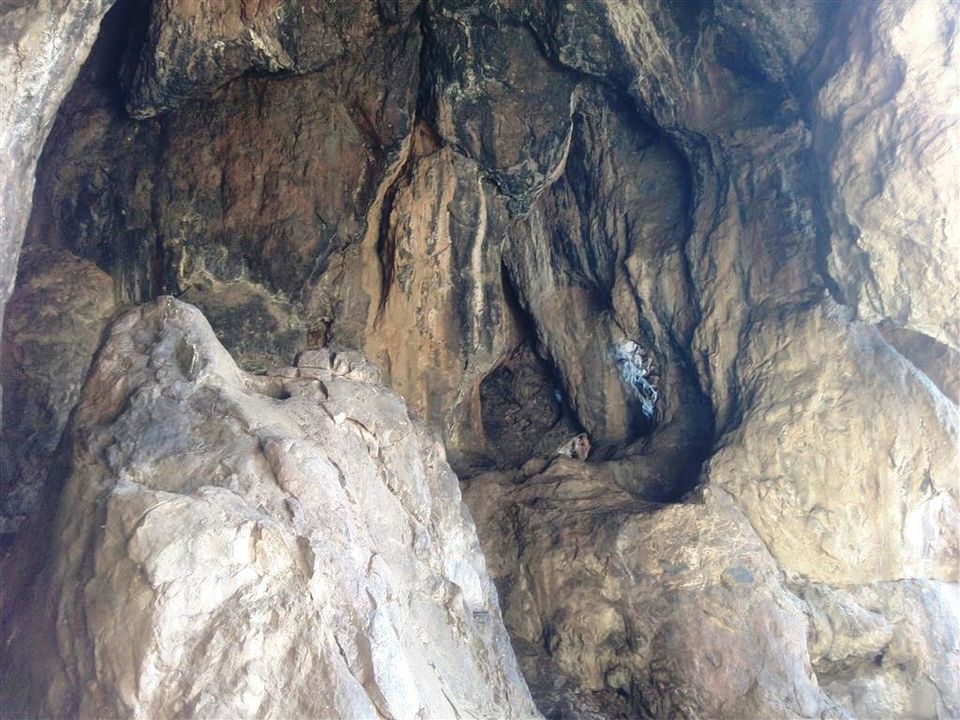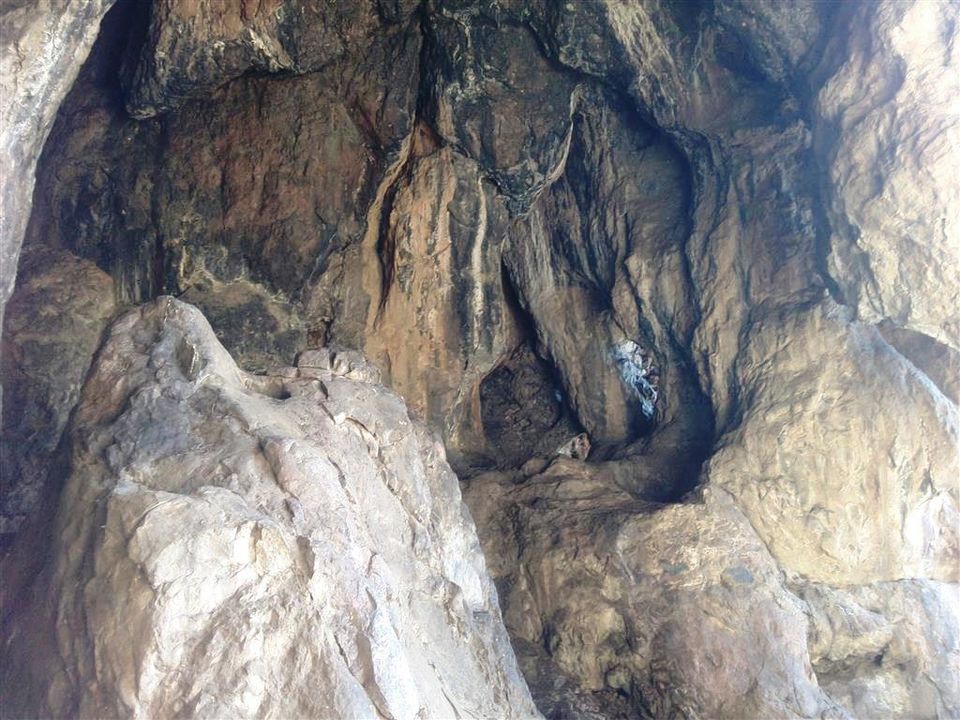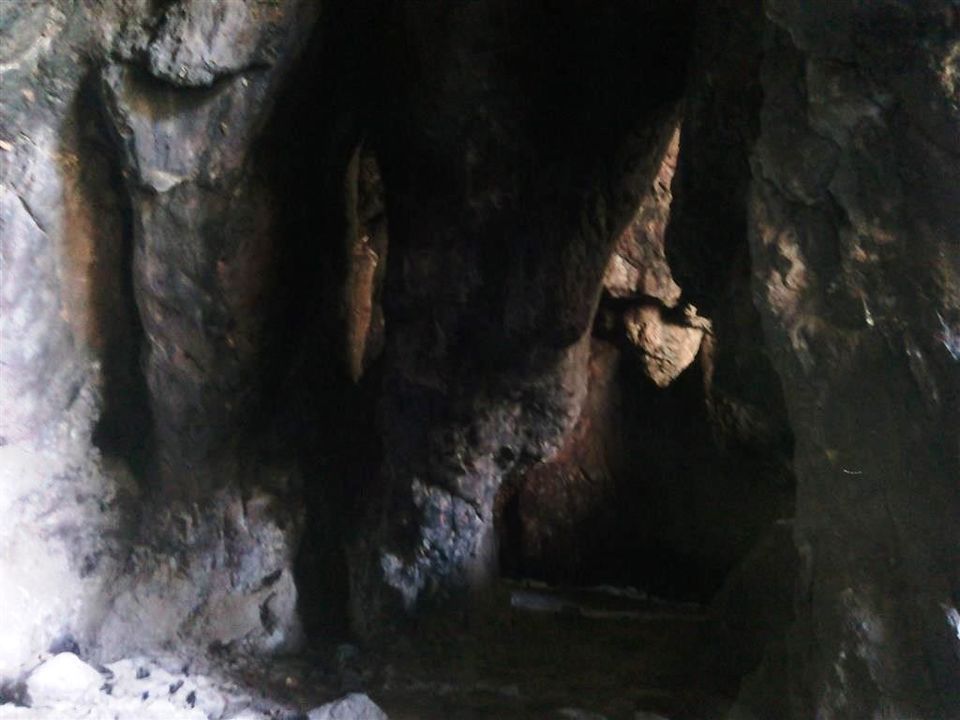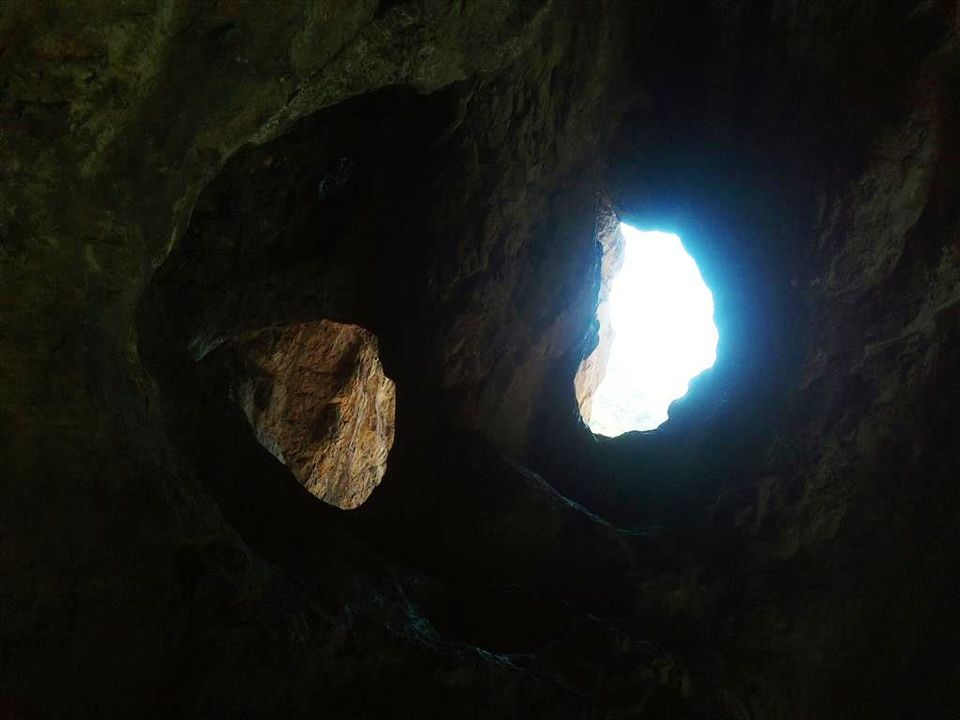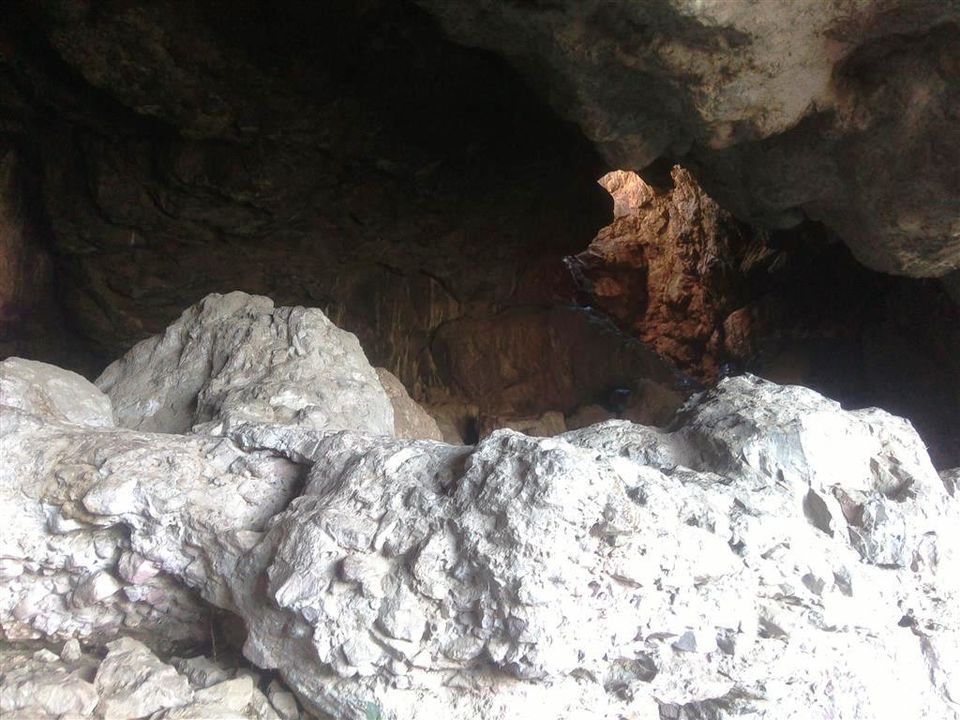 Bats gather inside the caves in large numbers. Their excreta get accumulated and it smells bad inside the caves. Otherwise there are no animals here. Monkeys and other arboreal animals are seen on trees. There are caretakers who keep watch to prevent anti-social elements from spoiling the beauty and sanctity of the place.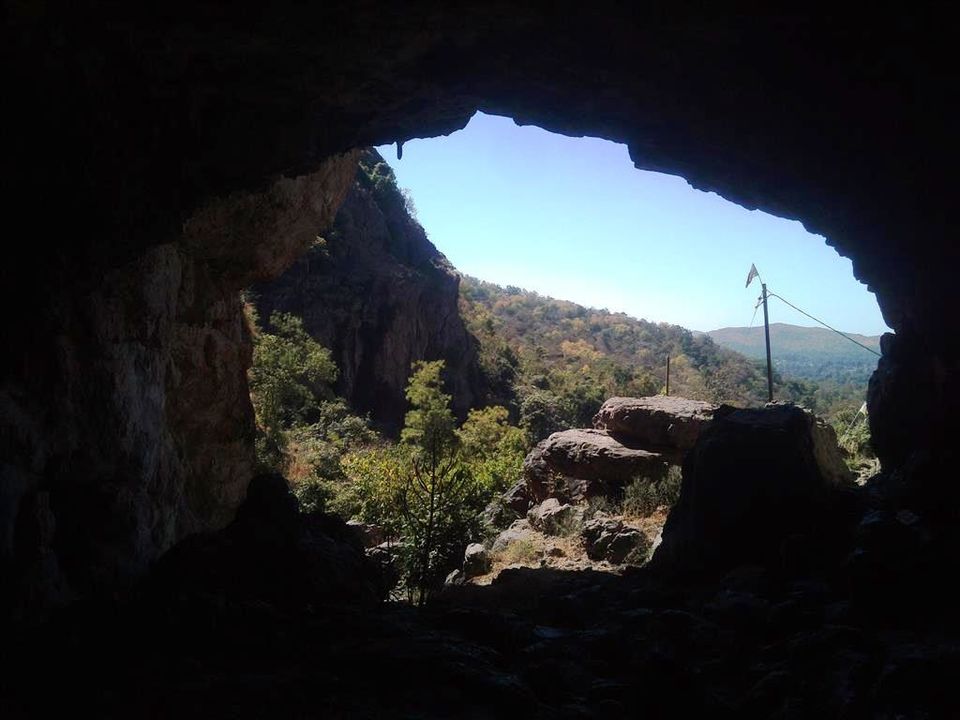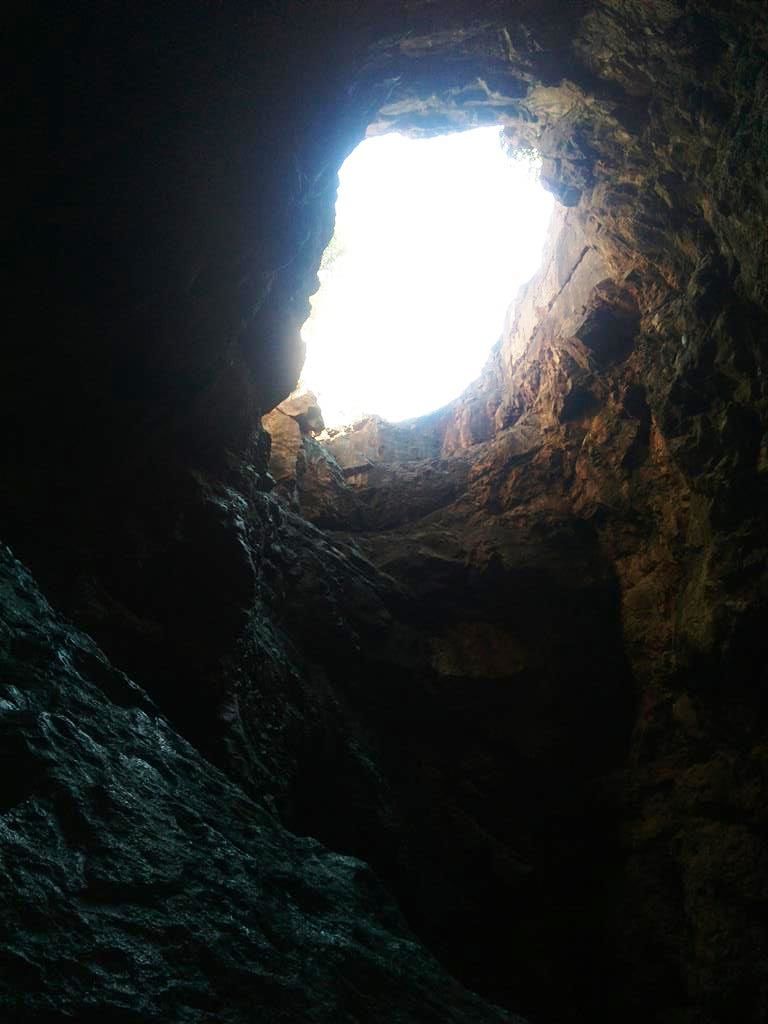 The rocks have good amount of iron ore in it. Water flowing down from a narrow stream cutting the rocks is said to carry mineral iron.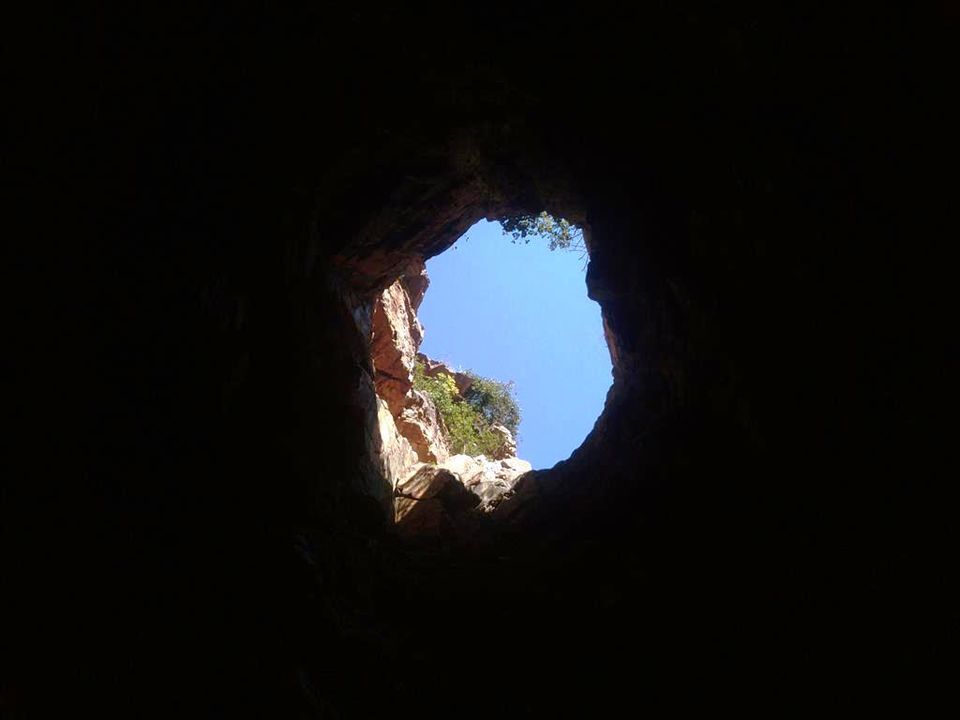 HAZRA FALLS:
The Hazra falls is an attraction too, and in dry weather, perhaps a good picnic-spot. They say, the name is attributed to an engineer called Hazra who 'channelised' the river's flow into a waterfall in order to make it convenient to lay the railway track in that very difficult, hilly terrain.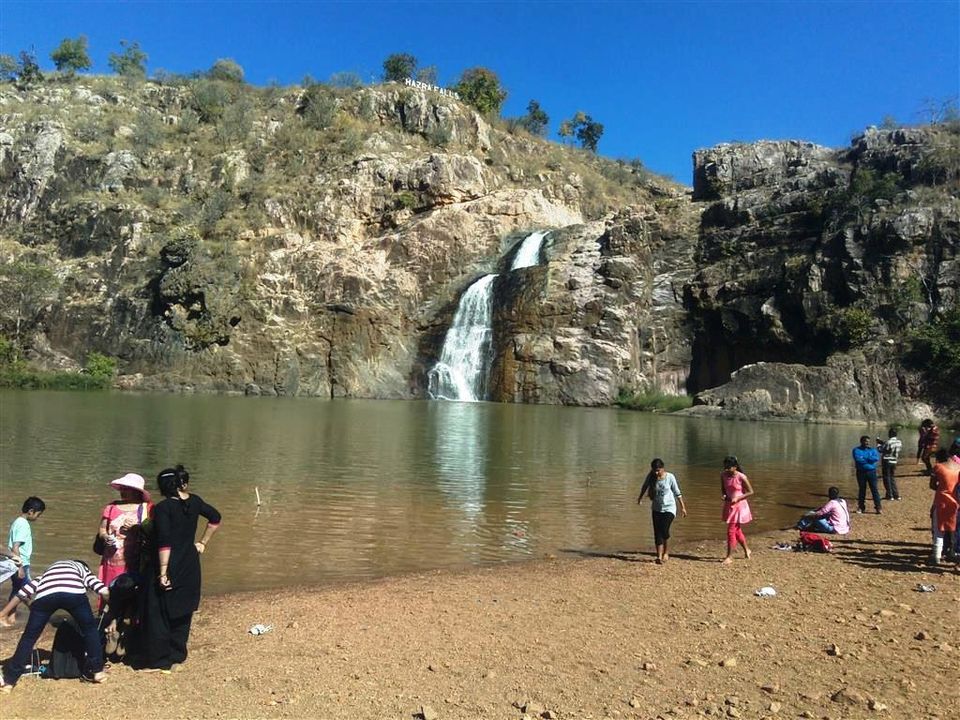 THE CIRCUIT:
From Nagpur or Raipur, one can visit Kachargarh caves and include a trek to Dongargarh or a wildlife safari to Pench National Park.
All in all, a trip to Kachargarh caves could be a day well spent if one has the bent of mind to explore the usually-unexplored ancient culture and a setting belonging to antiquity. In fact, if one understood a little about our ancient Gond culture, it might be an eye-opener in more ways than one.
THE LEGEND:
On entering, on the Kachargarh caves, on the right is a perennial water tank with an opening or window or 'Jharoka' above it. Obviously, rainwater also collects here directly. The entrance facing south is 30'x15'. It was an ideal cave for imprisoning purposes as food could be lowered from the top through the opening, thus ensuring food supply, and water from the perennial water tank took care of all other needs. (From archaeological remains, it is more or less ascertained that the year when Sambhu - the King of Gondwanaland - imprisoned the children in these caves was the Stone Age).
Religions are replete with legend, usually through the medium of the oral tradition which gets firmly entrenched in the minds of believers, deep enough for rituals to be observed around them. While Pahandi Pari Kupar Lingo is the great preceptor or Guru of the Gonds, there are other important figures that feature very largely and are revered. Among them is Raaytaar Jungo (both Lingo and Raaytaar were social reformers) the third important one being Kali Kankali whose 33 children (whether biological or adopted it is impossible to determine) were ordained as the Gurus of the 12 Phratries (social divisions) created by Lingo.
THE STORY OF IMPRISONED CHILDREN:
The Kachargarh caves' significance is through these 33 mischievous children who were imprisoned in the caves by Sambhu, the king of Gondwanaland, for their misbehavior and uncouth manners. He incarcerated them there for 12 years in order that they might be given proper instructions in the decencies of life. Sambhu also pronounced that they could not be released by any other than a great man who was none other than 'Lingo' (a saint). However, even to affect this release, Lingo's music Guru, Heerasuka Patalir, had to be brought in to lure the children out to the sound of his Kingeri (a very important Gondi string instrument) of which he was a master. The children did actually hear it and wondering what it was, gave the boulder blocking the cave entrance such a huge heave that it toppled on to the outside. Unfortunately, Heerasuka, playing the Kingeri outside, was crushed under the boulder, but the children were released, taken by Lingo, brought up in his ashram and made to take the vows and made the Gurus of the 12 Phratries (social divisions).
Even today, Heerasuka is worshipped for his sacrifice before entering the cave. Kali Kankali also could not be reunited with her 33 children as she was struck by lightning and her 'Samadhi' is halfway up the hills to the Kachargarh caves.
Kali Kankali is celebrated here from the Magh Purnima (around February) for 15 days and this is one of the most important celebrations of the central Indian Gonds many of who congregate here from far and wide. Even otherwise the gathering here runs into lakhs, just as it does at Maha-Shivratri in Pachmarhi. A big fair here sells mostly urban wares, snacks and books on Gondi culture and religion. Entertainment is held on stage and inspiring talks on a very valuable and almost lost animistic Gondi culture are held by different learned people, especially Nagpurian, Dr. M. Kangali, their most revered and erudite mentor today.
Follow me on Facebook