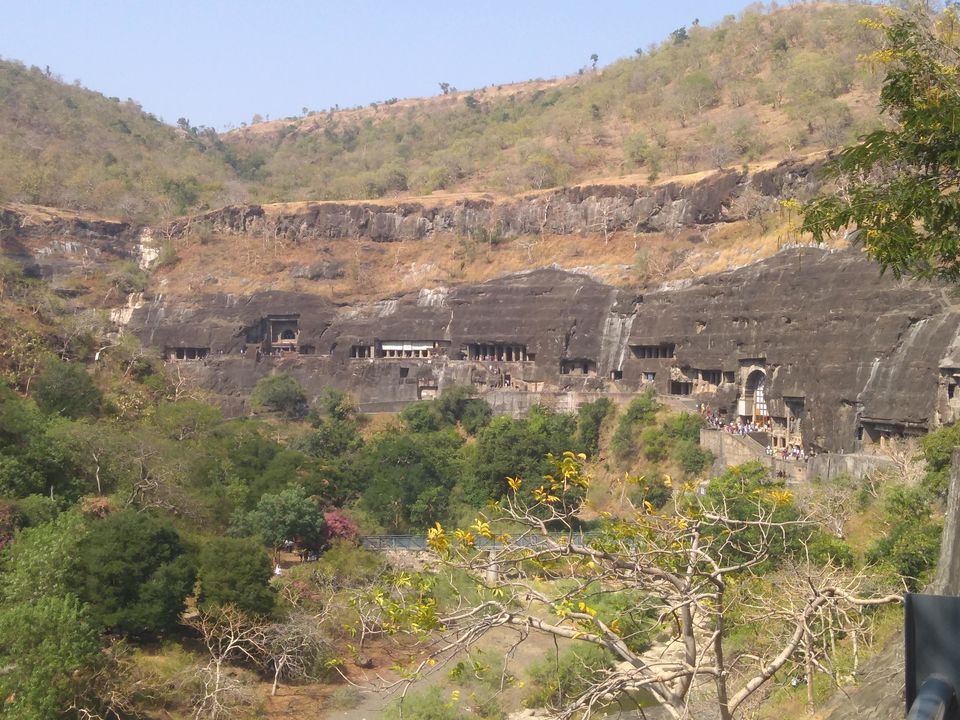 If there are a few things which define the millennials; exploring the world and constantly reinventing oneself would definitely be on that list. In this digital age, travelling solo to any place has become a much less daunting task even for an introvert person like me.
From childhood, I always loved history and would dream to explore the places which have marked the journey of human civilization. Being an Indian, I feel lucky in this aspect. India has so much to offer in terms of history, culture and traditions. So, after one-year of contemplation and multiple last-minute changes of mind, finally, I decided to start on a journey to explore the history of this country and to explore my inner self.
So long story short, I decided to travel to Aurangabad for a three-day trip, a tourism hub in Maharashtra on a long weekend of October. The city, named after Mughal emperor Aurangzeb, is surrounded by multiple historical sites including Ajanta And Ellora caves which are UNESCO World Heritage Sites. What better way to celebrate Diwali than to ignite the candle of curiosity inside me!
I boarded an ac sleeper bus from Navi Mumbai in the evening and reached Aurangabad early in the morning after 8 hours of journey. My hotel was near the Aurangabad Railway station, so I took an auto from the bus stop and checked in to the hotel.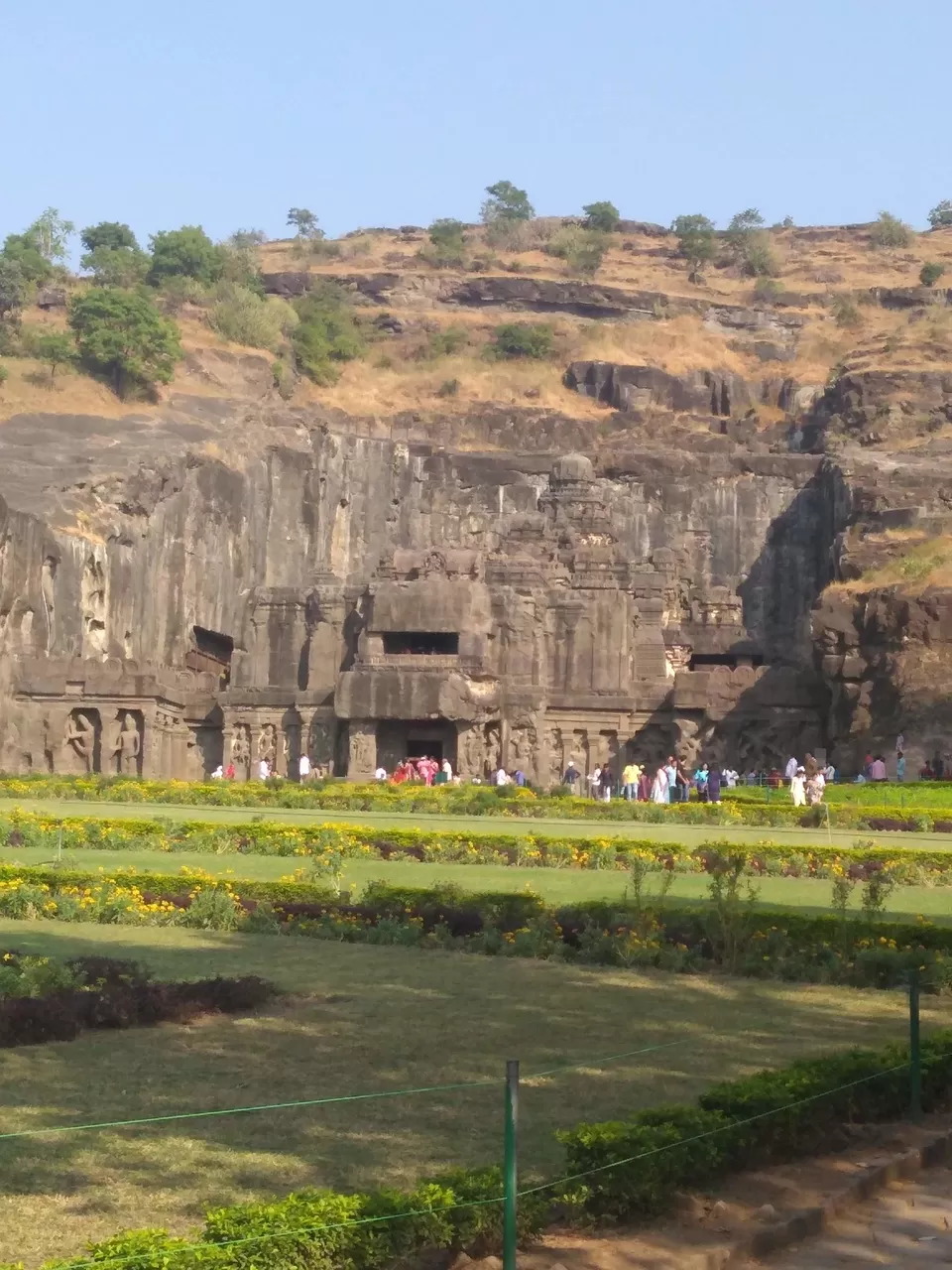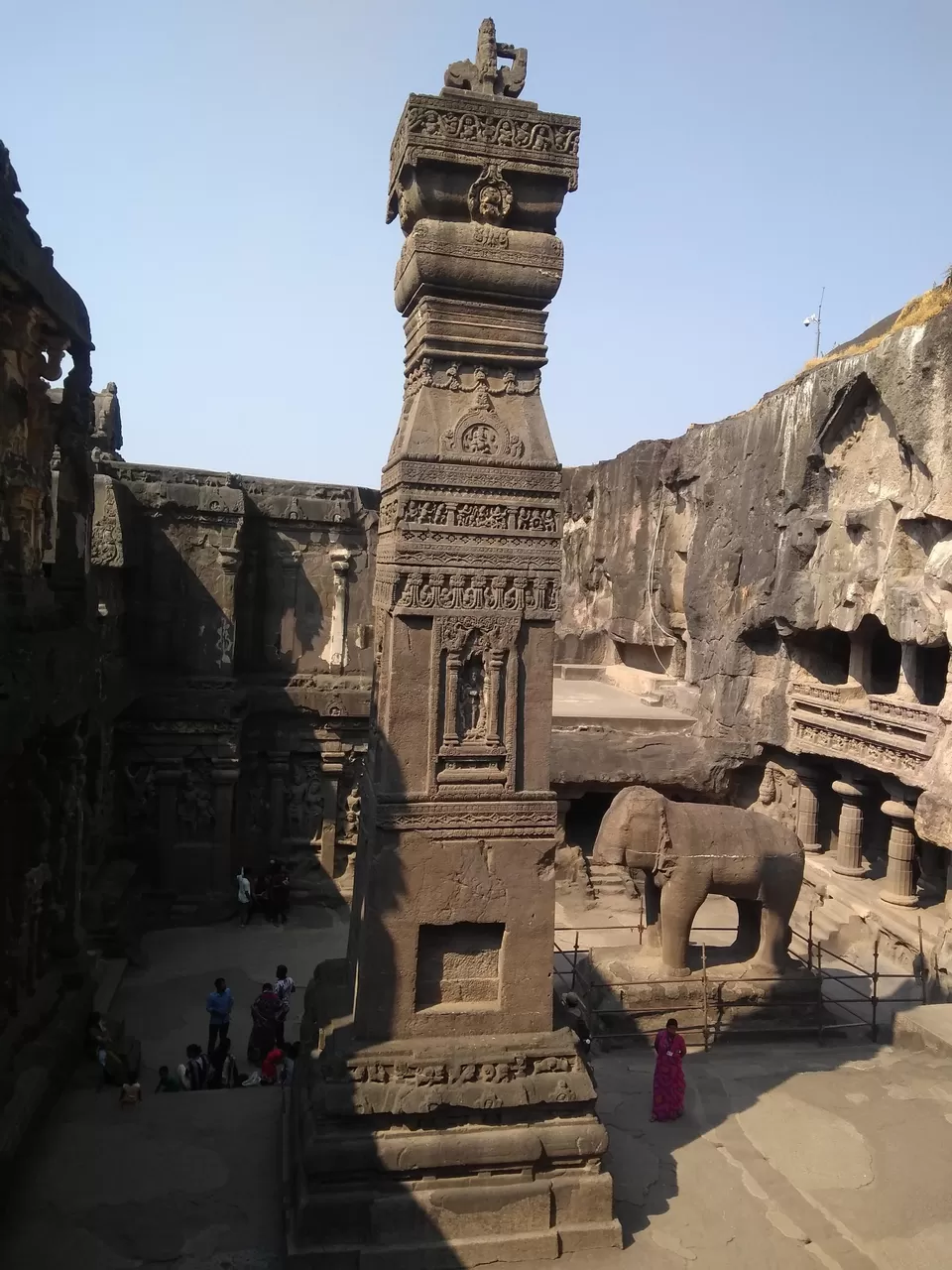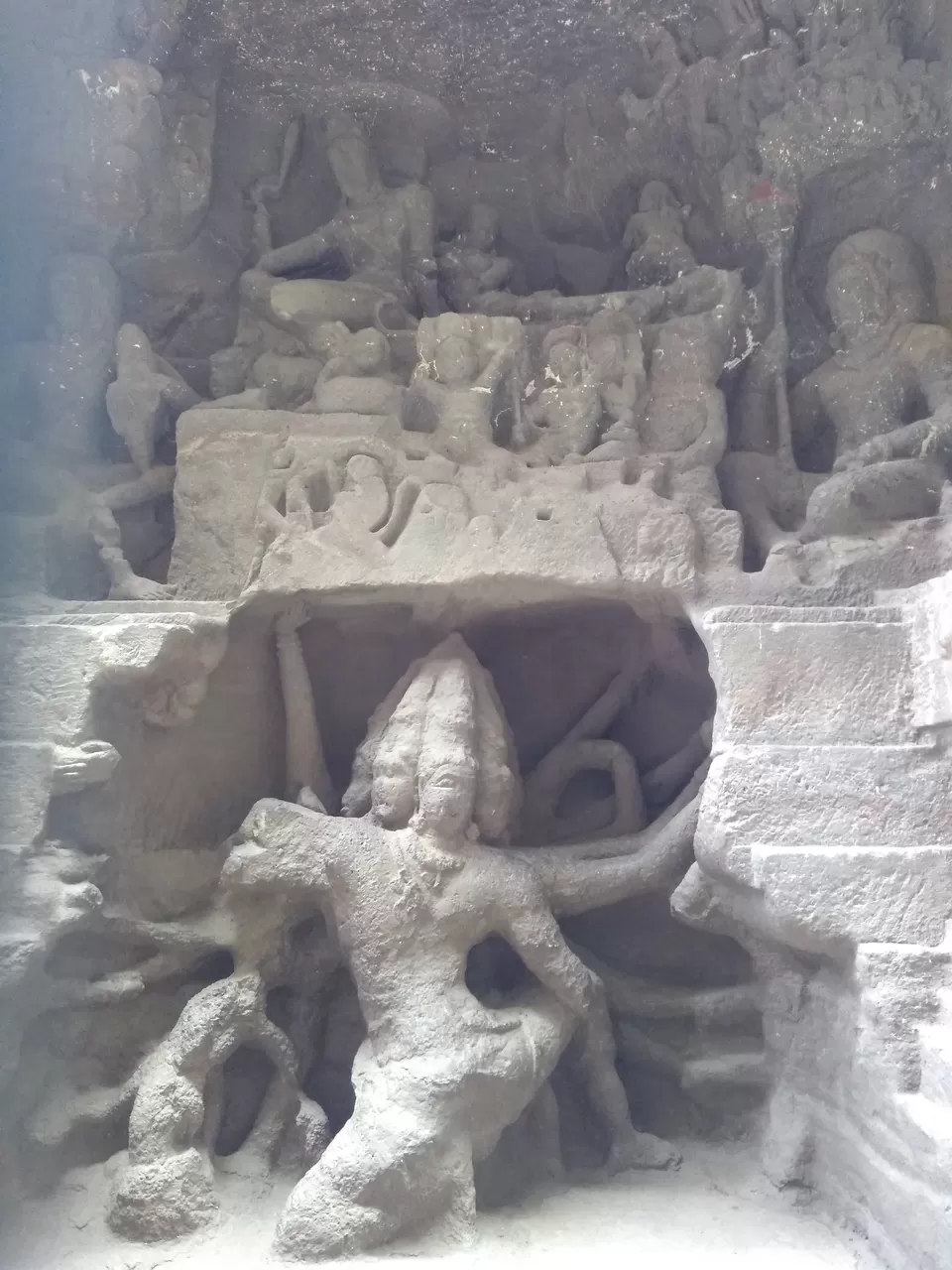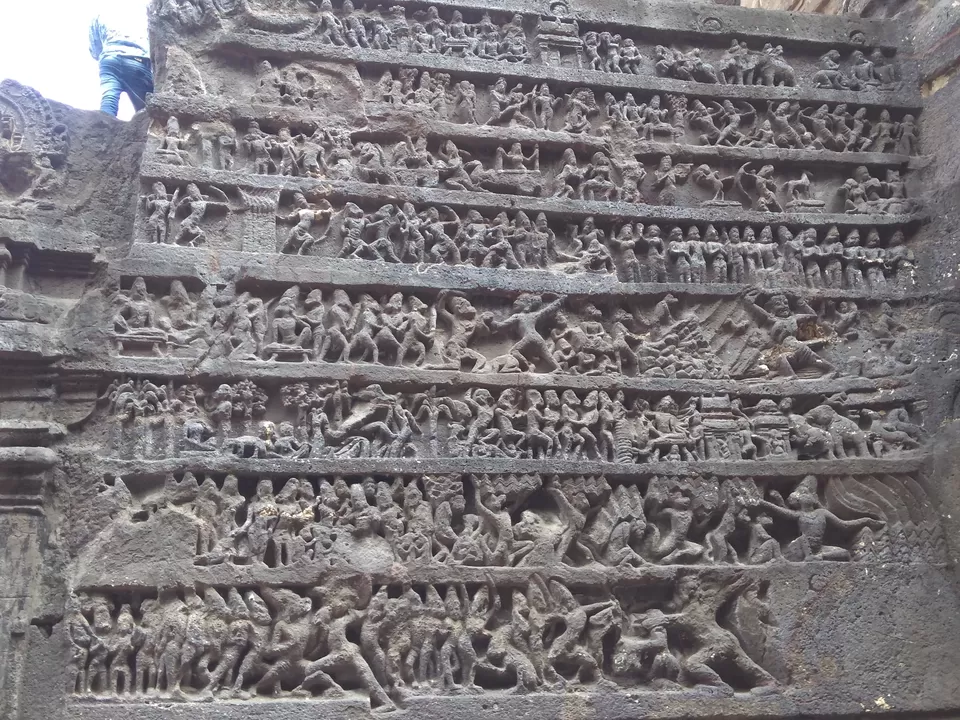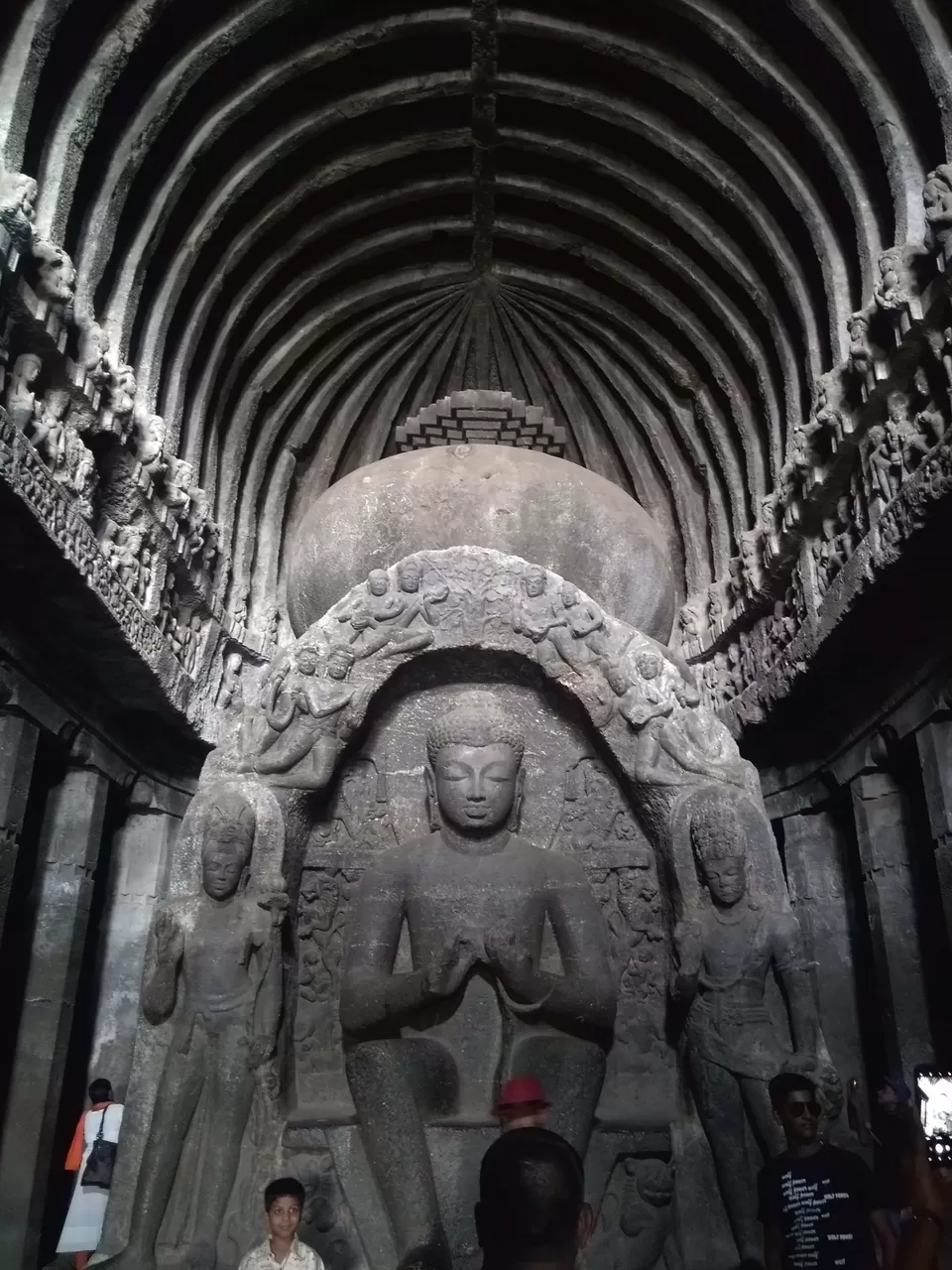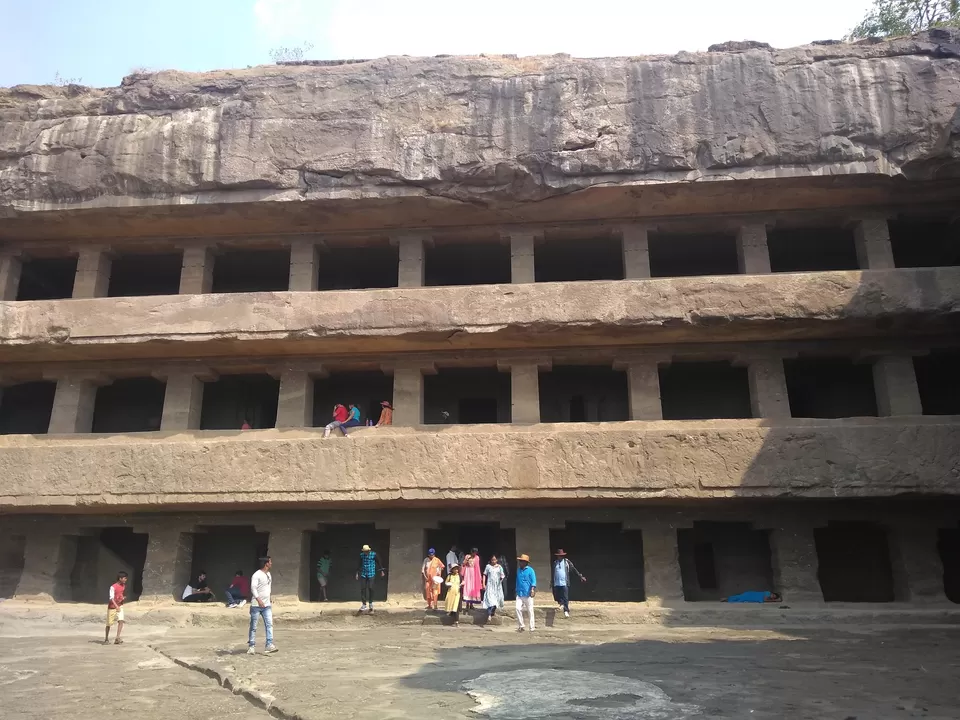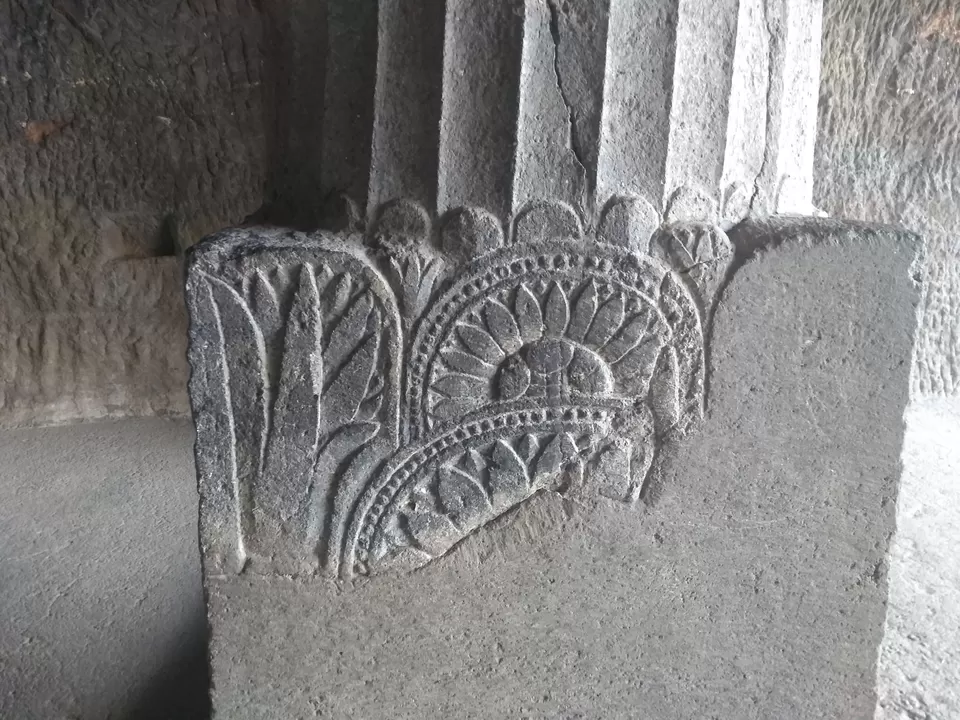 On the first day, my plan was to visit the famous Ellora caves, it is situated 29 km northwest from the Aurangabad city. There are multiple transport options available for reaching Ellora; private cab shared vehicles or state transport bus. As I looking to optimize my budget and travelling solo, so I decided to take the cheapest option.
After having breakfast, I went to the main bus stand of Aurangabad. There are frequent buses to Ellora caves as it on a national highway and after 40 minutes of the journey, I reached Ellora at 9.30 am. On the way, I could see the Daulatabad fort sitting a hilltop which I visited on a later day. After reaching Ellora, I took a ticket from the booking counter. I also bought two guidebooks from Archeological Survey of India (ASI) on Ellora and Ajanta as I wanted to learn the more about the history, architecture of these man-made wonders. For the group travellers, there are a few ASI authenticated guides who charge 1600 for the whole group.
Ellora caves have a unique place in the history of our human civilization and are living embodiment of the religious tolerance that was characteristic of ancient India. This monastic temple complex represents the work of successive Buddhist, Hindu and Jain religions, dating from 600 to 1000 CE period. There are total 34 caves, 1-12 caves are Buddhist, 13-29 are of Hindu tradition and 30-34 are Jain caves.
I decided to start from the famous Kailasha temple (cave no. 16 ), largest monolithic rock-cut temple and its name derives from a sculpture of Ravana shaking the mount of Kailasha, the abode of Lord Shiva. Though the main temple was excavated by Rashtrakuta king Krishna 1, one can find the influence of Chalukya and Pallava styles on the temple architecture. It was a such an awe-inspiring structure both in scale and detail, that it took me around 1.5 hours to visit the whole temple complex.
From the entrance, I could see a huge rockscreen with carvings and a two-storeyed Gopuram. Most of deities on the left side of the U-shaped courtyard are Shivaite and on the right side, there are depictions of Dashavatara of Lord Vishnu. There are three sections of the temple, a Nandi shrine, a sixteen pillared Mandapa and the main sanctuary having Shiva Linga. There are intricately carved panels on the walls of the temple depicting scenes from Ramayana (right side) and Mahabharata (left side). A large cubical column with an intricate design in the courtyard, known as the Dhajastambha, is an iconic monument. I have downloaded a few Youtube guide videos beforehand which helped me the make meaning out of the rock structures I was seeing for the first time.
The Buddhist caves were next on my list, these were rather simple in its architecture as compared to Kailash Temple but it sure takes you to ancient times when these Buddhist monasteries were the cradle of knowledge, meditation and culture. Both Hinayana and Mahayana caves are here, two major categories of Buddhist faith.
After completing the Buddhist caves, it was 2.00 p.m. on my watch and I was feeling exhausted. So, I took a break and went to MTDC restaurant for lunch. After lunch, I took a shuttle to visit the Jain caves as it were 2 km away from the entrance. After visiting the Jain caves, it was time to return to my base camp Aurangabad so I took a shared cab.
After reaching Aurangabad at 5 pm, I immediately booked an auto and went to Bibi ka Maqbura, as it within the city and remains open till 7 p.m. This Islamic monument was built by the Mughal emperor Aurangzeb's son Azam Shah in the memory of his mother. It is also known as The Taj of Deccan, for its striking resemblance with the original architectural marvel in Agra. After spending around one hour, it was time to head back to the hotel and give rest to my aching legs. Tomorrow the jewel of the crown waits, Aparupa Ajanta.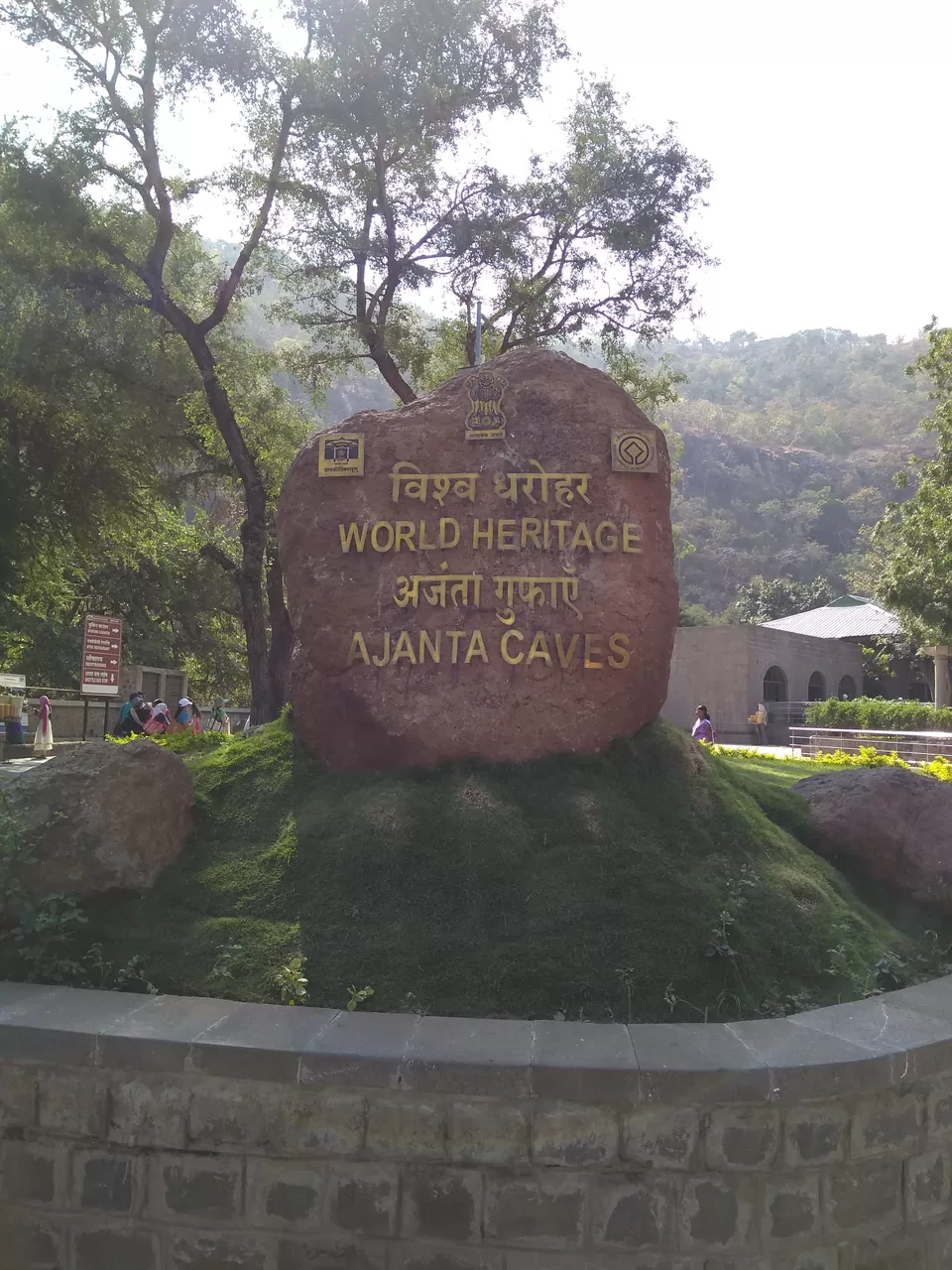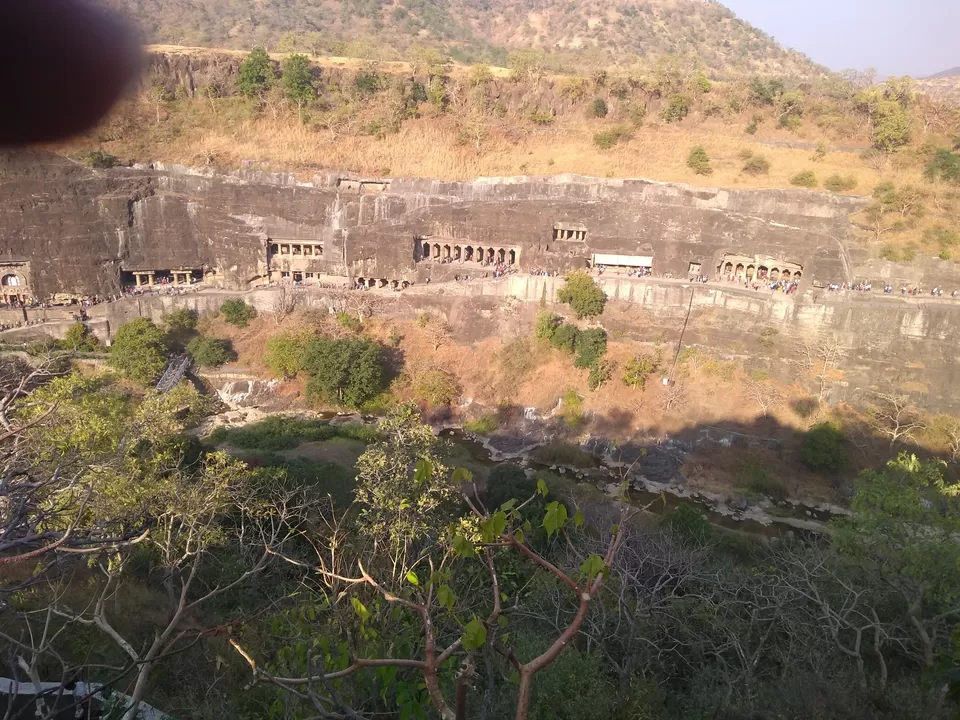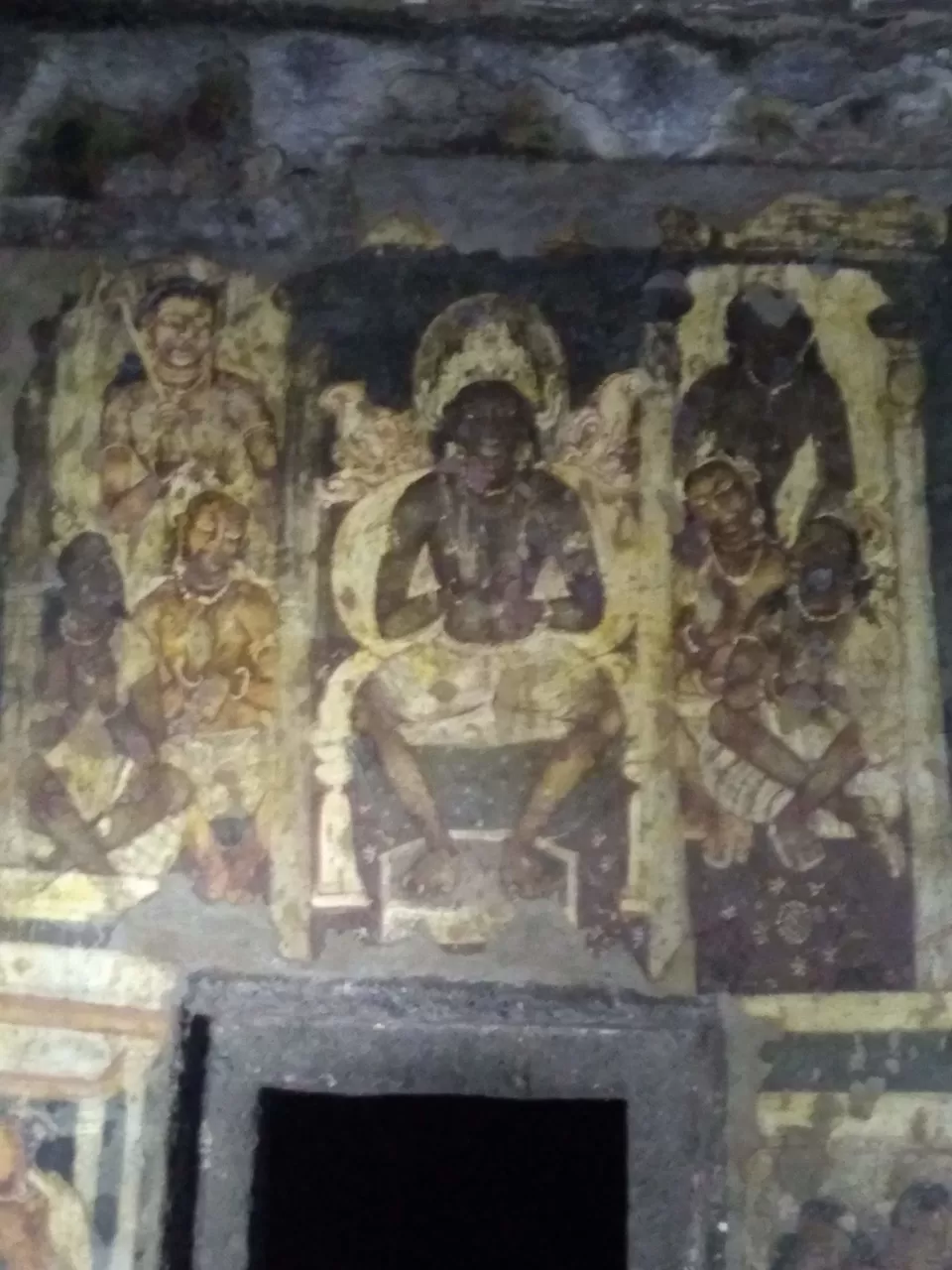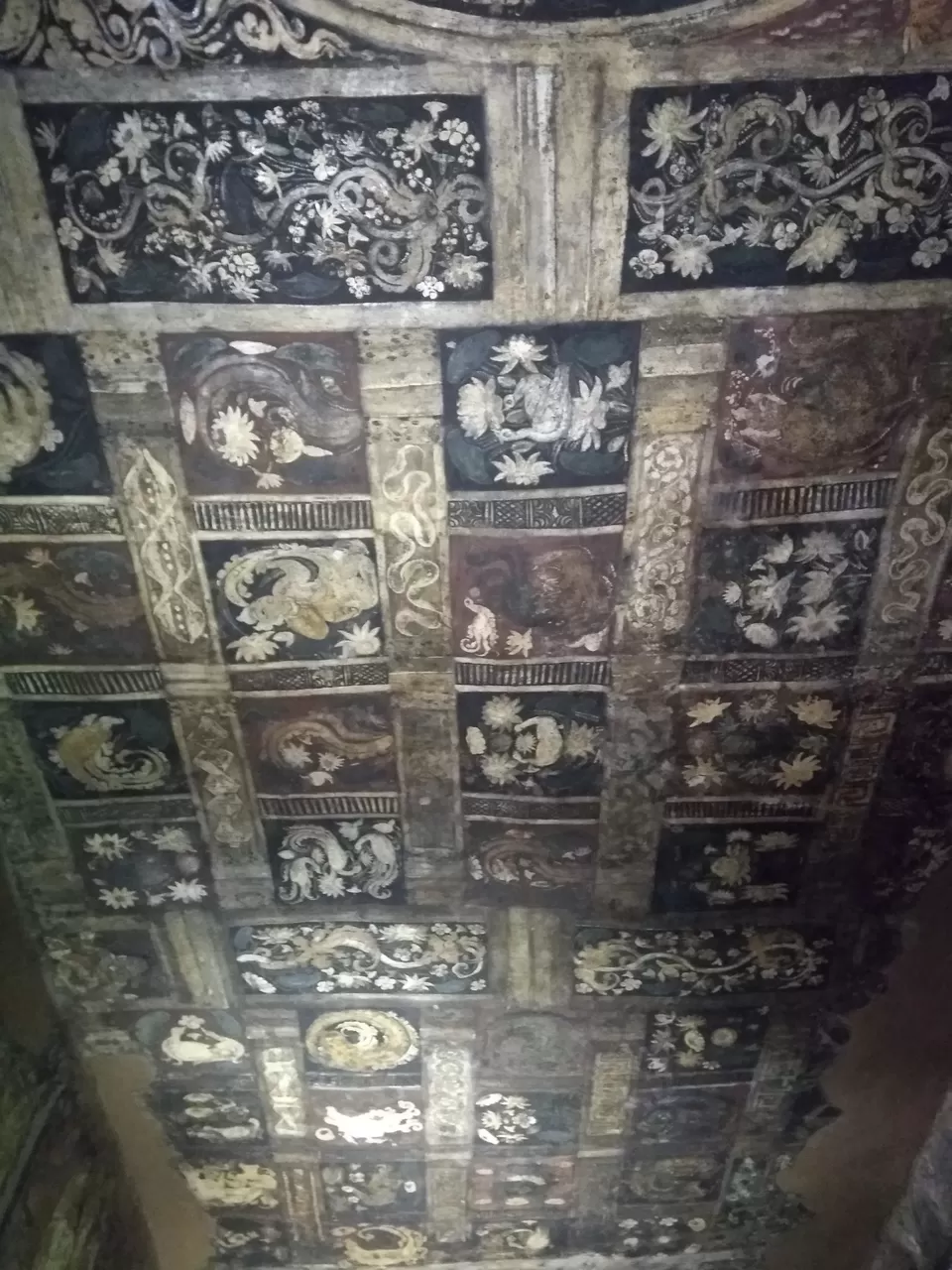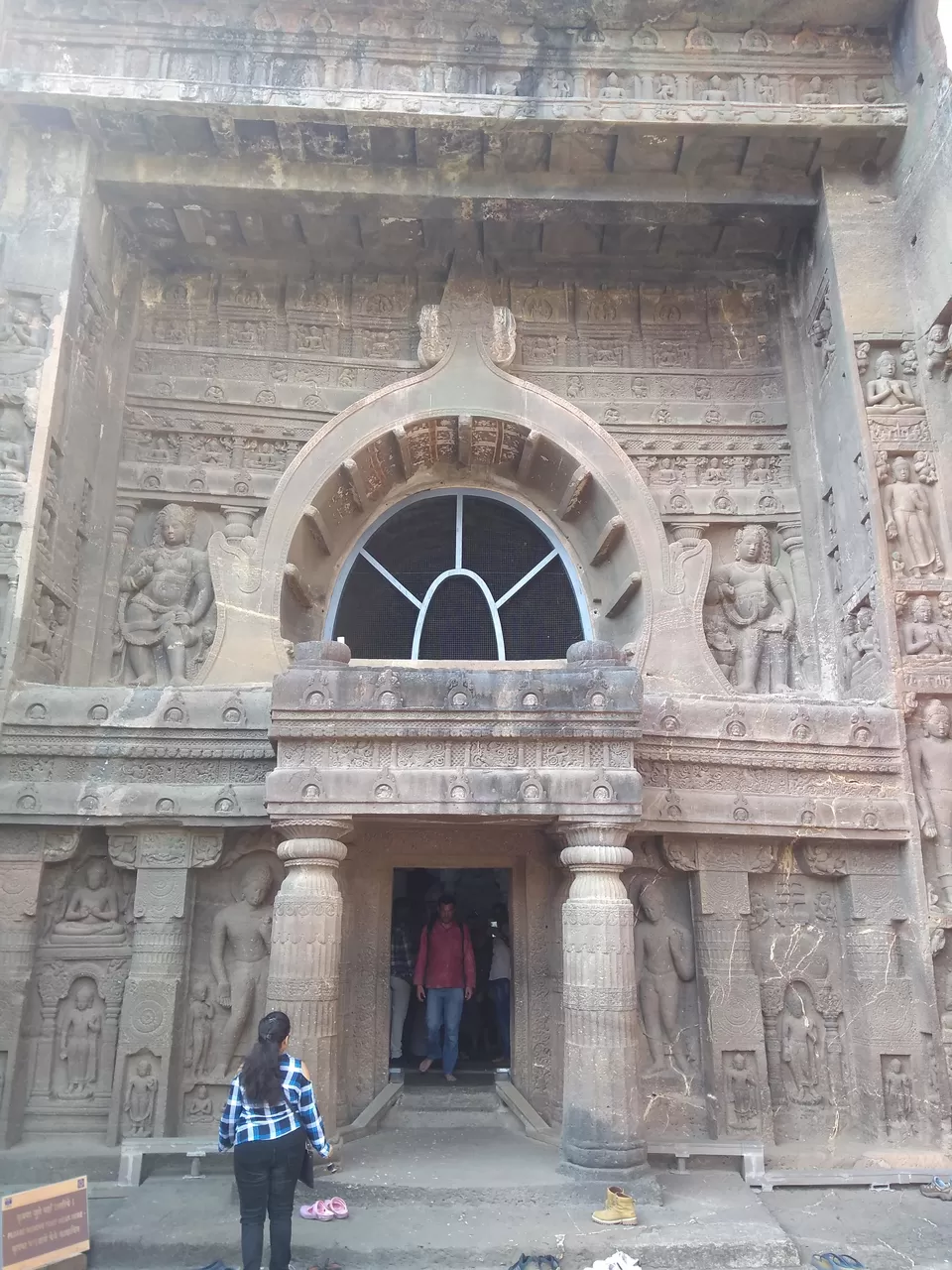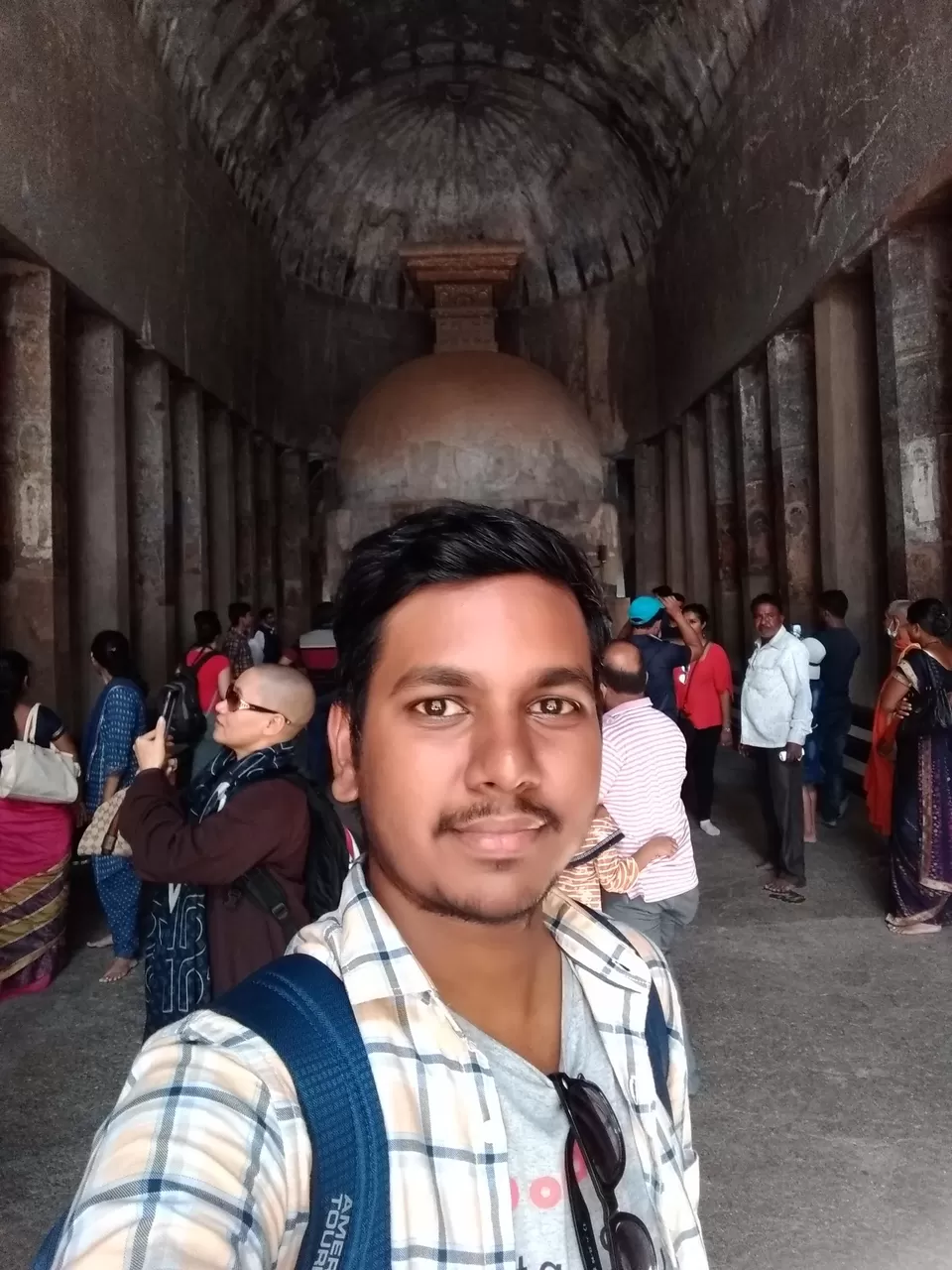 I boarded a luxury seater bus from the main bus stand at 8 a.m costing rs. 250 . Ajanta caves are situated 100 km away from Aurangabad and it took almost 3 hours of tiring journey to reach Ajanta. No private vehicles are allowed to the Ajanta caves to minimize the decay of iconic wall paintings due to pollution; one has to board special shuttle buses to reach to the foothill of the caves. No food items are allowed inside the caves, so I filled my tummy for the day at the MTDC restaurant at the entrance to the caves and planned to explore all the major caves by 5pm.
These 30 caves (both finished and unfinished) excavated in a semi-circular rocky cliff looking over a narrow sinuous gorge, includes five chaitya-grihas (prayer halls) and twenty-five viharas (monasteries). The caves were built between the second century BC (Satbahana Period) and seventh century AD (Vakataka Period) and served as sanctuaries for Buddhist monks during the monsoons. Unlike Ellora caves, these masterpieces of Buddhist religious art were forgotten in modern era until in 1819 a British army officer John Smith accidentally 'discovered' the Cave no. 10 during a hunting expedition. One can still see the signature of John Smith on one painting inside the Cave no. 10.
I started to see the caves starting from cave no. 1 chronologically, aided by the ASI guidebook I bought the previous day. Among the 30 caves, one should at least visit caves 1,2,10,16,17,19 and 26, if there is a time constraint. As I was moving from one cave to another, I was mesmerized by the sheer detailing and longevity of mural paintings that adorn the interiors of several caves. These Buddhist paintings depict different Jataka stories of Buddhism and other Buddhist themes. In one cave painting, I was amazed to see the necklace painted on a lady still shining in torchlight.
After completing the caves, I reached the hilltop on the opposite side of the gorge to get a panoramic view of the caves. Looking at those caves I was thinking about the invincible spirit and infinite patience our forefathers must have possessed to turn this barren rock-cliff into an artistic masterpiece that stood the test of time. There was a waterfall also which was dry as it was not monsoon season. While returning I had to stand in long queue for more than half an hour to board the shuttle bus. It was a little annoying; for a such a world-famous tourist attraction govt should have provided better arrangement. After coming down from the hill, I returned to the Aurangabad city via a shared vehicle.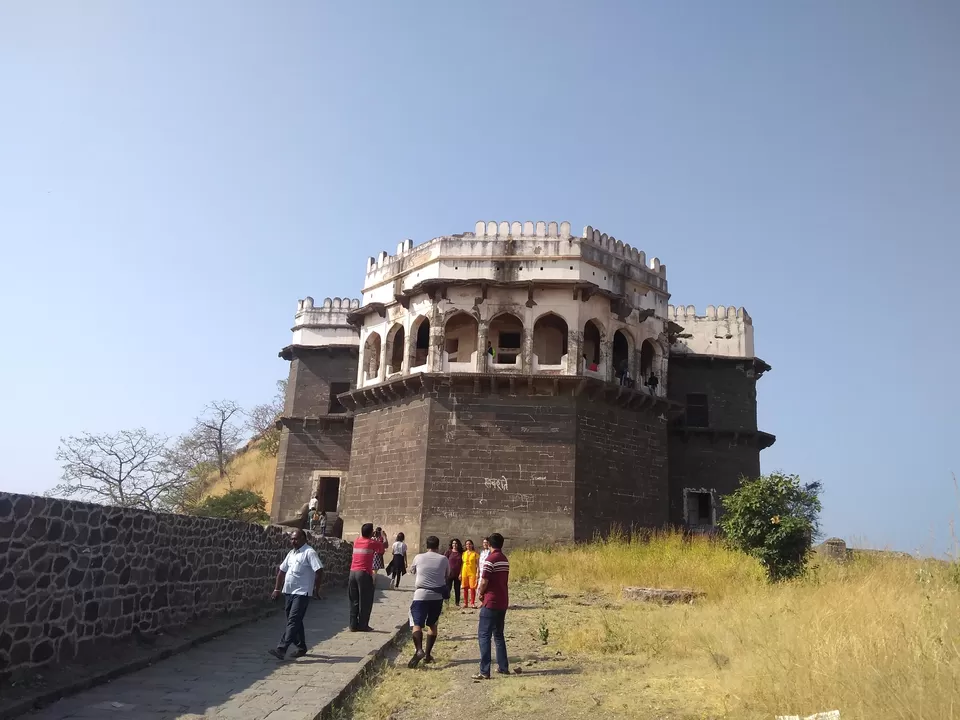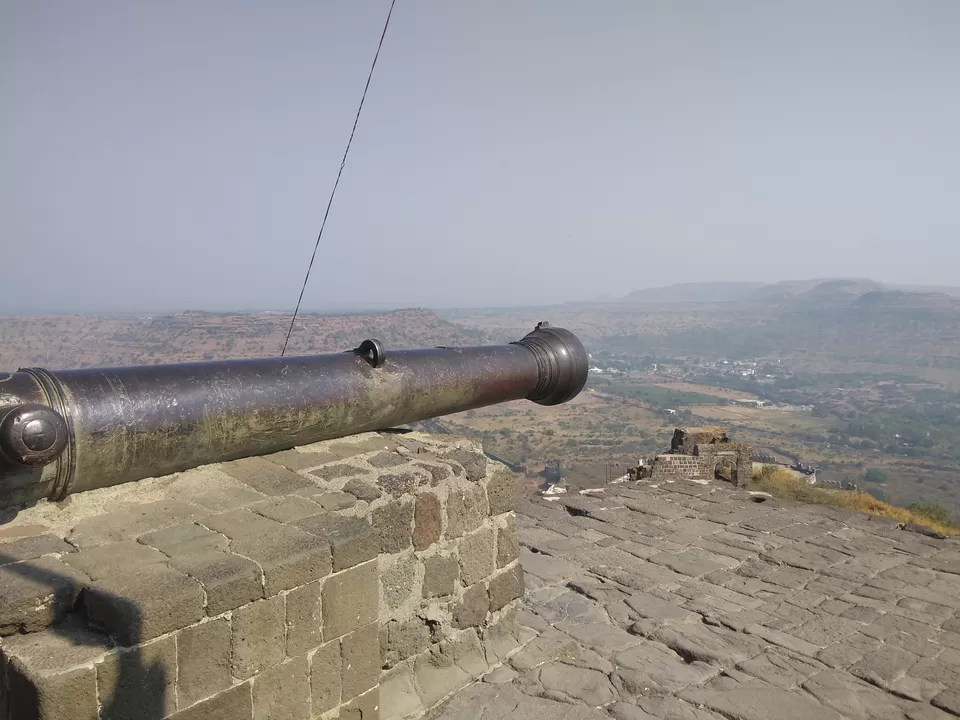 Next morning still with the hangover of Ajanta and Ellora in my head, I took a bus to see Daulatabad fort, situated on an isolated pyramid-shaped hill amidst plain, barren terrain. This impregnable medieval fort is one of the finest examples of military planning and defensive structure in India; surrounded by three layers of fortified high stone walls, a deep moat with crocodiles and dark zigzag passages (Andheri), this fort could only be conquered by treachery. The initial name of this fort city was Devgiri and it was a strategic centre of Deccan during multiple Hindu rulers. Later on, mad king mahamumd bin tughlaq decided to transfer its capital from Delhi to this fort, he renamed it as Daulatabad, a city of fortune. As the fort is surrounded by barren land, he excavated a large water tank that can be still seen.
I knew beforehand it would be a very tiring journey to the top of the fort in the scorching sun, so I started early in the morning and reached to the top after hiking through 750 steps by 10 am. The view from the top just blew my mind and I could witness the foresight the planers of this fort must have had; one can see the 360 views of plain land and distant tabletop mountains and there is no way an enemy army can mount a surprise attack on to the fort. I did not go inside the bat-infested dark Andheri passage, instead, I took a staircase by passing the dark alley. Without any local guide, it is not advisable to go inside the Andheri as intense smell of Bat and claustrophobic environment inside the mazes can make one feel dizzy.
There are several monuments inside the fort-city; the chand minar, the chini mahal, temple of Bharat mata. 65 meter high, chand minar was built by Sultan Ahmed Shah Bahamni in 1447 AD and is the second tallest tower in India after the famous Qutub minar. Legend has it that Aurangzeb kept imprisoned Shahu Maharaj, son of Shivaji maharaj inside the Chini mahal, once a palacial building decorated with Chinese clay tiles (thus the name). There was perfect arrangement of regular water supply to this fort-city, a huge water tank (Hathi Haud) built by Muhamd bin Tughlaq just near left side of the main entrance still evident of the medieval engineering. Near to it, one can spot a vast open courtyard surrounded by broken columns and beyond the courtyard, there is a beautiful standing image of Bharat Mata. One can easily make out from the architecture of the structure, it was originally built as a temple and later on used as a mosque. There are three huge canons inside the fort; among which one named as Mendha Tope is made with special alloys to restrict the heating and when I touched, it felt cold.
Now it was the end of my first solo trip. Though I wanted to explore other attractions like Pan chakki, Aurangabad Caves it was time to return to the daily routine. I boarded my train from Aurangabad station at 2.30 pm after having lunch. While returning I kept thinking about the variety of experience our country has to offer to an inquisitive mind that it would certainly take a lifetime to explore this vast country and I promised myself that this trip was going to be the first of many such adventures.