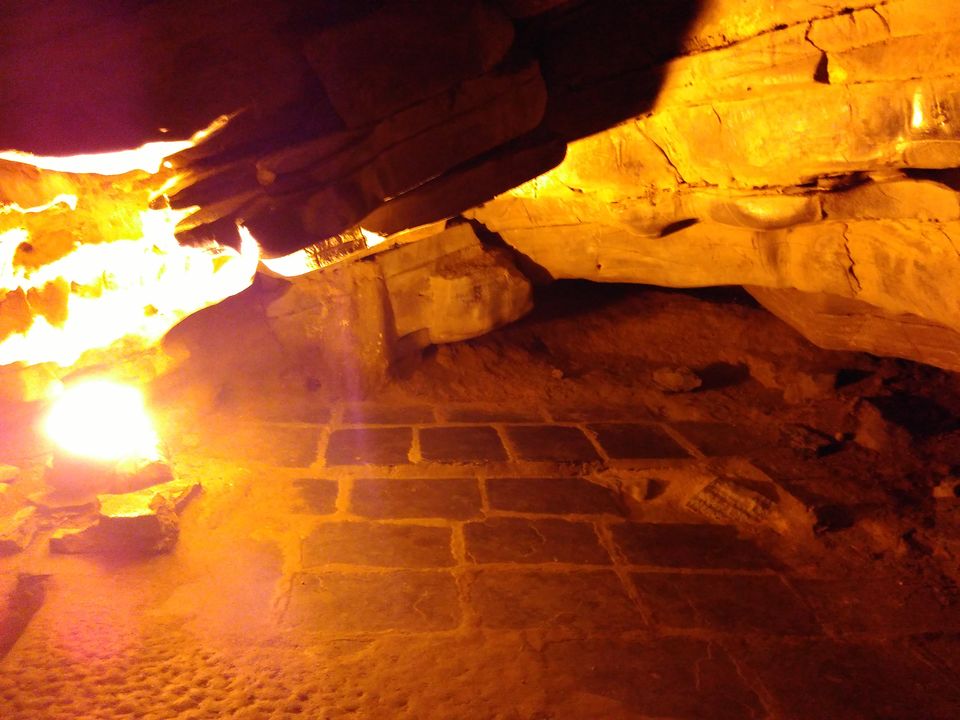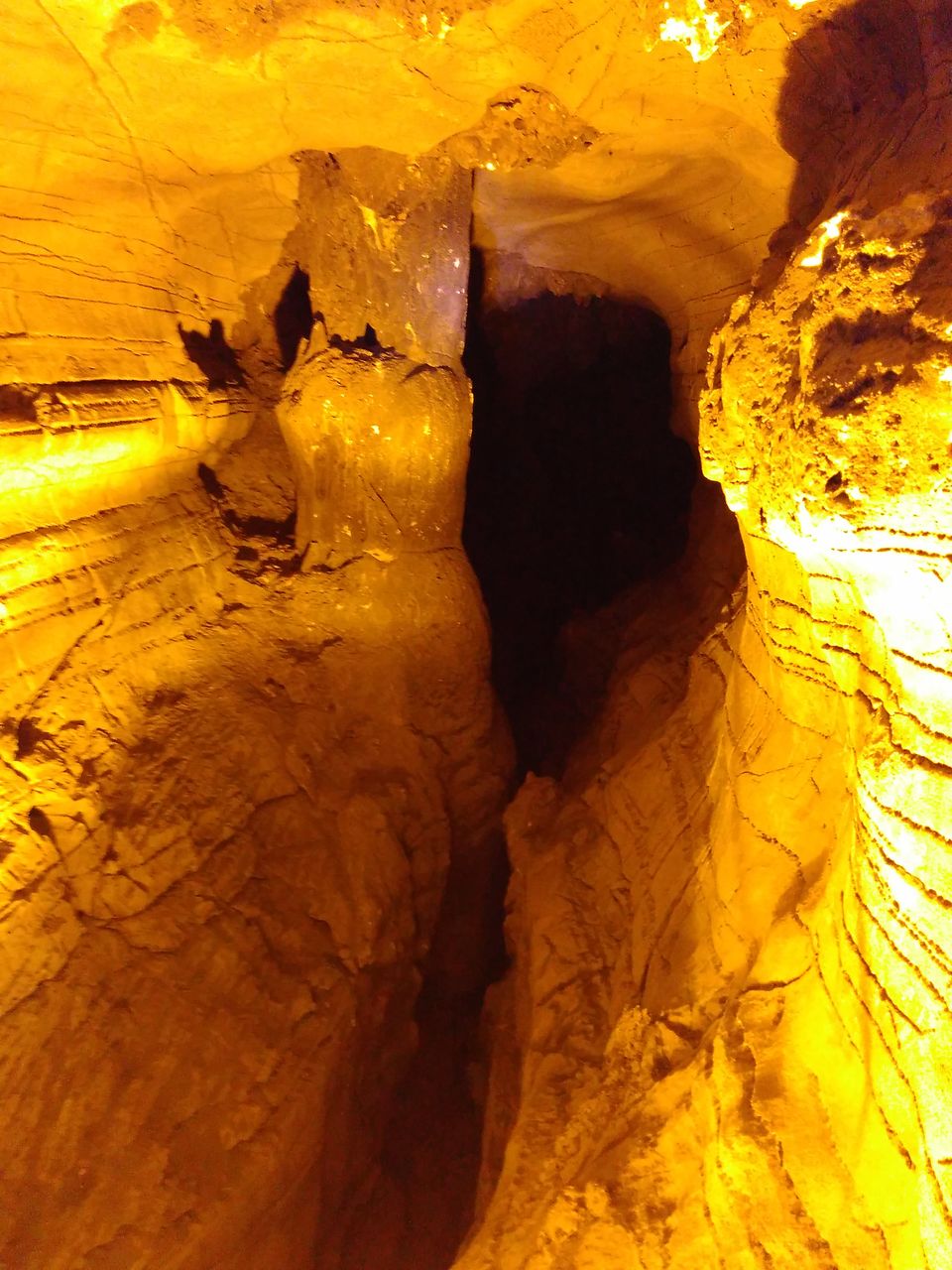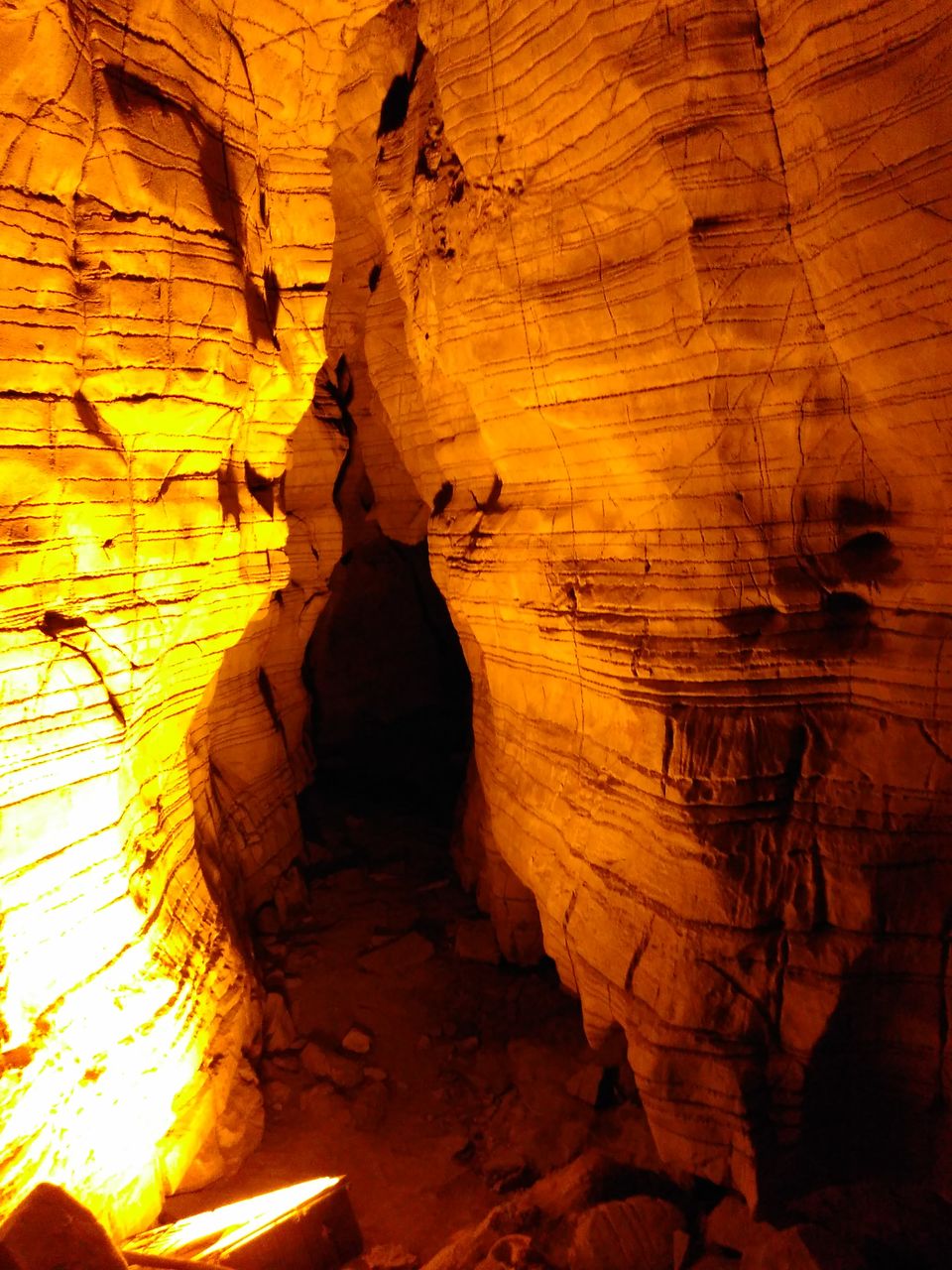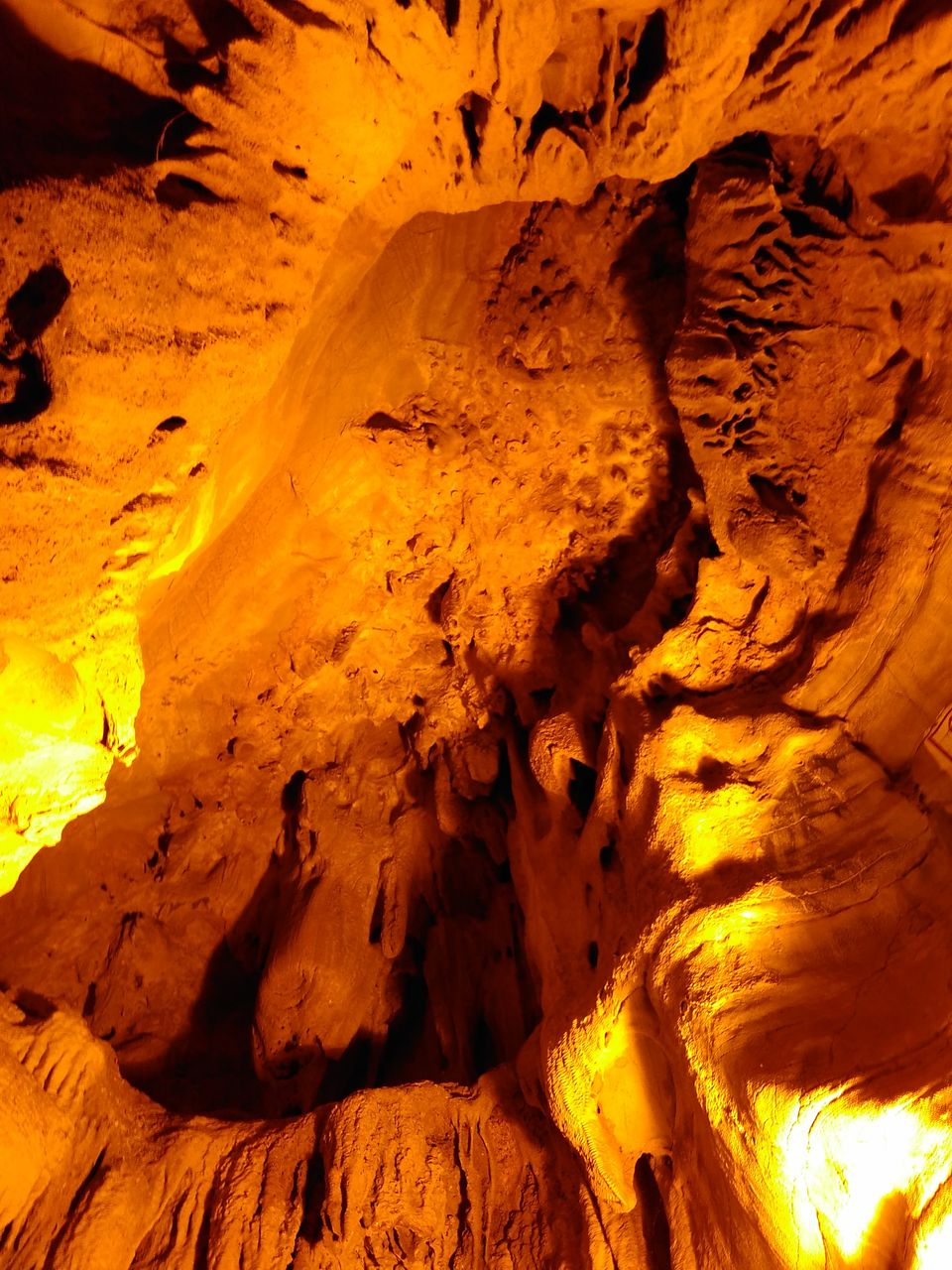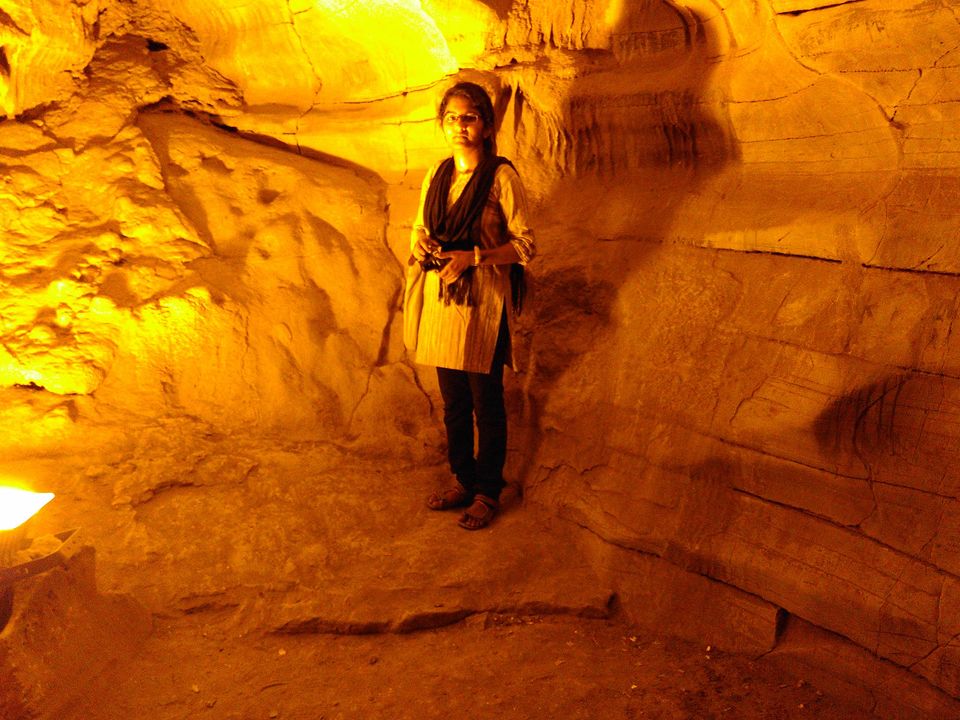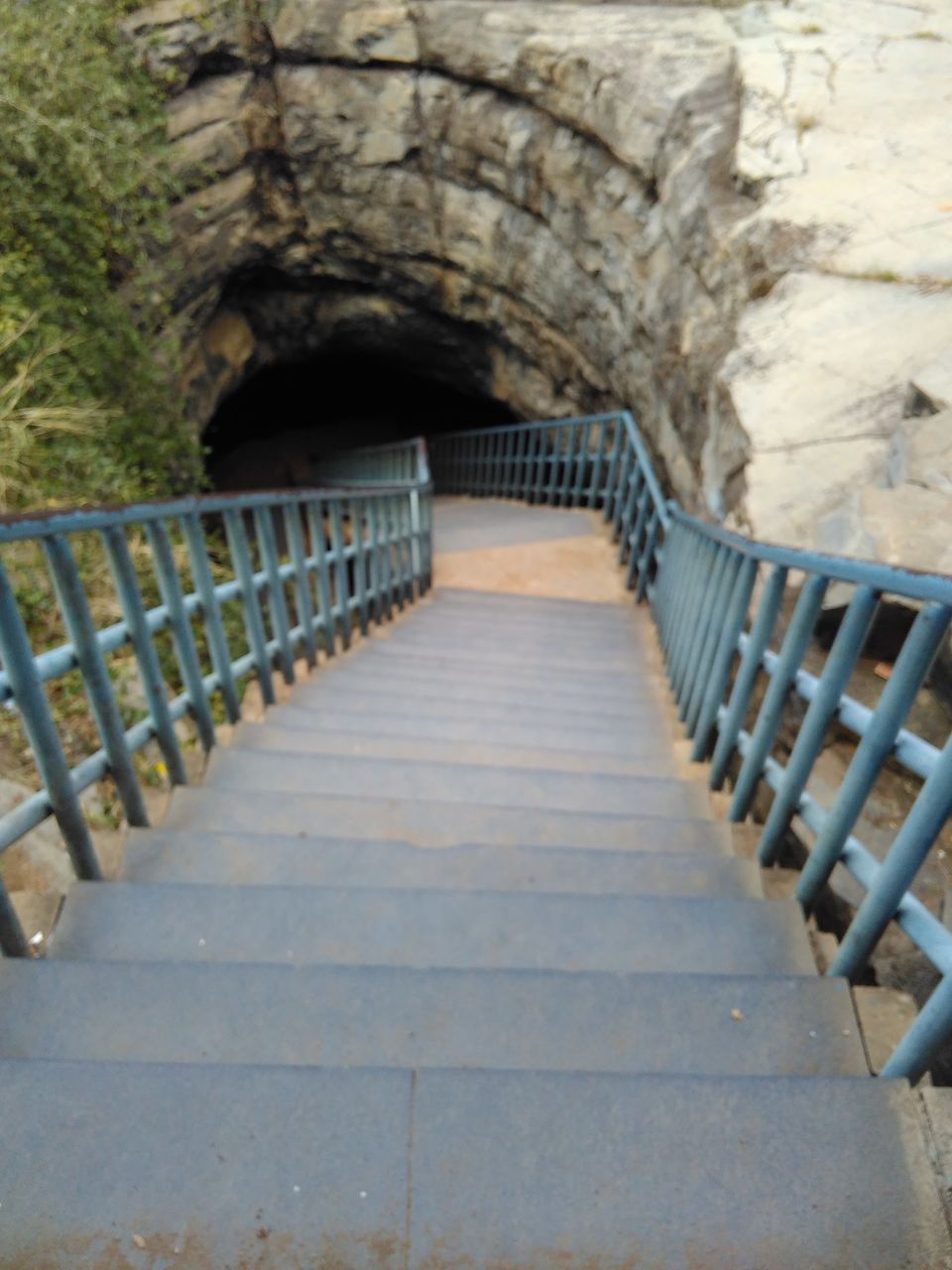 Asia's second largest underground cave! That was striking my mind along with some photos from other travelogues. However, the language was a great barrier for me when I tried to get the food. When I think back, it was still a very funny experience.
After my "Only-Telugu" speaking guide helped me get a bus from Jammalamaudugu to Kolimigundla, the conductor of the bus was tooo much talkative in his broken Hindi. He even asked me how much my salary was! Well…You know, one shouldn't ask a girl about two things: Her Age and Her Salary. Just kidding. Ahem… Back to the story... I just told him a small amount. But this triggered another catastrophe. He started bragging about his relatives who were getting paid 20k monthly. I smiled at him calmly and looked through the wide side windows. Yet he was still determined not to leave me alone. He started telling me "You should try for some job in Bangalore ", "How much are you spending for your travels?" and so on. Thankfully, I reached my stop by that time. He helped get a shared auto to Belum. Hurray to the talkative bus conductor! (For helping me get the auto, that is). Again, no one in the auto knew any other language than Telugu. Finally, when I uttered that magic word - "Belum", everyone nodded in affirmative.
When the auto started heading towards Belum, I could see the Kadappa stones on either side of the road. Then only I realized the district name- Kadappa :)
On my journey, I was so lost in sight seeing. Suddenly a board written "Belum" passed me in a flash. After a few seconds, I realized the reality. Belum was not the last stop and the Auto is still taking me somewhere else. Therefore, I tried to communicate with the other passengers in the auto. But no use. Hence, I got down at the next halt and thankfully caught another auto. This time I got down at a stop before Belum. A guy who was standing beside the road howled and stopped the auto and told me in English "Belum, next!" Then few other passengers in the auto spoke to me in Hindi. They seemed to be worried seeing me stand there all alone. So they dropped me right in front of the Belum caves entrance. This time they didnt take money from me! Can you see the benefits of being a girl, now? Just joking ;)
Seeing the entrance of the caves was a relief and the temperature was rising to 40 degree Celsius. I had nearly 1km ahead of me to reach the caves. The place was not that crowded. A Budha statue was there in campus as if it was waiting for the arrival of the humble solo traveler. Behind the statue, upon the hills, it was written " Belum Caves " in English and Telugu… Both in gigantic letters (I even missed that during my sight seeing and got down at the wrong place.)
The Entrance fee to cave was 35rs and if I wished, I could even enter the cave without a guide, free of charge. But I asked for one, coz I didn't want to miss any spot inside the cave. Someone in his late forties accompanied me. His Hindi was really good and without missing any spot inside the cave he explained everything to me and showed me the Adventure exit. I really wanted to try it but the humidity inside the cave was too high. I was a lil scared thinking that I might collapse soon. If so, no one will know where their beloved Solo traveler disappeared!
We first visited the Meditation room. With that said, I felt that its name should be changed. In that temperature, I can't even imagine meditating there! In many places inside the Cave, there are Air exhausts and most of the places were crowded with people.
Despite this temperature, it was a real wonder, a creation of mother nature. You know, once upon a time, water used to flow through these caves. That's how the structures were made. There are many places to see inside the cave. The thousand hoods, the Mantapam, the Banyan Tree hall, the Pathala Ganga and the Maya Mandir are few amongst the list.
You can also see that the nature has made a shiva ling inside one of the caves. Throughout my time inside the caves, I was feeling like it is a very new realm. After some hours of exploration, I came back to see the benches at the entrance of cave. Before I started my exploration, I was asking my guide as to why there were chairs here, that too at the entrance of the cave. But now, when I came out of the cave, the first thing that I did was to stretch my back in one of those benches there. 
Now I understand its purpose. After rejuvenating me with few bites of biscuits and some gulps of water, I slowly stepped out to the entrance. When I was walking towards the hotel that was working inside the campus, I was looking at the concrete road. At that time, I thought to myself that. Below this road a world exists! An unexplored wonderland!
Please note: 
1) Don't visit the caves in peak summer. This cave is off limits (at least my limits) during summer!
2) Have a bottle of water with you when you start exploration. This will be one of the best places, where Mother Nature teaches us the value of a single drop of water. Really, even a single drop of water counts!
3) There are refreshments at the entrance. So don't worry even if you forgot to carry a bottle of water with you.
4) There is one good restaurant at the entrance of the main gate. Here you will get spicy, yummy and tasty Telugu meals!