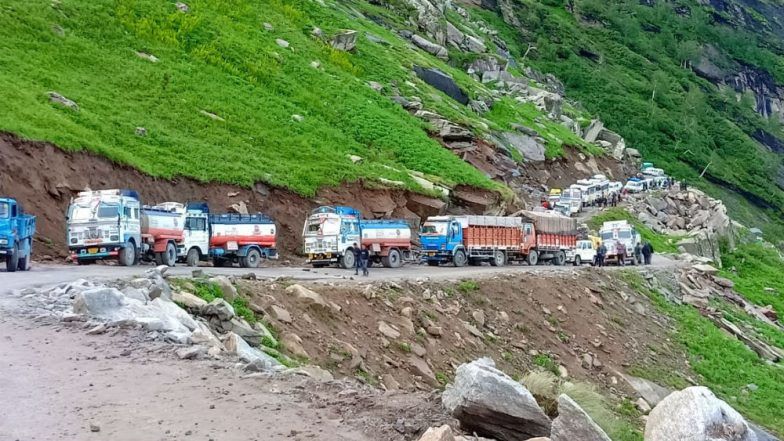 The snow-covered valley of Lahaul was hit by another avalanche and the only petrol pump on the Leh Manali Highway (Tandi Petrol Pump) got destroyed. A hot mix plant of a road construction company was also destroyed due to avalanches in the Tandi area.
Many roads have been blocked due to widespread snowfall and public movement has been restricted in the region. Snow clearance operation is being conducted by Border Roads Organisation (BRO).
Two motorable bridges, four dhabas, a Mahila Mandal building, a liquor shop and some machinery have been damaged by avalanches in Lahaul-Spiti district. Nine people survived injuries in an avalanche hit.
Udaipur sub-divisional magistrate Subhash Gautam said an avalanche was reported in Tandi area, where the snow had buried a few road construction machines. "The valley has received more snowfall over the night and more is expected in the next three-four days," he said.
Rockslide on Chandigarh-Manali national highway
Chandigarh-Manali national highway was blocked on Wednesday holding up vehicular traffic for almost nine hours after massive rockslide near Banala in Mandi district of Himachal Pradesh.
Light vehicles were diverted from Kataula-Bajaura bypass road while large ones were caught in the massive jam. Most Manali-bound tourist busses were also stranded.
"Much of the traffic from Mandi-Kataula-Bajaura road was diverted. The road was restored for vehicular movement around 3 pm. Jawans were deployed to the affected site to monitor the situation," informed Mandi Superintendent of Police Gurdev Chand Sharma.
Though no major casualties were reported, a rock hit a tourist in the head during the mishap.
Caution
For people planning a trip by road during May-June should take the frequent landslides into consideration. This is the time when roads generally open and tourists plan their road trip. However, they are advised to remain cautious amid the increasing number of landslide cases.
Have you been to Lahaul? Share your travel experiences with Tripoto wanderers here.