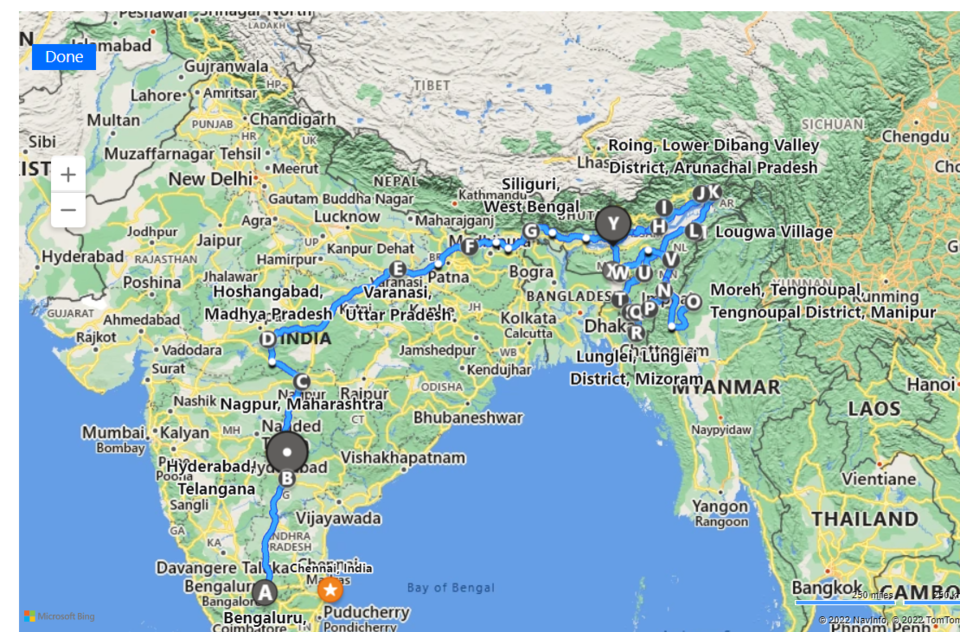 This is how i planed and completed my North East ride which spaned more than 7000 Km +.
This ride took me 32 days to complete it.
I followed below route:
Bangalore(KA) -> Hyderabad(TS) -> Nagpur(MH) -> Hoshangabad(MP) ->
Maihar -> Varanasi(UP) -> Chapara(Bihar) -> Darbhanga ->
Siliguri(WB) -> Dudhnoi(AS) -> Gohpur -> Ziro(AR) ->
Pasighat -> Roing -> Mon(NL) -> Longwa -> Sonari(AS) ->
Kohima(NL) -> Loktak lake(MN) -> Moreh -> Sinzawl ->
Aizawl(MZ) -> Lunglei -> Mamit -> Unakoti(TR) ->
Silchar(AS) -> Haflong -> Kohima -> Umrangso -> Dawki(ML) -> Cherapunji ->
Guwahati(AS).
Guwahati to Bangalore by flight and Couried my bike.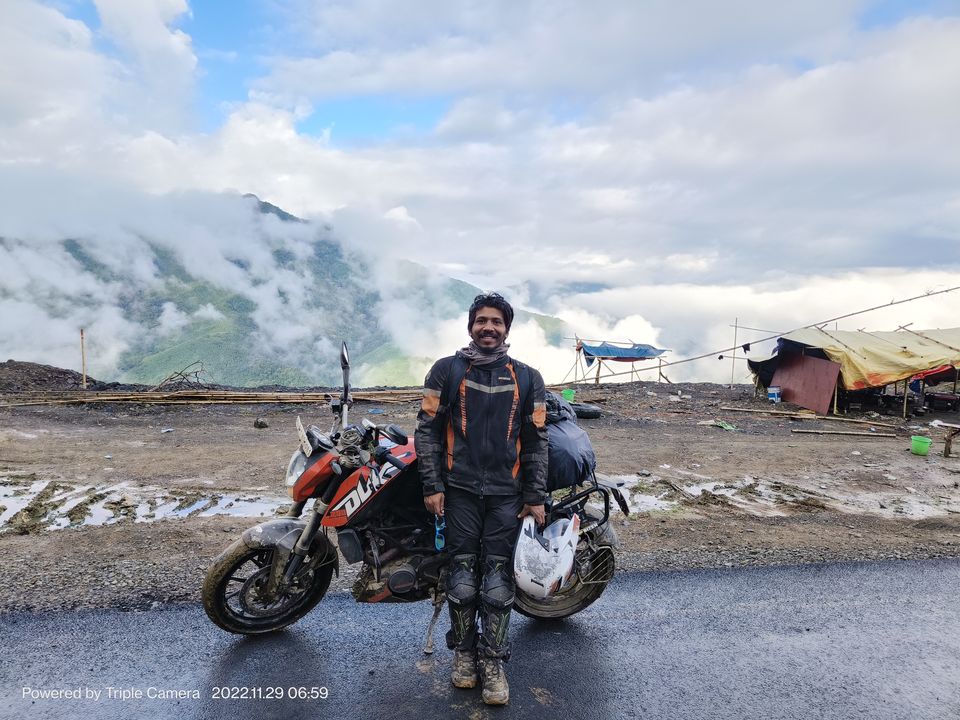 I was able to attend attend Hornbill festival which happens 1 to 10 Dec every year.
This festival was one of the main target for my ride and it was really worth it.
I was also able to attend Sangai Festival of Manipur, i was not aware about it before
but when i reached manipur ,my friend suggested it attend at loktak lake as i was going to lake anyway.
Another place i liked for it remoteness is Longwa(Border village to Mynamar ) .
In this area you can find everyone is carrying the air gun for hunting,not to harm any human.
Google Map still shows that i visited Myanmar .
One of the toughest day ride was from Sinzawl(Manipur) to Aizawl(Mizoram).
Main reason was for this riding in full muddy road due to heavy rain in early morning.
Bike slipped multiple time in same day .
Only day i started feeling scared on road just because i was not finding any village near road.
This was while riding from Imphal to Sinzawl.
It was 5pm which is full dark in north east , sunset happens at 4 or 4:15.
Was riding in full jungle in very narrow roads and road side grass was almost touching me.
I was thinking of animal what if something comes out.
No village in that 30km distance i think and then i found Sinzawl which is
border checkpost between Manipur and Mizoram byy 6pm and decided to stay in village.
Bike issue during ride:
I had 3 different issue in bike .
1) Bike Battery charger was gone near Chapara in Bihar.
2) Bike Suspension was broken in ziro(Arunachal).
3) Rear break got bend to fall in mud road.
My overall experience to north east was very good.
I didnt face any problem in general.
I have gone through majority of remote areas where people think
it is not good idea to go maybe due to different reason which i am not aware of.
Or maybe i am the ignorant one who think everywhere i go it will be kind of Bangalore/Karntaka where i stays
or like my Hometown(Hoshangabad,MP).
But till now my experience remains same, didnt had any bad experience.
I feel more secured in remote areas than in Crowded city where i feel everyone trying to scam me.
Travel Duration: Nov 22 to Dec 22
#BangaloretoNorthEastRide