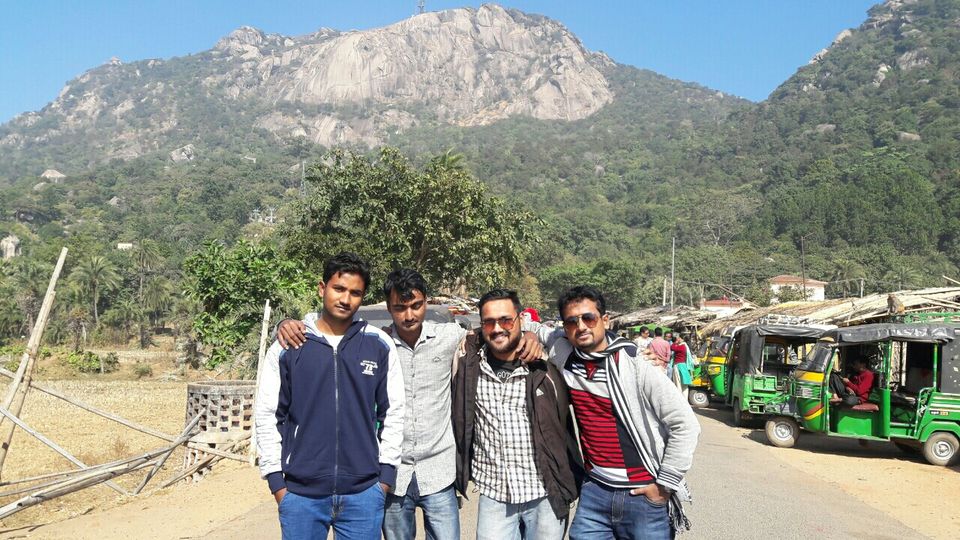 From a long time me and one of my school friend (Soumojit) was planning to go for a trip together as we both have a passion for travelling.
This time i just came home in Kolkata and suddenly we catch up on a couple of booze and we fixed Deogarh in Jharkhand as our weekend trip.
Friday- We took sleeper bus from Kolkata(Babughat) for Deogarh at around 20:00hrs. Its a nice non-ac bus which cost 250/person. It halts around 23:00hrs at Burdwan for dinner. After dinner the bus starts again and we tried to sleep for the next few hours. After some time i woke up and i came down to sit to experience the night road journey towards Jharkhand.
The bus conductor was trying to wake up all by  saying "Deogarh Agaya"..."Deogarh Agaya"... It is around 05:30hrs we stepped in Deogarh. The temperature out there was very chill and to enjoy this first experience i tried some tea from a near by tea seller. We didn't booked any hotels prior as i never ever do that because you'll always get hotels or lodges at any point of time at any seasons all over the globe. So we started looking for some rooms but the price didn't suited our budget so we started looking for some more...atlast we ended up at a Dharmashala (Lodge) which includes one room with two master bed with a separate washroom which only costs us Rs 200. So we decided to take some rest after that we'll start our trip. Oh i forgot to say i called my two other colleges also for this trip..so as it is they came to us.
We wanted to start our trip by visiting "Baba Baidyanath Dham" (One of 12th Jyotirlinga of India). Here are some snaps for you guys...
After darshan, we tried some local foods for our breakfast. My friend told us its better to book a full autorickshaw for our local sightseeing so we started asking to some auto drivers and bargained too...atlast Rs-400...its not so bad so we decided to go for it.
First we went to Ramkrishna Campus to see the Ramkrishna Mandir.
Then we went to the Trikut Parvat(Hill) which is 10kms ahead of Deogarh. It is one of the most  amazing tourist spot in Deogarh where one can do trekking to the highest peak of around 2470 ft. Also ropeway is available which costs Rs-50 to reach the peak with in 8mins.
We preferred doing trekking as we all were there for some badass adventures & experiences. My friend suggested to take a guide for trekking route as i can understand they are not used to it like i do, hence we took guide. We started around 12:30hrs through the jungles &  wood.
There were giant bold rocks and highly steep slopes so mak yourself ready for some pure trekking adventure. After few hours we reach at some point from where we were able to see the full Deogarh city on a 360  angle from a birds eye view.
Around 15:00hrs we reached the highest peak and it was like conquering the Everest peak. The aerial view from the top of it was just mesmerizing. There were few shops to relax with water bottles,maagi and etc. We sipped some tea and clicked some amazing pics for our lifetime memory. Monkeys are all over the peak so beware from there misbehaviour. It was almost 16:00hrs so we decided to take ropeway to go down. 
We had a glass of sugarcane juice each of us and then again we started our rest of the sightseeing which includes Naulakha Mandir, Topovon, Radha Swami Mandir, and some other few mandirs.
We came back to our destination we started from and starts planning for our night booze party.
We wake up around 08:00hrs and left the lodge  around 09:30hrs for some local shopping and breakfast...and after we finished we rushed to Jasidih railway station and took train for Howrah.
Note - Rs-2000/person for this one day trip which is sufficient for Deogarh trip.