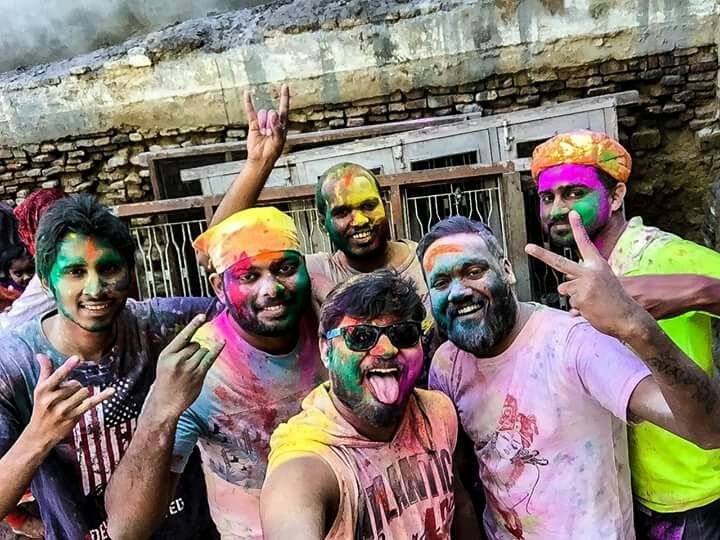 Celebrating Holi in a traditional way in the Holy city of Mathura & Vrindavan was my dream for so many years. But this time i made it and it really turned out as a overwhelming experiance.
I'll try to portray a clear idea and things to do at Holi in Mathura on this blog.
The actual Holi starts here a week before the calender date in Mathura and other places here. As there are different types of Holi used to be celebrated here.
If you need to enjoy & cherish it fully then you must plan your Holi Trip accordingly.
The famous one is-
Laatmar Holi in Nandgaon & Barsana- its a old tradional way of beating the mens who used to come to Barsana to play Holi with village womens & Phoolonwali Holi.
I boarded my train and reached early morning at Mathura after a long journey of 44hrs on train on 12th Mar'17.
I was here for the next 4days so i planned to stay at Vrindavan on my first 2days then last 2days at Mathura. So i took a sharing auto from outside the mathura railway station at Rs-20 for Vrindavan which is 12kms.
The auto dropped me at the "attara chowk" the main highway connecting Mathura to Vrindavan. Its really tough to find out budgeted hotels at this point of time almost all the hotels are on sold out positions. I look after some Ashrams & Dharmashalas and at last checked in to a Dharmashala at Rs-200/24hours. Recommended if your planning with your families then do book your hotels a month before, but if you are a abid wanderer like me???? then just come here you'll definetely going to get some place to just spend your nights. I rested a bit and freshen up. I have bought an old pajama and a new white tees with me for playing Holi here and i wore that and headed towards the old streets of Vrindavan. Firstly i had some mouthwatering famous "kachoris" with sabji and few "jalebis" from a local street shop. I wanted to visit Nandgaon (The birthplace of Lord Krishna) & Barsana (The birthplace of Maa Radhe), so accordingly i booked myself a sharing auto at Rs-200/person (Vrindavan- Barsana - Nandgaon -Vrindavan) with other 3tourists who also luckily was going to visit those places. The distance from Vrindavan to Barsana is almost 45kms and then Barsana to Nandgaon is again 10kms. Within 1.30hrs i reached Nandgaon with my other 3 travelmates who became my friends now while chitchatting in auto. Its a small village of typical Uttarpradesh, cozy streets leads us to the Radha Rani Temple. Holi celebration was already started in a festive mood here with dhol and other musical instuments. Travellers from all around the globe was dancing together & playing holi with immense joy. I too dance on the beat of dhol played by a local boy with other peoples there. One can see the full ariel view of Barsana village from this temple. After enjoying for more than an hour i moved forward with my other 3 mates for Nandgaon.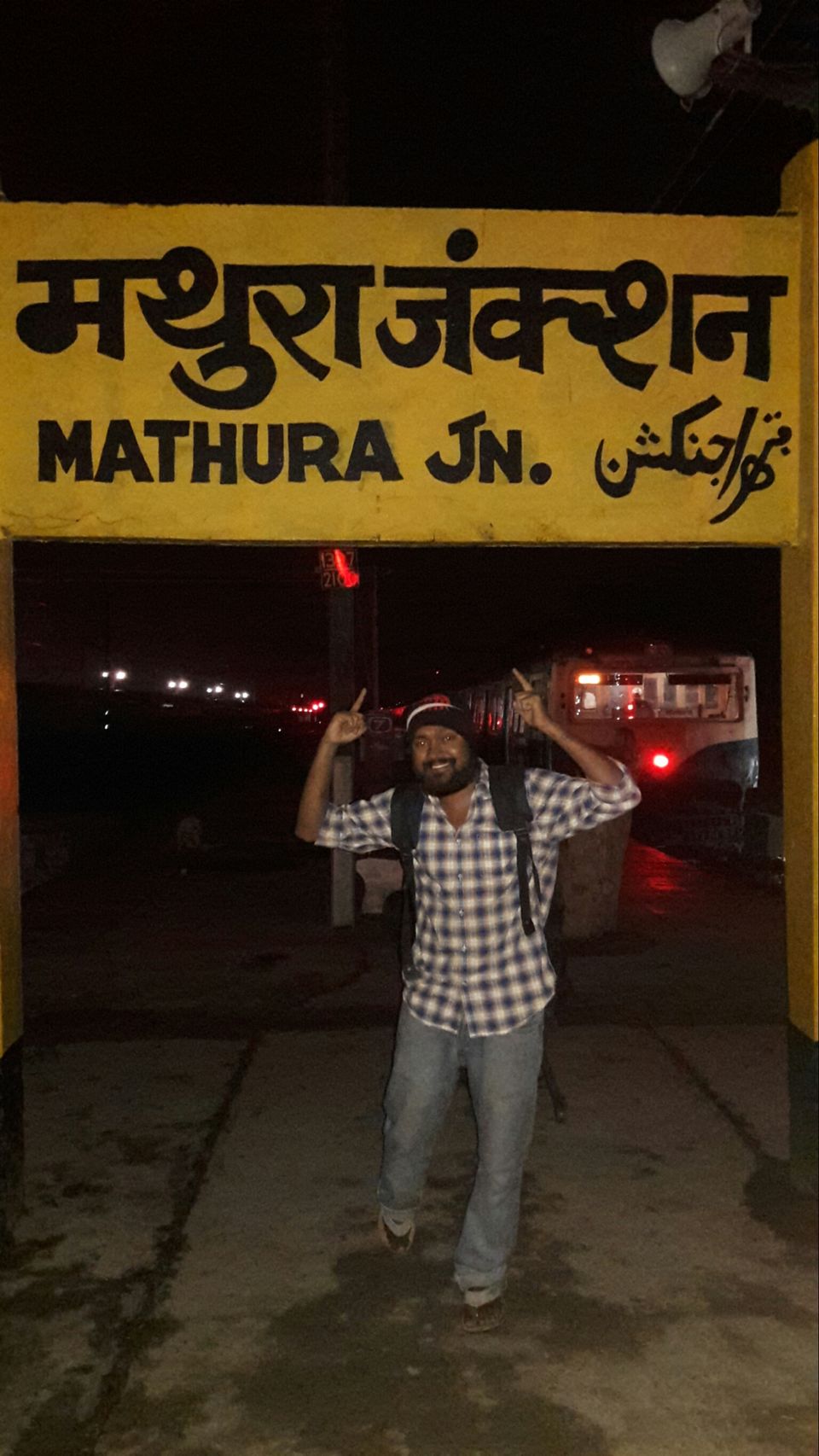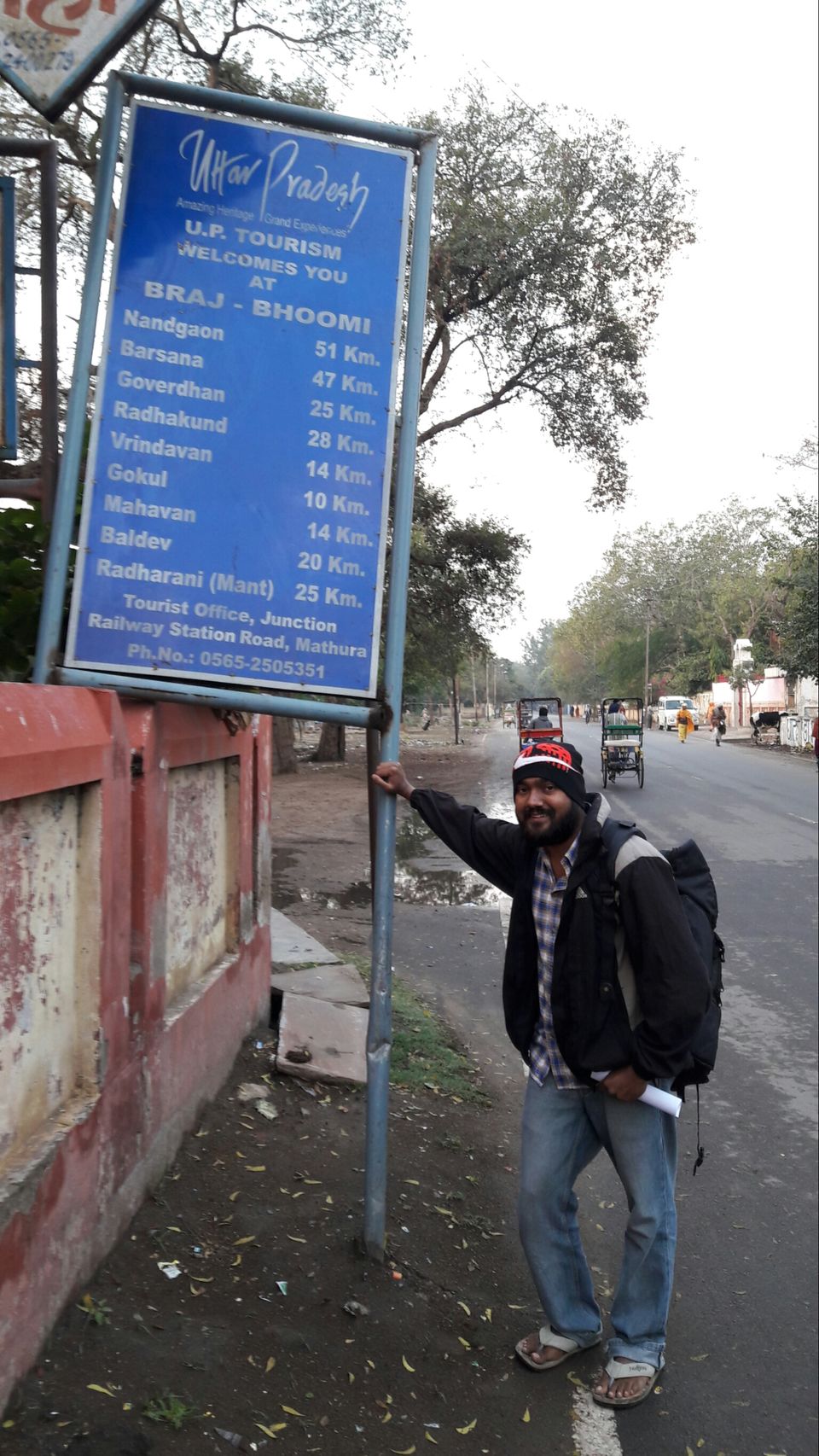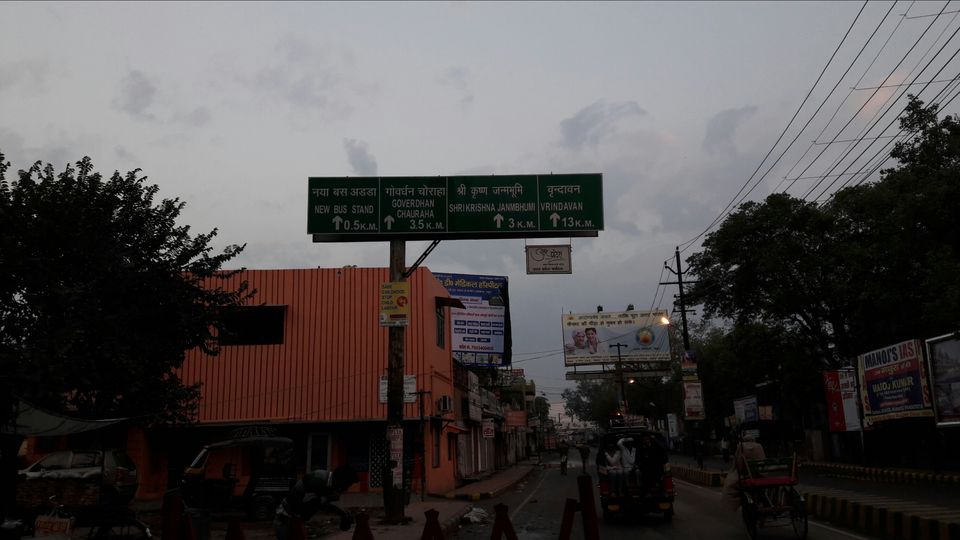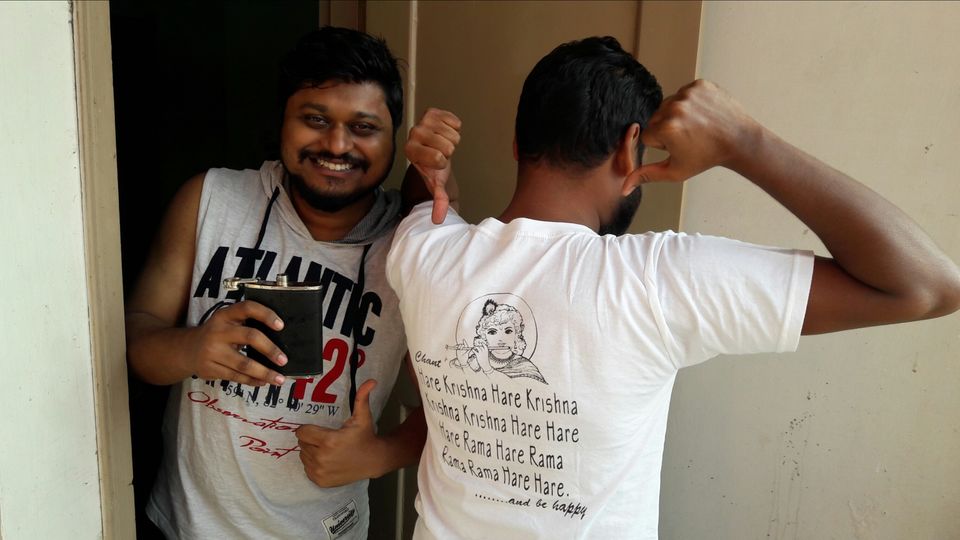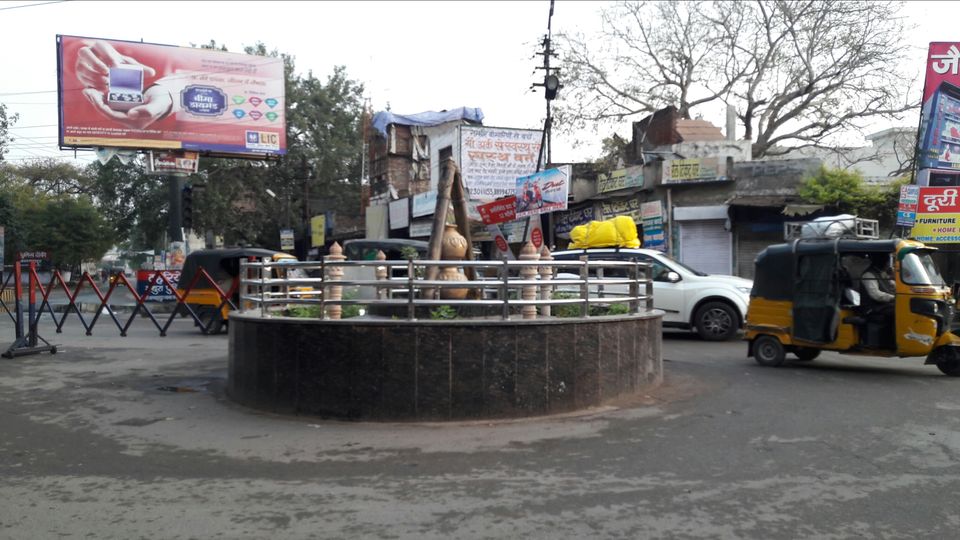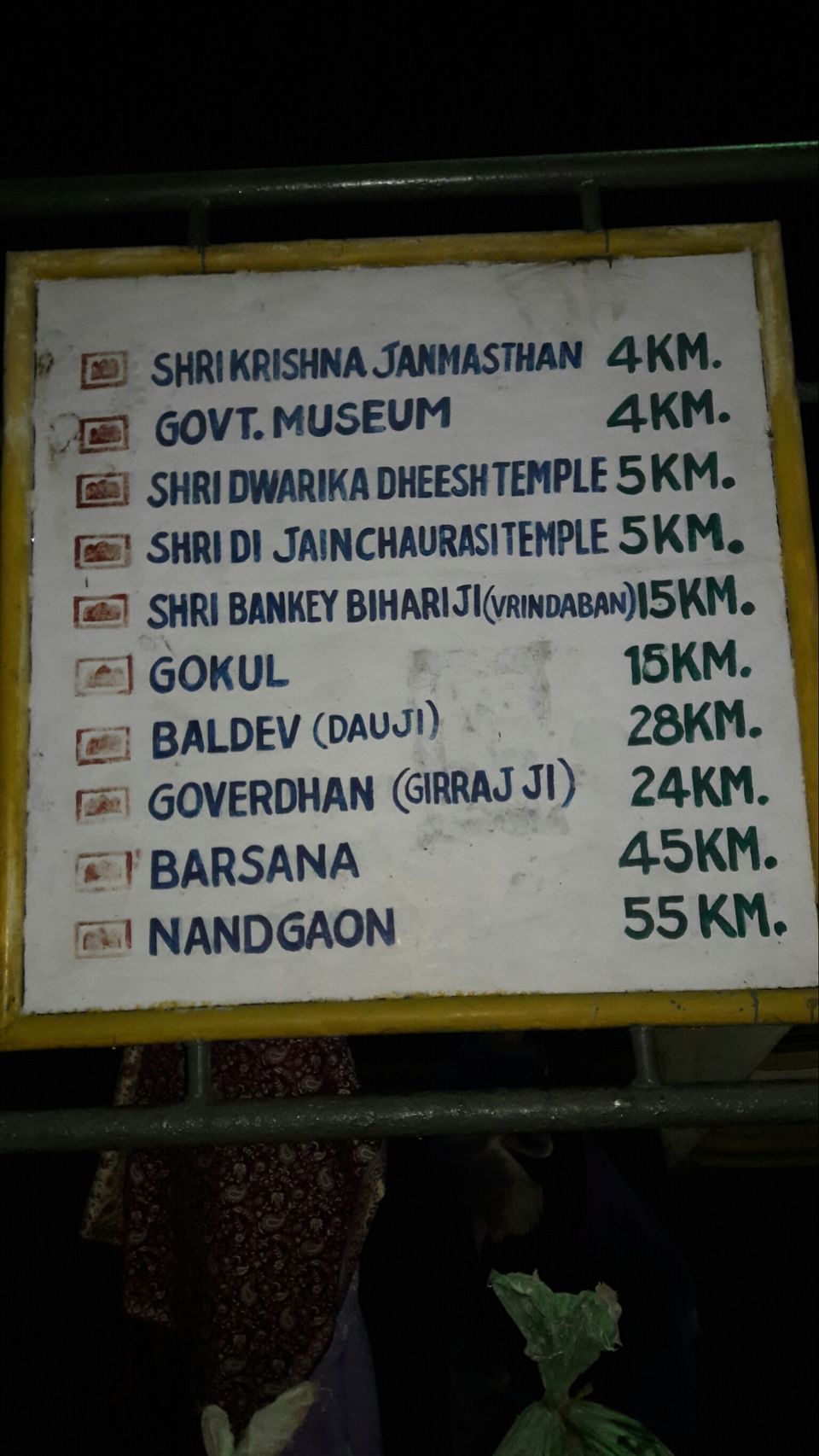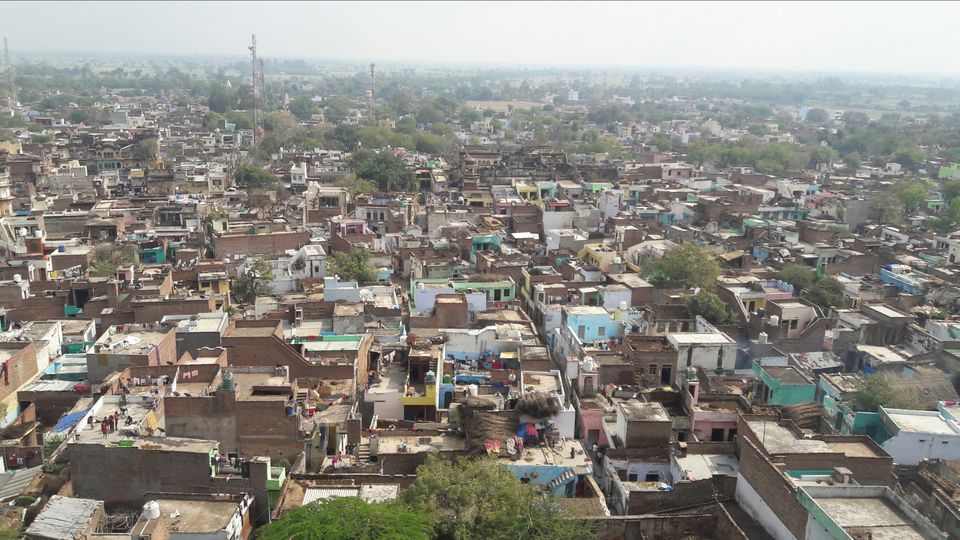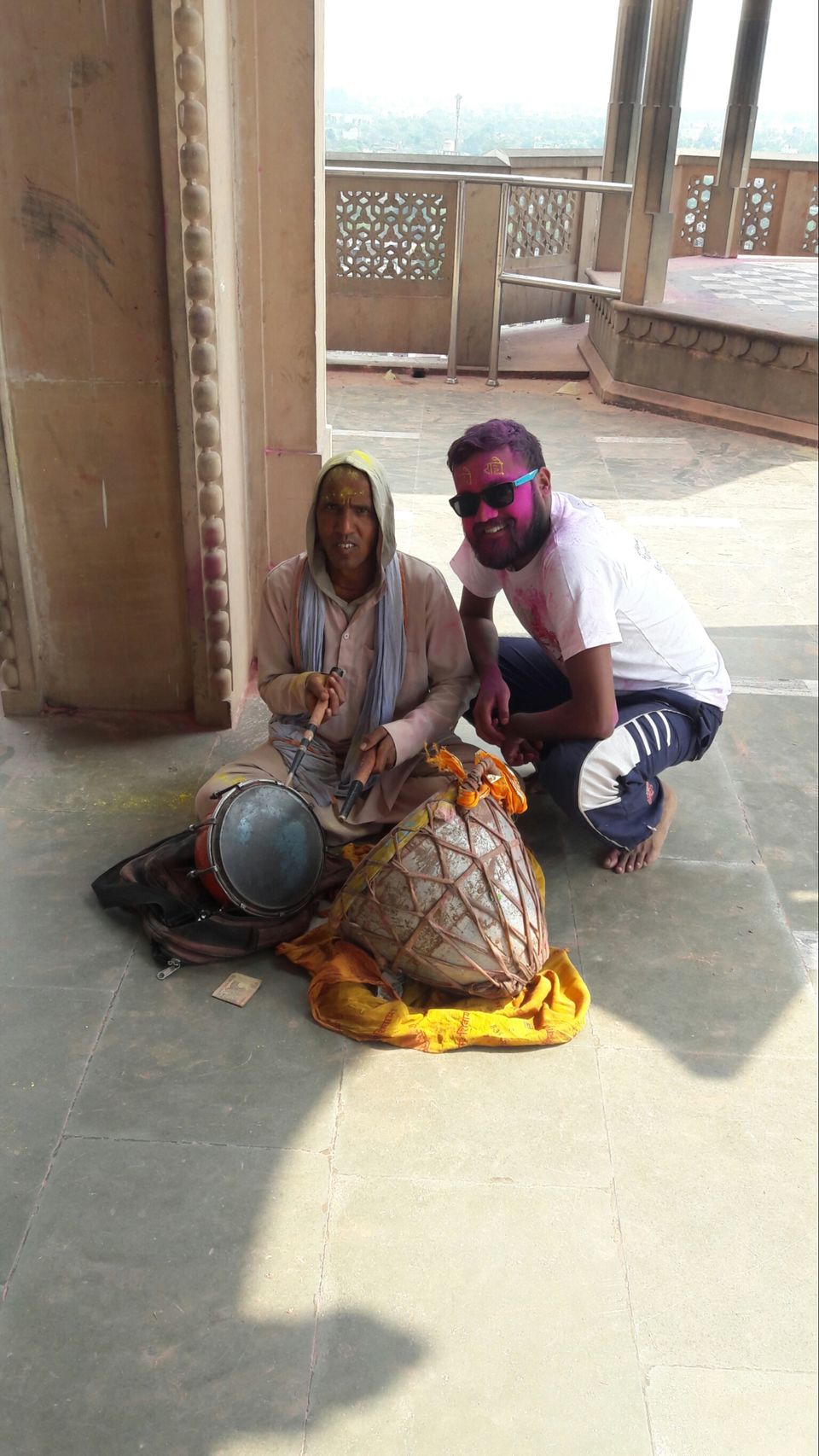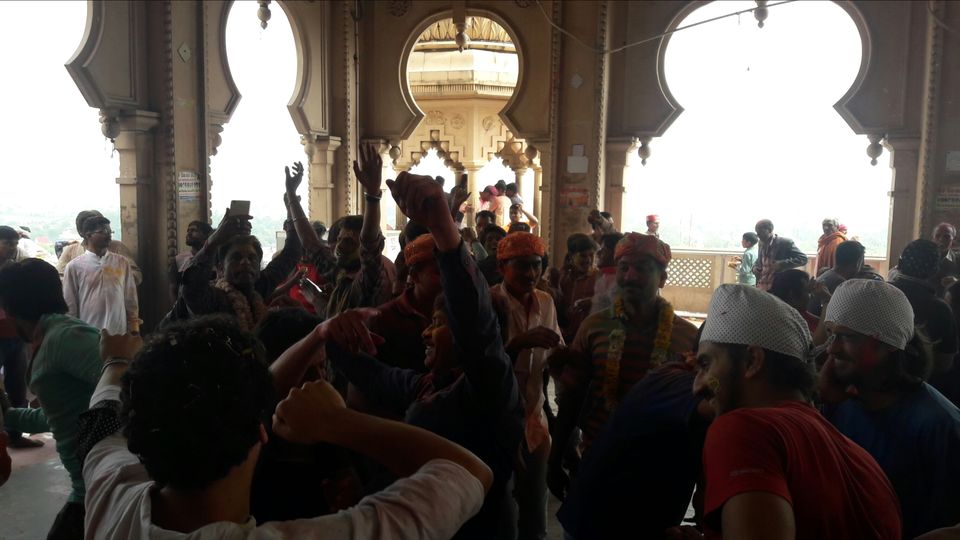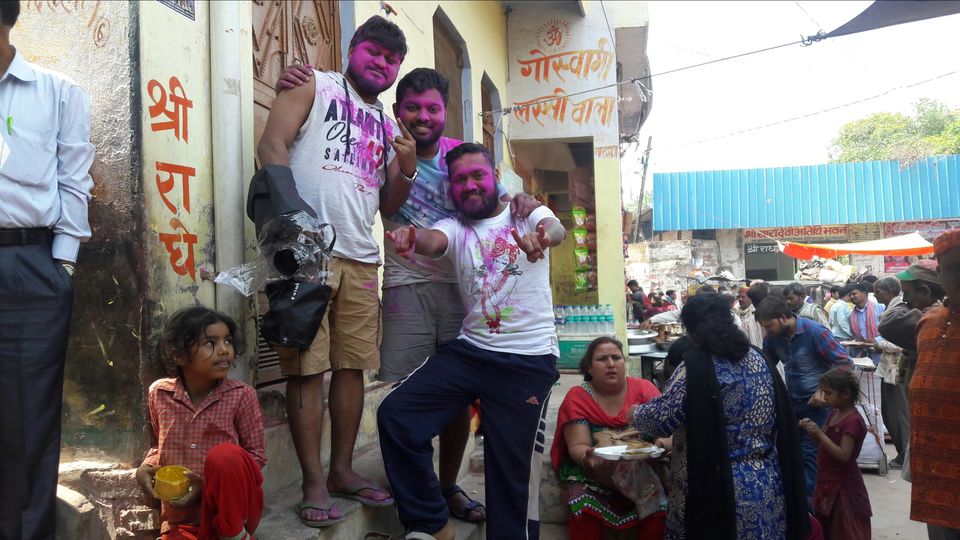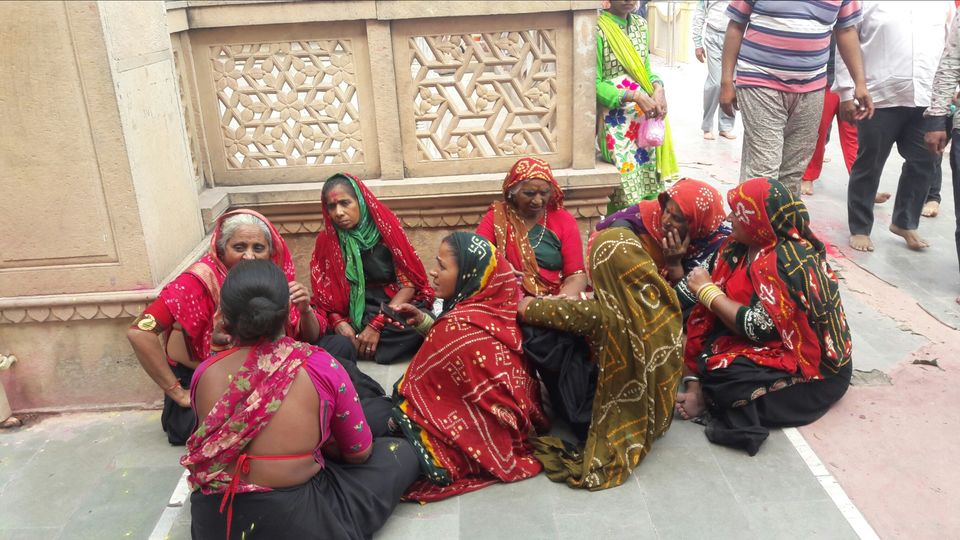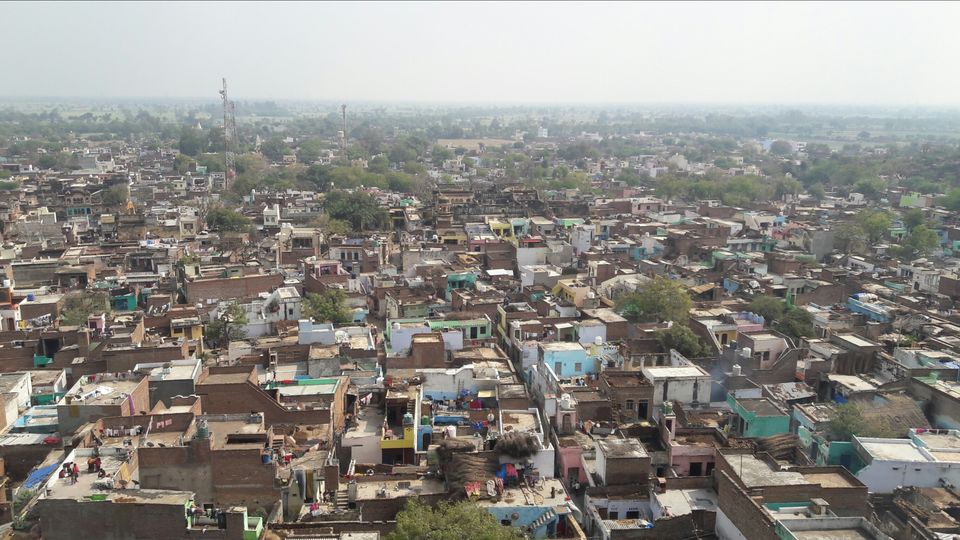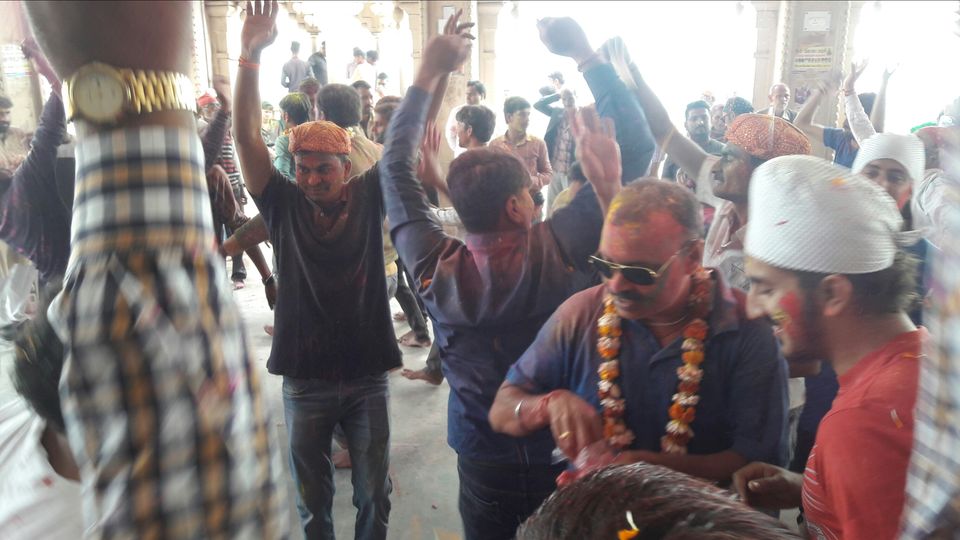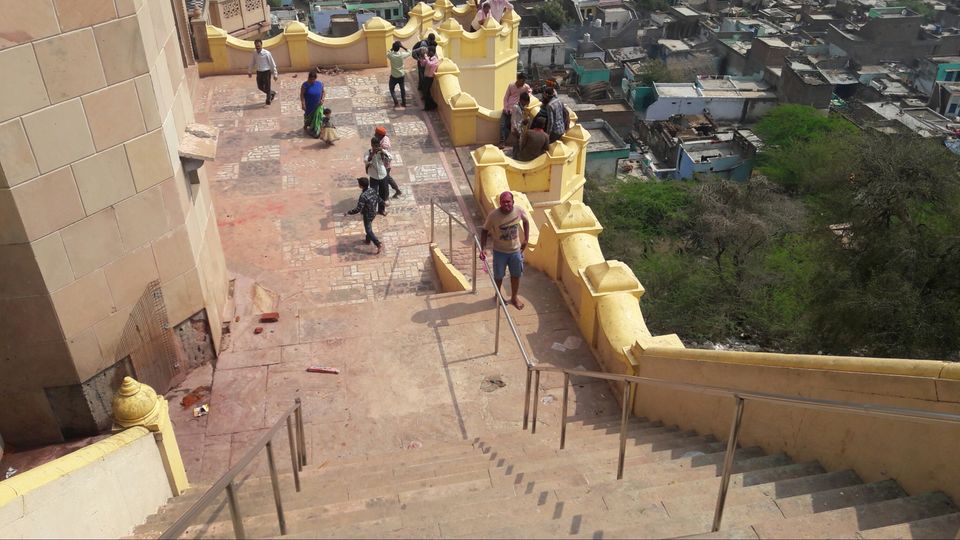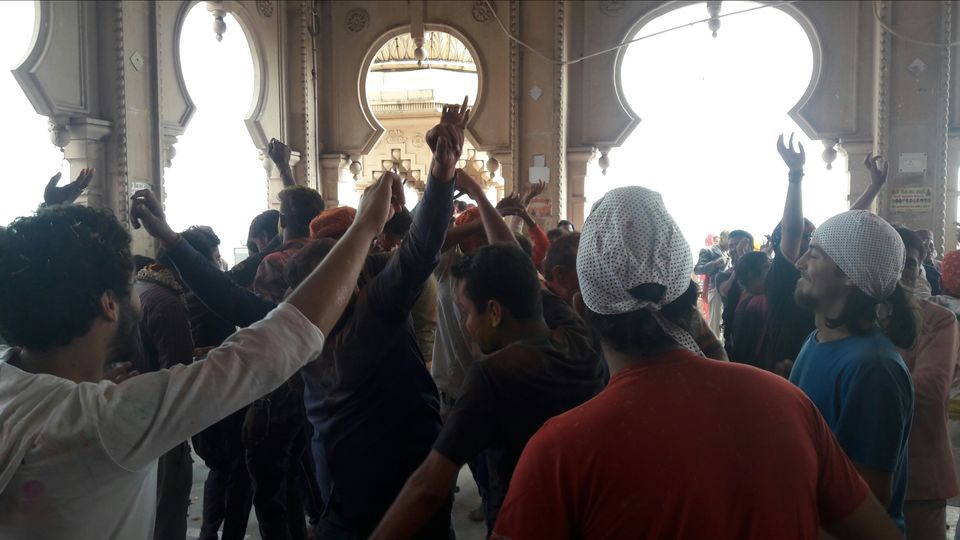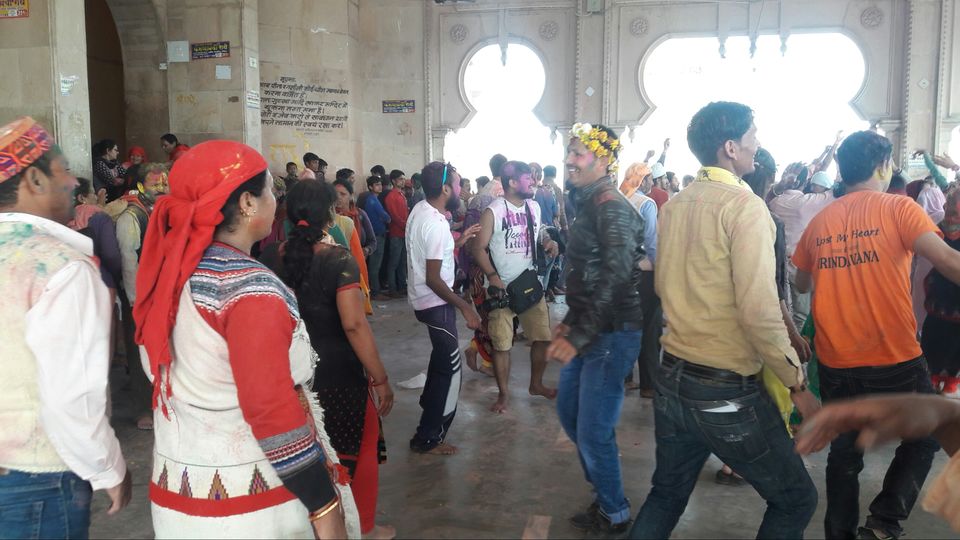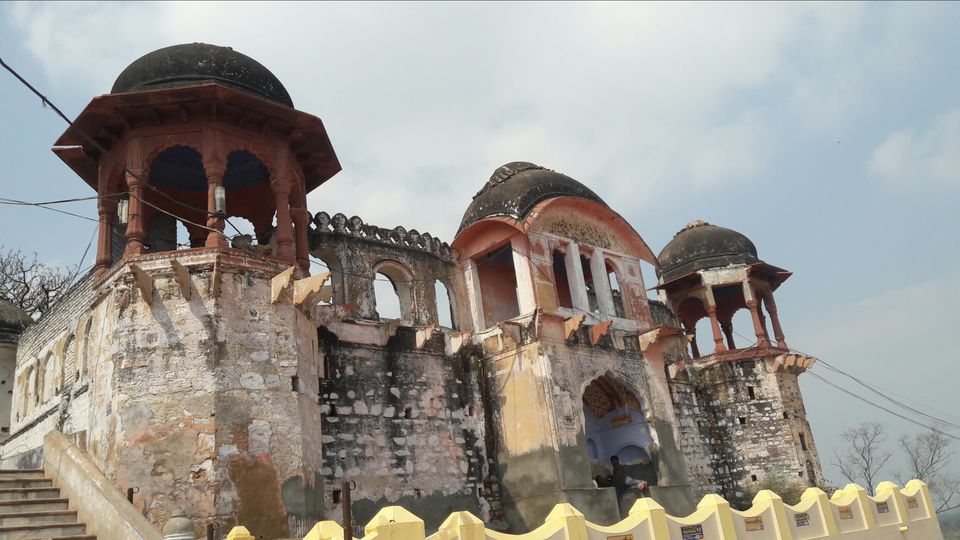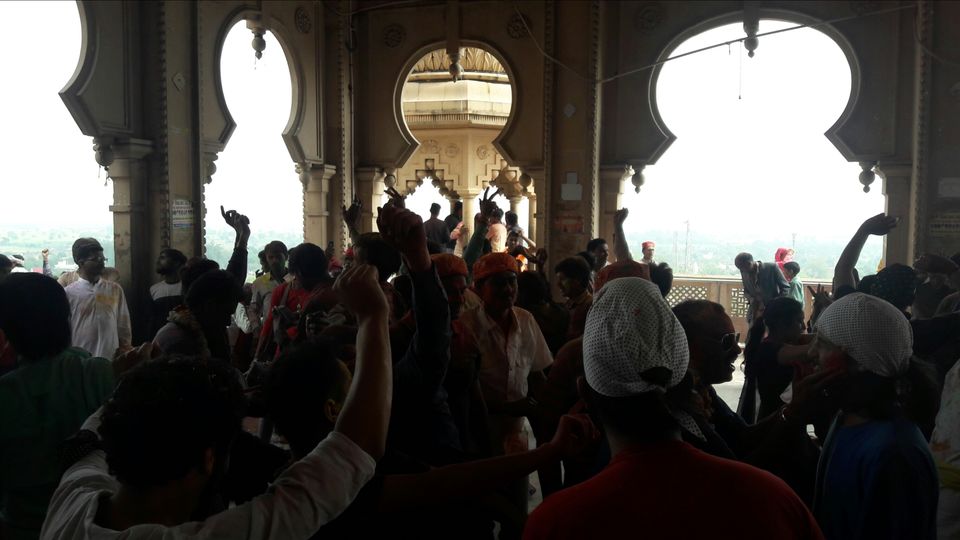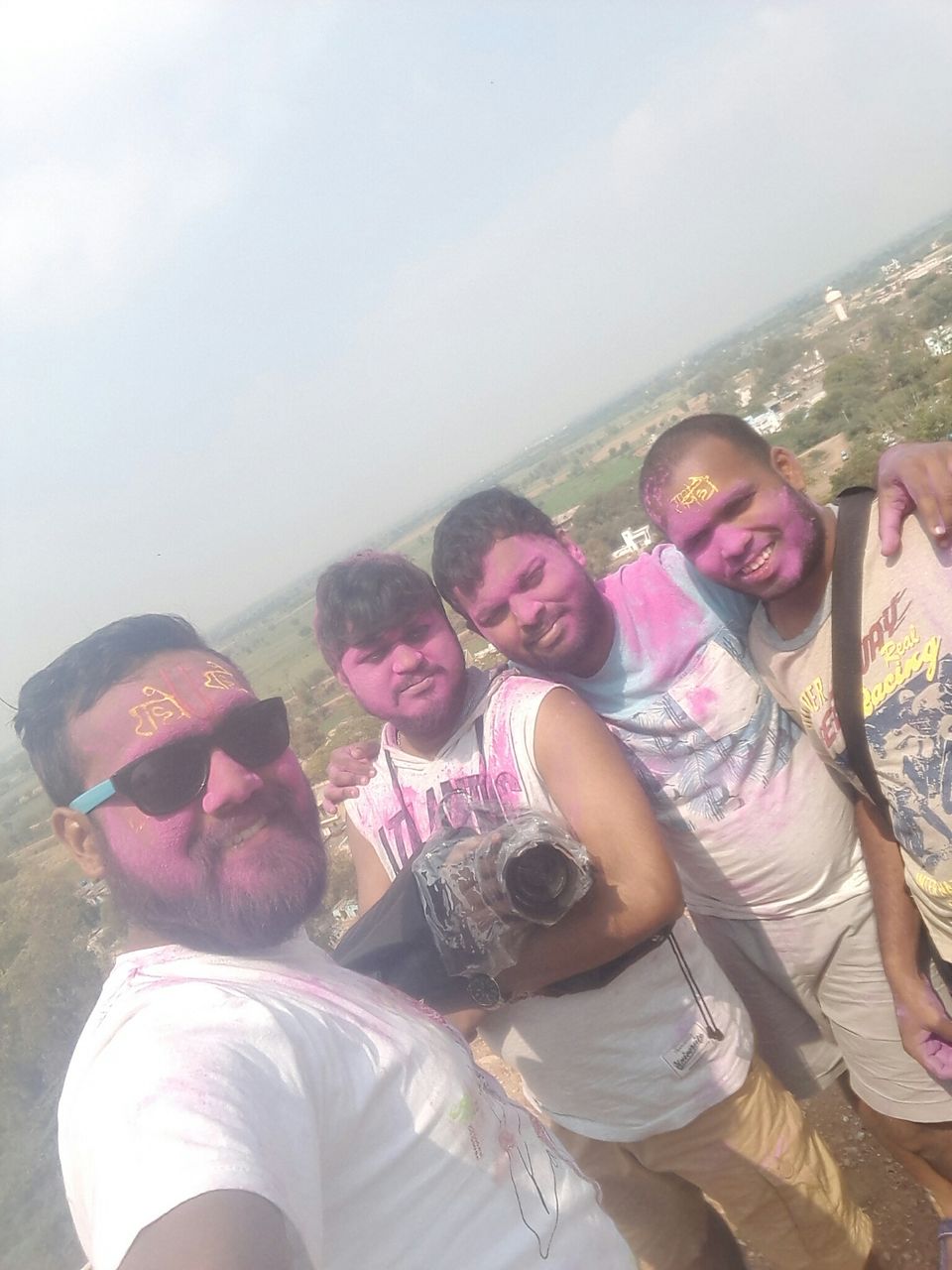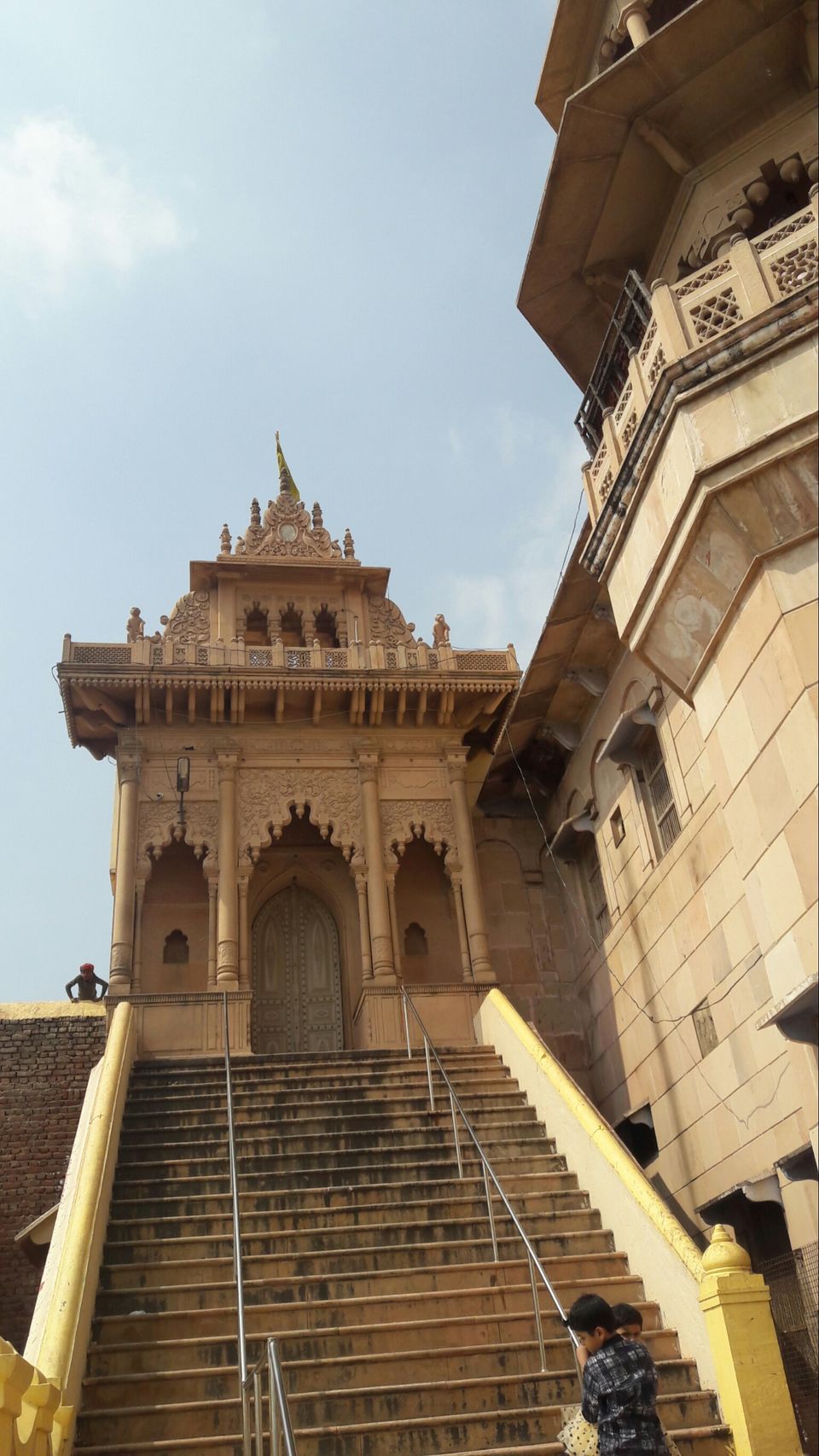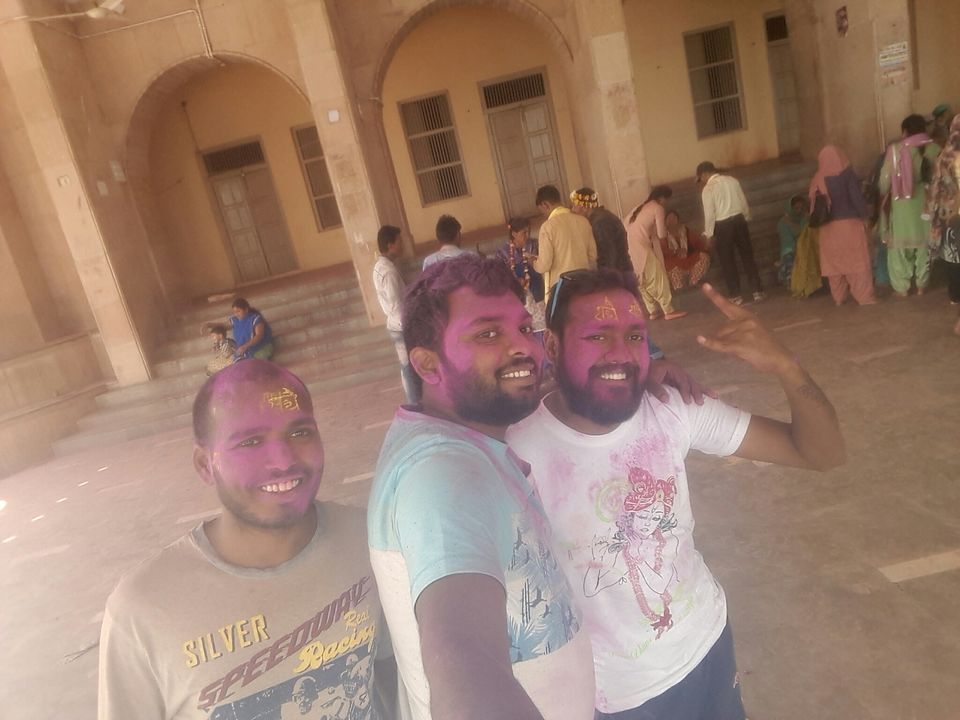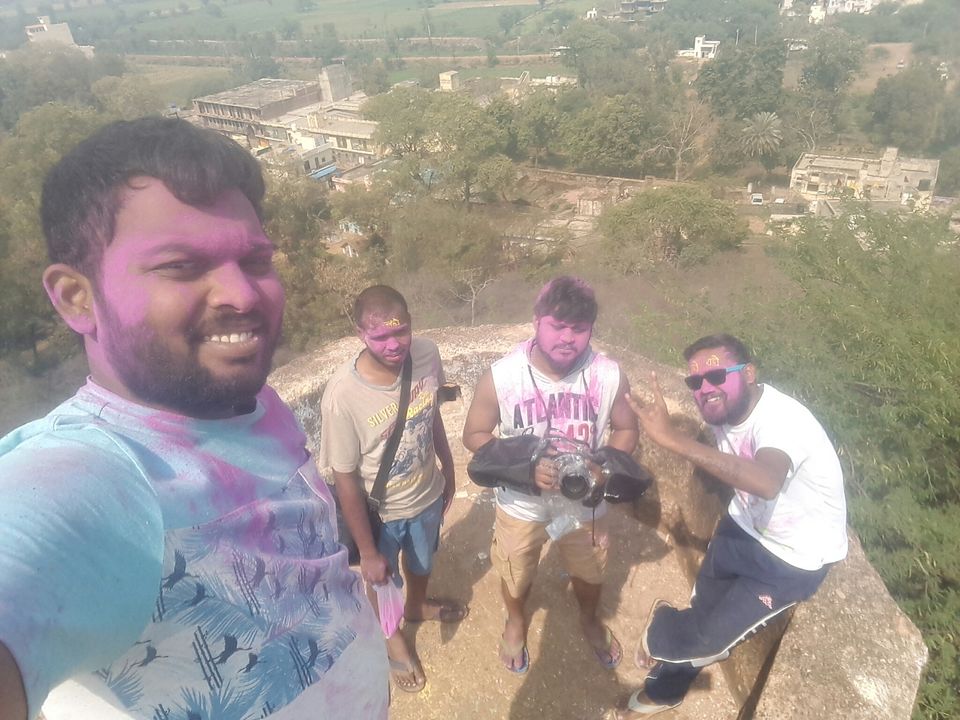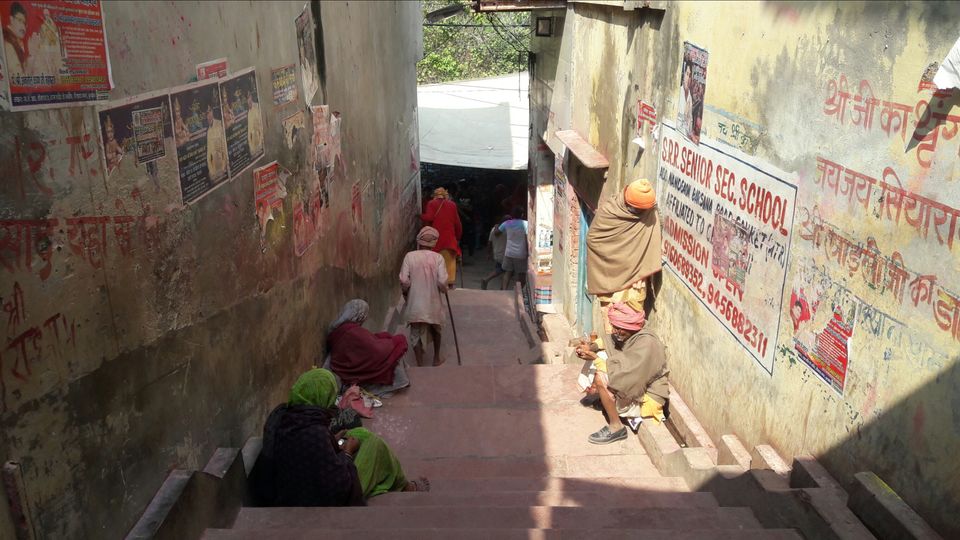 Within half an hour i along with my friends reached Nandgaon, but there was not so much happening at that time,so without wasting our time we started looking for Bhang shop. And we found one Govt approved bhang shop by asking locals there, so bought it and had it with nearby sugarcane juice????. Dnt need to describe about bhang as i believe we all know it what it is and Perferct Holi celebration is incomplete without having a glass or glasses of bhang????????.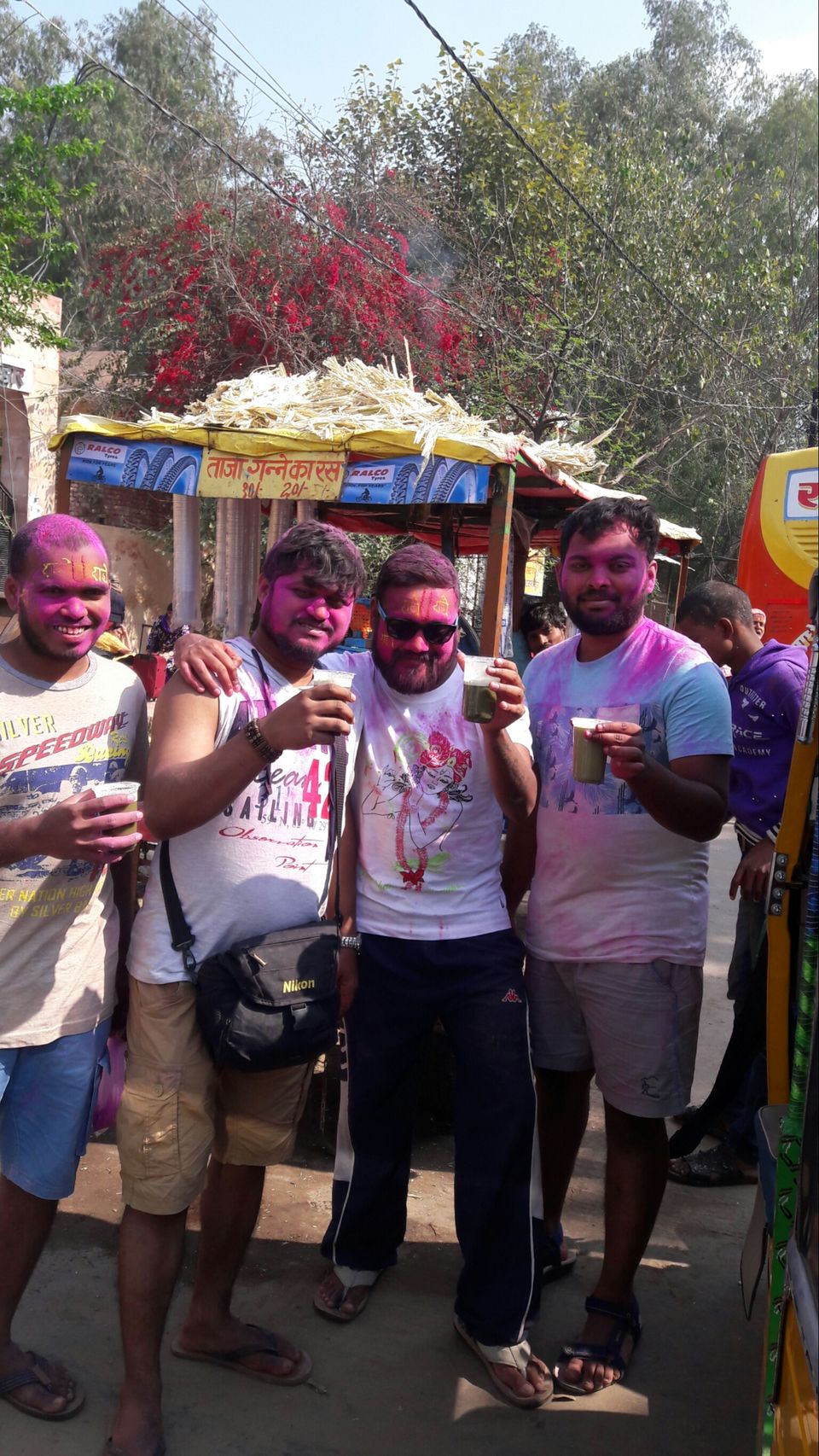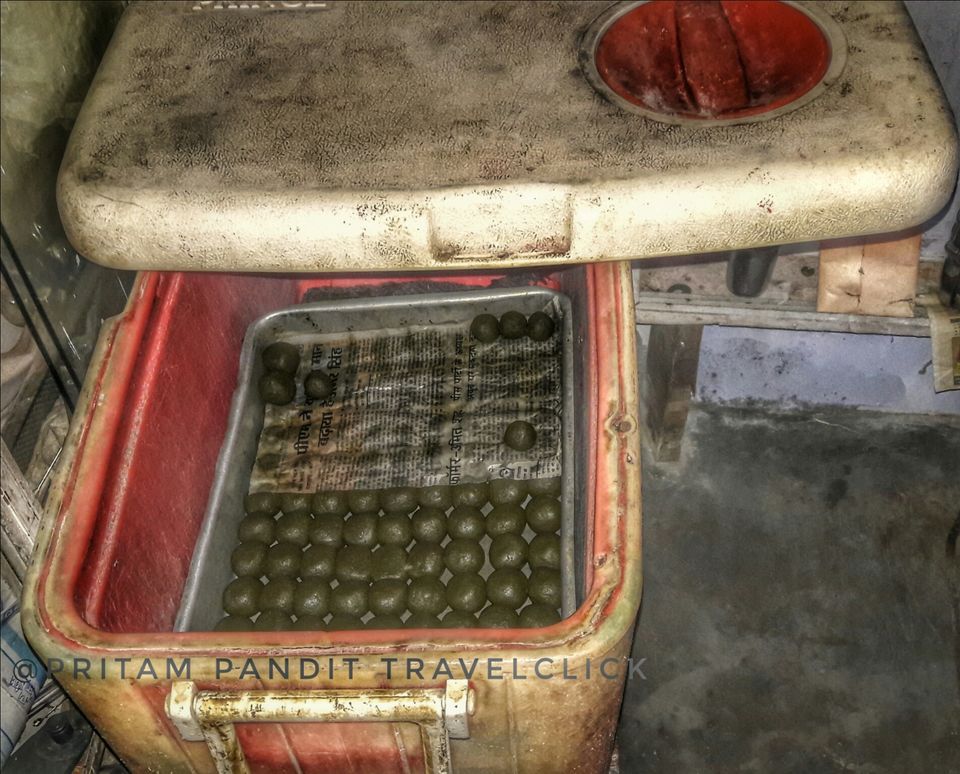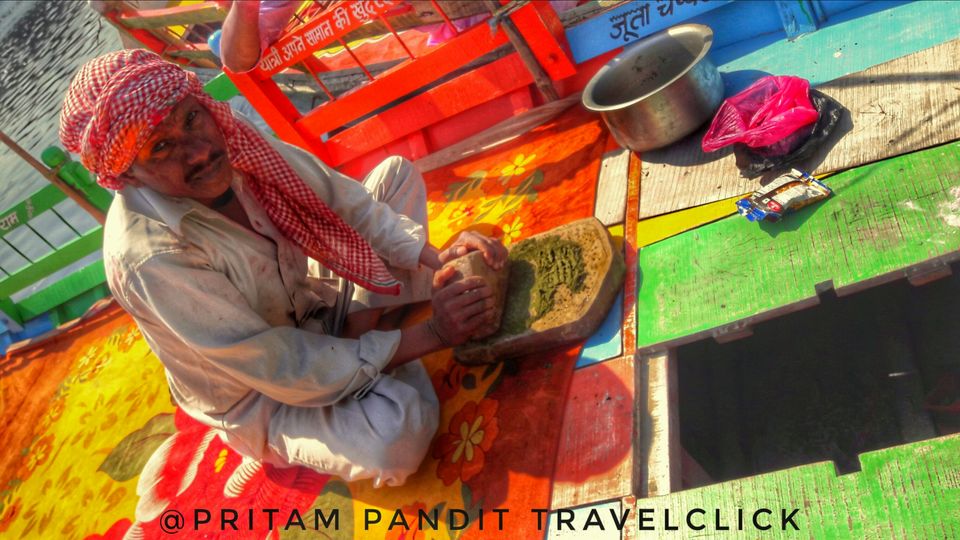 We reached around 18:00hrs at vrindavan and that 3 guys also accompanied me for the next two days in the same ashram. And we partied that night in the near by dhaba on the highway.
We woke up early morning and rushed towards Banke Bihari Mandir. The streets was full of "Gulaal Gangs". The mandir is just 5mins walk from our place. As we were on the streets, peoples used to throw gulaal and colours on our faces & body. From the rooftop above us locals used to throw bucket full of colour water and water ballons on us, actually not only us to all the peoples on the street.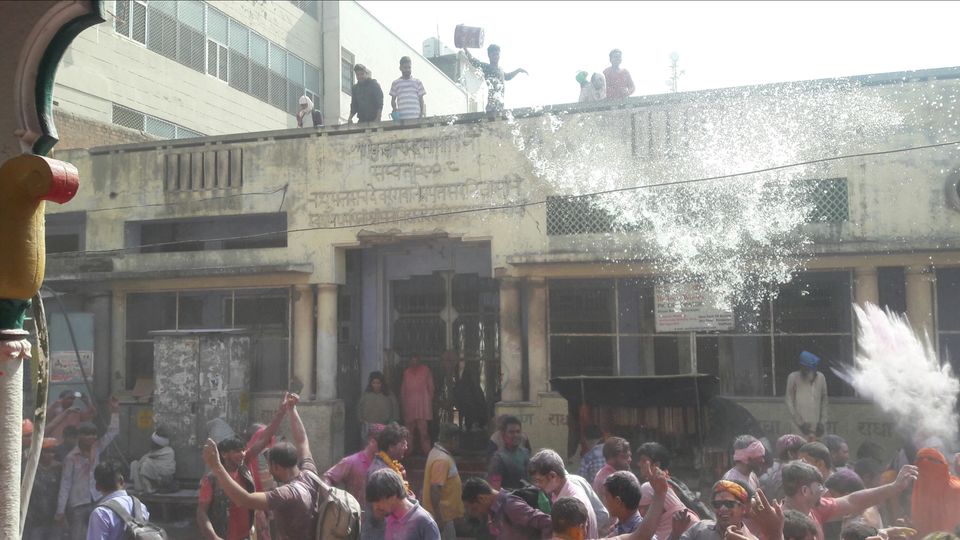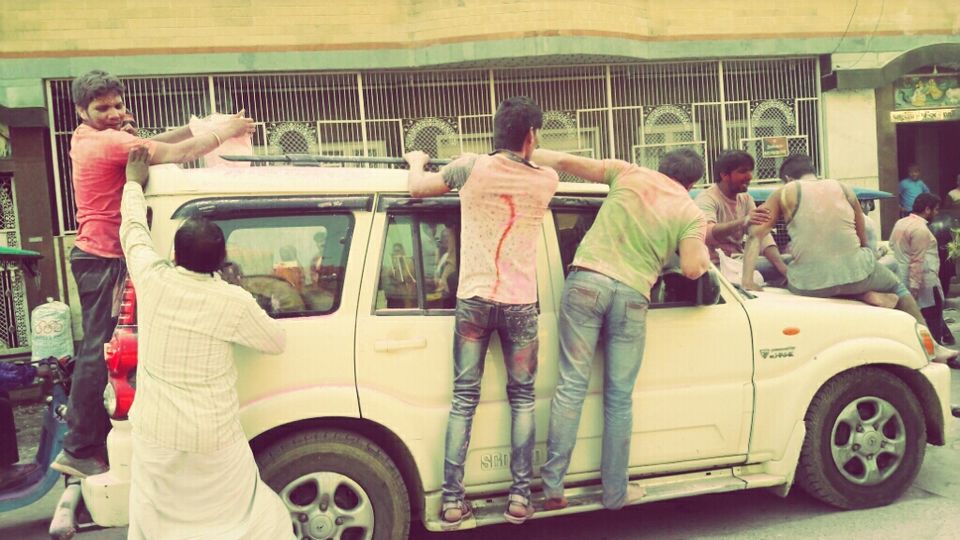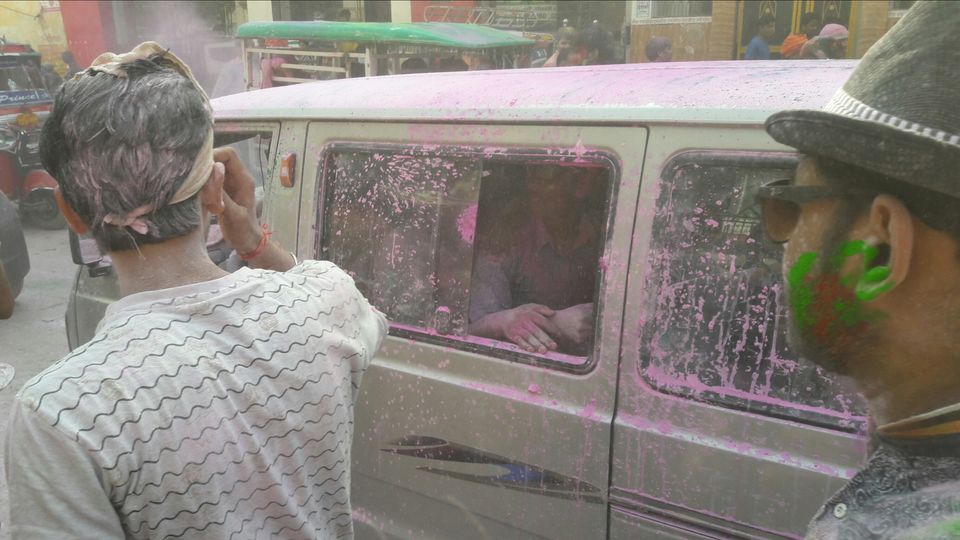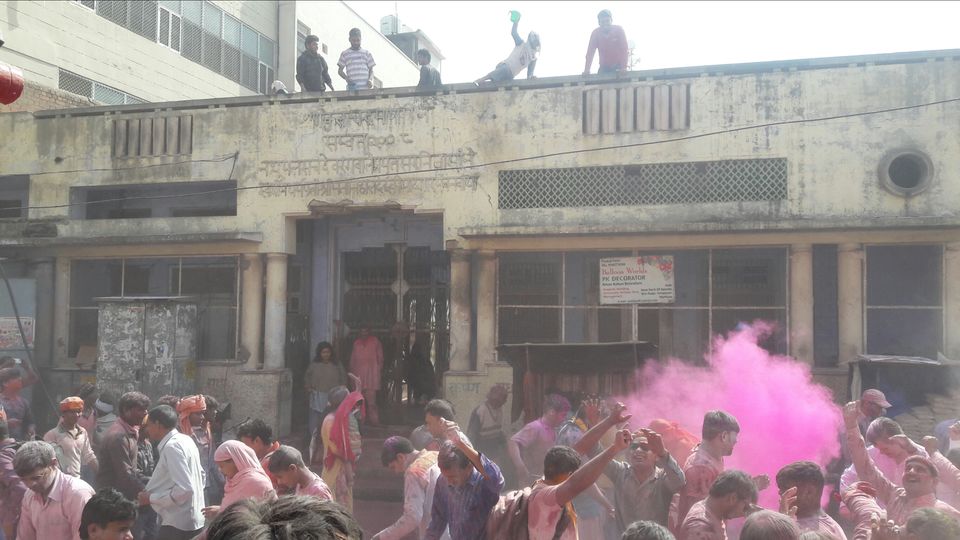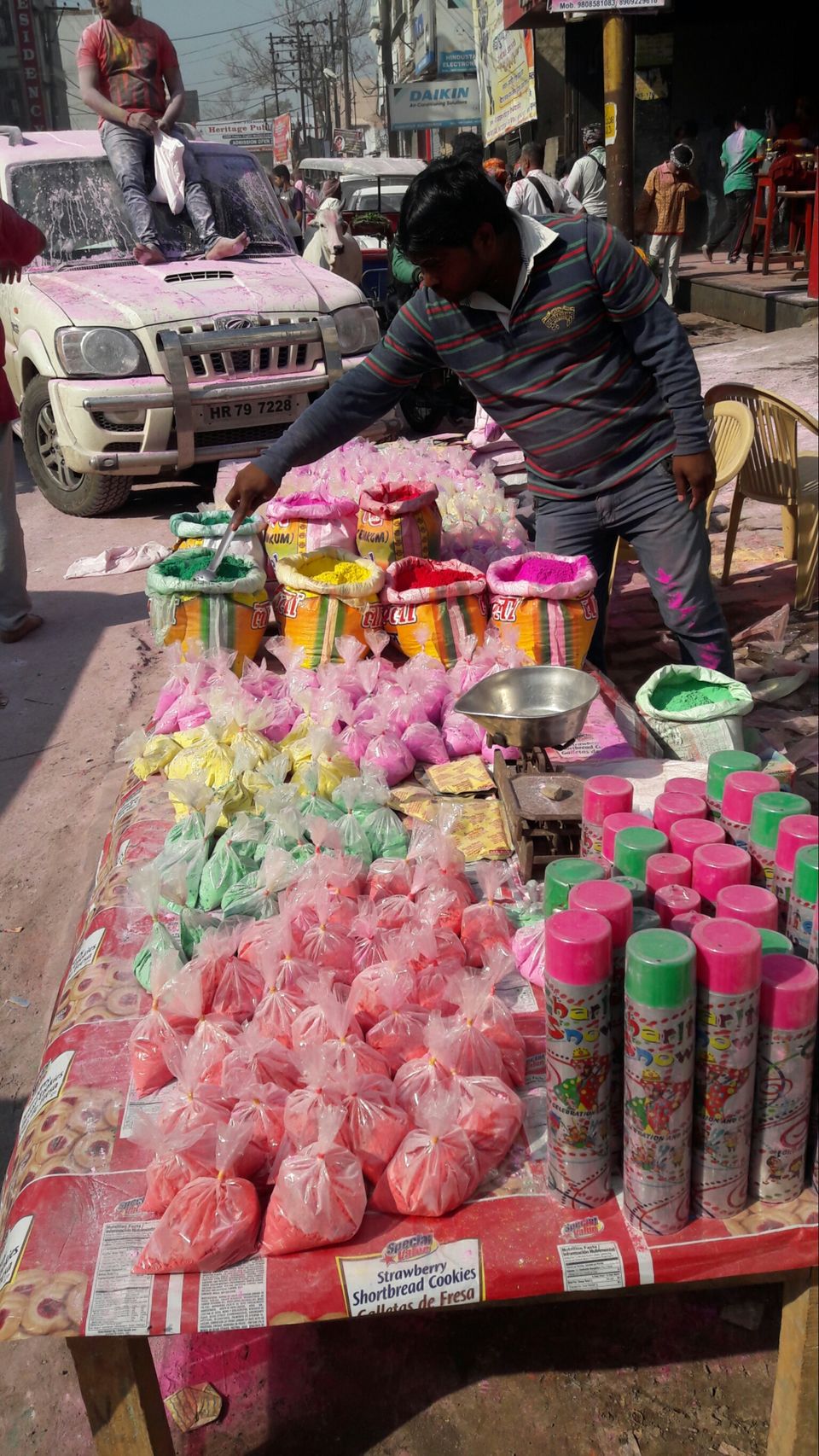 We somehow managed to reach the Banke Bihari Mandir as there were so much rush towards the mandir compound. I was overwhelmed & astonished by experiancing Holi been played inside the Mandir premises just in front of the idol of Lord Krisnna. The whole mandir is full with gulaal and almost everyone dancing on the chant "Govindo mero hai... Gopalo mero hai...Shri banke bihari...Nande lal o mero hai"...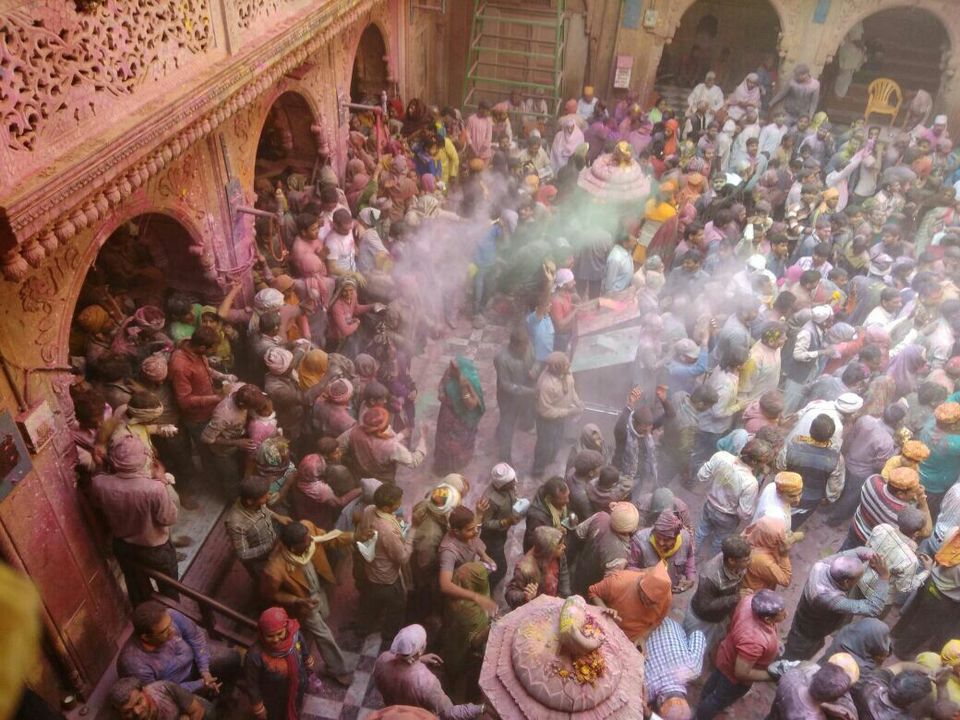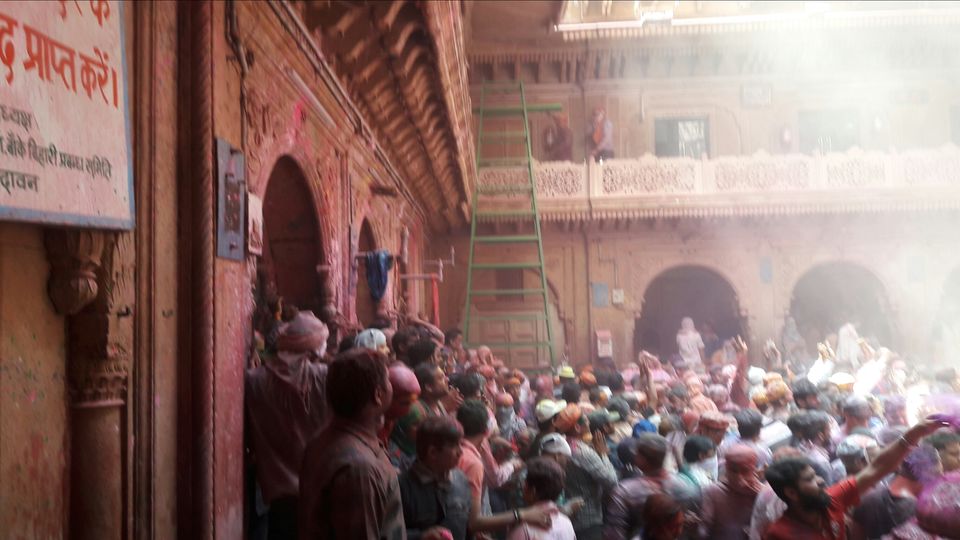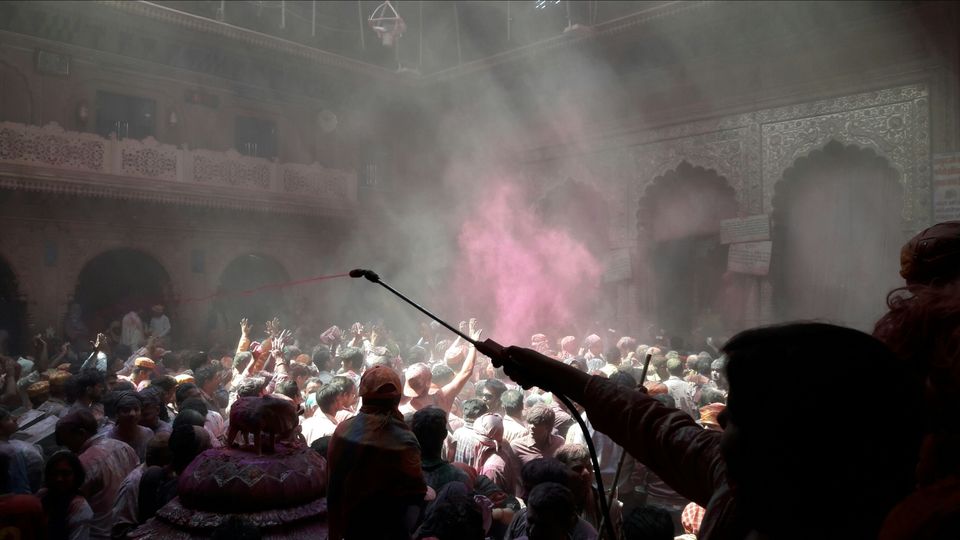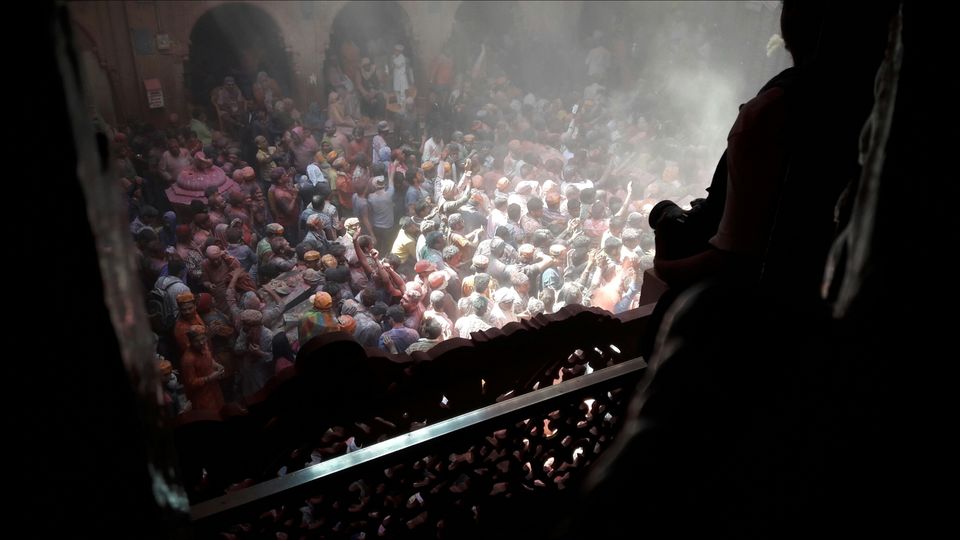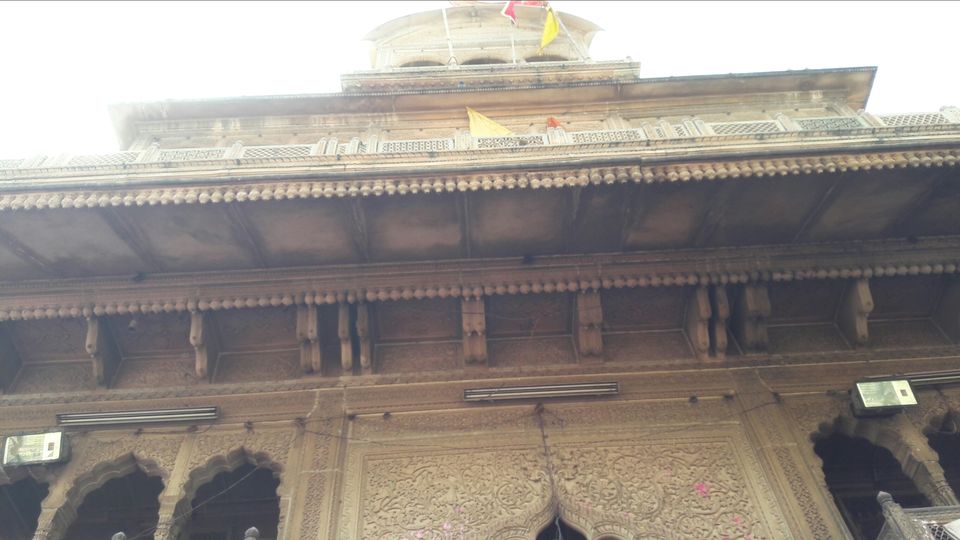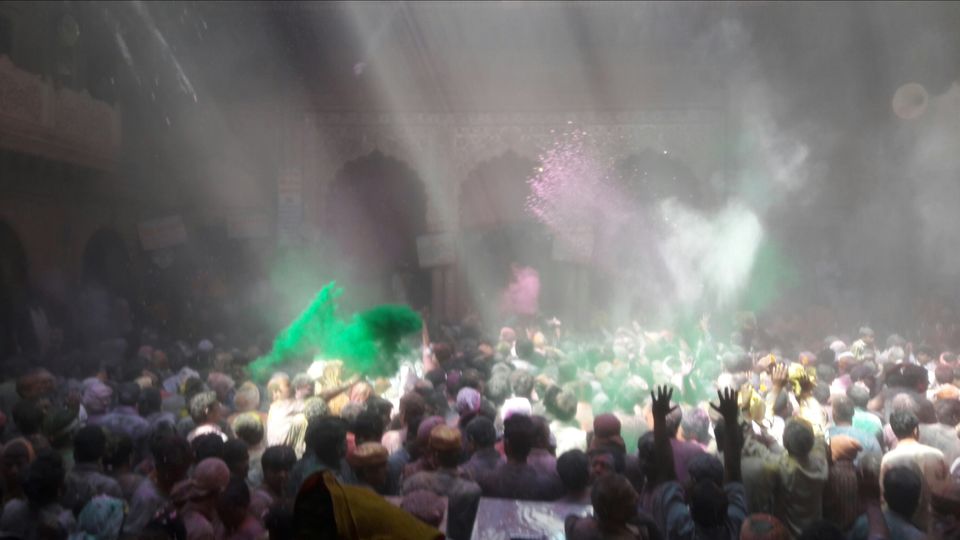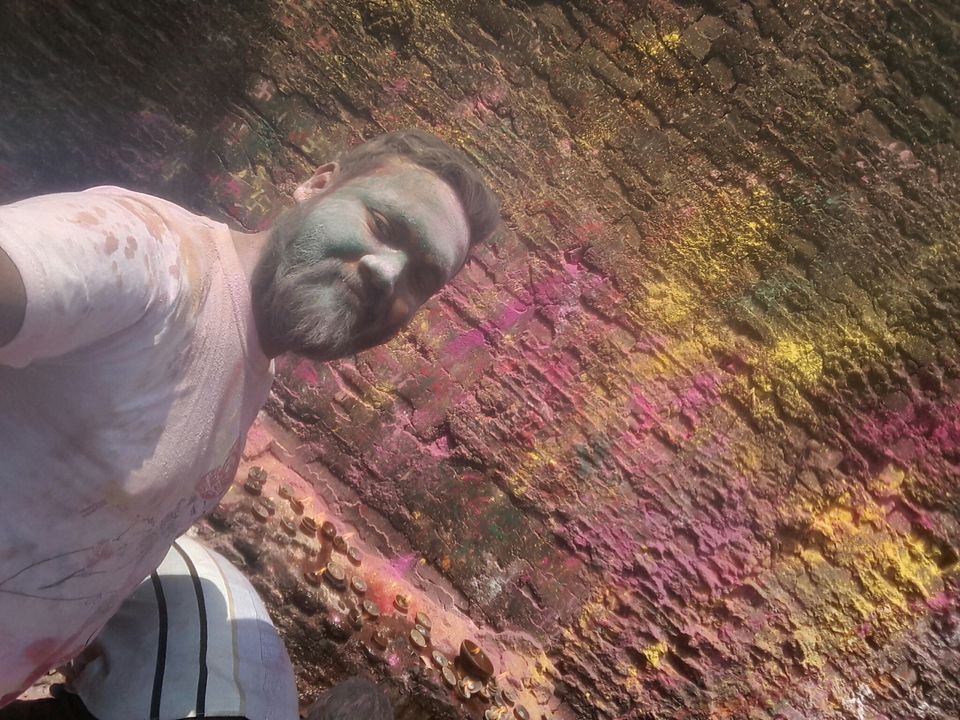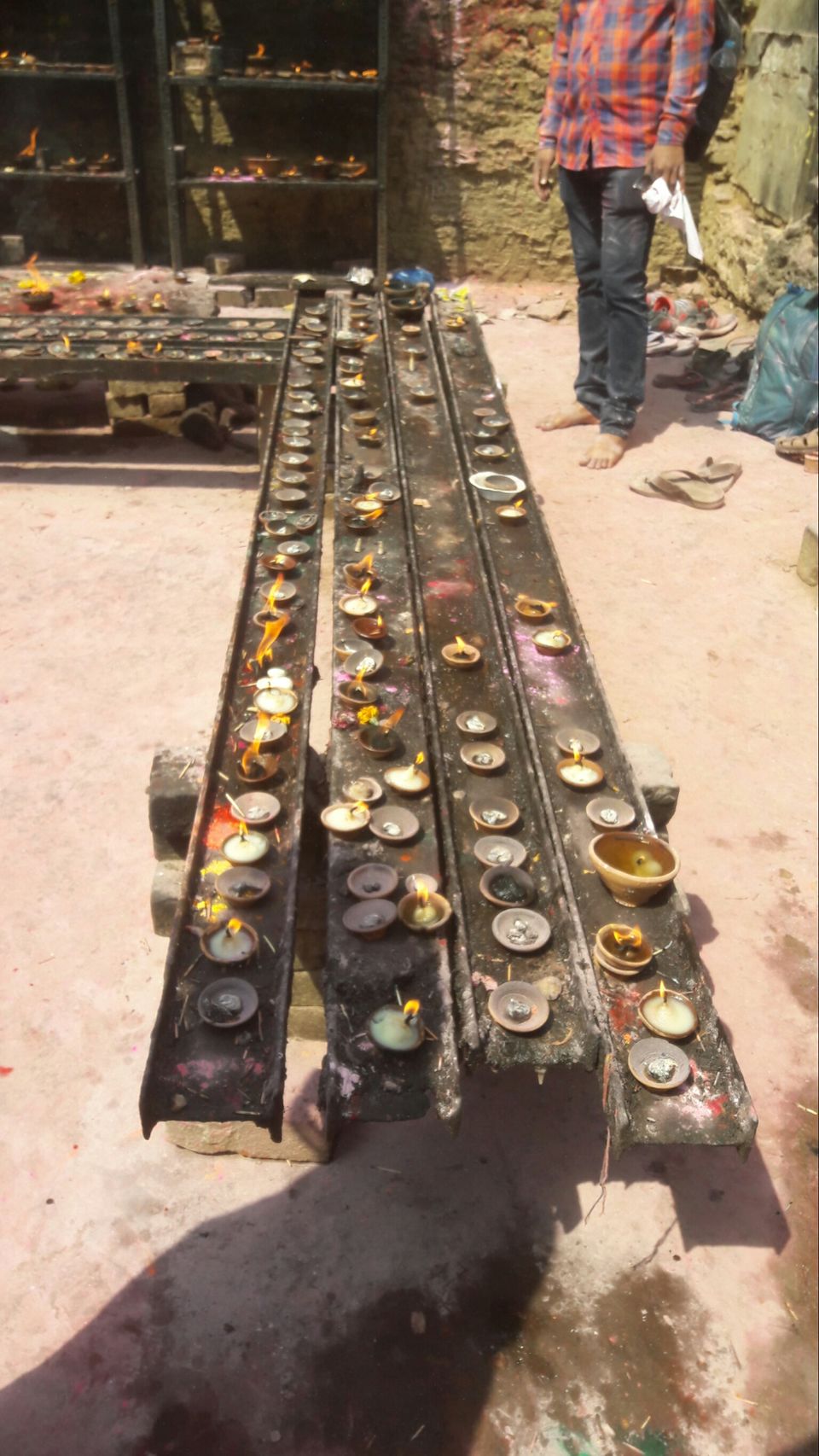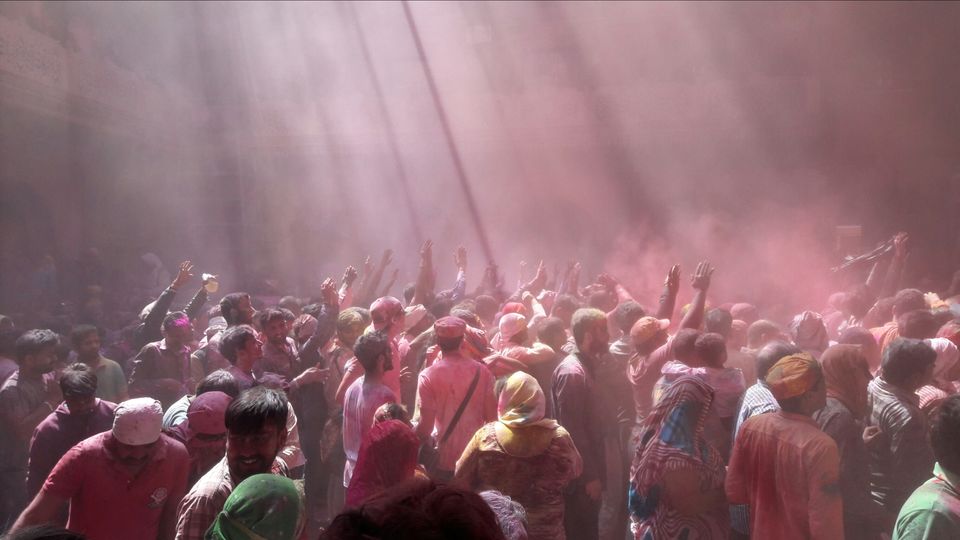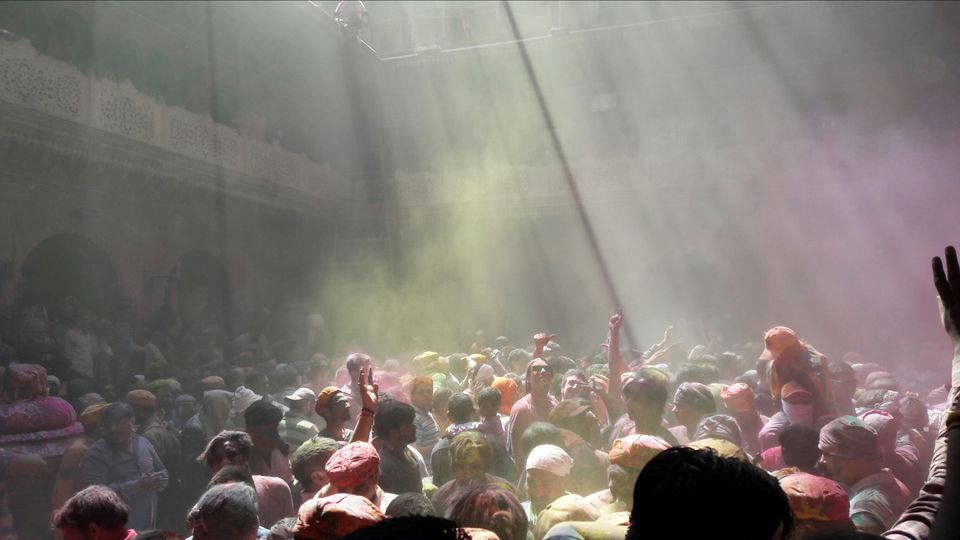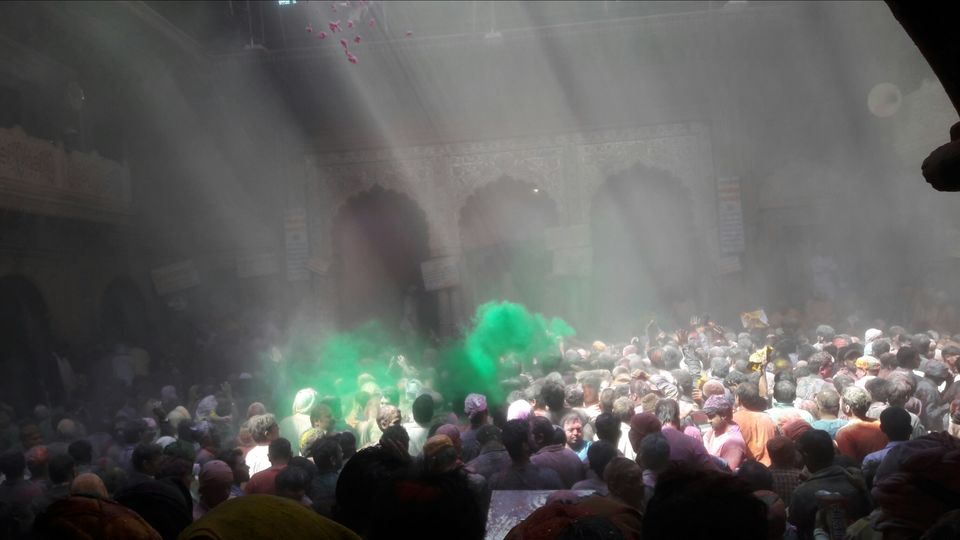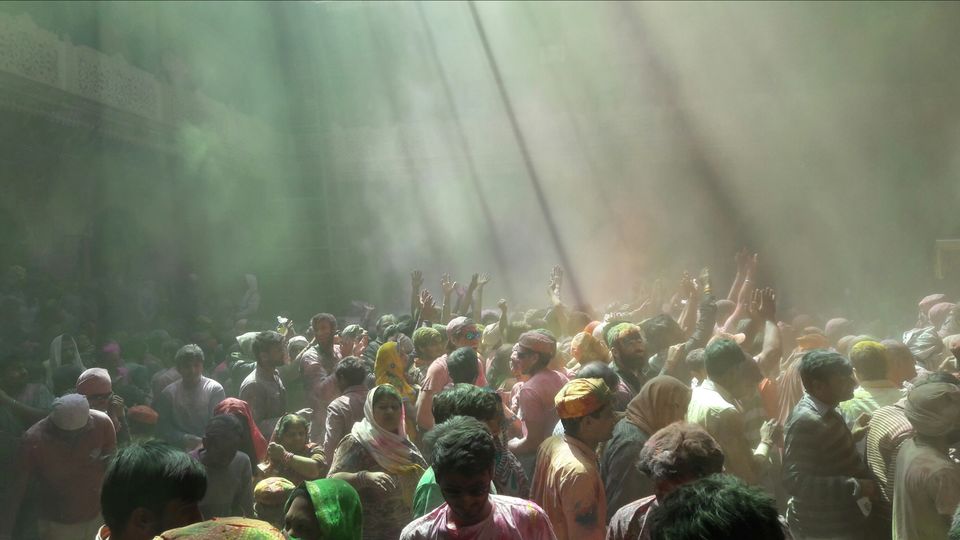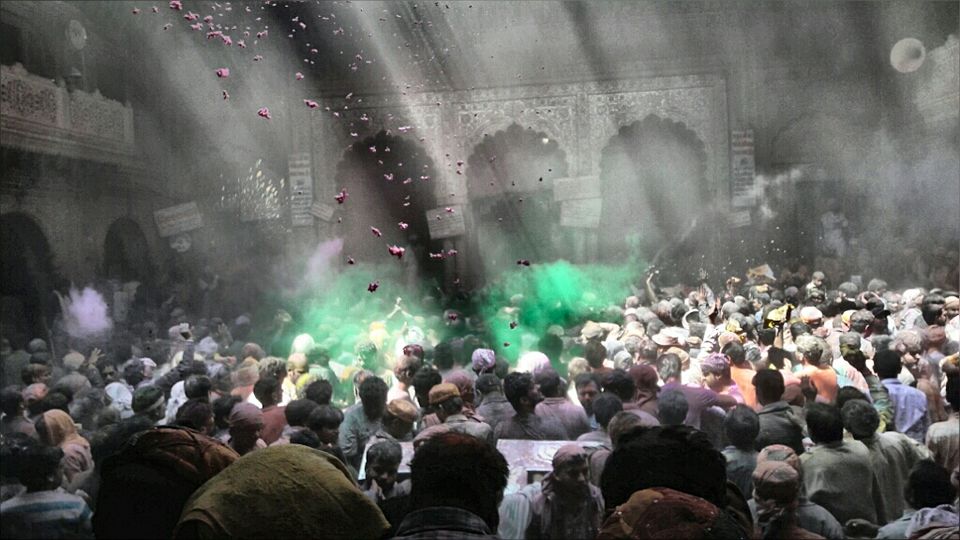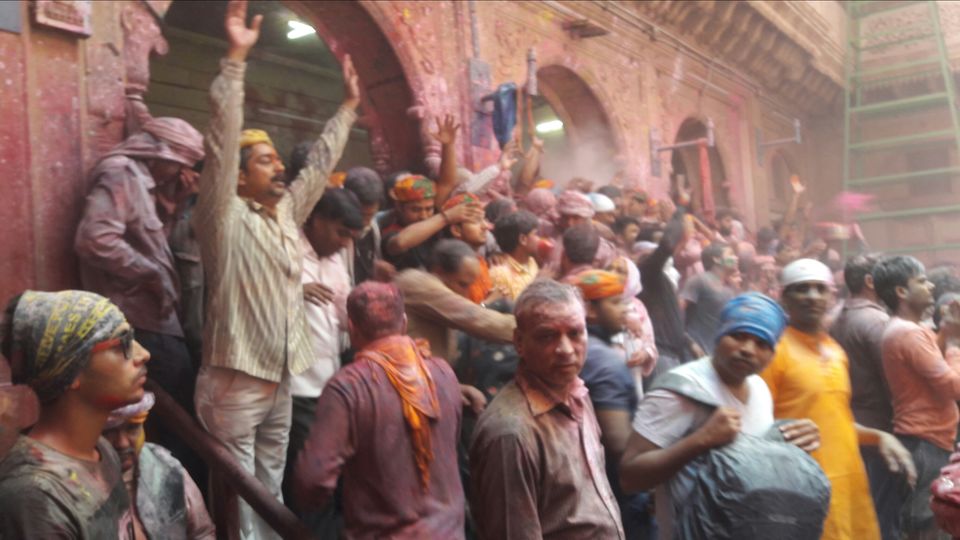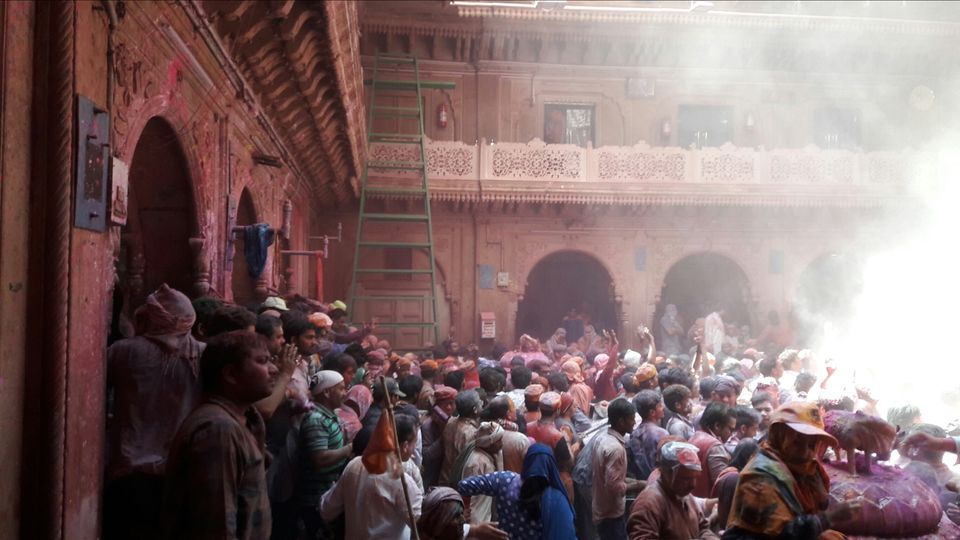 Really enjoyed a lot inside the temple and after that came out to the street to enjoy some more and had a glass of chilled lassi a famous drink which is must try while in mathura.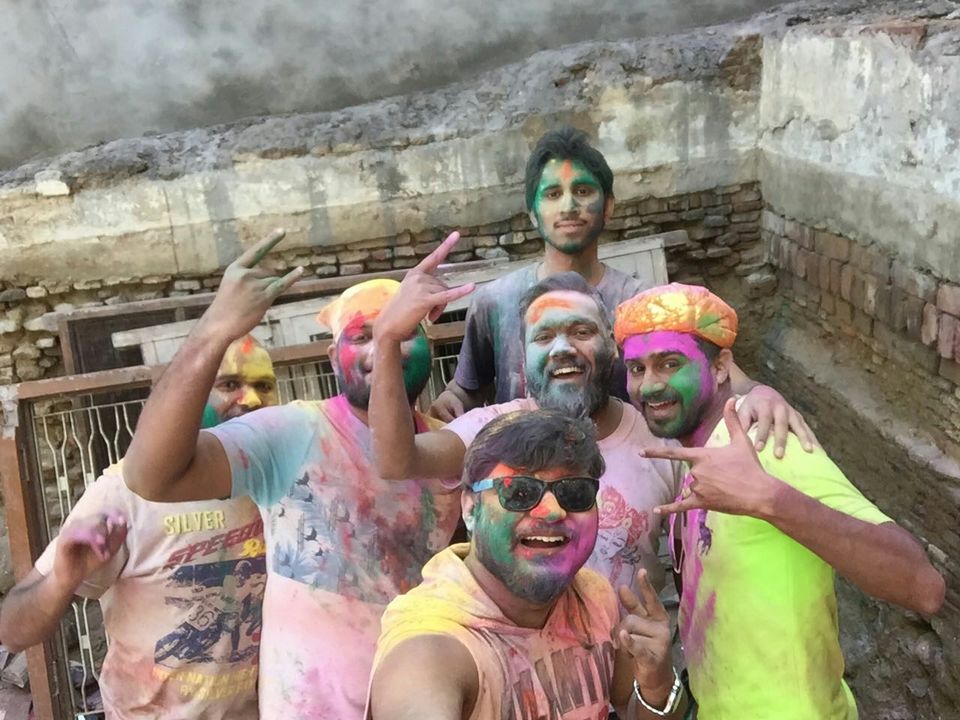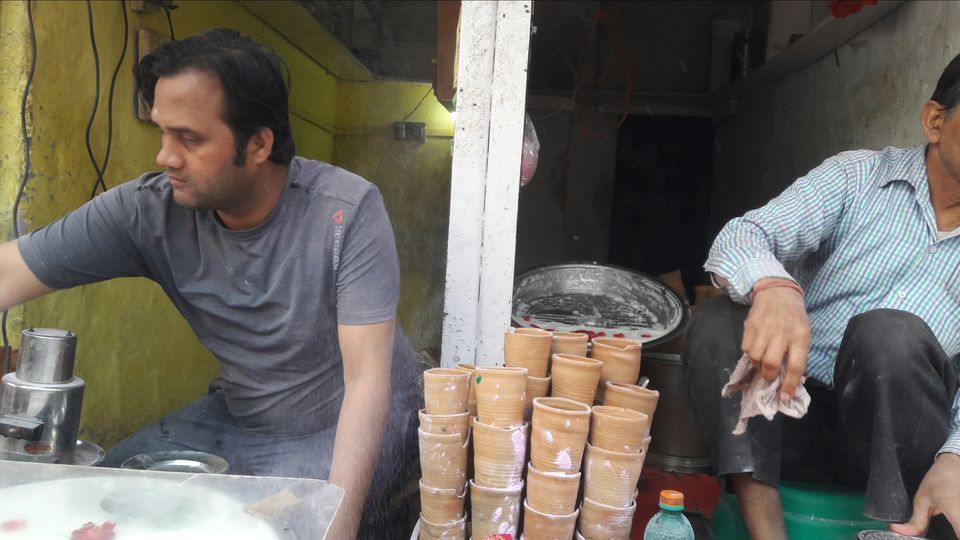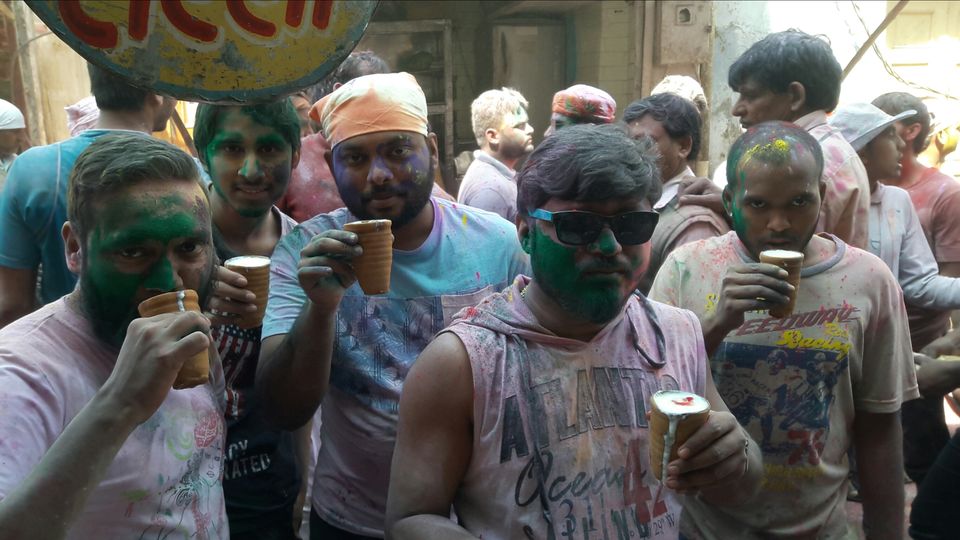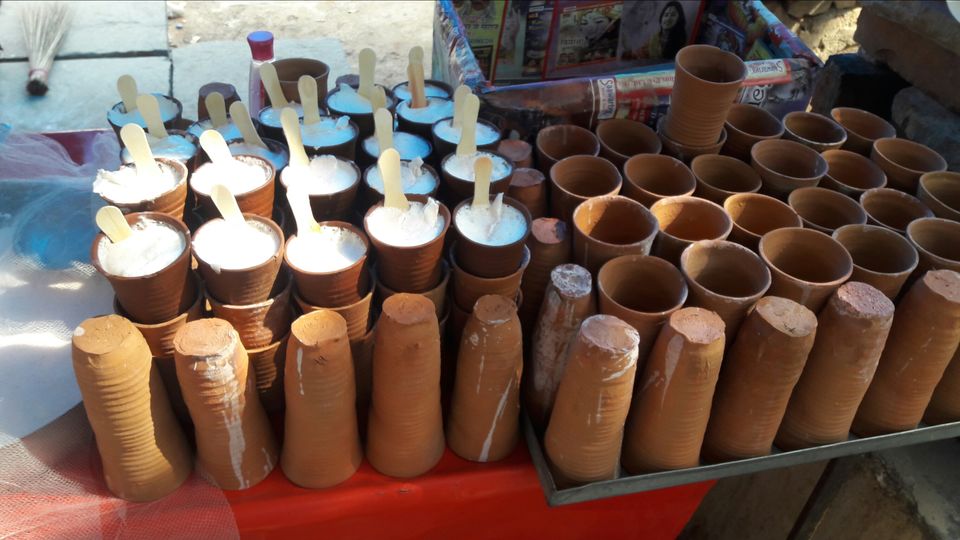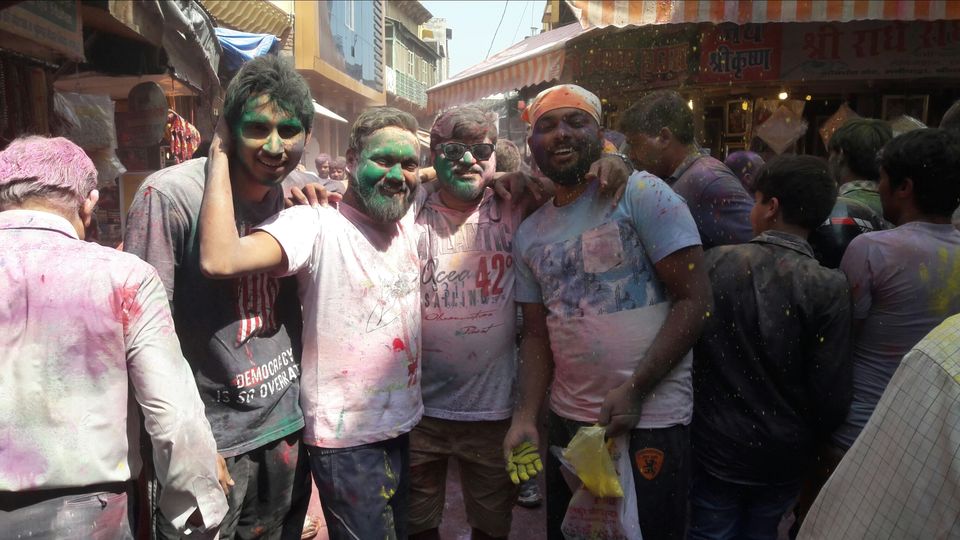 We came to our place around 14:00hrs after enjoying Holi and make ourselves comfortable for a bit and then took a warm bath for some relaxation. Now again we are on the streets of vrindavan still the Holi fever is not at all completed for the day but the road were almost vacant and covered with colours & gulaal all over the streets. We took an shuttle auto for Mathura now to eye witness "Holi Ka Dahen". We all were empty stomch from the day so we asked the auto driver to drop us near a nonveg reastaurant as its bit difficult to get a non veg food in vrindavan. And the driver asks us to drop down at "D Gate", it is 3 way road one goes towards Holi Gate for Dwarkadesh Mandir,one goes to Krishna Janmbhoomi & Mathura railway station and the another the way we came from Vrindavan. From the very chowk here one can see the restaurant named "Taj Mahal" towards the Holi Gate way. We entered and ordered like we didn't had food for days????????. The food is really mouthwatering here we finished 2 plates of whole tandoori,1 plate of Chicken & Mutton Korma each with Tandoori Roti & Jeera rice and ended up with Kheer & Bundi ki Raita. And it costs us only Rs-600 that means Rs-200 each as we were 3 persons that time coz that two buddies from hydrabad left for their hometown, and i got to know a new solo traveller.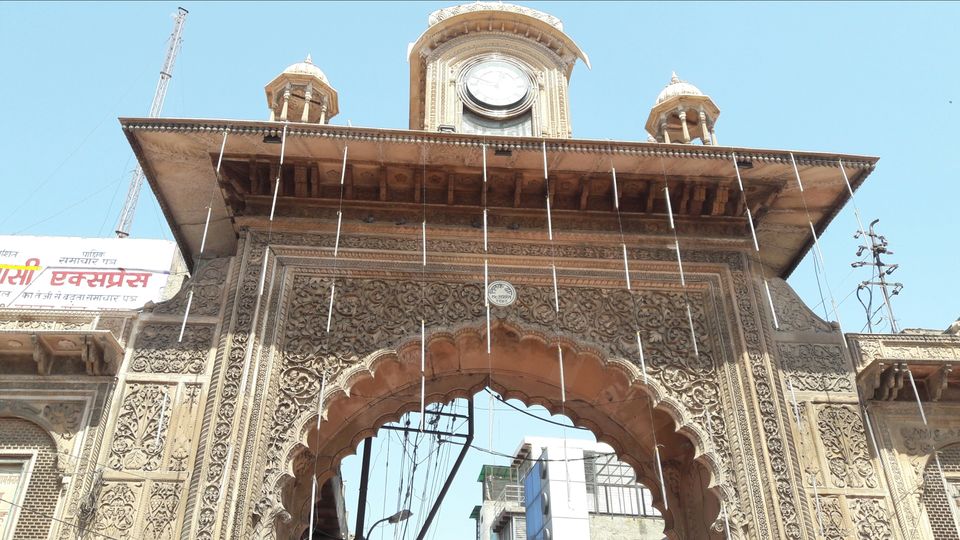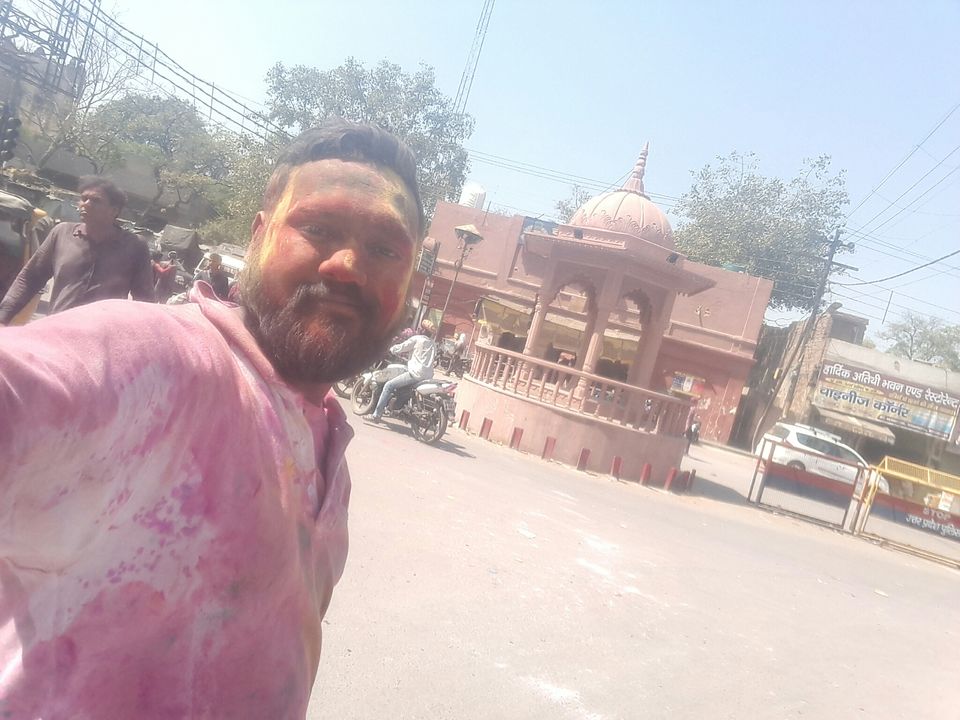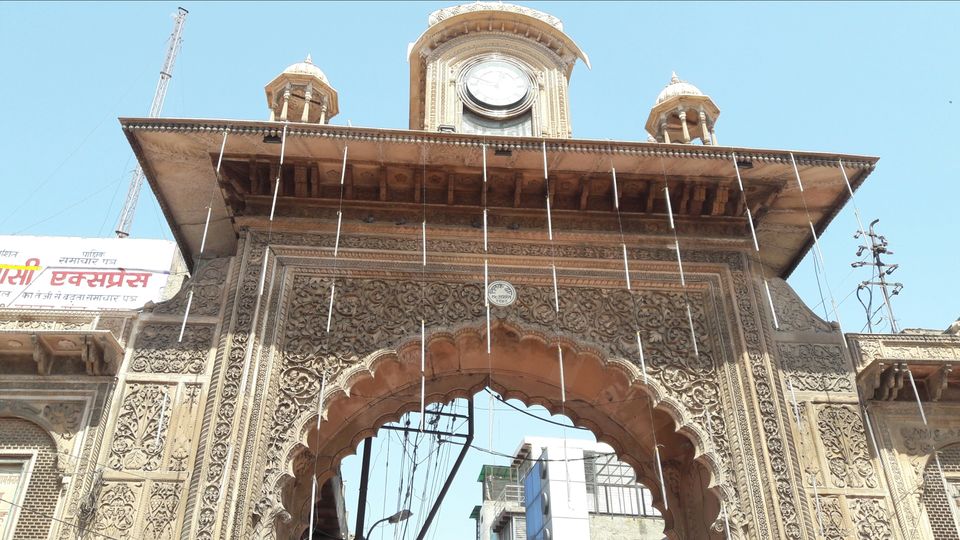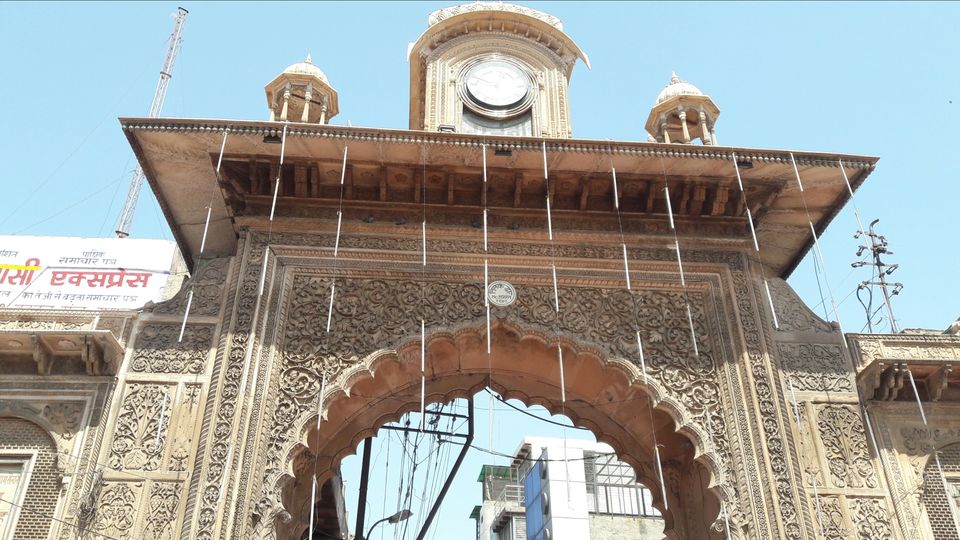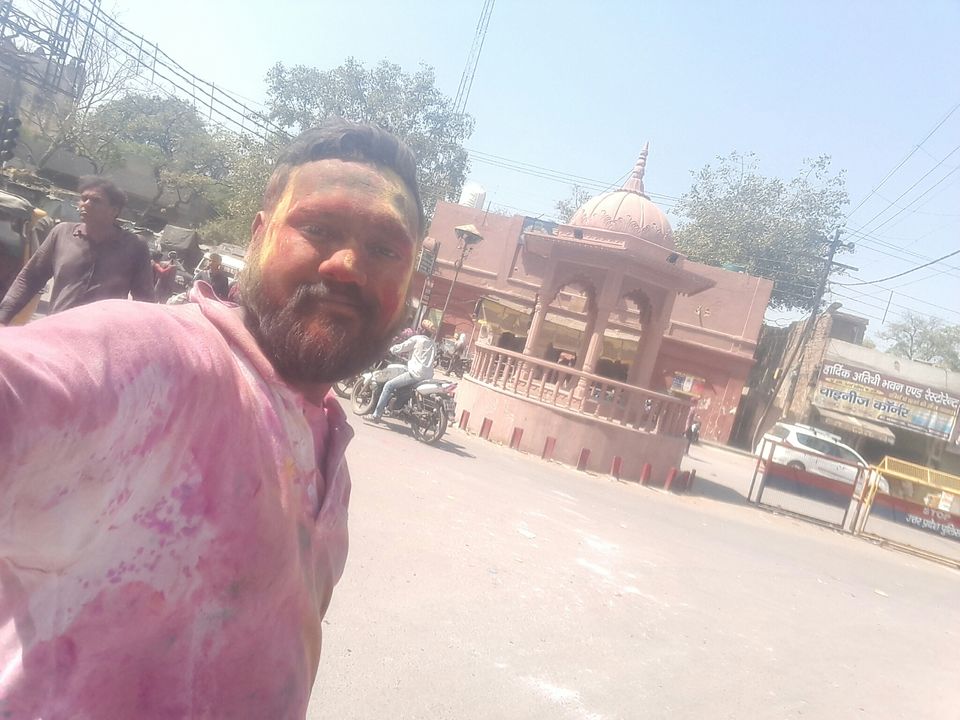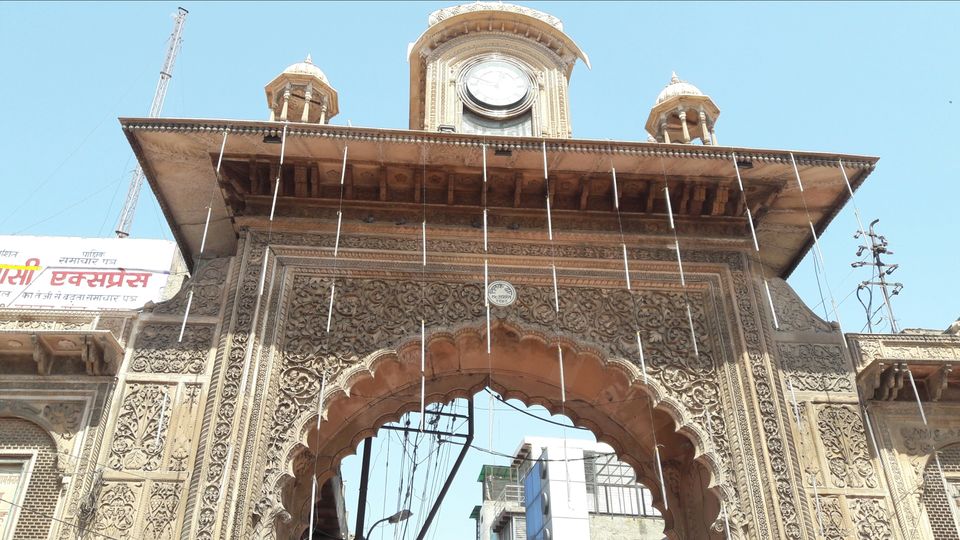 We then came out and proceed towards the Holi Gate and we saw the sreets were baricatted by the local police due to Holi procession. This colourful Holi procession happen every year just after the Holi festival gets over in Vrindavan and for that reason we came here. So instead of taking any autorickshaw we prefered to walk down the Holi Gate & Vishram Ghat. But after a few minutes of walk we stopped and amazed by seeing such a huge Holi rally which is actually out there to do a Parikrama of Dwarkadesh Mandir. Here are some of the pictures for you all.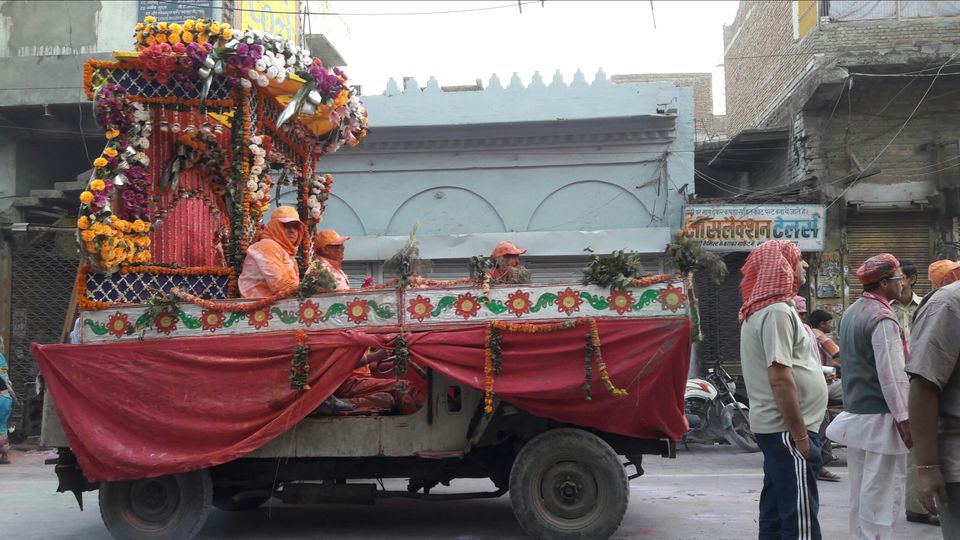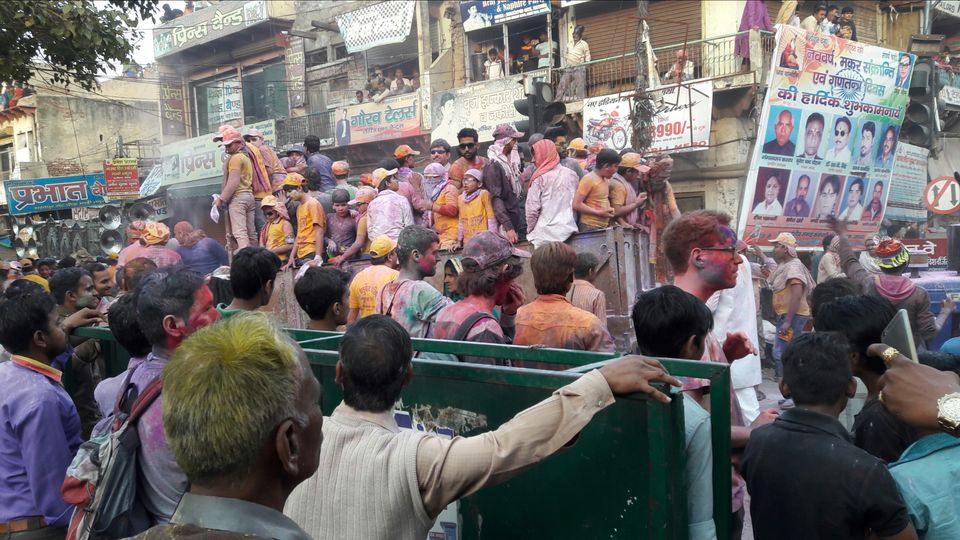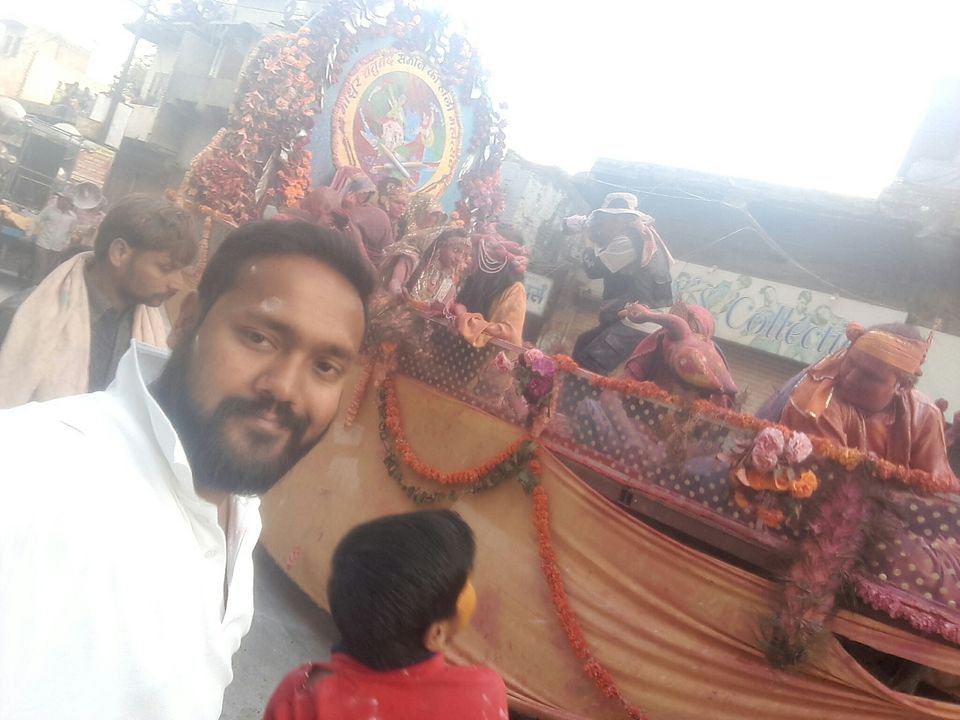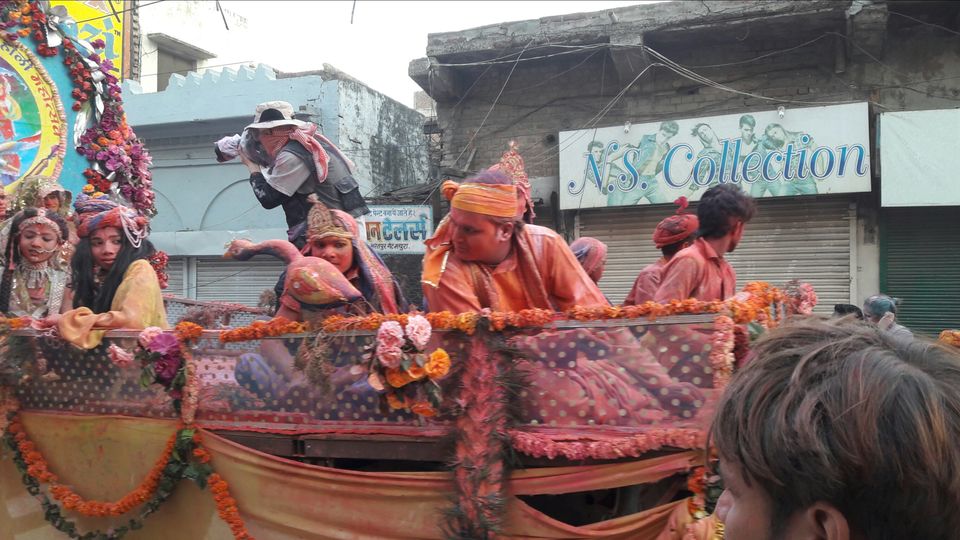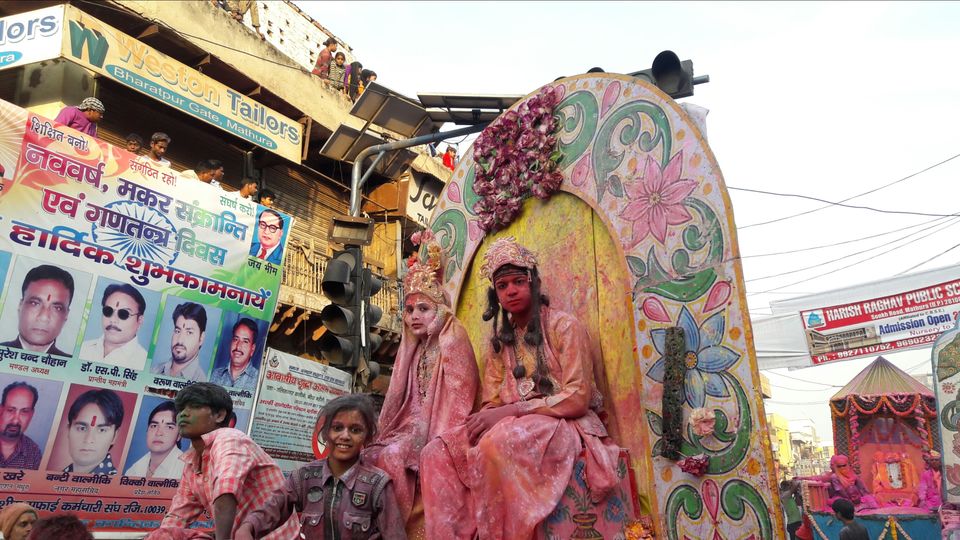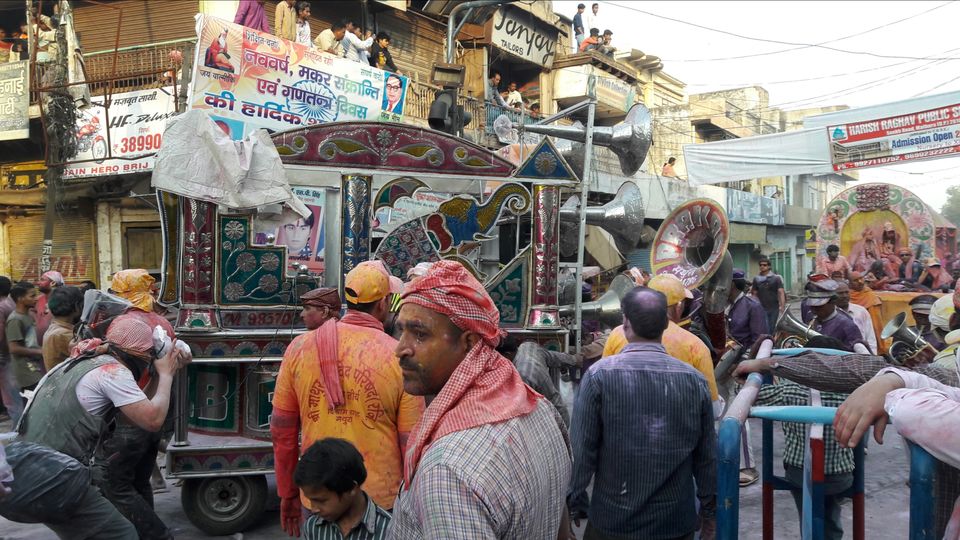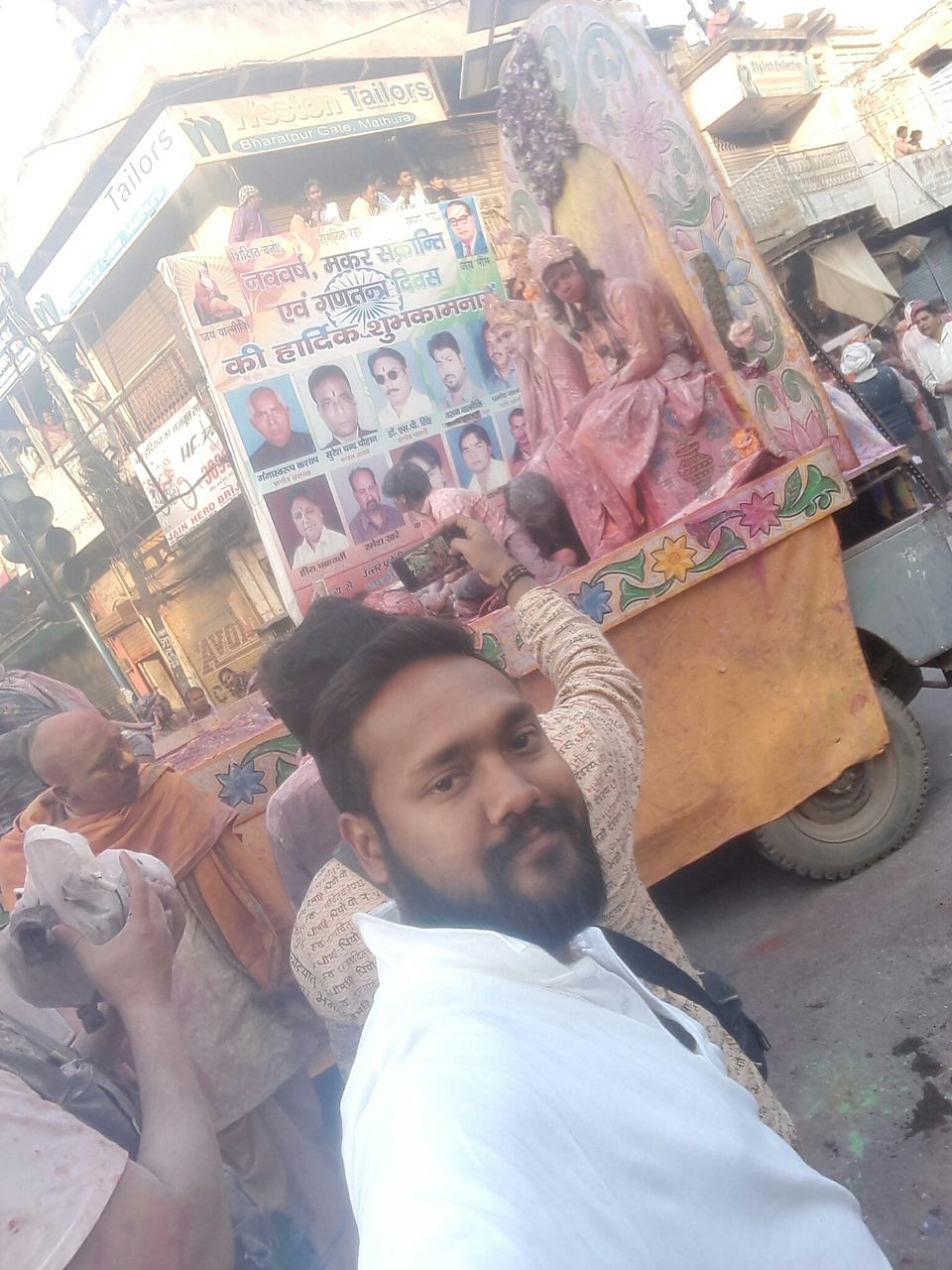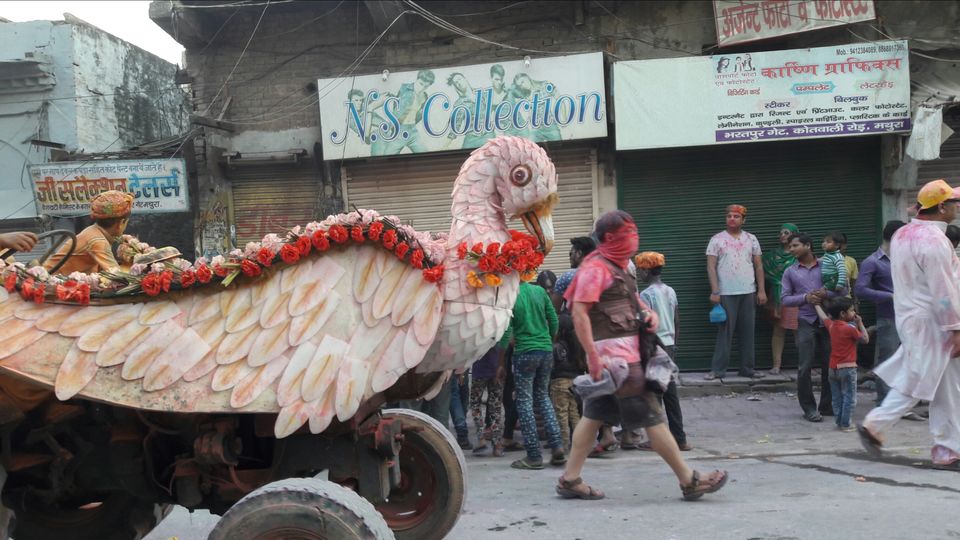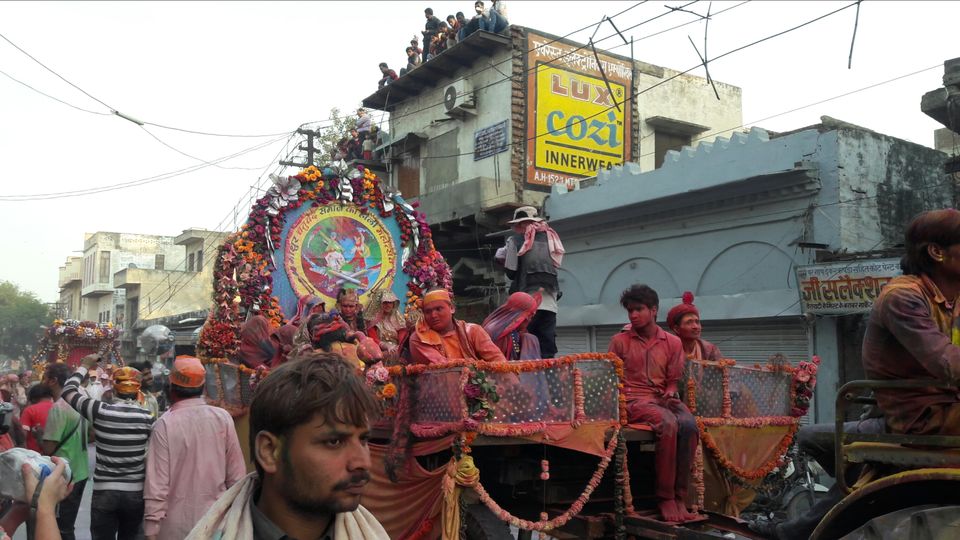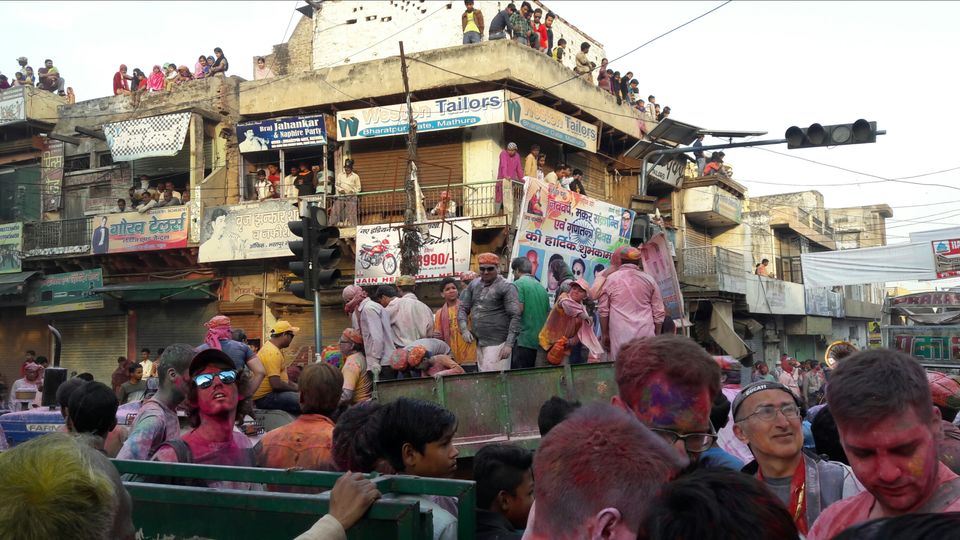 We atlast reached the Holi Gate which have a clock on its top. Its actually a old cozy road of mathura which used to have this gate for entry towards Dwarkadesh Mandir & Vishram Ghat. Its a 1km walk from Holi Gate to the Mandir and so walked. While walking down the street here we saw how old was the buildings here with nice sculptures on it. Its 17:30hrs the time we reached the mandir and it was closed for the day.
Note: All the mandir here in Mathura & Vrindavan opens from morning to afternoon 12:30hrs then it reopens again from 15:00hrs to 17:30hrs during festive seasons it opens till 20:00hrs last.
So we moved towards the Yamuna bank named as Dwarkadesh Ghat or Vishram Ghat as Lord Krishna rested here after killing Kangsh. As we came near to the ghat area an old man came near to us and said he'll show us the all the major point from his boat @ Rs-200. I know it is not a good deal as i can hear other boatmans keep calling us for Rs-50, but we can't be able to say no to that old man and stepped in his boat for a ride. He shown us mainy unknown places & temples from his boat. There is a mosque which now is a mandir and another is Kangsh Samadhi. We captured many beautiful photographs of sunset and other places from the boat which really gives us a perfect click. It was almost a 45mins ride on the river Yamuna which turned up to be a really amazed one. One should must try this ride while in Mathura.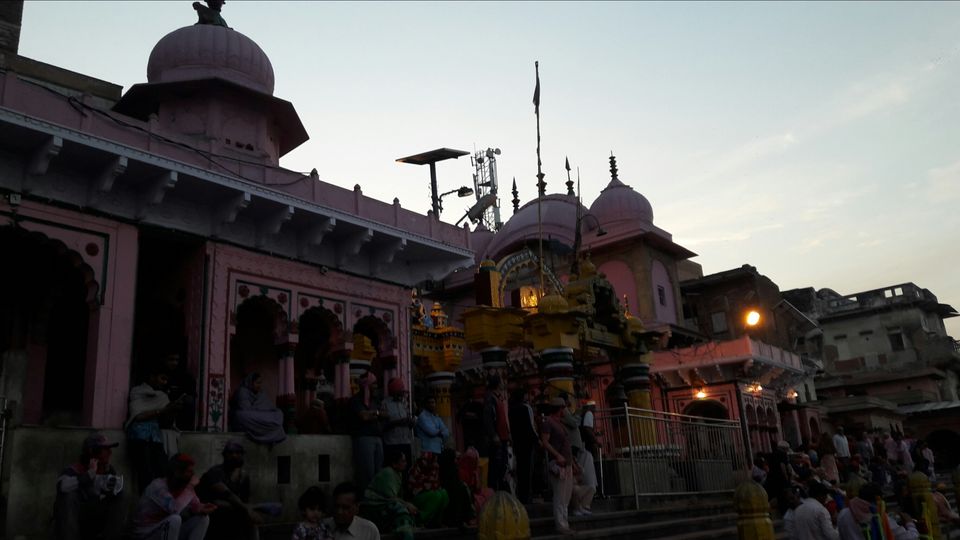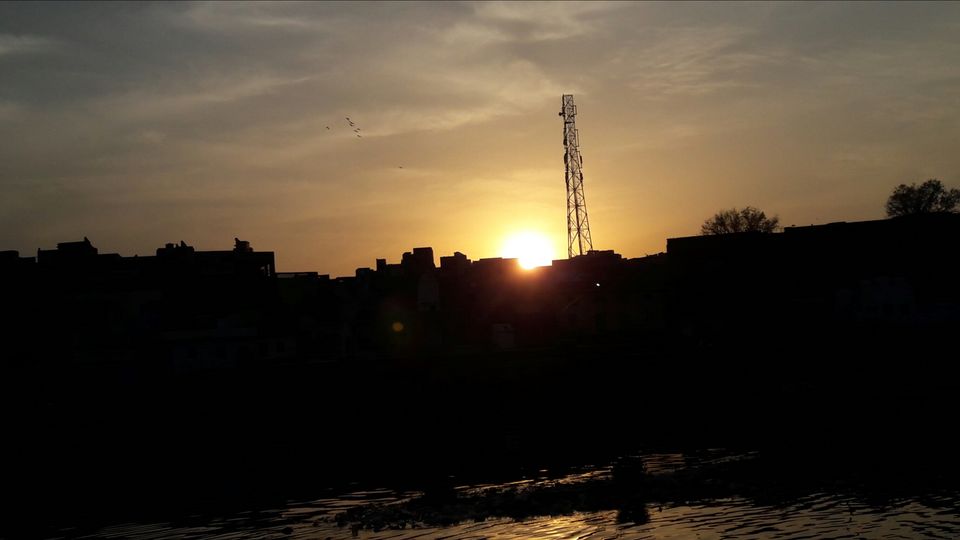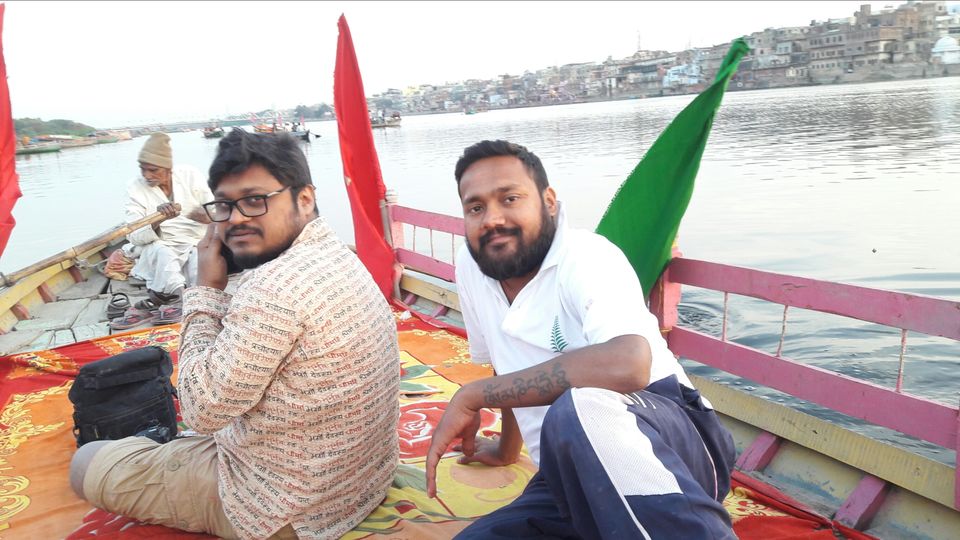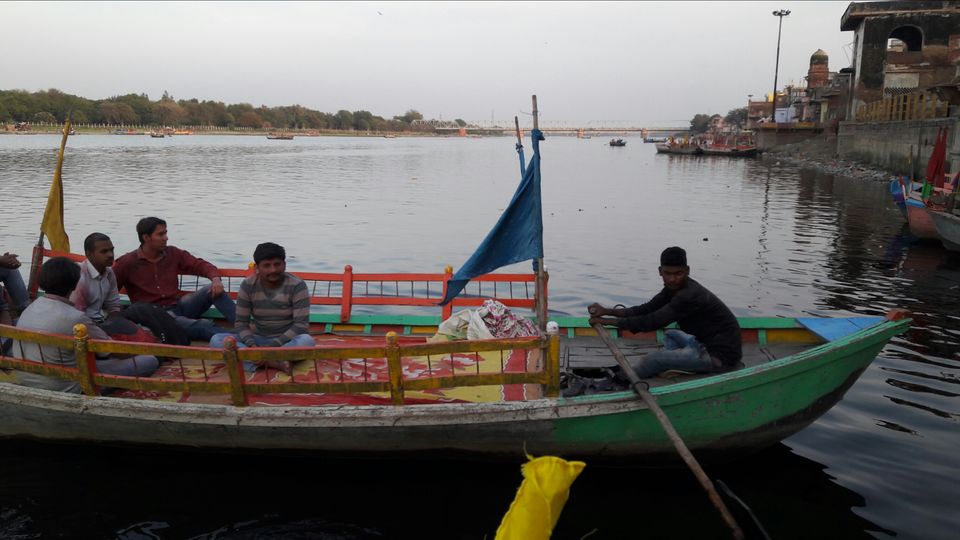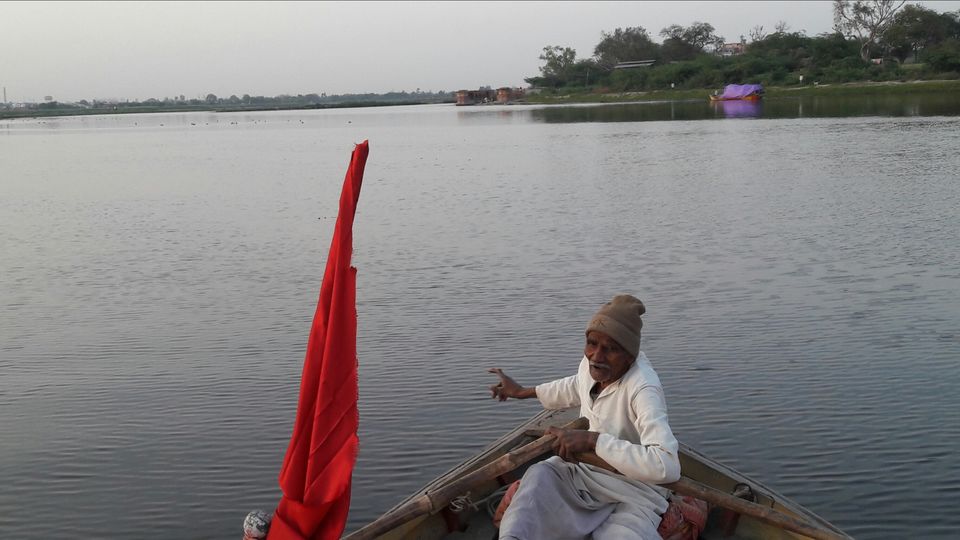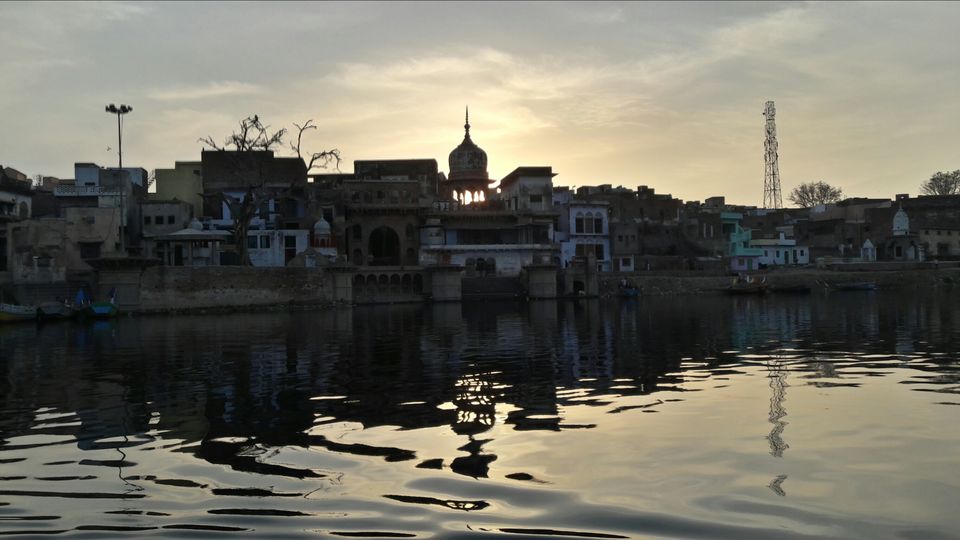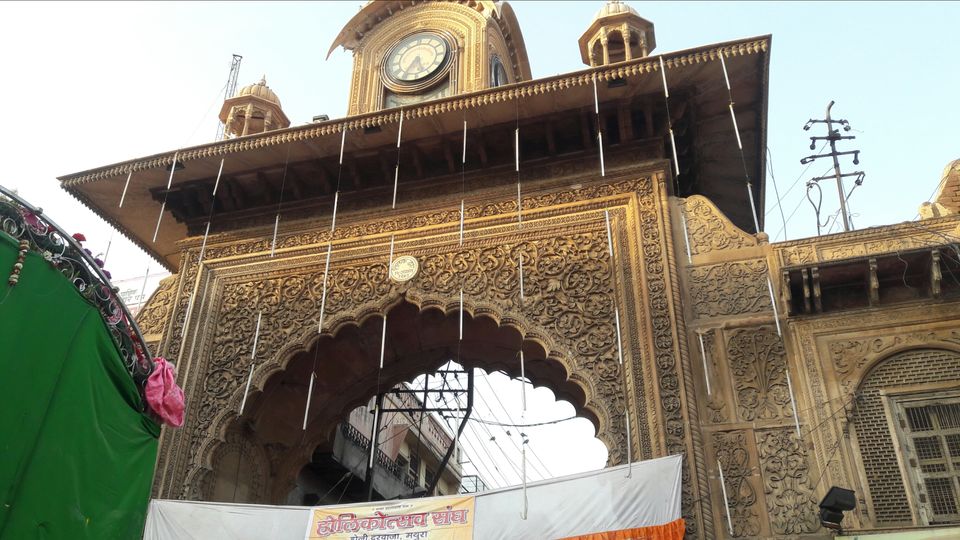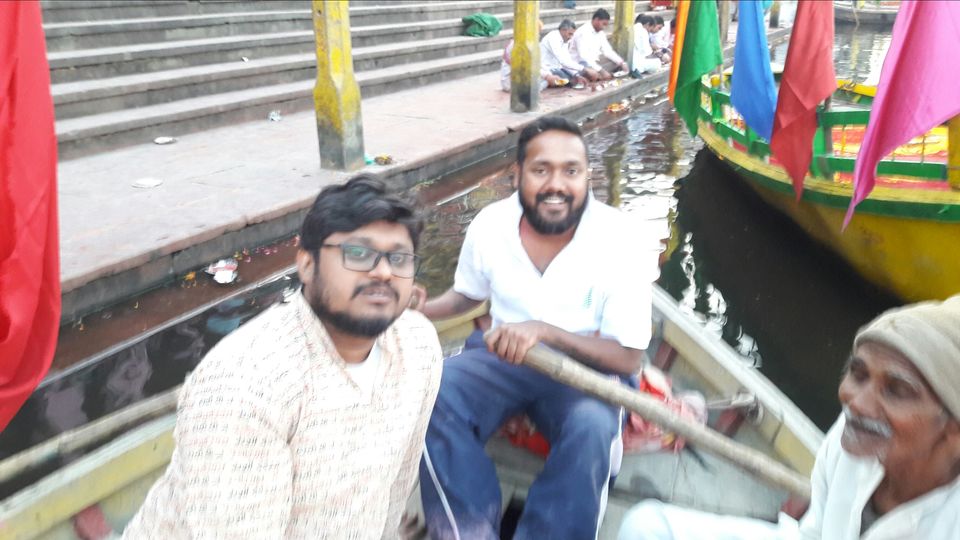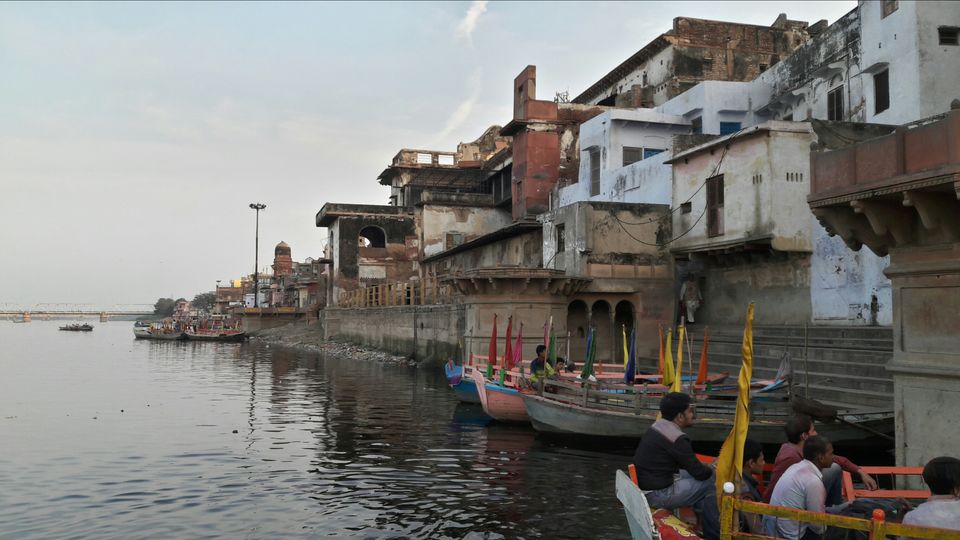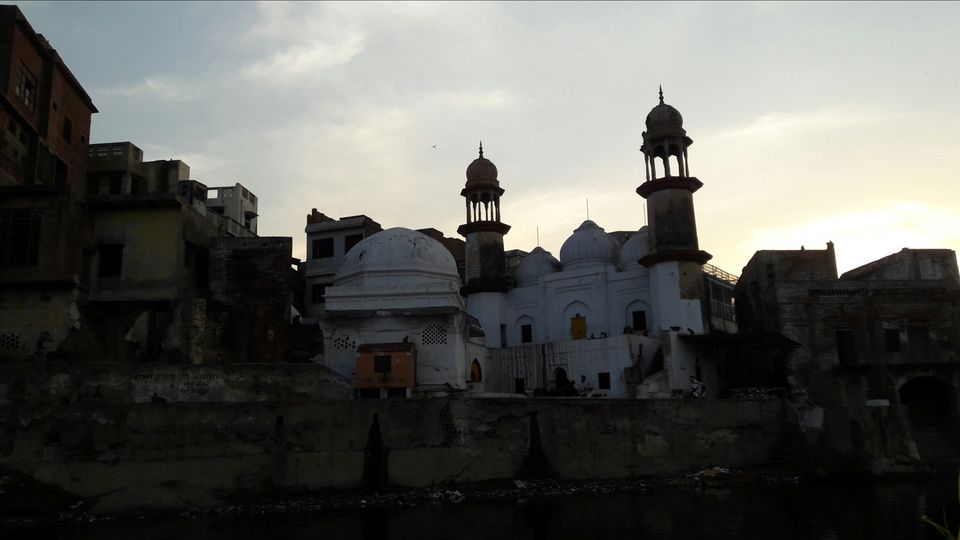 After the ride we sat for more time to see the yamuna aarti which happen sharp at 18:30hrs at Dwarkadesh Ghat. People were doing aarti and placing the butter lamp on the river after wishing. The pujaris of the temple came near by the river with lots of butter lamps for aarti.Really worth watching.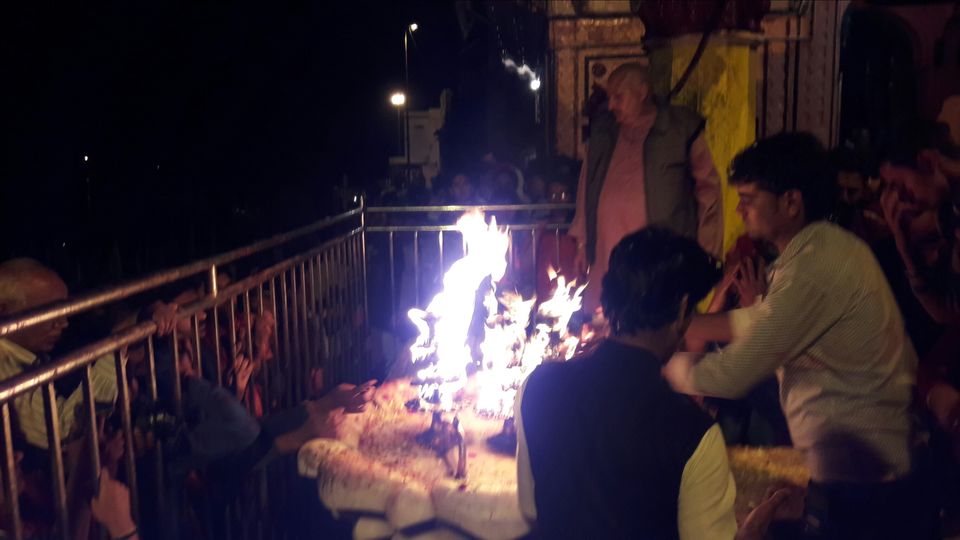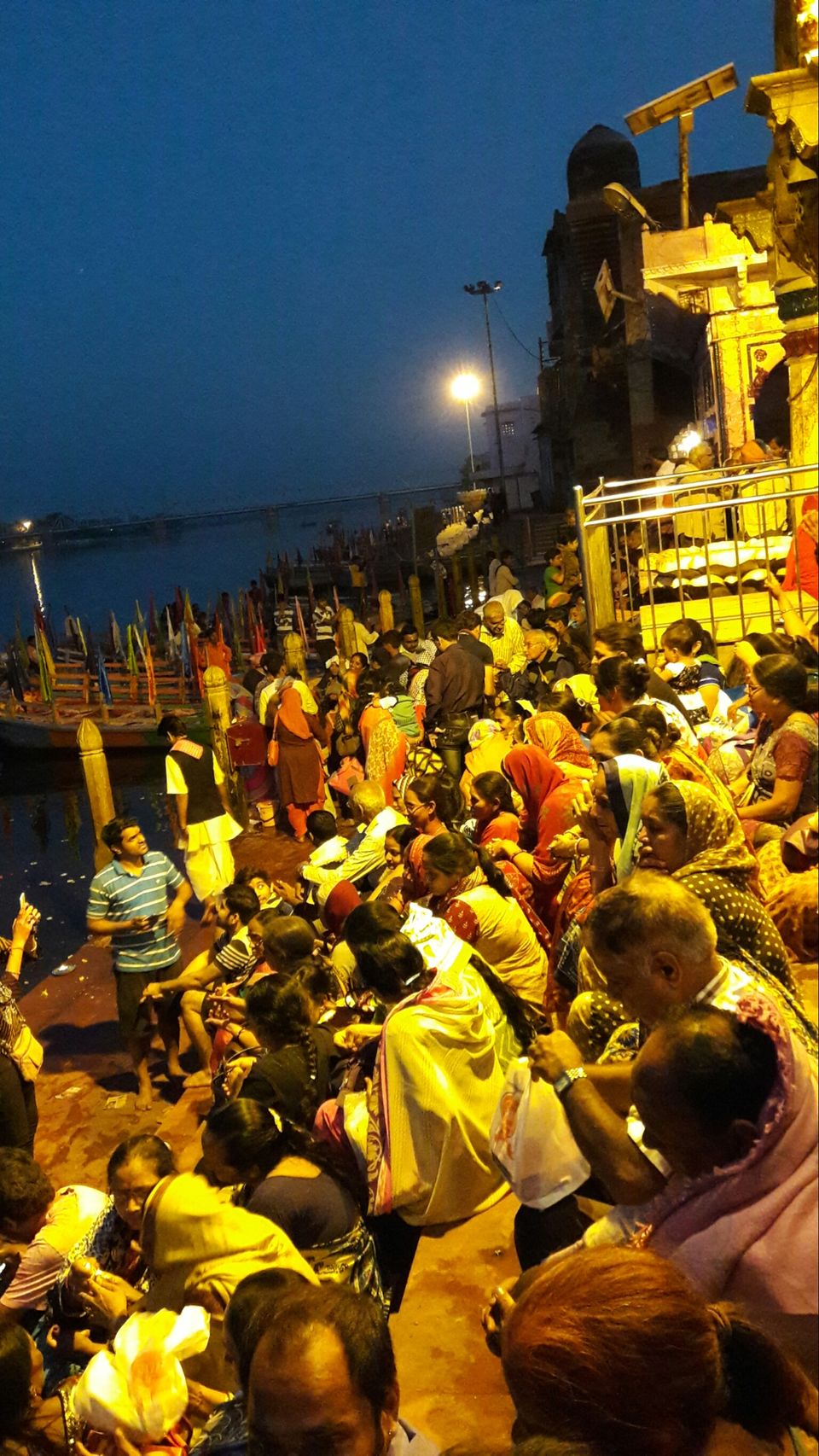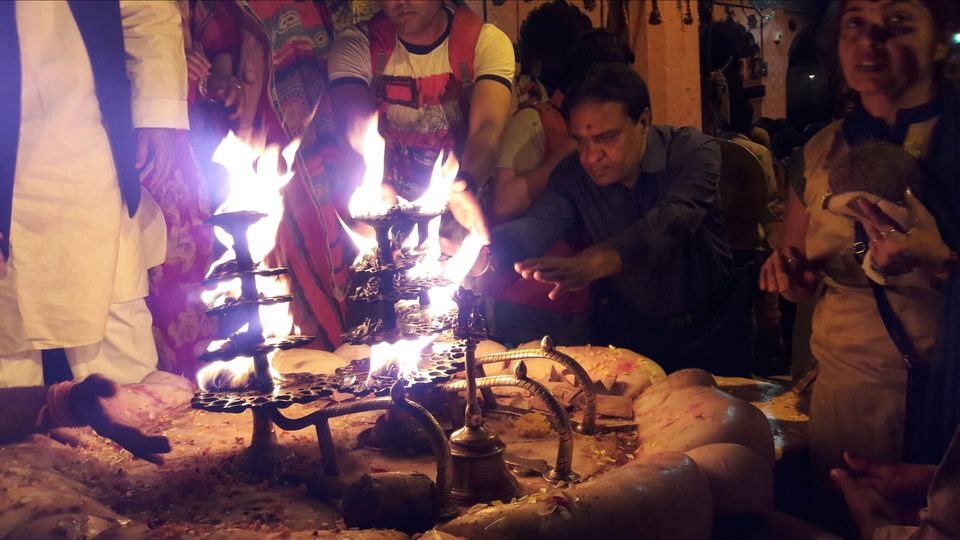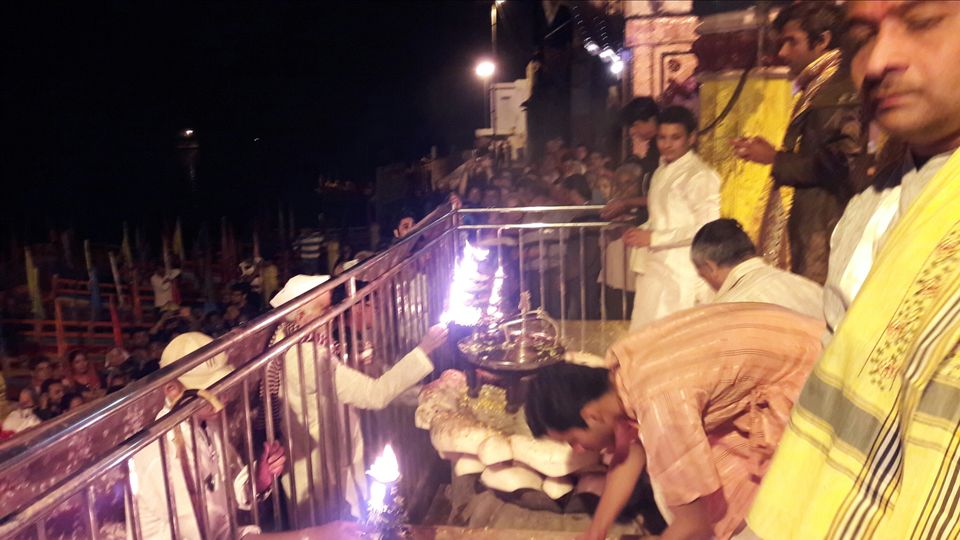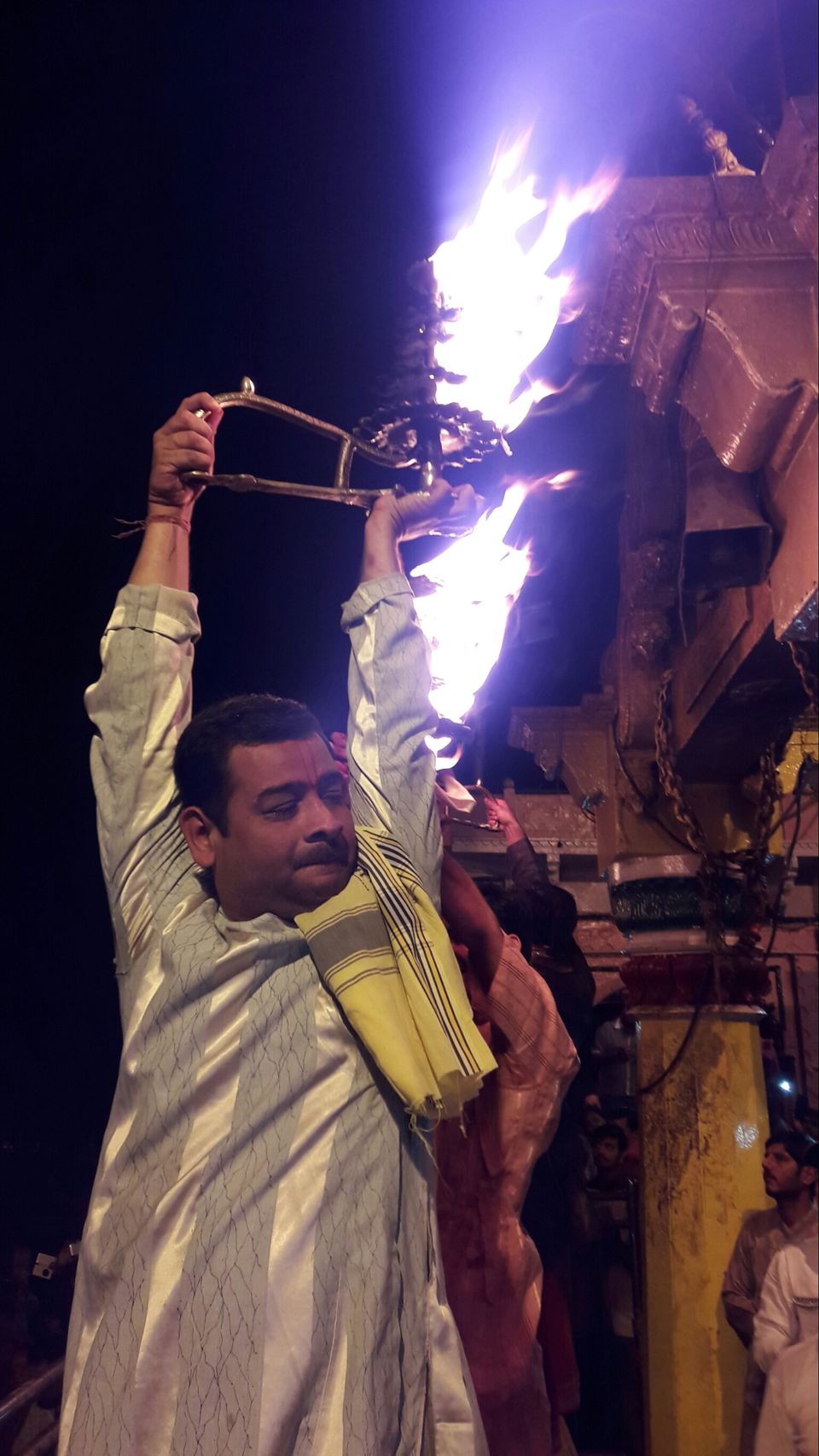 After that we took a sharing auto from D Gate for Prem Mandir a huge mandir belongs to Lord Krishna. One should visit this mandir at evening only to watch its colour beauty. The whole mandir changes its colour within every few seconds which is really impressive to watch.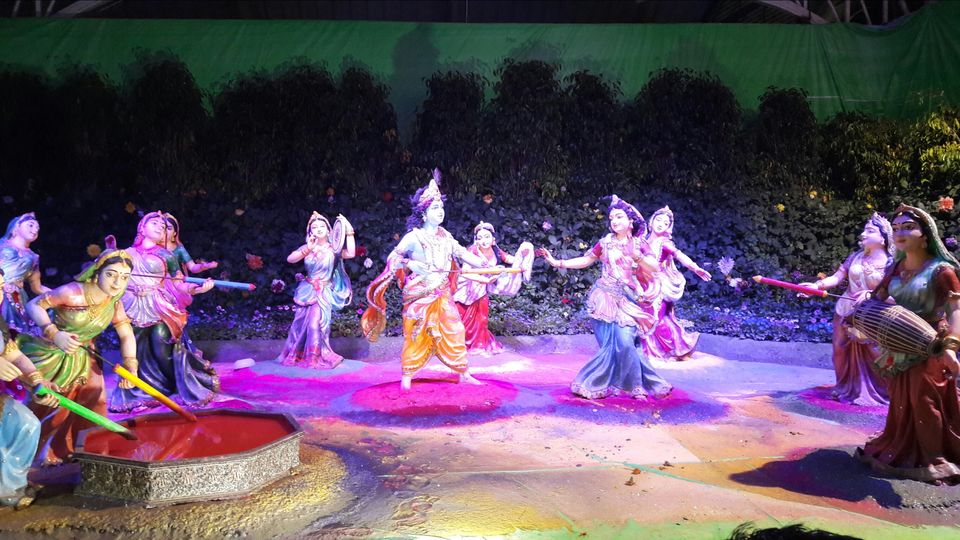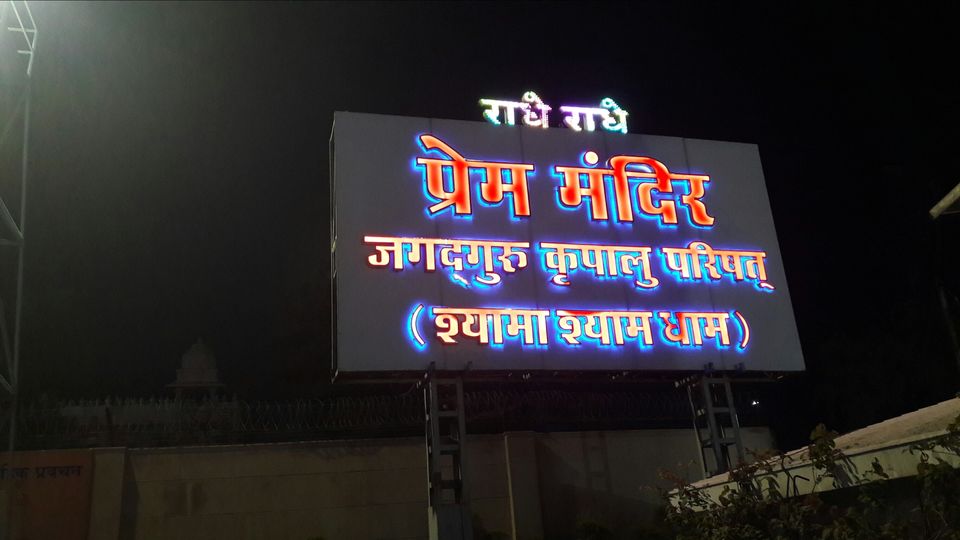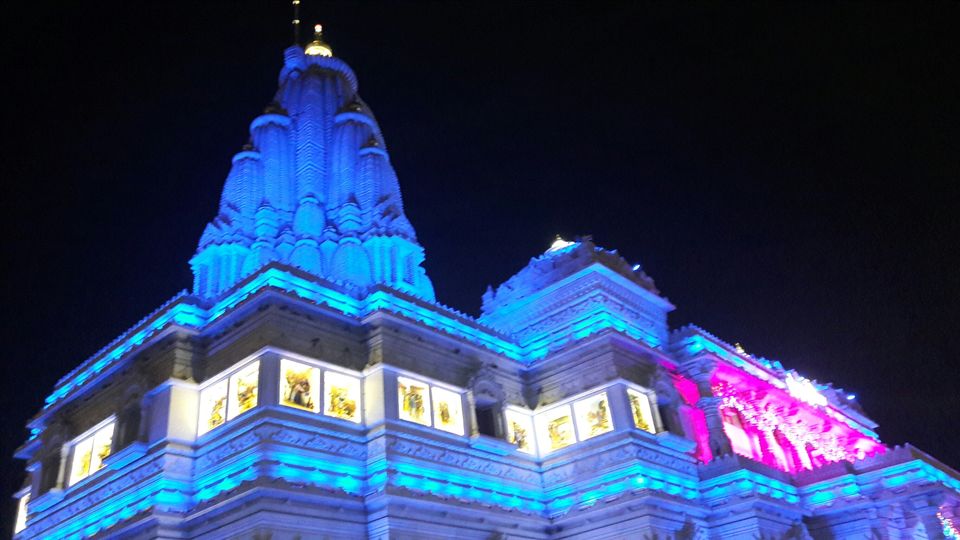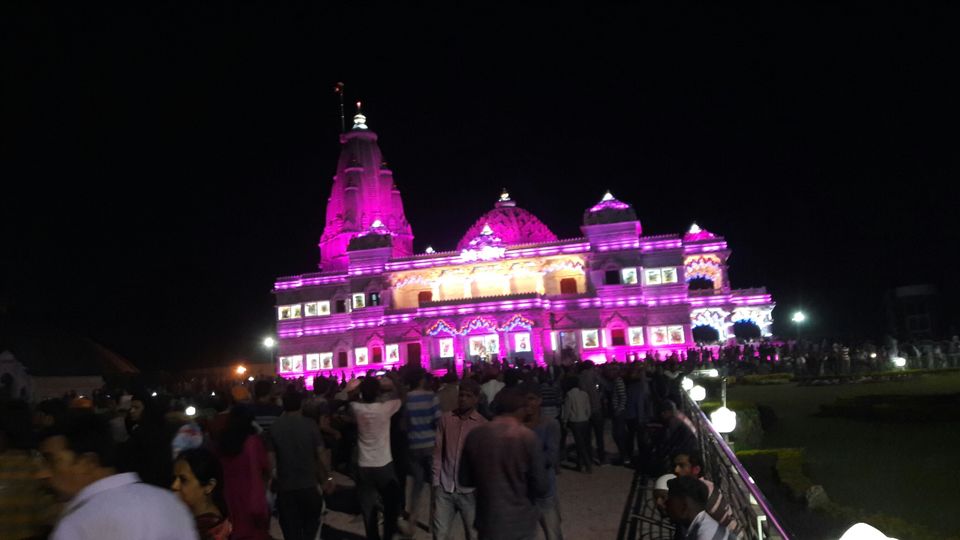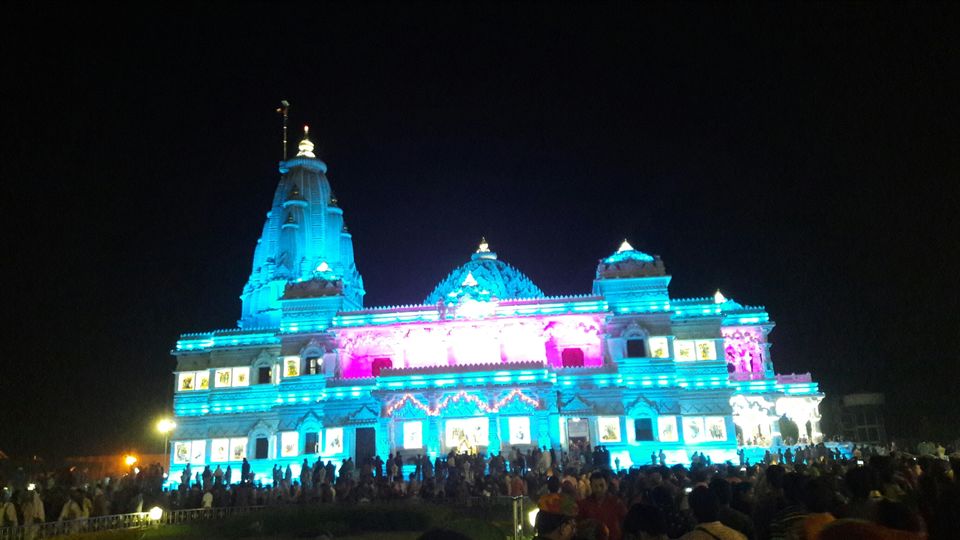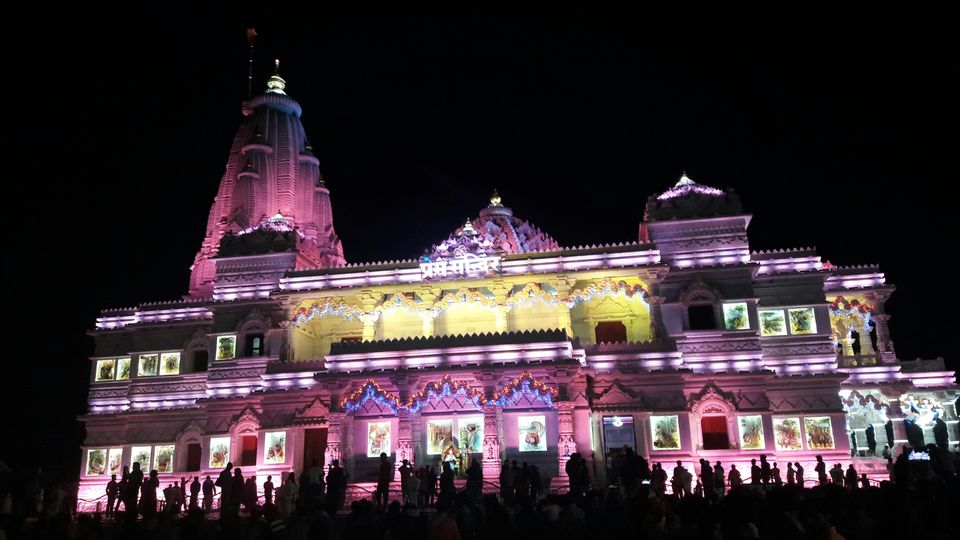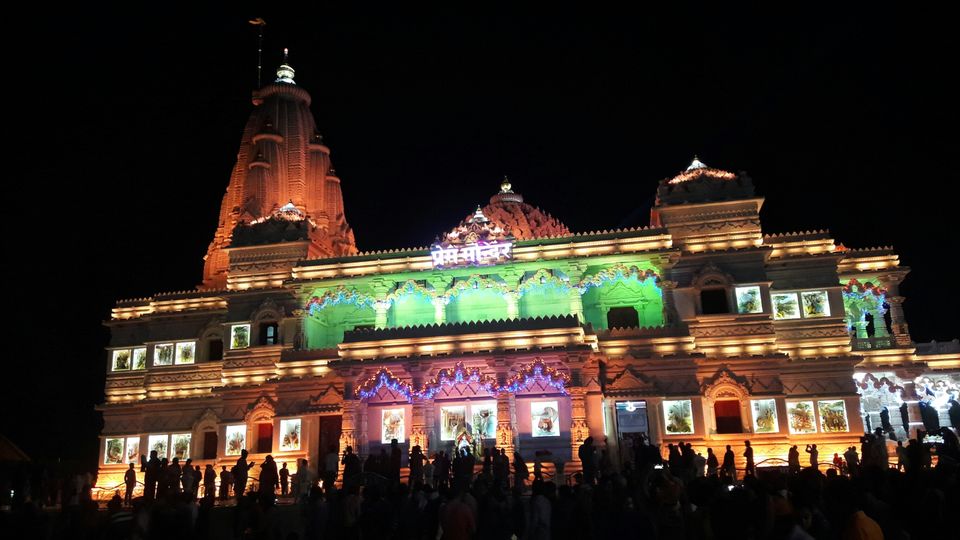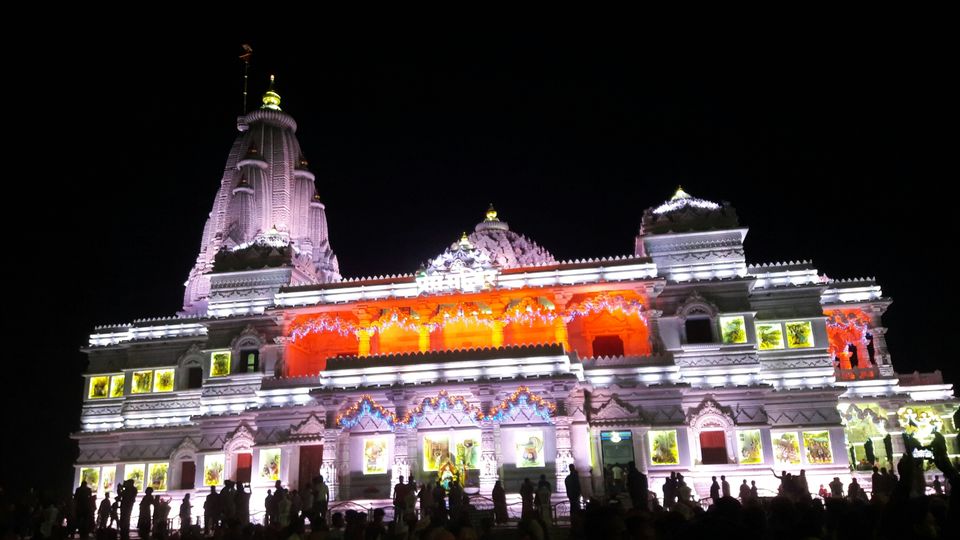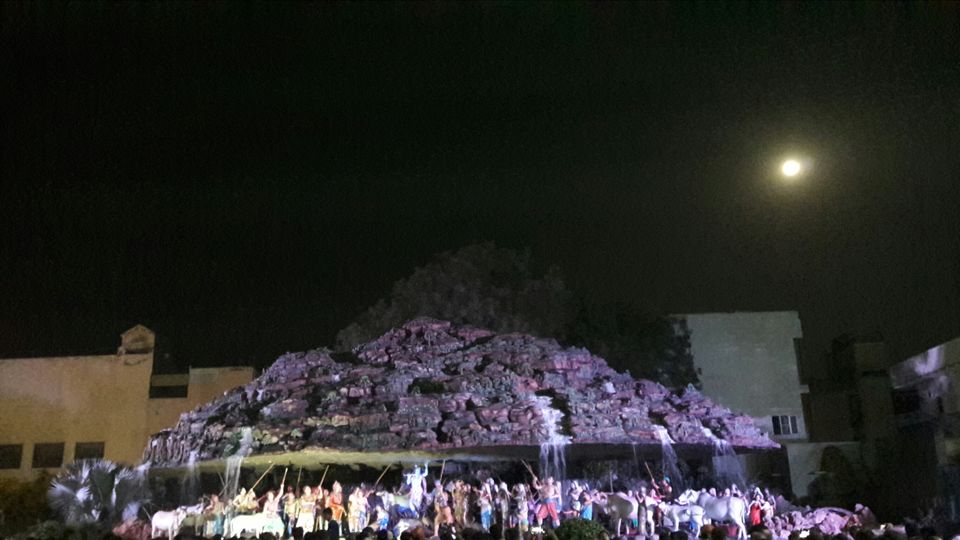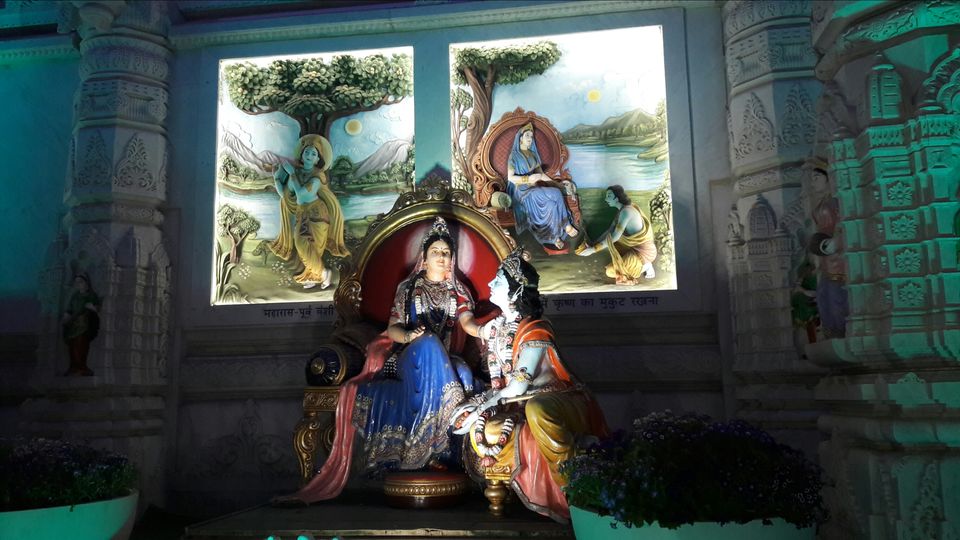 Its the end of our day 2. We came back to our place ordered some alu paratha from the near by restaurant for our dinner. Tomorrow my other & only mate will also left the city so from tomorrow i'll be a solo traveler again. We bid good night to each other and slept.
We woke early morning and after freshen up checked out from Vrindavan. Took a sharing auto for Mathura railway station as my mate had a train to catch and i dropped near the D Gate for another remaining last session of Holi at Dhwarkadesh Mandir. But i'm little bit afraid thinking about my tonight's night stay at Mathura. Yesterday i seen few ashrams and dharmashalas near by the Mandir area. The locals already started mixing colour in ballons & water bucket as Holi preparation. Some of the few kids already started playing. I came near by the mandir and just few steps away there is a calcutta dharmashala. I asked for a room and the gentleman said this is for Bengali's and oh gosh by fate i'm a bengali???? and i took the key for Rs-100/night. Later i asked the gentlemen is it only for bengali's he replied no he said he dn't have enough rooms available thats why he told me that, its actual open for everyone. Its a dharmashala so dn't expect much but yes it do have a bed to sleep which is enough for me.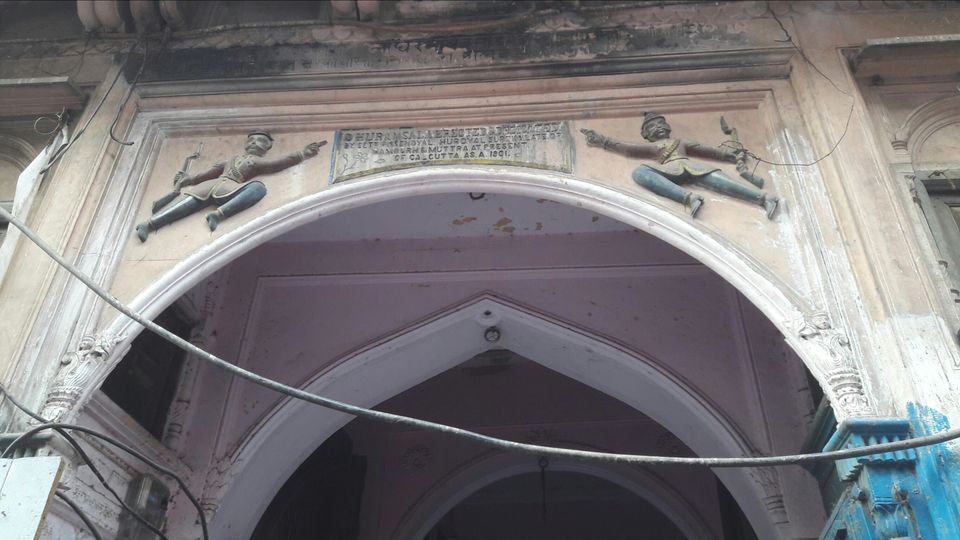 I kept my rucksack and locked the room and came outside. And yes its started whole heartedly outside. The mandir will open by 09:30hrs so its the drama is all now on the road near the mandir. Lots of foreigners were there who came long away to capture moments & to feel the traditional Holi beat here. I entered the mandir premises and there were no space for me to even stand properly. Oh gosh but somehow managed and the people all over there are throwing gulaals on one another as a greetings. I also started chanting loudly "Haati Ghoda Palki...Jai Kanhaiya Lal Ki" , "Radhe Radhe Bolo Radhe", etc
.and started dancing on the beat. In some time the doors were open for darshan of Lord Krishna though its too much rush at that moment but anyhow had a glance of the lord. I too took few pictures & done videos. I saw two three indian travellers who were standing next to me were asking other traveller till what time this celebration will continue inside the mandir and i heard he replied till 14:00hrs. So they decided to leave for some other place outside to enjoy more and they welcomed me when i asked them if i can join them. Its time to decide where we can go & instantly i suggested to pay a visit to the near by Mandir name "Krisha Janmabhoomi". So we started walking down the street while the kids were throwing bucket full of colour water on us from the above and few of us throwing colour ballons on us. We reached the mandir which is just near the D Gate. It was almost 12:00hrs so i'm afraid as most of the mandir close here by this time, we kept our shoes & mobiles in the cloak room & started running to visit the mandir before it close. Here one can witness the actual prison (jail) where Lord Krishna was born. The huge mandir is actually built around the prison cell and thats why it named as Krishna Janmabhoomi. The mandir is built just next to a mosque named Shahi-Eidgah Mosque and there is a partition between the mandir & the mosque area which is very sad to see being a non believer of any religions. It is just like the India- Pak border, as photography is banned so i couldn't able to capture any picture of that. Anyhow we are blessed to see the main mandir (Prison) one,but the door of the big mandir was closed by that time. We came out and had some sweet lassi & pedha the all time favourite of Mathura.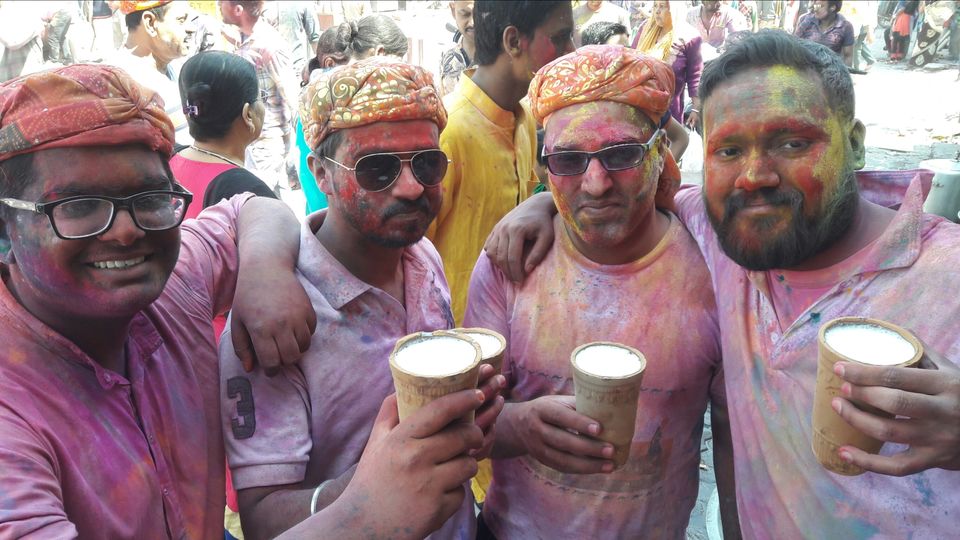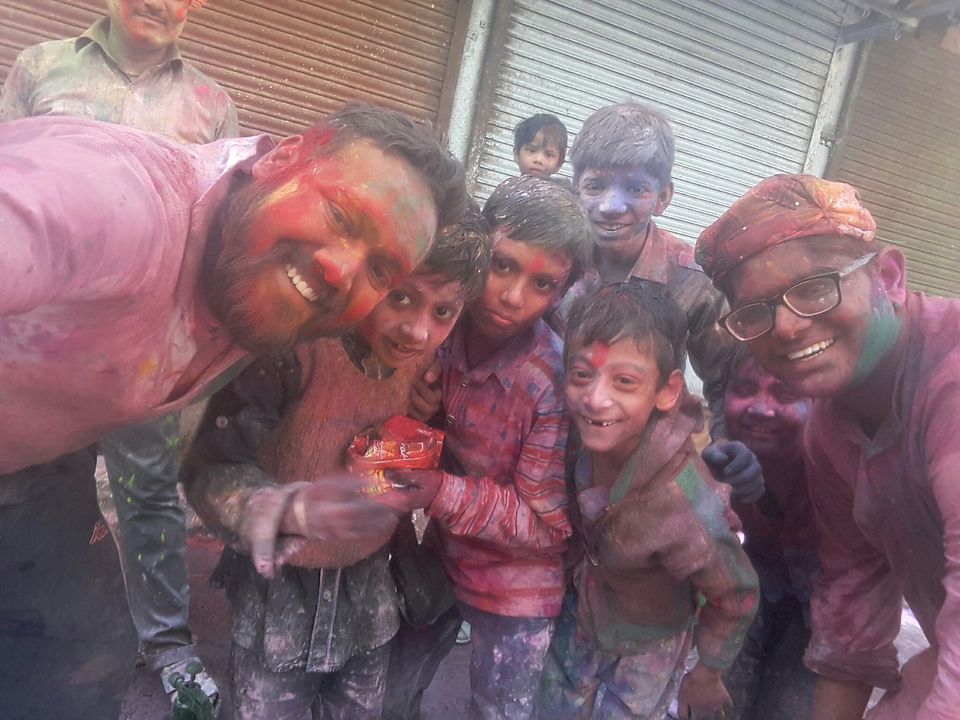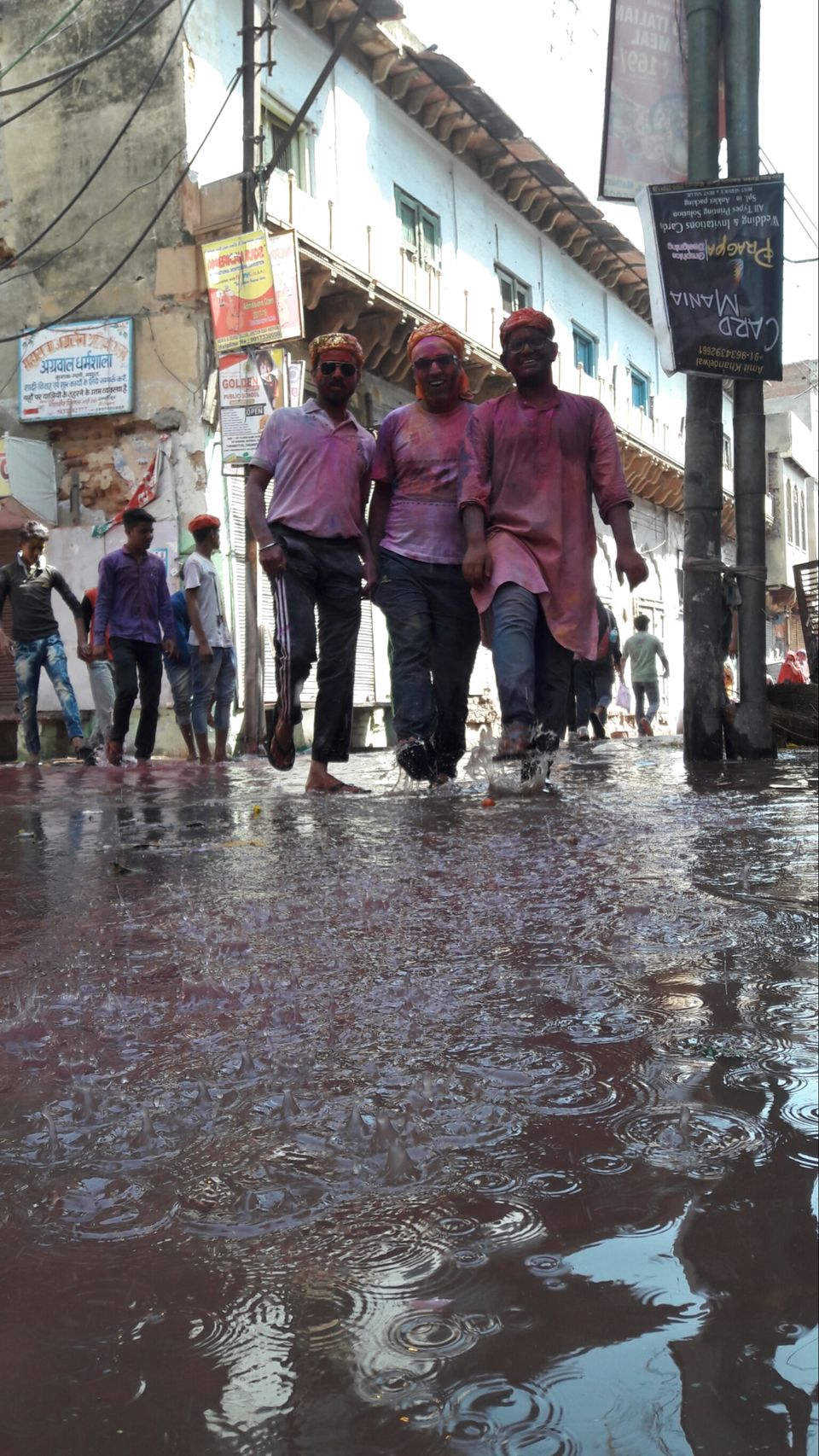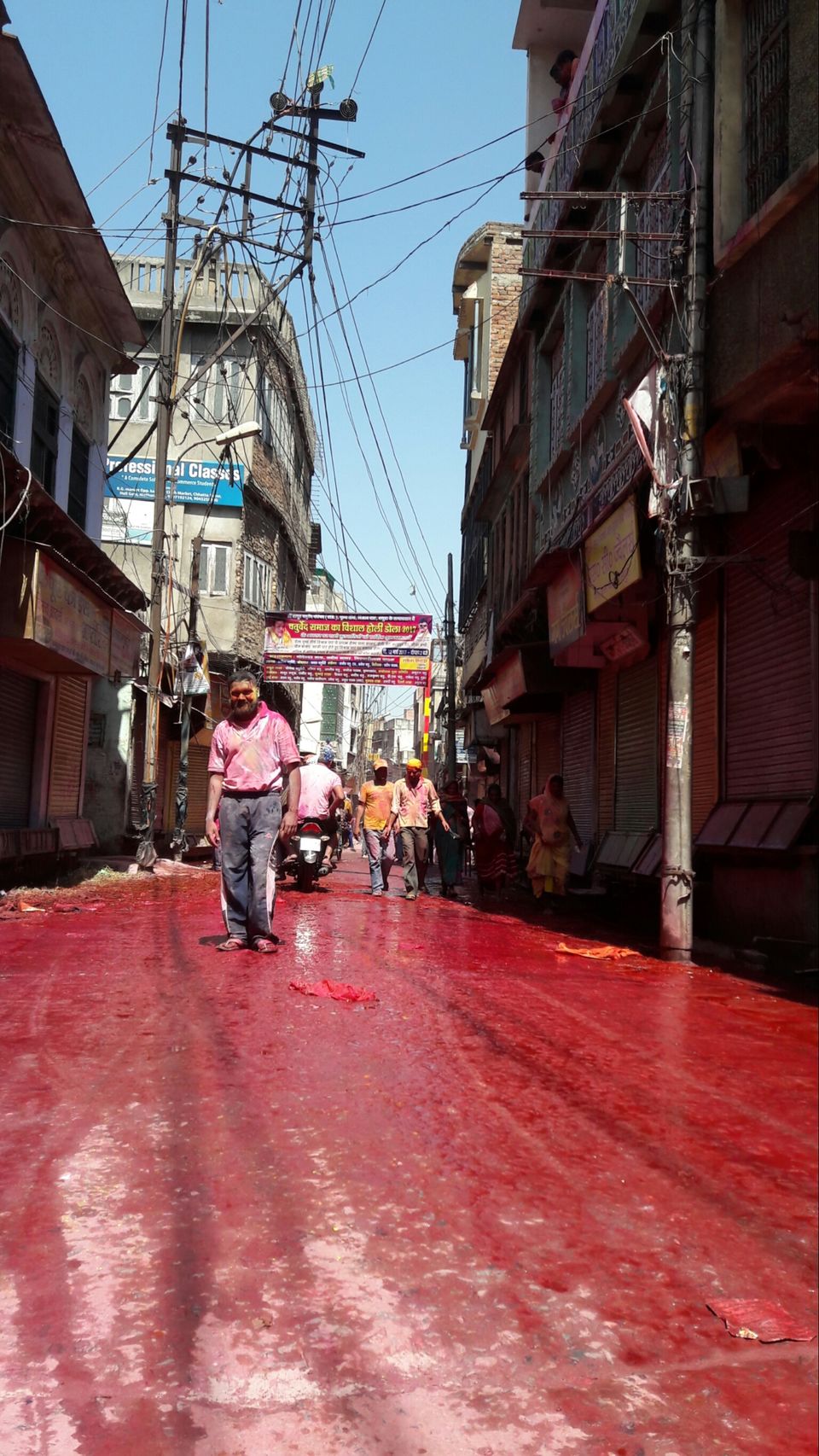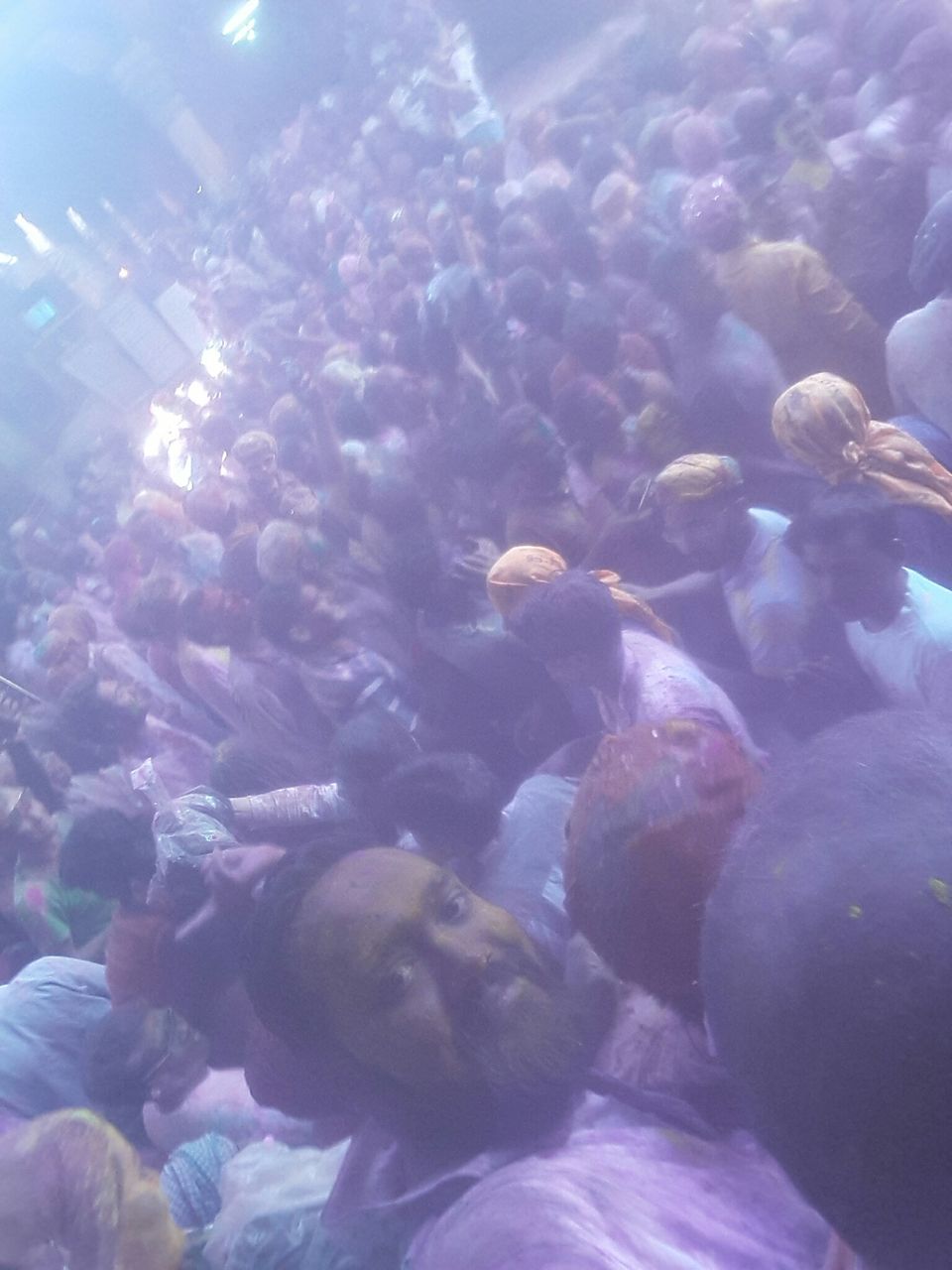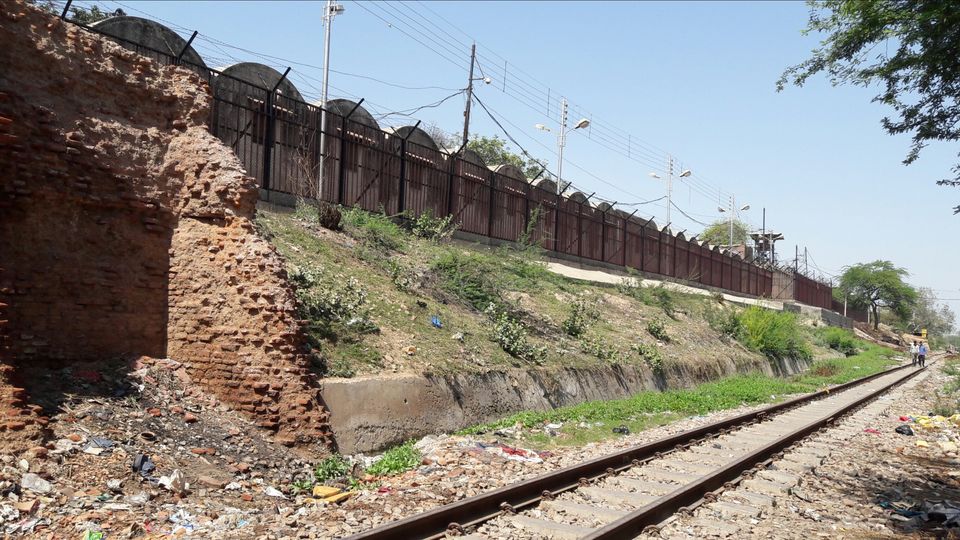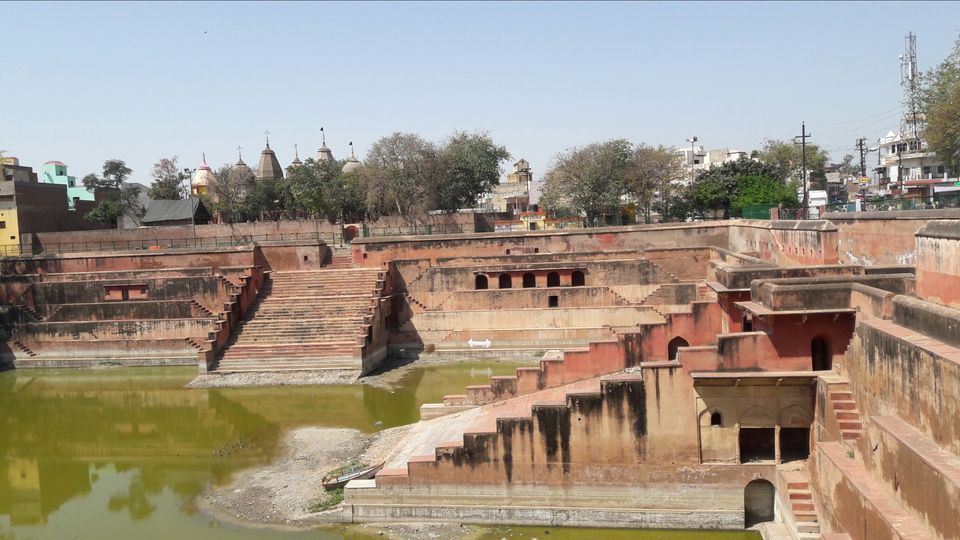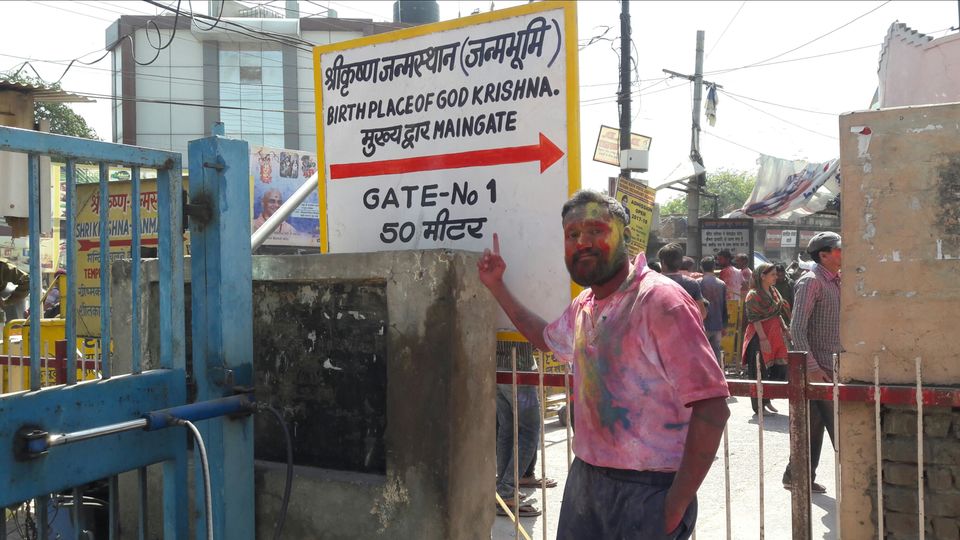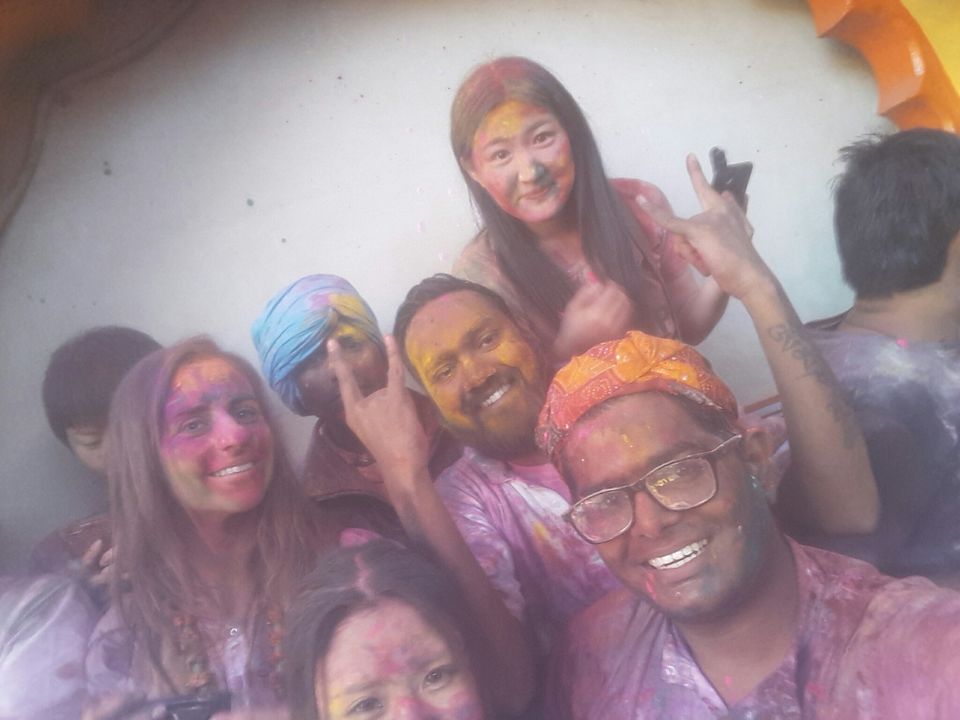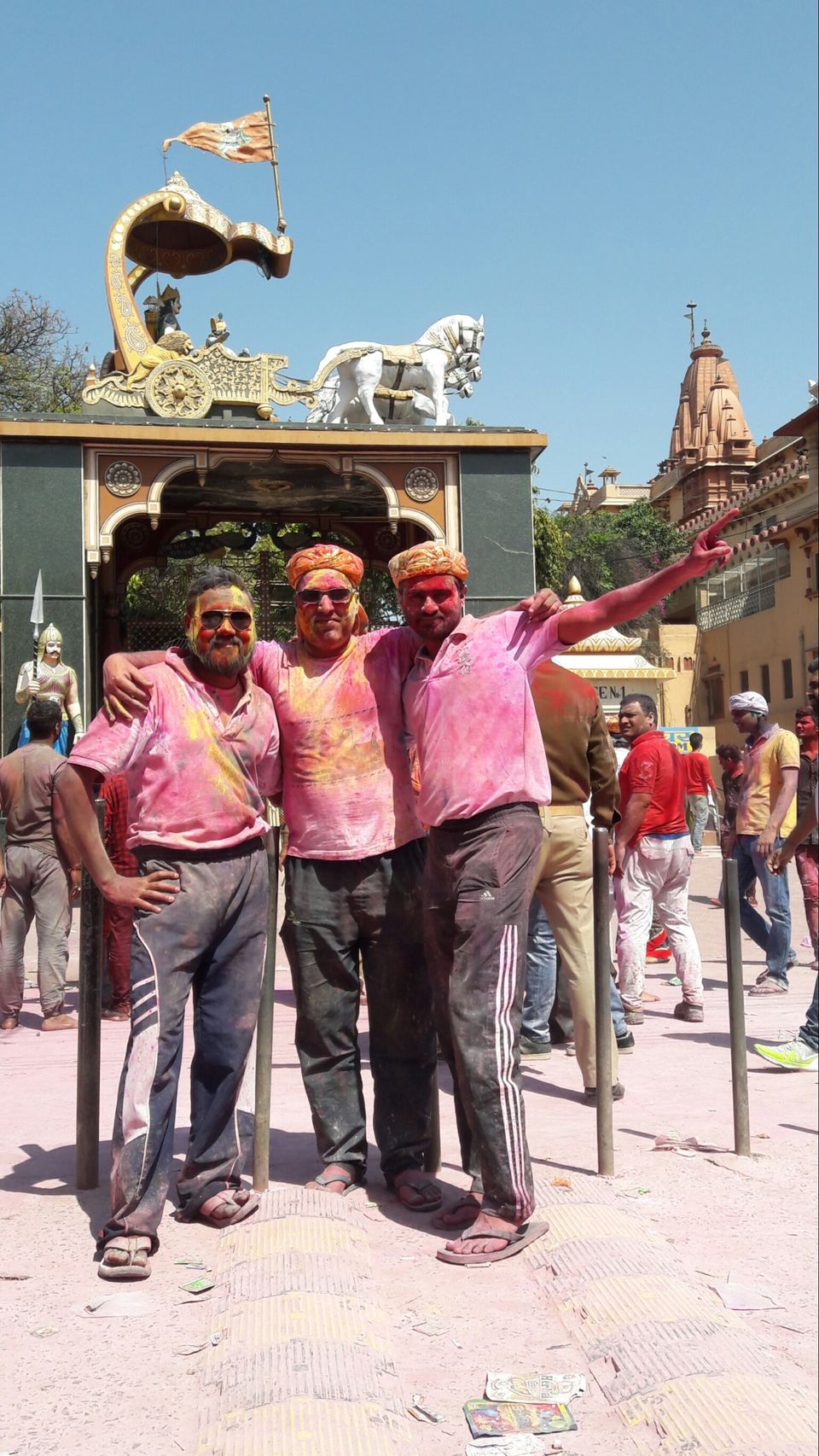 We came back to Dwarkadesh mandir and again enjoyed the same for next an hour.. Now the rush been decreased and able to see the idol properly. And thats the end of playing & celebrating Holi here.
Now its time to have bath and nothing stucked me first than to dip in the near by yamuna river. I was alone by that time(solo). Took a boat @Rs-10/per way that drops me at the opposite bank as one can dip properly on the opposite bank. Feel really refreshed after a having a bath on yamuna river. After that i went to my room(ashram) have food from near by reastaurant and slept..slept & slept the whole evening & night.
The last day of my trip with limited time as i need to catch my train in the afternoon. So without wasting my time i'm on the street and took an auto for "Nidhivan". Nidhivan is known as the Gods own abode. Nidhi means Treasure & Van means forest. The land of the temple here is dry though there are huge bushy forest covering the whole area. Interesting thing is that all the trees are hollow here & their branches are twisted downwards like one living being pay respect to their lord. The mandir have a beautiful statue of Lord Krishan & Maa Radhe. The mandir is only open till the dusk and after dusk no one is allowed to enter the place. It is believed that at night the tree used to lit up as the trees are just like "Gopiyas" to welcome Lord Krishna. Krishna bhagwan used to play "RaasLeela" here with Maa Radhe & Gopiyas. Some locals have also heard some mystrious sounds near by the temple at night, few persons tried to witness what exactly happens here at night but they were either dead or gone mad. One can check on youtube or go through certain blogs on it so yes i also agree the same from my end. Here are some of the pictures that i took.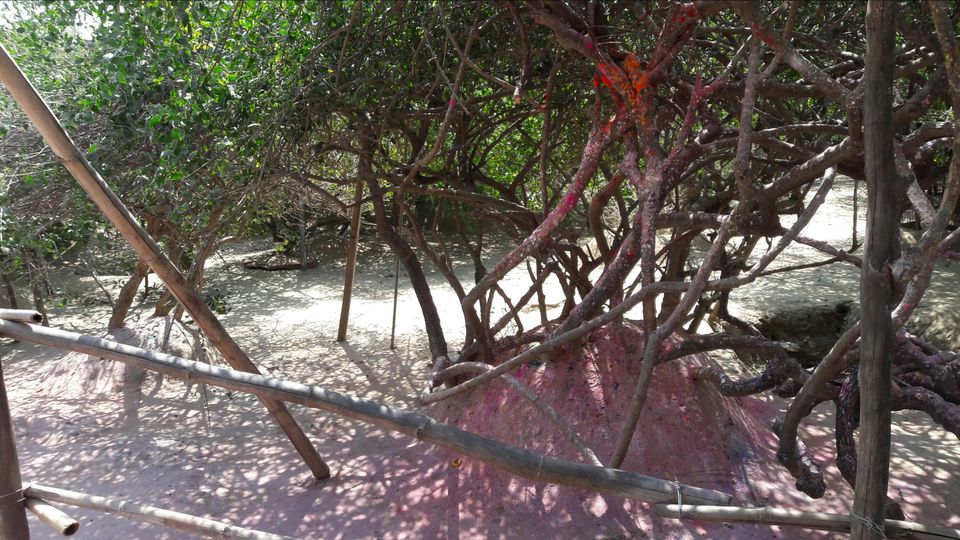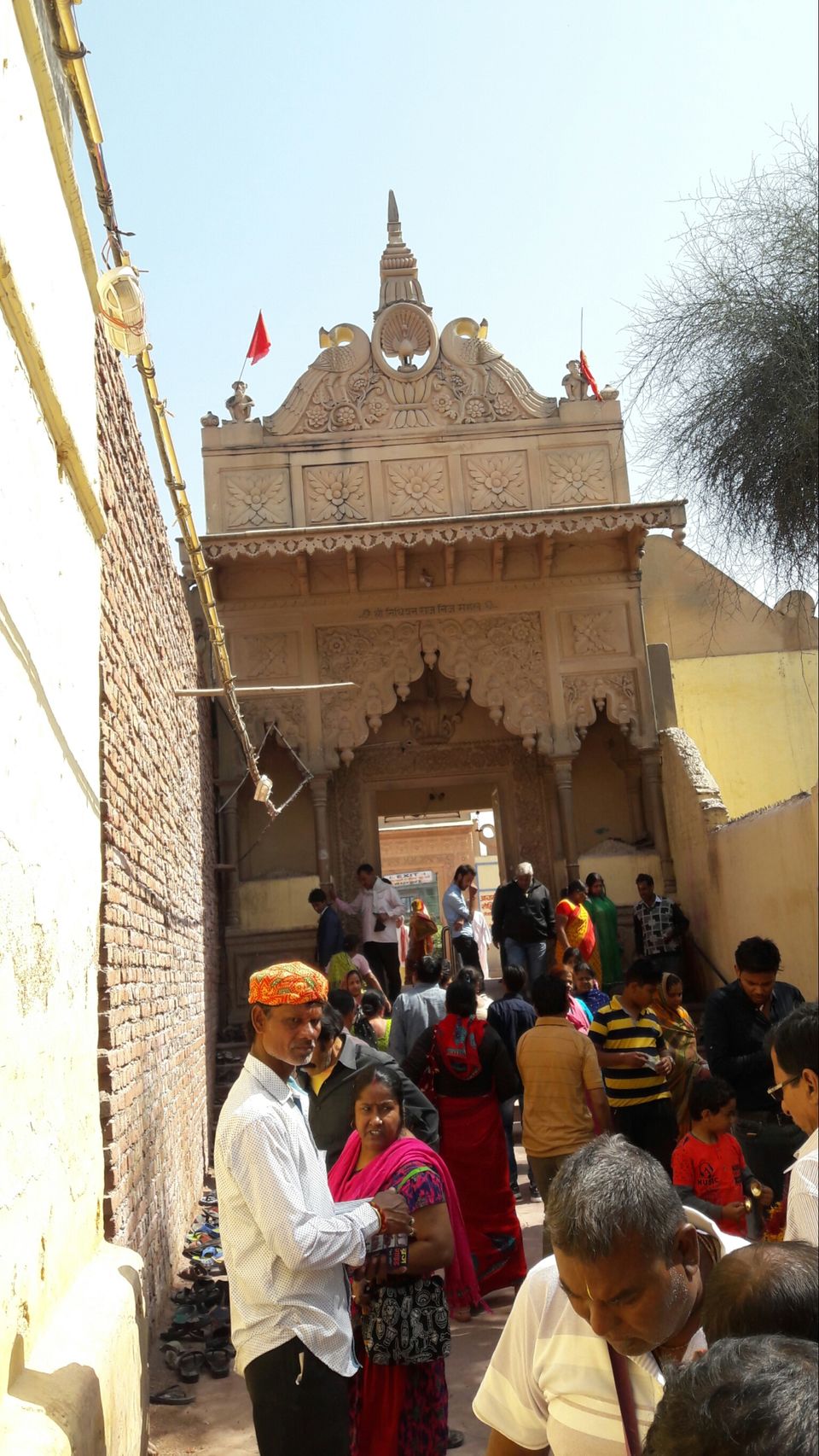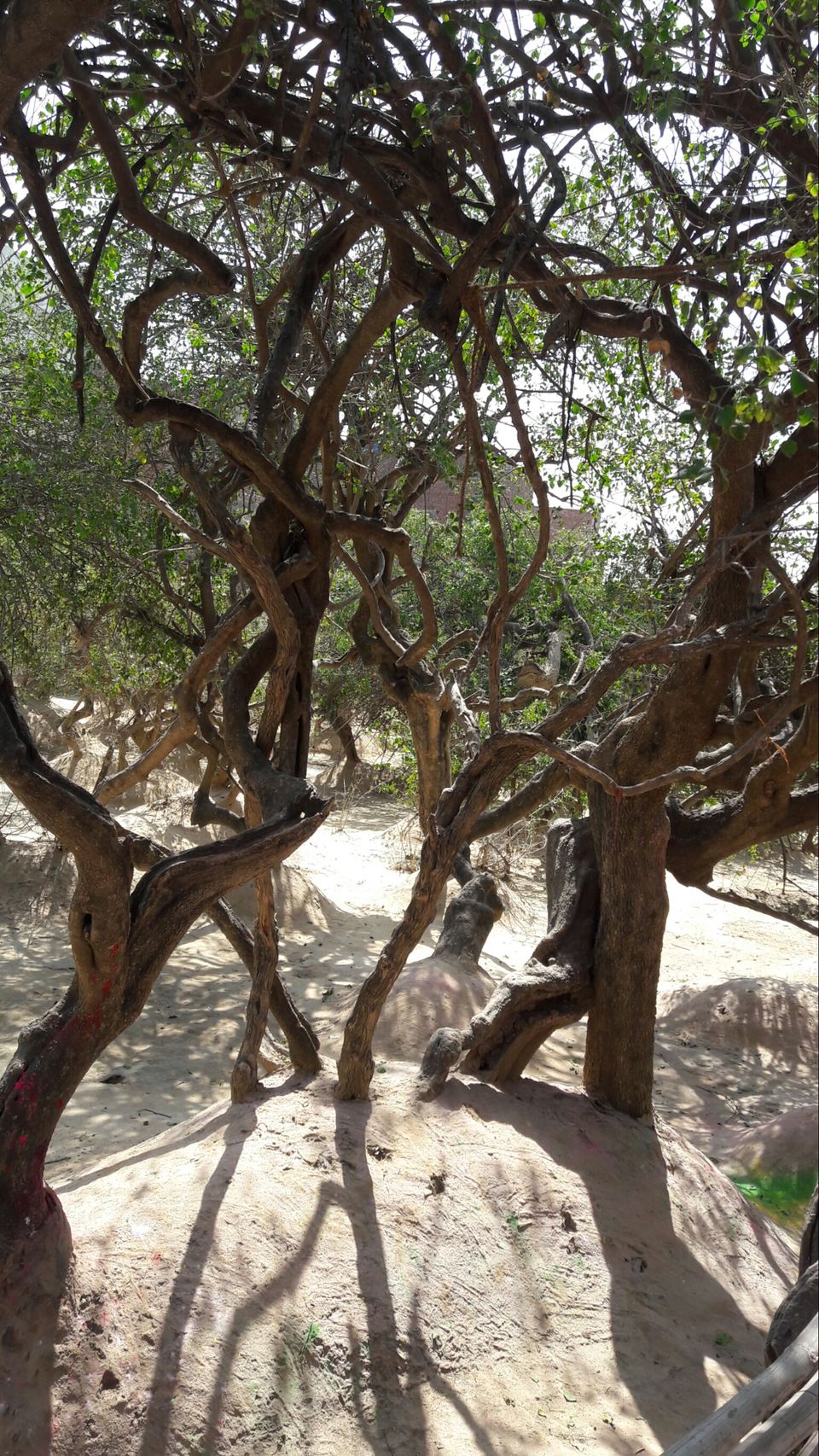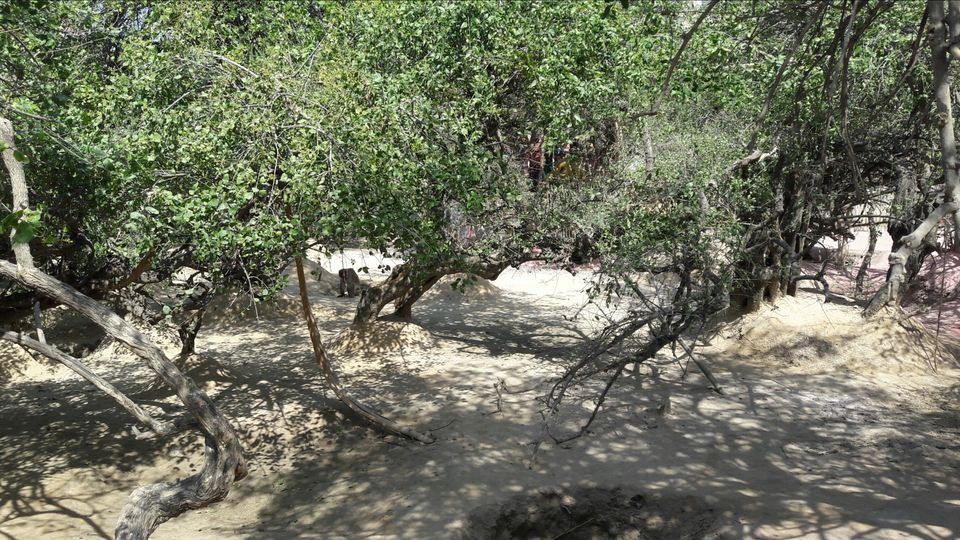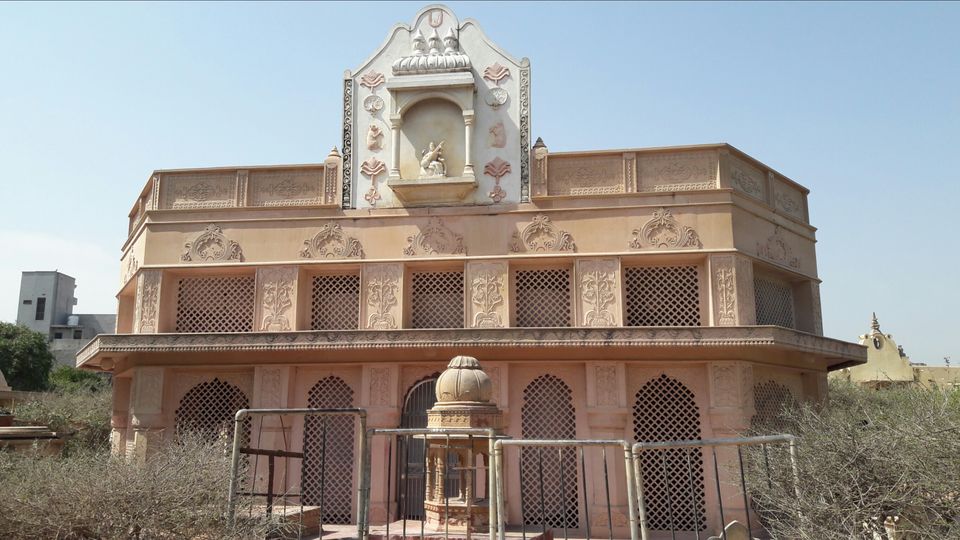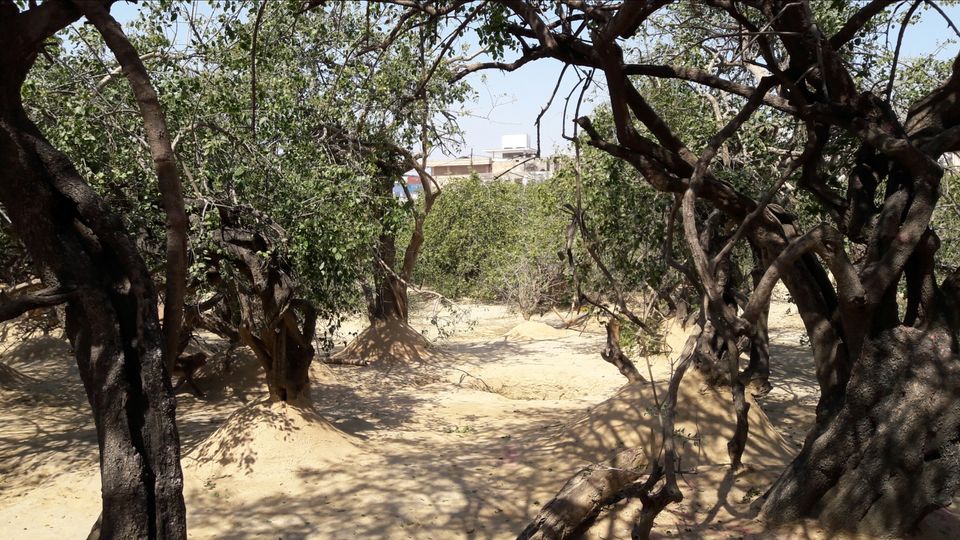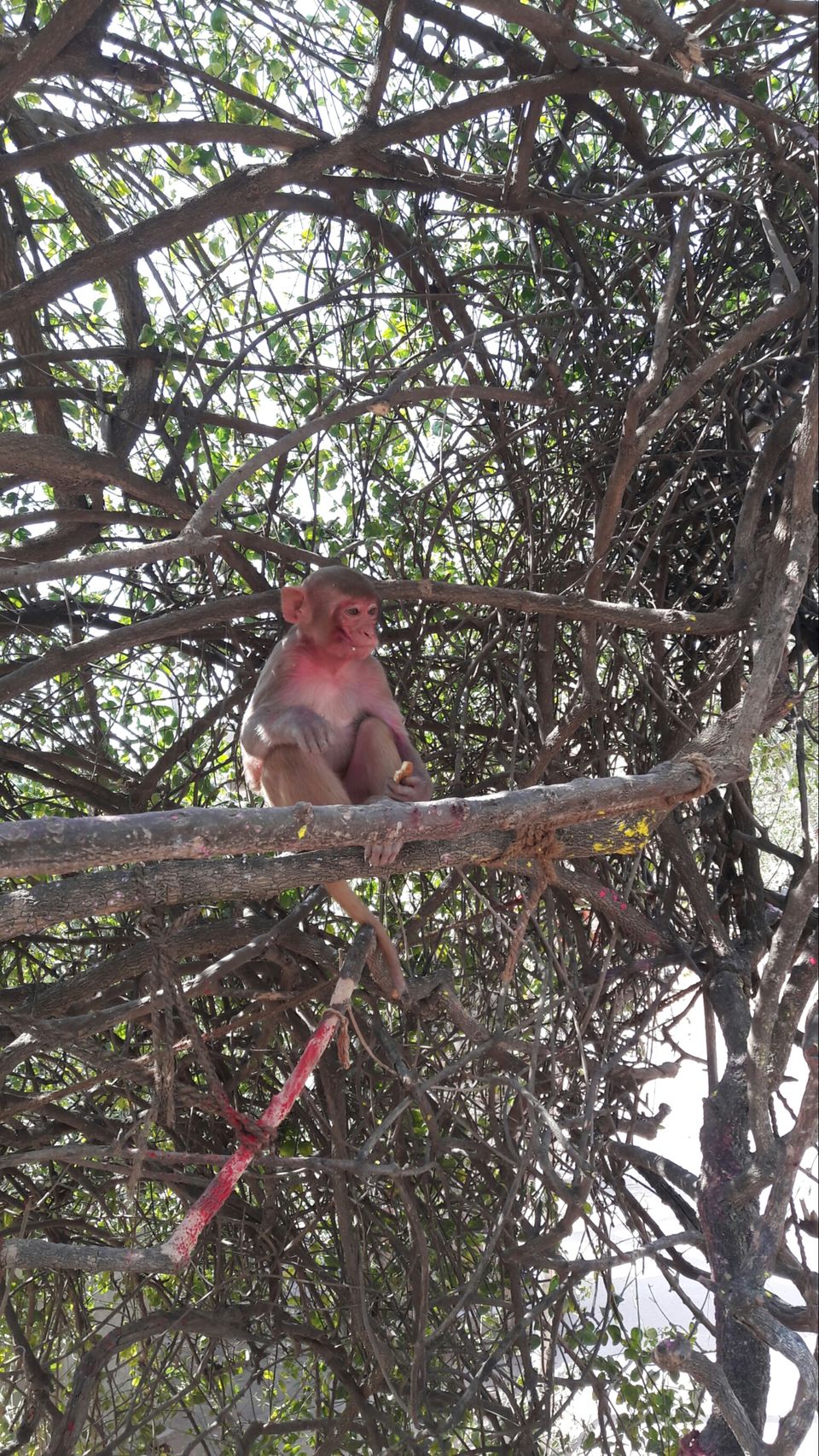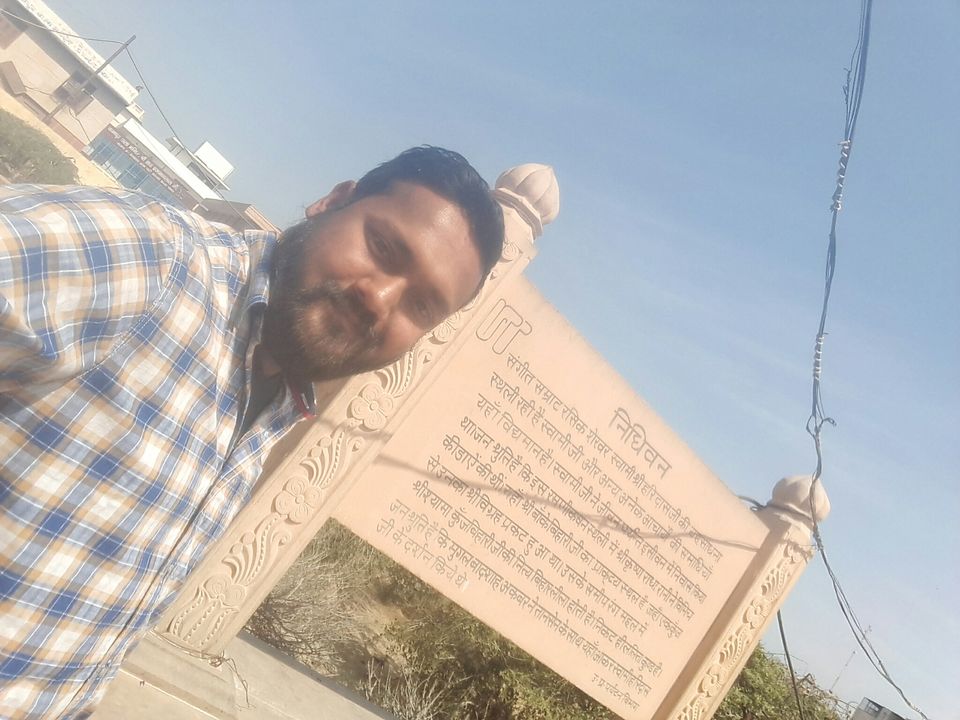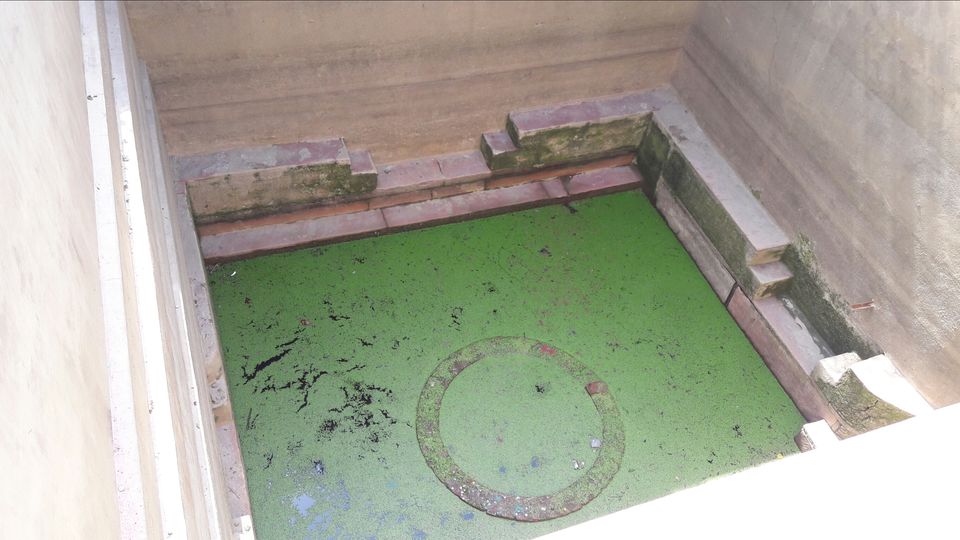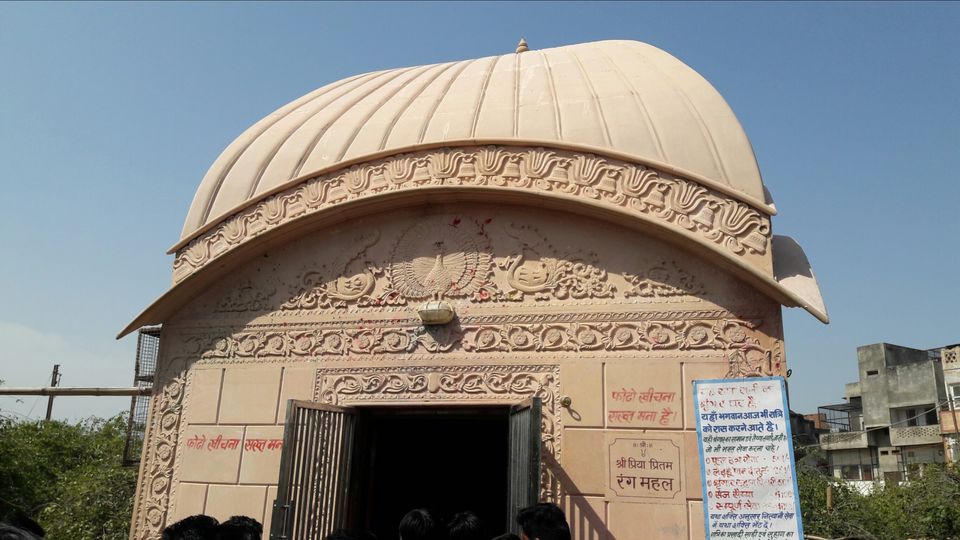 After Nidhivan, i went to the near by Vishnu(Balaji) Mandir which is taken care mostly by the south indian peoples here. It was a great mandir with typical south india structure. Really worth watching it.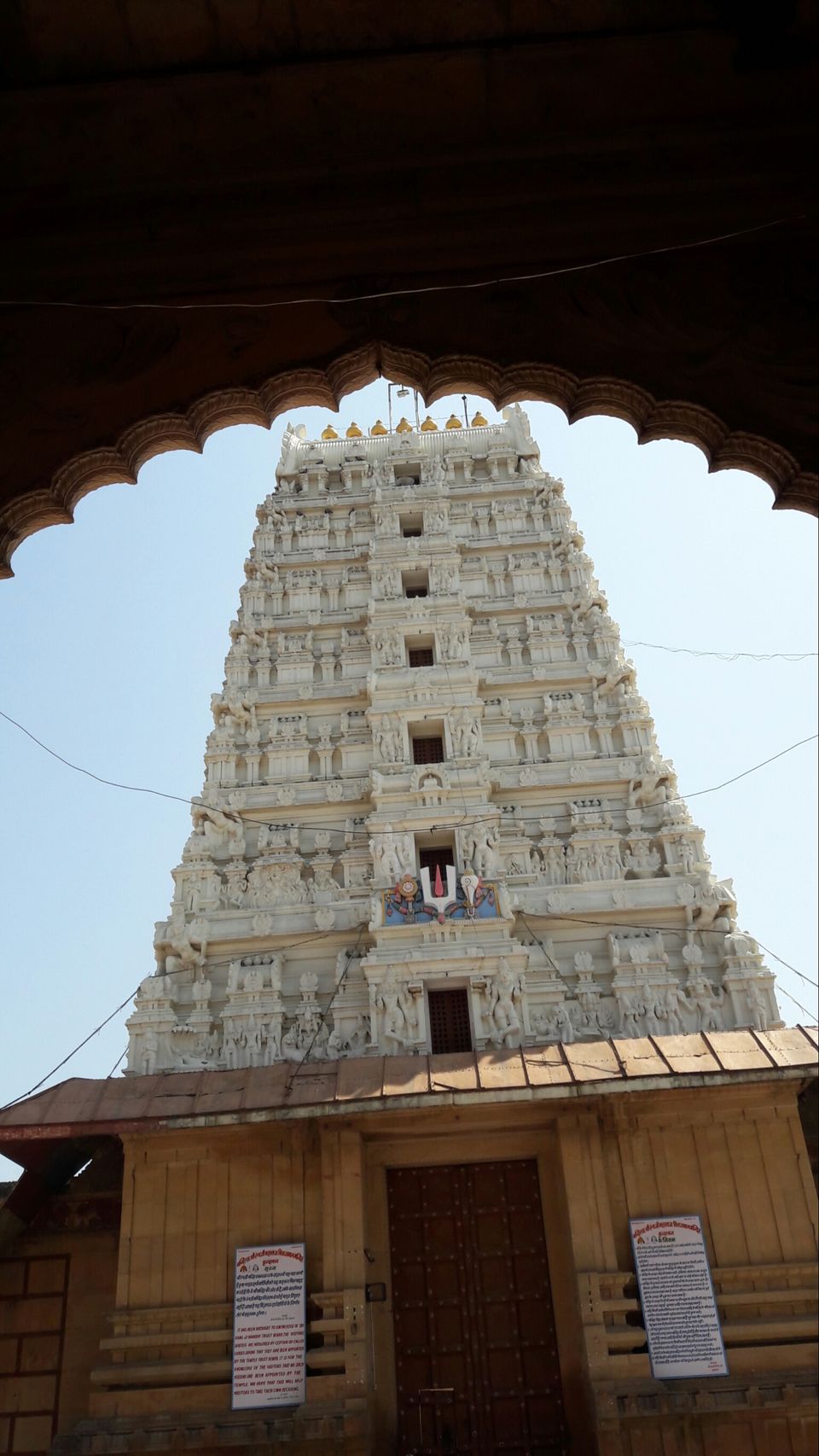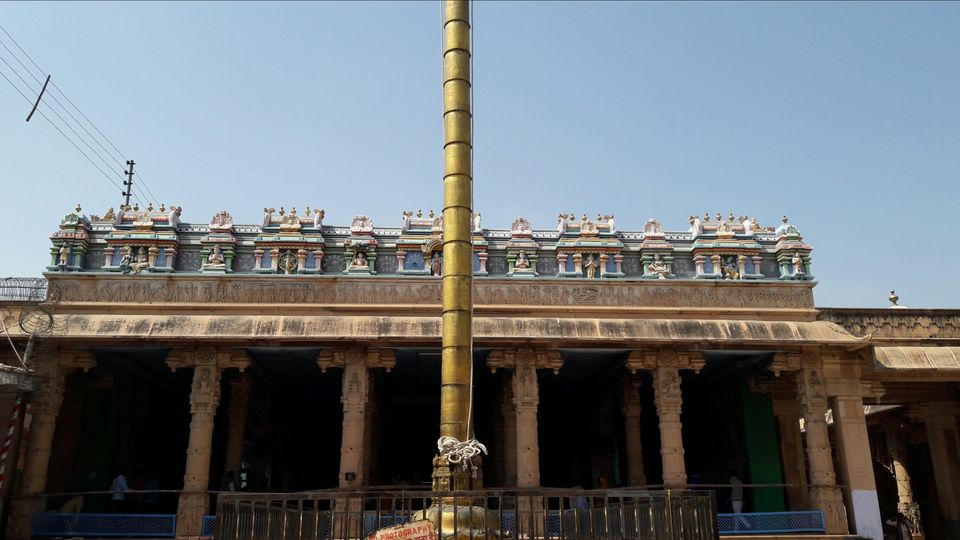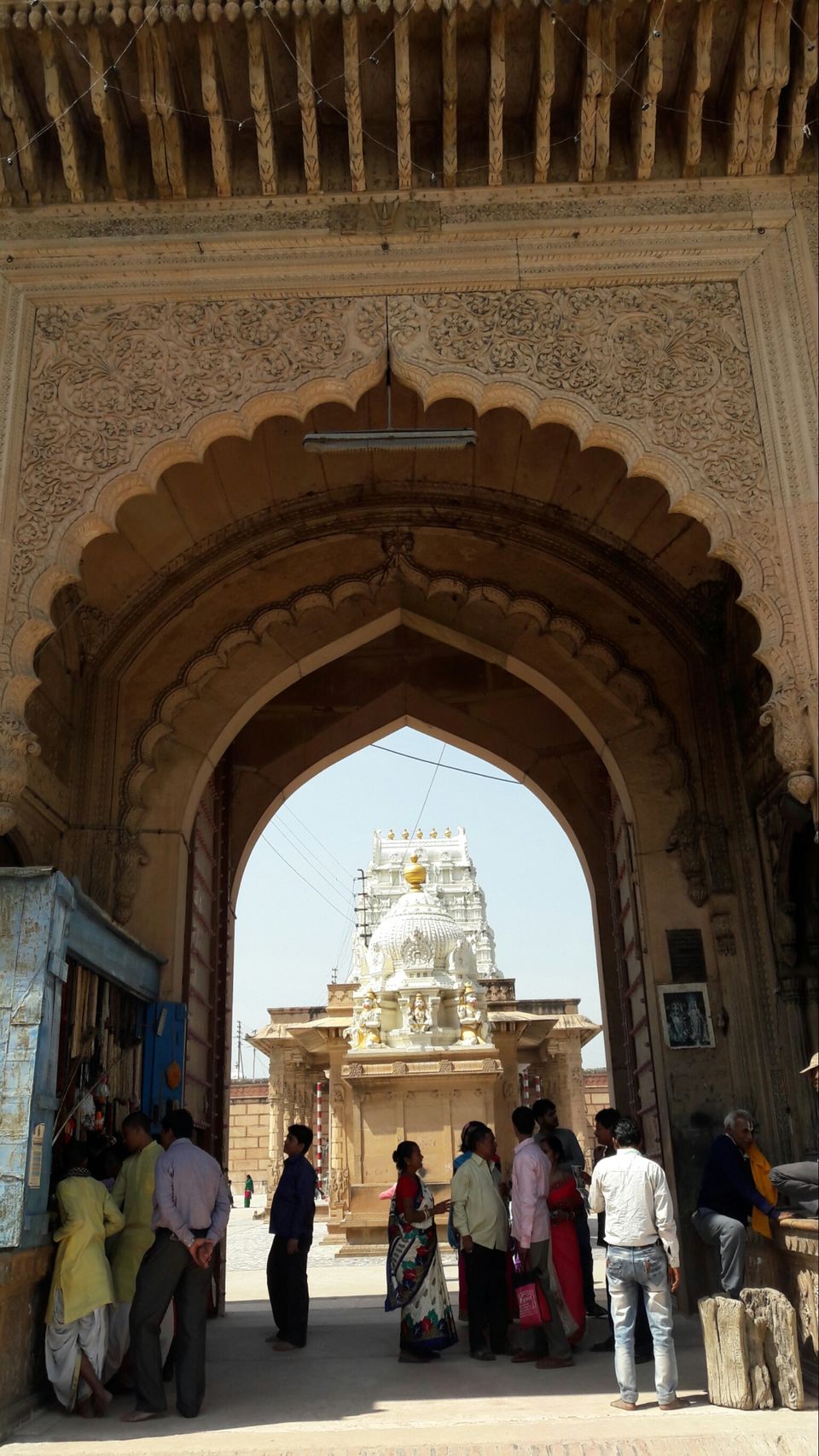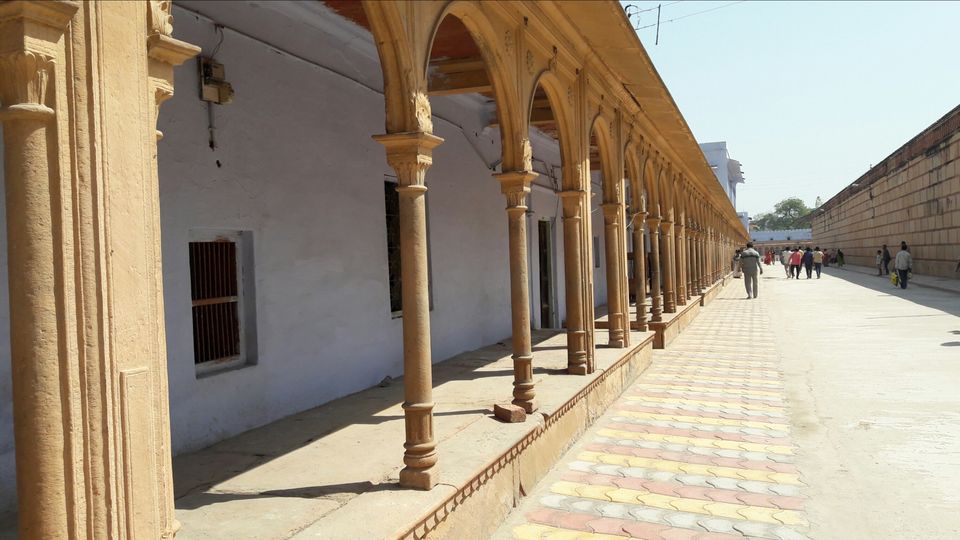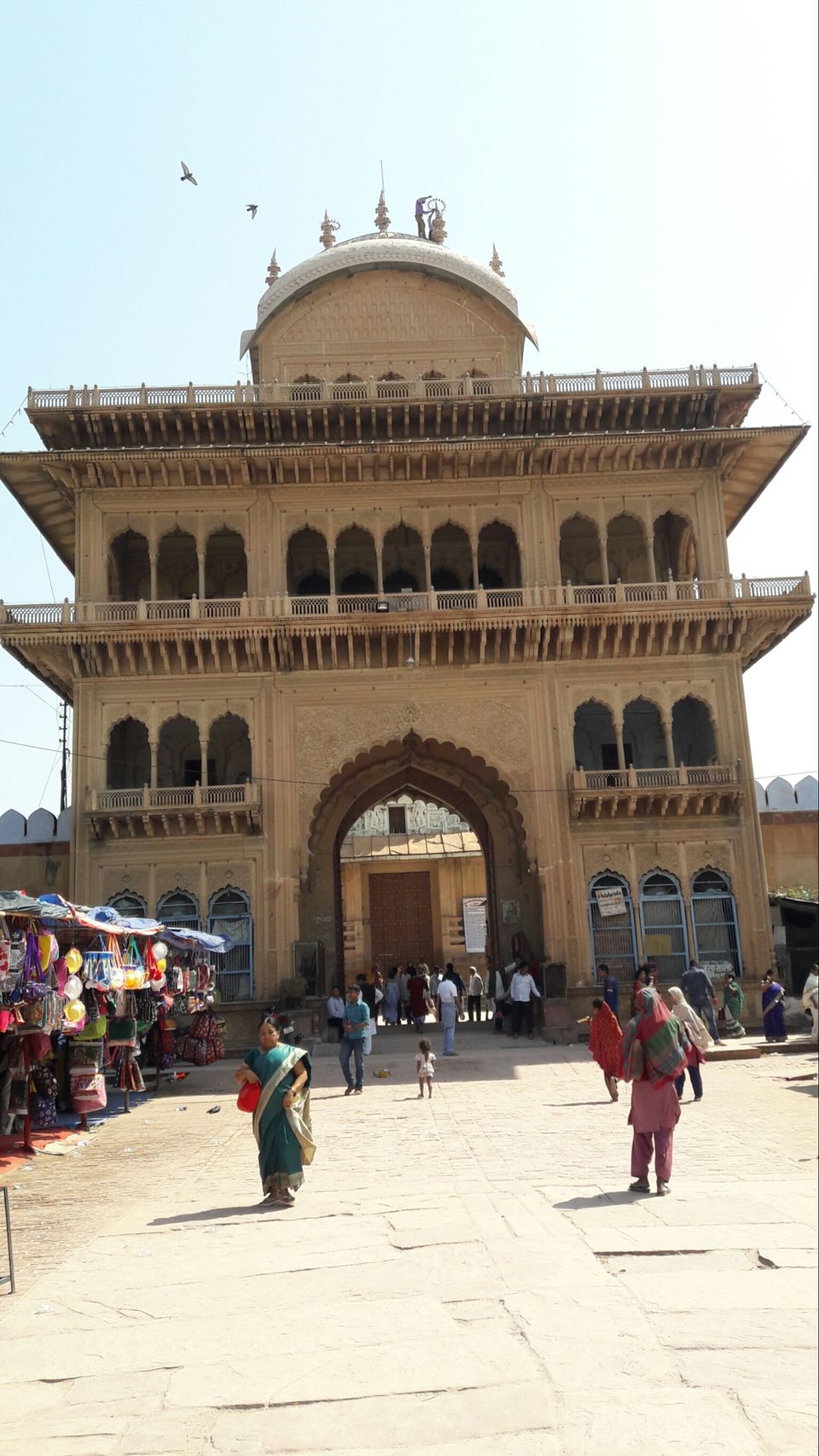 My last on the list was ISKCON mandir, took an auto and reached there wihin 10mins. I have been to many ISKCON mandir in India, but for me this one is the special one as Lord Krishna was born here. Nothing to describe much about this mandir as more or less we all have been to ISKCON once in their own cities. Here is the picture for you.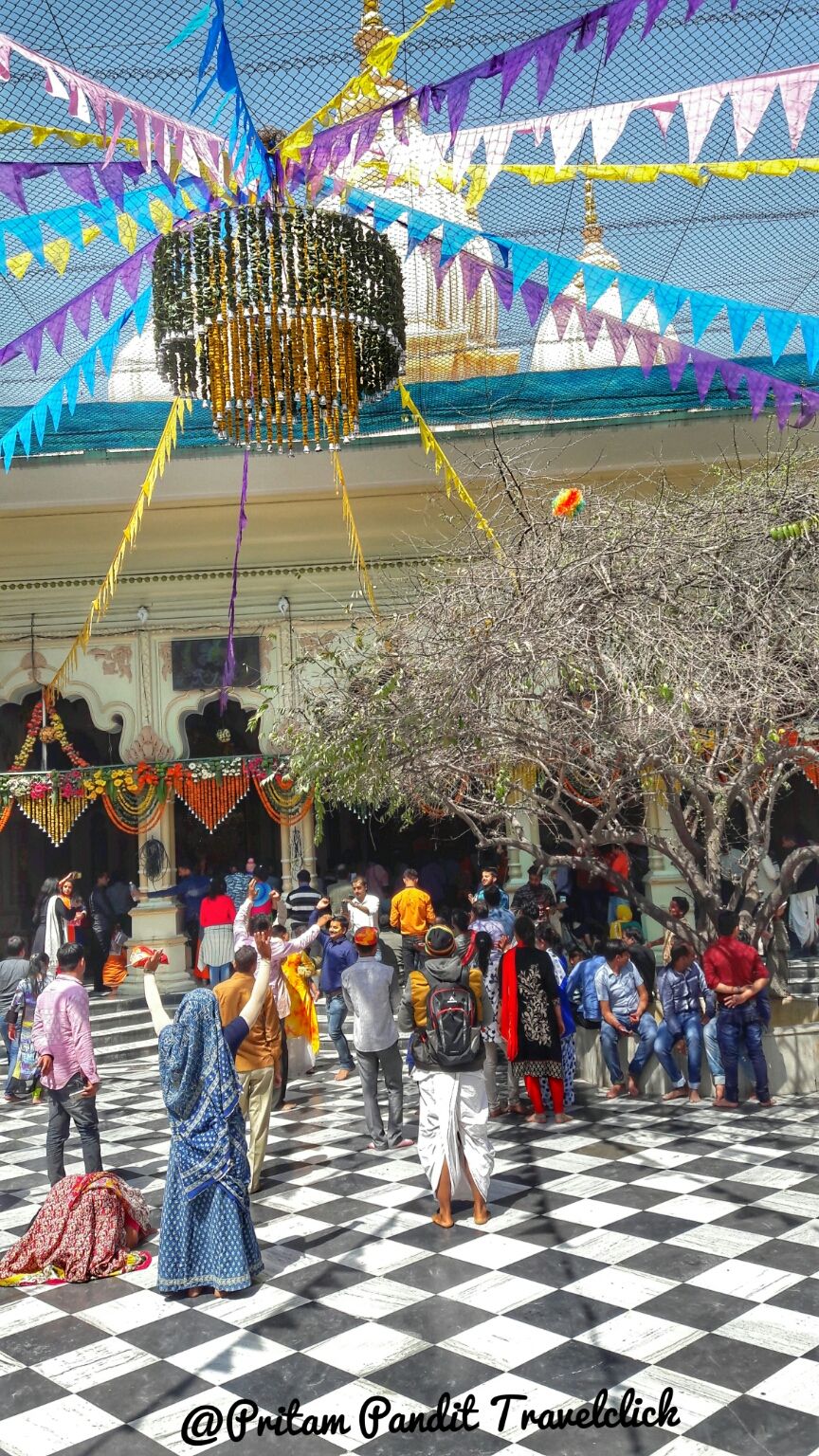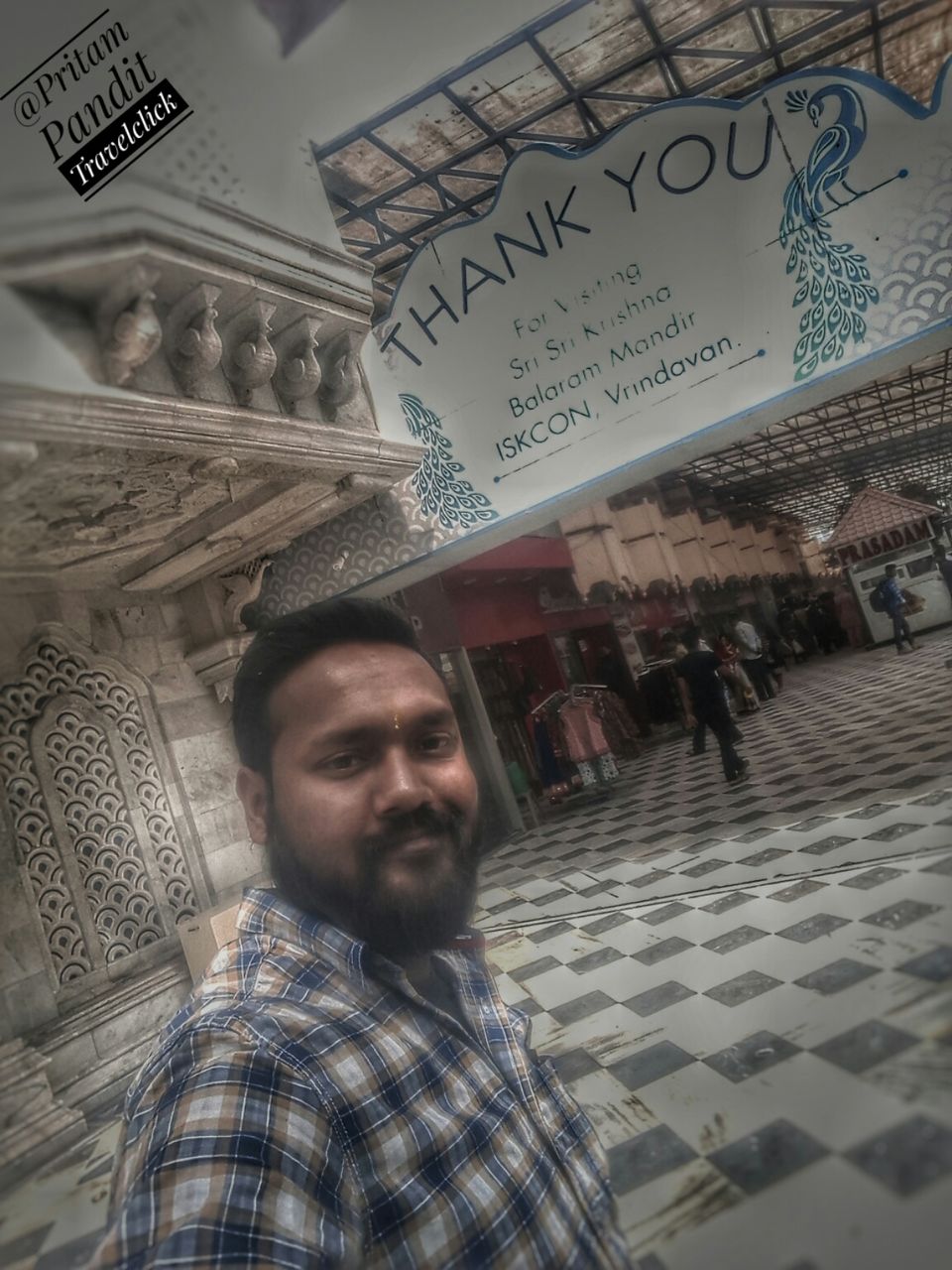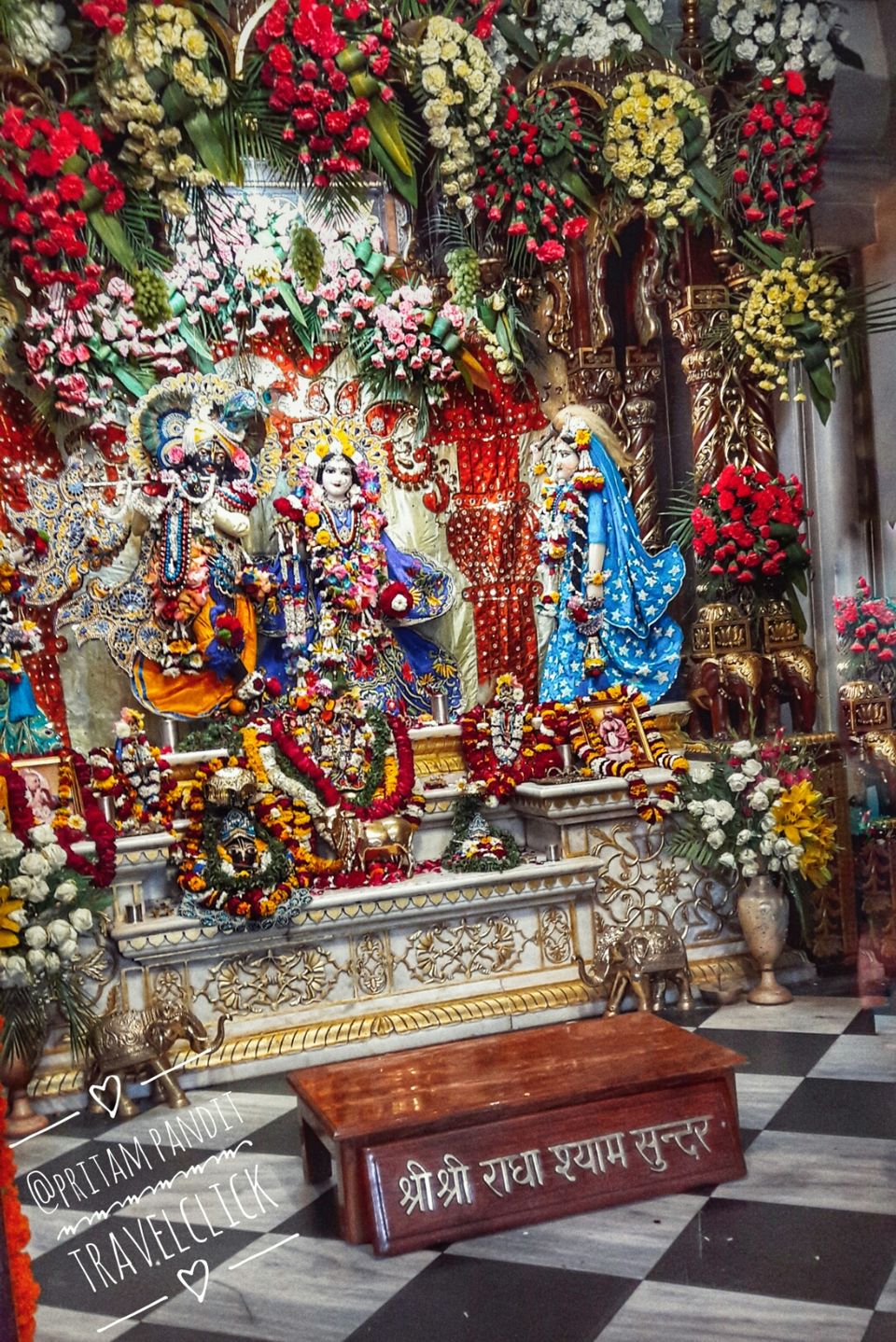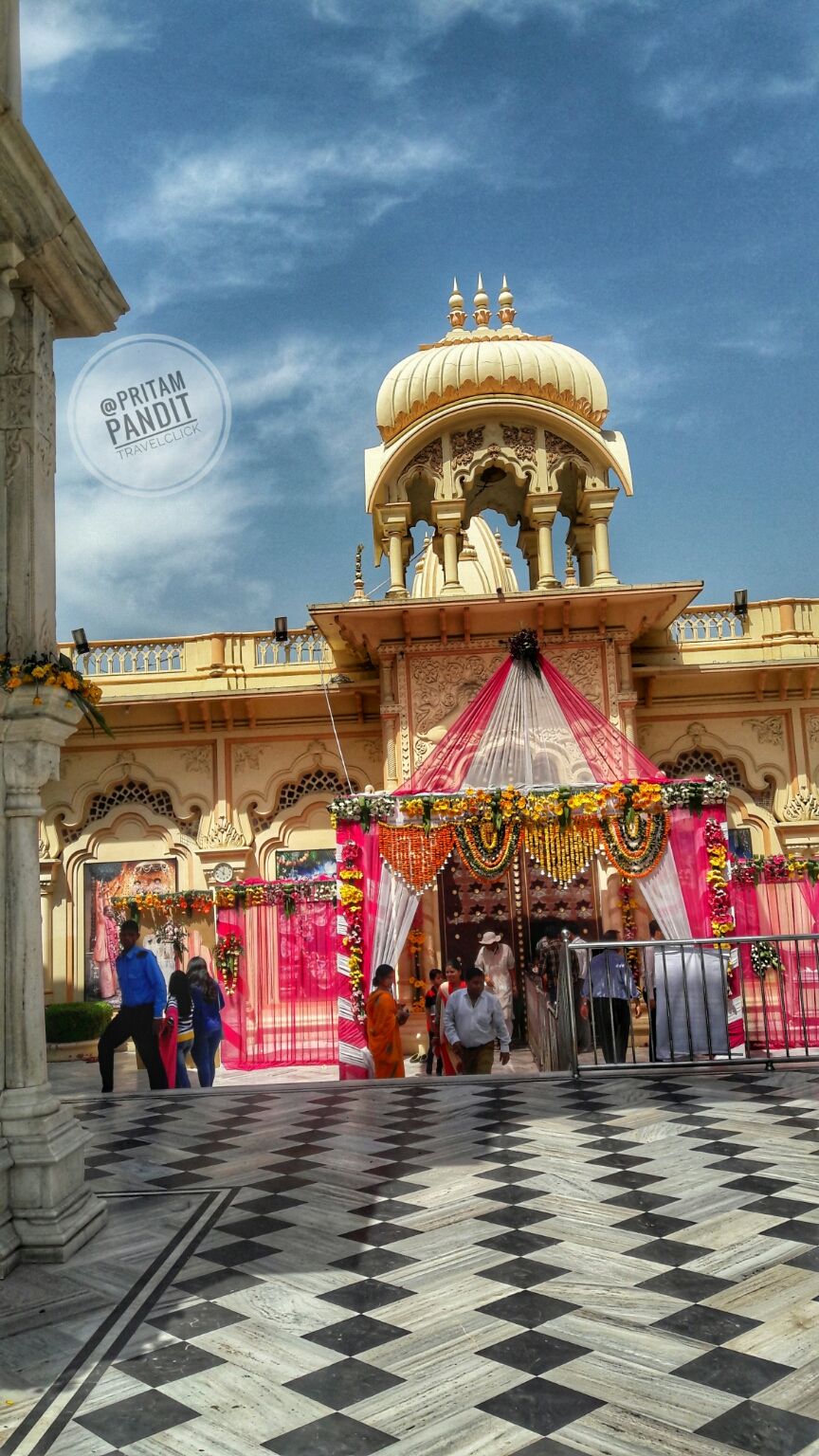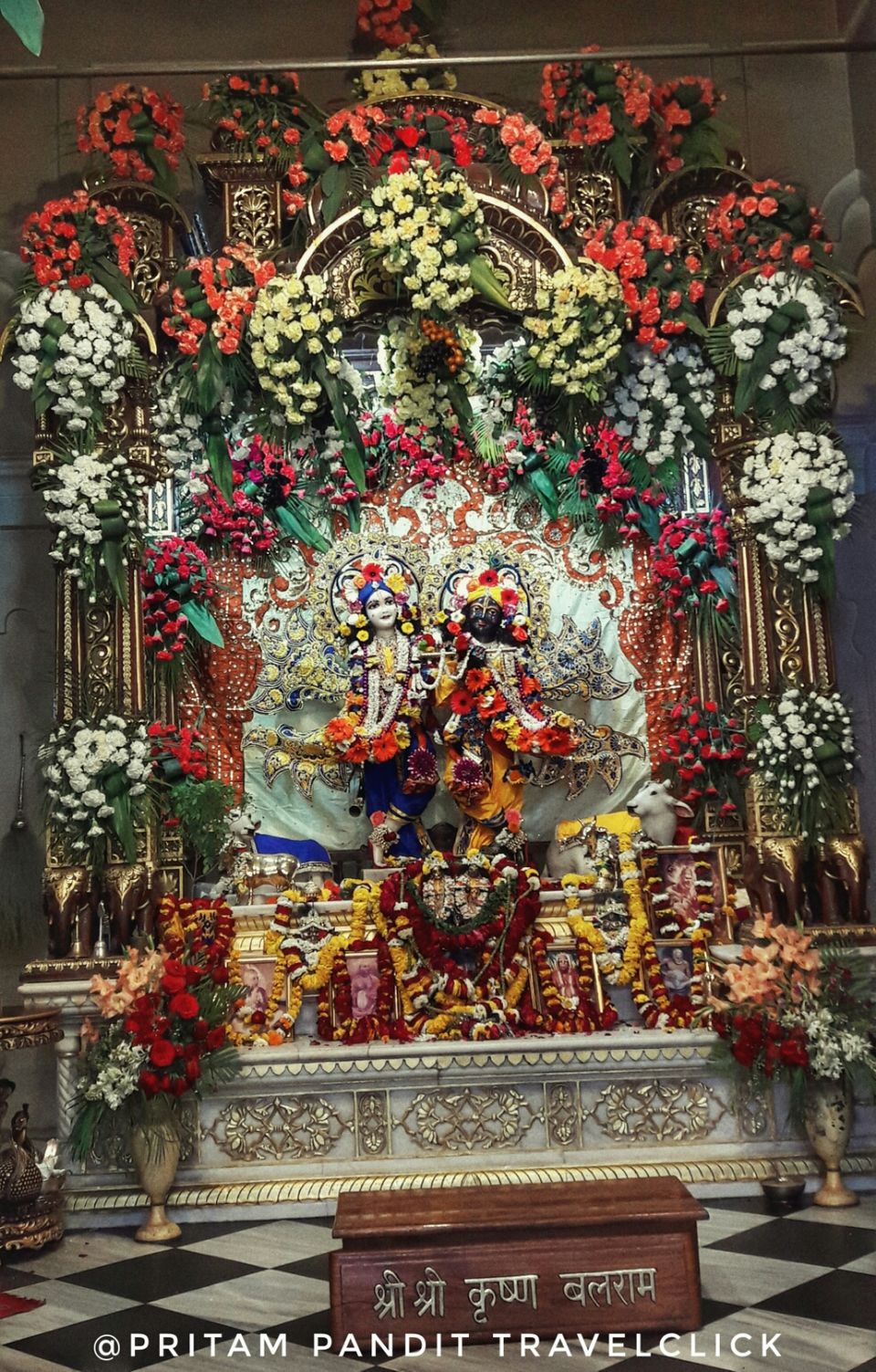 And this way i ended up my Holi trip. It was really an awesome trip of mine, which i suggest you all to do once in your lifetime during Holi which adds special flavour on it. Then went to the station boarded my train and bid a good bye kiss to Mathura & Vrindavan.
Stay tuned for my new blogs.