"Everywhere is walking distance." - Steven Wright
It all started with a dream. Dream to travel and explore the world which is different than the usuals, unlike the cities and chaos in which we live in.
Me and my old friend, Vaibhav, from my college times always used to talk about going for outings, travelling some places and trek the mystical mountain ranges of sahyadri's. It is often said that the journey starts from a single step. This was the first step towards our dream and some how a plan was formed for a trek to kalsubai peak. Kalsubai peak is regarded as the highest peak in Maharashtra, also as the everest of maharashtra. Some how two more guys got interested for this trek, Manoj and Prathamesh(bunty), they were Vaibhav's friend. We all were excited for our maiden trek and that too for Kalsubai peak which is highest among sahyadri's.
The Journey
The journey actually began at home, packing necessities for the upcoming trek. Wind-cheaters as it was monsoons, home made food, ready to eat food, snacks, biscuits and whatever came to our mind as it was our first trek and the excitement was endless. We all left our home around 10pm and the futher action was to gather at Thane railway station to board the Mahanagari Express(11093) which was to arrive there at 00:48hrs. Then we met at Thane railway station and introduced ourselves to each other except Vaibhav who knew all from both ends and we waited for train...
The train arrived on time, we boarded the train and managed seats in general compartment. As it was a short journey of about 100kms and to save money we preferred general section. Kalsubai peak falls on the border of Igatpuri under Ahmednagar district, so the nearest railway station was Igatpuri railway station and hence we concluded to go through Igatpuri for Kalsubai peak. Kalyan station passed and after little sturggle in general compartment as the time passed we reached Igatpuri station at around 03:00hrs in the morning.
It was all foggy out there on the station even as we headed towards the main road it was the same. We asked some private taxi's for bari village which is the base village to Kalsubai peak, but their demands were much higher than the people demanding dowry. So we asked a man who was nearby railway station for ST bus depot which was half a kilometer from railway station but due to heavy fog we couldn't decide where to head.
The first ST bus was at around 05:30hrs, so we thought of waiting at the bus depot and take rest for a while as we have whole day journey ahead but mosquitoes ruined it all. We headed on the main road and went towards railway station and back again, we were wandering the streets like idiots still it was fun because its not everyday you get to enjoy such climate. Some how time passed and people started to gather at bus depot and most of them were youngsters who were also headed towards kalsubai peak for trekking. We felt great as there were many others who were headed for the same. The ST bus fare for bari village was around Rs.40 and it took us at most 50 minutes to reach bari village. At 06:20hrs we reached the base village of kalsubai peak i.e. bari village.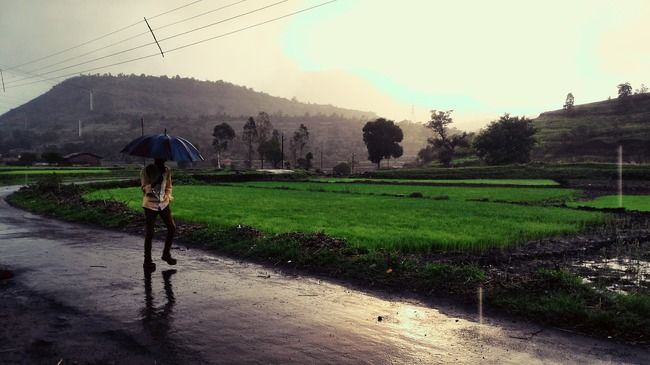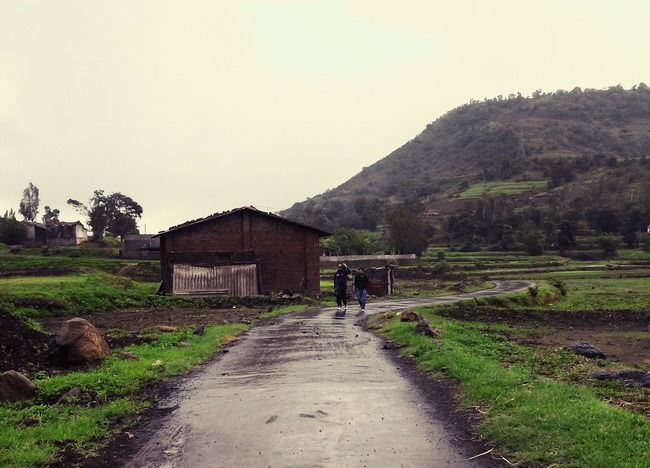 As soon as we get down the bus at bari village there were locals offering services like tea, poha and other snacks. We didn't waste our time and went to a stall on our way had tea and poha there, i ate two plate poha as i was damn hungry and the excitement drained some of my energy but now we were ready to go.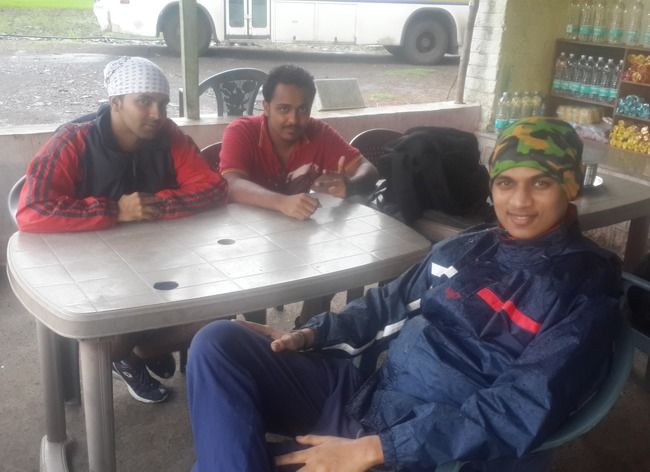 We started our ascend at around 07:10hrs, at start we walked through the village crossed some house's and then we had to cross a small waterfall too. The comes the muddy patch and as it was monsoon and raining most of the times, we slipped often still enjoyed that part too. Some how struggling and motivating each other we reached towards a small plateau on our way, there were many trekkers already resting at that point so we thought its an good idea to relax for while as we really needed rest. We clicked some snaps and chatted to our newly made friends on our way.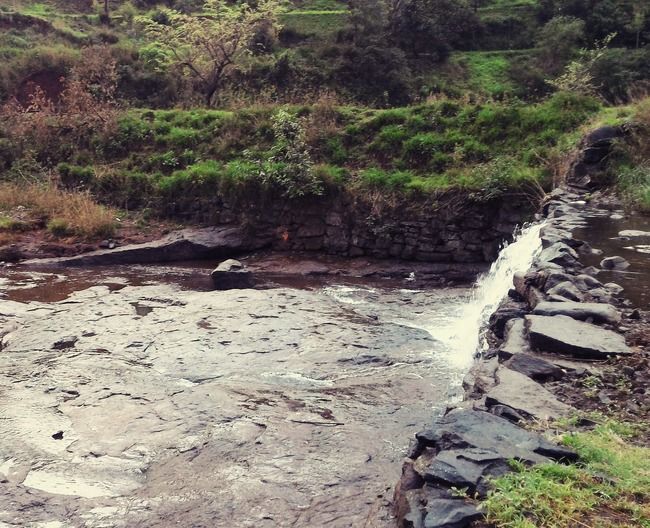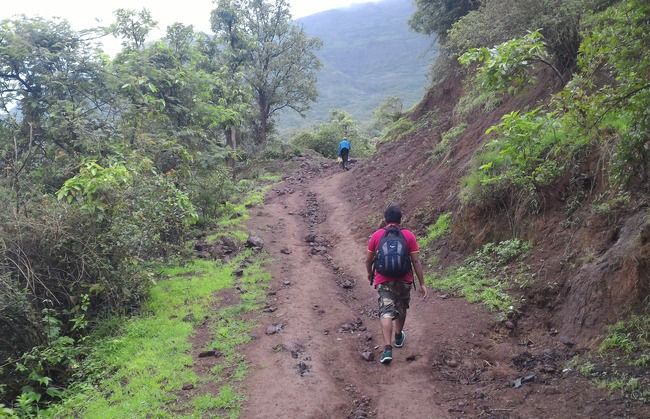 We resumed our ascend and faced some muddy patches in between and then there comes our first ladder. Couple of ladders passed and then we encountered the massive rock patch, it was tough to climb those rocks but we all did great and it was fun too. Then again another plateau with much needed break and we felt our stomach being empty again its time to eat. We had parathas and some snacks then decided to move now. As we climbed up the fog got thicker and the wind was heavy too.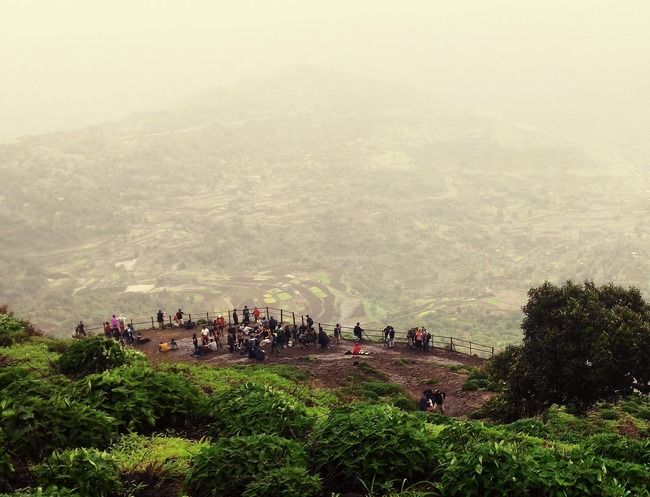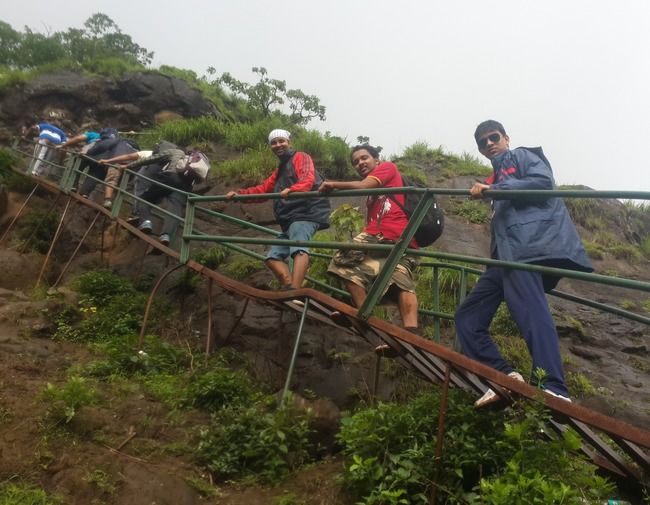 At last the final ladder and we crossed it and headed toward the temple but the strong winds made it almost impossibe to move near the peak section, some how we reached the temple on top of kalsubai peak. That feeling of accomplishing something which is beyond your limits and on your first try is just amazinnnggg!!! We sat there admired the beauty of nature as we were so close to it, the feeling was heavenly. Then we did darshan in temple and clicked some snaps on top and started our descend.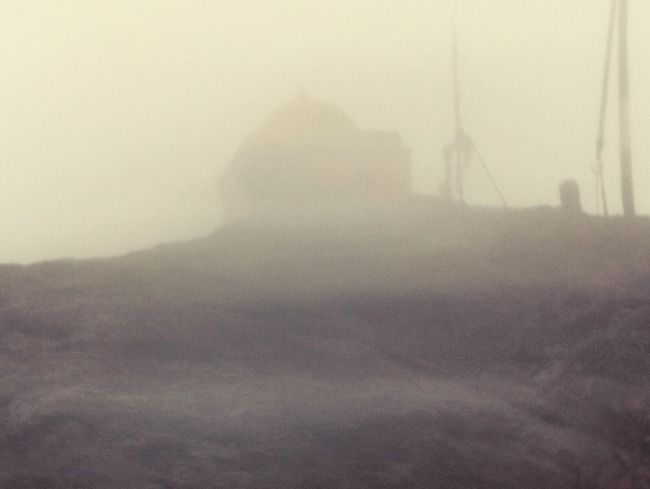 We were among the first one's to reach the top and the numbers of people heading down was very low as compared to people coming up. So we had to wait for people to cross the ladders and then get down, it was frustating. Still we managed to get down as fast as possible and we descended in an hour as the fog got cleared and it was afternoon the sun was shining bright.
We halted near the first waterfall which was close to village and started cleaning up ourselves, as the water was clear and looked good we washed our hands and face too and changed our clothes too as there was no one peeking. After cleaning ourselves in fresh and cool water we felt fresh and that was the time for lunch. We were so hungry that the whole lunch box was finished in minutes, no body had the time to speak but eat.
Then we started our return journey and took a private taxi which costed us Rs.60 per head for Kasara railway station. Every one slept during our way to kasara railway station. Some what in an hour we reached kasara railway station. Luckily CST local was there we took tickets and headed home.
Tips
* During monsoon take extra pair of clothes.
* Reach there one night prior or reach early in morning so you can start early with less crowd.
* Carry biscuits or dry snacks(dry fruits etc).
* Pack lighter, go further.