ADVISORY: Please indulge into intoxicants responsibly, and avoid drunken driving.
"Bhai, shaam ka kya scene hai"
"Koi scene nhi hai bro"
"Sab thik hai na bhai? Friday ke din aisi baatein kyon kar rha hai?
"Kuchh nhi yaar, ghodu ne bada sara kaam de diya hai, 9 bje ke pehle nhi chhutna."
"Toh darta kyon hai bhai, tera bhai sab set kar dega, weekend sookhe sookhe thode hi manane dunga tujhe!"
If you re a true Delhiite, you must have had a similar conversation with your friends where you planned to take out your week long frustration on a Friday night with your favourite bros & sorority. Imagine yourself being in that car with your friends listening to the best music and gorging on those tandoori chicken and paneer with your favourite booze.
Here is a list of those fabulous places where you can venture out to in your car to have fun with your friends:
1. Mughals, Jangpura- This non-fancy take-out place may not intrigue the unsuspecting, but, if you get your own gaddi here, you can relish lip-smacking kebabs, keema & achari paneer and they are always ready to oblige for your intoxication needs.
2. Concept, Defence Colony- It has a small dining space, but if you arrive here in car, you would be approached by the staff who will surely provide you a good service. Also, shwramas here is the best chakhna that you can get.
3. J Block, Rajouri Garden- You have a plenty of restaurants here, but the interesting part is all the fun that happens in the alleys without restrictions.
4. Cook Du Kdu, Ganga Market, Noida- A nice chicken leg and a peg, what else do you need!
5. Manjeet Chicken Corner, Jail Road- If you can differentiate between an 99/100 chicken dish and a 100/100 chicken dish, this is the place to come to. Apart from having a seating facility, the joint fulfills all the demands of the visitors at their car itself.
6. Blue Water Grille, Punjabi Bagh- You can head to this place whether you love seafood or veg.
7. Delhi Haat Parking, Netaji Subhash Place- Amidst hush hush, a lot happens here. You can get food and booze here and make your car the bar.
8. Badarpur Border- Delhi-Haryana border is where a lot of action happens. Do ensure that you keep away from the thullas.
9. Yashwant Place- In the heart of the diplomatic centre of Delhi, this shopping centre turns into a hub for people seeking fun, be it inside or outside the car.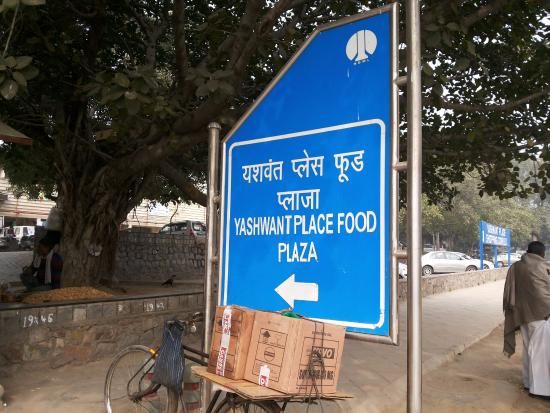 10. Rajinder Da Dhaba, Safdarjung- Ask a local, and they will lure you into eating at this place. But this place is beyond its tasty food, you just need to approach the right window.
11. Sardar Ji Malai Chaapwale, Kalkaji- A delight for vegetarian food lovers, this place in Kalkaji loves to take care of your thirst, given that it happens behind the steering wheel.
12. Noodles in Bowl, Lajpat Nagar- If Mughlai & North Indian is not your thing, you can try Chinese here without any compromise.
13. Colonel's Kababz, Defence Colony- Unlike the modest options above, Colonel's Kababz is located at a posh location and offers good food choices. However, it also caters to the Car-o-bar junta.
14. Turant, Mandi House- It's a van opposite FICCI Auditorium near Mandi House metro station. Popular among students, this is the right place to dig into any kind of flavours you like.
Do you also have a group of friends with whom you Car-o-Bar? Have we missed any of your favourite spots? Tell us in the comments below.