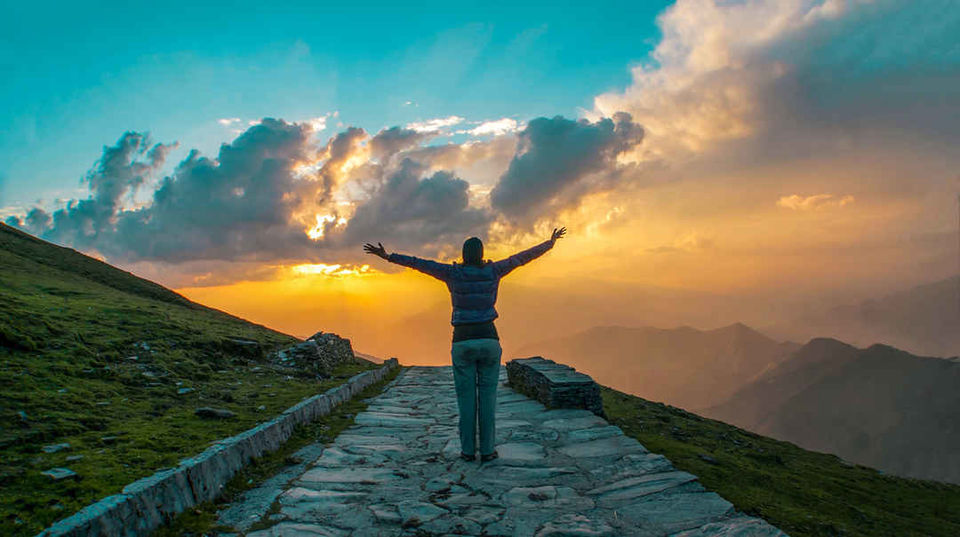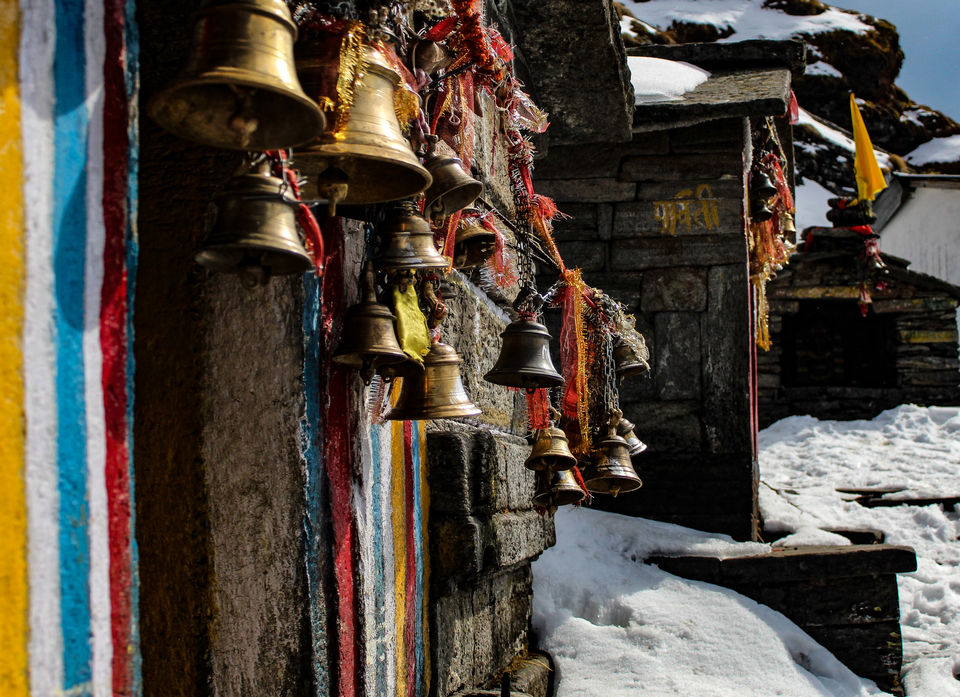 Am i still an Atheist ?
Apni jindagi kuch aisi thi jaha bas jeena tha, hasna tha, or mast rehna tha, as i belongs to a Himalayan family from Uttrakhand, to khoon me kuch to aisa tha jo khud ba khud mujhe pahado ki or le Jata tha, and i use be a kind of an Atheist person jise bhagwan puja paath wagerh se koi jayada lagaw nhi tha even ek brahamin family me paida hone ke baad bhi. this is how i struggled with this not beveling personality, but i always crave for mountains and for Adventure. and this became the Reason that i found something in myself and a connection with this Mighty Himalaya.
I never Interacted with Him !
i have Been to may places in India kai pahado, kai tourist places, Kai historical places and many more, this what i love, and i was happy about it what i was doing. During this mai kai jagaho pe gya kai spiritual places dekhe jaha logo ki spirituality ko dekha, un ki astha ko Dekha and i always had a Question is it real ?
kya sach me log samne rakhe patthar ko dekh ke rote hai ?
kya sach me ye log us Patthar se batein karte hai ya dikhawa karte hai ?
kya Sach me ye patthar in sab bat sunta hai ?
these questions are always in my mind but kabhi itna serious nhi liya to socha "jane do bhai ye apne se na ho payega " isi trh i keep traveling to the places and one day my family said to me, that they are planing to Visit Dhari Devi, Tunganath, and chopta they all are planing for a family vacation, or mujhe kya chahiye tha bhai free me ghuman wo bhi in 'Himalays'. i was all set to jump in, and finally we went to 'Dari devi' first, from Rishikesh to Shrinagar (Dharidevi Temple) then continue to Chopta. literally this place is Amazing and that we arrived at chopta it was a time of Sunset, 'maja aa gya dekh ke,' that yellow Chaukhamba Peak was just wow, a beautiful sight that was, so we stayed at Chopta enjoyed the family time and slept at night with peace in super cold weather.
Next day we all are ready to roll, and we have to climb to Tunganath temple it is around 4.5 Km from Chopta and i was exited cos this was my first time there. 'humne chadna suru kiya but it was very steep climb fatt li thi sab ki, and as my friends call me Ghoda (Horse) i keep walking with excitement without getting tired. This place really have some great views beautiful meadows and a lovely weather jo har 15 min me badal jata hai. yha chadte hue seriously i never felt tired, finally we reached to the Temple it was build by 'Pandavas' During Mahabhart Time (Dropar Yuga) it looks really beautiful A black stone Building, colorful wooden top decorated with Traditional Garhwali art, and a beautiful gate Decorated with Bells and ribbons, to is trah se i found this temple a lovely sight and vibrant, but i was fascinated with the surrounding more, all snow caped mountains all around, or upar se mujhe jaldi thi to reach Chandrshila top (the moon rock) me and my brother planed to climb that top it is more 1.5 Km from Tunganath temple or is jaldi me i haven't even entered to the temple, but maine chandarashila climb kiya or it was worth man a place where you can see 180* view of all the Himalayn peaks, this was the treat for eyes 'maja aa gya tha waha pahonch ke', after i came down from Tunganath without visiting the temple, or wo time mandir ke kapat (doors) band hone ka season tha next season. so ab hua ye us ke baad during all winter i visited tunganath 3 more time but as i told kapat band ho chuke the and no i had meeting with Bhole Nath.
I felt a Connection in our 'lukka Chuppi'
jaise ke upar sab ko bataya after visiting tunganath 4 times i never entered to the temple pehle meri wajh se baki 3 cos bhole nath was sleeping inside... this was the end of 2016. or meri travelling and exploring chalti rhi to new places, in the season during monsoon in 2017 i got a call from a person i work with that they are planing a visit to Chopta and you have to film that journey as a photographer (which is my profession too) so maine kha jee jaru chaliye jab chalna ho i started packing my bag and in my mind i was thinking ke bhyi is baar mandir bhi ho ke aunga and Bhole Nath se mil ke bhi aunga. so hum nikal pade nyi trip pe but wha phonch ke surprise ye mila ke pure 3 dino tak ye sabhi log chopta me hi rukenge and will enjoy there vacation resting in mountains. kisi ka koi plan nhi tha to climb a steep mountain, and i was like Fuck man...5th time bhi nhi hogi mulakat, i felt humari luka chupi chal rhi ho jaise, but kya kar sakte the i was hired by them to work and to film their trip so that was i did, on 3rd days, in evening i been called from the group leader, 'ke bhayi kuch ladkiya or kuch bacche Tunganath temple ka trek karna chahte hai' and ad i got to know you been to that place and you know it very well so we are extending one more day here and you take this small group to Tunganath trek. walahhh.... and i said fore sure sir, from hearing this i felt something happening between me and that temple, humari luka Chuppi getting more interesting, and the first time now i was exited to visit any temple, early morning no one is there, all was sleeping in their tents and i was standing alone in the meadow and litrely i was saying 'sale trekking pe jayenge soke to koi utha nhi abhi tak' i felt
'i don't think koi jayega after hearing 4 Km steep climb may be sab ne mood change kar liya hai or mera kat gya hai subh subh thand me bahar khada khada ye soch rha tha, but after half hour i saw 3 girls and a kid came to me and they said 'baki koi nhi ayega sab ne mana kar diya only hum 4 hi jayenge' i felt happy chalo at least koi to ja rha hai' humne apni journey start ki and i was smiling looking at the top the peak and even i don't understand why.
BaBaji se Mulakat
jab hum ne trek suru kiya i told them that they need to walk slowly and continues this will drag them to the top easily. same during the trek it was a lovely weather cos it was monsoon and the love affair of Clouds and mountains was so beautiful that time. finally i reach to the gate of Tunganath temple, or us waqt koi special puja chal rhi thi waha kisi ne Shukh Shanti ke liye Anushthan rakha tha (Puja for happiness and prosperity) mandir ki sari bells bajai ja rhi thi saath me dhol, damau and ransingha ( Traditional Instruments of garhwal) baj rha tha, mai mandir ke paas khada rha sari puja sare mantra, bells or instruments se wo mahol alag ho gya tha, ek alag energy this waha in between that loud sound and chanting ('even i got goosebumps while writing this and remembering that moment, i can still feel that energy right now) wo puja karib 30 min tak chali and i got plenty of time to sit there and feel the vibes of that anusthan, mind me kyi trah ke sawal the is it real ? or i am just feeling vibes cos of this high music and sound, lekin kehte hai ke jab ap sawl karte ho jo jawab mil hi jata hai, anushthan khamt hote hi ek pujari jo sabhi ko prashad baat rhe the, came to gave me some prashad, and i asked to him ' why this puja today and what is the reason for it' pujari ji sat next me and he told me ' aaj sawan ki Shivratri hai or ye puja gaun ke pradhan ne karwai hai' that was the Day of Maha Shivaratri and i was have no idea about it i was totally forgot cos i was here in mountains from last 3 days and not aware with Calendar and events, when he told me this i felt a blessed feeling that Babji was not meeting with me during all the visit when i came here, cos he already gave his appointment to me on this special day. i asked to pujari ji can we go and see the temple he said not now after 15 minutes cos it's a Bhog time lunch time of Bhole nath and i said ok 'thoda or intejar sahi' finally after 15 min i came on the door of tunganath temple it was all dark inside the temple just a ligt coming form the Diya and a small bulb, jab mai mandir ke andar gya it was cold inside and i was having a heavy heart beat as i am on date or on an interview pata nhi kyu aisa mehsus ho rha tha jaise bhole nath is looking at me and smiling ' finally tu aa hi gya' like this. mai kai temples ja chuka tha kai jgh dkeh chuka tha but i never felt goosebumps in a temple before this was my first experience, kuch der tak puja chali i was sitting behind those girls and kids looking at Shiva listening to the chanting, fir pujari ji ne mujhe aage bulaya and they gave me some flowers to offer Shiva and he applied a tilak on my forehead and it was not just a tilak he applied a 'Tripunnd' (A three line tilak drawn vertically with 3 fingers in one slide covering all forehead this is usually a Symble of shiva's third eye and you can see most of the shadu's in india wearing the same 'TRIPUNND' on their forehead) na jane kab or kyu i felt so emotional that a drop of tear fell down from my one eye at the same time when i was wearing Tripund by the Pujari, my face was red and i felt a boost of energy and and transformation in my emotions and i felt over blessed that time. wo sach me ek aisa pal tha when i felt ke kuch hai ! yha kuch hai, is jagh me kuch wo jis ke liye hum sab bhakt rhe hai, that was the first feeling of mine when i Actually met
'Baba Tunganath ji'
My soul Live there
in sab ke baad darshan ke baad i was so much in peace and so much in love with that place, ab ye samjh nhi aata that i lost my soul to that place or i got my soul from that place. but jo bhi hai i am sure i belongs to that place, abhi bhi i am looking for many answers about spirituality and god, lekin ek sawal ka jawab mujhe mil gya tha, that who can give me all of those answers, or wo hai Baba ji cos whatever i heard about him he never seems like a god to me he is human who became like a god from his karma and his learning form the life. and he is the right person to ask all of our questions....
form this note Himalayan desi Signing off till the next journey begins