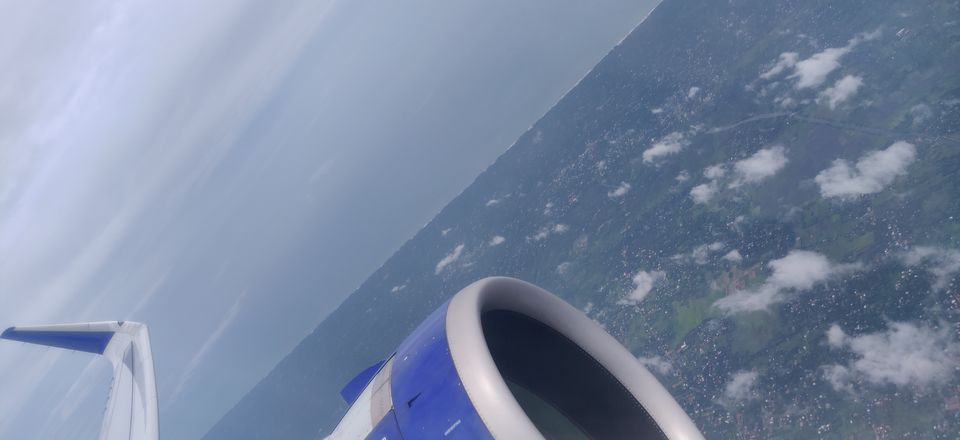 In her book, Tomorrow's Treasure, Linda Chaikin wrote, "I think you will agree that life's plans are not always tied up in neat little packages. Occasionally we find ourselves at unexpected crossroads with more than one opportunity from which to choose. Time itself is often the best indicator of which decision to make, for it can tell so many thing that are now hazy."
In the unprecedentedly overturned Era of Covid-19, if I say we have more than one opportunities, I may be wrong. But times have changed, a lot of previously unimaginable things are now termed "New Normal" and of all those, I believe the one thing that changed most is Travel. I'm gonna share with you one such adventure that I got to experience in these times.
I had to go from Mumbai to my native place in Kerala and drop my family there, so after several rescheduling and cancellations I embarked on the journey in mid of June 2020, when Covid was soaring high. Let me take you through the procedures first. After booking the ticket you have to register yourself for the destination state for issuing e-pass for entering the state, this is applicable for most southern states like, Kerala, Karnataka, Goa etc. Once you get the pass which is easy if you are traveling by Air. This is to make the state government informed about your arrival. Funny though these silly things which we have taken for granted until a while ago.
Airport scenes :
Upon reaching the Airport, I was shocked by the silence and emptiness of the Mumbai airport, which 6 months ago in November set a record of handling 949 flights a day with a single runway. Now its handling less than 100 flights a day. Started with 25 flights a day in the first 2 weeks of reopening Domestic Travel, it was gradually going up. But still that was enough to scream out the challenges of Traveling in such tough times. Those airline offices were partially or completely shut. The Security is bare minimal, the lines barely make up for a queue. You are required to do web check in compulsorily and take print out of boarding pass to even enter the airport. After initial temperature check up and verification of Arogya Setu app, we entered the terminal where it was utter silence. Social distancing signs have replaced almost every ad space, even floors are designated with standing and sitting locations. As an early bird when it comes to traveling, even though annoying at times, I used to enjoy the moving screens and fun figurines. Now the chaos of an airport have completely disappeared. Especially in Mumbai, I was no stranger to huge crowd, hoardings and occasional celebrity spotting. But now we wont even recognize even our closest ones in such face shields and masks and what not.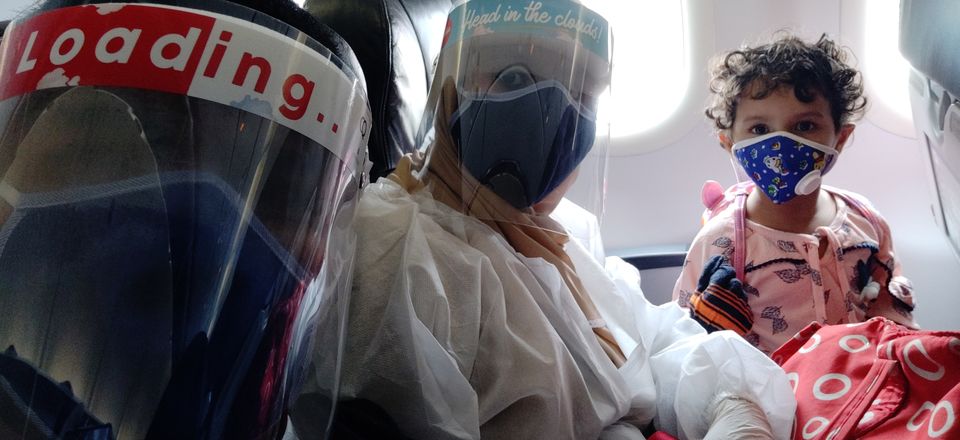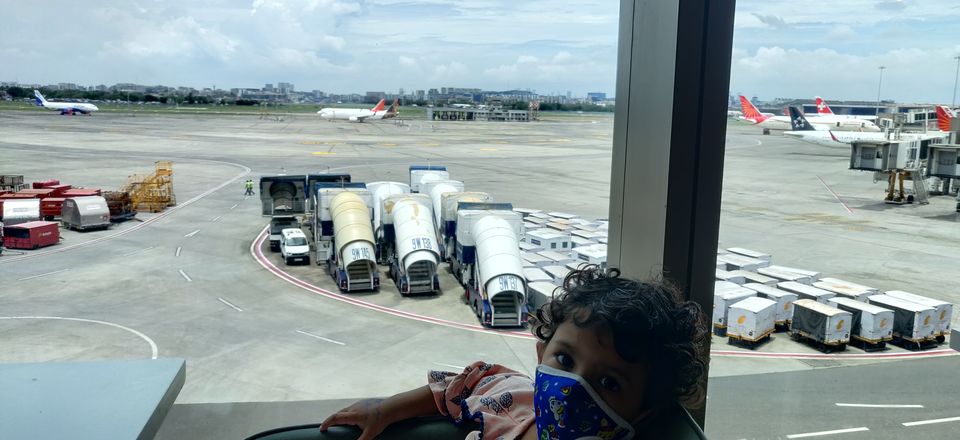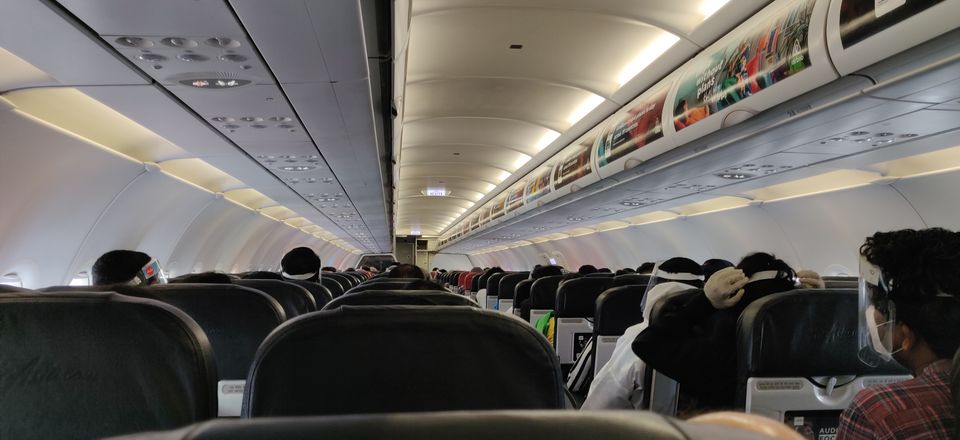 The Return Journey :
The reason I decided to write this blog is actually the rerun journey. This time I was traveling alone, and had some time to rethink my priorities about life, Travel and future plans. The airport was filled with migrant workers who were flying for the first time. I believe they were the last to leave Kerala, as 4 months of lock-down has sent enormous number of labors home. Due to lack of income, scarcity of food etc. Kerala was first state to run Community Kitchen for the migrant workers, still they might have felt the need to reunite with their families.
We should grateful to the things we had taken for granted till date. A job, a place to live in, dinner on the table and so on. But if you are one of those who lost their job/income/food, my request to you is Hang in there, this is gonna change, time will bring you new opportunities. Let me remind you the wonderful luxuries we enjoy today such as Whatsapp, Uber, Airbnb, Pinterest were emerged out of the 2008 Recession where such a similar financial crisis existed, so Stay, you will come out of this even stronger, even more creative.
Since the most of the workers were not having smartphones or those who didn't bring the boarding pass with them, the line formed was a bit longer. Luckily a volunteer was helping them out in clearing those obstructions. Since I had the experience I kept everything handy which let me cut the queue and move ahead faster. The Security guard now sits in glass chamber and verifies documents with camera and scanner. Everything is now contact-less, the bag drop, the boarding pass, the security check. After the security check the panorama of the sad airport unraveled before me.
The lounges and furniture are untouchable, every fancy sofa is replaced by plastic chairs. Food is a rare commodity. never have I felt the phrase 'Taken for Granted' so hard hitting. Those unusually expensive coffee shops now remind me of a cemetery. In Kochi also there were hardly 7 flight scheduled for that day. 2 Indigo, One airplane of Jet hired by Spicejet, which hidden logo of the Jet airways reminded of the good old days of the airline.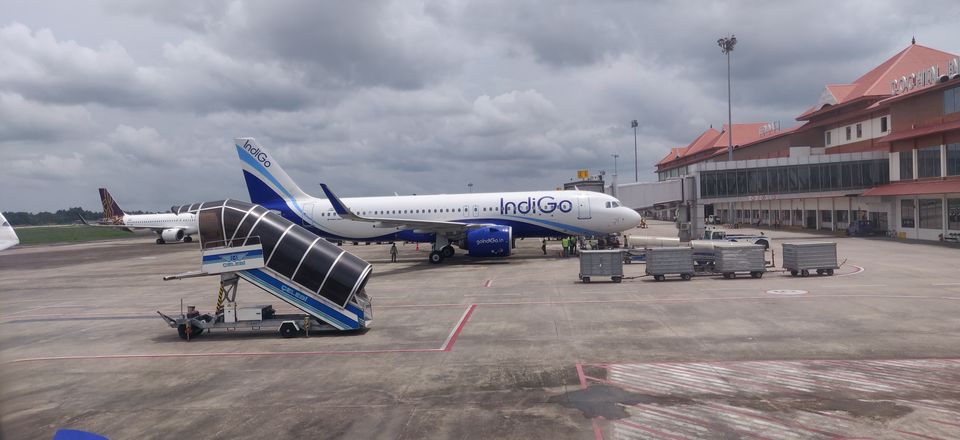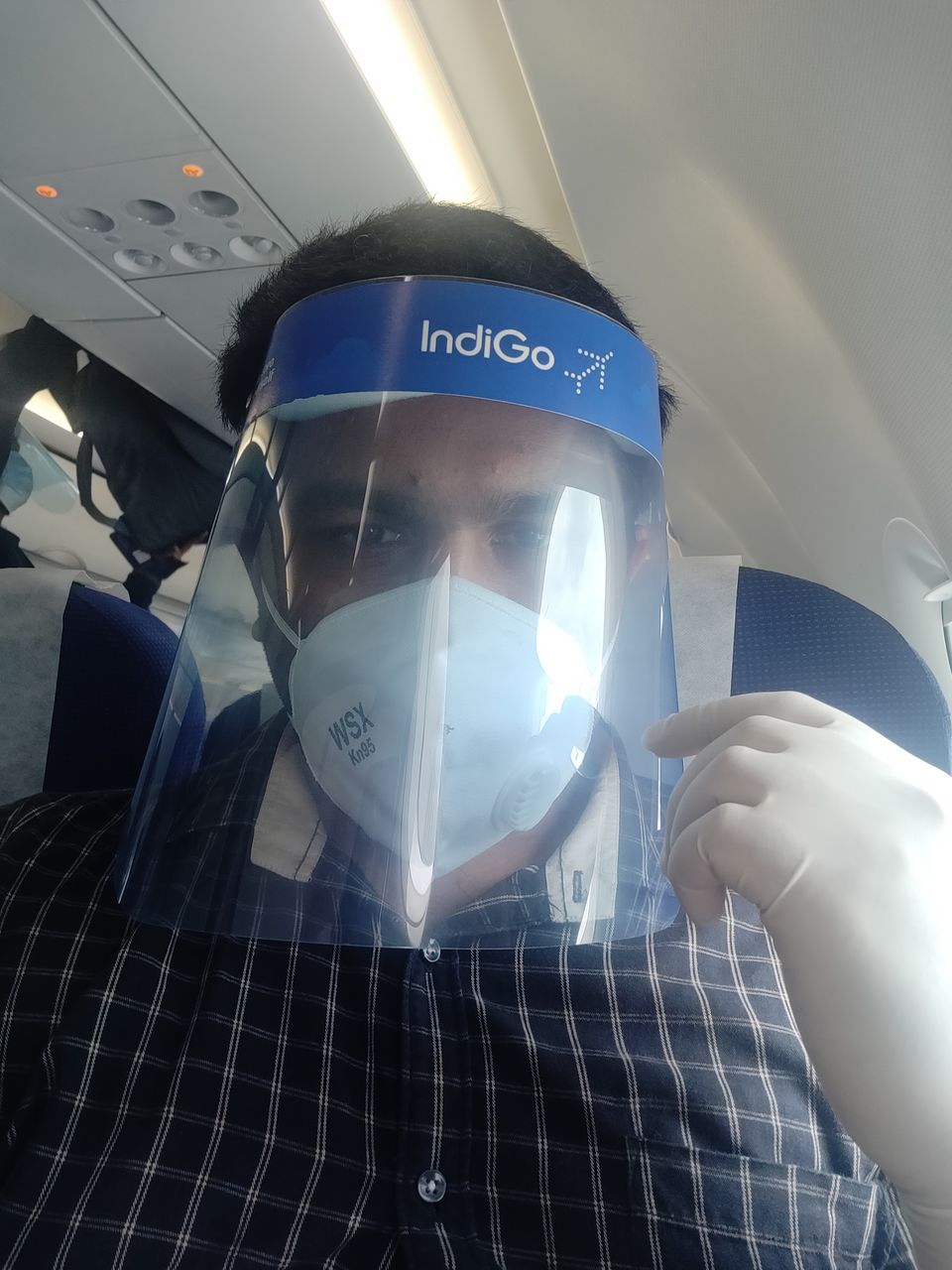 Once I reached my Quarantine home, luckily I was able to get an entire home to ourselves as our neighbor was abroad and he was happy to give it for use. The real events unfolded the next day, it was a ton of phone calls from Health departments of my district, the Police headquarters and other Agencies. I was truly shocked and proud at the same time to see how efficiently the government is tackling this pandemic. Although I planned to return after a fortnight, because of this I was happy to stay home when they directed to continue for another 14 days after the first(even though I had to book another ticket for the extended date from a far away airport). Airlines were cancelling and rescheduling every day and night. I assumed it was because there is no one to travel in the first place.
I left the magnificent motherland for a job I am not sure I even like. sitting by the window, I caught a glimpse of the airline seats, half of it are empty. As the flight took off into the clouds, I stared out the window. the pouring rain has replenished the rivers. As I was flying along the coastal borders, the line that separates the land and the Arabian Sea is now more clear.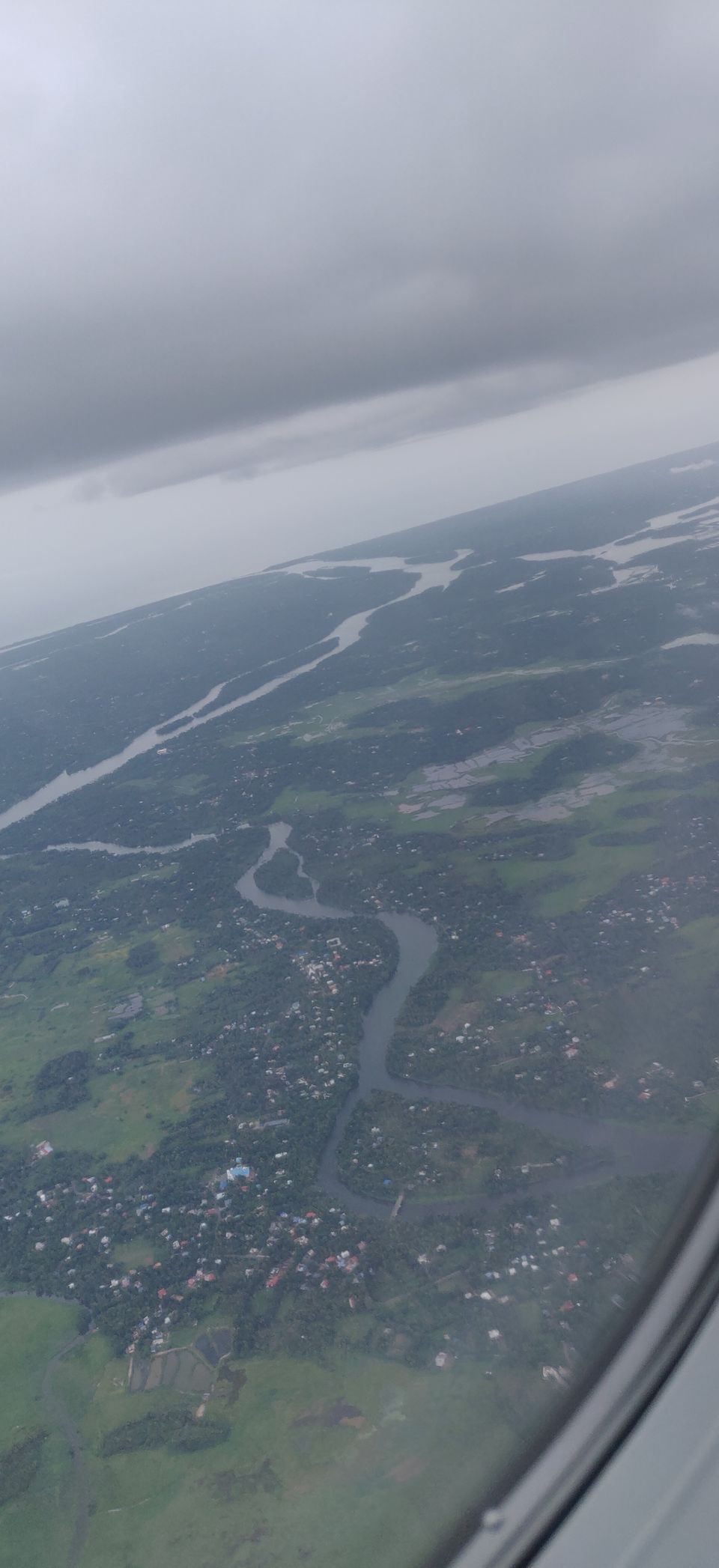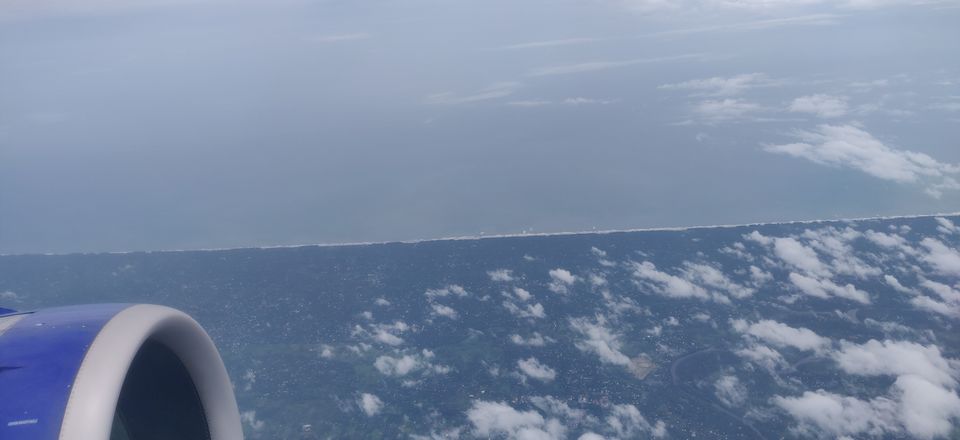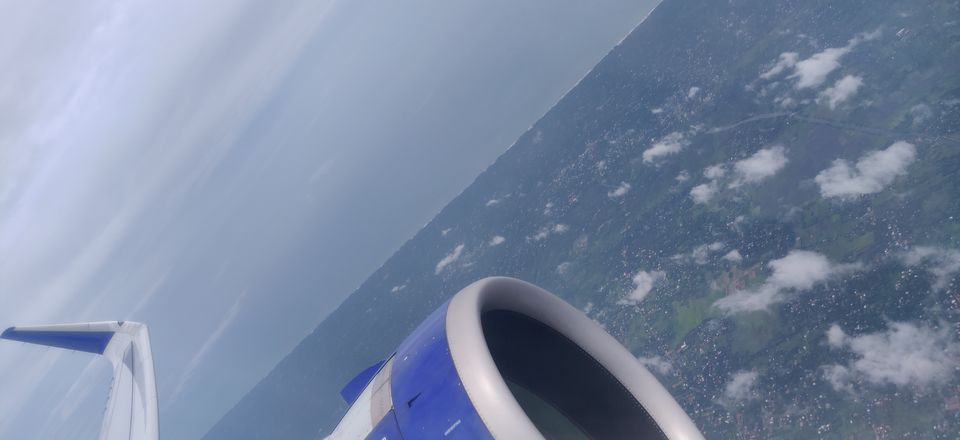 I wonder how long nature is gonna punish us for our wrong doings. Sky is cleaner than ever but we are bound by law not enjoy it, Irony at its best. The wings once colored my dreams now feel burdened with emotions. One thing I am definitely gonna miss is my angel Belha, my 3 year old daughter. major missing is going to be her smiles, and little bold instruction to do stuff for her, do this and do that and so on.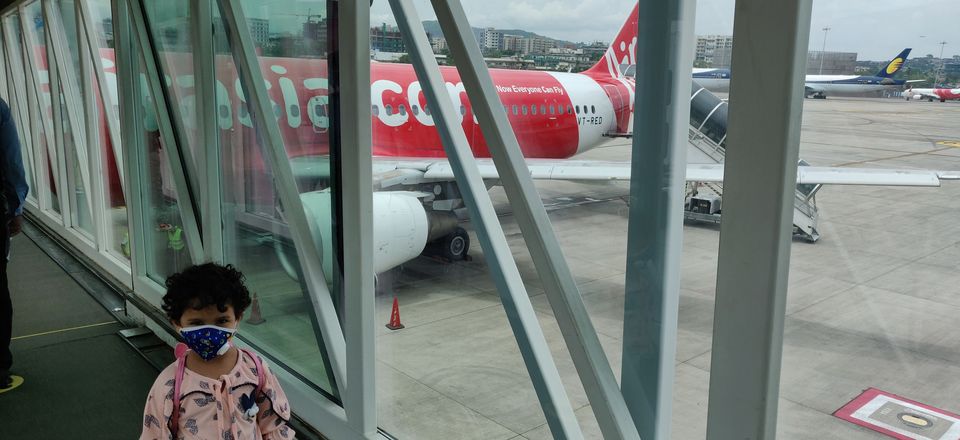 Usually I look out the window to spot other planes flying along, but now I am sure I will be staring into the abyss. So I decided to dive deep into the book 'Under the Tuscan Sun' which I spotted in somebody's travel pic a while ago.
I wonder about the migrant workers and other first time flyers. Once they might have dreamt about the amazing things of flying and today they are experiencing it at its lowest point. I feel sad for them. Don't be disappointed, travel is much more fun than this. This covered faces, awkward silences, this emptiness are not how it is used to be. This is temporary. Fly again someday, you will feel the freshness and warmth in an entirely different level. But for now, this is the best.
Even though I don't normally buy the on board food and beverages, I miss the sound of the cart they pull along the aisle, a million of apologetic phrases they chant as they move along. The silence is now feel more frightening than ever. Now they just announced we are just gonna sit here, press the call button if u need us. They dont have anything to do for us now. Odd but true, one of the million magics of Corona I presume.
While scribbling about the points to add to this blog in my phone, I noticed one thing the Airplane mode. I had a silly grin on my face when I saw it after a long while. I wonder haven't we in it for a long time now??? I remembered the trips I cancelled this year, the last year and the year before that. In fact, the ones I called off even before planning for it. Every trek I have been to and ones that I missed. Mom n Dad's visit to Mumbai, Cousins' Road trip, the night treks to Harishchandra Ghat, the long pending Thailand trip, my second Bungee jumping in Macau. Don't know when I will go back and wake up to the sunrises atop a far away mountain in Sahyadris.
The trips I said no to because of my job, the trips I made with my previous job, all seem funny now. How many trips I have shut in the face coz apparently I couldn't be away from my job for more than a week? Haven't everything changed? As on of my Ex boss would say, Bharat Sarkar aur iss naukri kabhi rukte nahi, we think we are the ones who takes it forward, now nature will be like, Seriously Bruh??
I had planned North east trip for this November ever since I cancelled Ziro valley trip in 2018, I'm not sure if its gonna happen this year. Kundermukh as suggested by my friend and founder of DGA Krish, this was supposed to be done in June, which is now due for a year from now, or is it just a year? I dont know. One thing I'm sure, we will go, may be not today, with or without a Covid Vaccine, life goes on, so are we.
As long as God lets me step on his planet, I'm gonna cover as much ground I can on his wonderful creation. Till then I have the wonderful memories I made from my past trips to cherish. As Nick Cave quoted, "My biggest fear is losing memory because memory is what we are. Your very soul and your very reason to be alive is tied up in memory." The day Covid becomes a Memory, if I'm alive, I'll be on my way to somewhere.....
Muhasin
Read my previous blogs in the links below.
1. Why you Should attend a School Reunion
2. Lucknow
3. Daman
5. Bhimashankar
7. Malshej Ghat
I will see you on the next blog. Peace