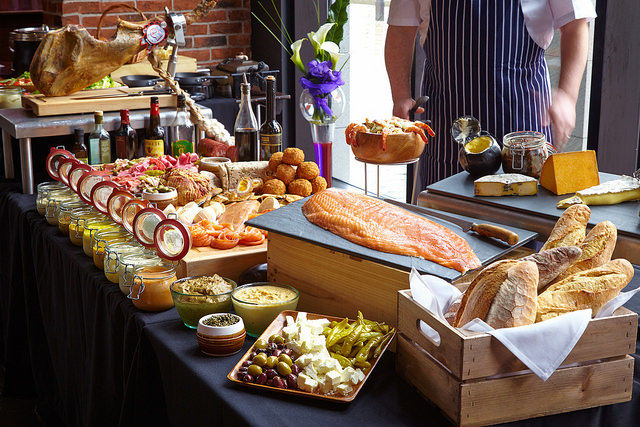 People running just about everywhere 24/7, sleepless nights, eccentric work life and a super hectic lifestyle – these are some of the few things that come to mind when you think of Mumbai. While there is no doubt that the city has one of the craziest lifestyles with people of all socio-economic statuses slogging it out to stay afloat, Mumbaikars sure know how to unwind and well, they do it in style!
Having lived in Mumbai long enough to understand the city inside out, the one thing that really sets it apart from any other place is that while people work hard during the week, they party equally hard on the weekends. Mumbai has an extremely strong weekend culture and the mad nightlife only compliments it. So if you've spent a memorable 'Saturday night' in the city, you'd know there's nothing that quite beats a Sunday brunch to get over previous night's antics. Here are some of the best places offering hearty Sunday brunches, all under ₹1,000!
Located right next to the rocky Versova Beach, The House is a local favourite amongst young Mumbaikars looking for a budget Sunday brunch. The place sports a mellow decor inspired by the colours of the sea and has a very easy and chill vibe to it. There's soft, acoustic music playing as you prepare to spend the day here chatting with your buddies while gorging on lip-smacking delicacies. If you're in the mood to continue your Saturday night party, add unlimited IMFL for just ₹599 to your meal and let the spirits run high! Talk about value for money!
Cost: ₹499 for unlimited food, and ₹599 for unlimited IMFL
Cuisine: Continental
Standout dishes: Pita bread with hummus, butter garlic prawns, chicken lollipop
Timings and location: Noon onwards; 1, Aaram Nagar 1, JP Road, Versova, Andheri West
Contact: 022-65264888
Coupling a drink or two with a brunch is never a bad idea. This quaint eatery in Andheri's Veera Desai Area though, takes the idea to a whole new level! The Little Door dishes out unlimited food and alcohol brunches every Sunday and mind you, the drinks play such an important role in this four-hour-long madness that they call it a 'Sunday drunch'! What better than a 'drunch', you'd say? Well, they also have a karaoke setup to go with it. Nothing like bringing the house down on a Sunday afternoon, eh?
Cost: ₹797 + taxes (unlimited food); ₹1297 +taxes (unlimited food + beer + sangria); ₹1497 +taxes (unlimited food + IMFL + cocktails); ₹1897 +taxes (unlimited food + premium alcohol + cocktails)
Cuisine: Mediterranean, Mexican, Spanish, Italian
Standout dishes: Nutella pancakes, seafood sizzler, white wine sangria, fresh fruit sticks
Timings and location: Noon onwards; B 31, Ground Floor, Shree Siddhivinayak Plaza, New Link Road, Veera Desai Area
Contact: 022-30151734
If pan-Asian cuisine is your thing, then here's where you need to be heading this Sunday! Located in Saki Naka, Asia Kitchen and Bar offers a sumptuous spread of authentic Asian cuisine and unlimited IMFL at prices that will make you pinch yourself to believe that this is not some dream. With sushi, baos and dimsums being the highlights of this brunch, make sure to go on an empty stomach because this one is as good as it gets.
Cost: ₹995+taxes (unlimited food + IMFL)
Cuisine: Asian
Standout dishes: Pork belly bao, cream cheese sushi, prawn tempura, edameme dimsum
Timings and location: 12.30 p.m onwards; Ground Floor, Neelkanth Udyog Bavan, Near Sakinaka Metro Station, Sakinaka Junction, Andheri Kurla Road, Sakinaka
Contact: 022-30151694
They say that the best way to beat a hangover is by sipping a cold beer. Located in the posh Lower Parel area of Mumbai, the White Owl solves all your hangover and hunger problems under one roof. The generous modern European spread here is classic comfort food while the in-house craft beer is brewed to perfection and works as the perfect drink to go with the meal.
Cost: ₹785 (food + limitless house ginger lemonade, juices and aerated beverages); ₹1395 (food + 3 glasses of freshly brewed House Craft Beer or house sangrias); ₹1495 (food + limitless brunch cocktails, house sangrias and White Owl house beer)
Cuisine: Finger food, European, American
Standout dishes: Craft beer, toffee and banana crepes, grilled chicken meatballs, mediterranean grilled vegetable lasagne
Timings and location: Noon onwards; Lobby, Tower 2 B, One Indiabulls Center, Senapati Bapat Marg, Lower Parel, Mumbai
Contact: 022-33126124
There are brunches and then there are brunches meant for kings! Opened in 2007, Flamboyante is a massive multi-cuisine eatery located in the heart of south Mumbai. From wood-fired pizzas and live chaat counters to exotic oriental portions and a bar with cocktails that will leave you asking for more, Flamboynate's Sunday brunch has something for everyone and should not be missed.
Cost: ₹930 (without alcohol); ₹1900 (with alcohol)
Cuisine: Mughlai, Italian, Asian, Continental
Standout dishes: Fish moilee, Kashmiri chicken tikka, burnt garlic fried rice, chocolate raspberry gateau
Timings and location: Noon onwards; 7, World Trade Centre, Cuffe Parade, Mumbai
Contact: 022-22180433
Know of any other spots that should make it to this list? Put them in your own listicle here and show off your knowledge to the traveller community!
Frequent Searches Leading To This Page:-
Visit sunday in mumbai, eating places in mumbai, 1 day tour in mumbai, weekend getaways from mumbai, weekend packages near mumbai