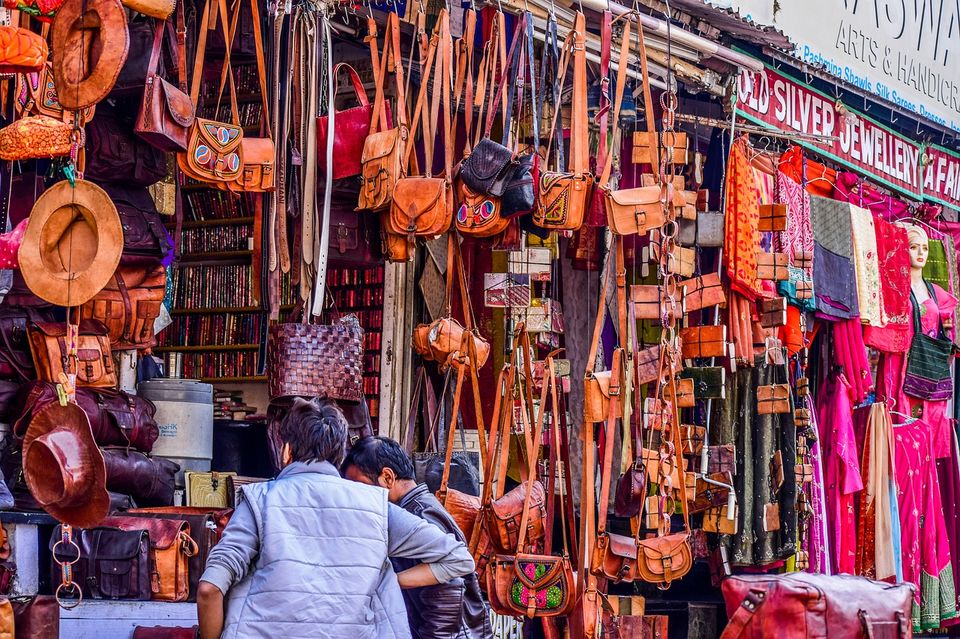 There's something about discovering a place on foot. You get to lose yourself in the streets, delve into its history up-close, try new food, bargain at local markets, talk to locals and immerse yourself in the place's culture. But at the same time, going to a new place can be overwhelming. You don't always know where to start exploring or how to go about it. This is where the concept of customised walking tours comes into play. A number of cities in the country nowadays have curated tours that take you around in a planned manner, helping you experience some of the best aspects of the place in detail. Here's a list of my personal favourites:
1. Hyderabad's geology tour
When you think of Hyderabad, the first thing that comes to mind is biryani, and then the Charminar. Few think of natural wonders when they think of visiting Hyderabad. But the city has some of the most spectacular sights of the Deccan Plateau. Consisting of huge granite rocks, which some geologists argue go back 2,500 million years, the plateau is a great way to get acquainted with the area's geographical history and natural beauty. The Society To Save Rocks organises treks, called Rock Walks, to areas around Hyderabad on weekends with the aim of creating awareness about the protection of the Deccan Plateau. Make sure you're wearing comfortable clothing and carrying water and sunblock. Adventure enthusiasts can also watch out for the Society's annual Hyderabad Rockathon, which has activities such as rappelling, bouldering, rock photography and rock balancing.
When: These tours take place on the third Sunday of every month. Plan your visit accordingly.

Whom to contact: The tour is conducted by the Society to Save Rocks. Details about upcoming tours can be found on their website.
Price: This one is free of cost.
2. Chennai's jewellery jaunt
What a unique way to explore a place. Gems and jewellery are closely linked to Chennai's history and culture as the city is known world-over for its exquisite gold ornaments. A jewellery trail will take you through the by-lanes of Mylapore, one of the city's oldest neighbourhoods, into closely huddled workshops where you can witness beautiful jewellery being crafted by hand. You get to interact with artisans, understand the history of gold and precious gems in the city, and listen to interesting stories, myths and legends, as you witness magic unfold right in front of your eyes. So, on your next visit to Chennai, explore the city through the eyes of these jewellery-makers.
When: The tour usually takes place on a daily basis between 4pm and 6.30pm. You need to book in advance to reserve a spot.
Whom to contact: The tour is conducted by an independent organisation called Storytrails. You can book the tour directly from their website. They also offer a number of other walking tours. Make sure to check those out as well.
Price: The price for a private tour starts at ₹6,000. However, if you're willing to go with a group, the price starts at ₹3,600.
3. Bangalore's green heritage walk
The traffic in the city will have you believe that there isn't a worse place in the country to be, but once you head to one of the many gardens in Bangalore, you will instantly fall in love with the city's beauty and charm. Popularly known as the garden city of India, Bangalore offers great opportunities for nature enthusiasts with parks such as Lalbagh and Cubbon contributing greatly to its green heritage. While you can go hopping around parks on your own, Bangalore Walks, a 12-year old organisation, organises curated tours all over the city. Their Green Heritage Walk is amongst one of the most popular ones. And the best part is that they follow international standards, inspired by similar walks in London and Boston. So you're definitely in for a treat.
When: The walks usually take place on Sundays and start at around 7 in the morning. Check the website for details.
Whom to contact: The Green Heritage Walk is organised by Bangalore Walks. Details and upcoming walks are available on their website.
Price: ₹550 per person for adults, ₹400 for senior citizens and children, and an additional ₹250 for breakfast (optional).
4. Calcutta's culinary experience
If you've ever befriended a Bengali brought up in Calcutta, you've heard them go on and on about how there is no match to the city's food. And rightly so! Calcutta's cuisine has evolved over the years with gastronomical imprints left from various cultures. If you're even the slightest bit of a food lover, this tour is for you. And I personally believe there's no better way to explore a place than through its food. You can actually go around the city, experiencing the best of its delicacies and also get familiarised with some of the ingredients that go into the making of authentic Bengali food.
When: The tour is held from 6-9pm. The organiser, Calcutta Walks, gives out a monthly calendar with the exact dates for the tour.

Whom to contact: The tour is conducted by Calcutta Walks. All the information is given on their website. They also have a number of other interesting tours.
Price: The street food tour costs ₹3,500 per person
5. The wedding walk in Delhi
Chandni Chowk, with its intricate lanes and chaotic mess, is madness. But even in this confusing part of the city, there's a method to the madness, and there are layers to the chowk that can only be unveiled one at a time, only if you keep going deeper. Kinari Bazaar and Dariba Kalan are two such areas – better known by locals as the go-to stop for all things wedding. Whether you want cards printed, or costume jewellery, or first copies of designer lehengas, you get it all here. But even if you're not getting married, and wedding shopping fascinates you, then Masterji Kee Haveli organises an Old Delhi Bazaar Walk and a Haveli visit that will take you through some of the most interesting parts of Chandni Chowk.
When: The tours take place daily and there are a number of options to choose from – early morning tours, half and full day tours. All details are available on the website.
Whom to contact: The tours are organised by Masterji Kee Haveli. They also offer separate tours for New Delhi. All details are on the website.
Price: The price for a half-day tour is approximately ₹3,000 and that for a full-day tour is around ₹6,000.
6. The Art Walk at Kala Ghoda in Mumbai
The south Mumbai area is a cultural hotspot, littered with art galleries, heritage buildings and shops celebrating the vibrant world of contemporary Indian painting and sculpture. The Art Walk at Kala Ghoda takes you on a peaceful stroll through the art precinct of Mumbai's British Heritage District. Kala Ghoda is a sub-precinct that has developed into a prominent cultural centre. The walk attempts to give you a first-hand understanding of modern Indian art and its evolution from the early 1900s to the present day.
When: The walk takes place on all days of the week, except Mondays, and starts at 11am at the National Gallery of Modern Art.
Whom to contact: The walk is organised by Mumbai Magic. The details are mentioned on their website. They also offer a number of other tours such as bazaar and food walks that are worth checking out.
Price: The cost for a solo traveller is ₹5,250. If you're travelling with a group, however, the price can go down to ₹1,500 per person in a group of seven to 10 people.
7. Explore the northern bazaars and hidden alleyways of Varanasi
Even though Varanasi is an extremely popular tourist destination, very few tourists ever go beyond the ghats and the aartis. And even fewer are able to find their way through the bazaars in the northern part of the old city – where you will find hidden alleys leading directly through some of the most sacred places in Banaras to the oldest sites in the city. And as you enter these lanes, you will get a glimpse into shops, temples and lives of people who have never left their street. This one-of-a-kind tour is definitely a unique way to explore the city. The next time you're there, escape the chaos of the central ghats and head instead to the bazaars in the northern part.
When: The walk is arranged on a person-to-person requirement basis. Mid-morning to mid-afternoon is the advised time slot.
Whom to contact: The walk is organised by Varanasi Walks. They also offer tours of the ghats, the Ganges, and those involving artisans and weavers. Find out more on their website.
Price: The price starts at ₹2,000 per person for a solo traveller and can go down to ₹1,200 per person for someone travelling in a group of six or more.
8. Get spooked with the Cemetery Lanes Walk in Shimla
Love ghost stories? Then this special walk in Shimla will definitely give you the chills. Considered to be amongst some of the spookiest experiences in the country, the Cemetery Lanes Walk takes you on a tour of the various cemeteries in Shimla that have been set up since the British Raj. But it isn't just all about chills and ghost stories, some of the most prominent people from Shimla are buried at the cemeteries and you get a chance to visit their graves and get to know about their history in person.
When: The tour is scheduled on a requirement basis and starts at 9:30am on the day that you've chosen.
Whom to contact: The tour is organised by Shimla Walks. Get details about this tour and others on their website.
Price: For a group of one to four people, the price is ₹2,500. For each additional person, the charges are ₹500 per person.
Have you ever explored a city on foot? How was the experience? Write about it on Tripoto and share your insights with the community.