They say that the best way to experience any culture is through its food. And when the land is filled with an overwhelming variety of cultures, the food can be an equally enticing experience. There's ample culinary diversity in India and yet there's one thing that unites the whole of the nation and that's – the Thali culture.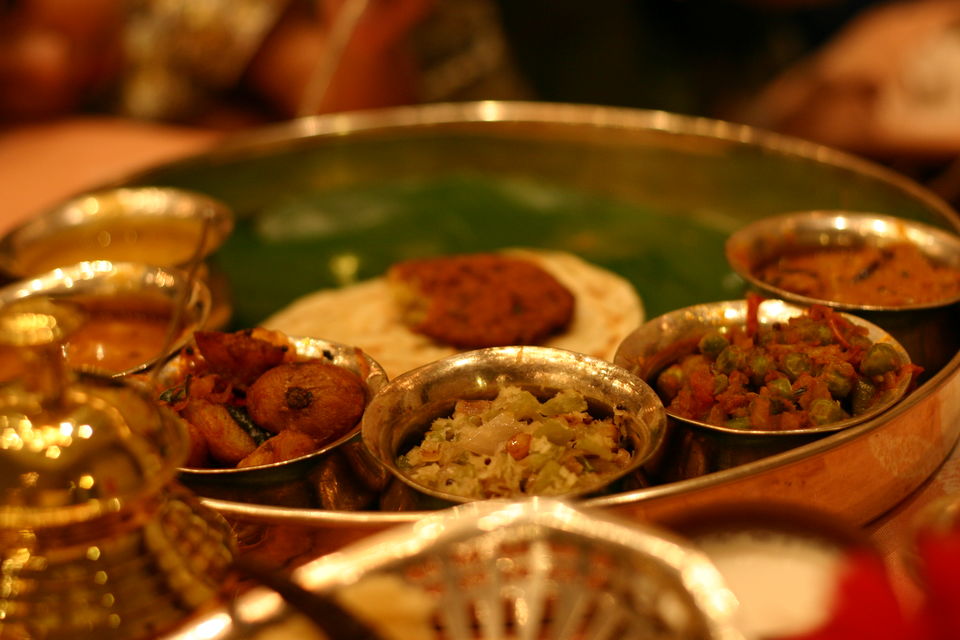 The best way you can get to savour all the flavours of a state is by eating the local thali – a conglomeration of some very authentic local dishes all piled up into one epic, scrumptious feast. Here's a round-up of the ten most amazing thalis of the country each one of them, an artistic expression of the state's best foods.
Gujarati Thali (Kathiawadi Thali)
When it comes to thalis, Gujarati thali is one that stands out for many reasons - mostly the wide spread of foods you'll find in it, despite seldom having any meat. They've got rice, rotis and puris for the carbs and host of curries to go with them. Shaak is the name they've given to their curries and they've got many of them such as tamatar nu shaak (with tomato), rigna palak nu shaak (with spinach and brinjal). There are plenty of these side dishes such as the dhokla, thepla, puran-pohli all of which have got their own unique taste. They usually have aamras or buttermilk to accompany this thali.
One place where you can find a great Gujarati Thali is - Annkut, Prahladnagar, Ahmedabad.
Rajasthani Thali
Fit for a king, the Rajasthani thali is just as royal as their cities laden with palaces. The major source of carbs in their thali is their rotis – which are of many kinds some of them being missi roti and bajra roti. The rest of their thali includes a host of curries such as the laal maas, daal baati churma, gate ki subzi and panchmela dal all very mild and subtle in their flavor. They have a host of different kinds of sweets as well such as the rasgulle and the malpuas for dessert.
While you're in Jaipur, here's where you should try out the Rajasthani Thali - Choki Dhani village resort, Jaipur.
Sadhya or Kerala Thali
Come Onam or Vishu or any of their festivals, Keralites have this scrumptious spread of flavoury dishes that they have on a banana leaf, they call Sadhya and this is the Kerala thali. Most of their foods are vegetarian made of coconut oil, coconut milk and curry leaves. Rice is the carb source and there are a host of other dishes which include the kootu (curry), sambhar, rasam, papad, kosumri, aviyal and such. There are plenty of sweets as well which include the sweet appam, ada pradhaman (sweet rice) and payasam. A feast on the Kerala thali is an extremely gratifying experience.
Here's one place in Kochi that you can feast on the best Kerala thali - Pavillion, MG road.
Punjabi Thali
Filled with rich and yummy foods, a Punjabi Thali is something that's going leave you feeling more than satiated with all its flavors and foods rich in butter, ghee, paneer and such ingredients. Their kulchas and naans are the staple source of carbs while some of them also have rices such as the jeera rice and rajma chaval. The rest of the thali is made up of some yummy curries such as pindi chole, butter chicken, paneer tikka, tandoori chicken, shahi paneer, dal makhani, sarso da sagh. They end the lavish meal with a lassi.
Try out one of the most authentic Punjabi Thali's here - Bharawan da dhaba, Amritsar.
Goan Thali
Just like most of the local Goan food, the Goan thali is predominantly filled with all things fish. And if you love fish, you're going to love this thali too. The main source of carbs is rice and this is laden with fish flavours too – called as the sheet kodi nustea or the fish curry rice. Poi a kind of Goan bread is also included as a source of carbs. There's a host of curries, most of them made of sea food such as the fish curry, prawn curry and kismur (another kind of prawn curry). Sol kadi is their dessert/drink which is made of coconut milk and is flavoury, sweet and yummy.
Next time you're at Goa, make sure you try out this authentic thali of theirs and this is where you get the best - The Goan room, Dona Paula.
Haryanvi Thali
Haryanvi thali is one that's got some basic and yet really yummy dishes that make up for one perfectly delectable meal. Their carbs are from the rotis such as the bajra aloo ki roti, besan masala roti and such with rice also being a part of it sometimes. Khichdi, hara dhania cholia, kachri ki sabzi, gajar methi sabzi are some of the curries that are a part of the thali. Meethe chawal is had as a dessert sometimes while most of the time, there's their sweet lassi that's the dessert.
Here is where you can get to sample one of the most delicious Haryanvi thalis - The Gateway resort, Gurgaon.
Andhra Thali
The Andhra thali is a blend of spicy, tangy and yummy flavours and like the Kerala thali is served on a banana leaf. Rice is yet again the staple and can also include flavoured rices such as the pulihora (tamarind rice) and is eaten with lots of ghee and all the other dishes such as the many curries, rasam, pappu (the dal made with lentils), pickles such as the avakaya and the podis. The sweets that they usually have as their desserts include the laddoo, ariselu – a kind of a deep fried pancake made of rice flour and payasam. A feast on the Andhra thali is an experience that you'll just never get enough of.
Here's a place where you can get to sample one of the best Andhra thalis - The spicy venue, Hyderabad.
Bhojpuri Thali
The Bhojpuri thali which originates from Bihar is just as unique as the state. There are plenty of authentic Bhojpuri dishes such as sattu ke parathe(which are a major source of their carbs), chokha (anothersource of their carbs made with bengal gram flour and wheat) and a host of other dishes such as sweet mango curry, Bengal gram curry, mango chutney, dahi chura (yogurt with rice flakes) and quite a few interesting desserts such as rasiyaaw and balushahi.
And this is where you can get the best Bhojpuri thali - Potbelly cafe, Delhi.
Maharashtrian Thali
The Maharashtrian thali is a beautiful blend of tastes and flavours with some spicy, some sweet and some tangy foods. Their bakri roti and rice are the staple sources of crabs. The rest of their thali is filled with curries such as bharli vangi (a kind of brinjal curry), matki usal (a spicy curry made with beans and potato), amti (lentil gravy made with toor dal), chawli chi usal (a curry made of black lentils), mutton kolhapuri and pandhra rassa (chicken curry). They also have their wadas such as the saabudaana wada and flavoured yogurt salad as a part of the thali. Kheer is one of the most common desserts you'll get to sample in the thali.
Here's where you can get yourself one of the best Maharastrian thalis - Khat n ghat, Thane.
Assamese Thali or Aalohir Exaj
Assamese cuisine has got this unique sour and flavoury taste of its own with some yummy and healthy foods that make up its thali. Rice is their staple food as well and so you'll see that the major carb source of the thali is rice (which has been soaked in buttermilk the previous night and cooked with onions and chillies). Khar (their dry curry made of raw banana skin and papayas), pura – which is meat cooked in bamboo stems, aloo pitika or flavoured aloo mash and some fritters and a dessert (poyax) make up for the major components of a typical Assamese thali. There are many flavoury fish curries and pickles that are sometimes added to it.
Here's where you can get the best Assamese thali : Mising Kitchen, Guwahati.
How many of these desi thalis have you had the chance to savour? You can share all about your thali experience here.
Get travel inspiration from us daily! Save and send a message at 9599147110 on Whatsapp to start.