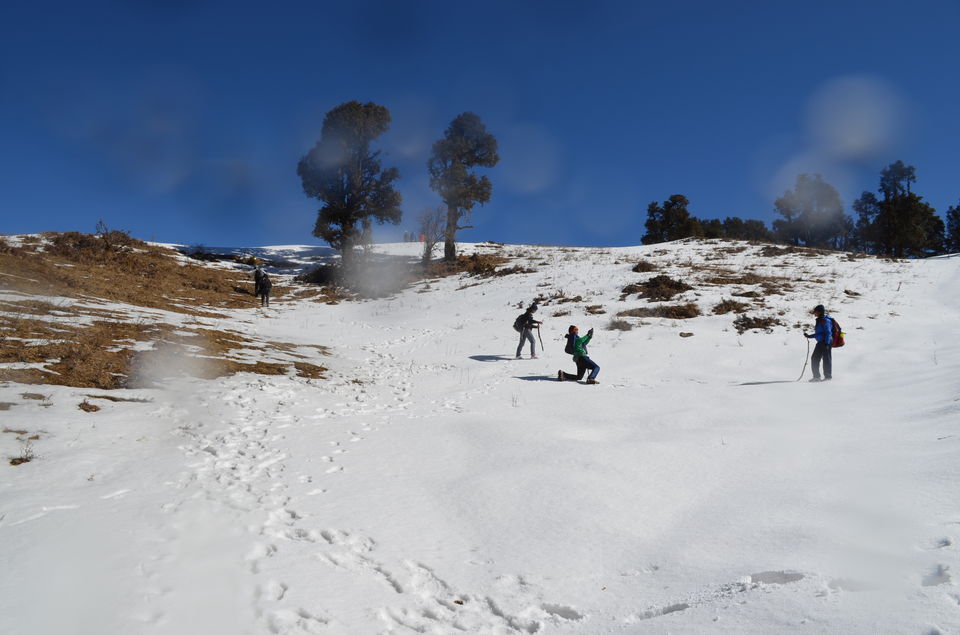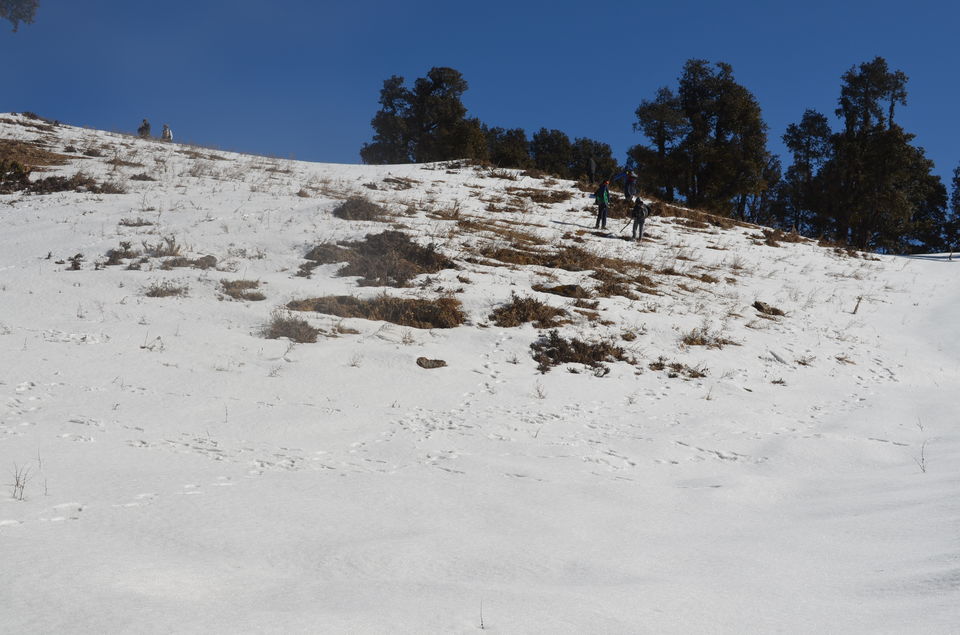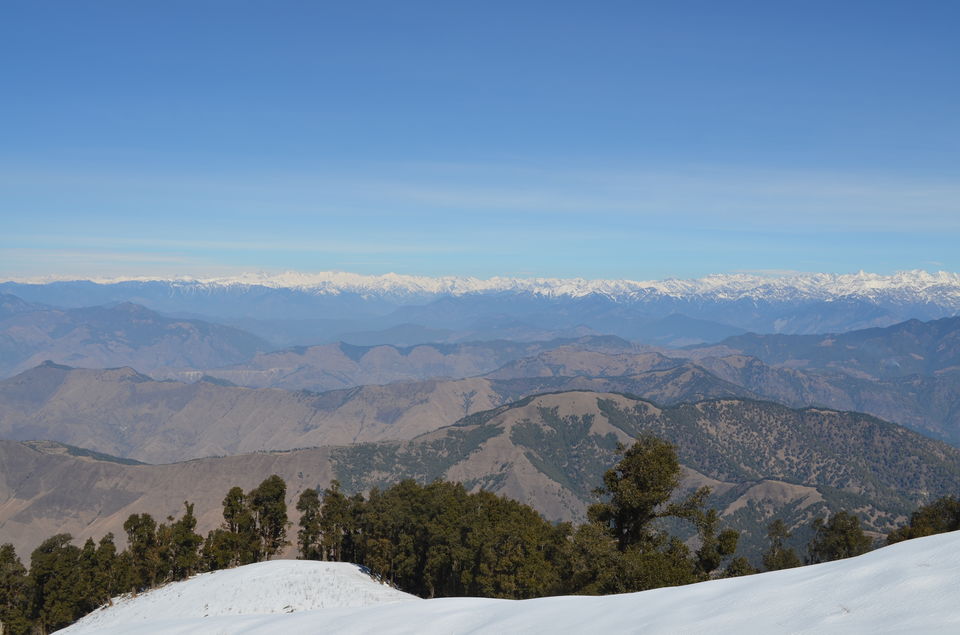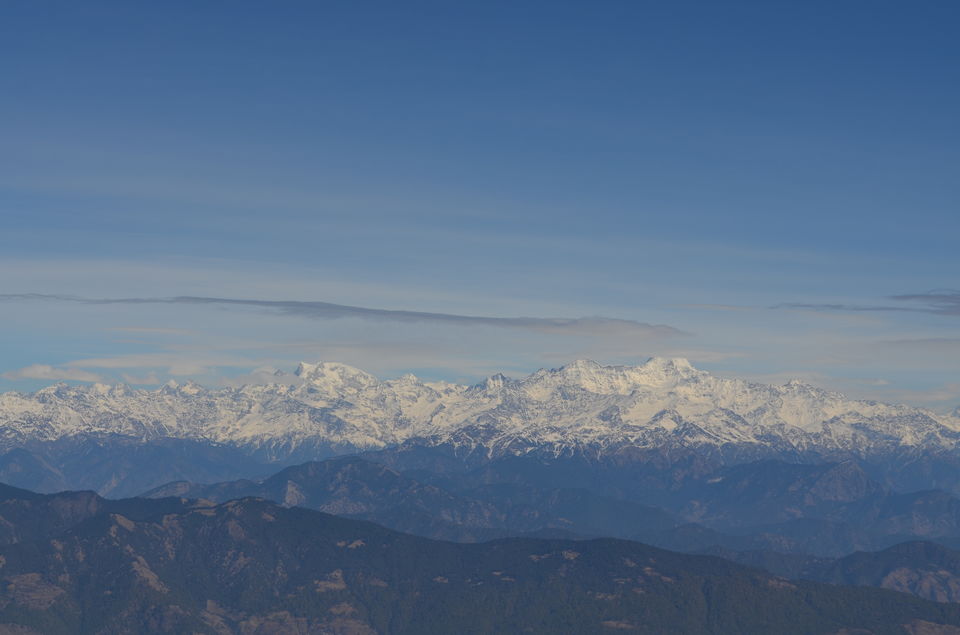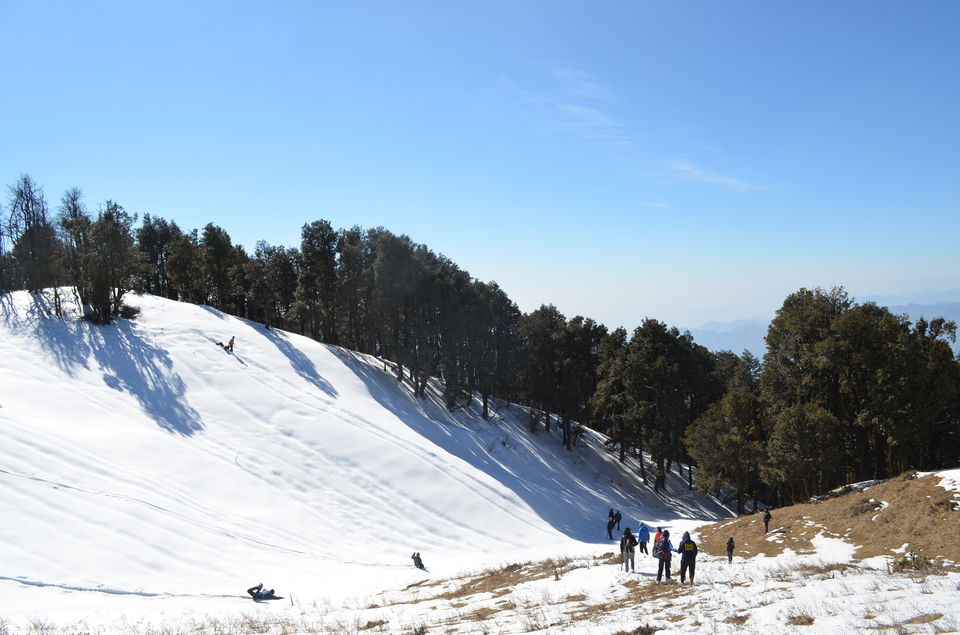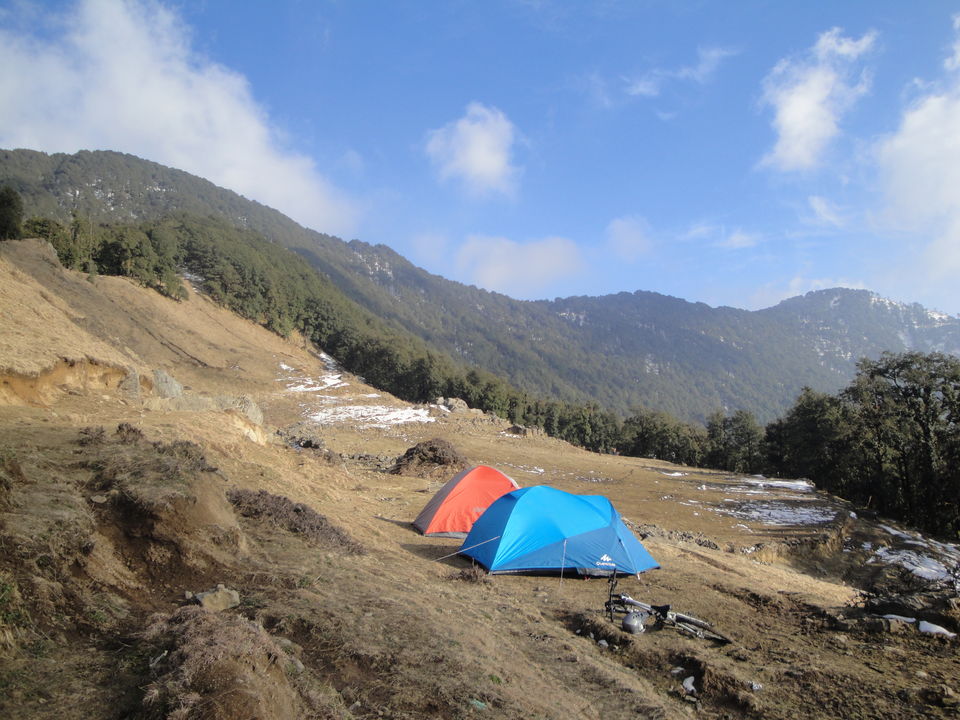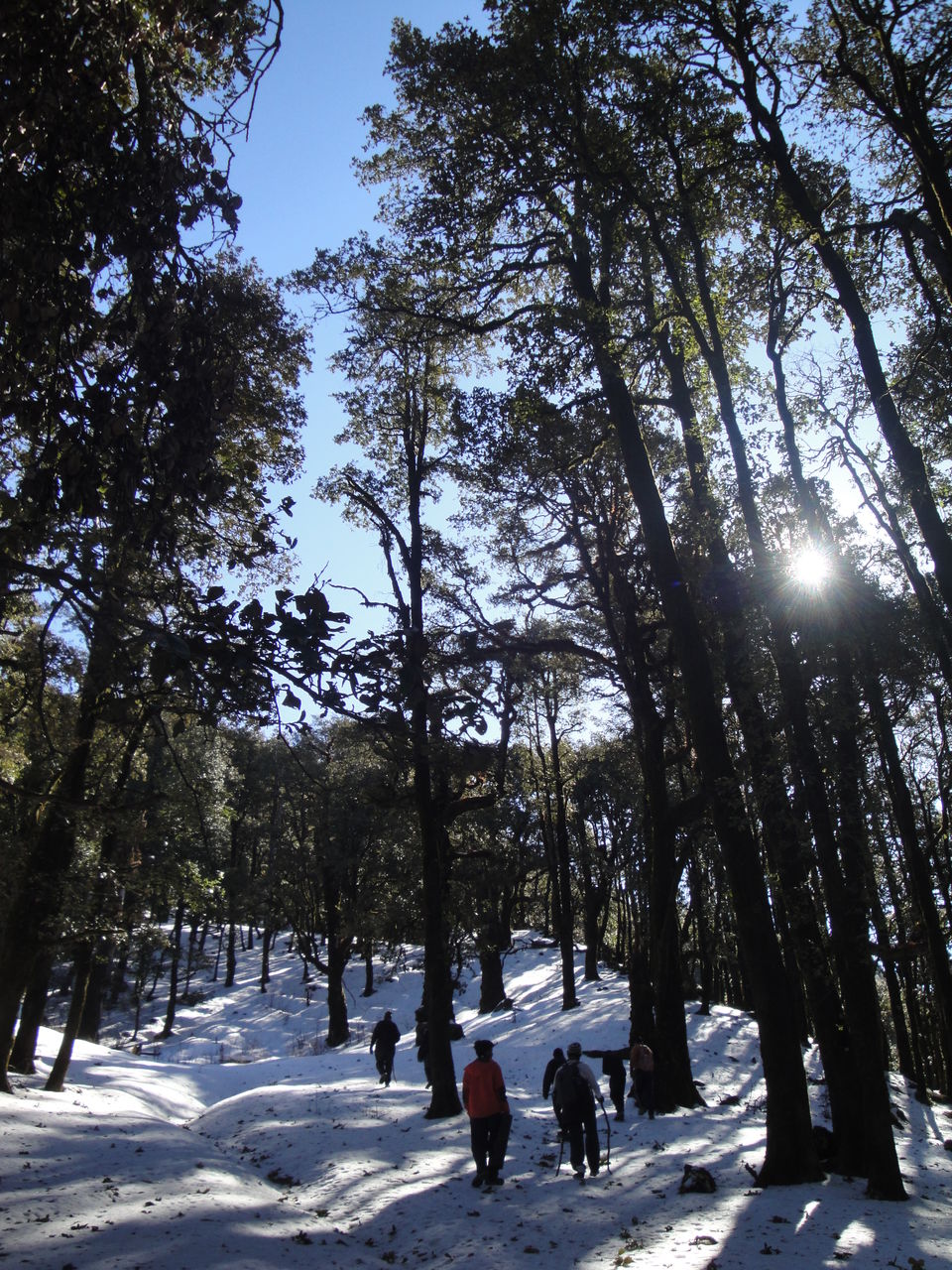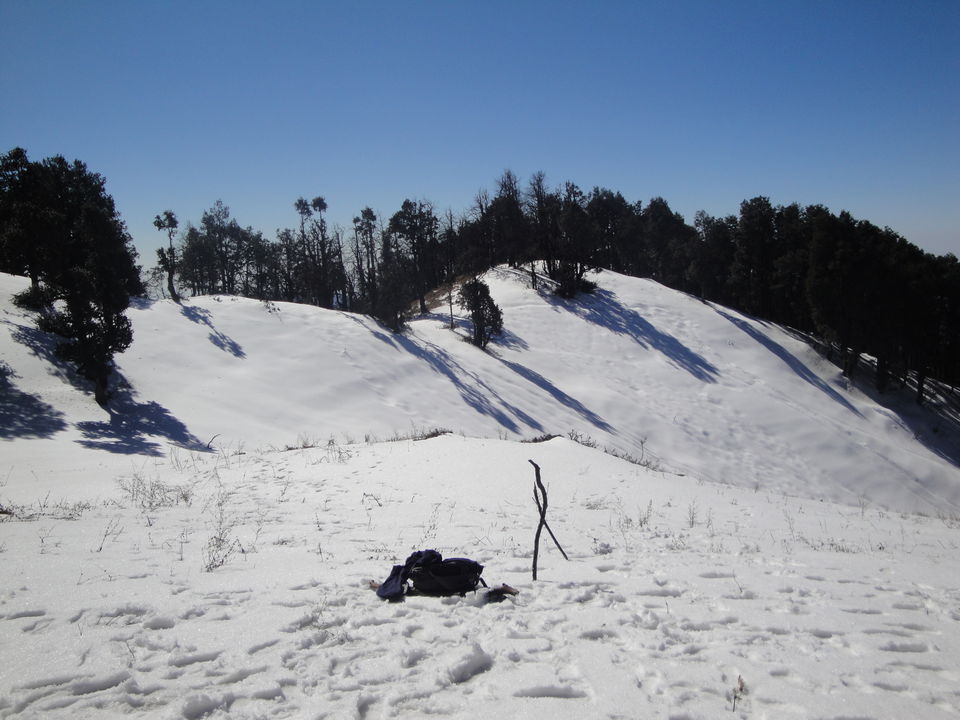 Nag Tibba was one unique experience which made me independent all over again. At that point in my life; I was lost, confused and a little clueless and wanted to get away from familiar faces in an attempt to find solace before my upcoming birthday, which was four days later (fortunately on a Sunday). I wanted to visit a place which would ensure no cell phone network or internet connectivity. I explored some weekend getaway options and Nag Tibba was the only one which was a three day trek. Rest were either too long or just a single day trek. When I did another round of search for views and terrain; I had struck gold. I knew that very instant that I had to be there. I joined an online group of 6 trekkers originating from Delhi.
I packed my bag in a jiffy and stuffed some essentials and woolens and marched out of my house. We reached Dehradun the next morning and moved about 100 km onwards to Pantwari village, which is the foot of the trek. After having breakfast on the route from Mussorie to Pantwari, we started the trek from Pantwari to the base of Nag Tibba summit. We hired a guide and a porter to carry the camping gear and cooking supplies on a mule. The trail started with a rocky pathway from the village to the hill the lied above. There were a few kuccha roads connecting few more villages, which we passed by, on way. The ascent was gradual and we encountered a lot of locals with their mules carrying supplies. Glimpses of the Dhauladhar range were an inspiration enough to scale the high hills.
The route that followed was a steep and rocky route, gradually moving from uphill, from one hill to the next and many more. Facing loss of breath, I questioned myself whether this is what I should have been doing where I could just have been drinking and partying like most other people my age. The initial enthusiasm of capturing every possible view gradually decelerated as the fellow trekkers also got tired; given how steep the first leg of the trek was. It didn't seem so much a trek at the moment as it seemed like a hike. But since most of the co-trekkers were also first timers, we supported each other with jokes, stories, support and the much needed strength. We struggled along the ascent, halted for lunch near a flowing stream and saw a flock of vultures in the sky. It was quite a sight! Spotting a bird other than a pigeon or crow is a rare privilege that a Delhite witnesses in Delhi. We rested for a bit but before we would start lazing around, we decided to dust ourselves and march forth towards the Nag Tibba base camp. The terrain was steeper, rocks were larger and to add it, there were wet patches along the trail (apparently from the melted snow). We struggled to balance ourselves on our feet; few people tripped, few slipped; but we eventually moved past this zone. Hardly a few minutes later, my eyes twinkled like a firefly noticing the ground that lay ahead covered in huge sheets of snow. There we were hardly 500m away from our base camp site. All the pain, the bruises, the tiredness vanished in the fraction of a second. It was hardly 4 PM and realizing that we were going to camp here and spend the entire evening and night here was such a thrill. The photo-sessions and the playing with snow sessions started and before we realized our crew managed to get Maggi, tea and some super-hot snacks ready for us. Bunch of stools were laid out for us, and we had our refreshments on a snow-top hill with an endless view of snow covered peaks. It was such an adrenaline rush that we didn't even realise that we had been hiking from 9 AM to 4 PM. We helped get our tents and sleeping bags fixed; then undertook some height gaining exercises and roamed around the scalable locations near the base camp.
Within no time the sun started setting and it started getting windy; the sunset was particularly short and the sunset brought along a startling drop in the mercury level. Thankfully, the bonfire was in place by then and we swarmed around it like a bunch of bees around a daisy. Given how chilly the wind was it was a mammoth task to keep the bonfire lit. The way our bodies are designed to start singing Hindi songs as soon as a group of people surrounds a bonfire is unbelievable. It is like a completely natural and instantaneous reflex; and quite incredible too. There are some must-to-be-sung songs, some old songs, some annoying songs and some group songs. It's amazing how clear the skies are at altitudes and how mesmerizing stars and constellations look. We spotted the North Star, Orion constellation and several other constellations, names of which we could not recollect. That was priceless!! We hogged on the mouth-watering dinner and promptly departed to our tents to hide in our cozy sleeping bags. The action-packed day and the delicious food assured a peaceful sleep and we were oblivious to the freezing temperatures and icy winds.
It was the morning which was brutally cold. Especially that first encounter with chilled water while brushing the teeth which left my jaws completely numb. Icing on the cake were the frozen winds. But within no time the distant sky started showing golden hues and it was a relief to know that the sun would be up anytime. After a quick breakfast, winding up our tents and packing lunch; we kept moving on. The trail that lay ahead was completely captivating. Every inch of every frame that lay ahead was worth capturing. There was snow till the eyes could see, all the way up to the horizon. The flatter trail on the second day made it easier to enjoy the magical landscapes. The ascent was now towards the Nag Tibba summit. As we approached near, the vastness and the scale of the mountains started to dominate and it was quite overwhelming.
By now, our bodies had got acclimatized, stamina built and the terrain had started looking completely fascinating. After hiking for a couple of hours in snow, we made it to the Nag Tibba summit. The sight that followed was completely overpowering anything that I had ever seen. The vastness was phenomenal and I was in complete awe of my surroundings. I chucked my backpack on the snow and just lay down gazing at the clear blue sky and try to sink in the astonishing views I was witnessing. Some people started sliding in the snow while others resorted to playing and throwing snowballs at each other. We just couldn't get enough of the spectacular peak and realizing that we had scaled it all along its height was a completely different high. Finally we had our lunch and after resting for some time, gazing endlessly, clicking infinite number of pictures; we began our return journey to the Nag Tibba base camp. This was the time when craziness overpowered everyone. Every single one of us slided down, wherever possible to the extent possible making the descent completely amusing and taking us back to our childhood days. Only to realise later that most of our clothes had become wet, thanks to the sliding and cuddling with snow for such a long time! Within no time, we were back to our base camp. We tried to think of ways to dry our clothes, our shoes, our socks and what not. The sun had set and again the bonfire was accompanied by Bollywood songs and star-spotting. This being the second consecutive night at the activity, we were behaving like pros! Is that Venus? Is that Milky Way? Is that Mars? It was a lot of fun. Dinner followed and we retired to our camps.
The next morning we quickly packed and started our descent. This was the longest trek of the entire trip; but knowing that we were moving downhill made our journey easier. The path was rocky but less steep than the first day. We were out of the snow laden zone and there were towering birch and pine trees all along the route. Usually the Nag Tibba trek is done over two days but we decided to take a longer route and descent from a route different than the one we took for our ascent. The last day didn't tire any of us; more so because no one was keen on going back and ending the journey. After a lunch break and millions of clicks later we reached Auntar village. We moved forth to Dehradun, had dinner and headed towards Delhi.
The journey was thrilling, the locations were serene and breathtaking and the co-travellers an incredible bunch of people which made the journey completely lively and satisfying.
When I decided to undertake the Nag Tibba trek, I wanted to disappear and get lost in nowhere; but when it ended I ended up finding myself, exploring a new side of mine.