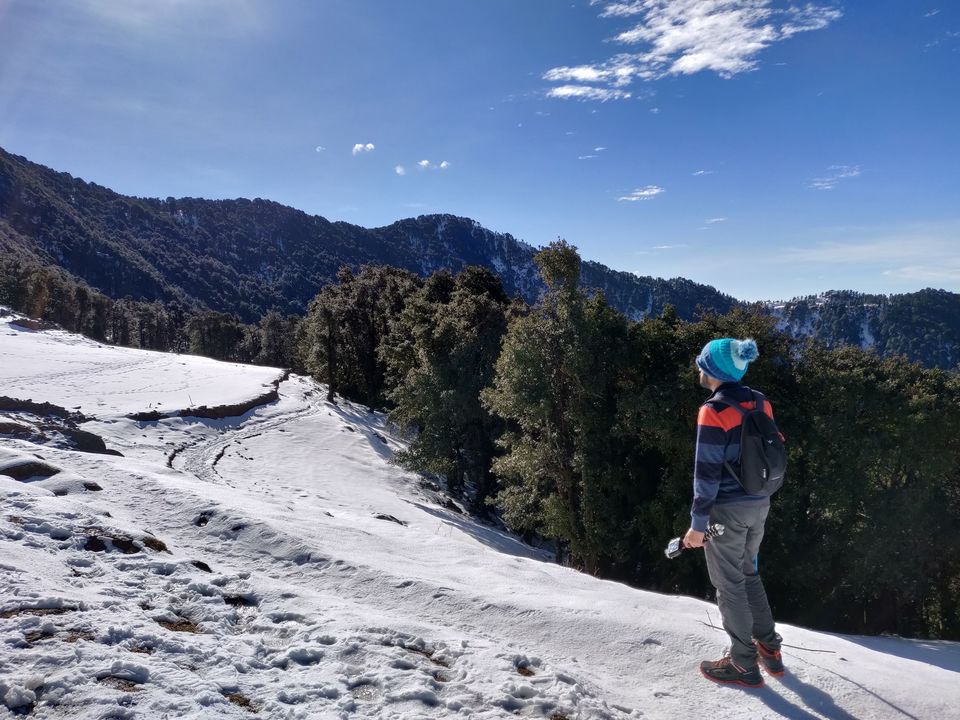 Just imagine this itinerary:
Day 1: 9 hours drive + 5 km trekking
Day 2: 15 km trekking + 9 hours drive back home
Sounds crazy? This is how our first trekking turned out to be.
We wanted to start our trekking journey with an easy trek. So, we chose Nag Tibba.
Trek for Nag Tibba starts from Pantwari which is about 3.5 hours from Dehradun. Generally, you would take a bus or train to Dehradun and then reach Pantwari from there by road.
But, we thought why not drive from Delhi? We could reach in 8 hours if we left early and avoid Delhi traffic. And most importantly we would get to drive in the mountains! The plan was to start at around 4 AM, so as to reach Pantwari by 12 - 1 PM.
Unfortunately, I could not sleep at all that night. At around 3 AM I woke up my wife and asked her we should leave now. We can reach the Base Camp early and rest there. By the time we left it was around 4.45 AM (late again).
Anyway, so our journey started. Our car broke down on midway (loose tyre) somewhere on Upper Ganga Canal Road. Sleep also created issues and Google Maps had mind of it's own. But, when the Uttarakhand roads came and it was magical. Driving alongside Yamuna River, on smooth roads covered with lush green forests, and among the grandeur of the Himalayas - it turned out to be the most beautiful road trip we had till date. We stopped again and again to appreciate the mesmerising views along the road.
At around 1.30 PM, we reached Pantwari. Our guide was waiting for us. We had some breakfast and then our trek began.
It wasn't easy, especially when carrying your luggage. The climb was quite steep and the trail was all stony. Every now and then we were taking some rest and drinking water. Luckily our guide was quite a talker and kept us engaged throughout the trek.
As we climbed, the views kept getting better and better. The air was cool and sun was warm - which was helping in relaxing ourselves. We kept pushing ourselves to go little more. First checkpoint was a water point where we refilled our bottles. There we also met other members of our group which gave us little confidence - we were at a decent pace.
Around 5 PM we finally reached our basecamp. And, the place where they had set it up was just perfect.
Basecamps had been shifted little south because of constant snowfall this winter. Generally they would be about 1-2 km more north. It was good for the first day - but it also meant we had to cover more distance on Day 2.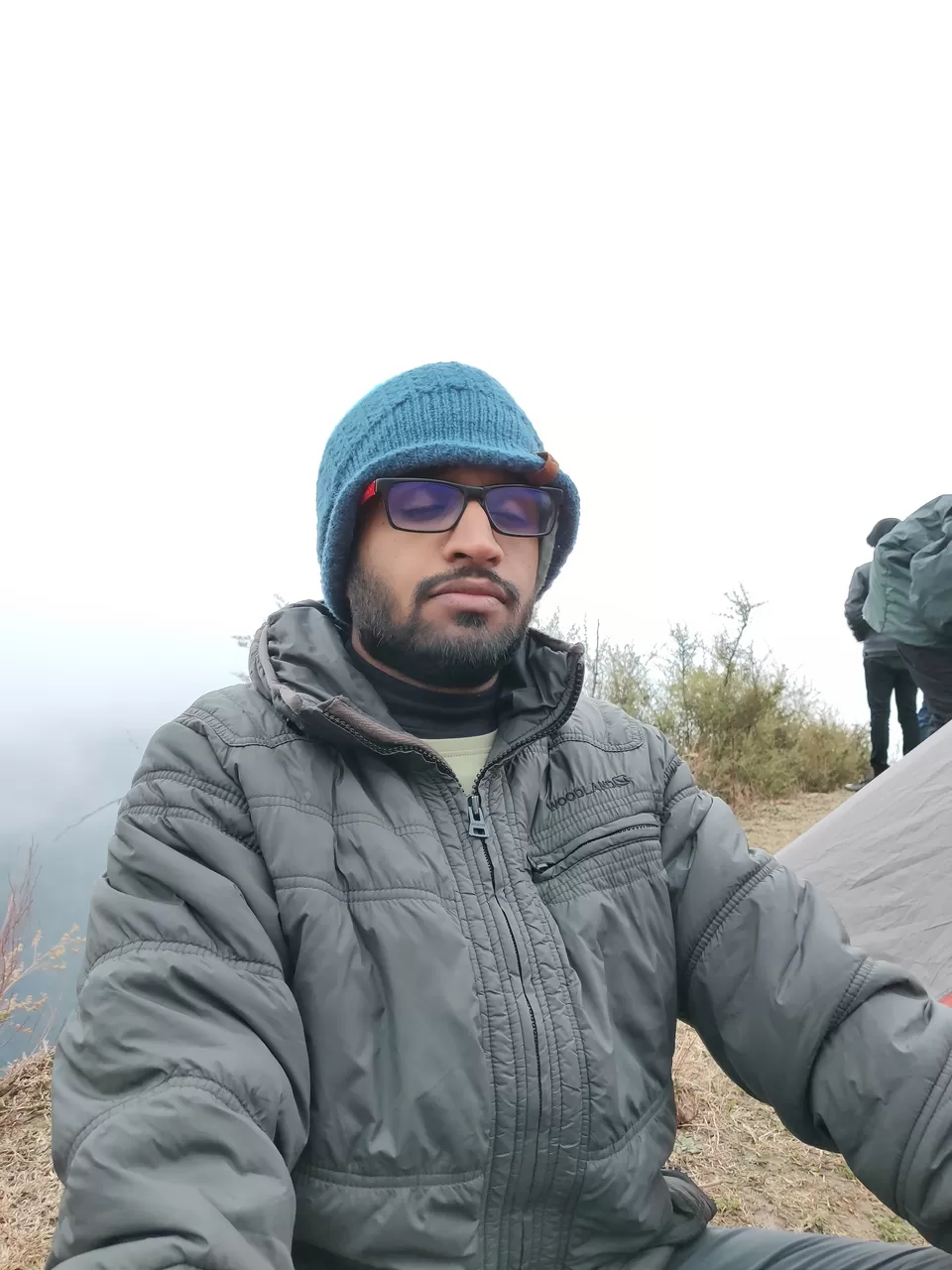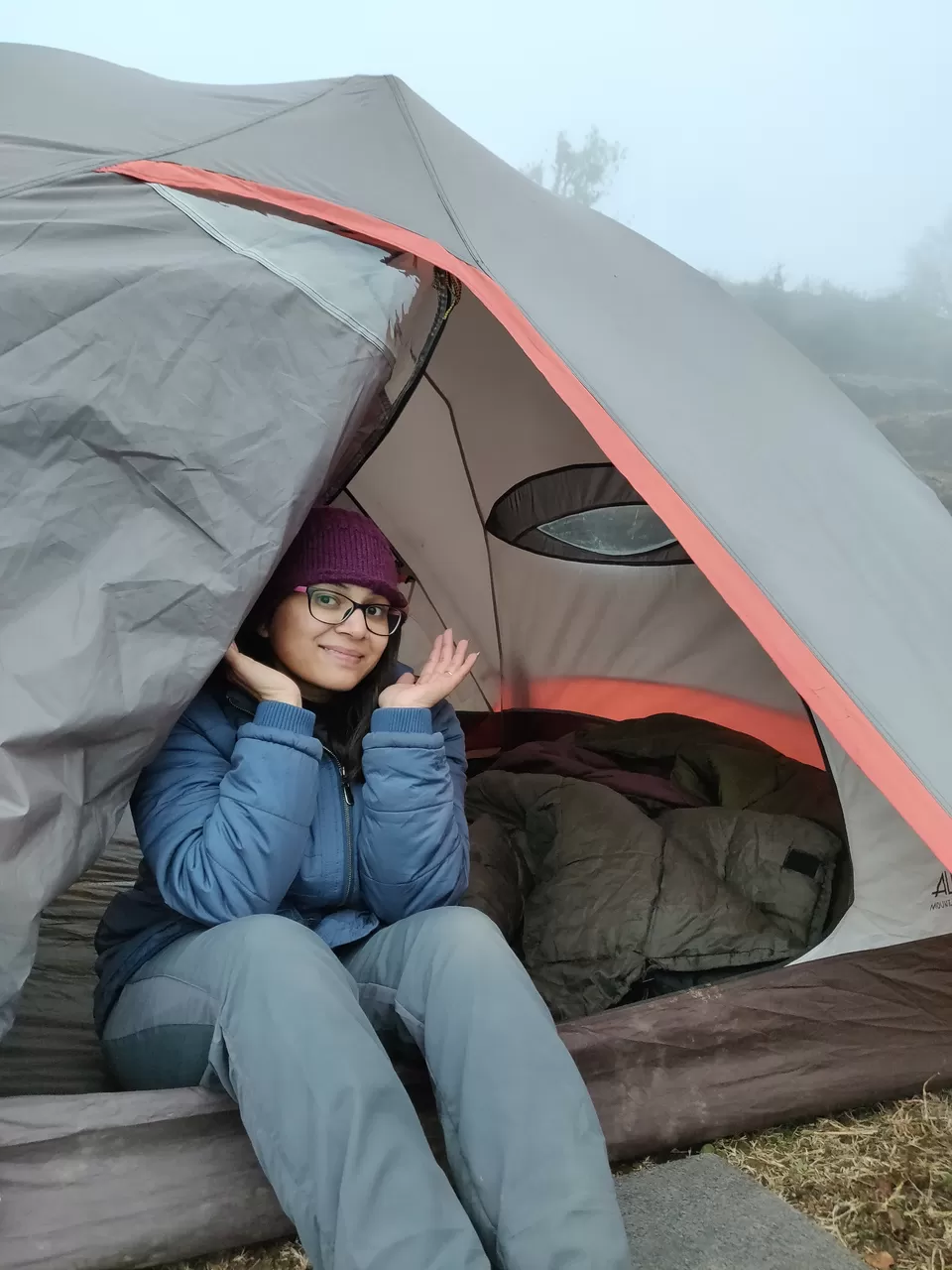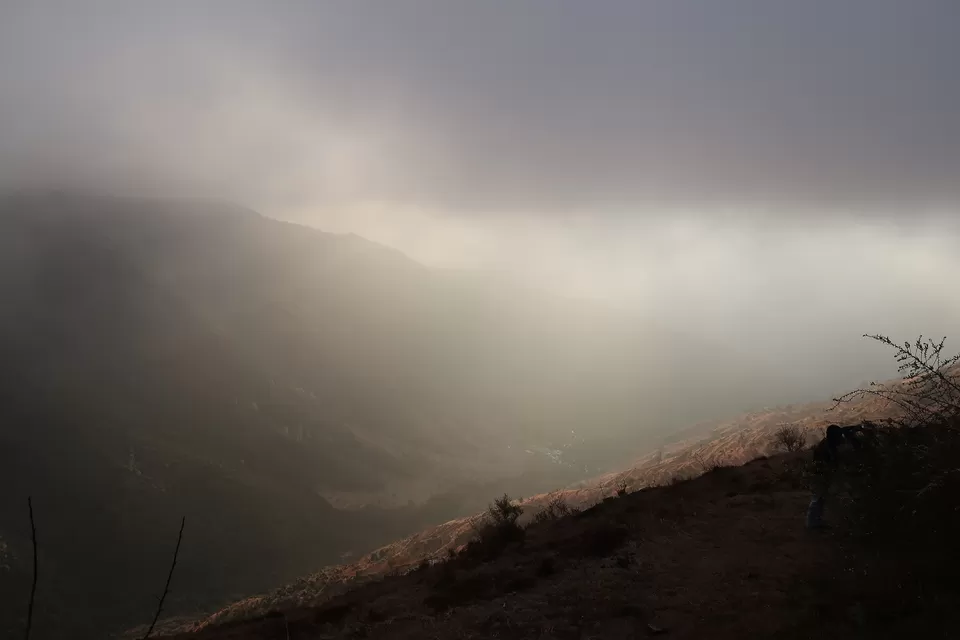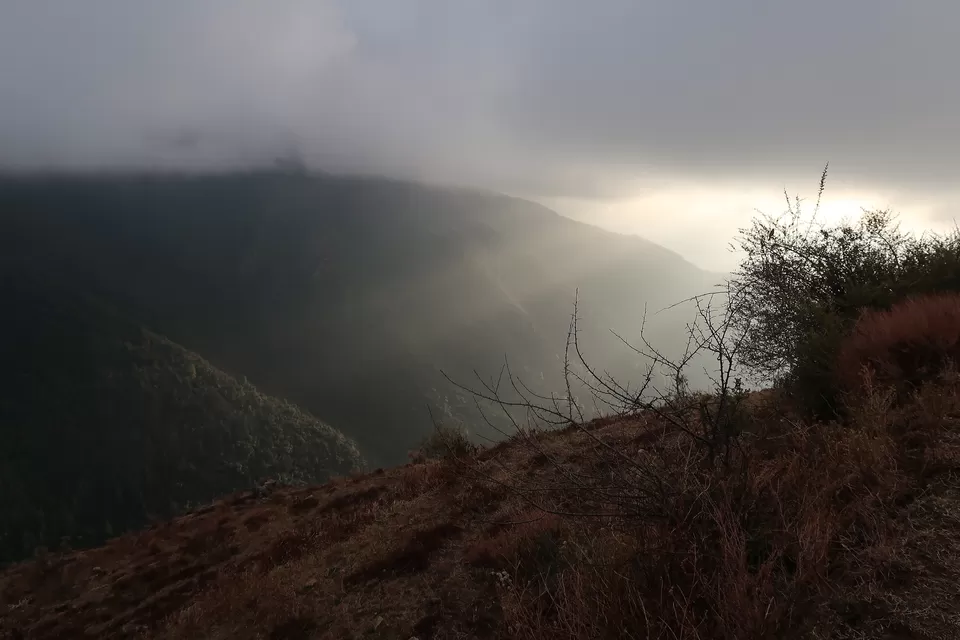 The arrangement and camp facilities were good. We got chai and pakoras at around 6 PM (a perfect combination in the cold weather). Then, warm soup and pop-corns later after sunset and dinner later at around 9 PM.
There was also campfire organised which gave us some relief from the cold and a chance to get in touch with other trekkers in our group.
We went to sleep at around 9.30. The plan was to start our trek to the summit at 6 AM.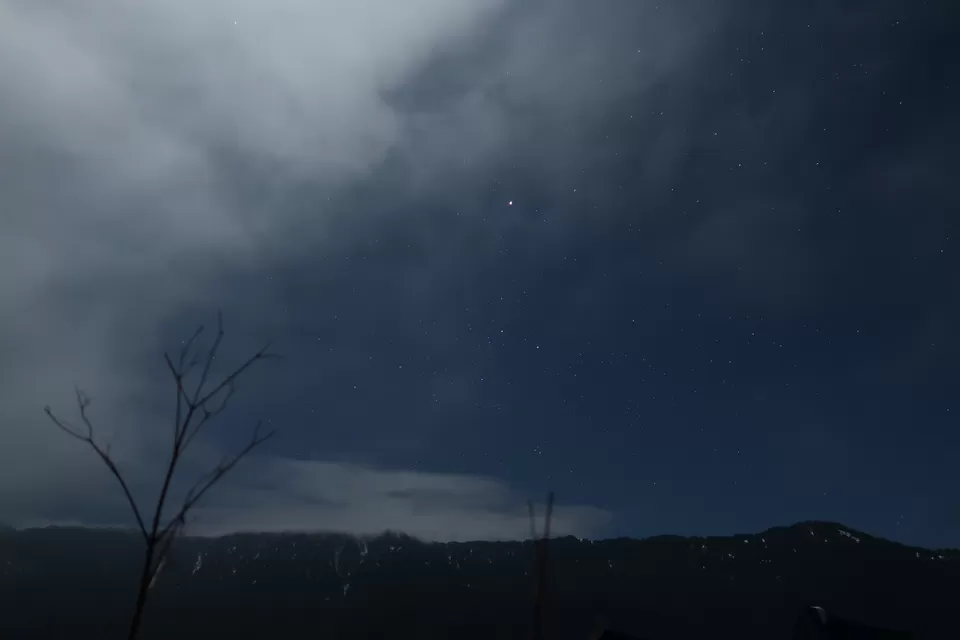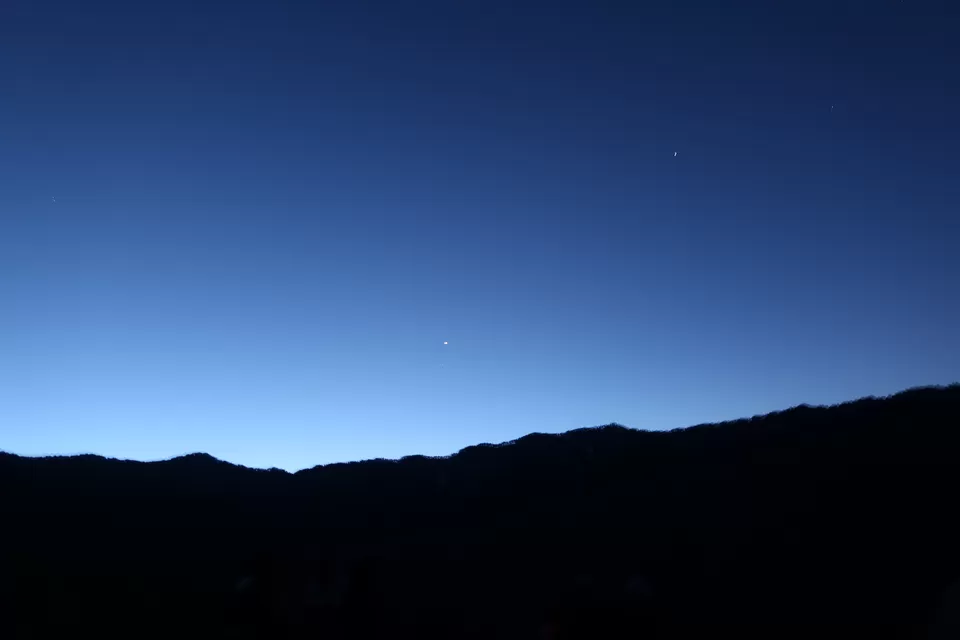 That night temperature went to -5 °C. As we would realise later, it was because of snowfall around the summit which resulted in this easy trek turning out to be a lot difficult.
Our plan was to start trek at around 6 AM, but we got late and started at around 7 AM.
The trek was turning out to be easier than yesterday - mostly because we weren't carrying that much weight - only water bottles and camera equipment.
Initially, the trek was through a thick forest. The silence of the forest was hypnotic. Slowly, and the sun rose, the light came filtered through the trees and what a view it was.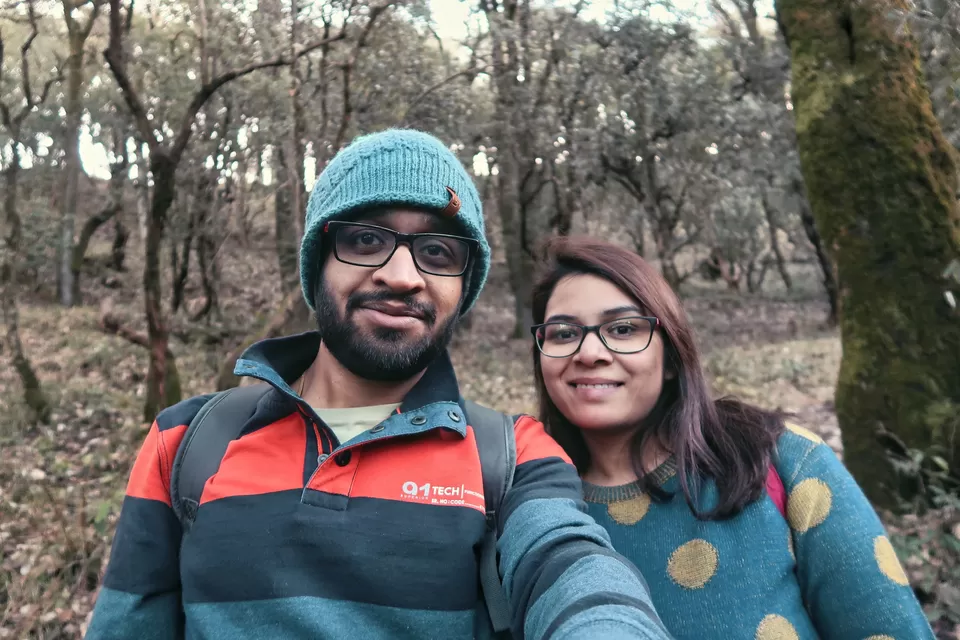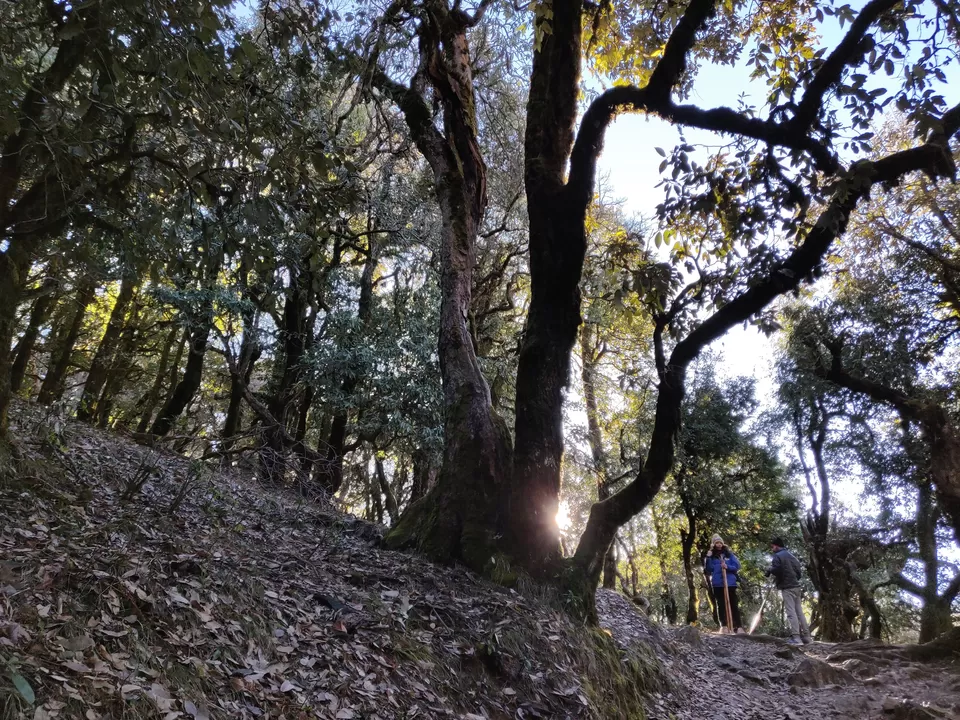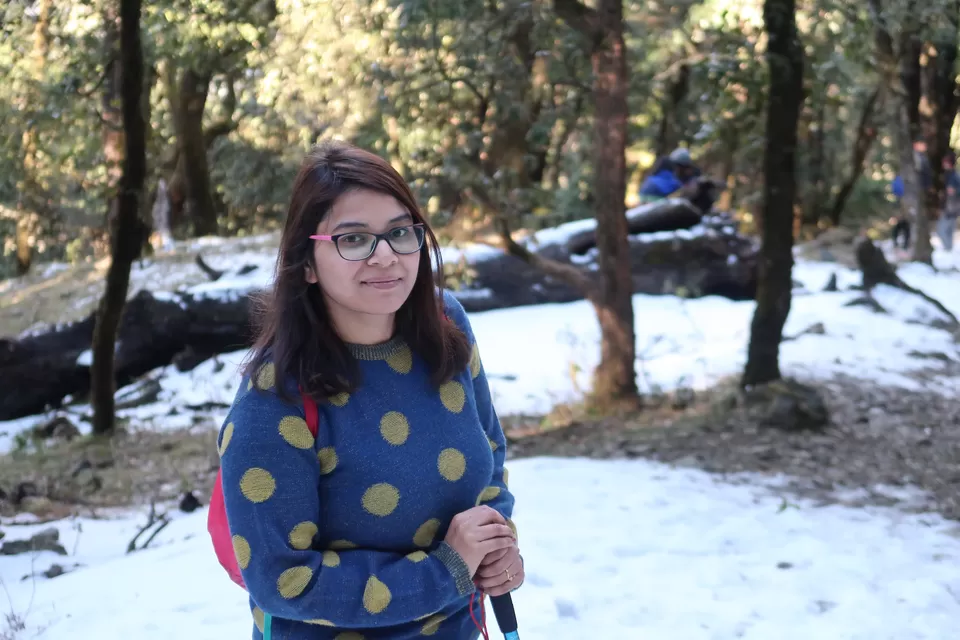 Gradually the snow started to appear. It was our first time seeing the snow. We were simply excited. Sometime later the land became fully covered in snow and the group stopped there to play in the snow. We were children again for some time. But, it didn't take us long to realise that the snow was going to make the trek really difficult.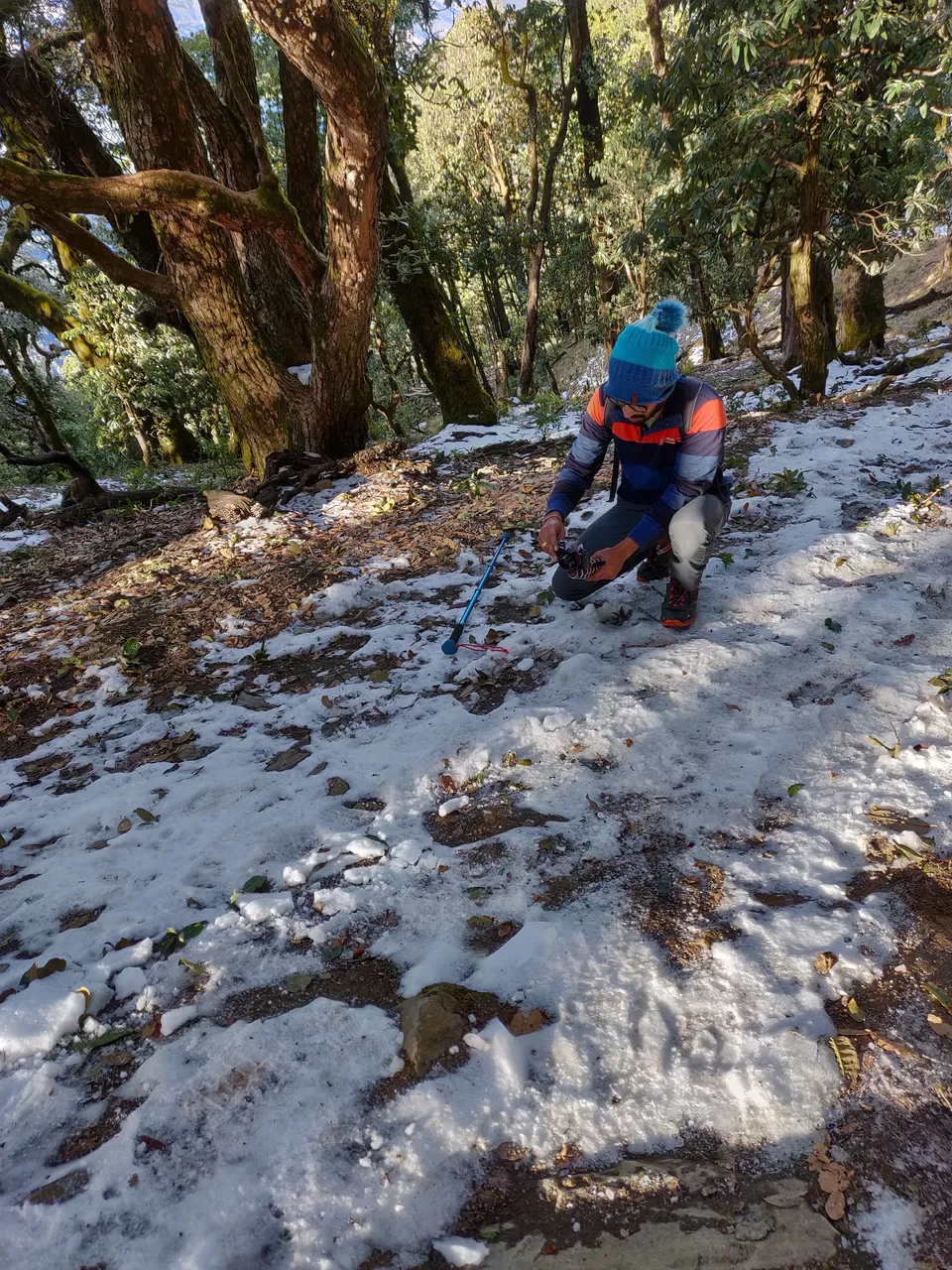 At one point, the path divides between the summit and the Nag-Tibba temple. We were going for the summit first.
As we climbed, the snow kept getting deeper and deeper. It was becoming really difficult to climb now. Since such snow is generally not expected in this trek, we didn't have spikes for our shoes (which would have helped a lot). Our hands had started freezing. Our shoes were all wet and frozen. Our energy had depleted. However, our guide kept pushing us. He was constantly motivating us and helping those who had fallen behind.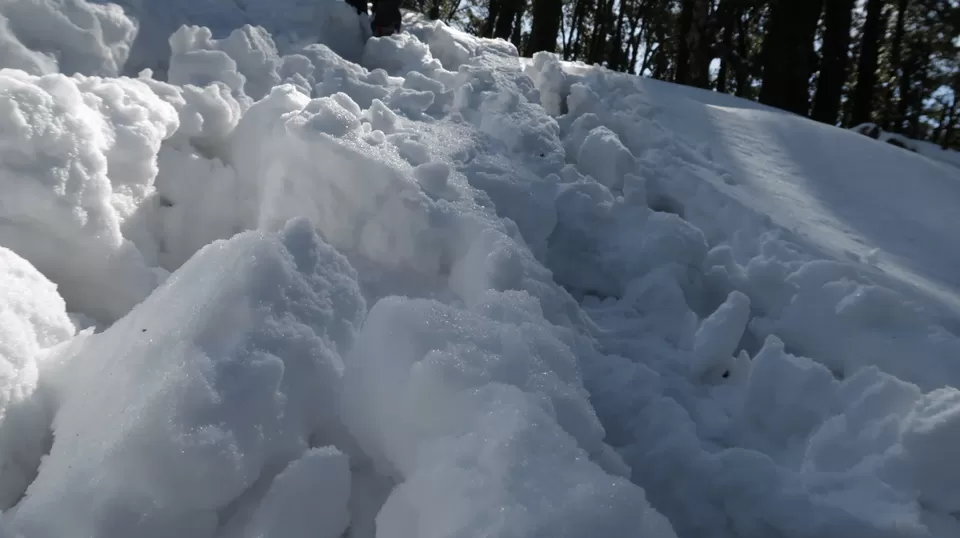 "How's the josh? High sir!" this was what we kept shouting whenever we felt demotivated. It had some kind of magical effect - helped us push ourselves.
On our way, we met some people from other trekking groups who said we wouldn't be able to make it to the summit as the snow is too deep. At some points, it was almost 3 feet deep. It was a little demotivating but we had promised ourselves that we would try our best to reach the summit.
The summit finally became visible. It was just a matter of time when we would be at the top. And, when we finally reached the peak - we were dumbstruck by the view. It was the first time we realised how it felt to be at the top of a mountain. We were at top of the world! We could see Nanda-Devi, Kedarnath, Badrinath and Thalay Sagar peaks from there. In the end, it was all worth the effort!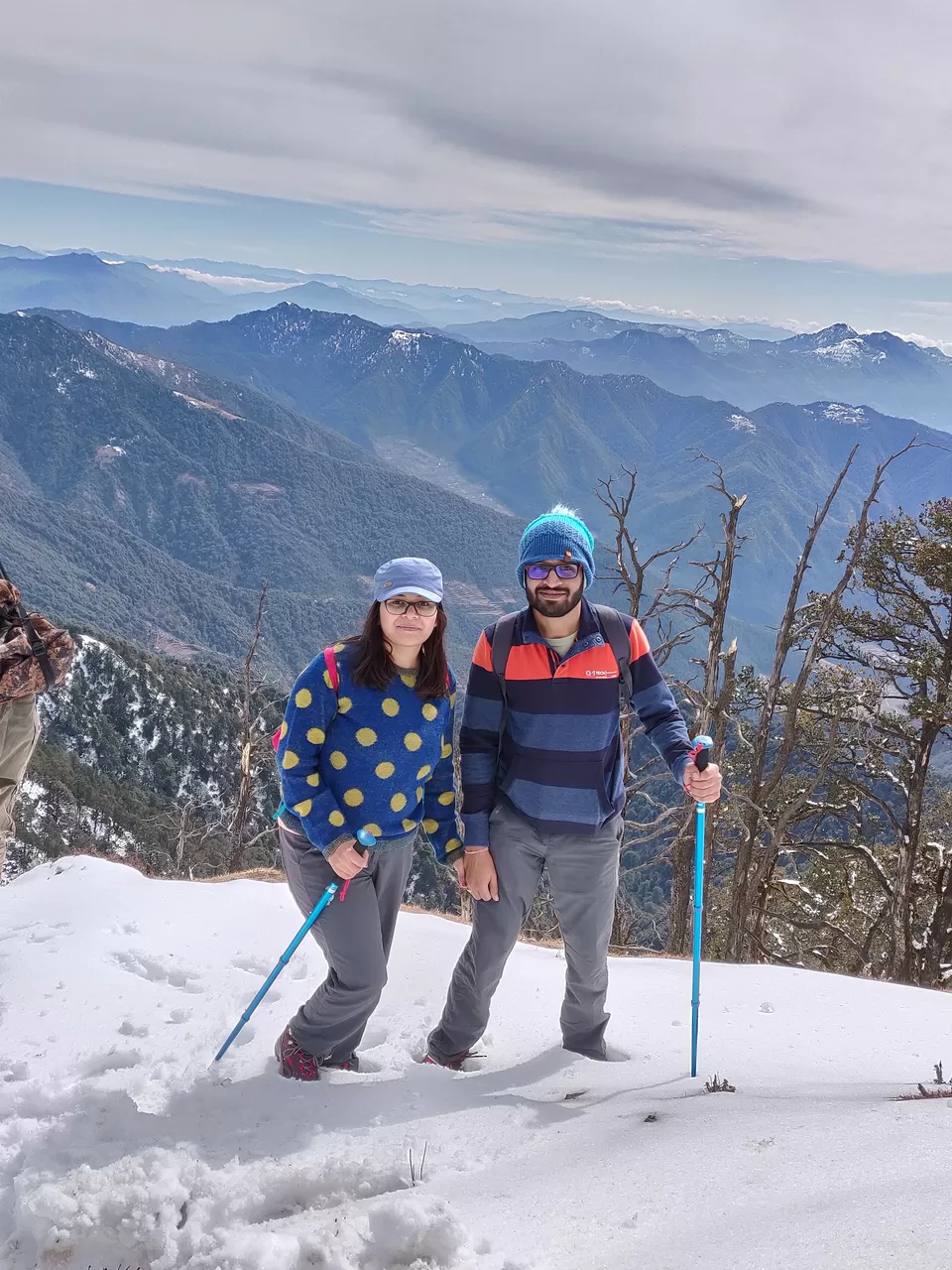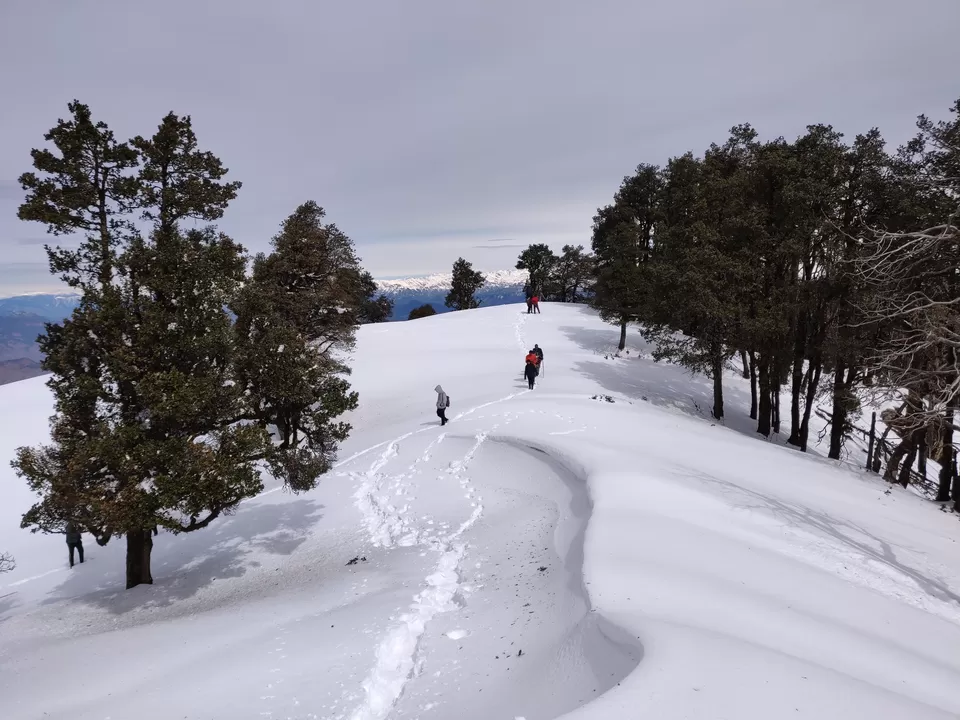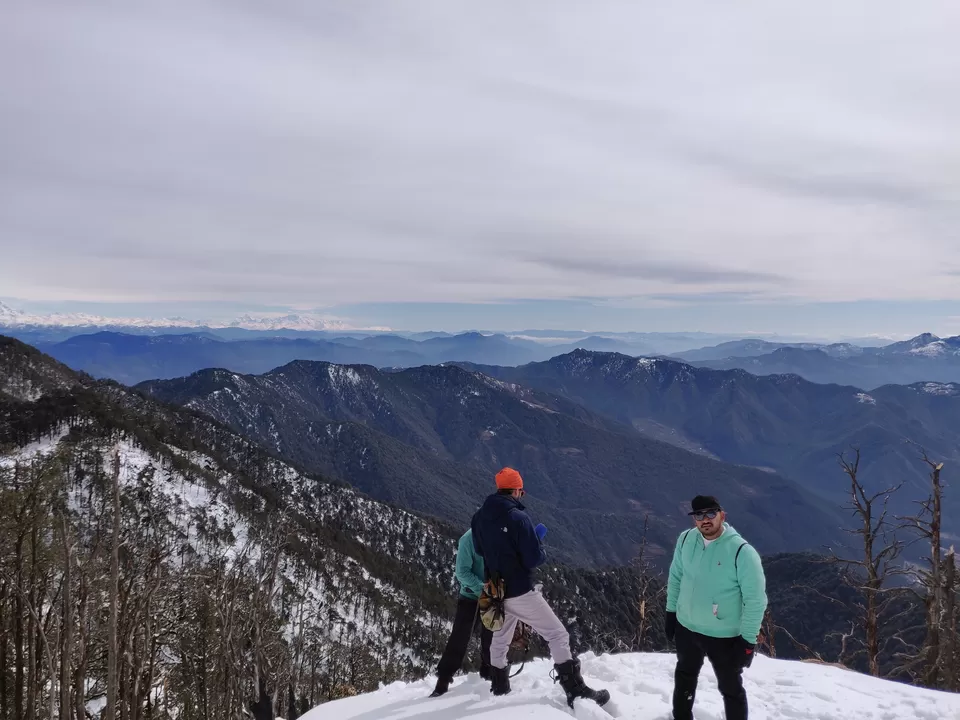 "The best view comes after the hardest climb!"
After spending around 20 mins at the peak, we started our journey back to basecamp. For the first time in our life, coming down proved to be more difficult than going up. Going down, our shoes started slipping and we were falling every now and then. Our hands had literally frozen and swelled.
After some time, we had stopped feeling anything and we were just going on our own. After almost 4-5 hours of the climb down we reached basecamp. We had a quick lunch at around 4 PM. The camp had been packed up and everyone was ready to go. We wanted to rest but time was clocking and we had to reach Pantwari as soon as possible. So, immediately after having lunch we left for Pantwari.
Our feet were paining like hell but we kept pushing ourselves. Around 6.30 PM we reached Pantwari. We had successfully completed 15 km trek in one day!!
Now was the big questions - what should be done to reach back home? We surely did not want to stay in Pantwari. So, we decided to at least try to reach Dehradun and decide what to do. We could stay overnight in Dehradun or somehow push ourselves to reach Gurgaon.
I put some Iodex on my feet, drank a RedBull and started driving to Dehradun. After about 3.5 hours we reached Dehradun. We stopped at a cafe to take some rest and decide what to do.
Searching for hotel and settling there would take around 1 - 1.5 hours. In that, we could cover a good amount of distance. I was well awake because of RedBull and the coffee we had at the cafe. So, we decided to continue our journey.
We reached Gurgaon at around 4.30 AM. I was happy that I was able to complete the journey, but I wanted to sleep now! Went straight to bed and fell dead asleep.
Vlogs
We compiled our experience into two videos. Looking forward to your feedback on these. Don't forget to subscribe and not miss any of our trips!