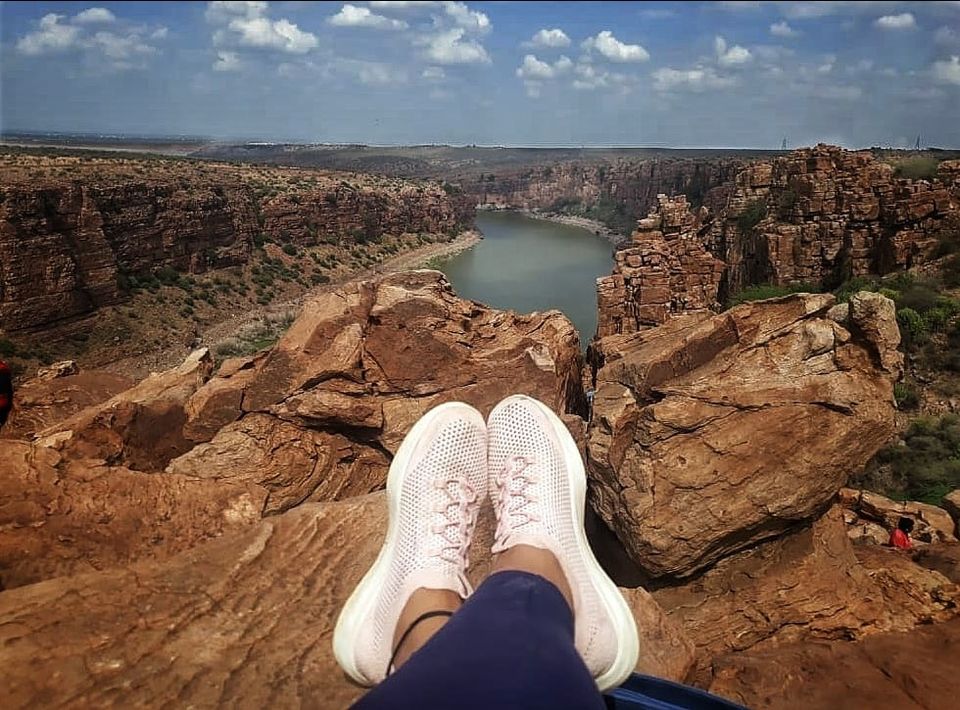 Gandikota was on my bucket list from 3yrs but the hot and humid climate with limited facilities was stopping me from this trip. Finally in July I planned this trip along with my another travel partner whom I happen to meet in Hampi trip. The trip was very rough one which included travelling in local buses, eating street side food in a rural village and staying with basic amenities but the clicks of canyon has always fascinated me and I believe where there is a will there is a way. You can survive if you are determined to soothe your eyes with the amazing view of Grand Canyon of India.
Gandikota is not only only about canyon on Penne river, it also has a ruins of fort which was once ruled by Peemasani Nayaks for over 200years. The Gandikota fort acquires its name due to the gorge, in telugu its 'Gandi'. There is a tiny village inside and few residents staying and selling drinks and food.
Day 0
Friday night we took apsrtc bus to Tadipatri from Bangalore(Hebbal), which is the nearest village for both the sites. The only option was a non -ac semi sleeper govt bus, with brave hearts we boarded the bus and enmarked on our journey. The desire to see the place kept away the worry from me and I was on my one of the rough and tough trip of my life.
Day 1
It was 5am when we arrived at Tadipatri, took an auto to reach our lodge. We slept for some time before starting for the sites. After getting ready we started to look for some decent place for breakfast that is when we understand that the place is still 10years back, we could only see some street side vendors. After walking for a while we found a small shop for tiffin items, the owner understands hindi and helped us by giving information on bus routes. At bus stand few tourist who could speak telugu helped us to board the rite bus, the bus journey reminded me of scene from Swades movie, after an hour journey we reached belum caves. The bus dropped us at the entry gate, the sun was scorching hot on our head. After entering the premises, you see a large buddha statue on the right, we bought the tickets and entered the cave.
Belum caves are second largest in India after Krem Liat pray of Meghalaya, the caves are formed by constant flow of underground water. Of total 3.5km only 1.5km is accessible to visitors. There are evidence which show that cave was occupied by Jain and Buddhist monk. The cave consist of many structures carved naturally out of black limestone. It took an hour for us to explore the cave, there was stream of fresh water flowing inside. We were sweating profusely owing to high humidity inside the cave. The place got drinking water and clean toilets. Also had a conversation with a local, you was amazed to see two girls travelling so far to see this place, after answering his question as we understood as he speaks telugu and we were speaking hindi and English to make him understand, we refilled our bottles and headed to bus stop to catch bus for gandikota.
For reaching Gandikota, we have to catch bus for Jammalamadugu from Kolimigundla which was 4km from belum caves, we took an auto till there and waited at bus stop, again helped by locals to get into the right bus. When we reached Jammalamadugu, it was already 4pm, from here gandikota is another 15km and we need to start back for Tadipatri also and we could not get information for the last bus. We decided not to risk and return back to Tadipatri and come back next day. We didn't had our lunch till then, luckily we found a biryani restaurant. Post lunch we headed back to Tadipatri, finding dinner place was another challenge for us. We settled with some street side dosa and chutney and lemon sharbet as cheap as 5rs per glass. The food was yummy and fresh and gave a feeling of home made the way they treated us. We also discovered at the place still has internet café, 80% of the people doesn't use cell phone, hardly any house has dth. It was in real a village, the only employment there was stone cutting and cement factory. The area was dry and barren with farmers depending on monsoon.
Day 2
Next day we had breakfast at same place and started for Jammalamagudu, from there we took an auto to Gandikota. We got companion on the way and later on this people helped us with the bus to return from Gandikota. After reaching there we realized that the place is not only about canyons, there is a fort with temple, juma masjid, jail, granary, pigeon tower. After exploring all these places our last destination was Grand Canyon, for which we have travelled all the way from Bangalore. We climbed the red rocks to get a proper view of the canyon, it was mesmerizing view and worth the trouble travelling to this place. We just sat there for a while absorbing the place and started our return journey.
The village was celebrating rath yatra in nite, we had a glimpse of the rich cultural heritage of the town before we concluded our trip. This really added to our rural trip with a local festival.
Details on accommodation and travel tips:
We stayed at Kanchani lodge at Tadipatri which is just a km from bus stand, it has ac rooms with proper hygiene and courteous staff. You can book the lodge after reaching there, being a small town they are not well versed with online booking.(Don't book via Yatra, we got into trouble because of them)
If you are going with your own vehicle, start as early as 6am from bangalore, both the places can be covered in single day and you can return to Bangalore the same day.
Ananthpur is the nearest big town there, which has more option for food and hotels but I would recommend Tadipatri to get that village feel.
Carry enough water and also eatables and umbrella and sunscreen.
There is Haritha resort in Gandikota where you can also indulge in some adventure activities like rappelling and all.
Carry enough cash, the place is quiet cheap but you need to pay in cash only.
The people are helpful, despite the language barrier they will do their best to help you.