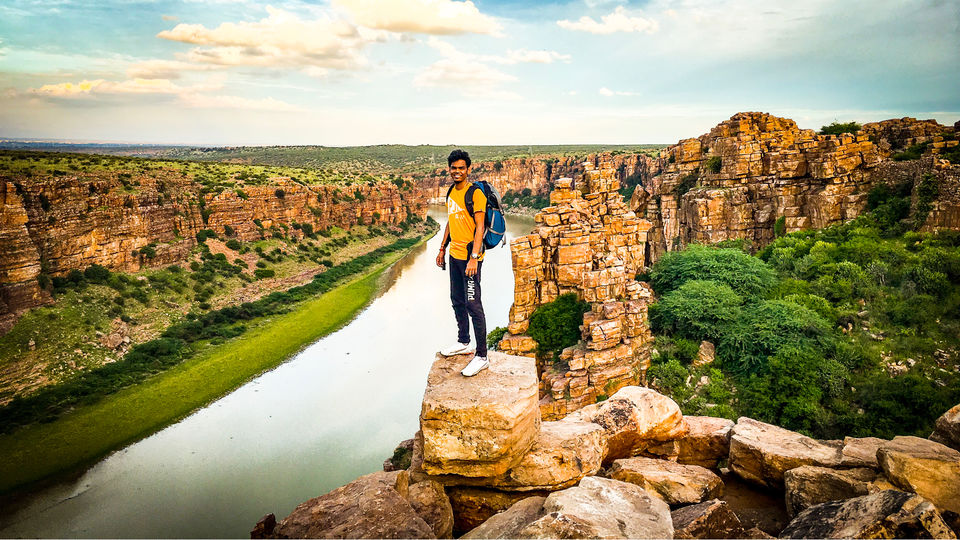 First things First.
How to reach Gandikota from Mumbai?
1. Catch Chennai Express from Dadar and reach 'Tadipatri' railway station - 16 hrs
2. Take an autorickshaw from Tadipatri railway station to Bus Depot - 10 min
3. Catch a bus till 'Jammalamadugu' - 2 hrs
4. Take a share auto or private auto till Gandikota - 20 mins
How to reach Belum Caves from Gandikota?
1. Catch a bus from Gandikota till Jammalamadugu (7am, 10am, 4pm and 6pm) or take a private auto if you are lucky enough - 20 mins
2. Again take a bus till 'Kolimigundla' - 1.5 hrs
3. Take a share auto till 'Belum Caves' - 10 mins
Overall Expense
1. Chennai Express to and fro - ₹930
2. Auto till Tadipatri bus depot - ₹10
3. Bus till Jammalamadugu - ₹48
4. Private auto till Gandikota - ₹100
5. Shared auto till Jammalamadugu - ₹20
6. Bus till Kolimigundla - ₹30
7. Shared auto till Belum Caves - ₹10
8. Bus till Tadipatri - ₹23
9. Entry fees at Belum caves - ₹65
10. Food - ₹500
11. Hotel - ₹250
12. Miscellaneous - ₹100
Total: ₹1986
This was long due in my bucket list. I was looking for the suitable month for this travel and mid September appeared to be one. Like old times, booked tickets from IRCTC and luckily got the eminent 'Chennai Express' for to and fro journey.
Next day we woke up to this beautiful landscape which made this journey even more interesting.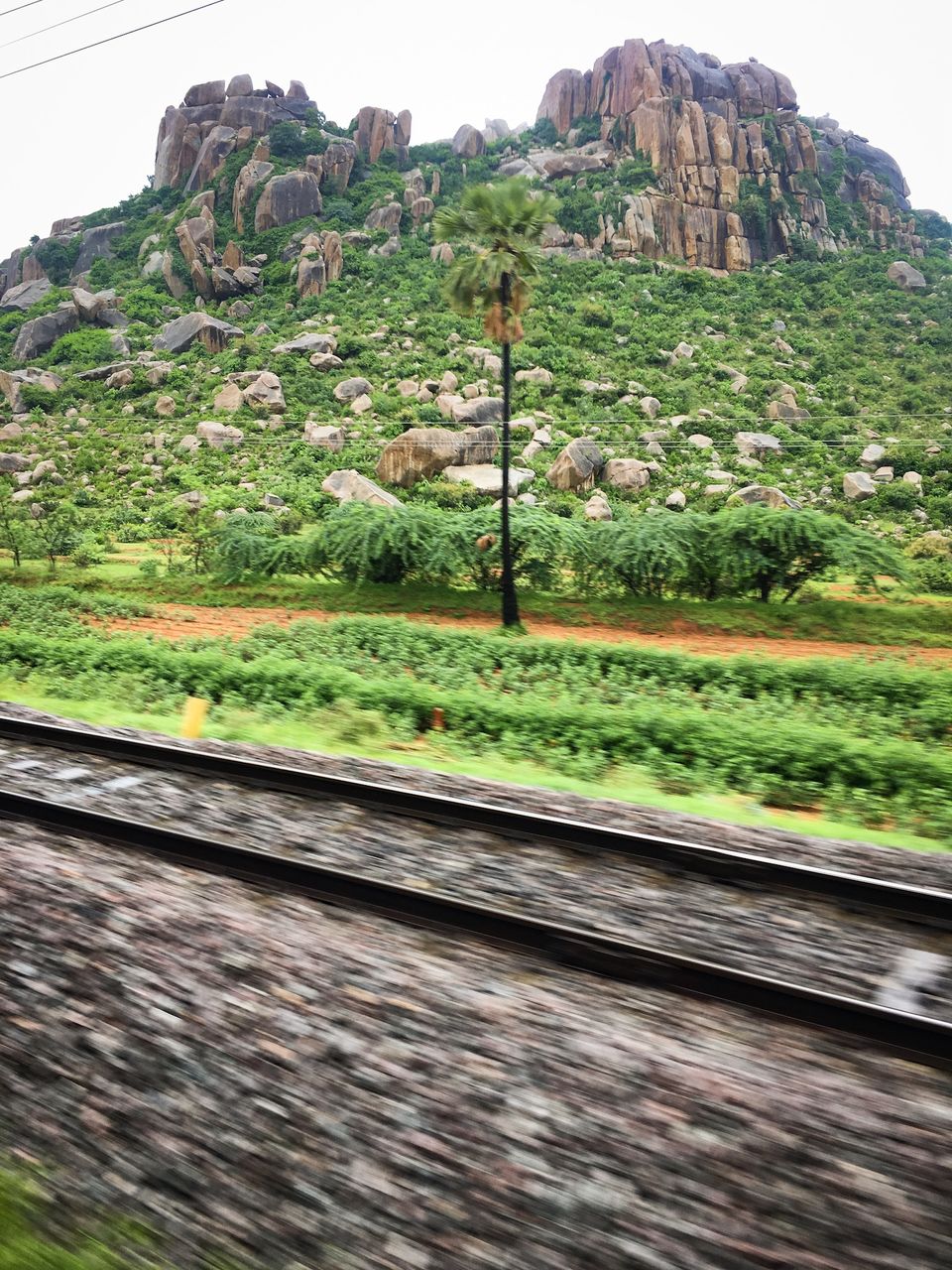 Next day we had train from Tadipatri at 12 pm
This was the end to the mesmerizing 'bucket list' trip.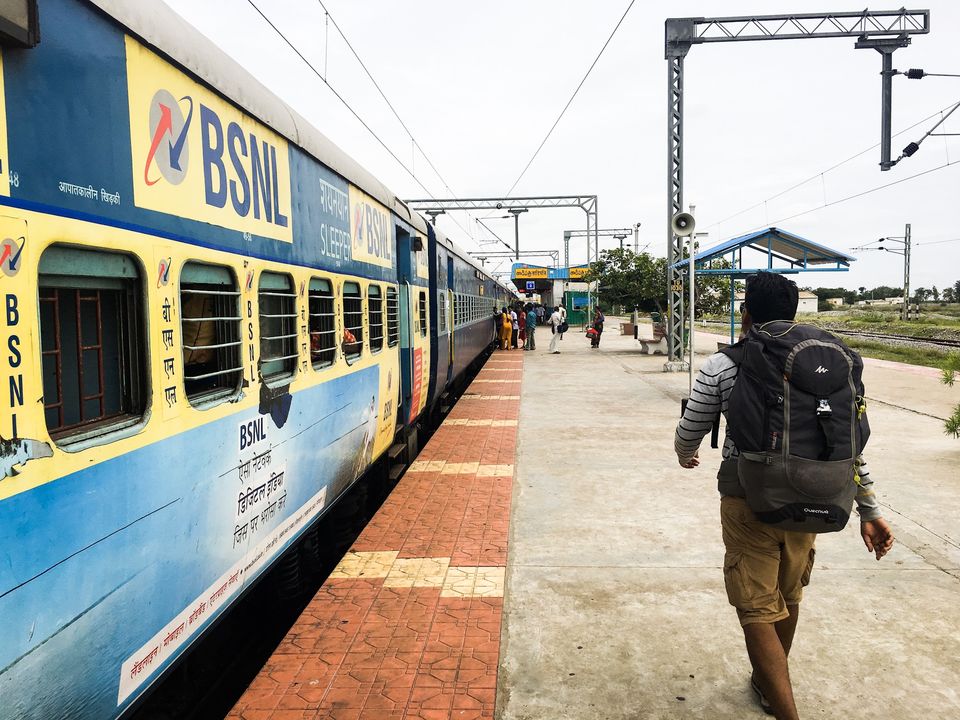 I was traveling with my friend Niraj, who happened to be a Himalayan Trekker. Perfect combination right, Traveler and Trekker. I took a day off from work for this trip. So basically 3 full days, but you can very well cover everything up in a weekend as well. No need to take an leave from work.
Chennai Express was from dadar at 2030. Due to slow traffic in Thane, where I work, I just made Dadar station by 2020. Close call. The train is nice and clean. People in this one are mostly traveling to 'Tirupati'.
Initially the plan was to get down at 'Yerraguntla', one station ahead, since it was the nearest station to Gandikota as per Google. But meanwhile in train we realised that we wont be getting any public transport from there to go to Gandikota. So we skipped that plan and decided to get down at Tadipatri which was supposed to come by 1230pm.
You will hardly find anyone here. Its deserted. But how does it matter right? Auto stand is just outside the railway station. They will approach you and ask for ₹50 - ₹80 for a private auto till bus depot. Just ignore it. You will easily get a share auto for ₹10/seat. Depot is hardly 10 mins away.
Well, be in Germany or Andra Pradesh, linguistically its the same, beacuse you won't understand shit. We took exactly 13 mins to figure out that our bus for 'Jammalamadugu' will arrive at 1400 hrs on platform number 16. Phew! We felt that was one great achievement. Had to wait there for 45 mins for our scheduled bus.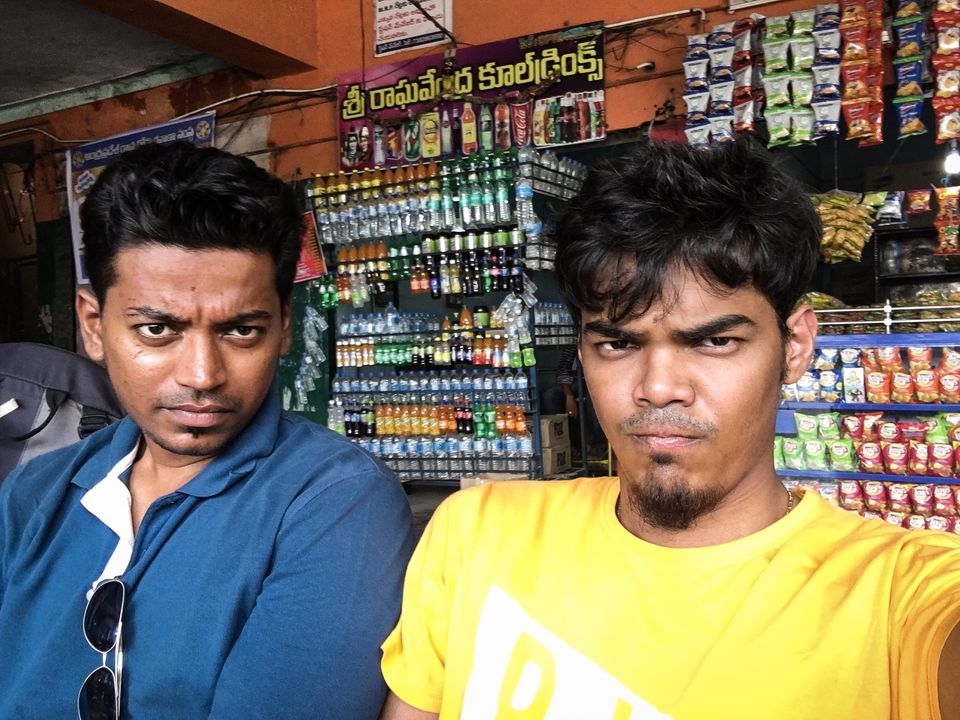 Finally we got in the bus and ticket was merely ₹48 for 2 hrs. Too economical. Finally reached Jammalamadugu. If want want to buy any snack or have food, please do it here. You hardly have any options of these in Gandikota.
Catch a private auto for a share cab till Gandikota. Private auto will charge you anything around ₹150 - 200, share would be around ₹20. Since we didn't wanted to miss the sunset, we chose the private one for ₹200.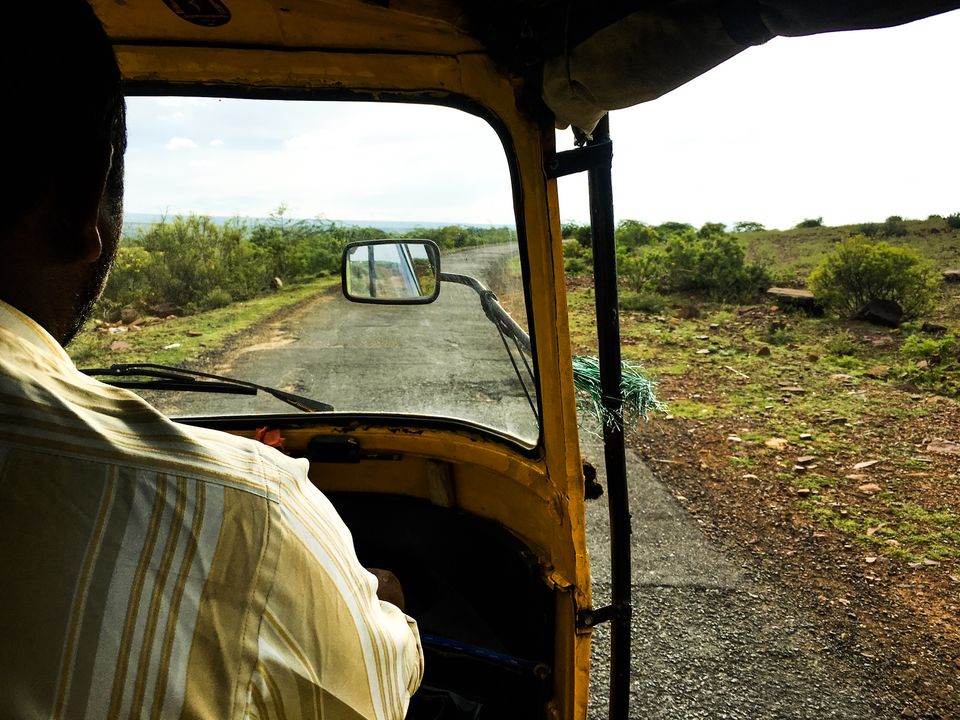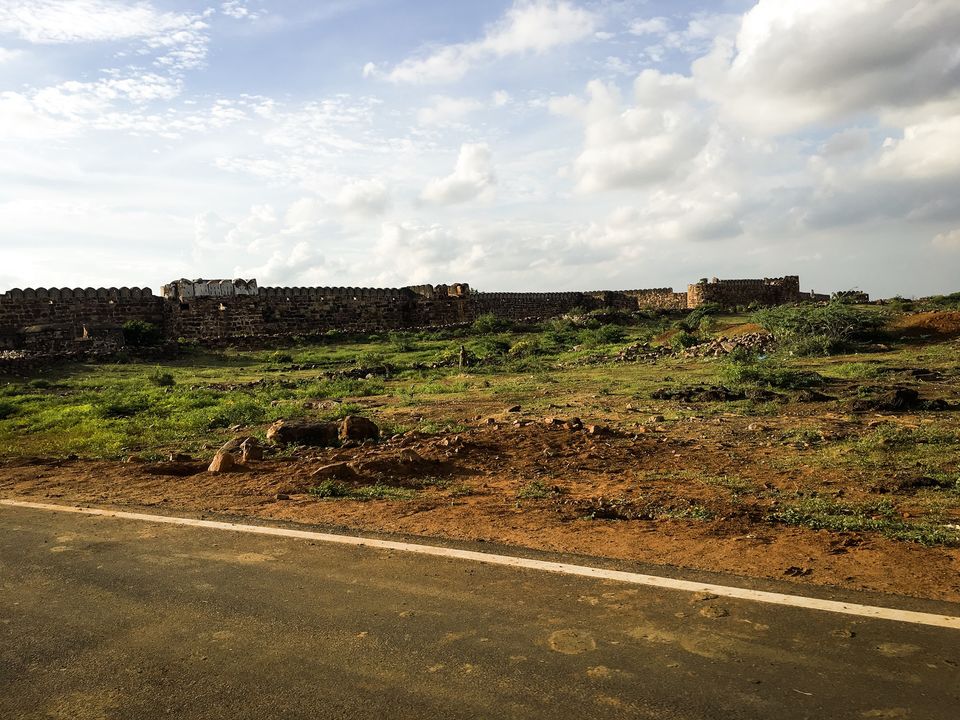 Though the roads are not very smooth, its a pleasant ride, far from city life, amidst the nature. The ride would last for 20 mins max. Hardly 200m before Gandikota, you will see Haritha Hotel, only hotel here, run by Andra Pradesh Govt. So before coming here ensure you are booking the hotel in advance.
This is the first view of Gandikota. Thats right, Gandikota fort. The road to the canyon goes from this fort. Cars can easily enter and exit the other side. The walk through this one is quite interesting and beautiful.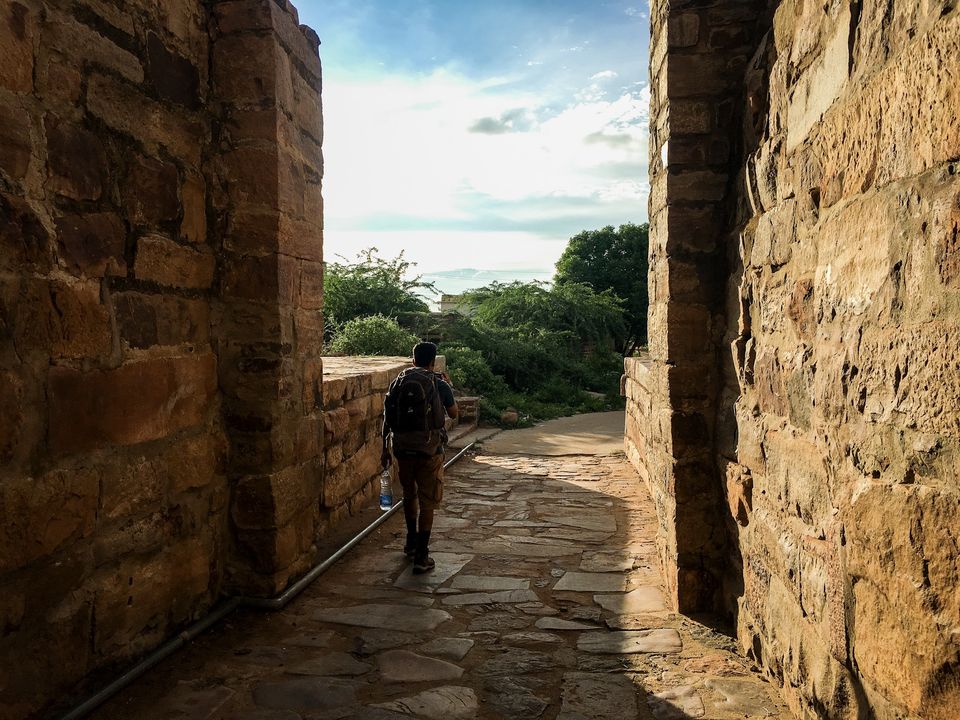 There is a small settlement on the other side of the fort, Gandikota village of course. Those guys can help you out with Mineral water and snacks. Some even offer food, not sure if they are always open.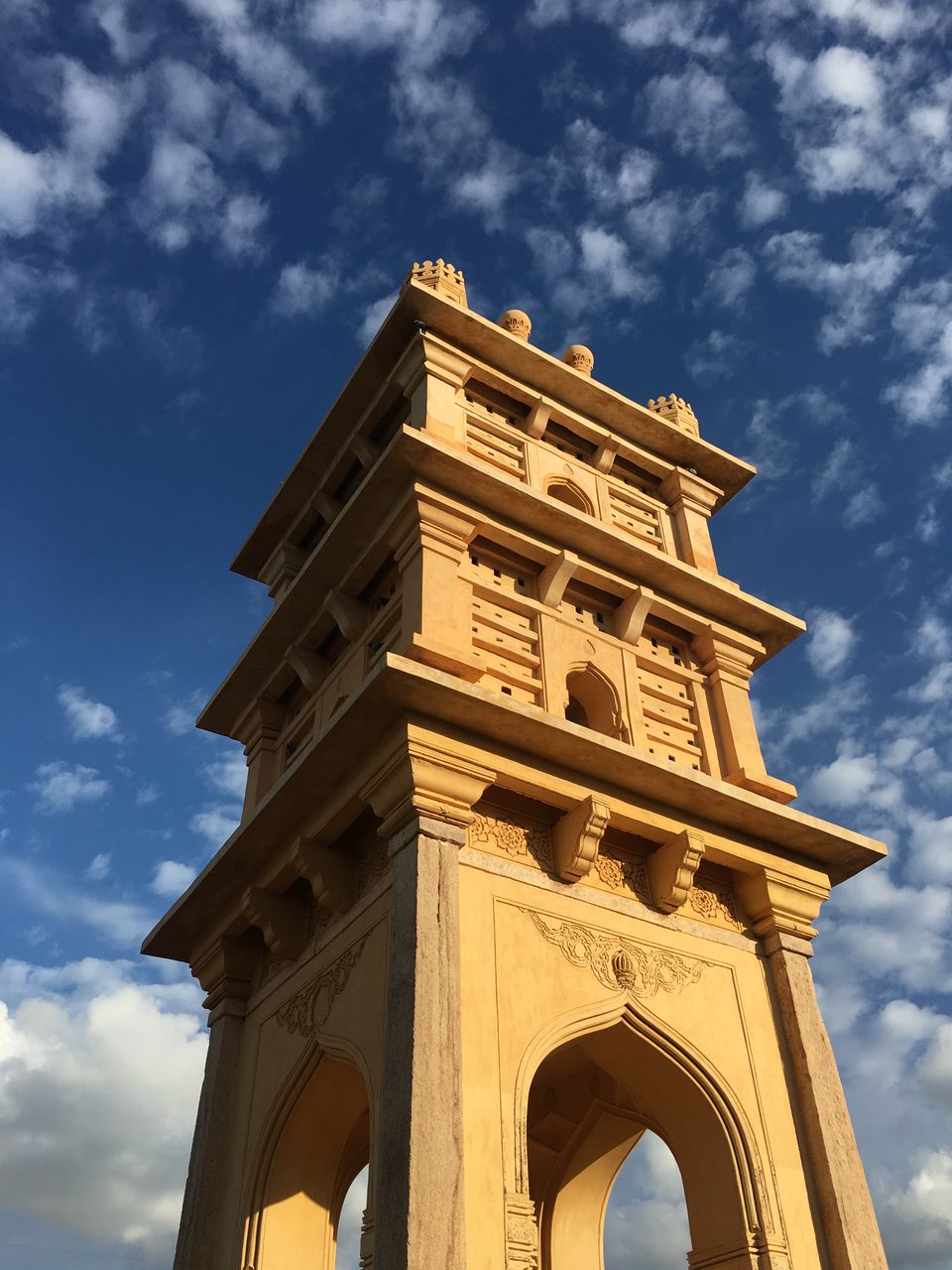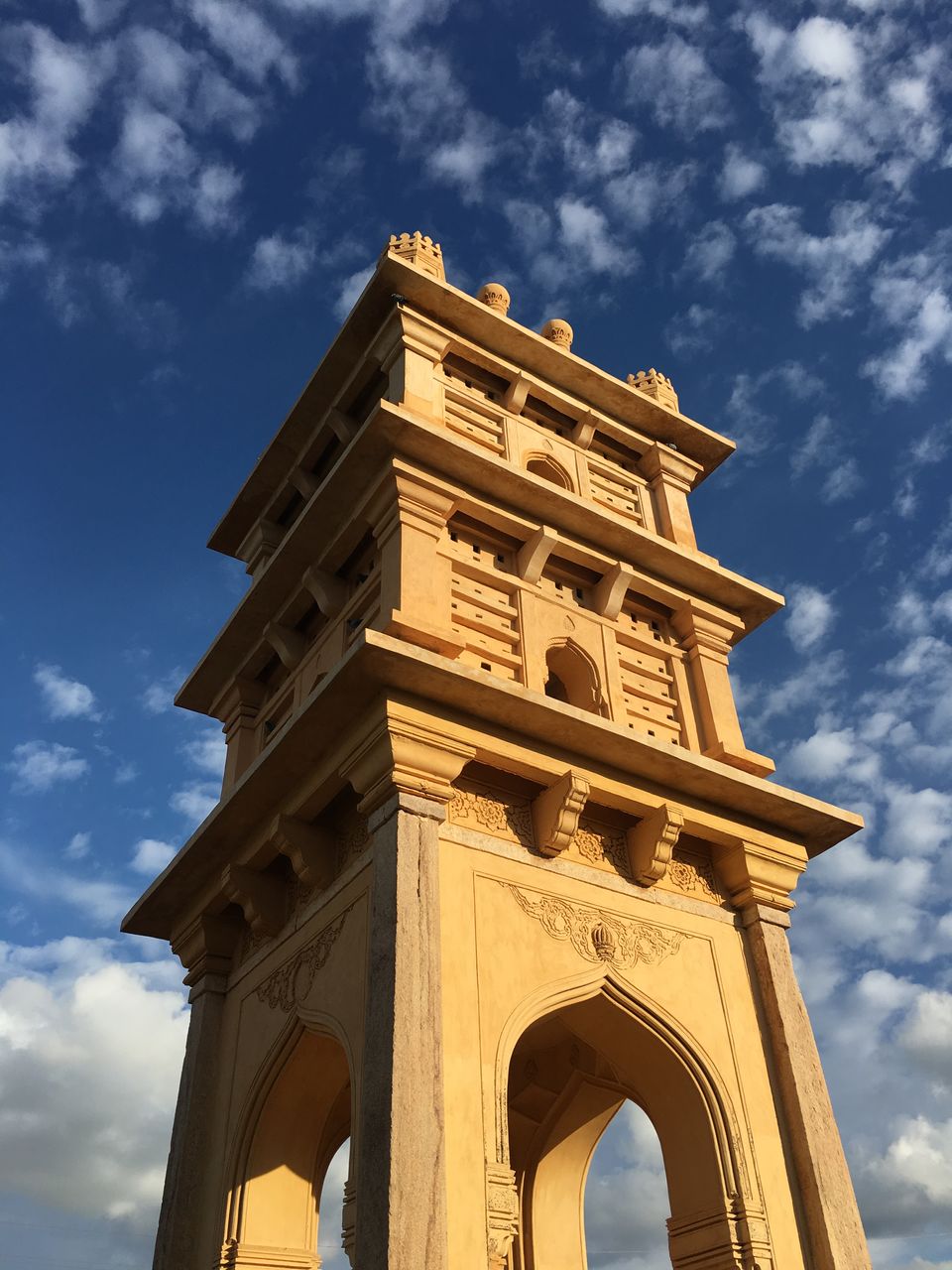 Almost there !! The pathway ahead is rough and uneven. Walk carefully. You can easily spot the dam which is around 15 kms ahead. Then comes THE VIEW, for which I have travelled 1000kms from Mumbai.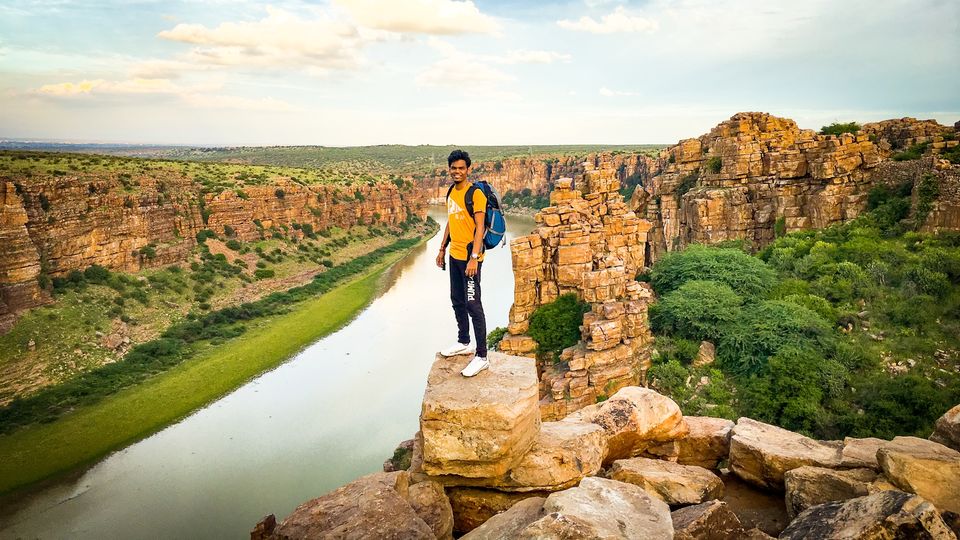 Isn't this picture a lifetime moment. I thought so when I was here. I was awestruck by the beauty of this place. Penna river was looking marvelous despite being stagnant. I just fell in love with this place. It was worth to come here.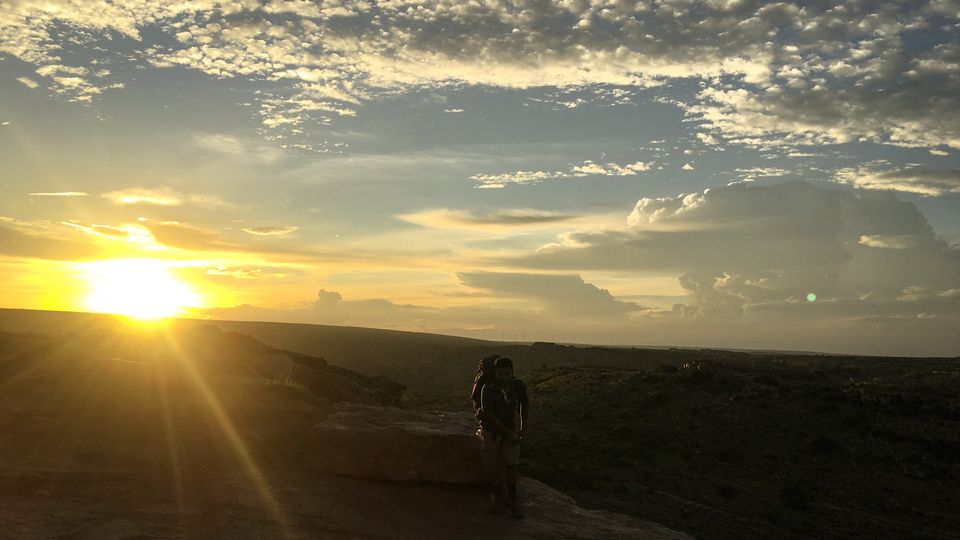 Nothing is more delightful than the sunset from such beautiful place.
What next? we asked each other. Niraj had bought a tent from Decathlon few months back which he badly wanted to use.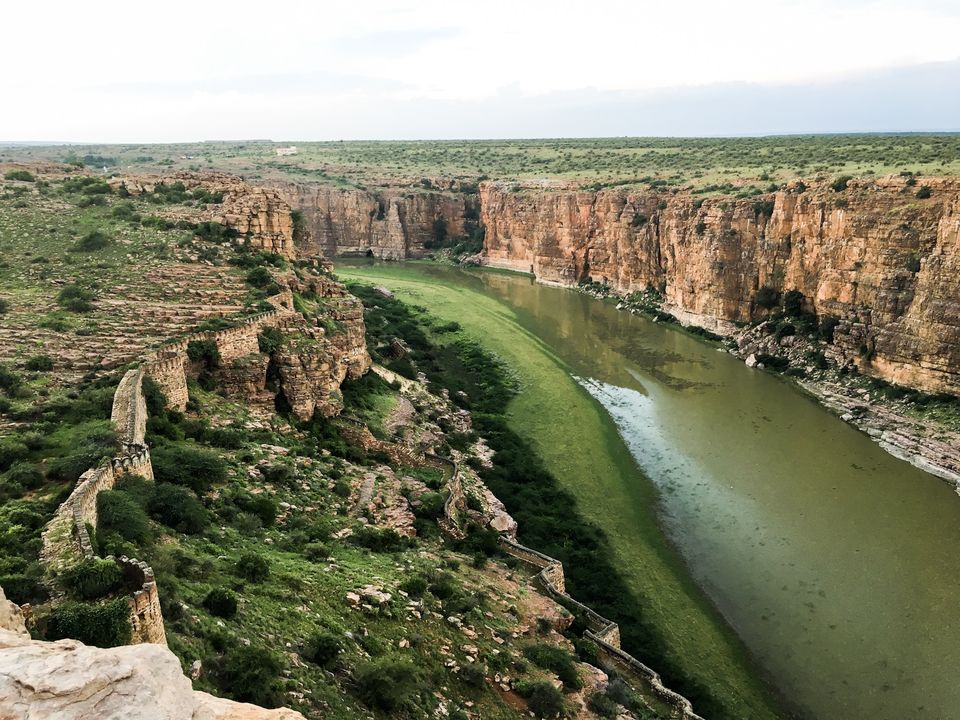 Niraj advised to tent down on the green patch which is visible on the above photo. He also told me that he knew a path to go down from here about which he had read in a blog. I readily agreed. Adventurous blood after all. So with that heavy bagpack and enthusiastic determination, we started downwards. The descend is never easy but sport shoes will surely help here. After reaching down we discovered that the place had thorns all over and would have caused us problem later on, plus we could see that lightning cloud was approaching in our direction. That was a real bollywood scene. Already I was exhausted to my last breathe with the descend. But since nowhere to go, we had to climb that mountain again in darkness. Thankfully Niraj was carrying 2 battries. At that moment, that 200m ascend was no less than climbing Everest. This was the interesting part, this is where you stand out as traveler. With no energy left in any of us we started the ascend. Then came a point where both of us literally gave up and laid down then and there. We could easily see the end point, but the body gave up. Glucose D was the savior. We drank a litre of water. Best part about resting was star gazing. Wow, the view was so pleasing. I wish I had a picture to show.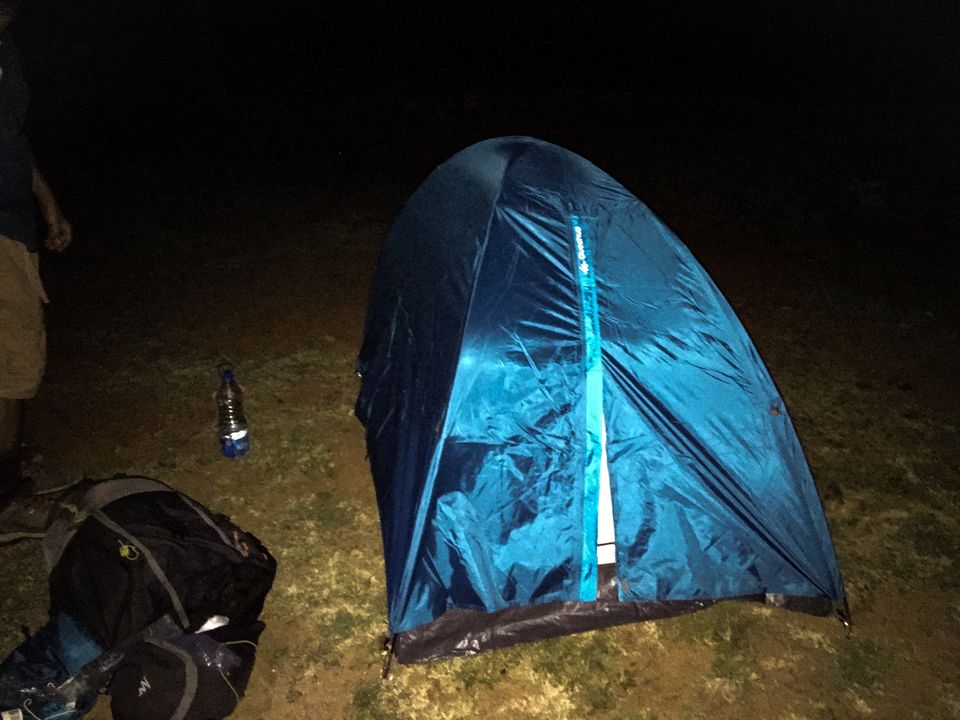 Finally after reaching on top we tented someplace nearby the village. Initially the plan was to stay in a temple which is nearby the canyon, but dude, that temple didn't have any idol. That is the last place anyone would like to visit during such dark night. It was raining heavily outside but the tent was waterproof. We managed few hours sleep.
The morning was wonderful and we woke up to this view.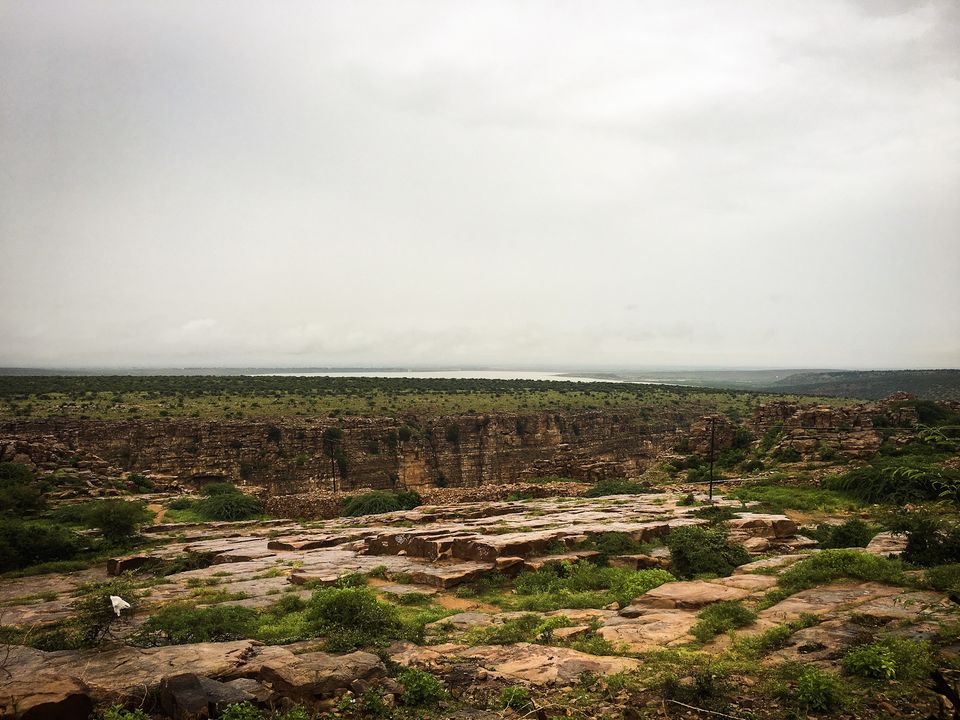 Isn't it fascinating? You will only see such beautiful things here.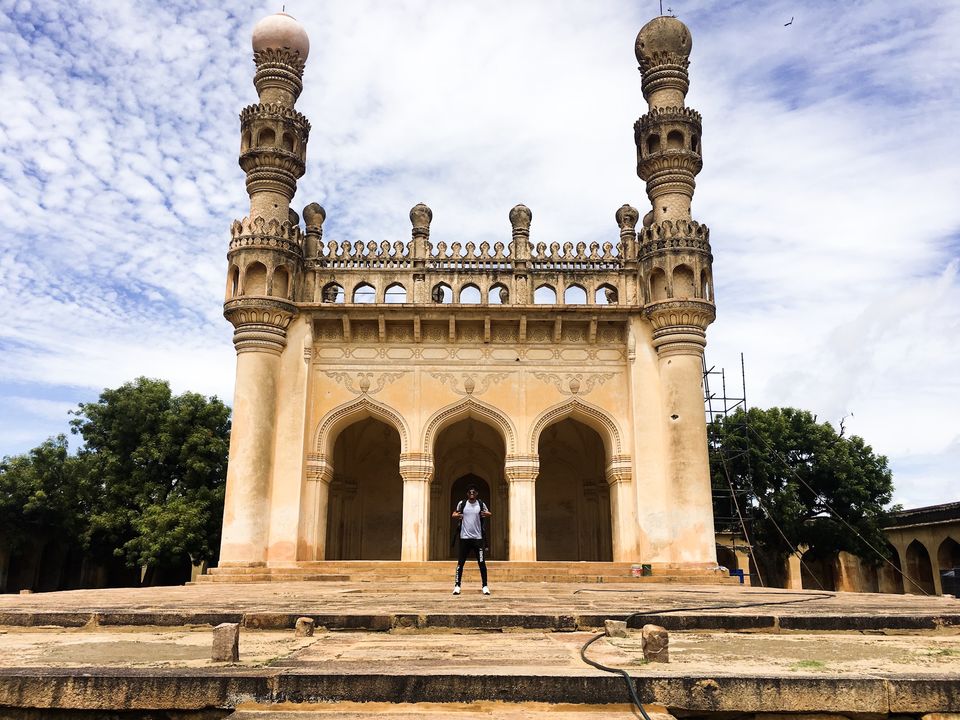 There were hardly anyone here. Best Part. Explore the place in peace. The masjid looks excellent.
The temperature inside cave can go up to 35-40 degrees despite of cooling fans installed from place to place. Napkins are must.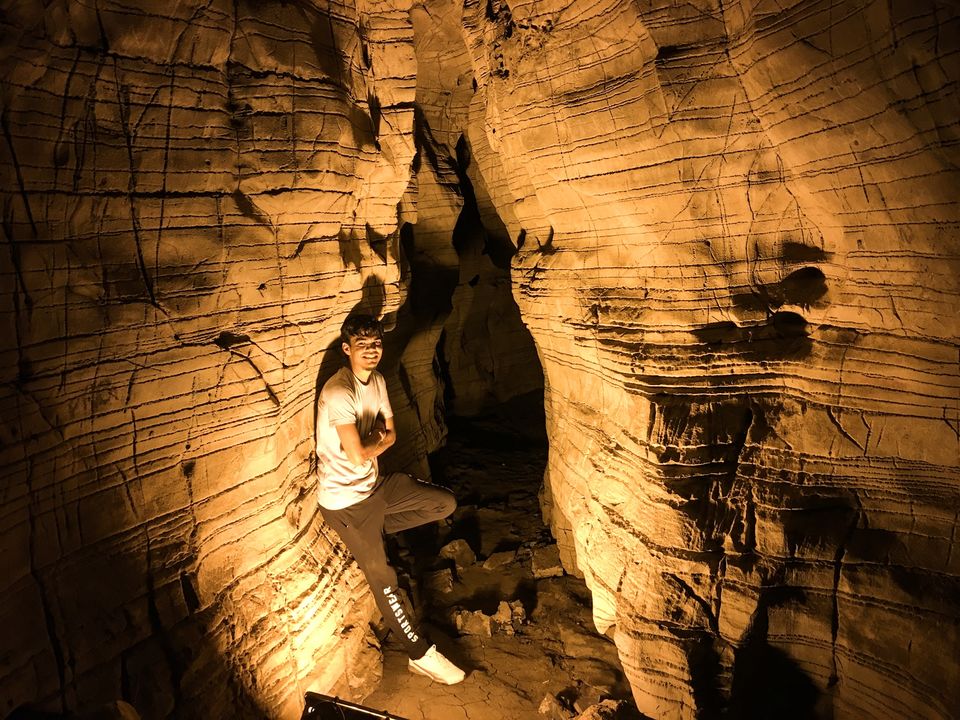 2 hrs is enough for this exploration. I bet you will definitely feel good after coming out of this one. It is one great experience.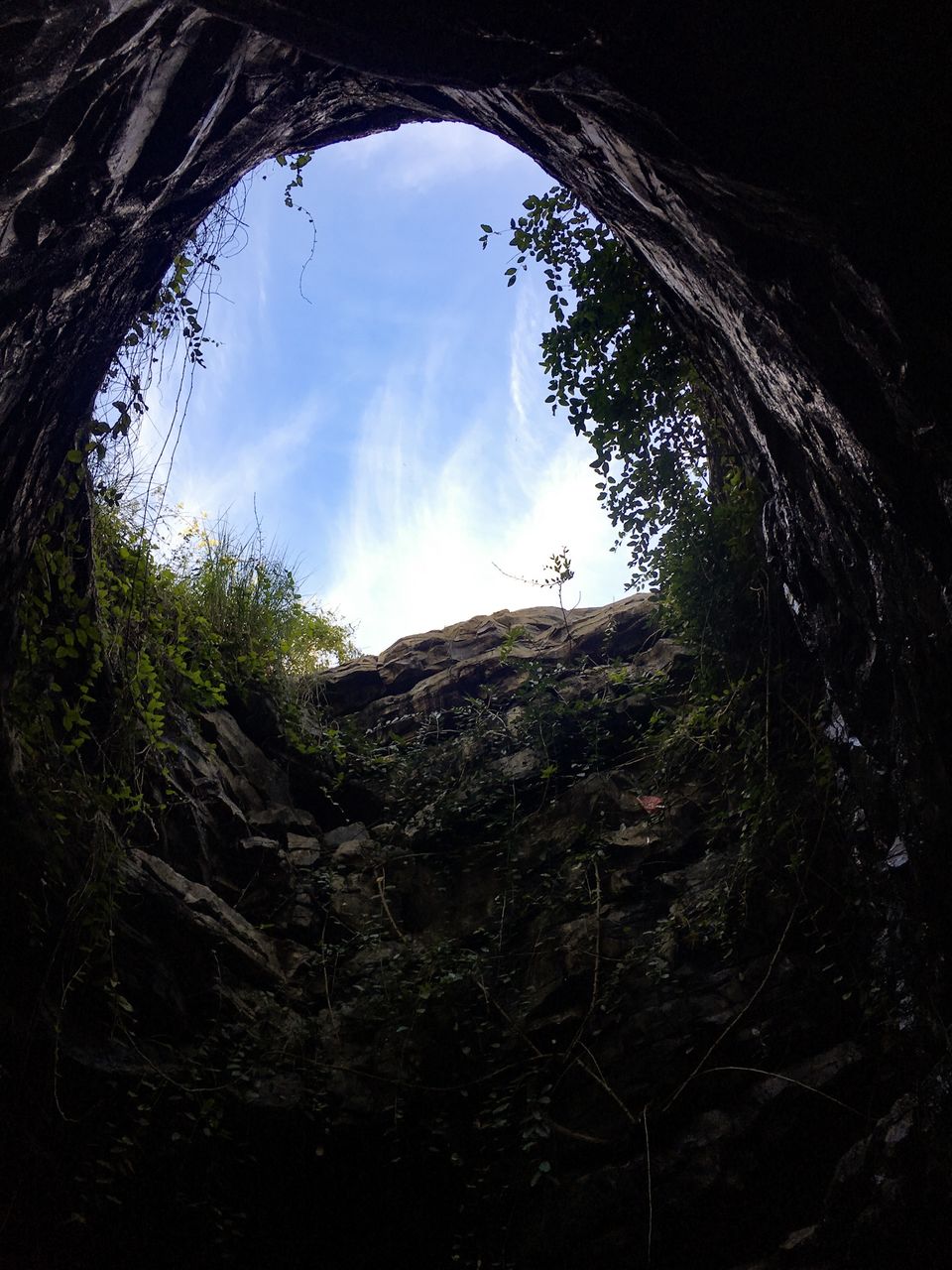 We had ice cream and juice which is right next to the ticket counter. The Buddha Statue nearby is also very fascinating.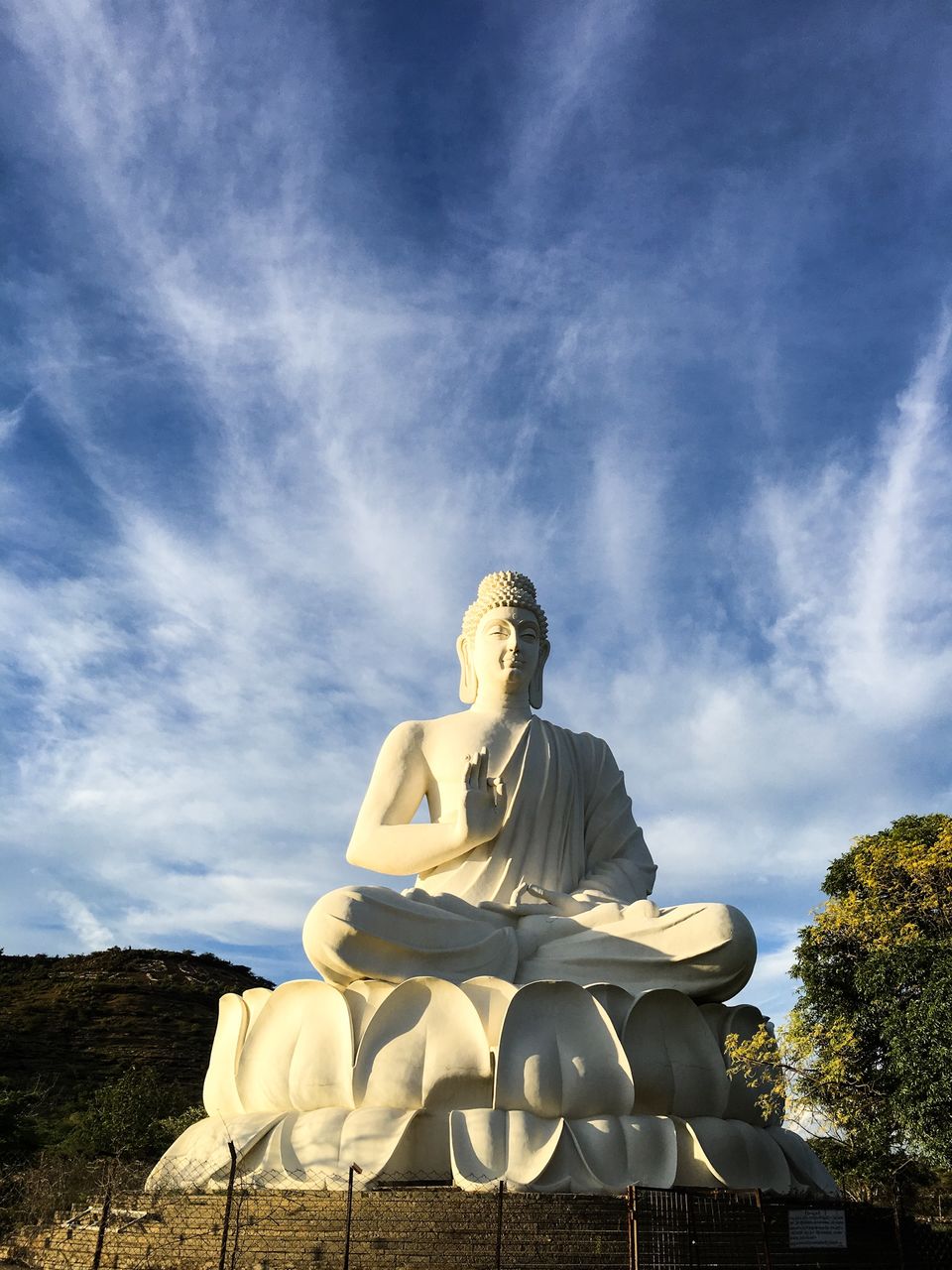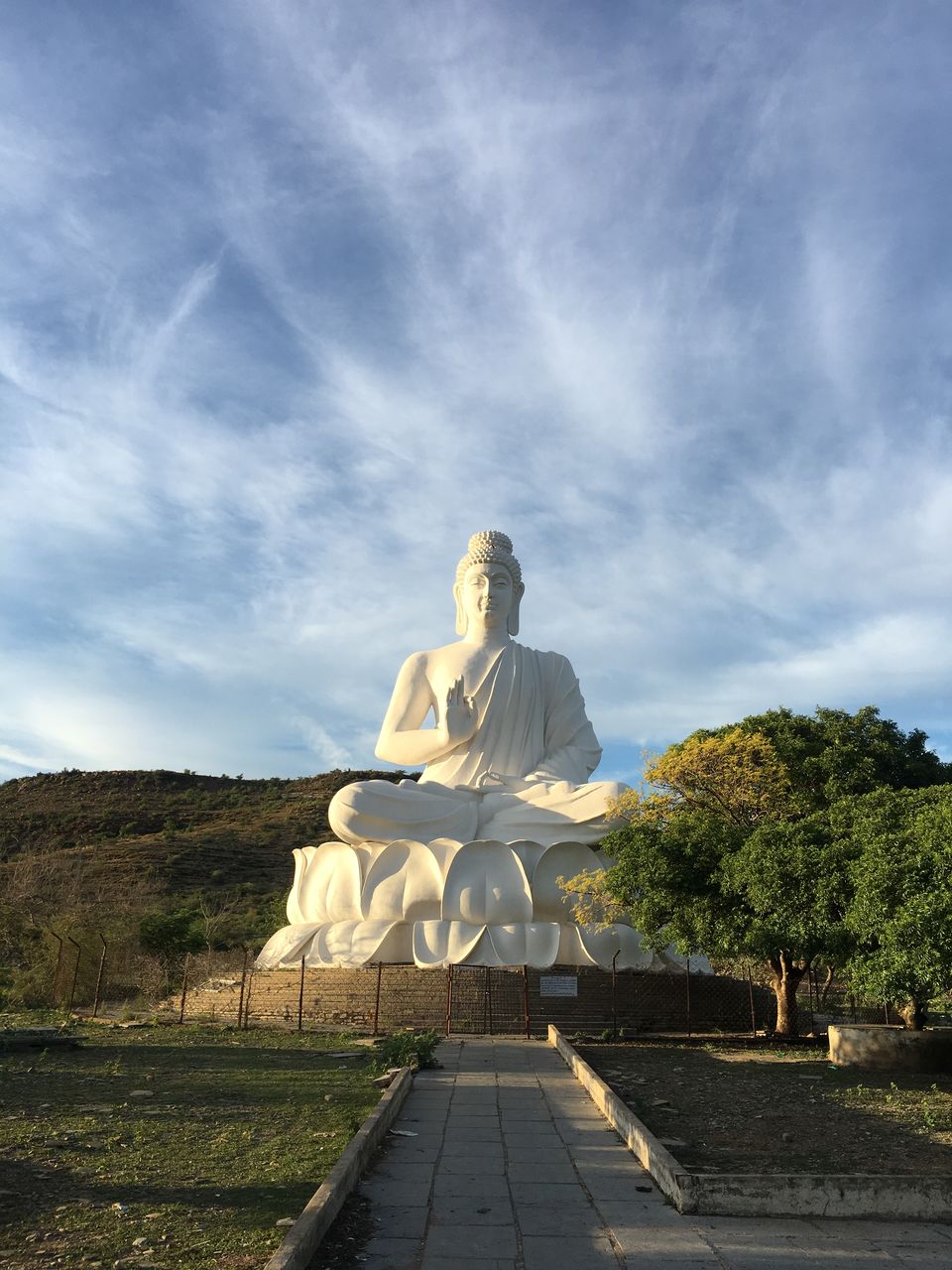 Lastly we headed for Tadipatri. You can easily get public transport from the main road till Kodimigundla or Tadipatri. Luckily we got a bus till Tadipatri. Ticket cost around ₹23/person from Belum caves.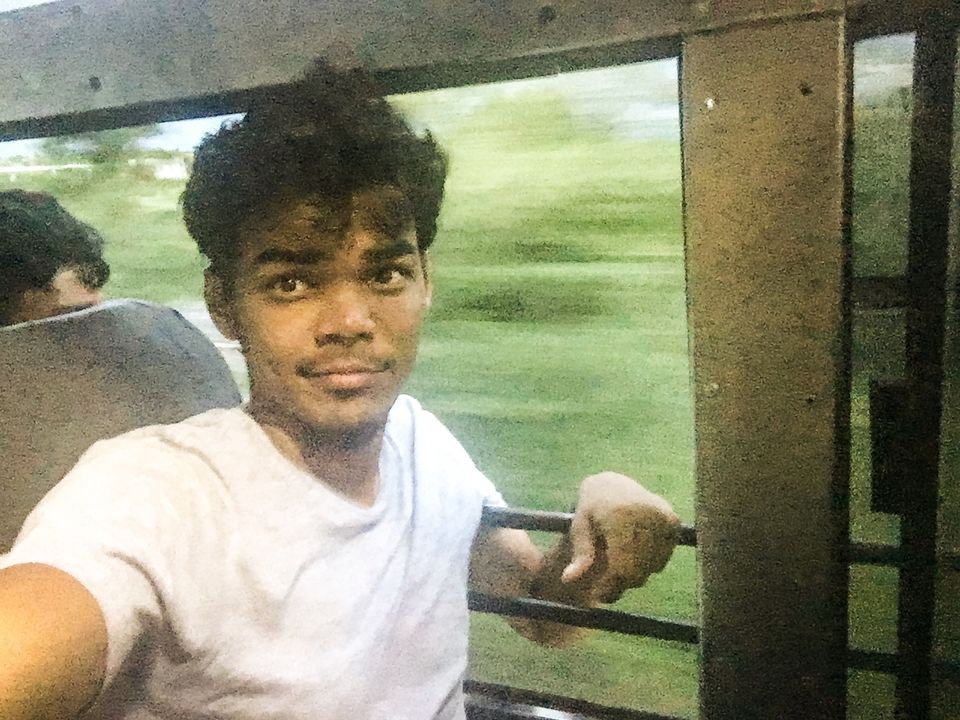 This place have some awesome structures. We were heading towards the big boy, THE CANYON. Its hardly 7- 10 mins walk from the place where auto rickshaw will drop you.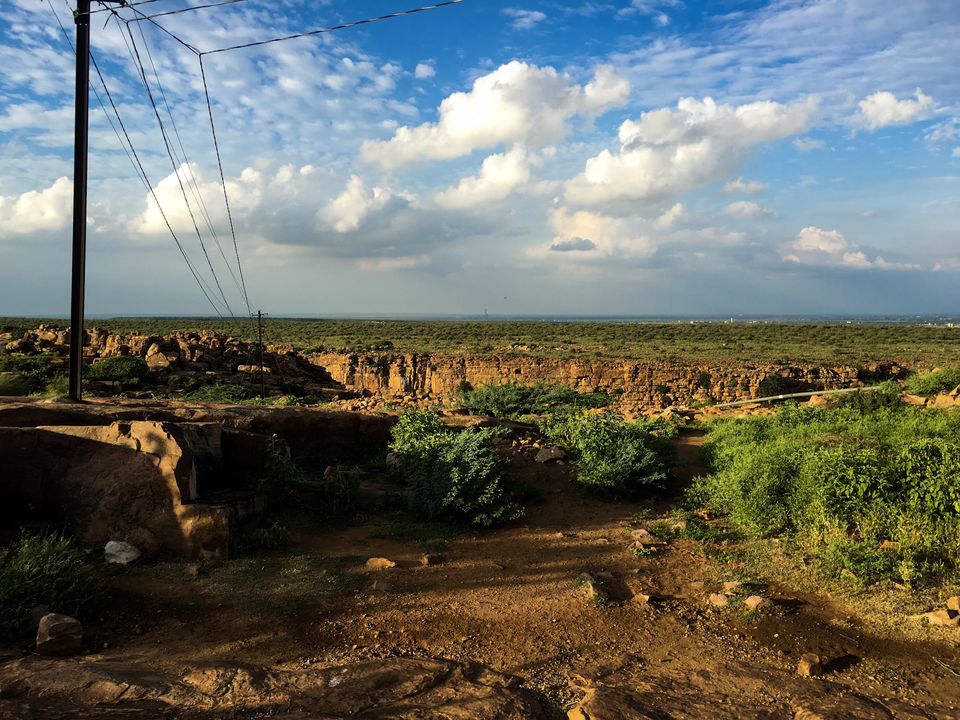 In morning we had parathas which he had in our bag pack and started exploring the village. It is not a ordinary village. It has some marvelous structures. You can explore these places in 2 - 3 hrs easily.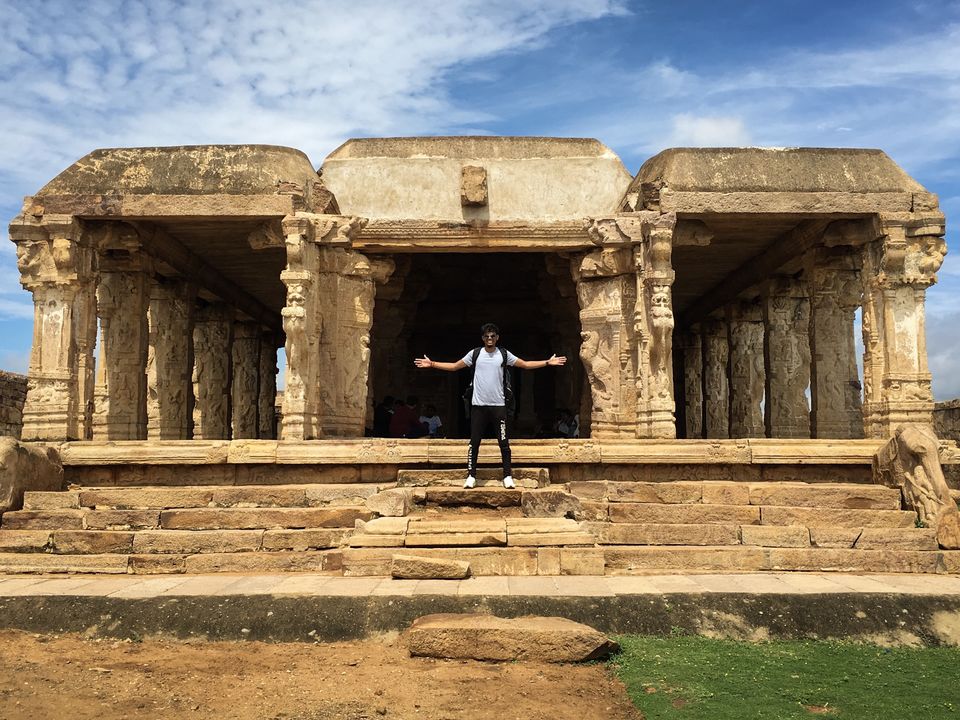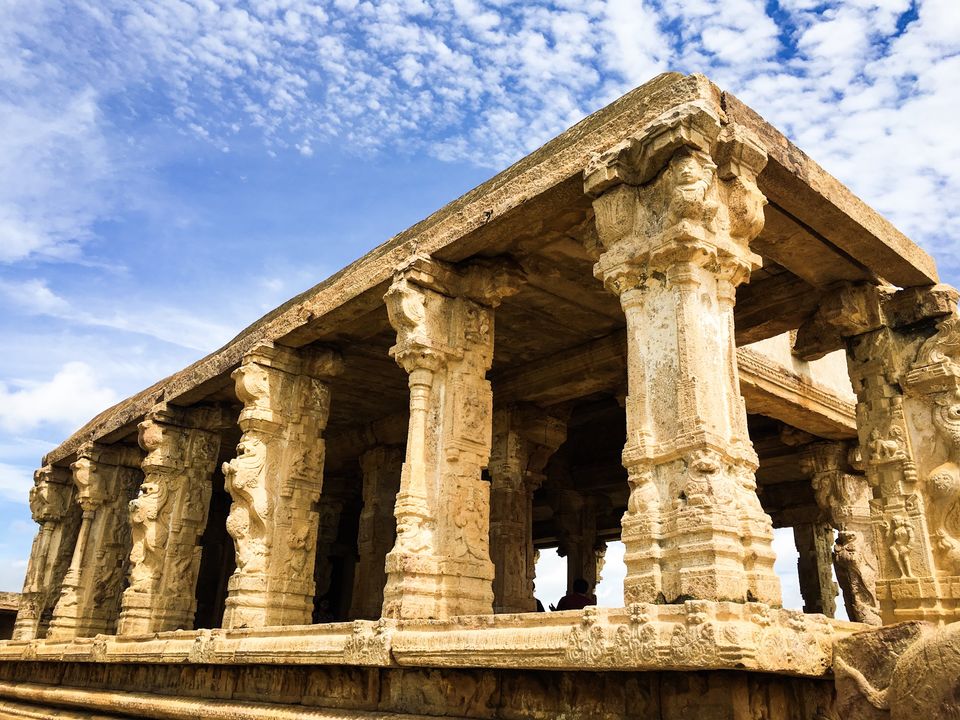 Next we headed to 'Mahadevraya Swami Gudi' which is 10 mins from the canyon. The sky was beholding its blue color, perfect for photography. No place is shut here, it is open to everybody anytime.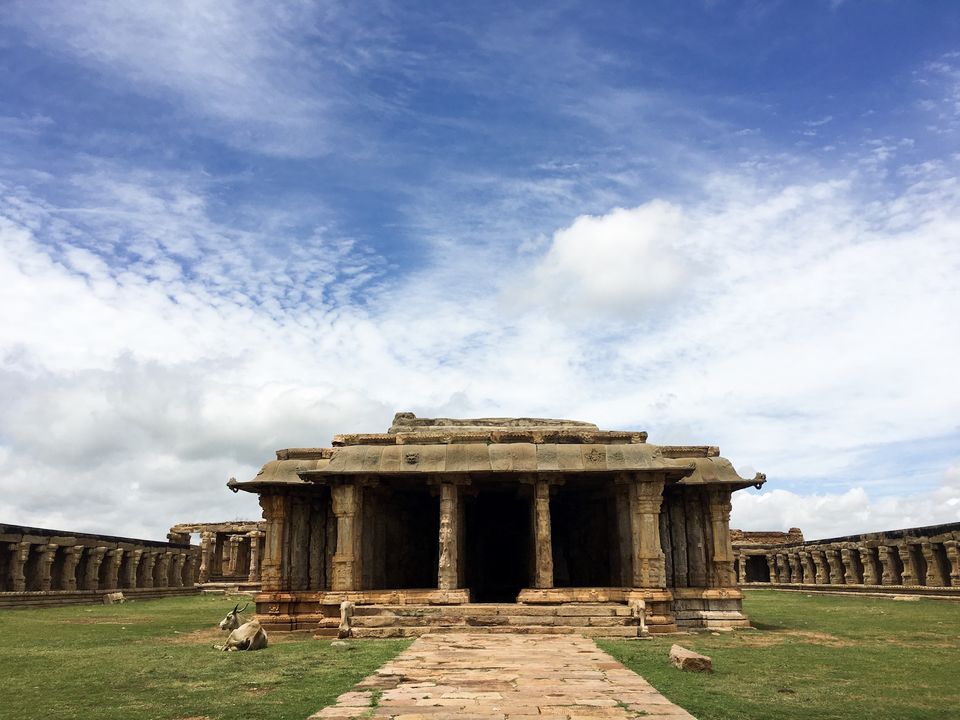 Finally it was time to head to Belum Caves. We reached the Bus stop by 12 to discover that the next bus was at 4. Sad but true. But after 30 mins we got a share auto till Jammalamadugu. Just for ₹20 per person. After reaching Jammalamadugu we had lunch. It costed just ₹100 for two of us. You will get plenty of buses to Kolimigudla, which was out next stop for Belum caves. In mere 1 hr we reached Koilmigudla by spending ₹30 on ticket. From here we did share auto (₹10) till Belum Caves, hardly 3kms.
It is a 10 min walk from gate to the caves. The entry fee is ₹65 per person and the shutter closes by 5pm, so plan it accordingly.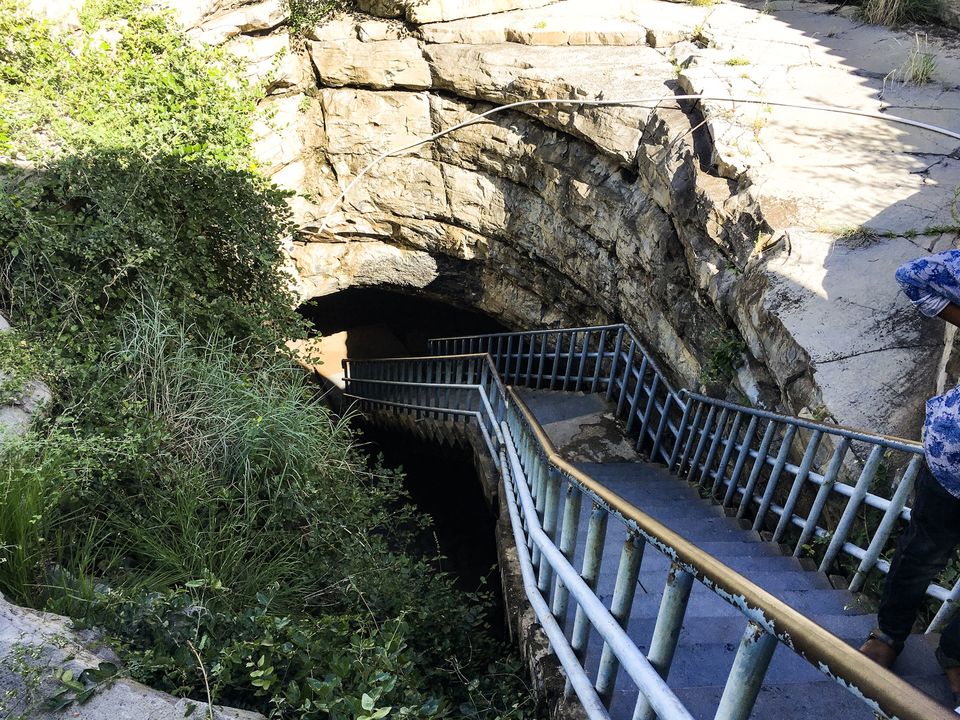 The caves are approximately 3kms long. But the yellow lights and the wavy curves will make this cave walk very interesting. You will be amazed to see that such impressive place exists in India. It was above the ordinary.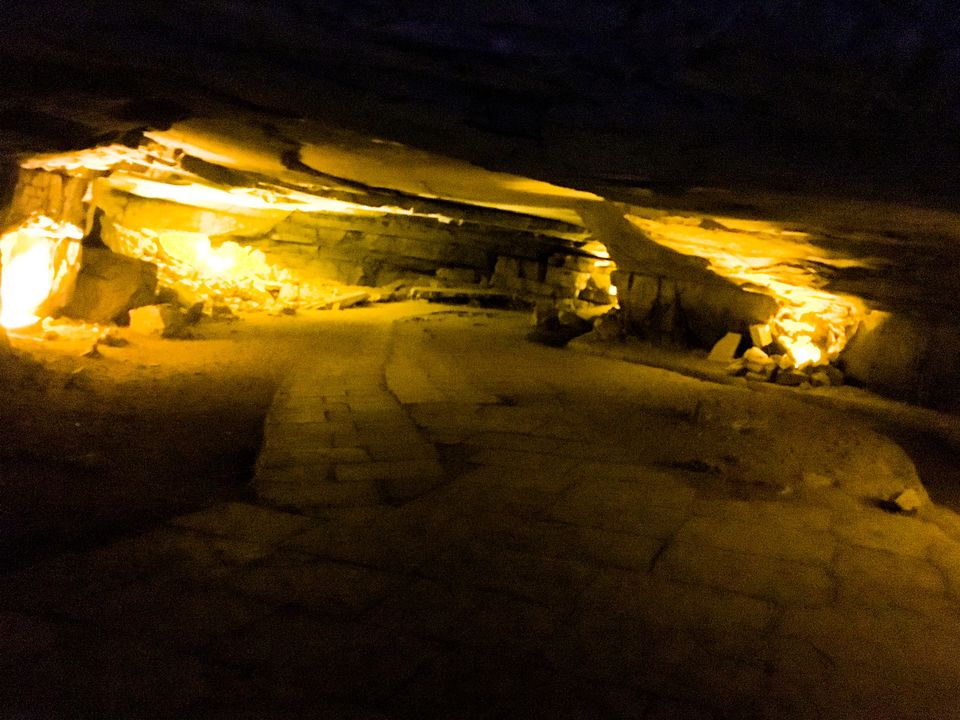 Chose your own path and explore the cave, there is no fixed directions inside the caves. Don't worry, you won't get lost inside, there are CCTVs everywhere.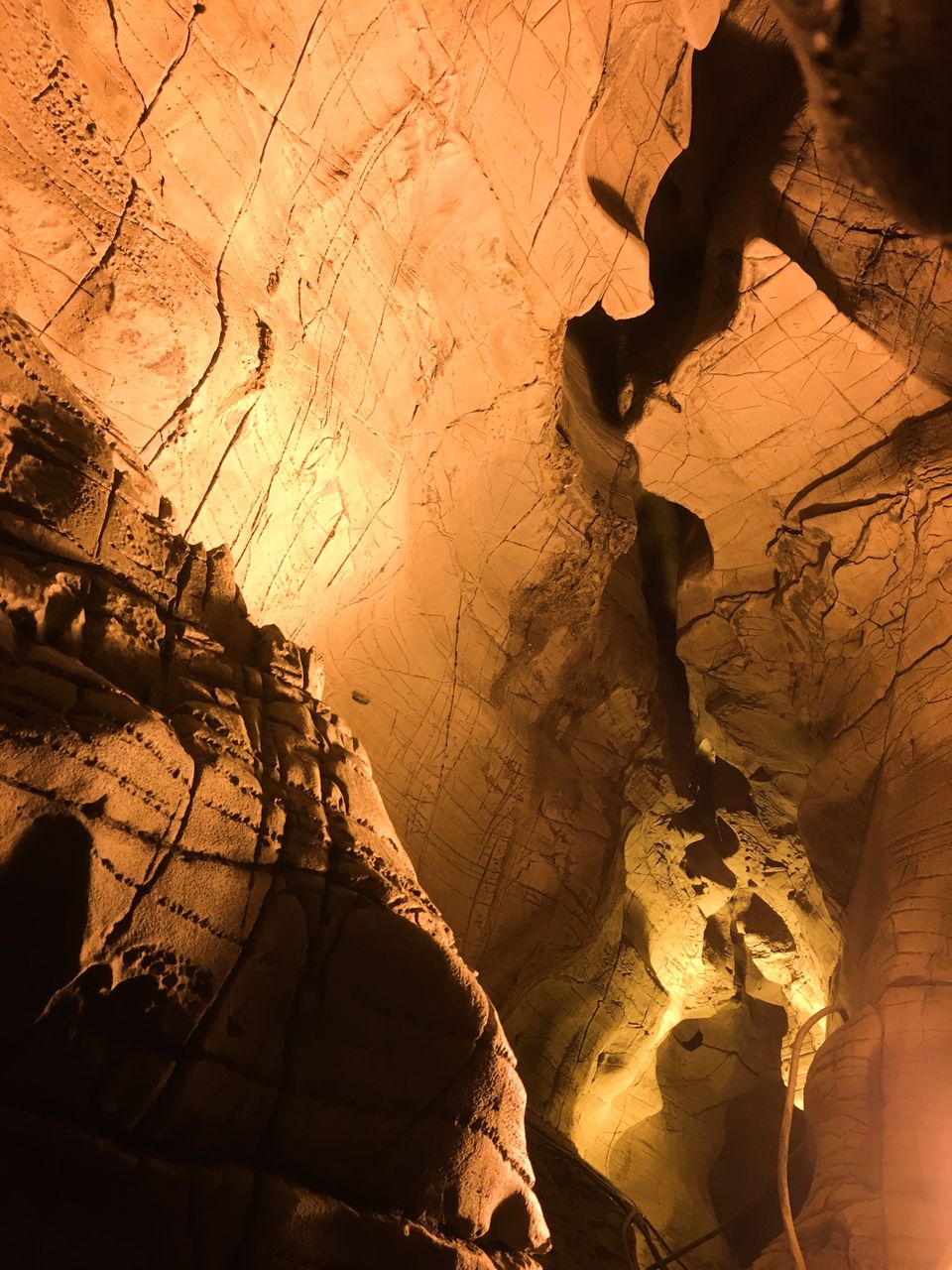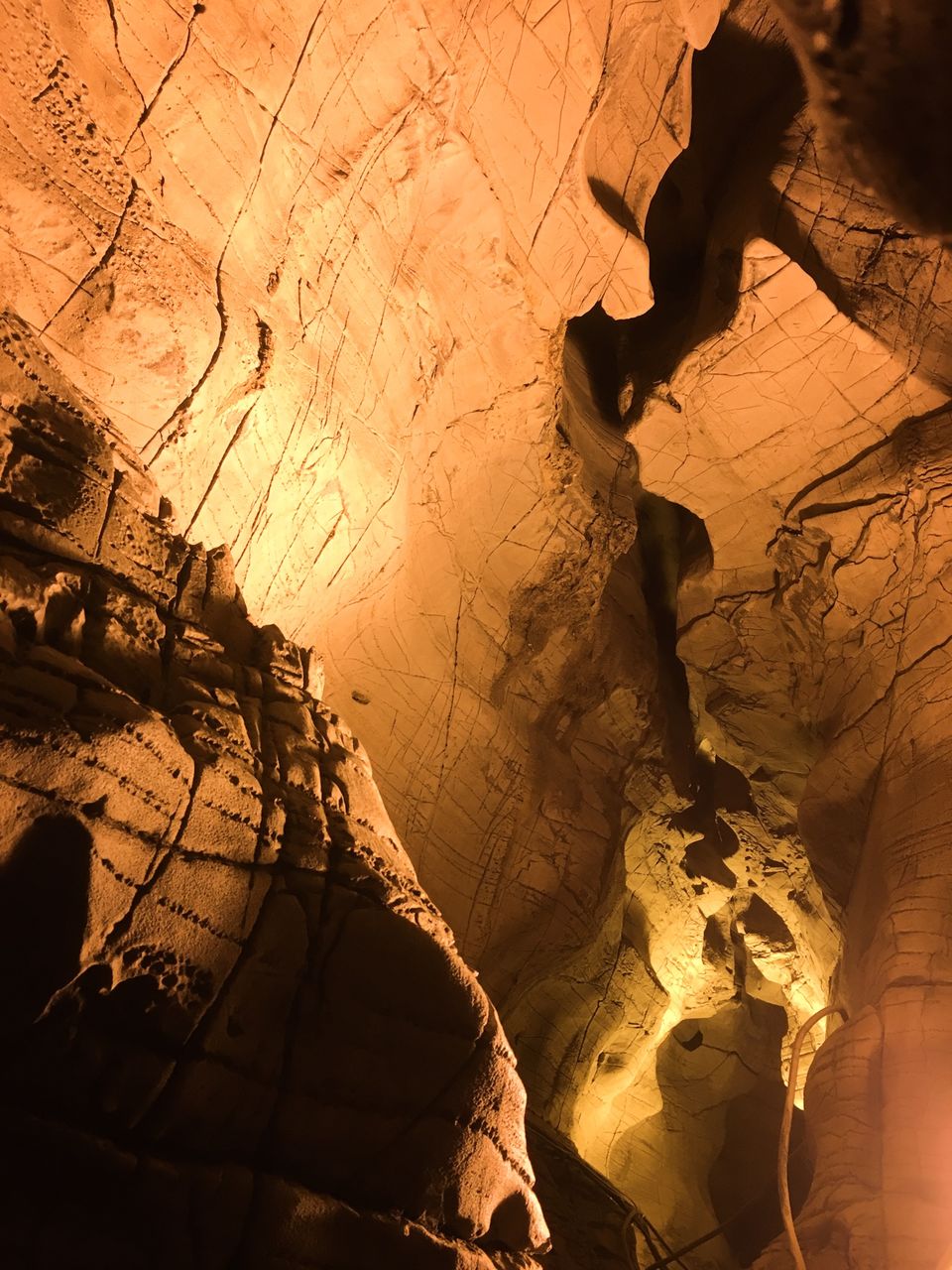 We booked a room in Tadipatri near the bus depot for ₹500 and ordered food. It was a long and tiring day.
Frequent Searches Leading To This Page:-
mumbai to Gandikota trip, weekend trip to Gandikota, weekend getaways from mumbai, weekend holidays to Gandikota, weekend tour cost from mumbai