In the laps of nature
If there is one dream everyone living in a metro city has is to escape from city life & get close to Mother Nature..
Even a temporary break from the traffic & numerous mobile calls is cherished dream for anyone living in metro cities..
I am convinced that this detail of my personal experience and the relation information will encourage many of you to visit this place. So break free & visit this place!! You will cherish the memories for the lifetime!!
The Journey Begins...
My journey to the place was best unplanned. One of friend randomly booked an off beat place around Chakrata (in Dehradun district of Uttarakhand in India) and insisted I join him. My friend's description of the place was too amazing to be true. Still with some doubt in my mind I packed my bags and headed to the meeting point. We started from Delhi & took the GT Karnal Road for an overnight drive. We started from Dhaula Kuan around 10 PM & passed through Kalesar National Park (midway to our destination).
Around 3:30 AM, we crossed Paonta Sahib and soon after stopped for a tea break. Fighting temptation to sleep, we continued and after driving for about half an hour, the hilly region begun. No Street light and pitch dark surrounding made our drive challenging and we were relieved when around 05:30 AM, we saw the sun piercing through the clouds and lighting our way to the destination. Those were some mesmerizing moments of sunrise and we quenched our thirst of photography by clicking some amazing photos of the hills and the sun clad mountains.
The last mile to the destination

After witnessing the morning light, enthralling chirping of birds, we kept moving towards our destination. Needless to say the roads were more challenging than we imagined. The surrounding beauty created by the morning light and the golden & green mountain peaks kept us motivated to reach our destination. Finally we reached there around 07:30 AM. Seeing the place we were awestruck, shocked, terrified & ecstatic.
Stay
The property where we planned our stay was so secluded, that there was barely any house within a few kilometers either ways. Believe me that was the best thing about the place. Although it was so remote, the clean & well maintained cottages delighted us to say the least.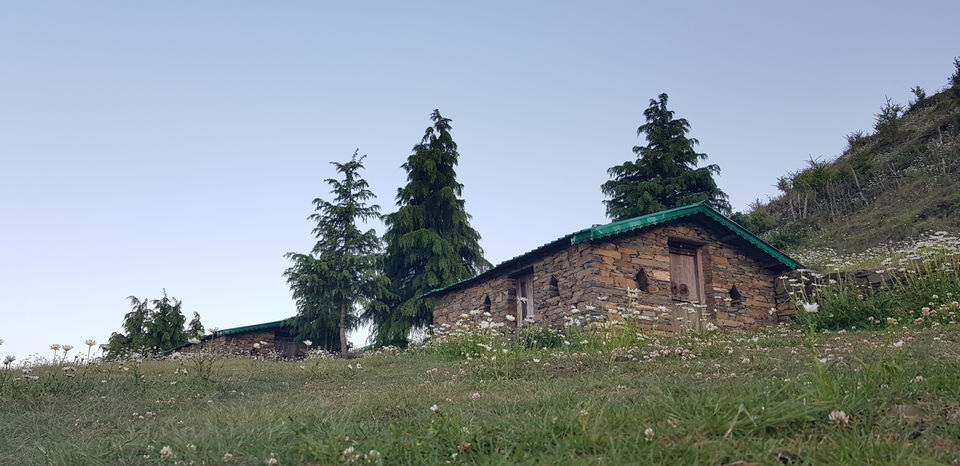 Surroundings
Not only this place offers breathtaking landscapes, but also the tinge of fresh cool air even in the month of May was more than enough to recharge you. For someone who witnessed a usual temperature of 45-49 degrees in Delhi, it was a very welcome change. We spent the entire day exploring the surroundings.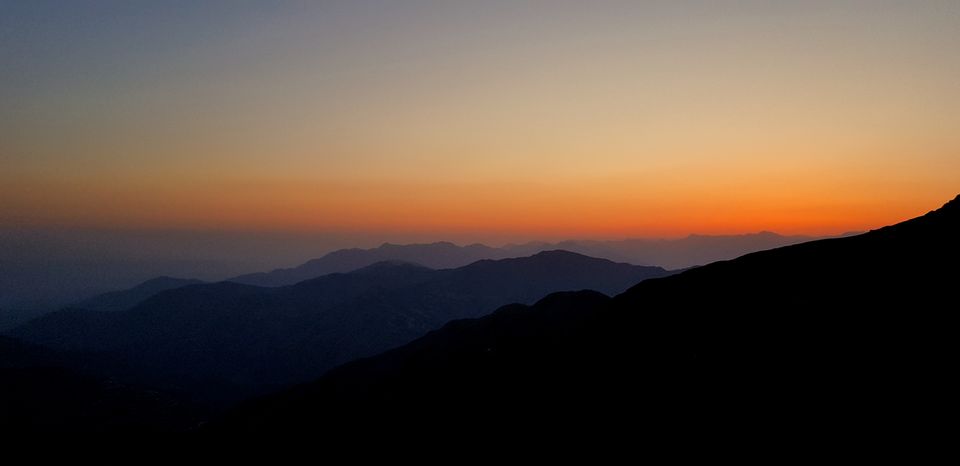 That Amazing Night
We decided to stay awake after the dinner, and kept waiting for the time when the Milky Way would rise. We were unsure of sighting the Milky Way as it is usually seen from higher altitude and Chakrata was relatively at lower altitude for sighting milky way.
We were awake till 02:30 AM and we captured a few stills (long exposure shots). Out patience paid off and Milky Way appeared. There was no stopping after that. Milky Way, light painting, Star Trail, we did everything which we dreamt of doing until sleep took better of us.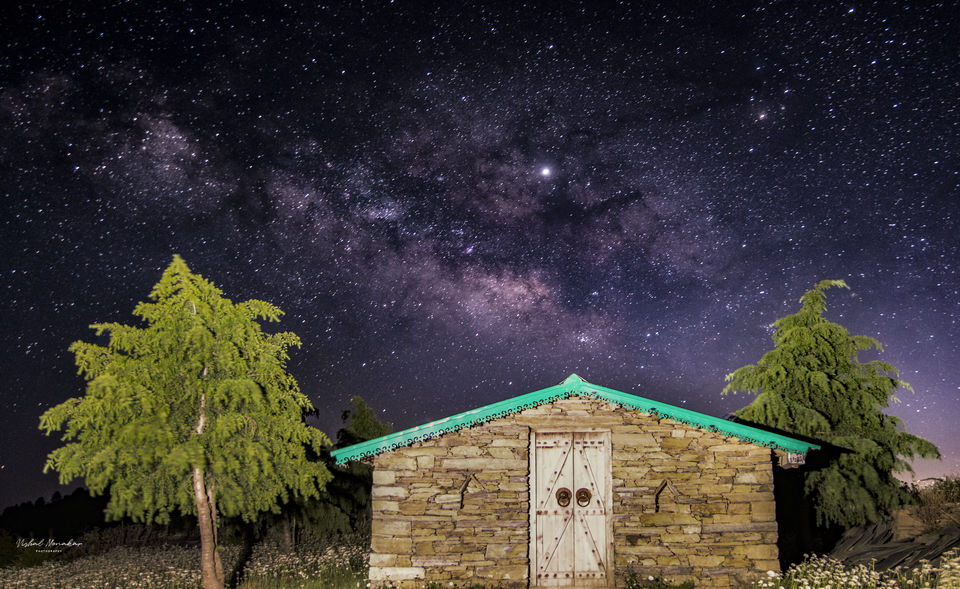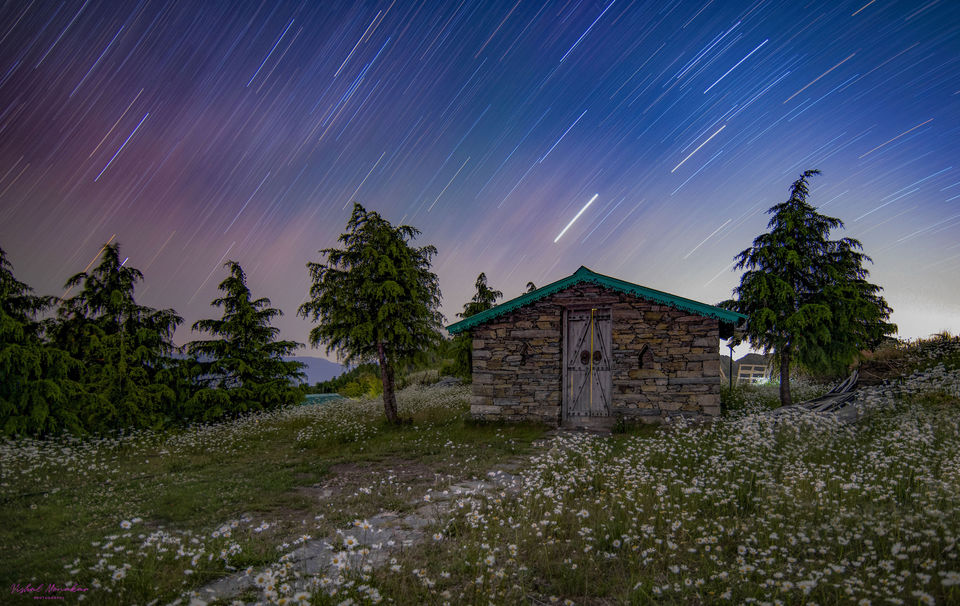 Adieu
After a brief sleep, we were up around 8 AM. Still awestruck with nature's magnificence, we explored the area until breakfast. Reluctantly we started our journey back to Delhi at around 11 AM. The sadness of leaving the place was overcome by the moment of joy that we relived in the photos that we captured.
What more to expect
This trip was full of the sighting of amazing wildlife & birds. We sighted a pair of Red Fox, a pair of Yellow-throated Marten and over 15 species of avianfauna.
How to reach
If you are driving your own vehicle, then you have option of taking either the route GT Karnal road or the one Meerut - Saharanpur. Both the routes are good, but while returning you may experience heavy traffic on both of these routes. I suggest you use Google Maps to see the traffic conditions & accordingly follow the best route.
Chakrata is about 325 Km from Delhi, and may take about 8 hours to reach. The duration includes couple of short tea breaks.
If you plan to go via train, nrest railhead is Dehradun. From Dehradun you may take local taxi to reach the place. Travel distance would be around 90 Km and it may take about 3 hours to reach.
Queries
You may reach out to me on my IG account @monakar.vishal