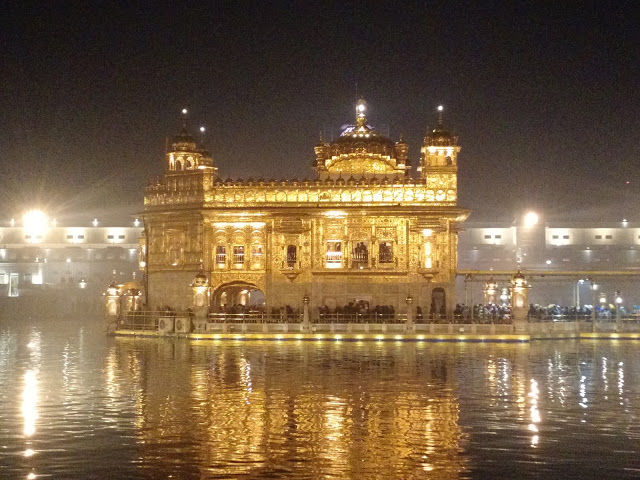 When husband was fretting over how to spend time over the long new year weekend (30 Dec'17 to 1 Jan'18), we made an impromptu trip for Amritsar. Since Gurgaon to Amritsar is more than 480 km and keeping the dense fog in mind, I was apprehensive about a road trip. But who argues with husband when he is so adamant to drive!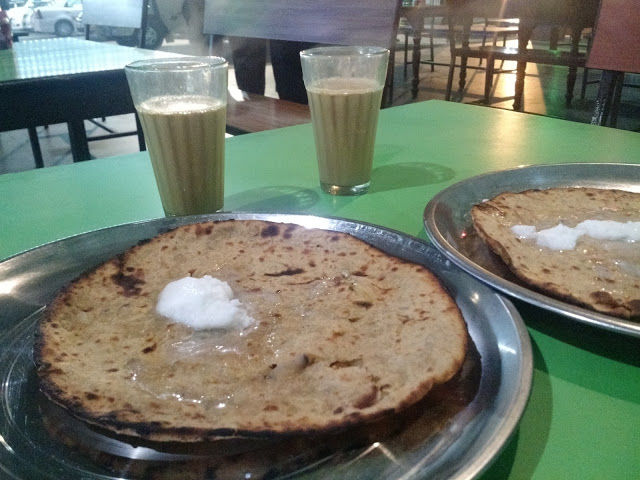 We left from Gurgaon at 5 am and took our first break at Pehalwan Dhaba, Murthal for breakfast. Needless to mention the wow-someness of paranthas served with white butter. Two glasses of tea worked like desserts. (Diabetics please avoid tea here).
We filled ourselves to heart's content (rather tummy's content) and resumed with the road trip. It started getting foggy and we slowed down for quite a long stretch, which made our journey unnecessarily longer. (In winters avoid driving. Hop in a Volvo instead).

The route we took was Gurgaon- Dhaula Kuan- Azadpur- Murthal-Ludhiana Bypass- Amritsar
We crossed 5 tolls and spent Rs 638 in all for both sides. (So much for a road trip. Phew!) Highway is smooth but road construction in few places made the ride bumpy and slow. You can expect such erections and diverted traffic at any time of the year. Apart from few places and diversions, rest of our ride was even.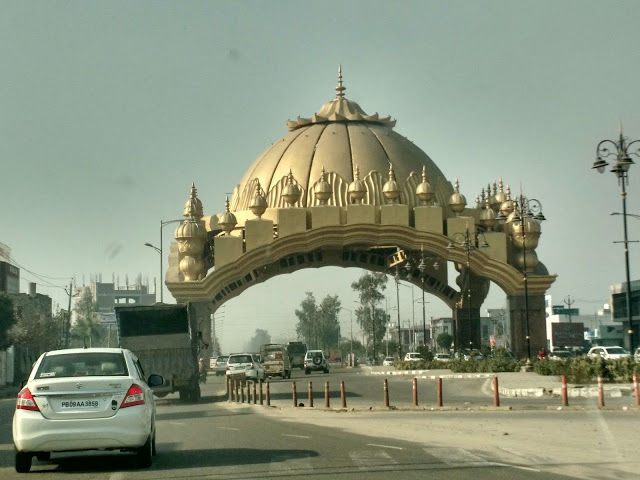 A non-stop drive by enthusiastic husband brought us to Amritsar by 2:30pm and we checked into Hotel Pegaam by 3 pm. Without wasting much time, we rushed to Makhan Singh Restaurant on Majitha road for lunch, which was nearly 4 km from hotel.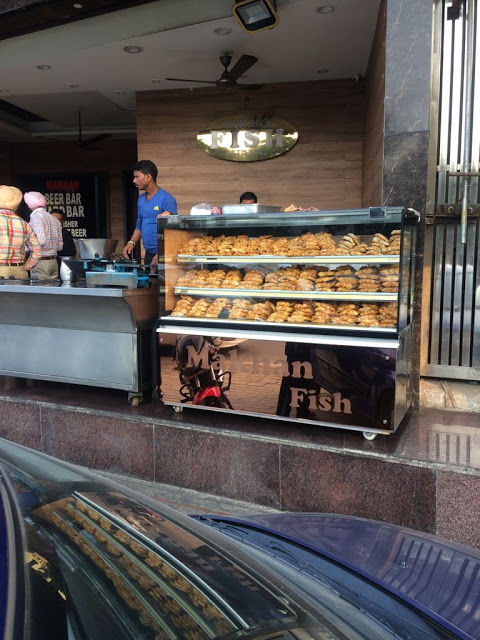 It was sheer foolishness to pick a hotel by reviews on Zomato. Makhan Singh was not only disappointing by taste but by pocket as well. It was too expensive! An order of fried fish, palak chana and 5 tandoori rotis got us a bill of Rs.700 plus. Husband (being a non-vegetarian) said fried fish was ordinary and not worth the price. Palak Chana looked good but tasted bland. The only thing that I could taste was chilly. Our huger died and we left the place unsatisfied. The place is over-hyped for sure. (Found later my stomach was upset after eating here)
A late lunch and long dive had left us tired. We returned to Pegaam, unpacked and crashed at 7 pm to wake up next day at 6am. Pegaam's restaurant service starts at 8 am, so we walked down to the main junction, 500 meters away, and had tea at the tiny road side tea stall. A steamy cup on a cold winter morning felt heavenly. Rickshaw wallas, auto drivers, early risers and us, all had tea outside the same shop. Clearly, tea can create good bond without the boundaries of caste, religion, money or culture.
Soon post freshening up at Pegaam, we left at 8am for an action packed day. (Husband's priority was Wagah Border). We preferred hiring a rickshaw instead of an auto, as that helps you explore the city well. Rickshaw ride costed us Rs. 50 from Hotel Pegaam to Jallianwala Bagh premises.
The moment we stepped out of the ricky, hunger bells rang. We choose Bharawan ka dhaba for breakfast.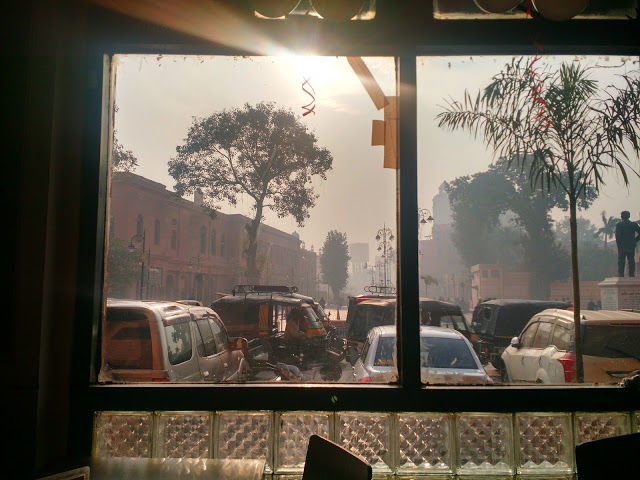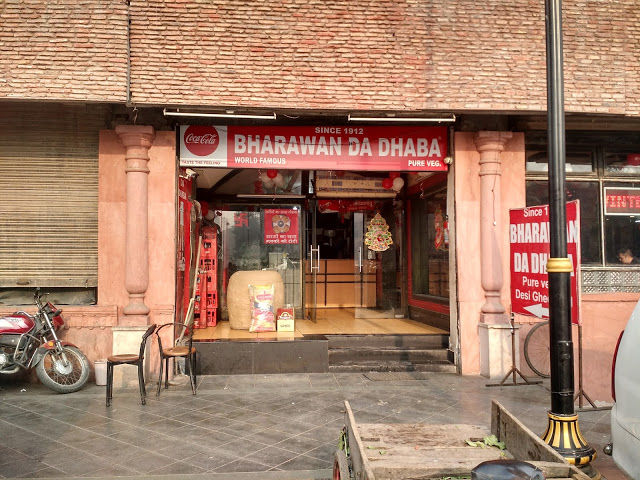 The board read "SINCE 1912" and I knew the food would be authentic. Well, they exceeded my expectations.
The first bite of aloo parantha was beyond expression. True bliss I must say. Next on our plate was paneer stuffed special Amritsari kulcha with choley (chickpea) curry. It turned out the BEST breakfast ever! Fresh, hot, loaded with white butter, and balanced spices, we could not ask for anything more heavenly.

Breakfast was followed by visit to Jallianwala Wala Bagh.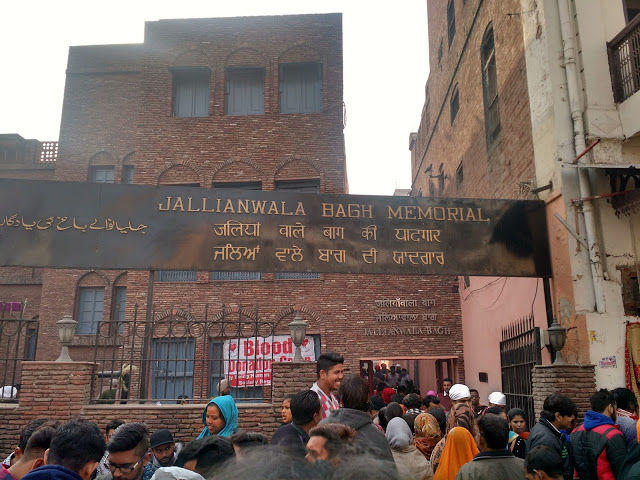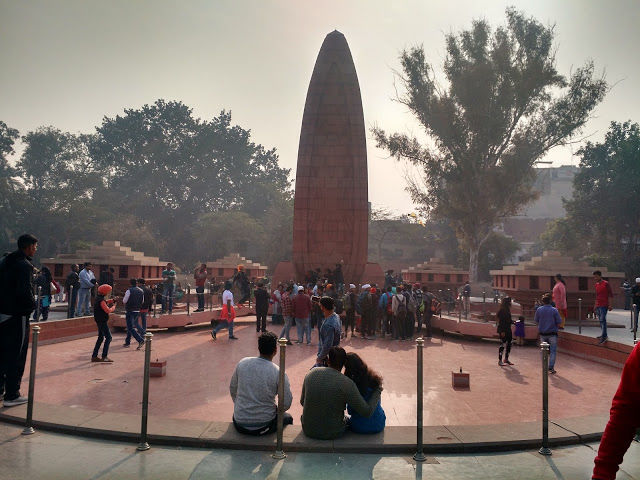 This is public garden (in)famous for brutal massacre by British Army's Gen. Dyer on 19 April 1919. He had ordered mass shooting where people had gathered for Baisakhi celebration and peaceful protest against arrest of two national leaders.
Thousands of innocent people lost their lives and the gruesome bloodbath had sent a shock-wave across the nation. Dyer's act was condemned and he was removed from the British Army command. The bullet marks remain on the walls of the garden and a memorial dedicated to the deceased has been constructed. In-fact lot of artefacts have been constructed with the Bagh off-late.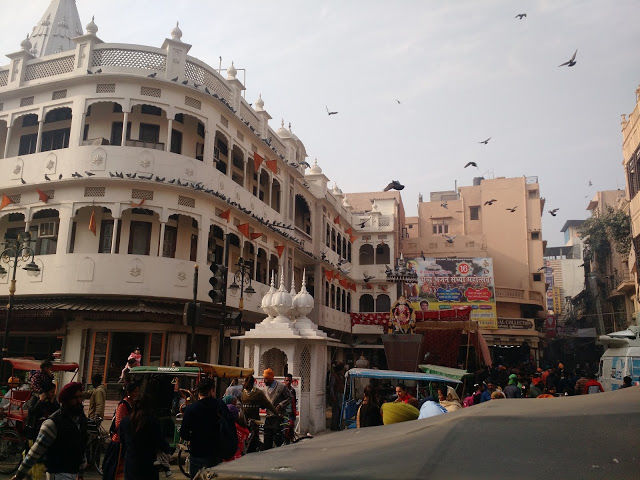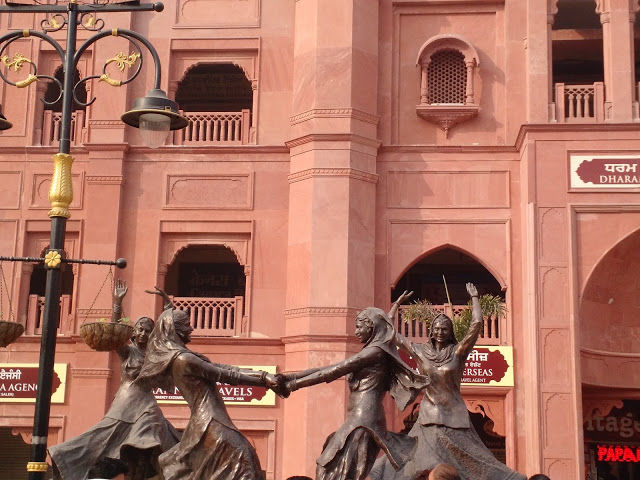 The premises of Golden Temple has got a nice face-lift recently. With newly constructed roads and organized shops, it is a pleasant experience to roam around. E-rickshaw facility has also started, to curb pollution. You know you are in the Amritsar when modern blends with tradition. The well managed crowd, neat lanes and colorful shops add to your belief. It feels homely and warm.
Impulsive hogging and lots of window shopping occupied most of our time during the day and we headed for Wagah Border ceremony at 12.30 pm as our pass was waiting at the check post.
What followed was a thrilling adventure and adrenaline rush at Wagah Border. Read the post on Wagah Border Beating Retreat Ceremony here.