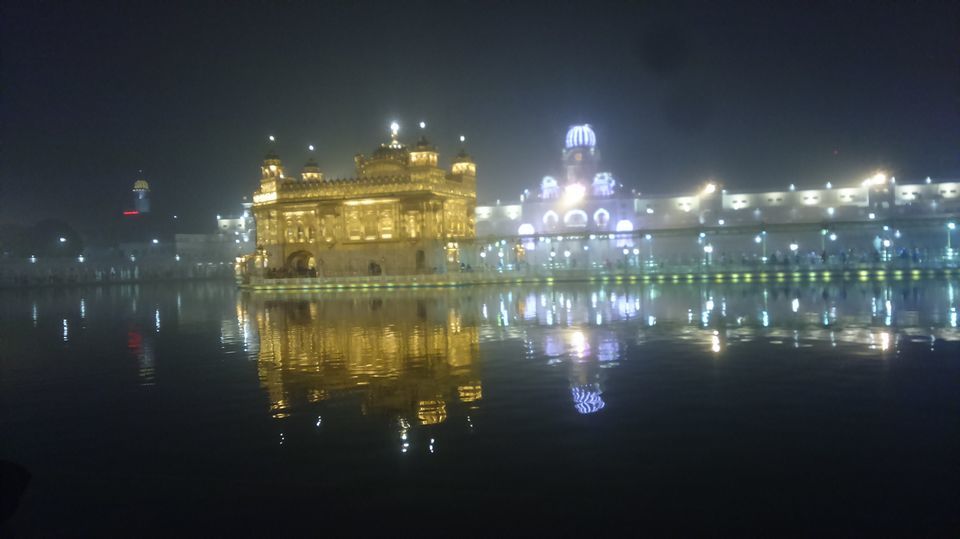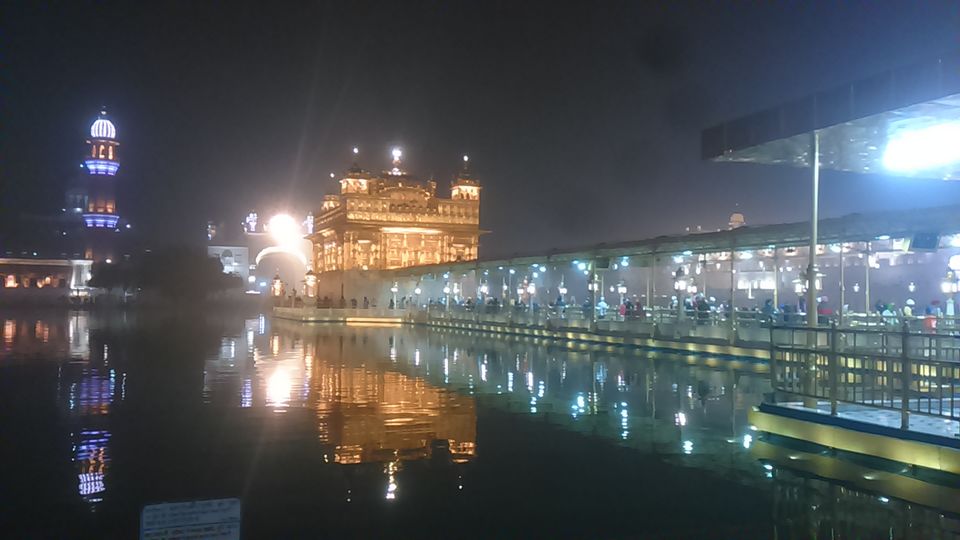 There is nothing MAD OR CRAZY in going new places alone. So, i again went SOLO. Waiting for a long free weekend and i did not have to wait for long bcz the Republic day , 26 jan 2018 was followed by Saturday and Sunday.
And where better than Amritsar(Golden temple + Wagah border) could one spend this weekend full of patriotic vibes. With a small amount of money left to spend on this weekend , i was still excited to go and explore. Booked a place to stay -online. Bag packed...!!!!! on 25 January morning , i got to JAMMU bus stand to start my journey To AMRITSAR (about 250 km form jammu). the PUNJAB ROADWAYS bus ticket cost me RS. 215 only and the bus was on the move at 11:45 am.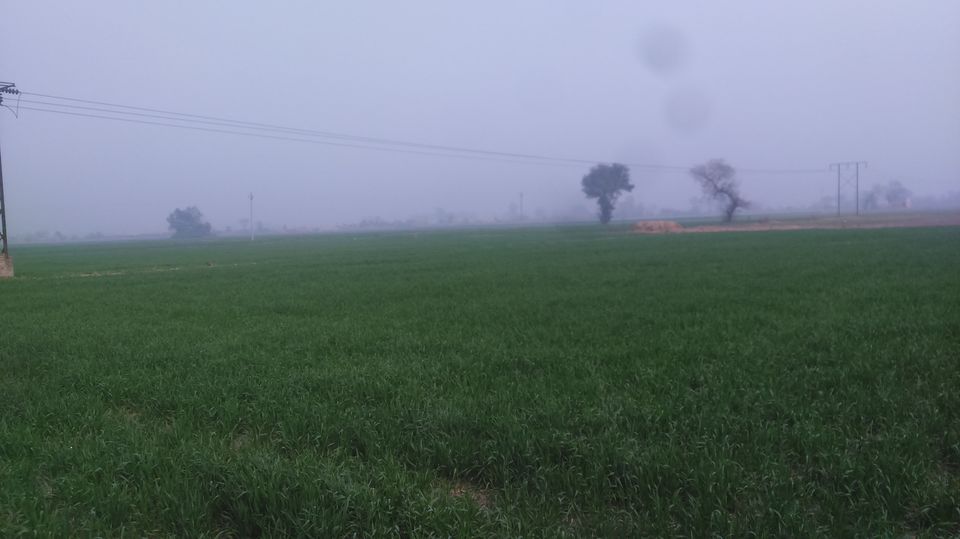 It was going to be my first visit to Punjab and i was excited to see whats there in this place , that so many people talk about its beauty. And didnot take long for me alss to feel the same , right after crossing J&K -Punjab border at LAKHANPUR, entering into PATHANKOT , i saw the difference in landscape.
PUNJAB is a flat / plain land with green lush fields all around where as J&K is a HILLY,MOUNTAINOUS one.
The bus went through a part of bye pass road , then entered into DINANAGAR, GURDASPUR and BATALA, before getting to AMRITSAR.
It took me about 5 hours to get there bcz there were multiple stops and toll booths in the way.
Finally there (AMRITSAR), bus stand is not far away from town hall area(where GOLDEN temple, jallianwala bagh is)
Tip: if u dont have much baggage, just walk to the Golden temple(10 mins) if u cannot or dont want to walk , take an e-rickshaw(pay Rs30 maximum).
I reached my stay place at 5:30 pm (one can also stay at room at golden temple, but don't know about availability and price). Checked in and freshened up , moved out to have my lunch cum dinner(bcz i didn't have lunch while travel). BHARAWAN DA DHABHA(restaurant , near town hall on the way to GOLDEN TEMPLE COMPLEX) was my first spot to visit for food. ordered a THALI and the taste+quantity+service was superb for RS. 160. I kept golden temple on my list at the bottom for day 1(bcz the night view is BREATHE TAKING) ,
i went to the GOBINDGARH FORT(by e - rickshaw RS 40 )to see the 2 museums ,7D show based on MAHARAJA RANJIT SINGH , WHISPERING WALLS light and sound show , walk around the fort ,live cultural performance ) all for a ticket of RS 250-300 per person. and i will never ever forget that amazing evening.
TIP: if u want to enjoy to the fullest, go in the evening around 6:30 pm.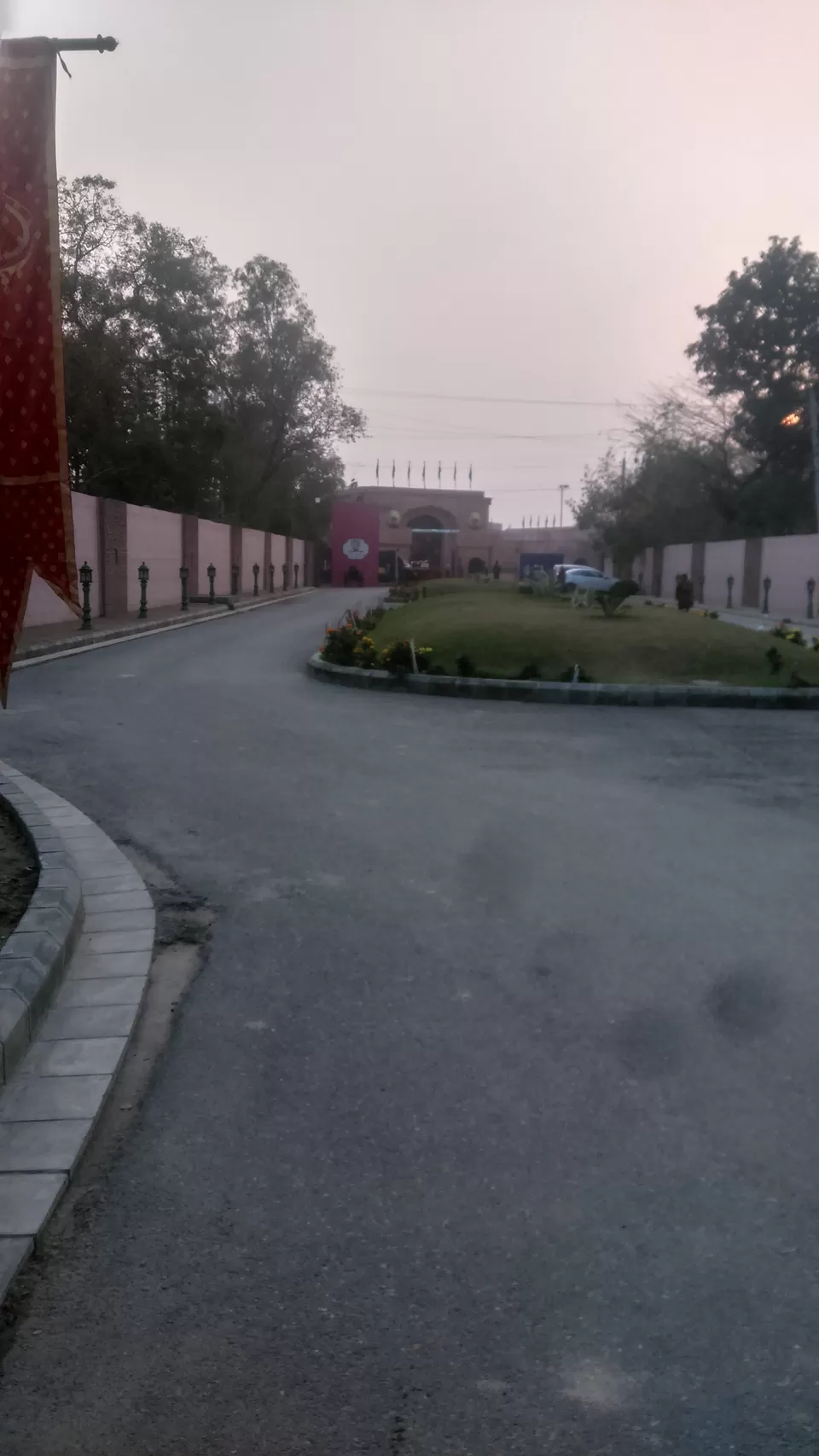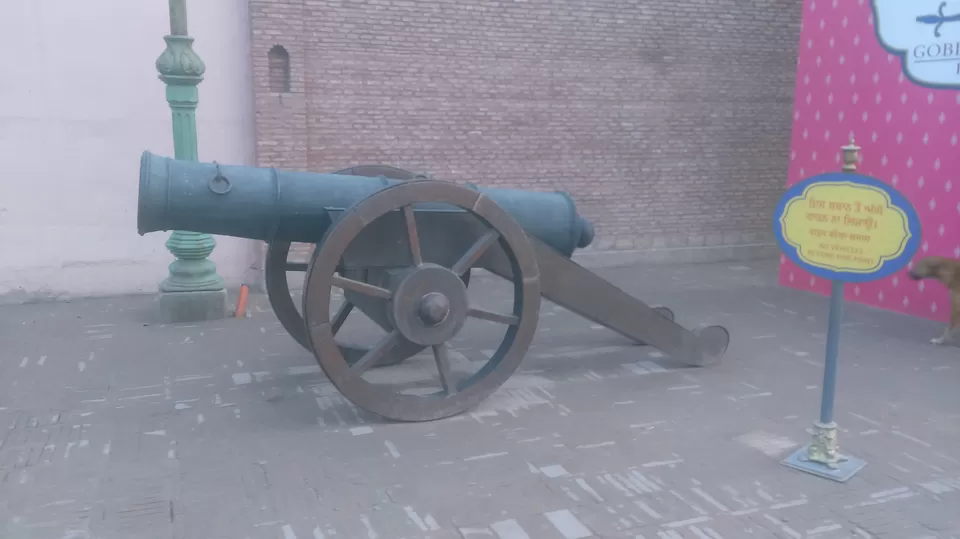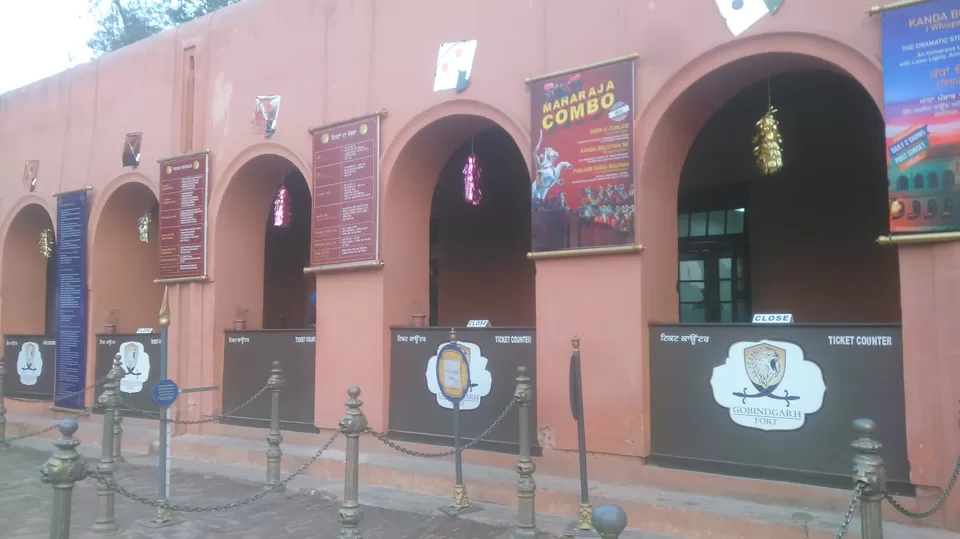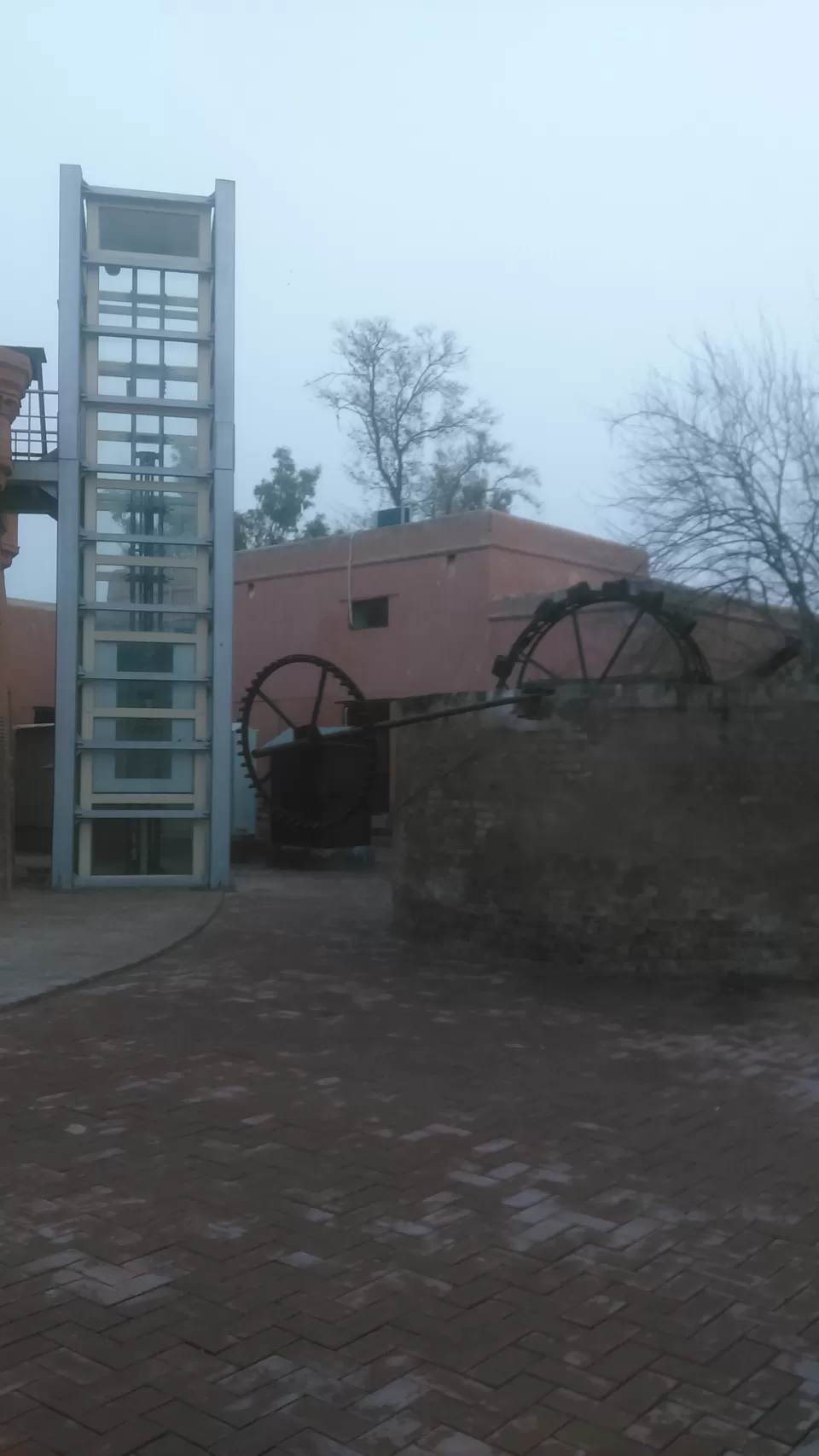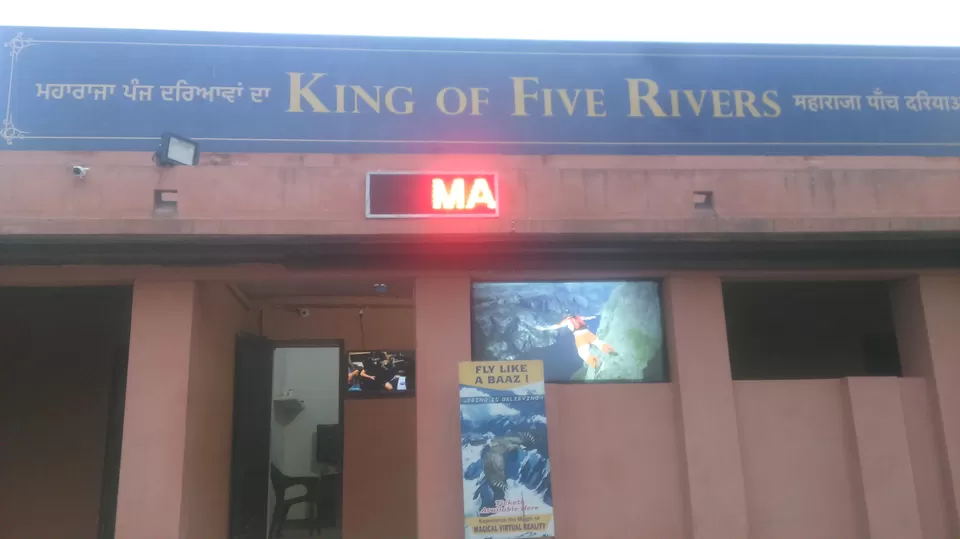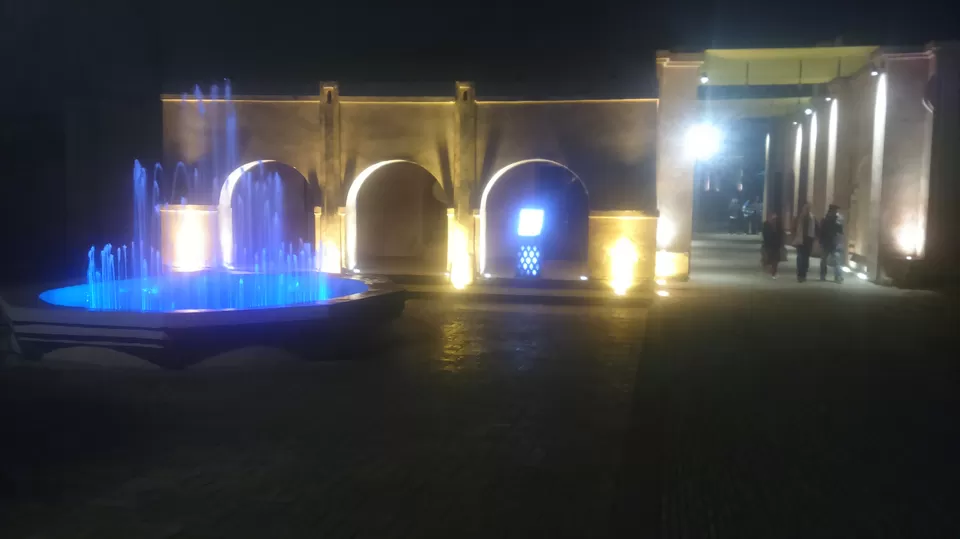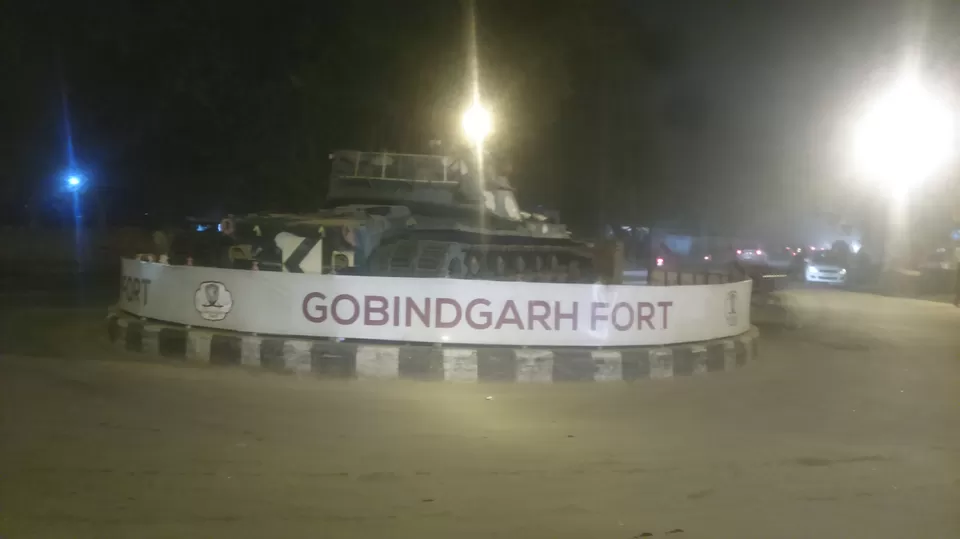 After having enjoyed a lot at the fort, i moved out and decided to walk back (city is safe and people are helping). On the way back DURGIANA Temple was on my list . I navigated to the temple through the roads and streets and reached there just after a 10-12 min walk.(the temple is similar to GOLDEN TEMPLE by Looks but not much famous among tourists)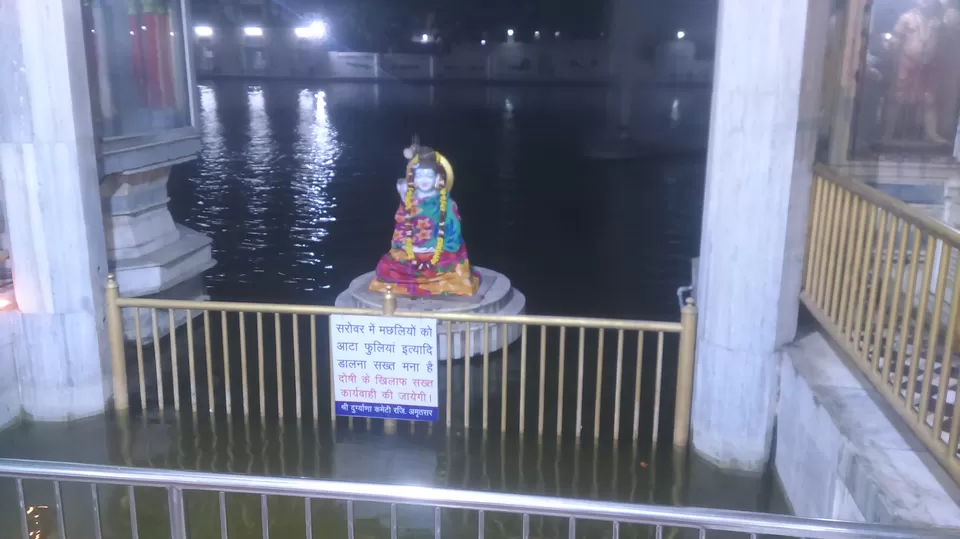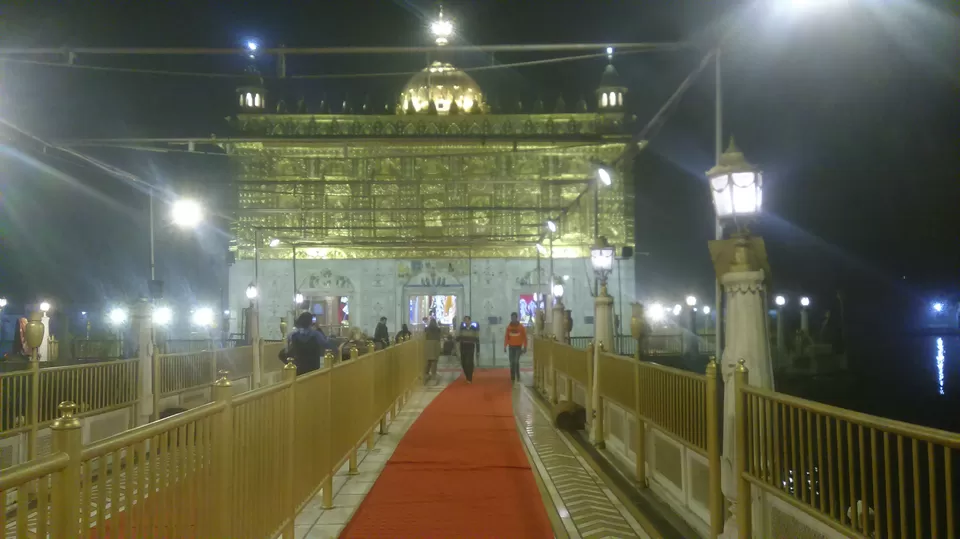 STAYED there enjoying the view and listening to the aarti , and it was time to get to the last spot for the day on my list - THE GOLDEN Temple.
Again walked to reach the GOLDEN temple complex (must say ,VERY WELL DONE by the PUNJAB govt. , the RENOVATION of the whole town hall complex is of international level). There is everything restaurants,clothing,local vendors,cultural items etc .
IMPORTANT: you must have your head covered by a clean cloth before entering the temple complex. And one can also put the shoes at free counters outside the temple complex.Take a token and remember the window where you put your shoes.
All done ,wash hands and you will be ready to have a view of your life. The GOLDEN TEMPLE is such a beautiful SHRINE that brings a shine into your eyes and a peace into your mind. I wont tell u much , u should just visit to experience this feeling. One can also purchase and offer a prasad from inside temple complex. The waiting line to temple might be long but the wait is worth everything you see and feel.
TIP:visit all the floors of the Temple and after getting out , visit all other buildings around the lake(Sarovar) and go to the LANGAR for having a delicious meal made and served by volunteers at the GURUDWARAS kitchen. You can also offer your service (sewa) and they might allow you to do some help.And the temple is open all 24 hrs.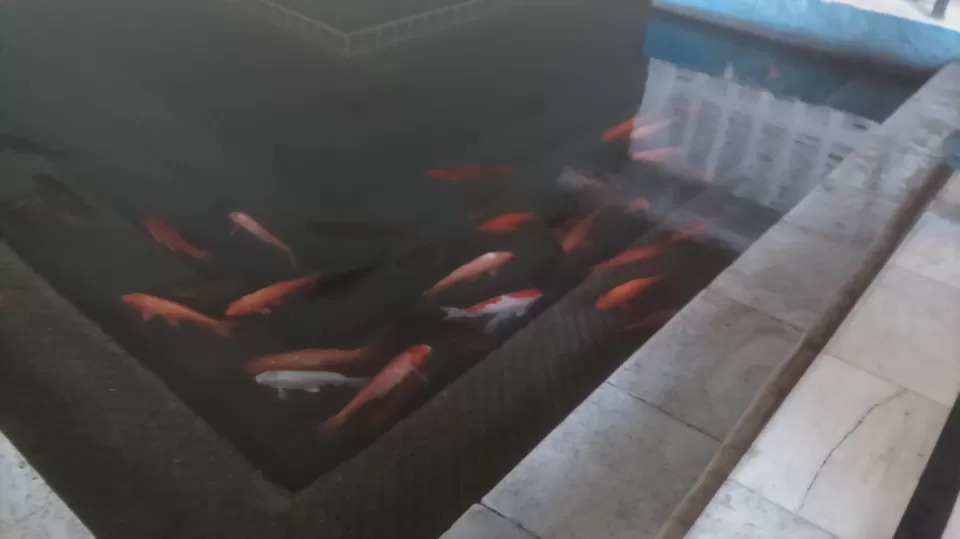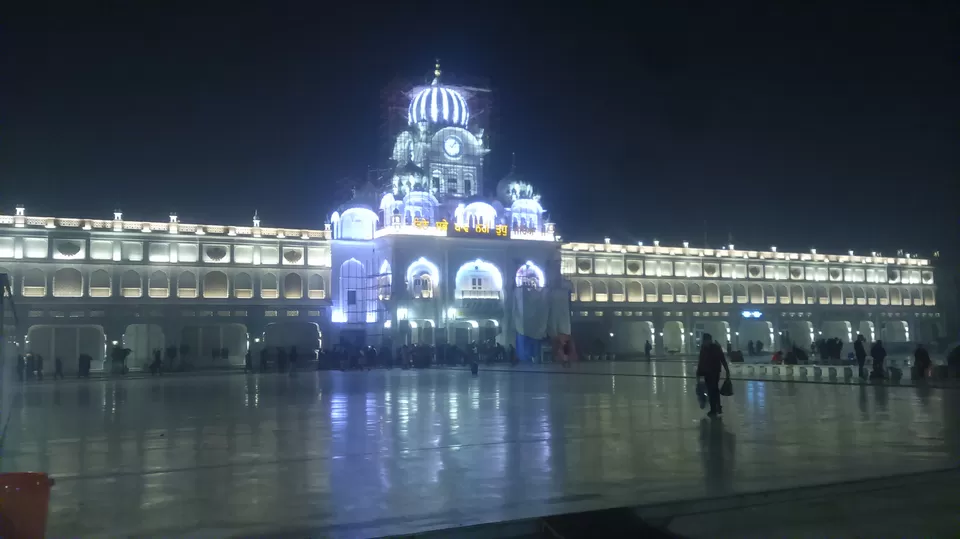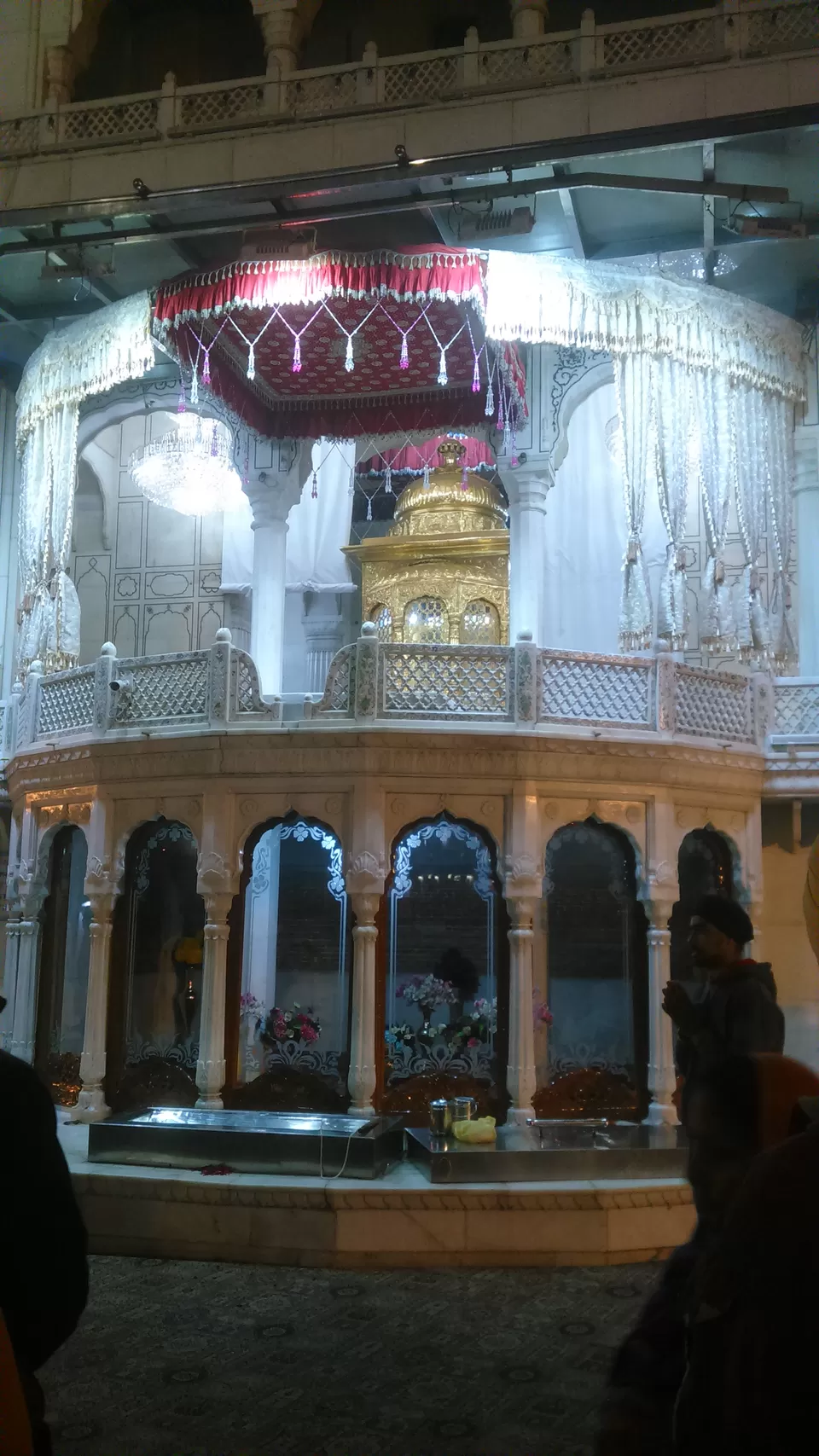 Had enough from the day and ended this day with a walk around the town(streets and complexes). Good Night ....!!!!
Good Morning ,its 26 January.. HAPPY REPUBLIC DAY. Its a new day and a special one bcz i am going to witness the flag hoisting ceremony at JALLIANWALA BAGH and the BEATING RETREAT CEREMONY AT ATTARI-WAGAH BORDER.
I woke up and move out ,had some tea and snacks as breakfast and head straight to BABA DEEP SINGH JIS Gurudwara as it was BABA jis birthday being celebrated on 26th JANUARY (one must know about the story behind the Shaheedan wala gurudwara, its fascinating).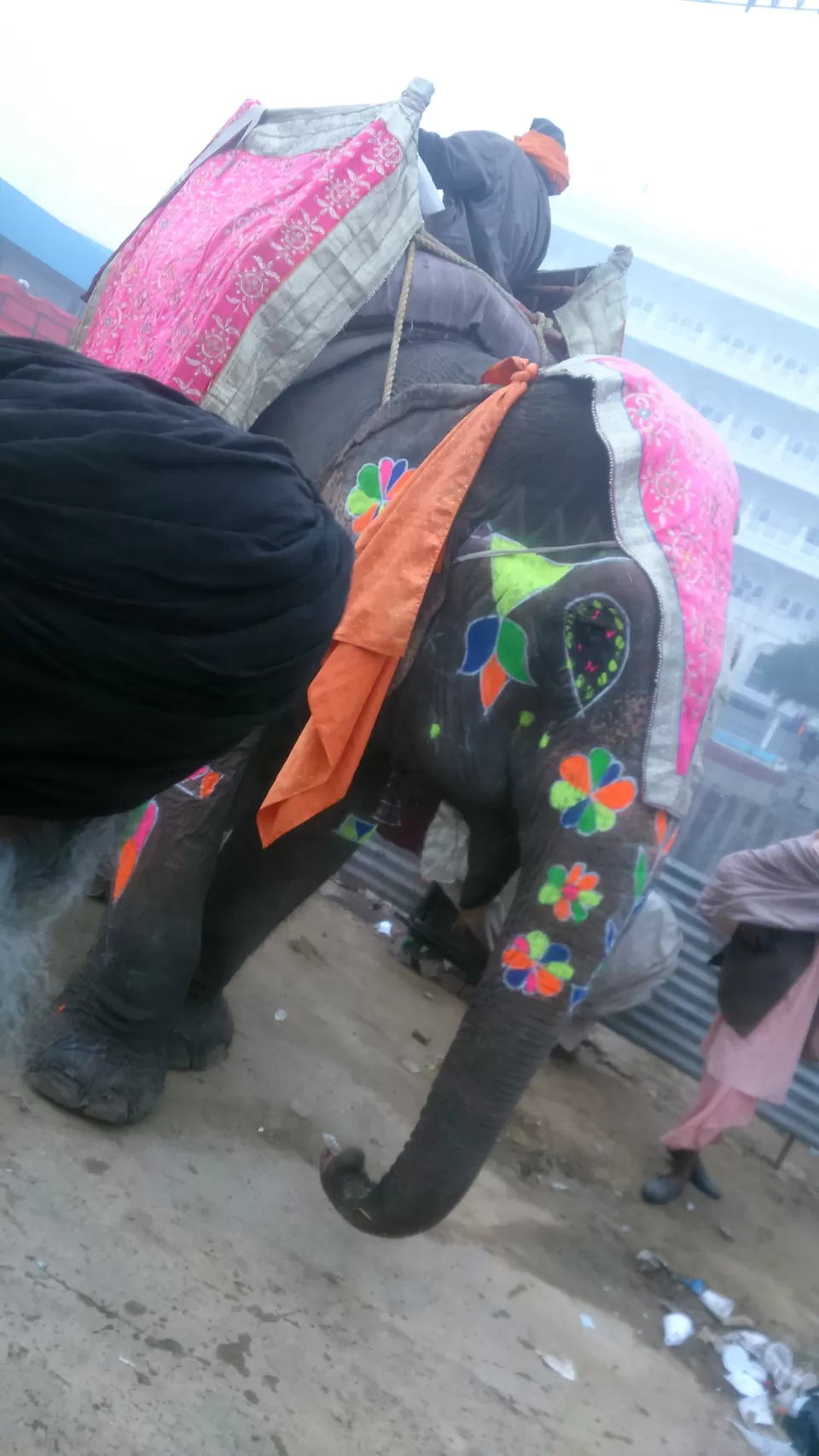 After that i walked back to the JALLIANWALA Bahg (its open in the day only and its also in town hall area right near Golden temple). It was different feeling (hard to explain ) visit a place where people were killed while attending a festival.
Entry is free ...!!! and you enter the bagh through a narrow street and see bullet marks on the walls, the well that people jumped into, and stories about the day when that massacre happened . Make sure you visit the whole Bagh and try to feel the pain of the fellow country men who died there.There is a Museum (inside the bagh ,free entry)that displays documents and other publications of the time of our freedom struggle.
Flag hoisting ceremony at Jallianwala was Incredible and full of JOSH.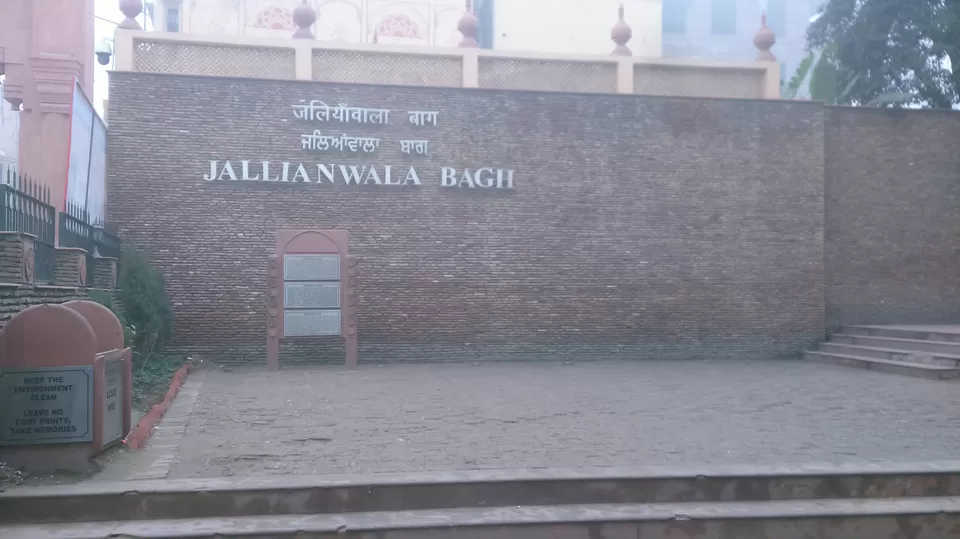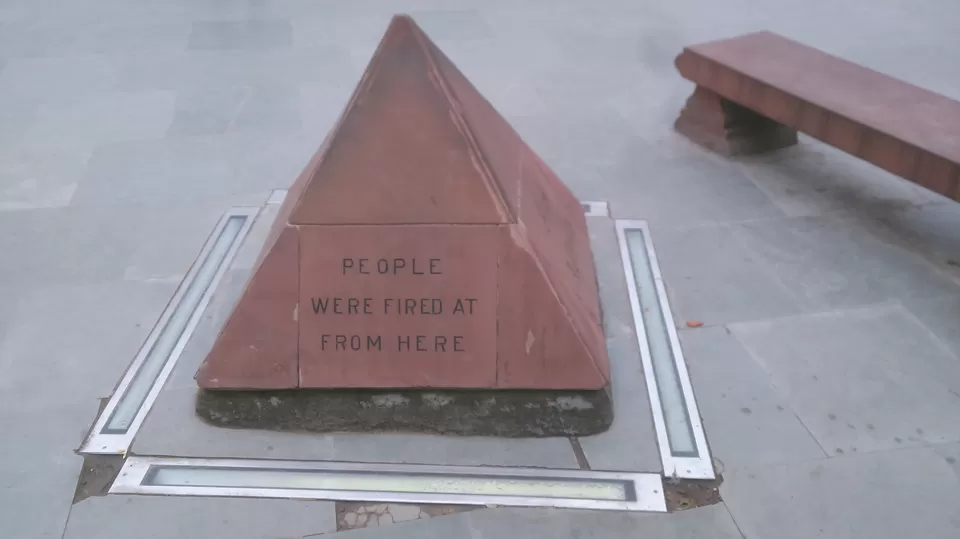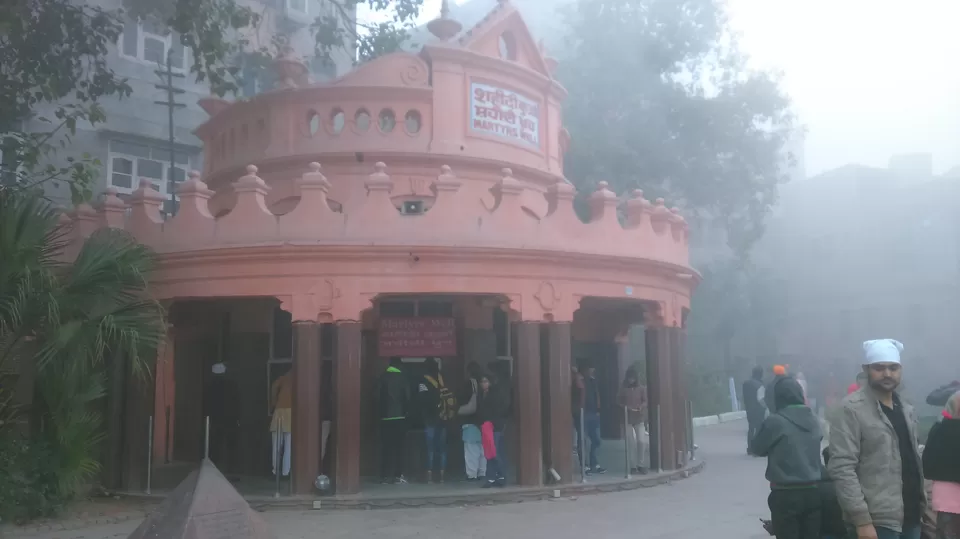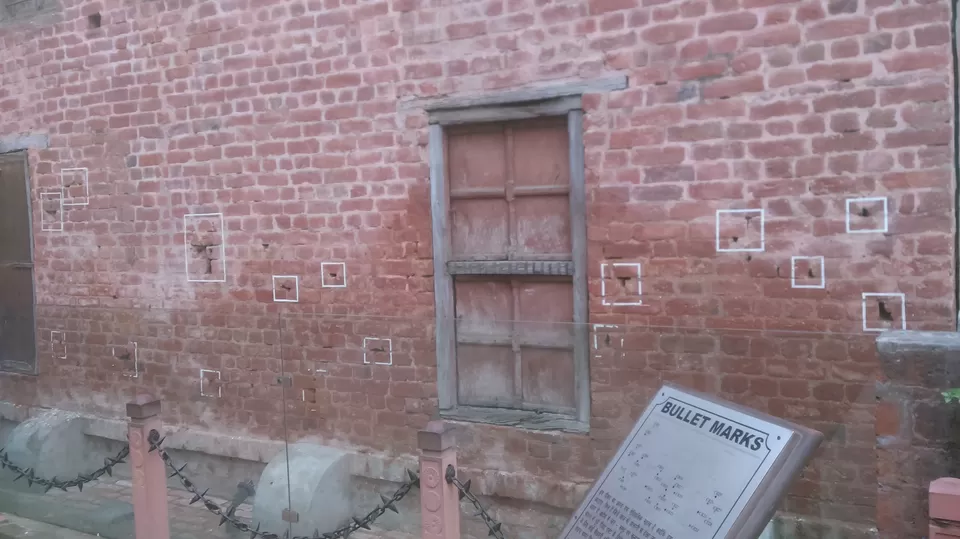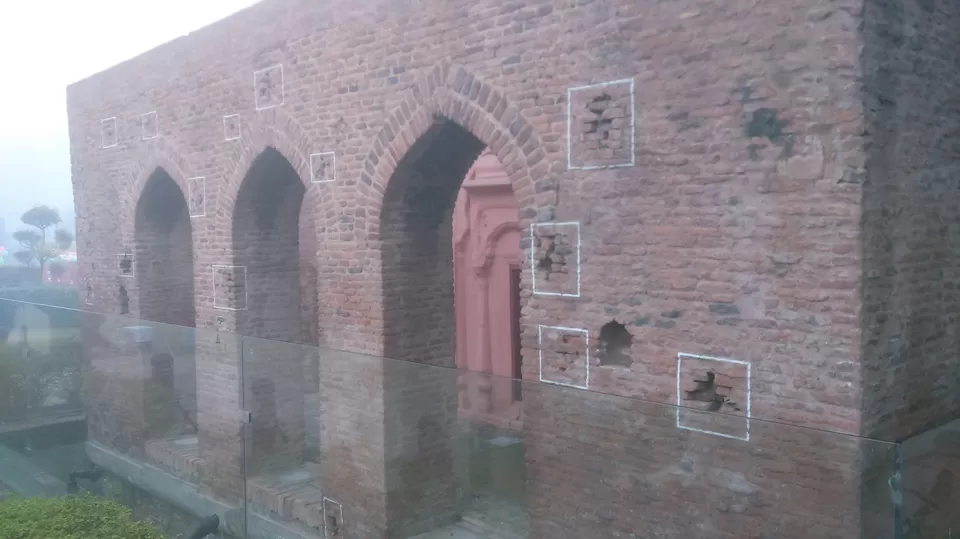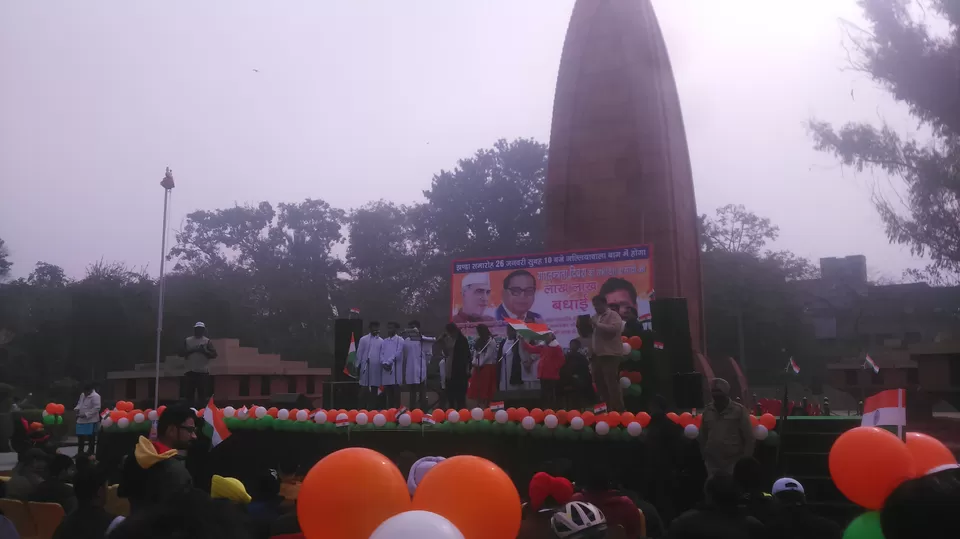 (around 11:30 am )I went outside the bahg and contacted an auto driver with whom i booked a seat(RS 200 both sides) for going to Wagah border. The auto was to leave at 1pm and i came back at 12:45 pm , got my seat , left for Wagah (about 30-35 km from Amritsar and takes 1 1/2 hr). one can also take a bus to Attari- Wagah. The auto had a stop in the middle and i had lunch there.But there is a plenty of vendors selling Samosa,Cold drinks,water bottles, bhel puri, sugarcane juice, Kulcha ,pop corn etc at wagah border also. It was Republic Day and there was a huge number of people present there at the border to see the ceremony on this day. It took me around 2 hours to get through the security check and then to the stadium area near the border gates(got entry right around 4 pm). But the crowd was crazy and thousands of people shouting BHARAT MATA KI JAI, HINDUSTAN ZINDABAD is a whole different experience, full of Patriotism.
Then to see the school kids perform followed by the Routine of BSF SOLDIERS is expremely amazing. The ceremony took 1 1/2 hour to complete and the crowd rushed to the exits(looked like a massive stampede is going to happen)
TIP: On 26 jan and 15 august ,If you dont have special entry passes , book a cab and go as early as possible to get a good seat in stadium . On regular days , the crowd is normal so u can go around 2,3 and even 3:30 pm.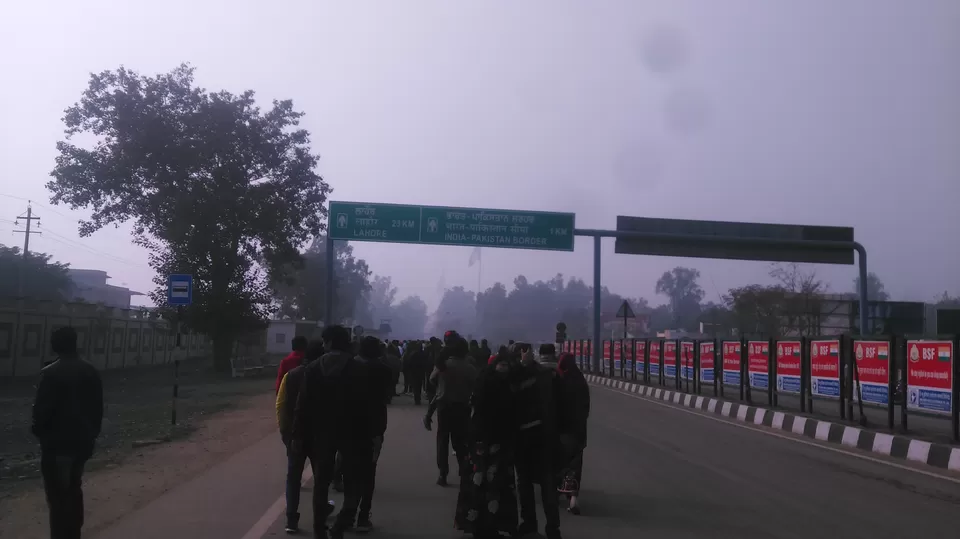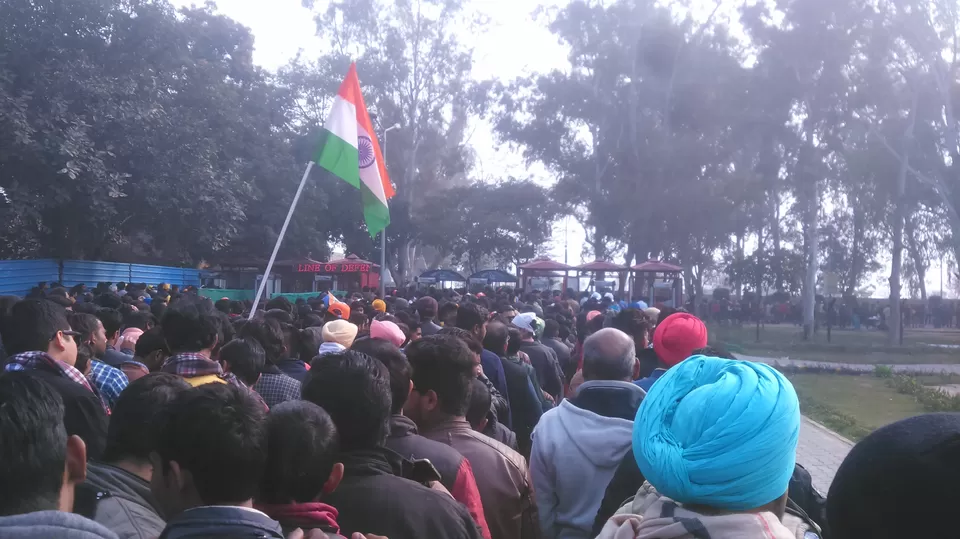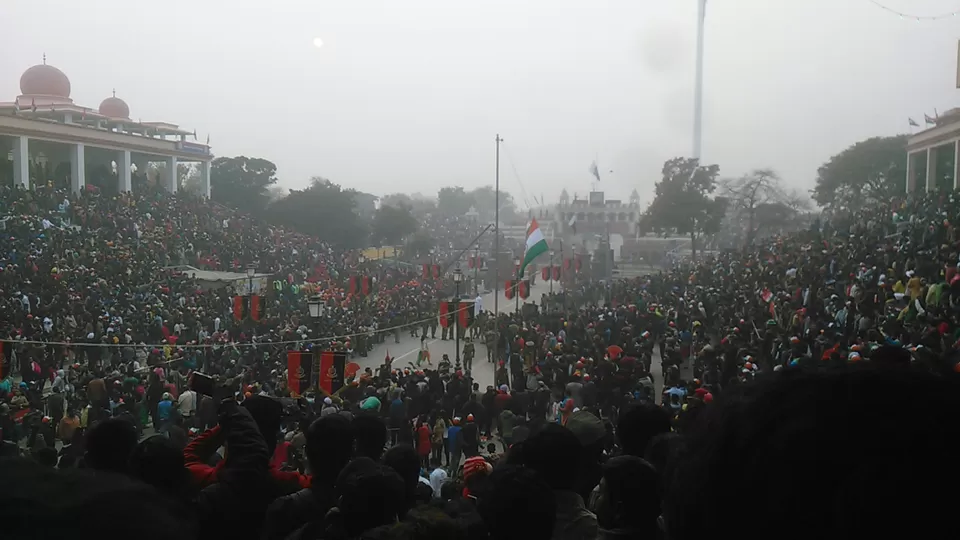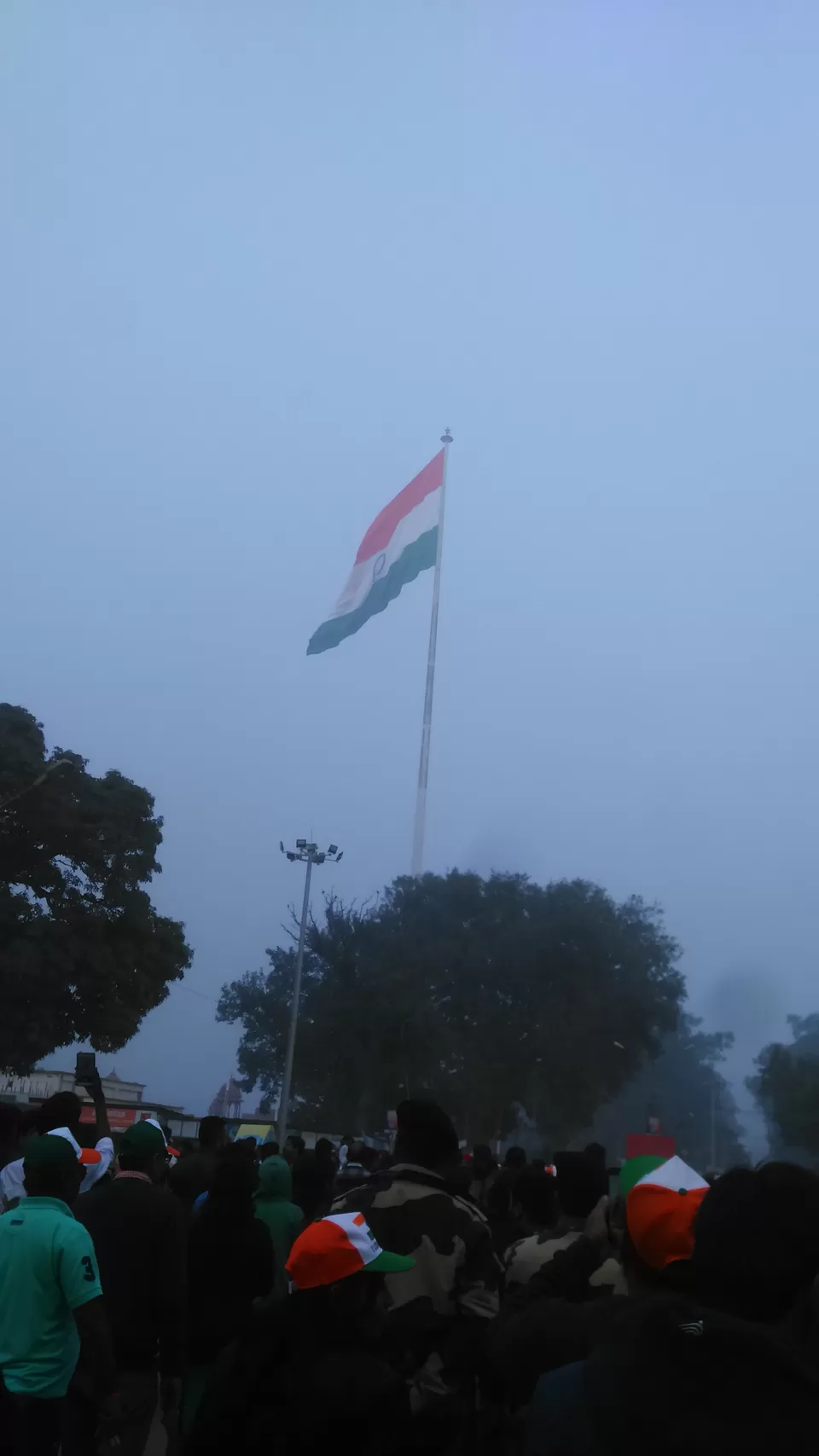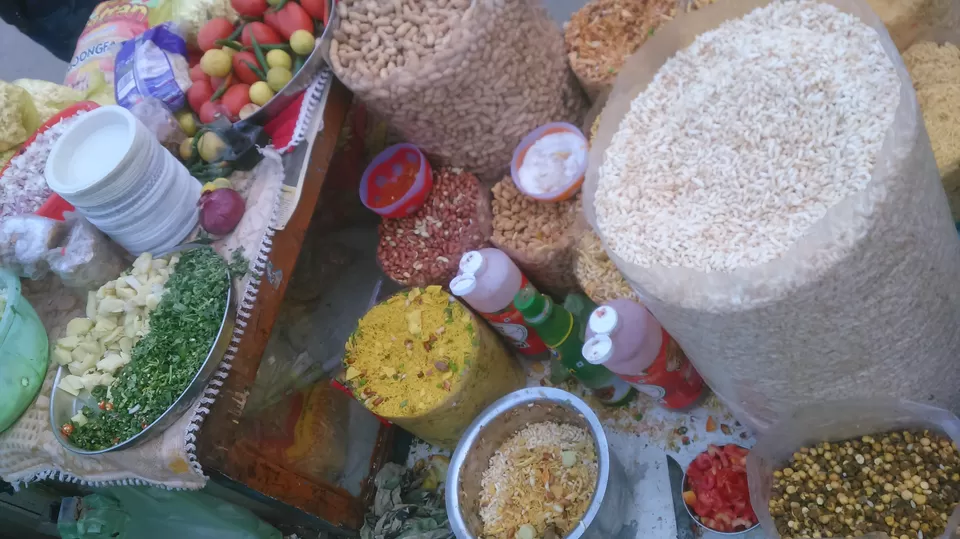 After the ceremony, i went to the parking lot ,which is at 10 min walk before the border and went back to Amritsar by the same auto.
On the way to Attari Wagah border, you will see:
Gandhi Gate, Hall Gate,GT Road,Hathi Gate, Punjab War Memorial, Guru Nanak Dev university,The famous Khalsa College and Khalsa University.
Getting back it was evening already , i had a dinner at a local dhaba and went to my stay place at Hall Bazar(near town hall , Golden Temple).
27th January , i didnt have much to do but I had SAVED THE BEST FOR THE LAST- "AMRITSARI KULCHA".
Getting to know from the locals and my hotel reception, i followed their advise and went to LADDI KULCHA shop (a small kulcha shop) for having a brunch before leaving for home. And i must say it was the tastiest kulcha that i had ever had .
It was time , so i before checking out from the room , i went to the GOLDEN TEMPLE once again and checked out and headed straight to the bus stand for getting the bus back to JAMMU.
OVERALL TRIP COST: RS 2500-2800
TRAVEL COST: RS 800-900( total to Amritsar and back home , inside amritsar,wagah etc )
MEALS COST: RS 500(6 FULL MEALS+ SNACKS +TEA ETC)
SIGHTSEEING COST: RS 350-500
ACCOMODATION COST: RS 1100