Whenever I had planned something small or big, most of the times it remained merely a plan and was never executed. But this time, I had decided that once I graduate, I will visit Leh-Ladakh irrespective of whether I have company on this trip or not. Co-incidentally I heard that four of my friends were planning the same. So I asked whether I can join them or not thinking that It would be fun to visit in a group and also we can share the expenses. So selfish of me! Initially, they were hesitant since I will be the only girl in the group if I join them. But Gypsy soul of mine was as determined as the turtle that I wanted to visit Leh in this summer. After spending five awesome years in God's own country, Kerala, I was excited to visit Leh-Ladakh and Dev-Bhoomi, Himachal Pradesh. In the end, We, a group of 5 graduates, decided to go. We had talked to few people who have been to Leh just before one week, also read many blogs and gathered information as much as we could about the places, roads, weather, food, petrol pump, etc. Our planning had included only the itinerary of the trip and all the possible bike problems which we might face and how to handle them. We neither booked any hotels or not had taken tents with us. Few packets of nuts, medicines, necessary things(clothes, shoes, etc), rented bikes and brave hearts filled with enthusiasm, That's all we had which was more than sufficient.
Day 1: @Delhi.
As soon as we reached Delhi at night, it started raining heavily. Next day we visited few places in Delhi and few places we saw from sitting inside the car as it was raining heavily and we still had lots of things to do. So there was a choice such as to get drenched in front of the red fort and play in the water for a long time.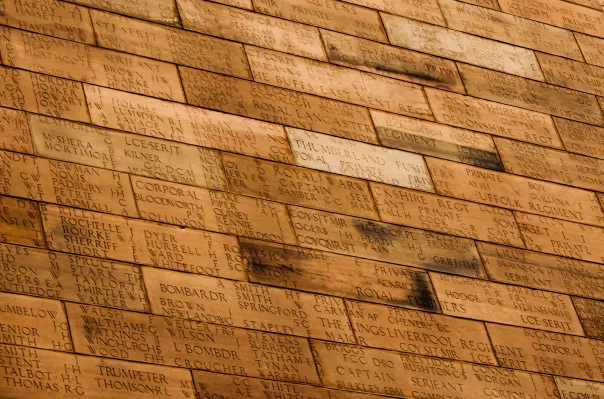 Only if we had time! It was before few days from Eid. We saw Kutub Minar, Red fort, India gate. We went to Jama Masjid, it was huge and crowded. There was a board which said that every day few girls(under age 12) go missing from here. So be careful. As I was the only girl in my group, these guys started making fun of me. We were eager to see Chandani Chowk. Bollywood movies have made this place very famous. The crowd is so much that one can easily go missing in the group. So lots of people here go in a vehicle, rikshaw, which is actually cheap and comfortable. We had few yummy dishes on small shops. Life at Delhi is fast. At the end of the day, we were tired and also excited for next day.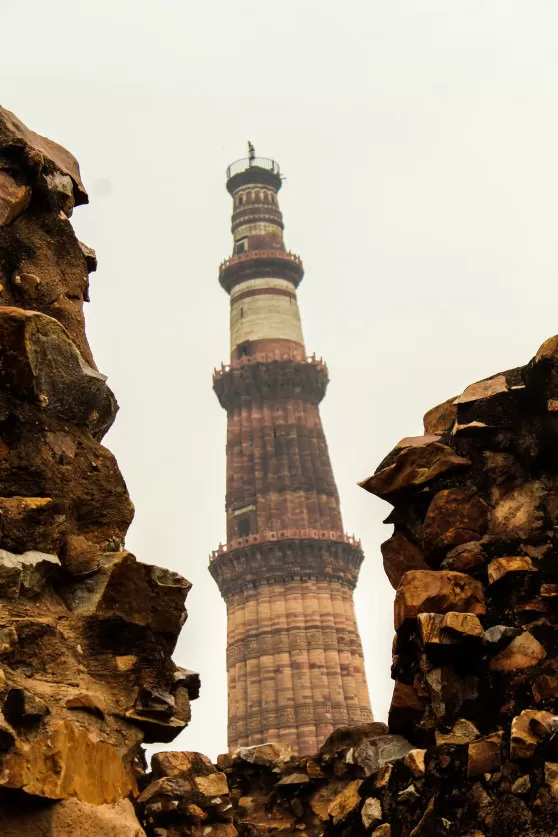 The trip was planned in such a way that we gradually get used to the change in weather to prevent ourselves from AMS.
Day 2: Delhi to Jalandhar. (368.5 KMs) We were just so happy thinking that we started the trip. This day was only about the green lands on both the sides the of the straight roads, rain, dhabas every few KMs. I drove bullet for some time on this way, and it was one of the remarkable moments of this journey. Suddenly this feeling rushed to my mind that If I can drive bullet then I can do anything. I had a huge smile on my face.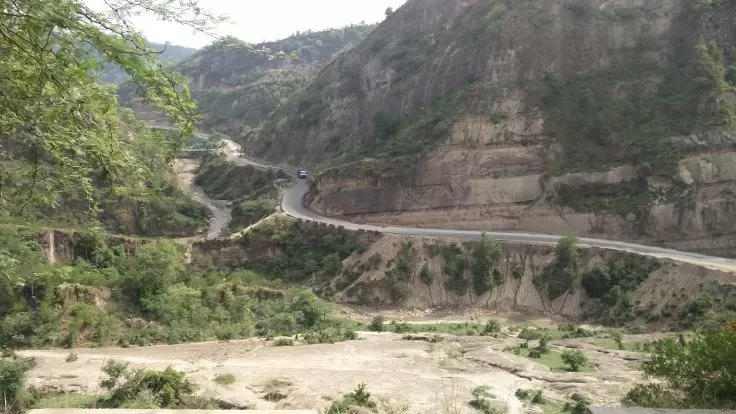 When the roads are straight, clean, smooth, you don't worry too much about reaching the destination in time. But on the first day, one of the bikes got punctured. We hadn't taken puncture kit with us. So it took us a tad longer to reach Jalandhar. For some time, I wondered about what's coming next. As in we were still in the civilized area where finding mechanic is easy. By the time we reached Jalandhar, we were exhausted.
Day 3: Jalandhar to Udhampur. (249 KMs)
The day when all the curves alerted our nerves. I would say the road to Udhampur was like a teaser for the movie which we saw in few days. There was a perfect suspense in the film. And you can't wait to see it. When we were midway to the top of the hill, seeing the clouds and the view we used to decide how fast or long we can go because monsoon had already started. On the way to Udhamapur, you see Mansar lake; hills surround it, and the view is beautiful.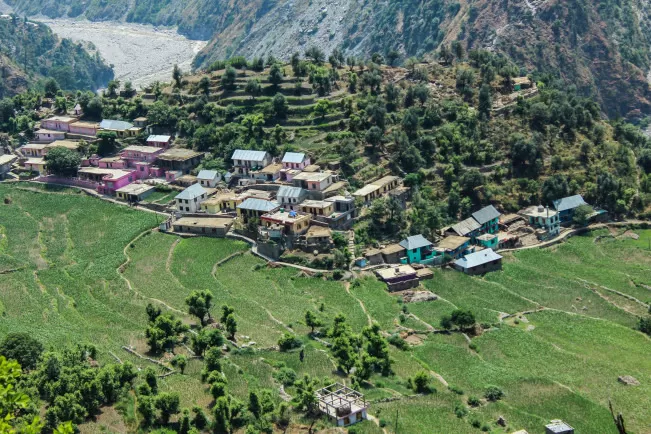 We were relaxed as finally there was a chill in the air when we reached to Udhampur.
After living five years in Kerala, I have learned a saying which Malayali people say. It says "even if you go on the moon, you'll meet a Malayali ". We met a Kashmiri Pandit who had Malayali friends in all his working days; he knew Malayalam perfectly. He was not Malayali but later in the trip we met few. He helped us during the stay in Udhampur and also in Srinagar. He was jolly and made us feel pampered. The plan was to reach Patnitop that day but we could not because of the rain. So we decided to halt at Udhampur, which turned into an excellent decision.
I would say all the people who want to go for a road trip; they should prefer this way to go to Leh than via Manali. You gradually see differences and have time to experience, which won't be the case if you go via Manali.
Day 4: On the way to Srinagar: (235.1 KMs)
And now you see the green mountains, river, and huge railway bridges. Also, you start seeing army people every few meters with carrying their rifles and guarding the area. These hairpin roads were the ones where we saw car accidents and traffic which could take a whole day or more to clear. We were glad as we were on the bikes and could easily find a way from the traffic on hills. Near Patnitop, we stopped for lunch at Sharma Dhaba. I guess we, Trivandrum IISERians, love and find Sharma Dhaba everywhere. The owner sat there and told me few stories about his life and family; when boys were busy in repairing bikes. One of the bikes was punctured and luckily there was a mechanic in Sharma Dhaba.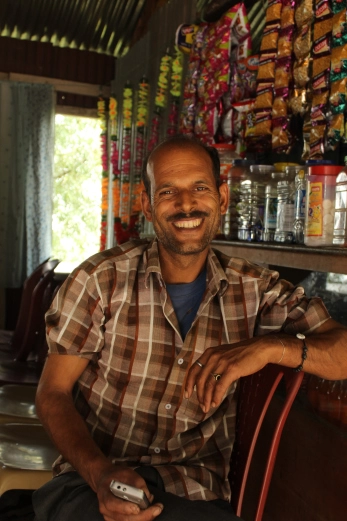 The owner said " In the winter these hills look breathtaking. Snow is everywhere. It's tough to survive in winter, but I love it. Longest I have traveled was to Shimla which was also a cold place. I can't survive in the heat. I have never seen sea till now, and I don't think I ever will. Everyone wants many things, but we get only a few in life."
He looked happy with whatever he had, and I loved his half full glass attitude.
It was really hot in the way. Even though Hill and trees surround you at the top of the hill, heat makes you go crazy.
There is ~2.5 KMs long, straight tunnel on the way and army people are guarding both the ends. After some time we saw the board "Welcome to Srinagar". We reached the hotel which Kashmiri Pandit had arranged for us. As soon as we entered the hotel, it started raining. 2 of my friends & I freshened up and went outside to see the Srinagar, to buy few Kashmiri stuff for our family and friends. Eid was on the next day. Hotel owner suggested us to have Kashmiri Biryani and the chutney when we asked. It left our taste buds tingling. Hotel owner told his experience of Ladakh. He said, "Ladakh is completely dry. Why do you wanna go there? Srinagar is green and pleasant. Stay here, Celebrate Eid with us and go." Later after a long talk, He gave us few tips and an idea of what's coming next.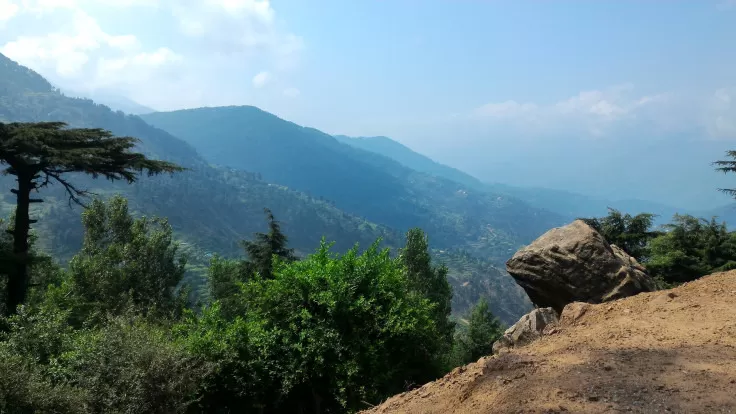 Later because of rain there was power cut which lasted for the whole night in entire Srinagar. It was like black out completely.
Here in Srinagar, after seeing one girl with four guys, people tend to ask us questions. Even before the trip, lots of people had asked me "How I will manage? Will it be safe?" and all those sorts of questions. But I guess when you have the support of your family, have the awesome friends, and the never give up & face whatever comes to your way attitude, there is not much to worry about. Life demands you to be fearless. I would suggest all the girls, who wanna go for the road trip or anything similar, to not keep your mind full of doubts and just be brave and go for it. This trip experience will teach you many things and will remain with you all your life.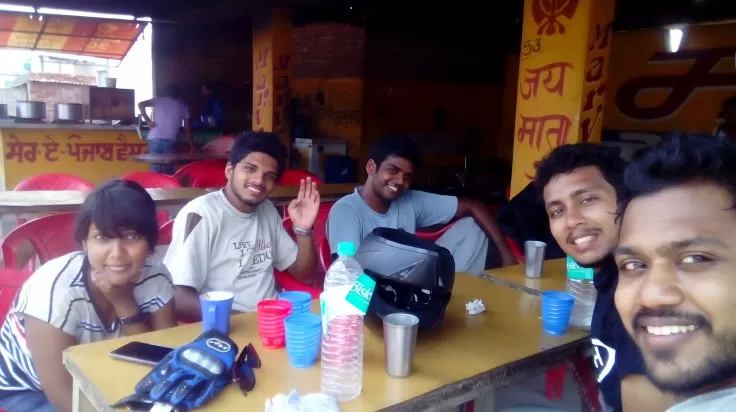 Wait for the next blog to read the rest of the story.
This post was originally published on Gypsy Soul.