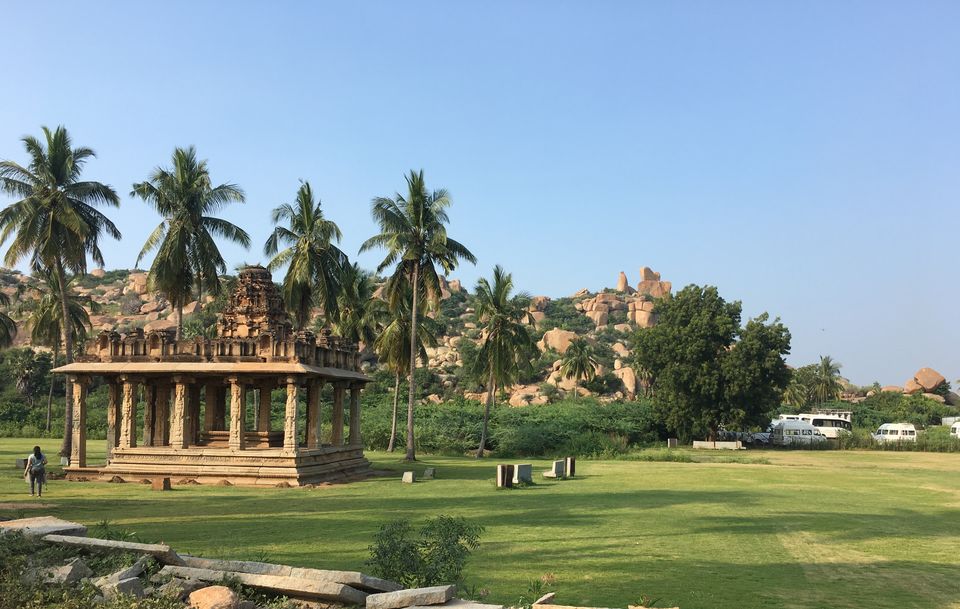 Hampi is located at Ballari district, Karnataka, India. Hampi is popular for ruins, temples, rocky mountains, big paddy fields, Tungabhadra river. Hampi is also an city under UNESCO World Heritage. According to Hindu mythology Hampi is considered to be part of Kishkindha(The monkey kingdom) and also known as birth place of Lord Hanuman. After 1-2 months of long planning Me and other members of Bassadhikers (group of 7-6 peoples including me) decided to go in month of November. Best time to visit Hampi is from November to February as weather remains moderately cool except sunny afternoon. We decided to go by sleeper bus from Mumbai to Hospet.
We reached Hospet city in the morning. We started our journey with typical south indian (also my favourite) breakfast Idli-wada-samber. After having heavy breakfast we took rickshaws till the Tungabhadra river which cost us around 500-600/- Rs. There is an ferry to cross the river they charged us 40-50/Rs. The ferry timing is from 8AM till 6PM. After reaching to the other side of river we took 3 scooties on rent. It took us 20-30 mins to reach to Jungle Tree.
Note: Bikes rented in Hippie island are not allowed to take to other side of river (Hampi side).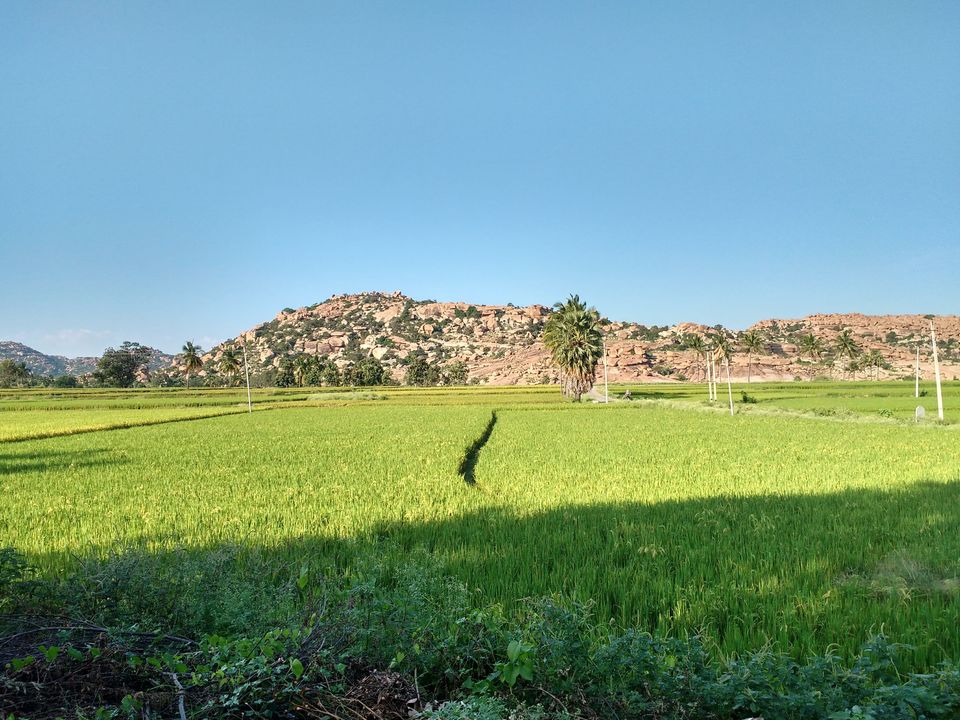 Jungle Tree is in village of Rangapur, surrounded by local houses and big farms. The Jungle tree rooms are based on village theme only. We booked 5 person room it has no AC's just fan with 5 separate medium size beds. We paid 7000/- in rupee for 3D/2N stay for that room. Most of cafes in Hampi serves non-Indian food as the maximum number of visitors are foreigners mostly Israelis. The cafes we visited around are based on hippie styles, gives you chilled and comfy vibes.
We already decided to enjoy sunset from Anjaneya hill for that day, before that we started visiting nearby points as we had some hours left before sunset. We visited Shri Ranganatha Swami Temple (Lord Vishnu Temple) small but peaceful place, after that we visited Vaali gufa. Vaali gufa is a cave where Vaali had fight with Mayavi Asur. Sugreeva brother of Vaali closed the entrance thinking of that Mayavi killed Vaali but happened opposite and Vaali got trapped in that cave.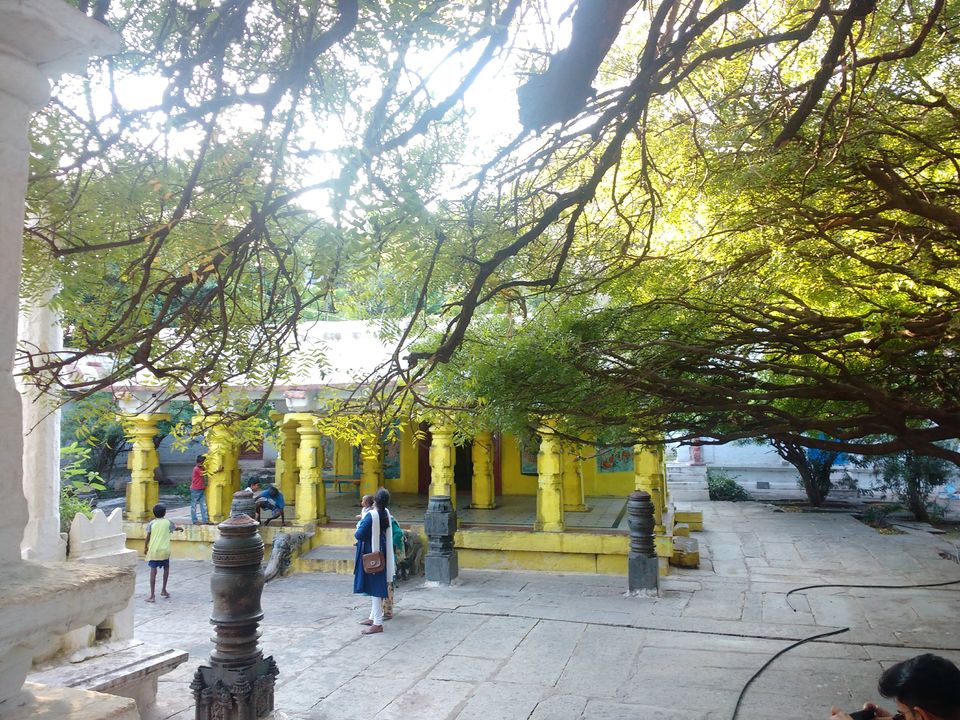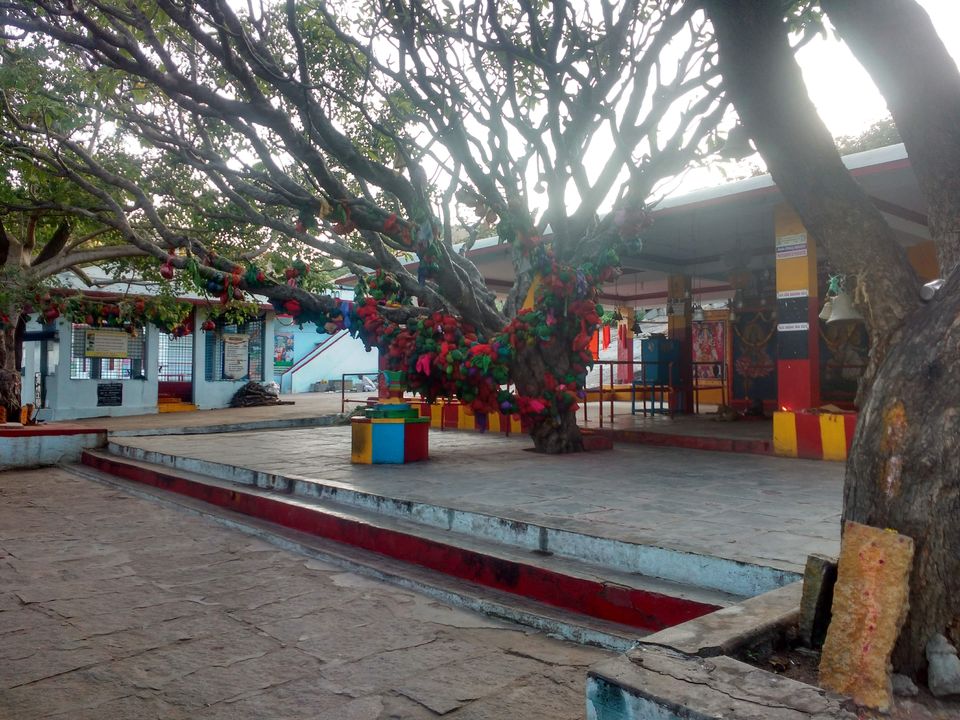 Then we went for last spot for that day Anjaneya Hill. The hill has Lord Hanuman temple on top of it and the hill is also popular as sunset point. The hill has total 575 steps!!. We took 3-4 breaks before reaching to the top. We were so tired, thirsty but the satisfying top view helped us to forgot all our pain. The top view was really beautiful we took some photographs their and chilled their for some time(beware of monkeys their).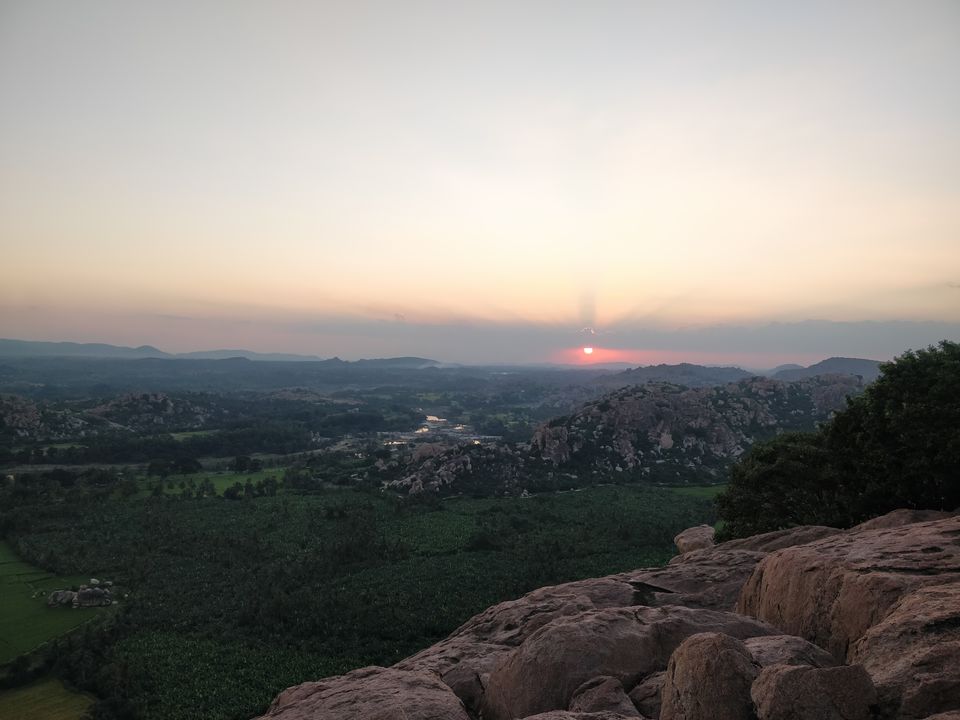 After taking Lord Hanumans darshan we headed back to our base point. We had dinner at German bakery a restro near Tungabhadra river and ended our day.
We woke up early because we had too many places to visit for that day. We had heavy breakfast as we decided to skip our lunch and utilize that time to travel. We parked our scooties where we rented them and crossed river by boat ferry. We started our day with one of the famous spots in Hampi Virupaksha temple a form of Lord Shiva.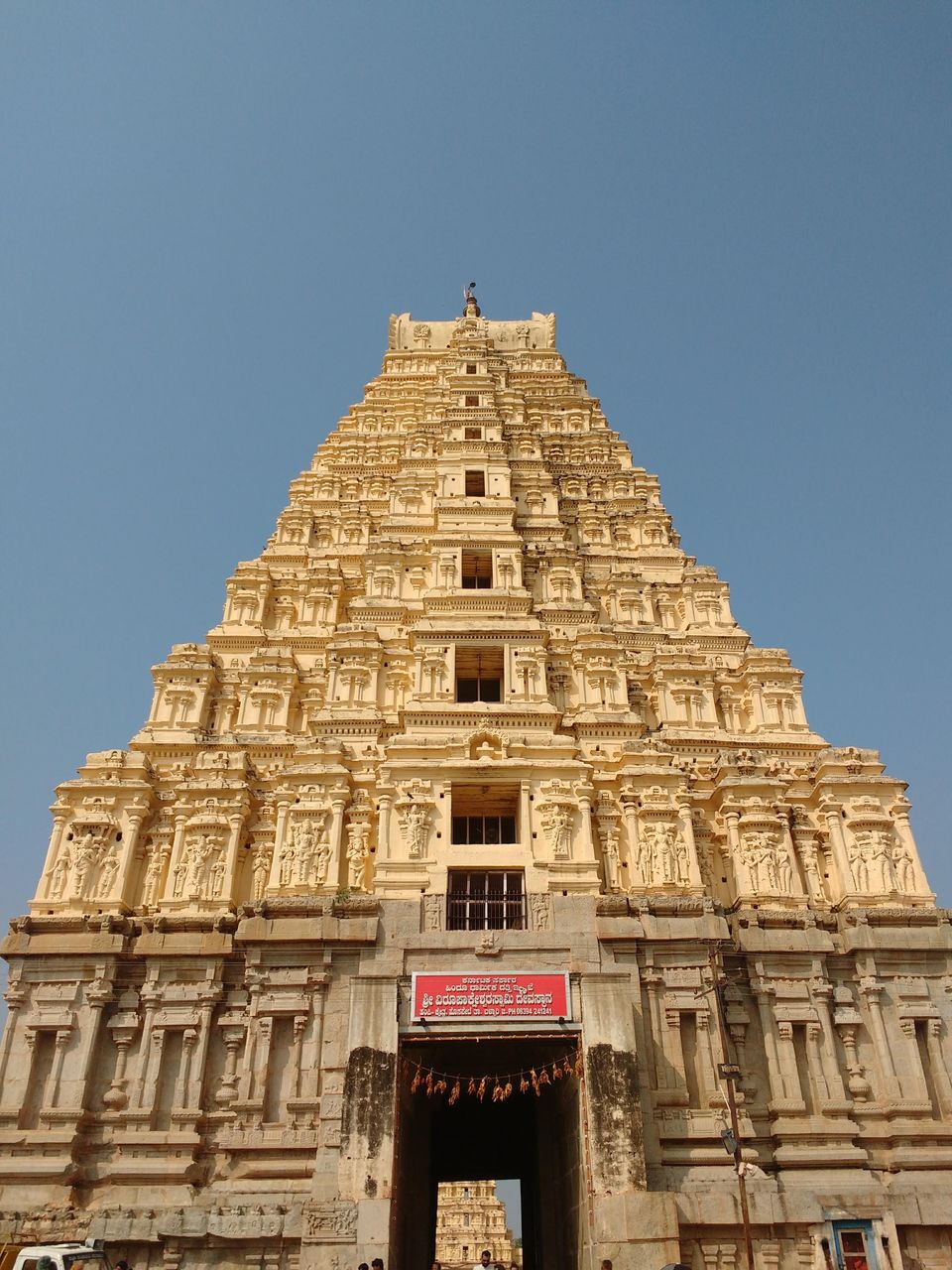 The Gopuram means the entrance tower is huge around 50-60 meters in height facing towards east. The temple has two halls, first one is at entrance also the bigger one and second one is smaller but has pillared structure connected to the main temple. In second hall we met Lakshmi the temple elephant and the sole of the temple. Each corner of the temple is carved so precisely one can see small details of carving so easily even after so many years. There are statues of Lord Ganesha, Vishnu, Goddess Lakshmi also. There is spot in temple where you can see inverted shadow of big gopuram there are too many theories to explain this phenomenon but let it be a mystery. There is a small mountain behind temple there are too many small temples and ruins of old times. There is also a big statue of Lord Ganesha to the opposite site of mountain.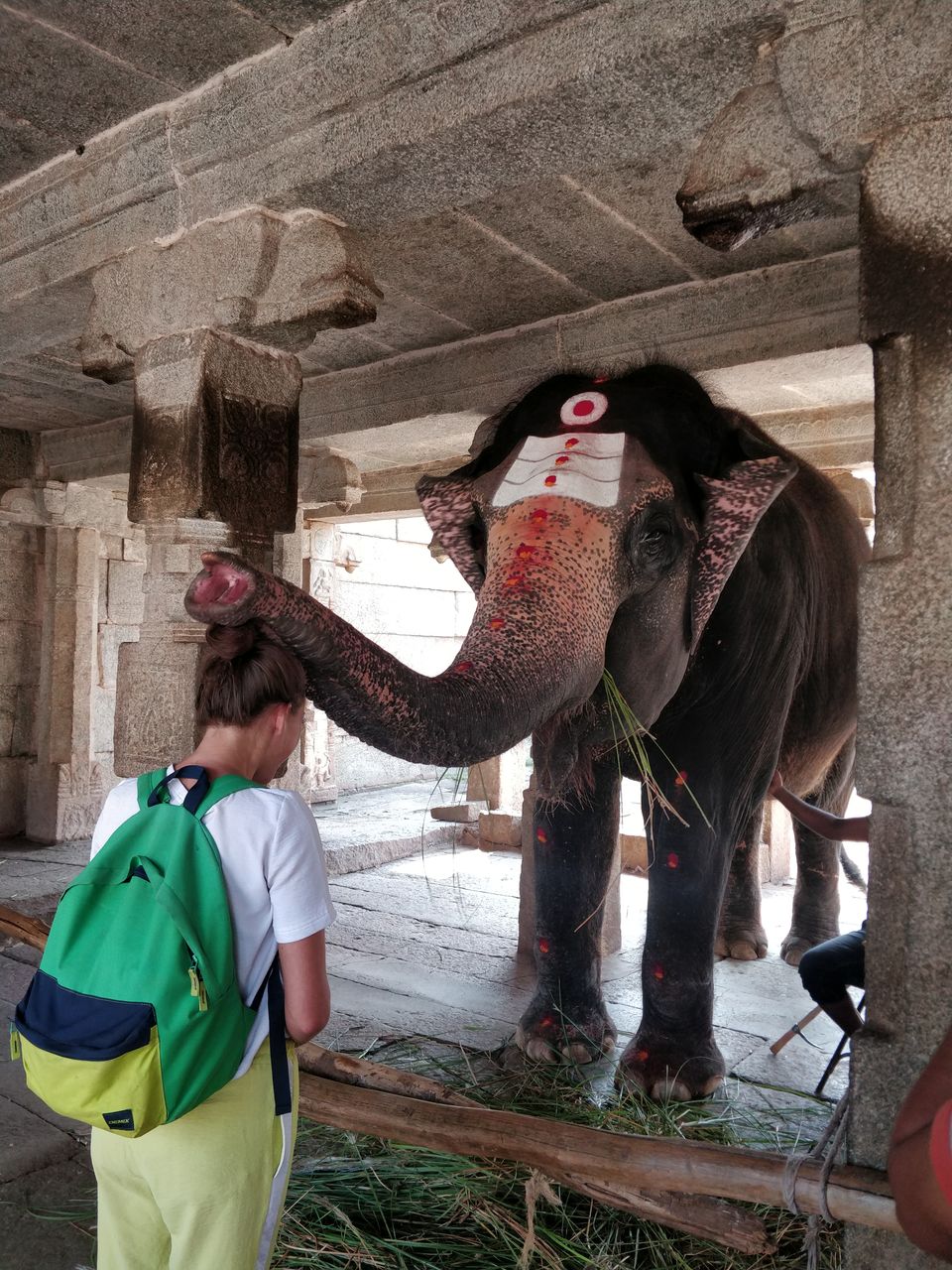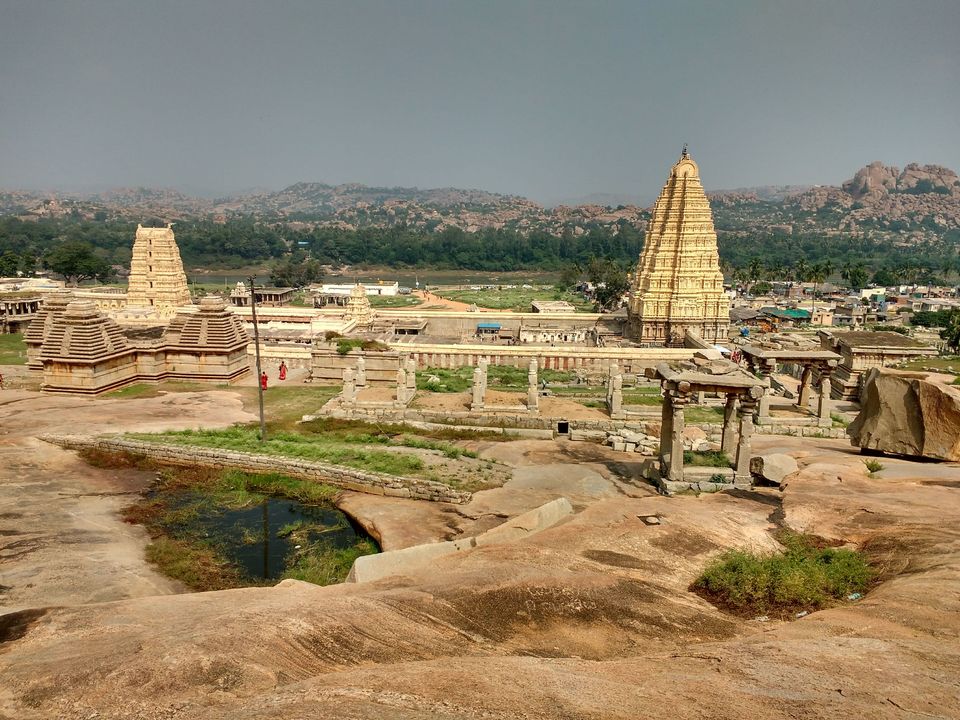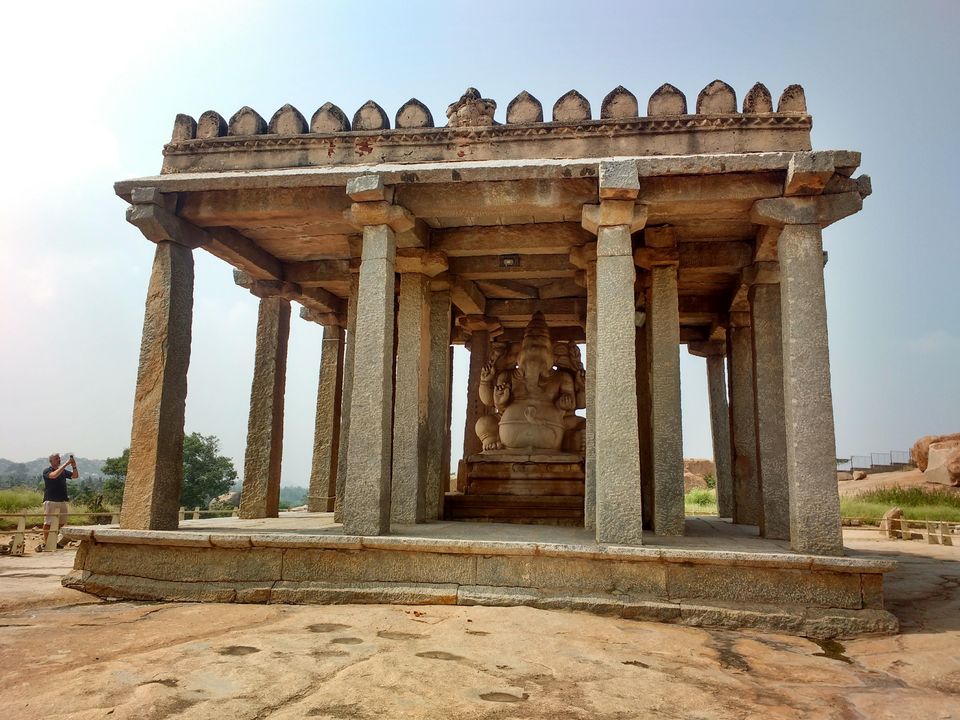 After that we rented bicycles from shop near temple. We planned to visit royal enters in Hampi before that we visited Krishna Temple, Badavi linga and Lakshmi Narasimha temple. Krishna Temple is near Hampi bazaar and it is an quite and peaceful place compared to other points. The original Lakshmi Narasimha sculpture had small Goddess Lakshmi figure sitting on Narsimha's lap.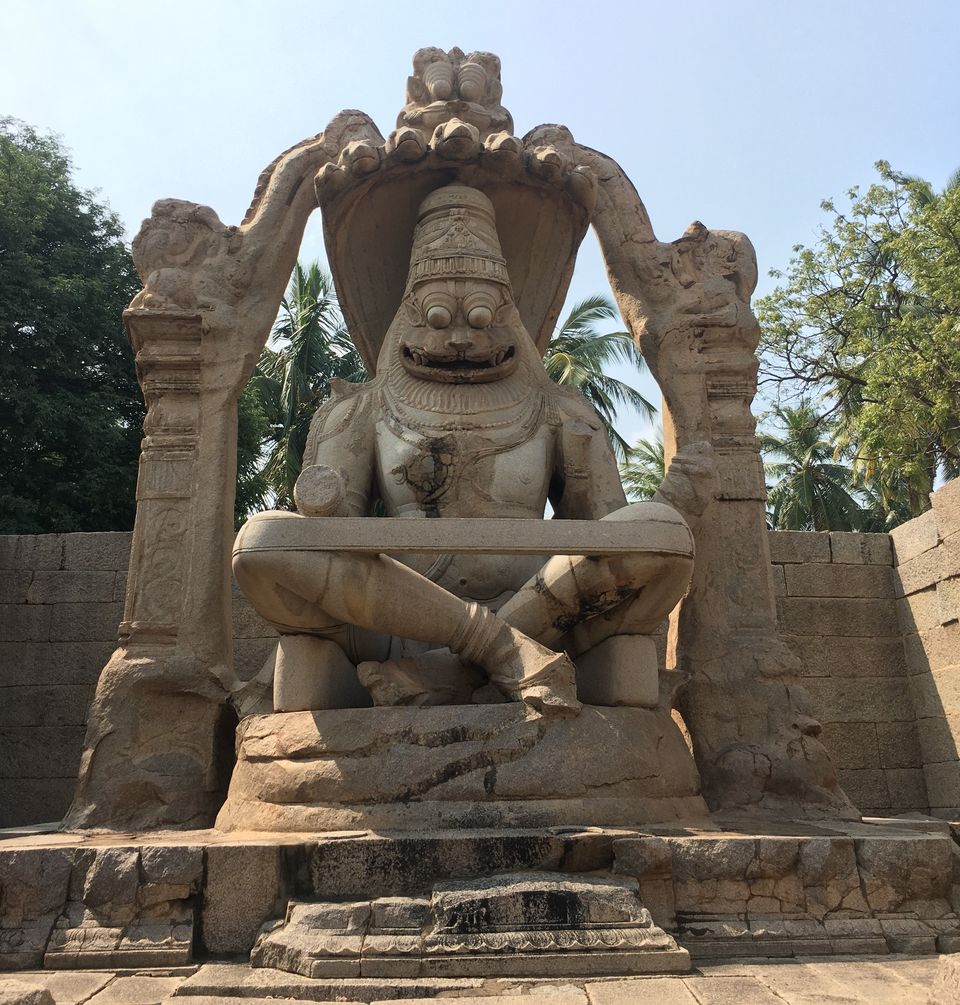 After that we visited the royal enclosure. We saw Lotus Mahal, watch tower, public bath, elephant stable, Queens bath and other things. There are too many things too see there. There is also a pavilion named after legendary poet Tenali Rama. Coconut water and Goti soda are must try refreshment drinks in sunny afternoon.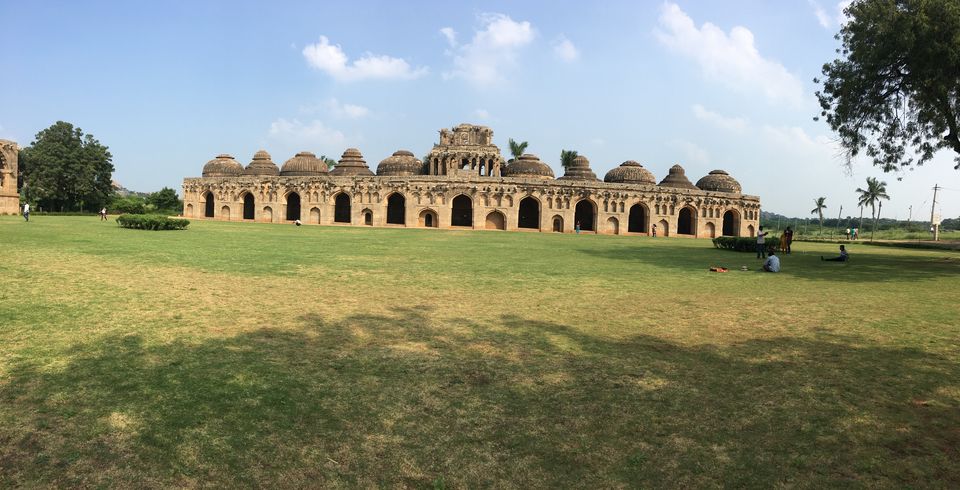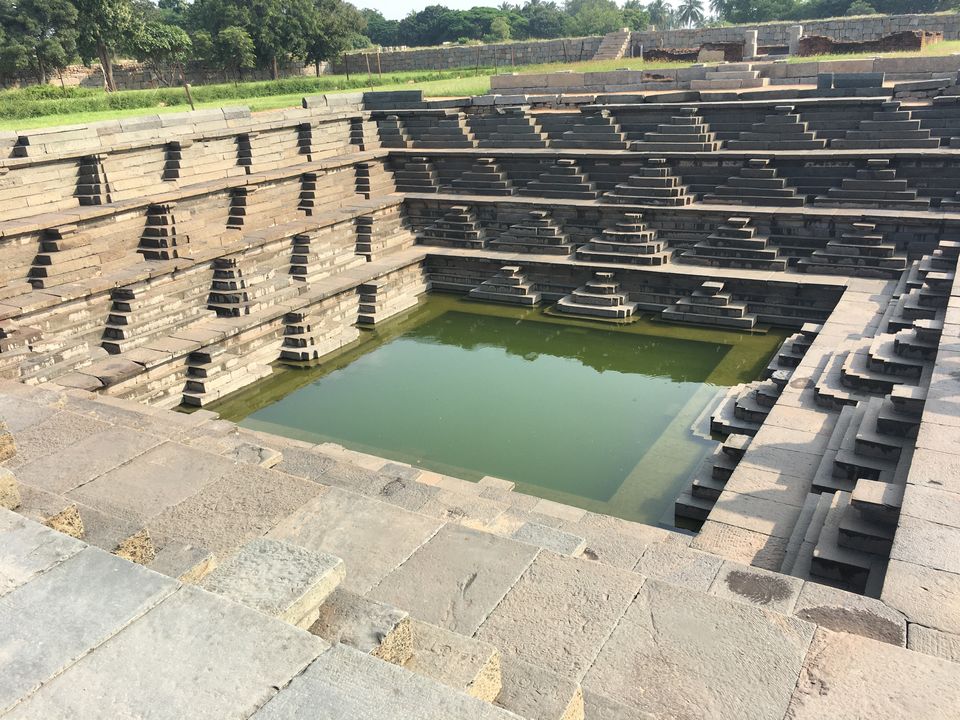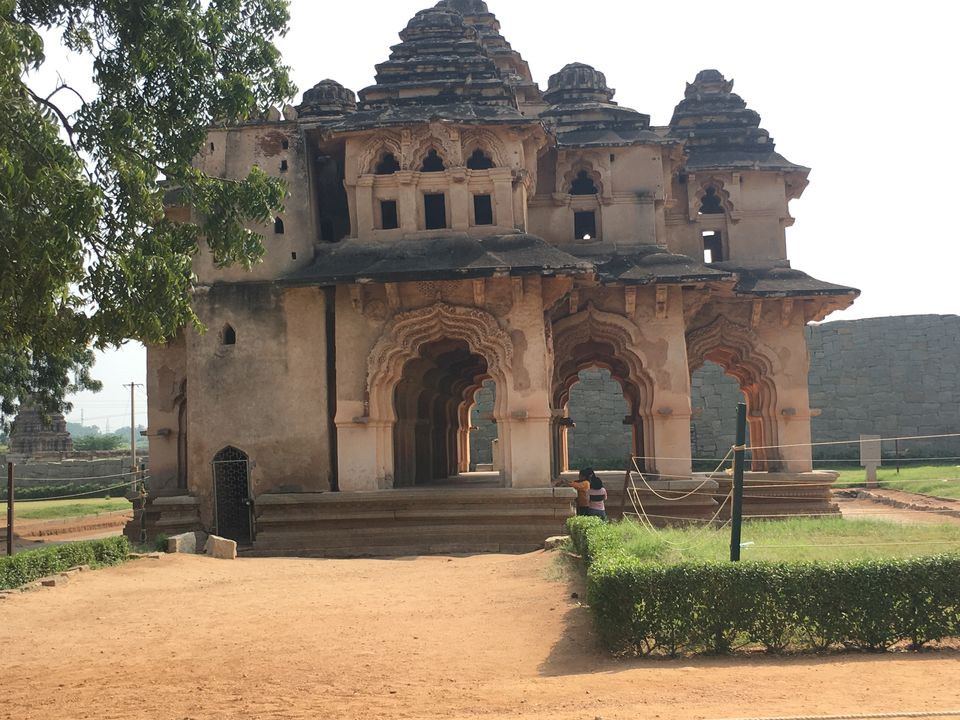 After visiting some parts of royal center we decided to visit the most popular place The Vitthala Temple in Vitthalpura. We had very few hours left in our hands it was around 4-4:30 pm, so we turned our bikes and boosted our speed. Vitthala Temple has so many architectural designs and temples around it one could spend whole day there. The Vitthala Temple is truly an lovely place no wonder why its so popular. The stones are carved so gracefully even after so many years you can spot small details of it. The designs are carved every where and every design has its own meaning, for example the small corner point of one of the building is crafted in such way that there are 7-8 animals hidden in that craft (attached below).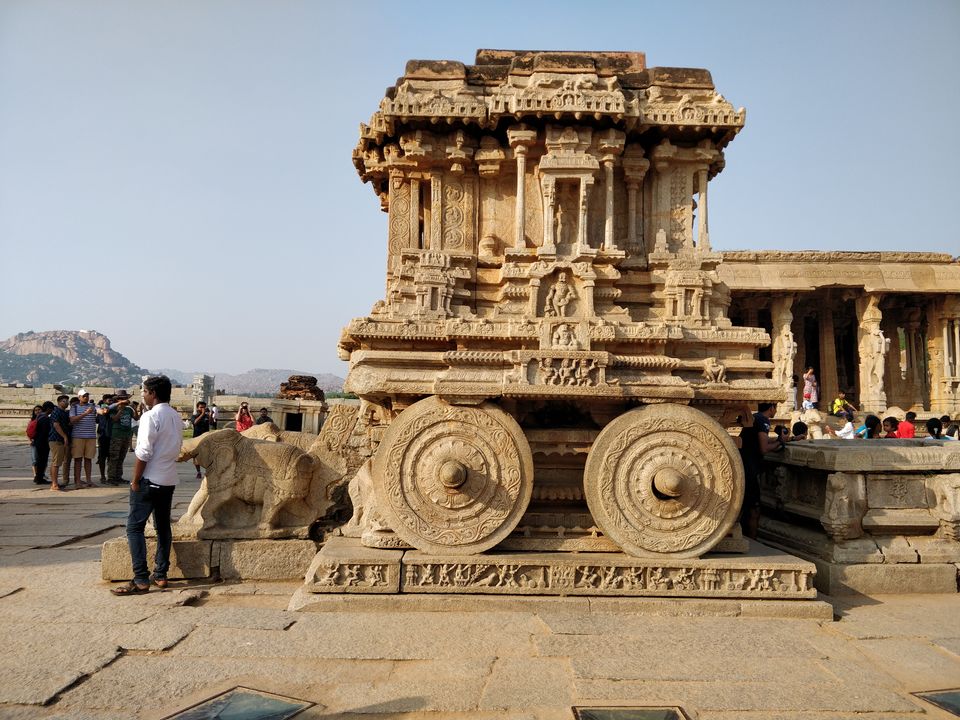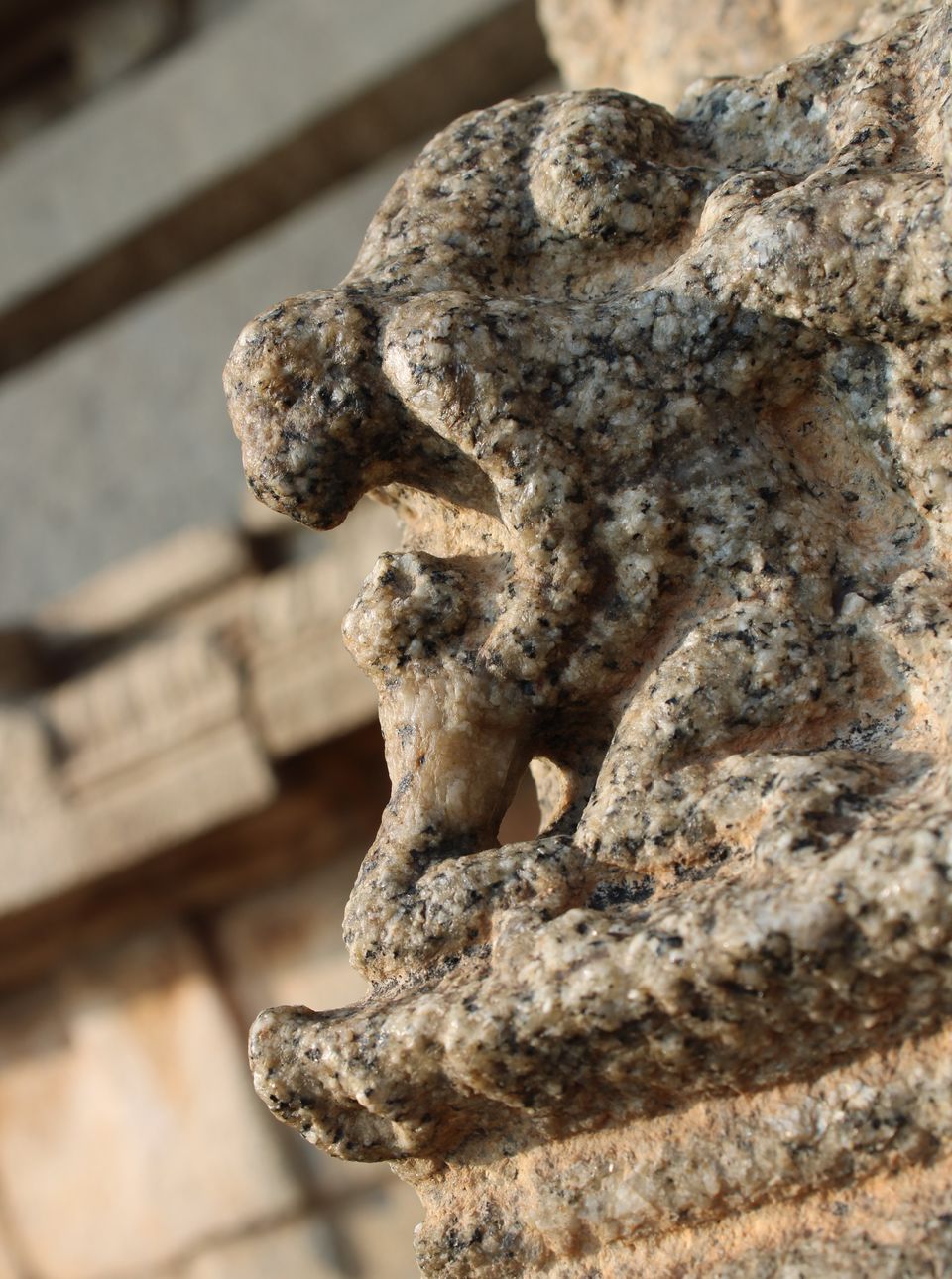 after spending enough time at Vitthala temple we picked up speed again. On the way back on bicycles we forgot the path, just another common thing for Bassadhikers 😂. At last we made in time and caught ferry around 6:30 PM. We were too much hungry we had chai nashta at Laughing Buddha. Then we returned back to Jungle tree.
On third and last day we were roaming around Tungabhadra river, canals and dams. We kept the best of Hampi visit for last The Coracle ride. the coracle ride was fun and another must try thing in Hampi. It was sunny afternoon so we enjoyed some time playing in one of small dams of Tungabhadra river. Then we had heavy lunch of Dosas, Uttapams and Idlis from an local hotel, the food was so delicious.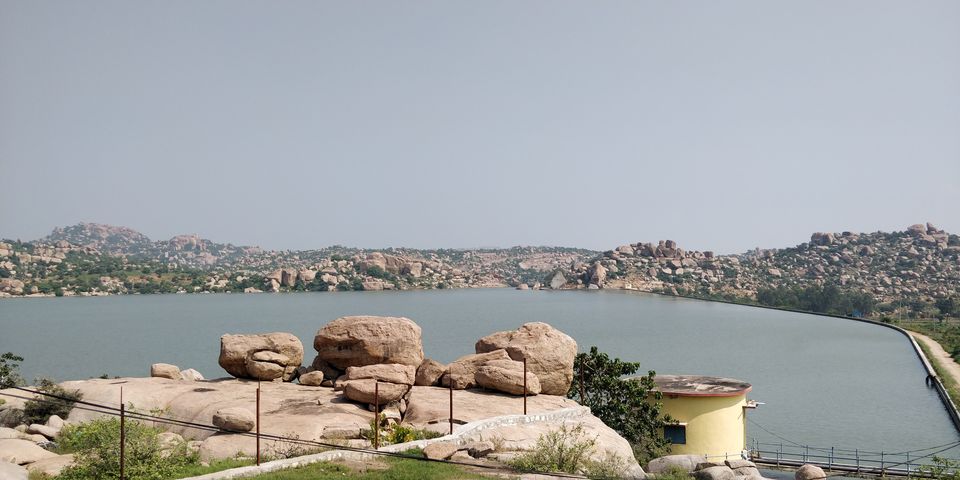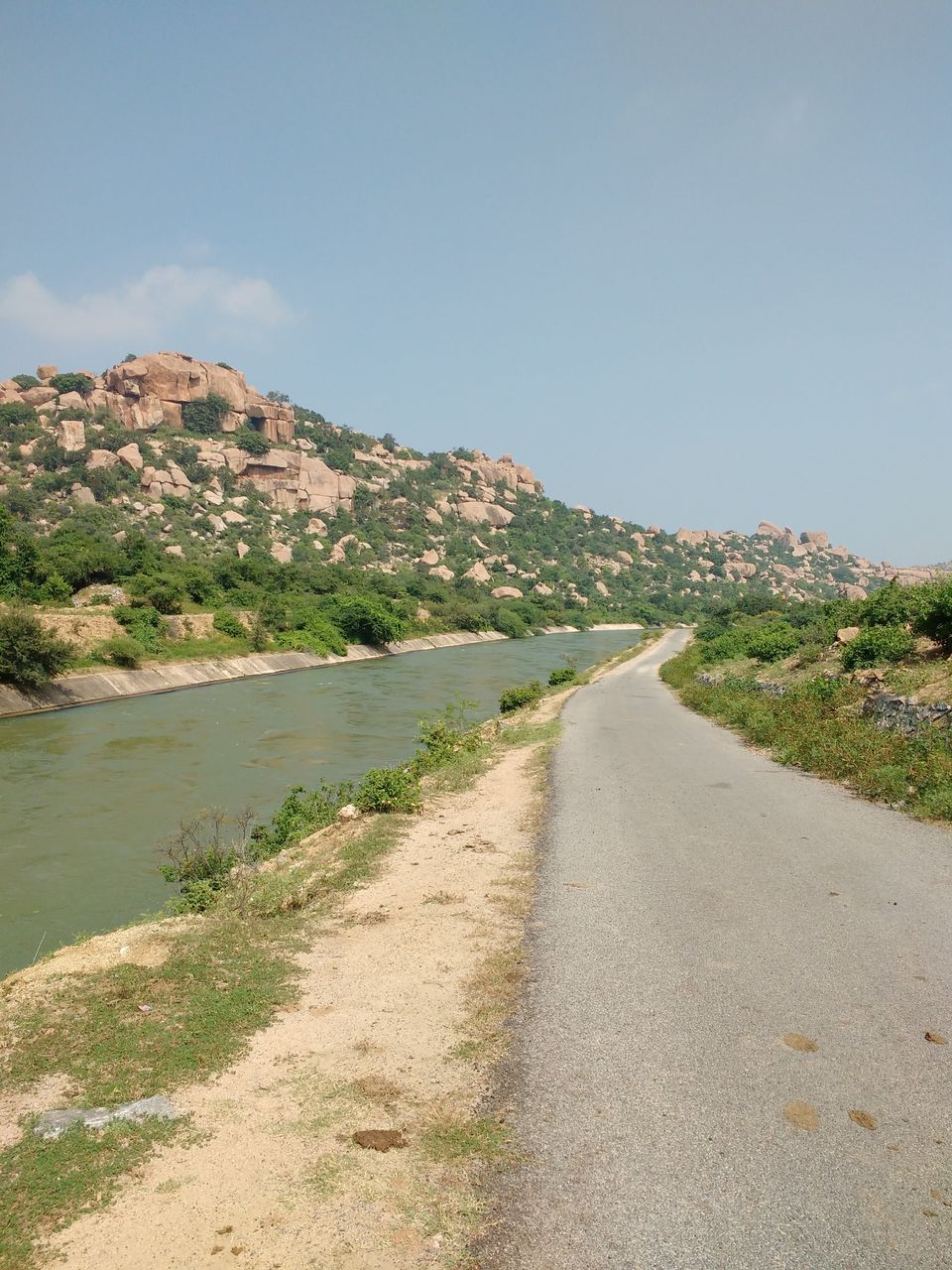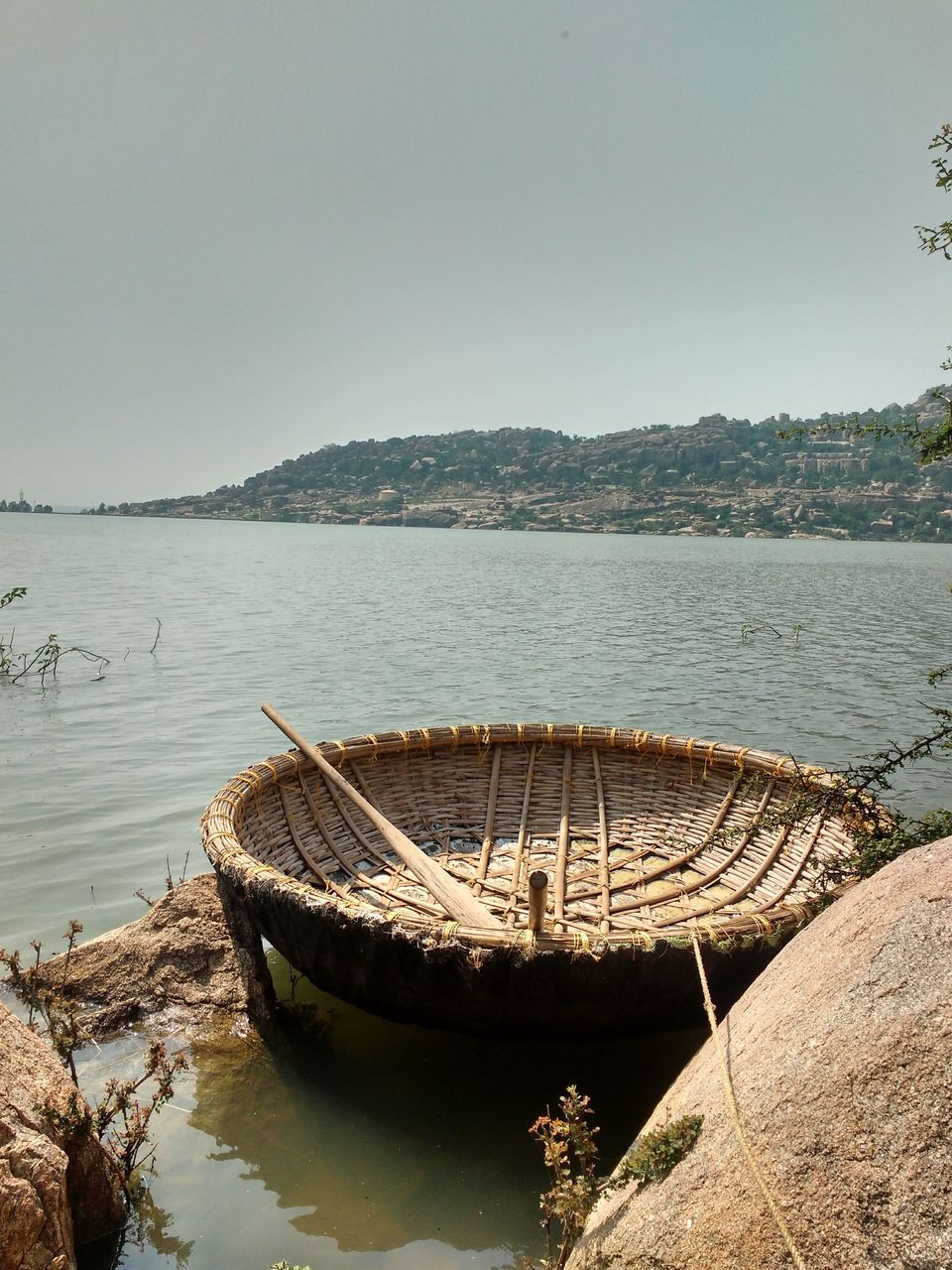 Then we returned to Jungle tree, packed our bags and reached to Hospet city to catch Bus for Mumbai.
Before coming to Hampi people suggested me 2-3 days will be sufficient, but i think there are too many things to explore and experience which will require more than days for sure. Thanks a lot to guys who are helping to preserve such cultural and national heritage.
This is my first blog so open for any suggestion.
Thank you guys for reading.