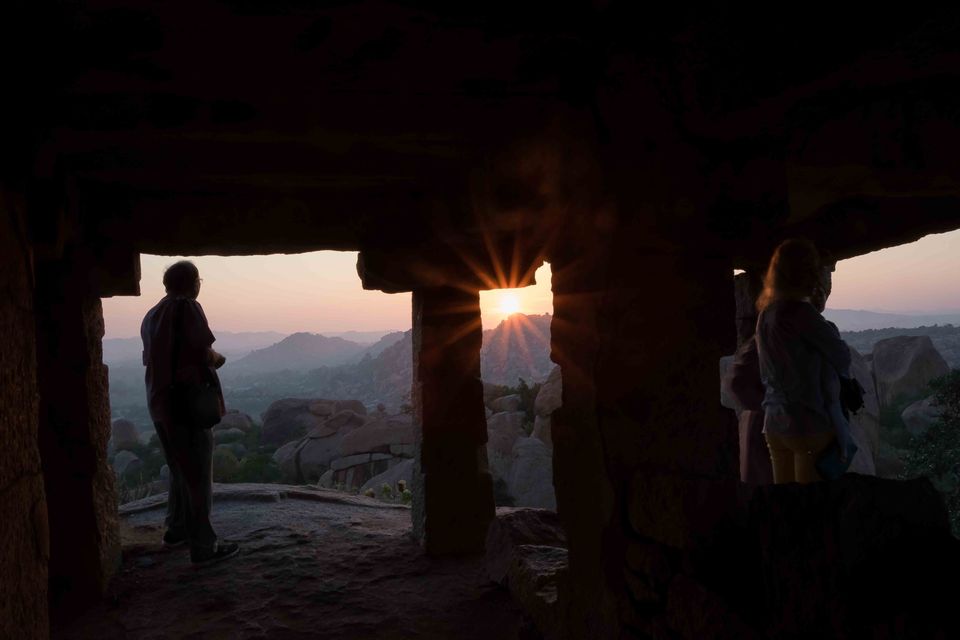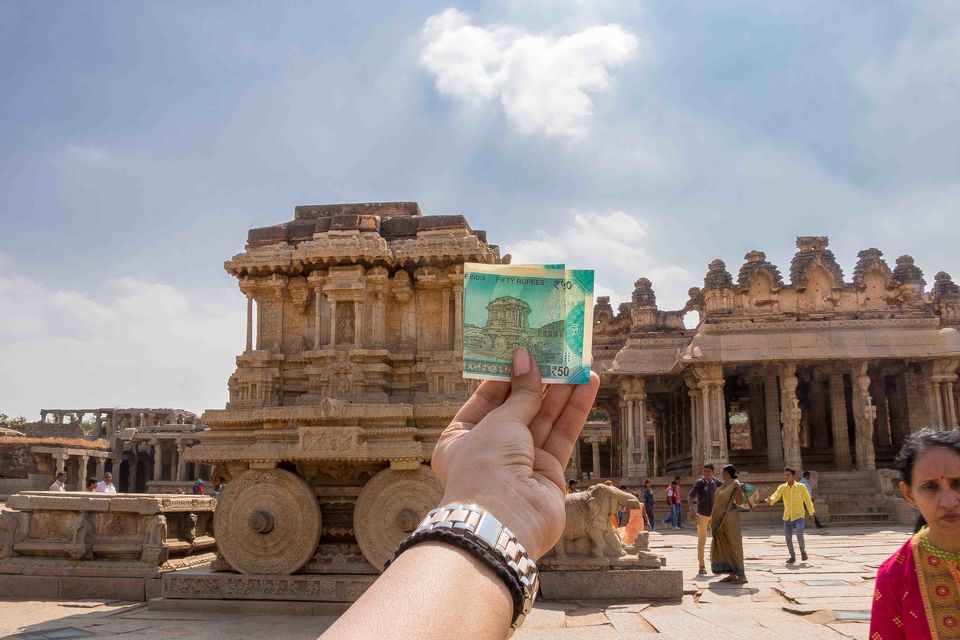 Hampi is not just another place, it is a travelers delight, a photographers paradise, a history buffs treasure, an adventure junkies peace, a couple's honeymoon destination. Maybe i stretched it a bit with the "honeymoon destination" but it is everything else i mentioned above and more.
A little bit about Hampi
Hampi is a beautiful town close to Hospet, Karnataka. It is a World Heritage Site declared by UNESCO. Hampi has monuments dating back to the 14th century and is spread across 4,100 sq mi. Ideally, you need atleast 4 days to cover Hampi completely. There are many hotels/ homestay/Resort options around the area. November- January is a good time to visit Hampi. You can travel via train/air/road, to the closest station or airport. The rest of the information is easily available on google.
Hampi in pictures
Hampi is an experience, a visual one. No matter what i say or how i say , you cant feel the beauty and uniqeness of the place unless you actually see it. As a photographer, Hampi for me was a visual treat. There is a history behind every pillar, every stone, every temple and every river. So, if i sit to write about all of that, it may just turn out to be a book instead of a blog. So, i am just going to show Hampi to you, my way, through pictures.
Day 1:
I reached our resort late afternoon. After a quick tea, i planned to check out a hill nearby called the Malayavantha hill which is said to have a good sunset point. Malayavantha hill is also important because of the Rama temple called as Raghunatha temple situated on the hill. You will also hear Pujaris chanting Chaupais from Shri Ramcharitamanas 24x7. It is believed that listening to the chanting will rid you of all your health, wealth and life problems.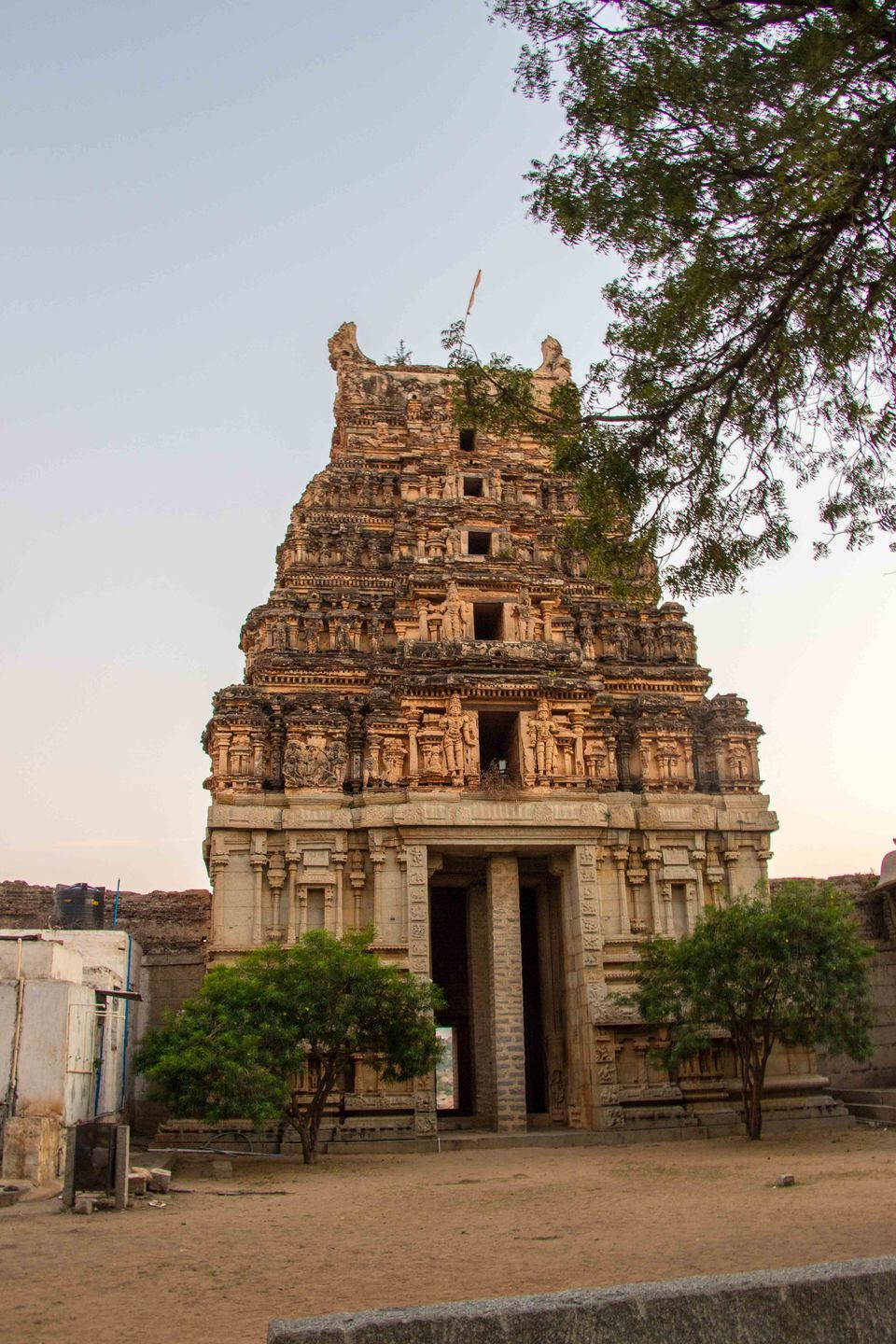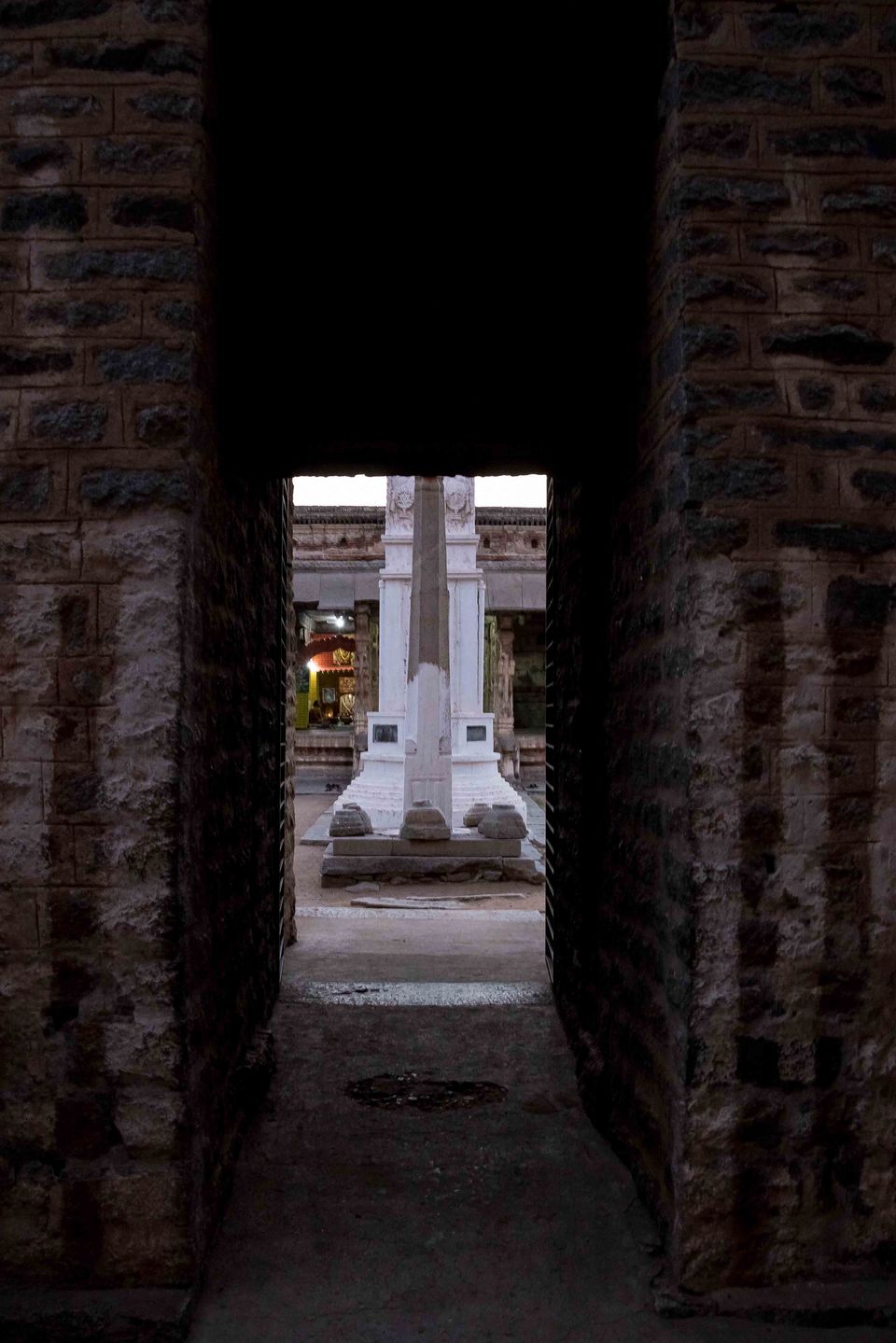 Apart from the temple, there is a good spot for sunset, where you can sit and enjoy a panaromic view of Hampi. Be sure to reach early if you want a good spot.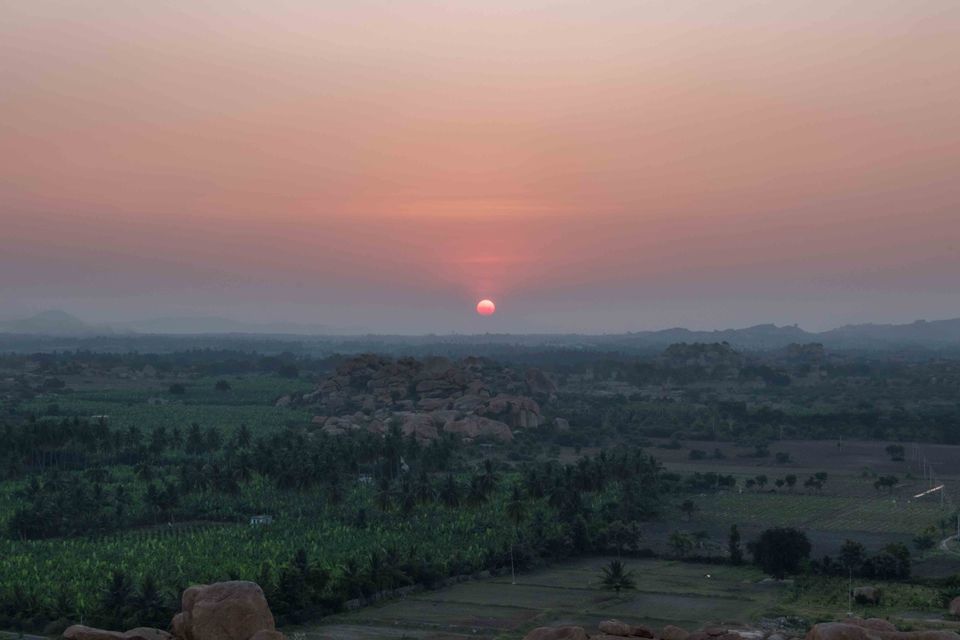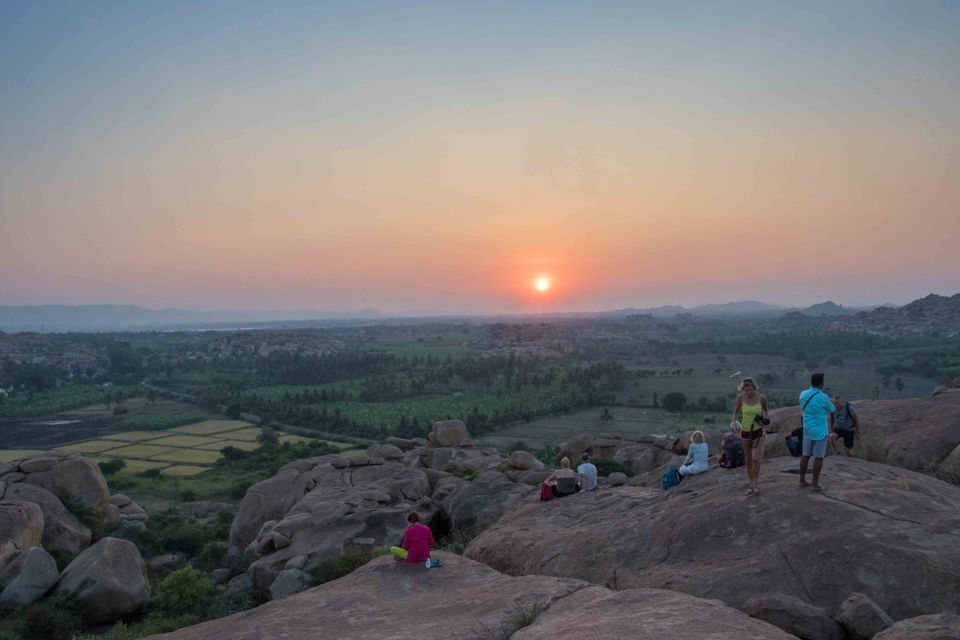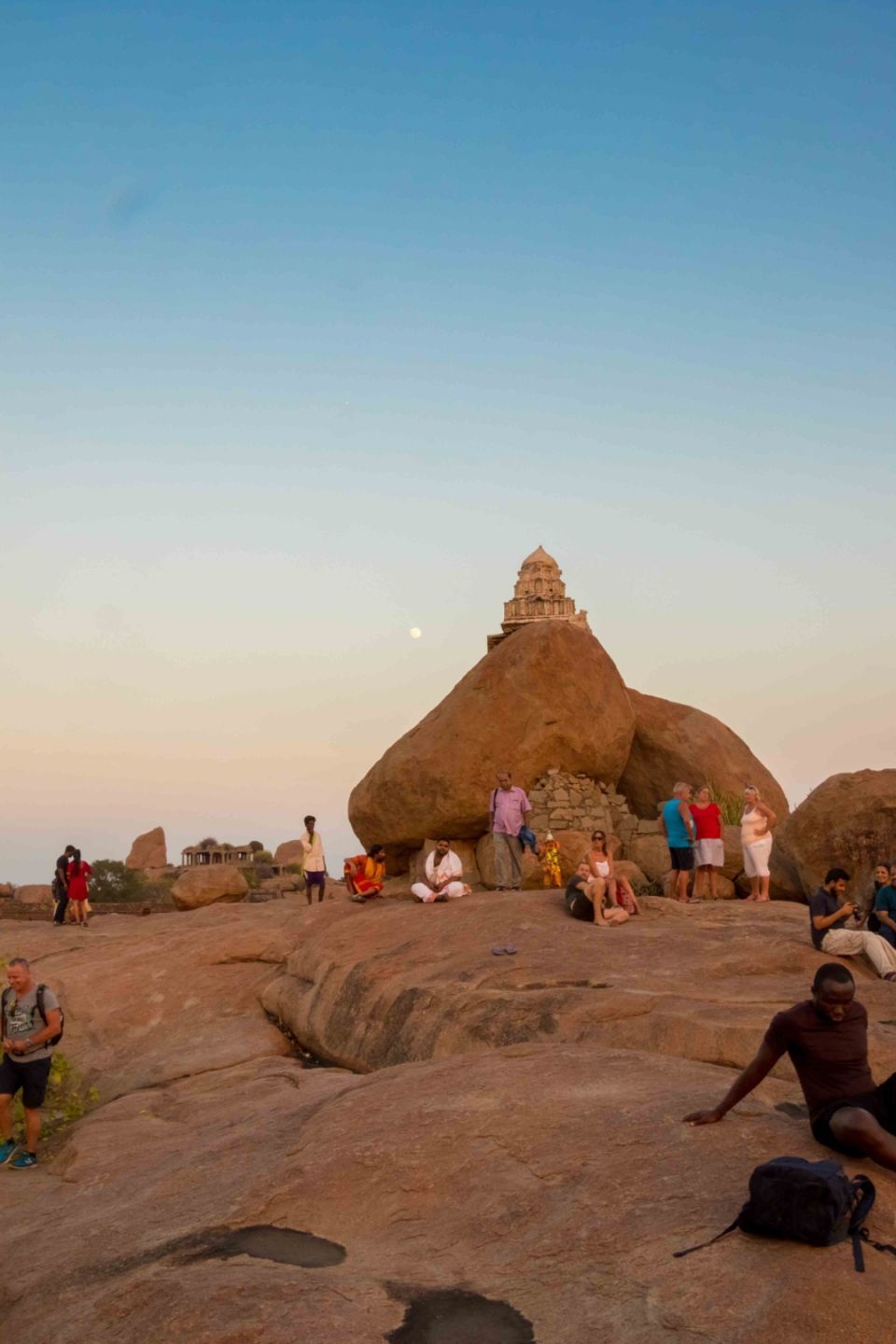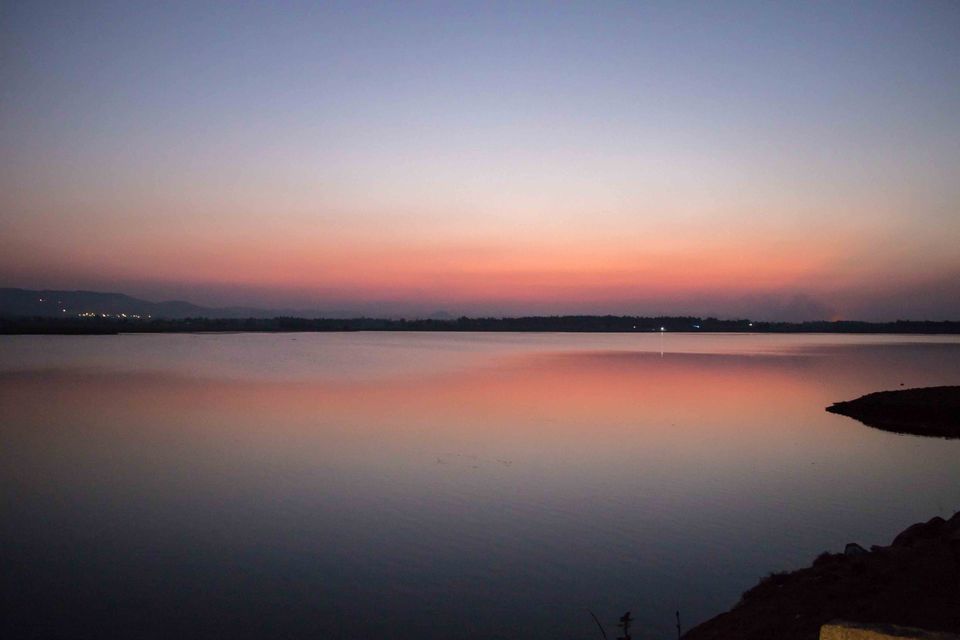 After watching that amazing sunset, i was heading back to my resort, feeling the rush of emotions, feeling a different kind of high when i saw this view. And i thought the sunset was the highlight of my evening, i guess Hampi has a way of surprising you when you least expect it. The sky changed colours and there was a beautiful hue of pink and blue reflecting on the Tungabadhra river, i just had to stop and capture this beautiful sight in my camera.
Try to catch the sunrise in Hampi. This picture was captured from the Malyavanta Hill. I woke up at 4:30 am, all excited and eager. A rickshaw was arranged for by the resort and a 10 minute drive later, i was huffing and puffing, making my way to the top of the hill. I must admit, it was not an easy treck, the climb was a bit steep and it was pitch dark, so apart from my mobile phone that had a torch, there was no other light. I would advise you to take a local along with you,someone who is familiar with the path and who can guide you through the climb. After 20 mins, we finally reached a spot and settled down for the show. Even before the sun had risen, it was a beautiful sight. I could see a faint orange light up a very blue sky and there was one visible star in the sky. It almost looked like the star was guiding the sun to come out and spread its light .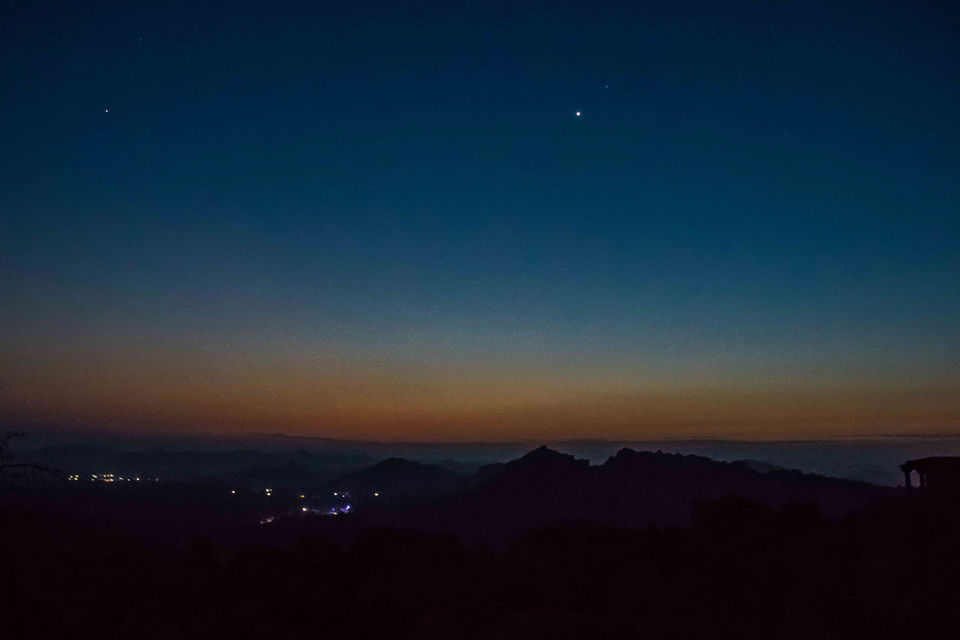 We settled down, at a spot, waiting for the sun to rise and with each passing moment, the sky changed colours from blue to orange to pink. That sight alone was breathtaking. All i was missing was a cup of hot tea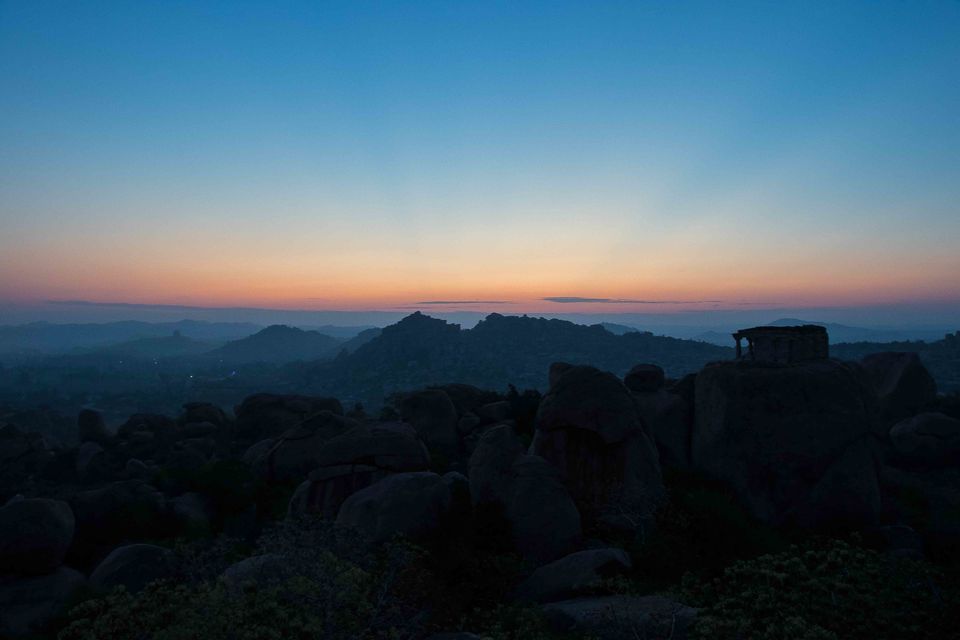 I was not the only one there waiting for sunrise, i had company. The hill is full of monkeys who are always looking at you with puppy eyes, hoping you will feed them. Do that at your own risk. The amazing part however is, when the sun is about to rise, all the monkeys take a seat as well, waiting for sunrise, its like they are all watching a movie in a theater. I captured one cute little monkey waiting patiently for that glorious sunrise.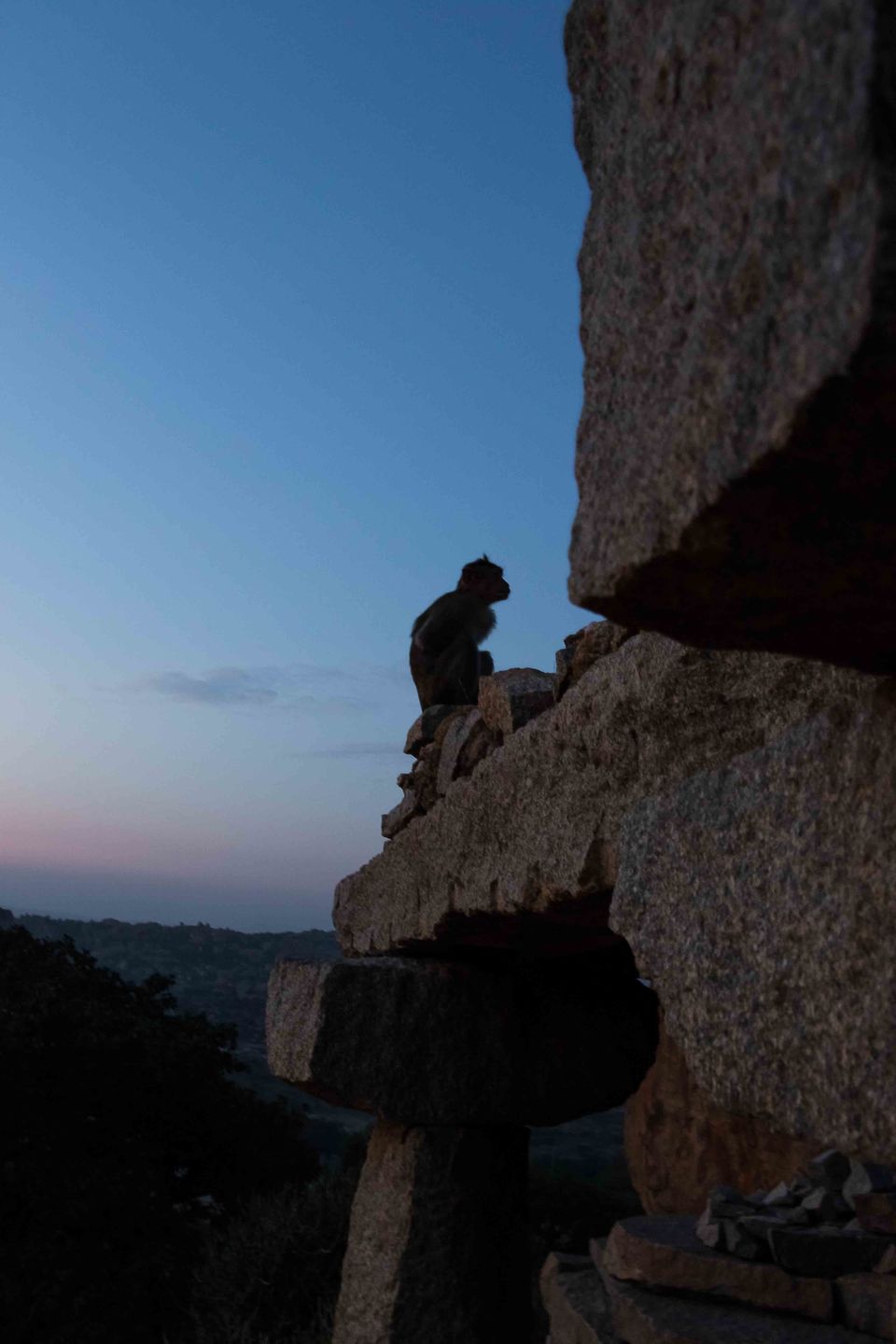 I was in a daze when i got down the hill after the sunrise, because i still couldn't believe how awesome that view was. I quickly snapped out of it and rushed to the resort because i was now very excited to see what more Hampi had to unravel.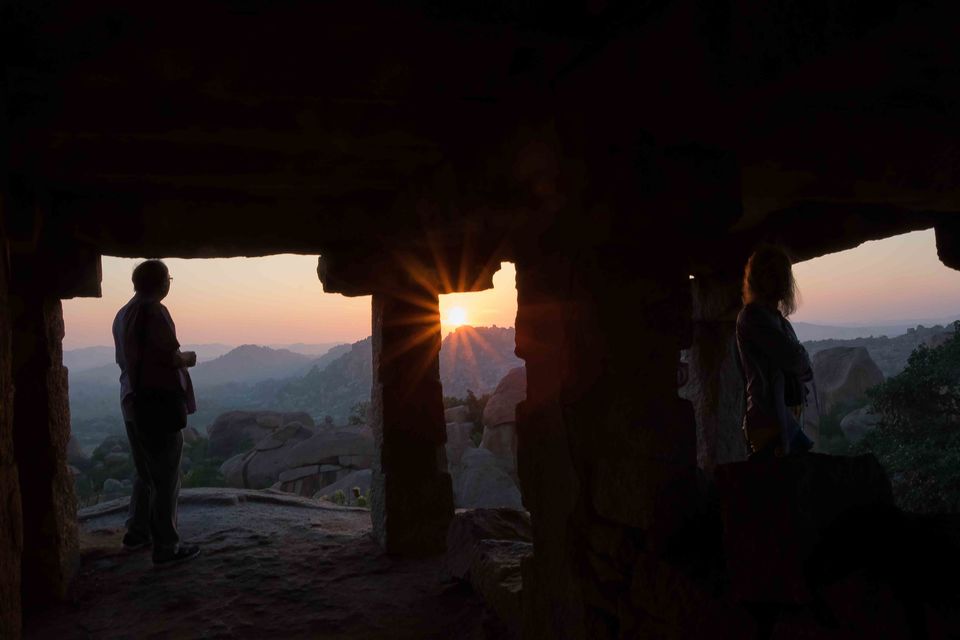 Once at the resort, I stepped out of my cozy cottage to explore the property. Clicked some quick pictures of the beautiful flowers outside my resort cottage. I loved these beautiful flowers. I dont think it is sunflower but looks similar. Gave me a very dreamy feel, with the sun peeking through the leaves. All that was missing was a cute cottage, a picket fence and a garden with children on the swing.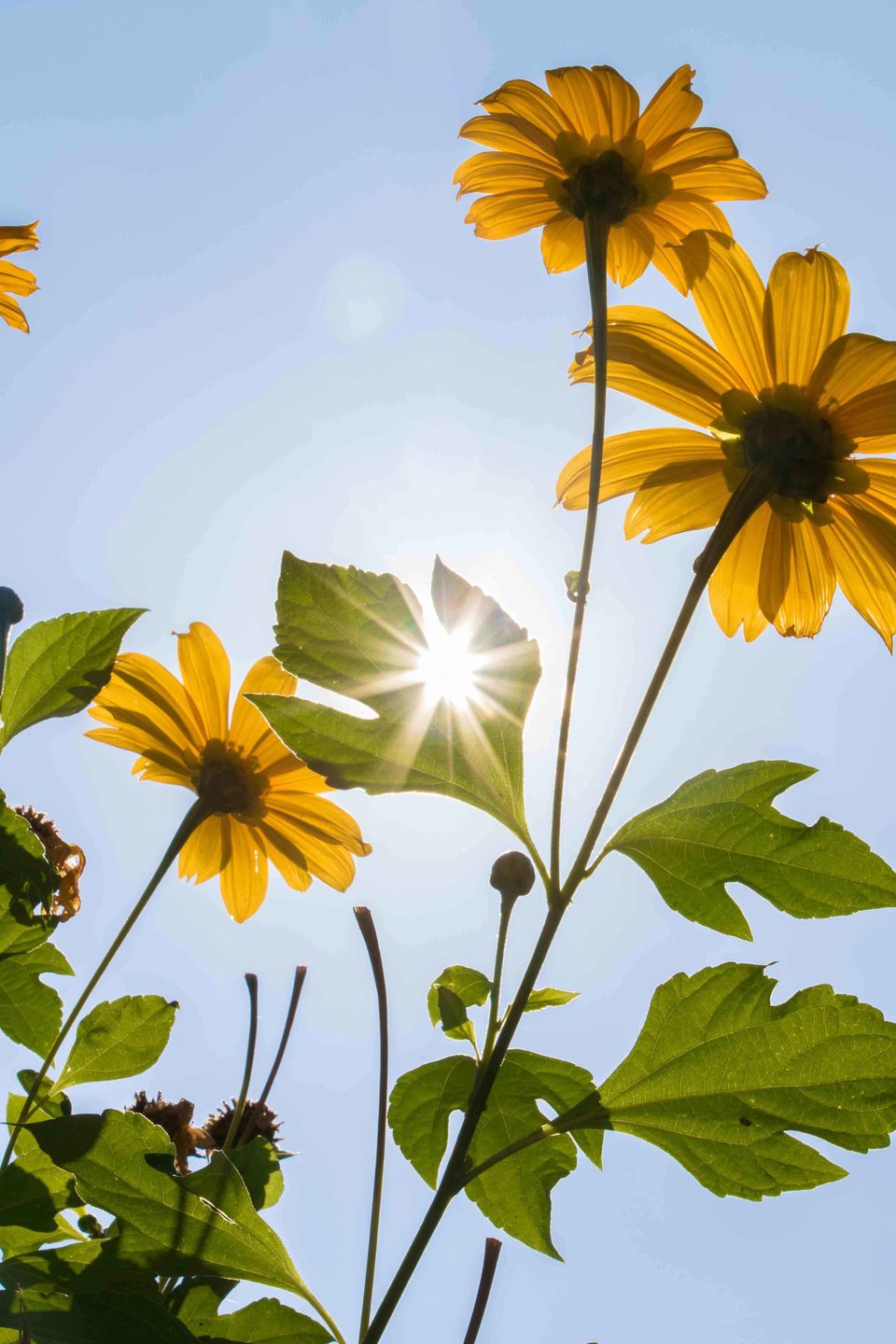 My next stop was the famous Vitthala Temple. The Vitthala Temple is famous for its architecture and the beautiful craftsmanship.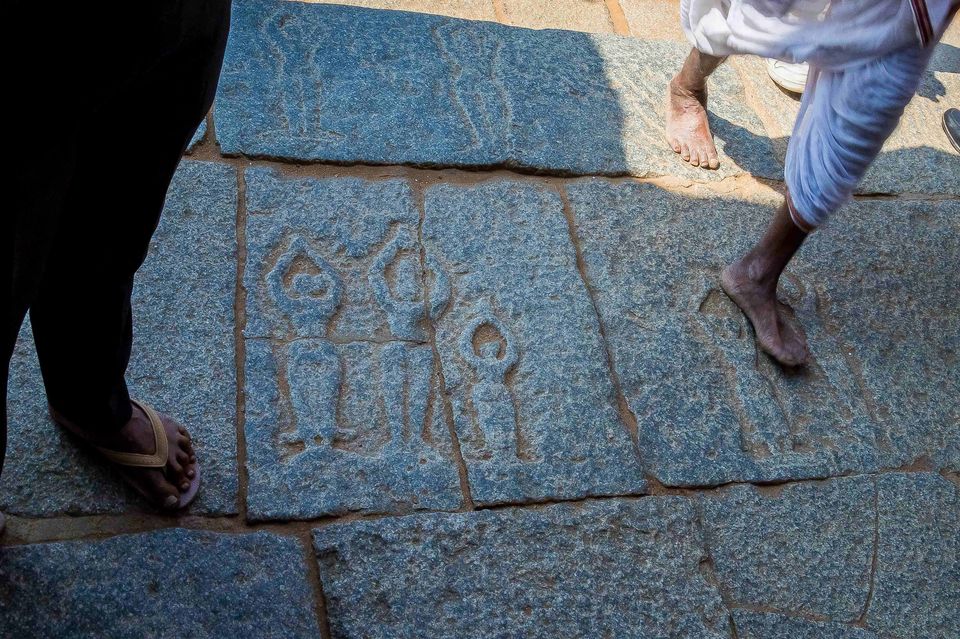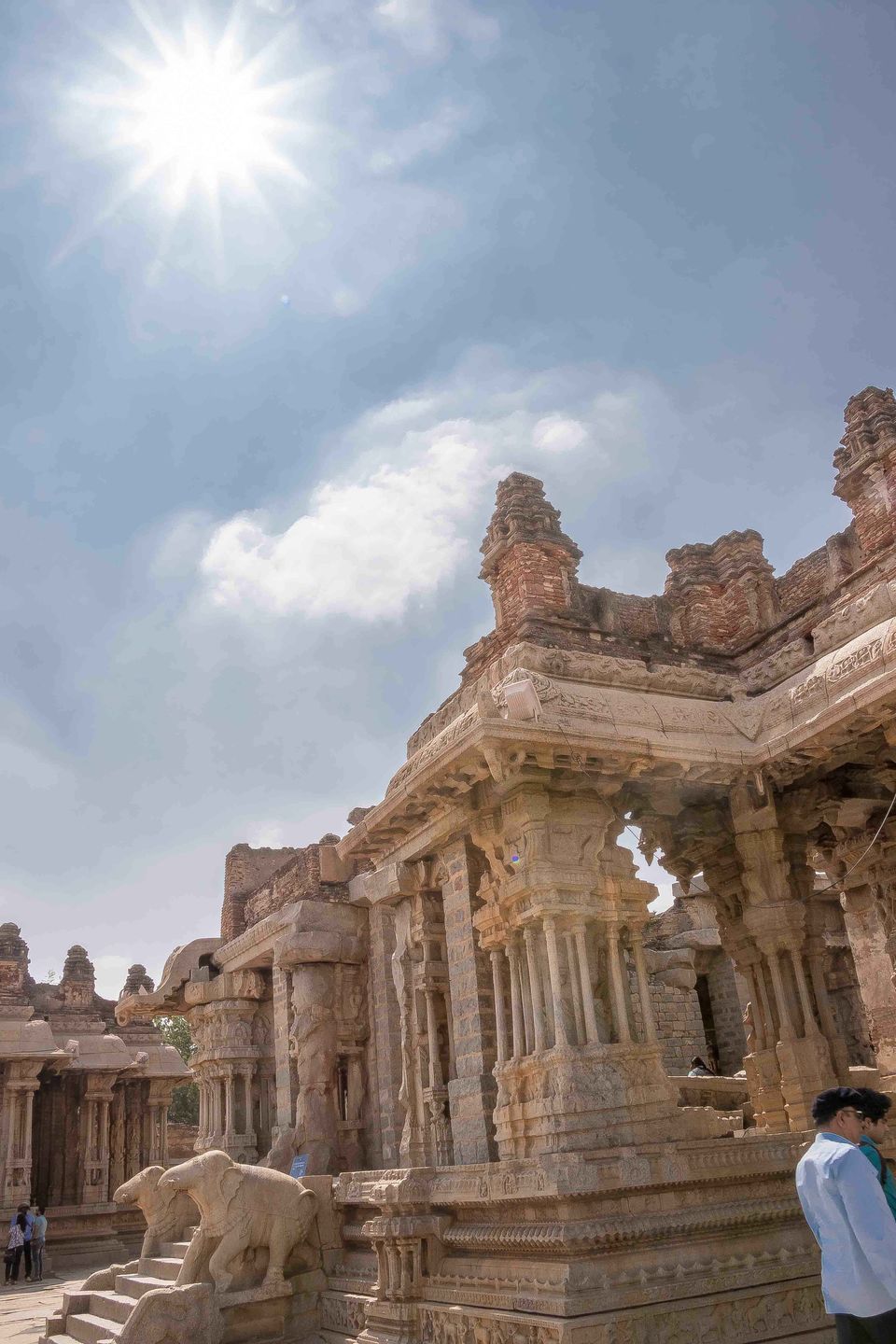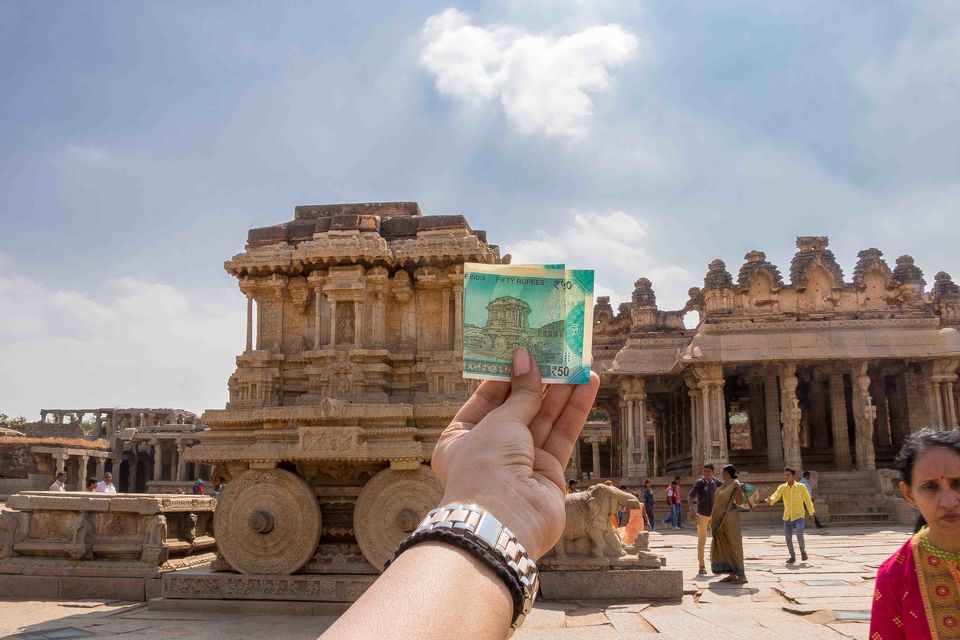 The Chariot structure is probably the most well known architectural structures in Hampi. You will find a picture of it in our ₹50 note (Indian) as well. You will find the Chariot structre only in 2 other places in India, Odisha,Konark Temple and Mahabalipuram, Tamilnadu.
The Vithala temple tour will take you couple of hours, so make sure you carry water and wear comfortable shoes.
Our next stop was the Royal Enclosure or the Mahanavmi Dibba. The raised platform was said to be the kings seat from where he would overlook the Dussehra celebrations. You will also find many other ruins in the area, including a stepwell and a underground shivling. Unfortunately, i was dead tired by the time i covered the step well and could not see the Shivling. I would suggest you plan this at leisure and take time off the explore this monument in a way that you wont get tired.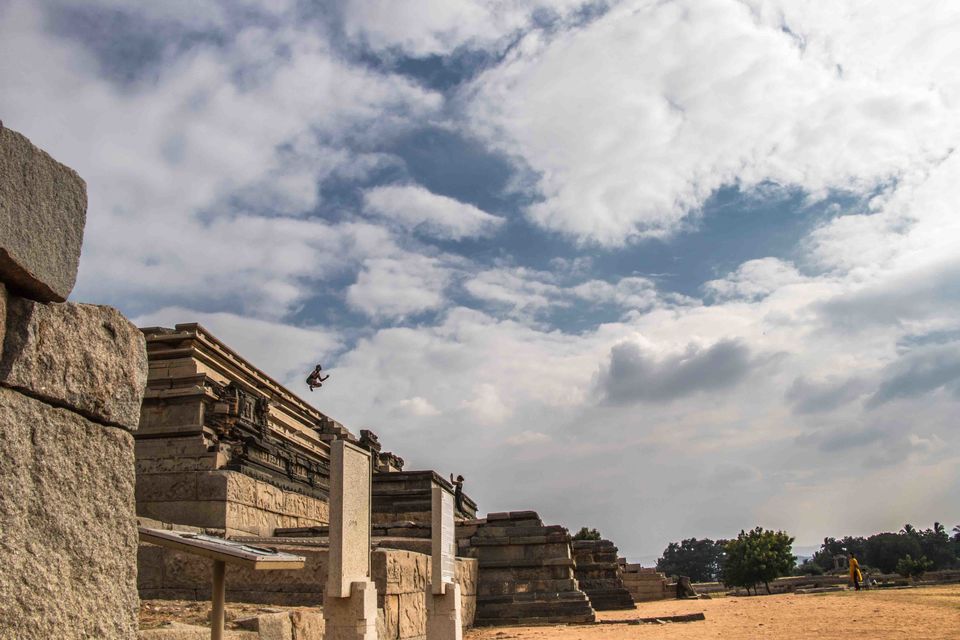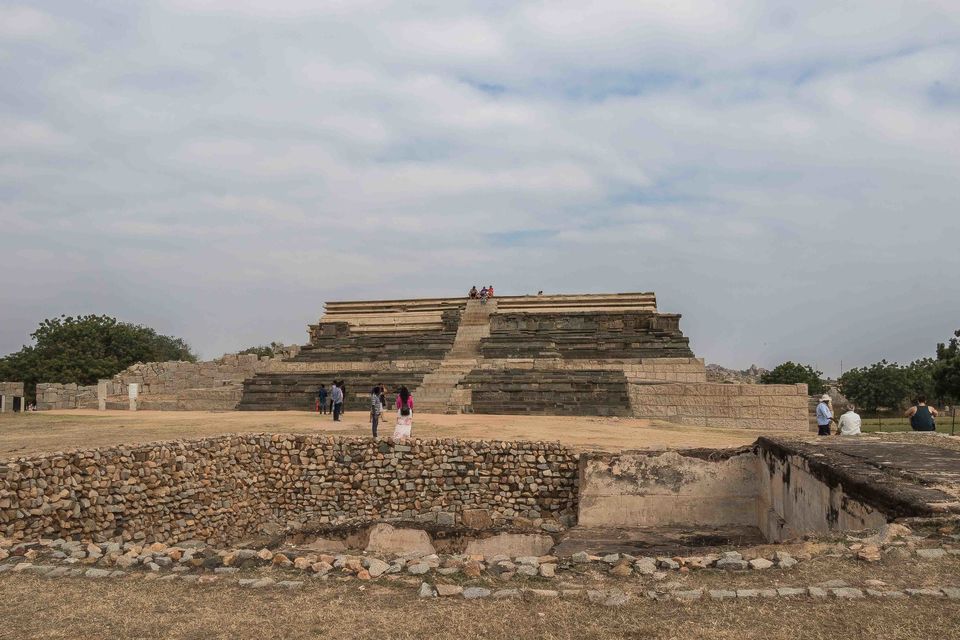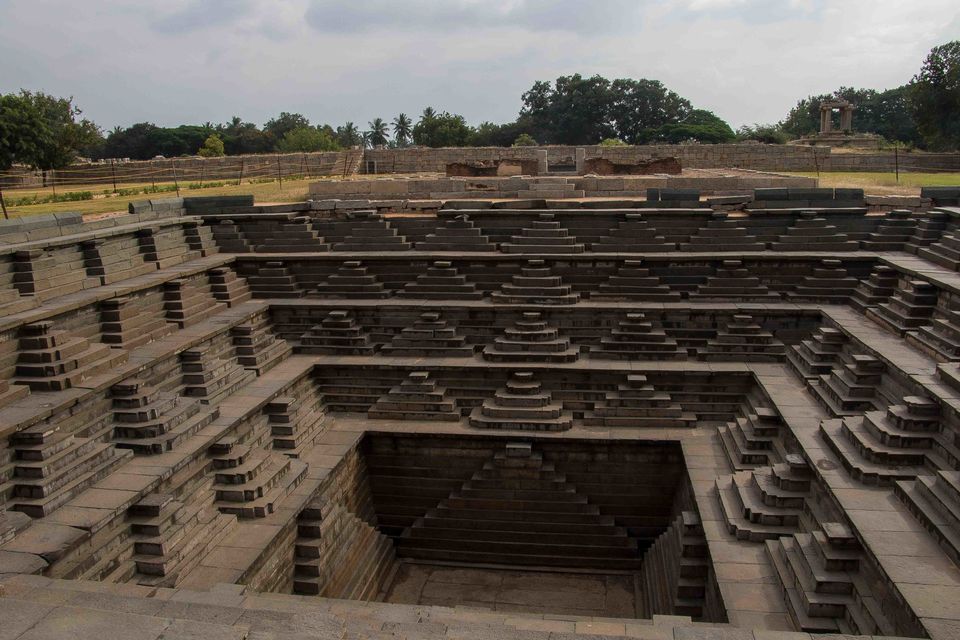 I have more to say about my day in Hampi, so many beautiful pictures to share but will add more in a part 2 of my fabulous trip. Keep an eye out for more..till then, toodles!
Some often asked questions:
How did i travel: I took a train from Mumbai to Hubli ( around 16 hours or so depending on which train you catch) and a cab from Hubli to Hampi (3 hours). The closest station to Hampi is Hospet. You can check trains to Hospet also.
How to travel within Hampi: Rickshaw, rent a cycle or cab
Best time to visit: November - January
Stay options: There are many resorts and hotels in Hampi. You can google for the one ok with you. I chose The Heritage Resort which i highly recommend. Alternatively, there are home stay options as well.