Blog link: http://www.indiantripper.com/har-ki-dun-winter-trek/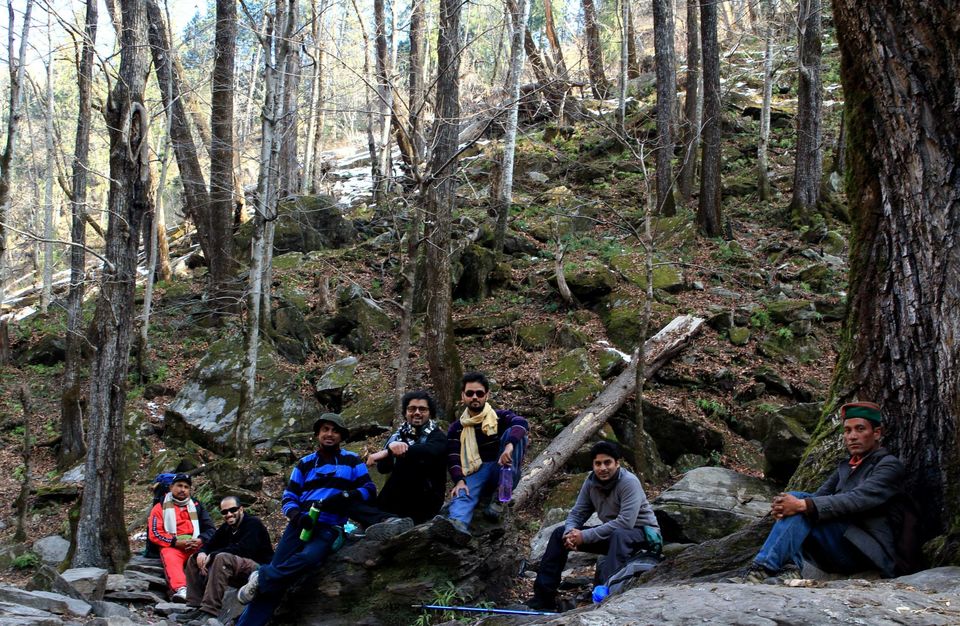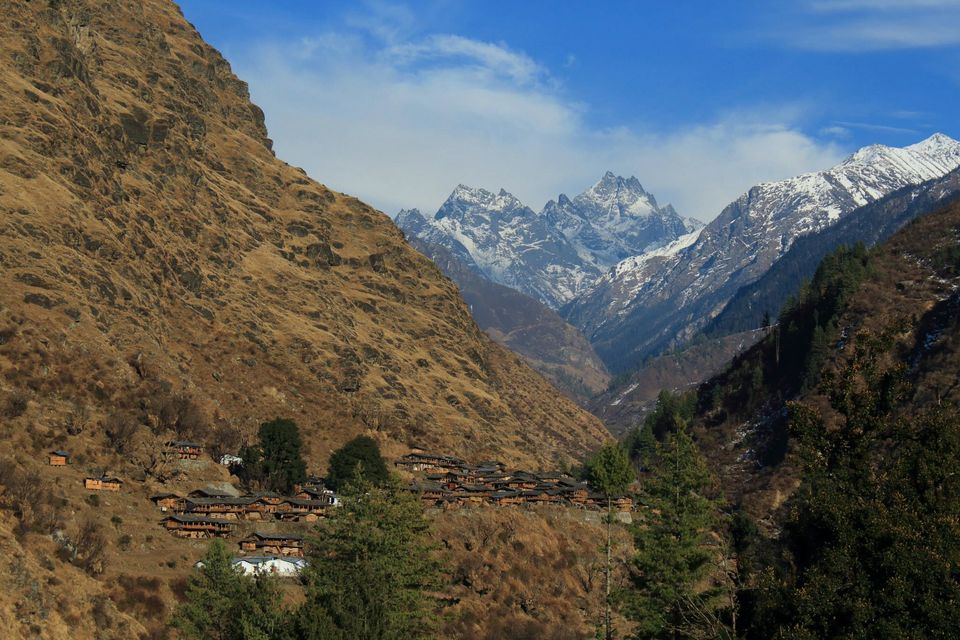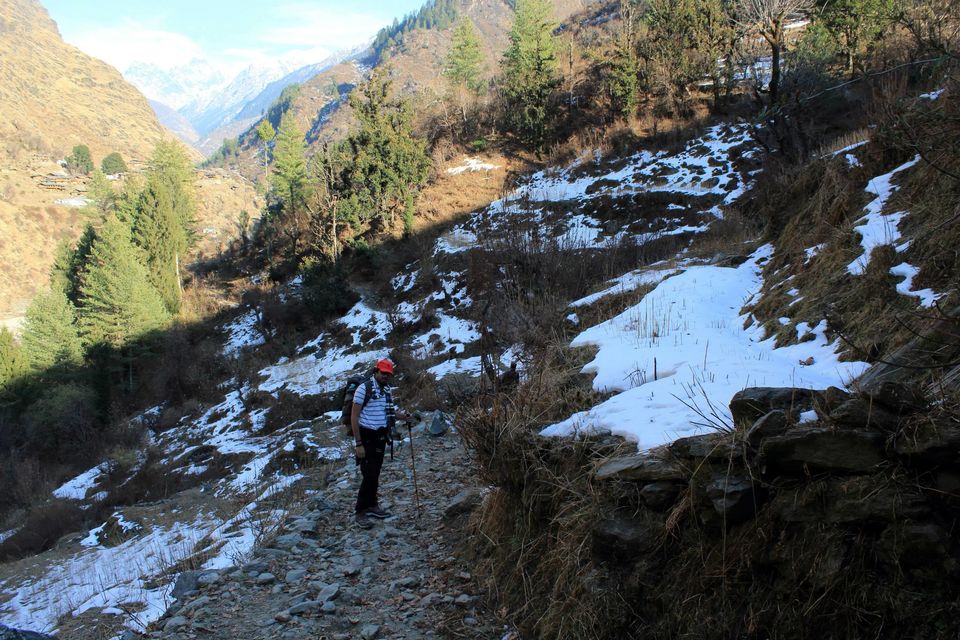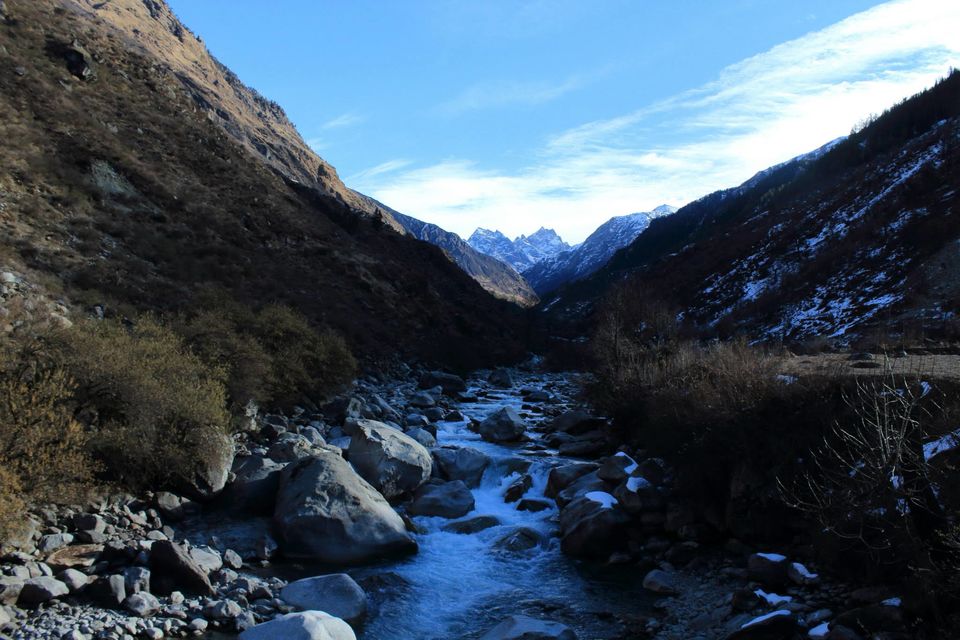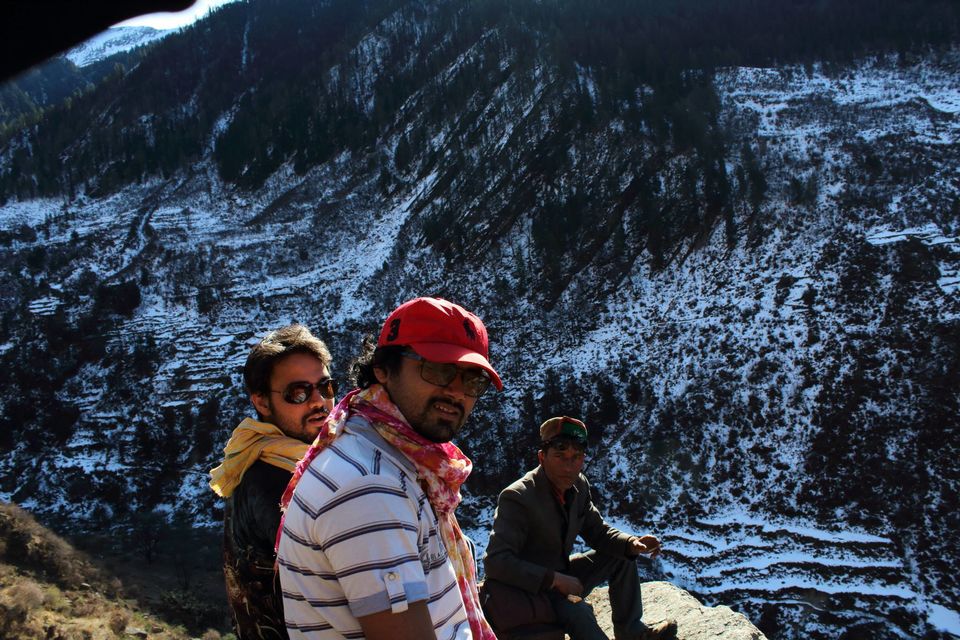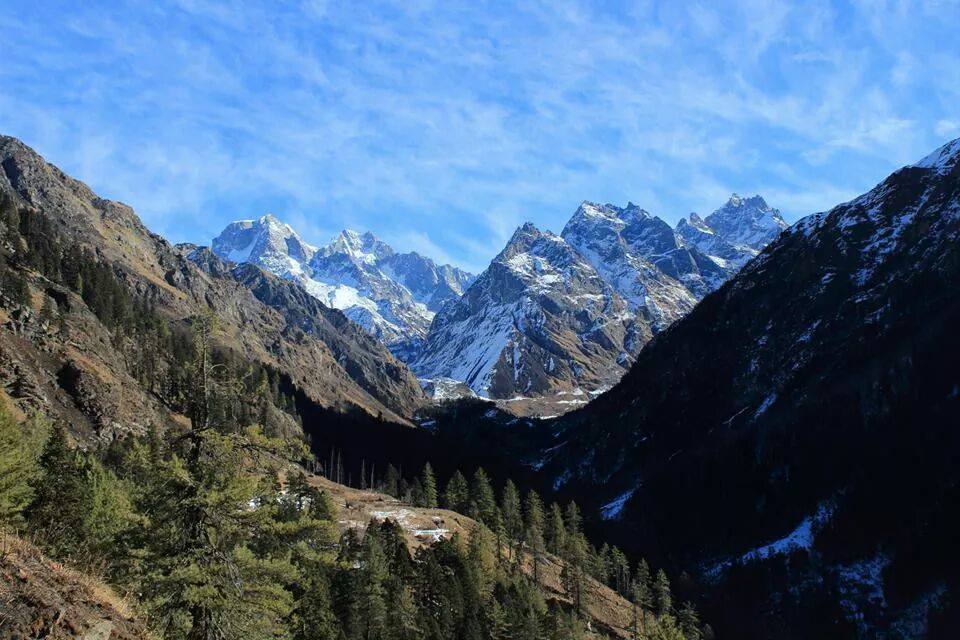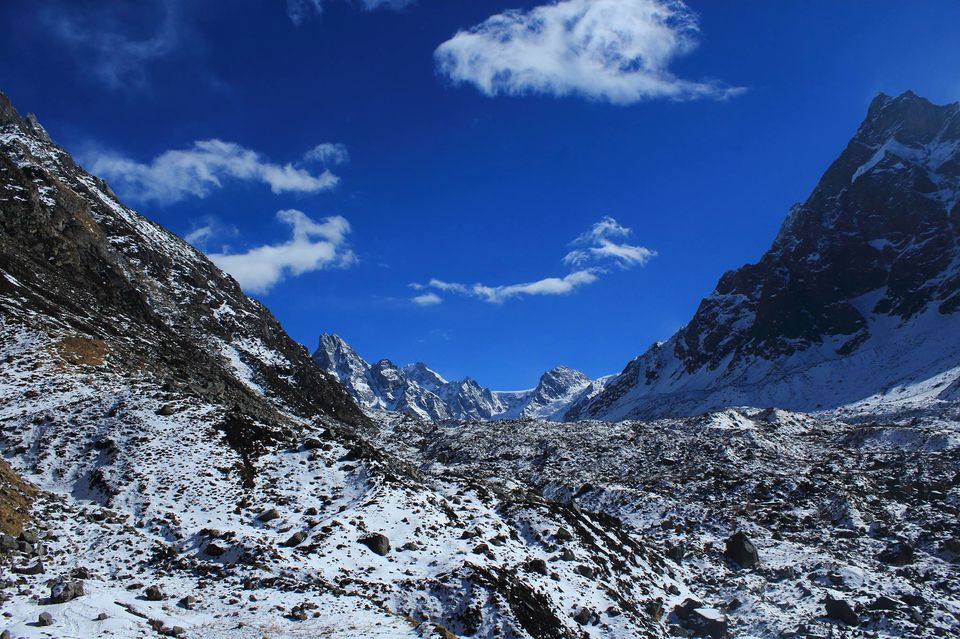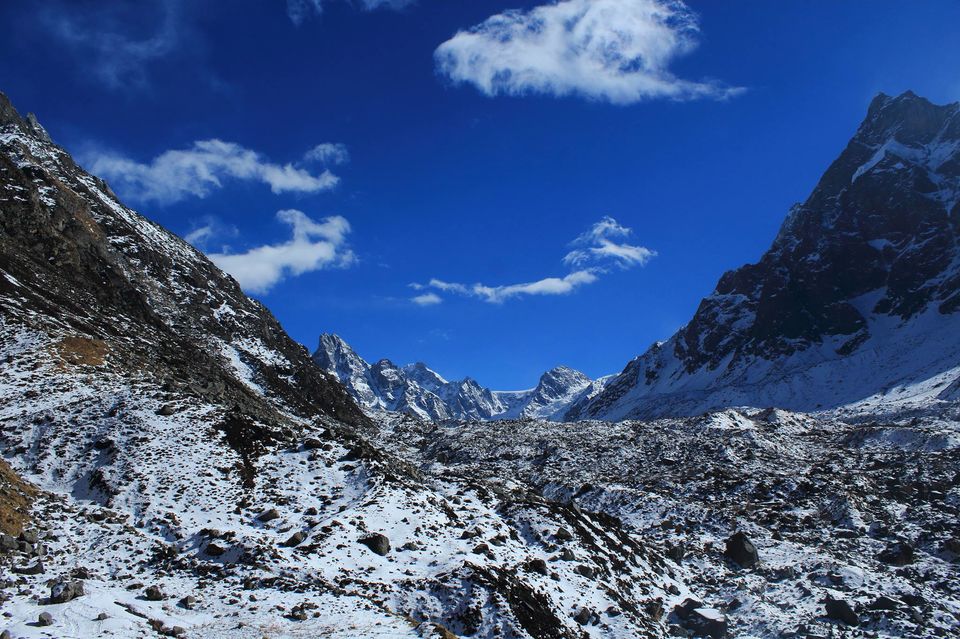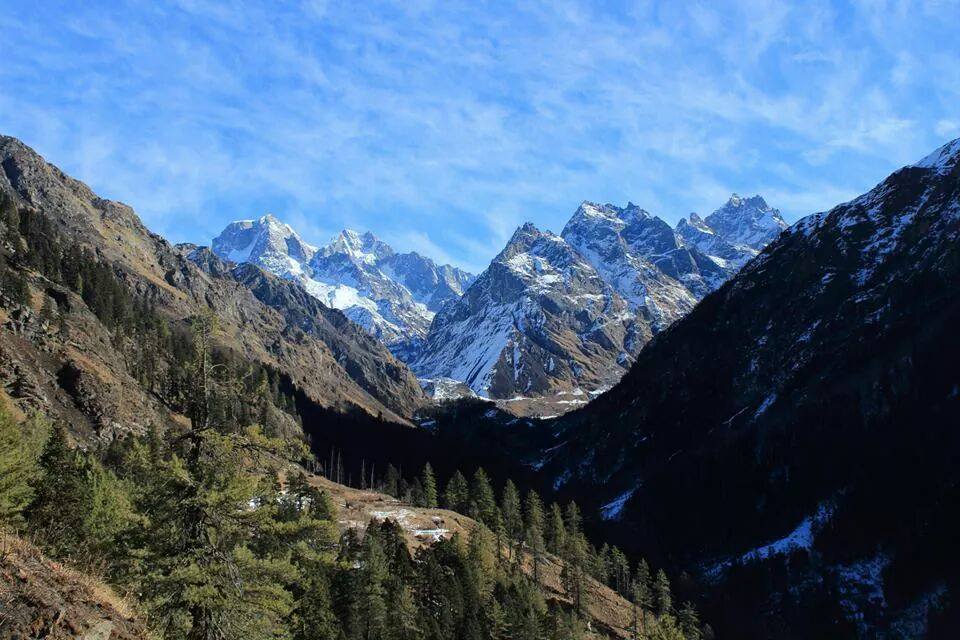 "Mountains are not stadiums where I satisfy my ambition to achieve, they are the cathedrals where I practice my religion."
As my good friends have told me of late, I have been onto a rather prolonged writer's block. Well, part of the reason might be that. And a part be my return to the Himalayas this new year – The Har Ki Dun Expedition. When Time was gearing up to celebrate its yet another birthday, a group of trekkers set forth for 8 days of awesomeness in the Garhwal Himalayan ranges of Uttarakhand.
Har Ki Dun – The Valley of Gods. Legends say that this is the valley that Pandavas passed through, in an attempt to reach heaven (Swarg). Mount Swargarohini (20,819 ft) at the end of the valley was the final point which laid way to heaven. While all the Panadavas died in the attempt to cross it, Yudhishthir and his dog were the only survivors who could make it to heaven. The locals of Osla, Gangad and Seema village still believe in this legend and consider themselves to be descendants of Pandavas and Kauravas.
So here we were – With an aim to cover 75 kms and reach an altitude of 12,500 ft over the course of next 6 days, we sure were looking to get a closer look of heaven, if not reach it.
That's where the inspiration for all the sceneries comes from. Absolute classic.
Day 1 – 27th December
Your professional life ensures that you never have enough time to spare, and by no way reach your destination without tumbling through. An evening flight from Mumbai to Delhi, followed by a late night bus from Kashmiri Gate to Dehradoon meant that we reached just in time for our cab to Sankri, the village that served as our base camp. After a lot of hustling, I had managed to get someone to accompany me for this trek – But it was only a matter of time before I got 3 dozen more companions. Sankri is about 200 kms from Dehradun – a total travel time of around 10 hours. Along with the company of some "high" spirits, a fellow group of trekkers from Bangalore and a lot of Bakar, we reached Sankri just aroud Sunset – when the snow covered mountain peaks were bathing in gold, and everyone was getting acquainted to each other.
When the mountain was set on Fire. Let's forge our own Ring.
It's never easy to acclimatize yourself when there is a drop of 30 degrees within few hours. But you got to do what you got to do. The scenery around and excitement to commence the trek helped our mind forget the cold that engulfed us. Evening witnessed a formal introductory session and an overview of the trek, by our very own IndiaHikes' guide and our trek leader Saranbir Singh and Jitendra.
It was freezing in Sankri. Humans, birds and animals everyone had taken shelter post 9 in the evening. While everyone was getting ready for a good sleep before the trek day, the silence of the night was helping everyone around by slowly hymning its most beautiful tunes in our mind.
Day 2 – 28th December
I have done numerous one day treks in Western Ghats in variety of situations – few easy to moderate and few in really testing circumstances. Coming to Himalayas, although I have been to Himachal many times, I only had the Tiger's Nest trek in Bhutan to back me up. All in all – Har ki Dun was set to be my first multiple day Trek – and what to make it better but Himalays and winter.
The starting point of the trek was Taluka village, which is at a distance of 12 kms from Sankri and took a 1 hour ride via jeep. This was the place where we were introduced to our local guides – Vir Bhai and Brij Mohan, the two pillars to be stationed at the start and end of the group. We were introduced to the concept of "Dry Ration", "Eco Bags" and "Packed Lunch" before we were given a green signal to march forward. Our destination for the day was the camp site of Chillurgarh, near the village of Gangad, a distance of 14 kms from Taluka.
Mountain Rivers – No music can even come close to what is at play here
The first day of the trek was relatively easy, with first appearance of snow by the end of the day. The picturesque view of rivers, forests, sky and the distant peaks in Har Ki Dun valley marked the beginning of our journey. And to add to that, by the time we were refilled with tea, soups and snacks (much like a vehicle is refilled to keep it running – whether it likes it or not), we had started bonding really well as a group. A little credit goes to the small Antakshari sessions as well.
And then came the night. Now, night has its own very unique way to bring calmness into every being. And you might not realize it, but it brings out a different character out of you – especially when you are amidst Nature. This time around, it brought something else as well. The tents and the sleeping bags. Wrap yourself all around, jump into the tent and pray to God that none of the fluids (that you have been consuming throughout the day) decides to kick in before the morning. And believe me when I tell you this – Nothing can be more torturing than getting out of your nice, cozy and warm tent and stepping into the chilling winds of the forest, post midnight.
This big question that has never been answered till date – By none of the great climbers or mountaineers – To pee or Not to pee ..
Day 3 – 29th December
They don't seem that comfy when you got to pack them. But as trekkers, that is what you are supposed to do.
The first morning under the skies and we were literally kicked out of our tents. It was suggested that hot fluid in the morning is a must but wait !! You got to wake up to have that fluid. And how do you take that fluid? In your cup. A cup that needs to be washed. Washed with water. Using your own hands. Doesn't seem likely – Let's skip the hot fluid, savvy?
Anyways, as I said earlier, a man got to do what a man got to do. And after having our breakfast, when we thought that hardest part of the morning is over, there came our trek leader – "Hurry Up !! Today I will teach you how to pack your sleeping bags and tents. And for that, you need to say goodbye to your gloves". Did I say it was a Good Morning?
So coming back to the big day – The first real test of the trek. 7 kms from Gangad to Kalkatiyadhar, our next camping spot. An hour or so, and we reached the village of Osla. A beautiful village with the main attraction being the Temple – The locals call it the Temple of Duryodhan, and the others say it is a temple to worship Lord Shiva.
Somewhere under the heaven, we dream of building our home.
The highlight of the day – Well, there was this steep, very steep, 400 step climb with very narrow path along the ridge – That too in the later half of the day when exhaustion was starting to creep in. We passed a few mules, who were happily chumping off their share of grass. The other side of the steep climb looked promising, but we had miles to go for that. While we were trying to figure out the time it would take us to get to the other side, those cute little mules decided that it was enough chumping for the day and it's time for some NFS action. Now there is one thing you do when you see mules running after you on a narrow mountain slope – You run. You run until you reach the other side or the mules reach you. Fortunately for us, mules couldn't have their share of fun.
The camping site was colder that day. And the sky was more beautiful. With the half moon showering pearls on mountain peaks, the belt of orion never looked more majestic.
Midnight Pic – Can you see the belt of orion?
Day 4 – 30th December
Wake up. Have your fluid. Pack your rukshack, sleeping bags and tents – And start moving towards your destination – Har Ki Dun – A 6 kms trek from Kalkatiyadhaar.
This was a white day. A day of frozen waterfalls and glimmering snow. A day of shining peaks and smiling faces. A day of utter bliss and pure satisfaction. We trekked this day singing our songs and swinging our trekking poles. We trekked this day remembering the last two nights and cherishing the time spent so far. We trekked this day with hopes for better days to come and harder tests to pass.
Our Har Ki Dun camping site
The view from Har Ki Dun camping site – Official stay at Govind National Park
Day 5 – 31st December – Happy New Year
Happy New Year. Yes, it certainly was a very happy new year. And I, personally, couldn't have wished for a better way to celebrate this day. The last day of 2014 was for exploring the valley of Gods – The 6 km trek to Jaundhar Glacier, at the base of Mt. Swargarohini. The day was also spend in marveling at the royalty of peaks of Fateh Parvat, Kalanag and Bandarpoonch ranges.
Setting into the Valley of Gods
The majestic Mt Swargarohini, with Jaundhar Glacier at its base
Our body was tired, but not our mind. The time to wake up the next day was still fixed at 6.30 AM, but the time to go to bed was extended a little. A little to accommodate the new year celebrations at midnight. I am not sure how you manage to bake a cake at a temperature of minus 8 degree celsius, but the wizard cooks in our team managed to do the same. Sweet in our mouth, wishes all around and warmth in our heart – We went to the valley of dreams with a smile on our face – As the great Himalayas watched its little kids settle safely and happily in its embrace.
And yes, the last sunset of the year was MAGICAL.
Day 6 – 1st January
Wake Up Wake Up Wake Up. It's a Good Day.
Wake Up Wake Up Wake Up. Let's welcome Today.
Spring in our feet. Descent facing us. Same streams and forests waiting to welcome us back. We decided to skip our second day campsite and headed directly to Chillorgarh, a 13 kms descent. Today we spent hours sunbathing in Osla and observing the clear blue sky. The temperature which appeared to be piercing our body a couple of days back was looking so friendly now. Circumstances teach you to praise things. Two days back I was reluctant to touch water. And this day, I was thankful that the water I was using to rinse the tiffin was not turning into ice in the process.
Day 7 – 2nd January
God – "Look, the kids are sleeping. They think they have seen it all. But you never know what you have been missing till you experience it. Let's give it to them. Let it snow today"
As they say, "You only miss the Sun when it starts to snow". Not this time. It didn't shine on the last day of our trek, but we didn't complaint. It was PERFECTLY planned out for all of us. His Almighty is a mastermind and no one can carve out a better blueprint than HIM.
2014 – Thankful to Mother Nature for planning out everything perfectly for me. Be it Andamans, Gokarna or Kasol – All the places I visited off season – It was as good as its prime season.
End of the trek – But only literally. The memories, the experience, the bonds – They are to stay. I brought all of them back with me. Just that one thing which I left in the mountains – My soul – It truly belongs there.
Indiahikes – Thanks for the experience. Thanks for being such a great host and even better organizers. What you guys are doing for trekking community is unparalleled. Any first time trekkers – Take a blindfold and go with these guys. If you have any issues with them whatsoever, I will be answerable to you
Fellow Trekkers – Nothing that needs to be said. You make the best bonds when your mind is at peace. We will meet again in the cities. And if not, there is no need to worry – We will see each other when home calls – In the mountains.
Har Ki Dun Winter Trek with India Hikes
Meet Titu aka Bholu – The guard of Har Ki Dun, and quite possibly the descendant of the dog that accompanied Yudhishthir to heaven
Day 8 – 3rd January
God – "They are so clueless, aren't they. Where is my wand? Let's give them something else. Let's replace the roads with clouds, and hit them with a rainbow"
As we said goodbye to Sankri, with a believe to come back soon, we knew we were leaving a part of us there. There we go, with a promise to do something for the community, with a promise to spread this magical experience, with a promise to come back – If not for the people out there, at least for ourselves. Learn to be like mountains – They look so far until you get there. They look so hard until you sleep in their lap. They look so tall until you reach the top. Such a high stature, yet so humble. Farewell Har Ki Dun.
The magical bow – Near Mussorie
Riding the Clouds – Mussorie
Beaches give my life the pace. Mountains give my soul the calmness. And forests teach me how to be at peace. Nature has given me this life. And it keeps on shaping me into a better person.