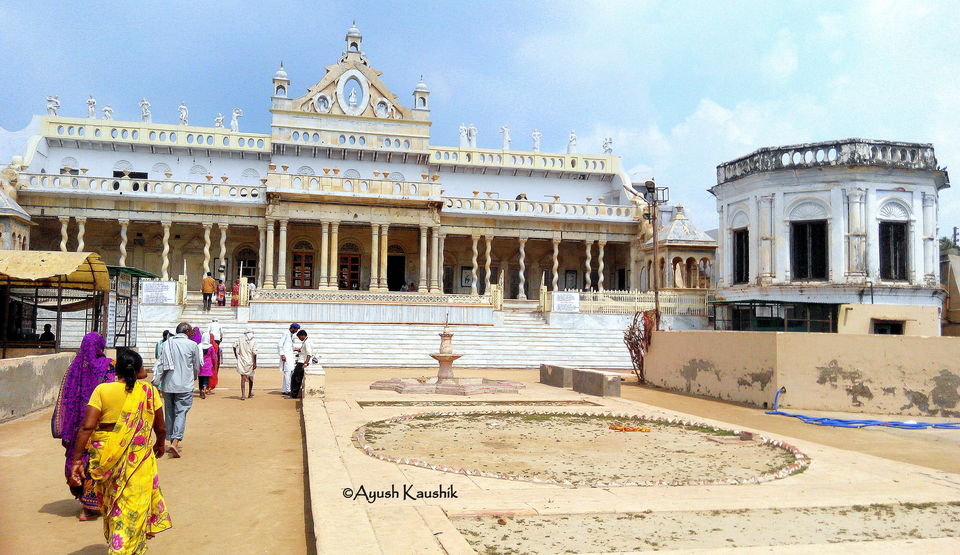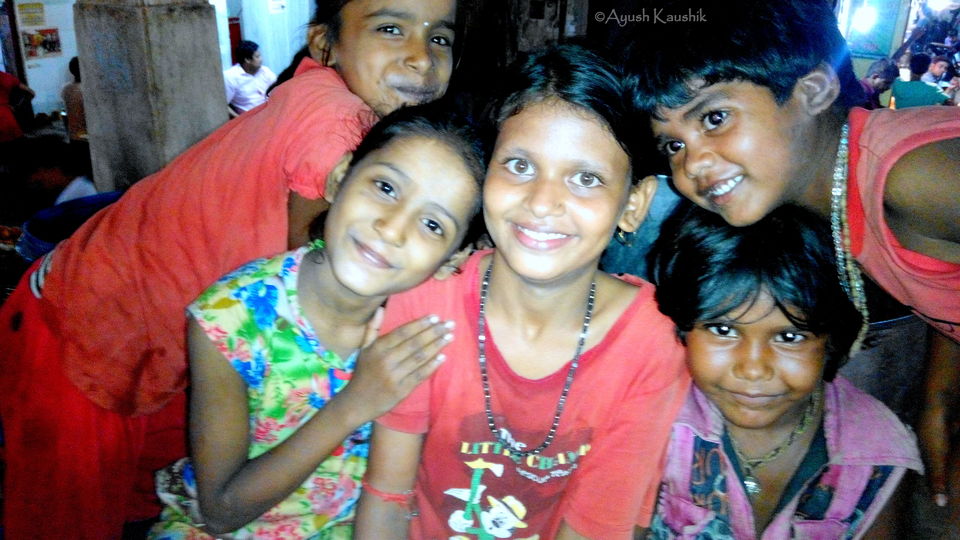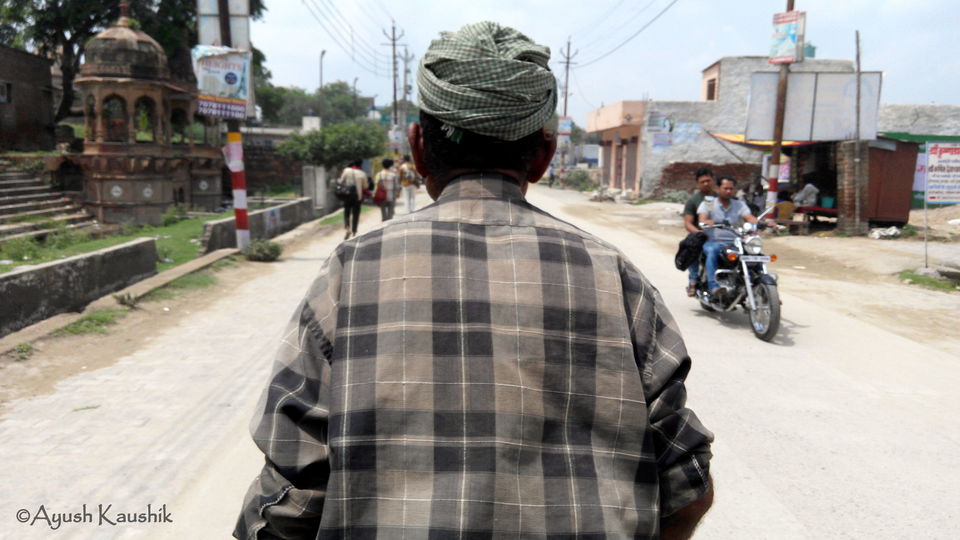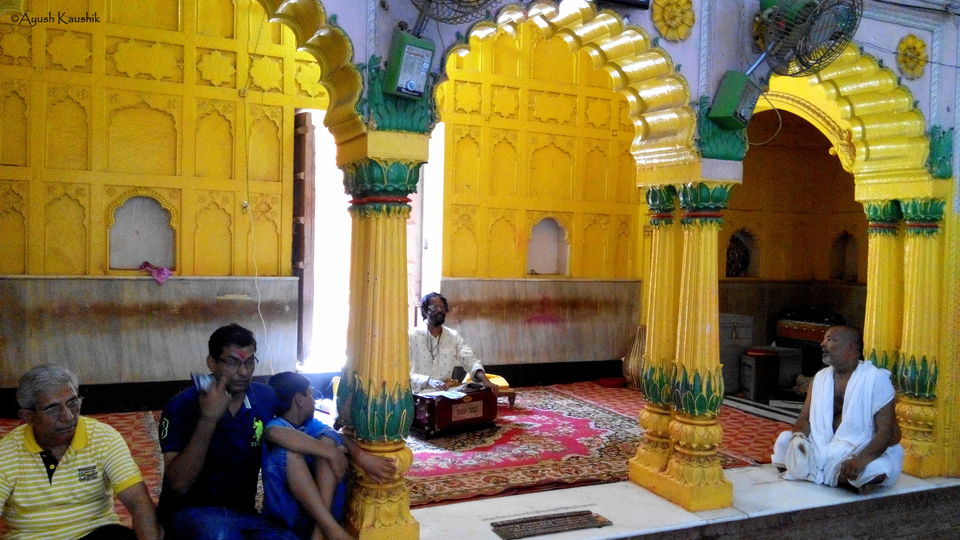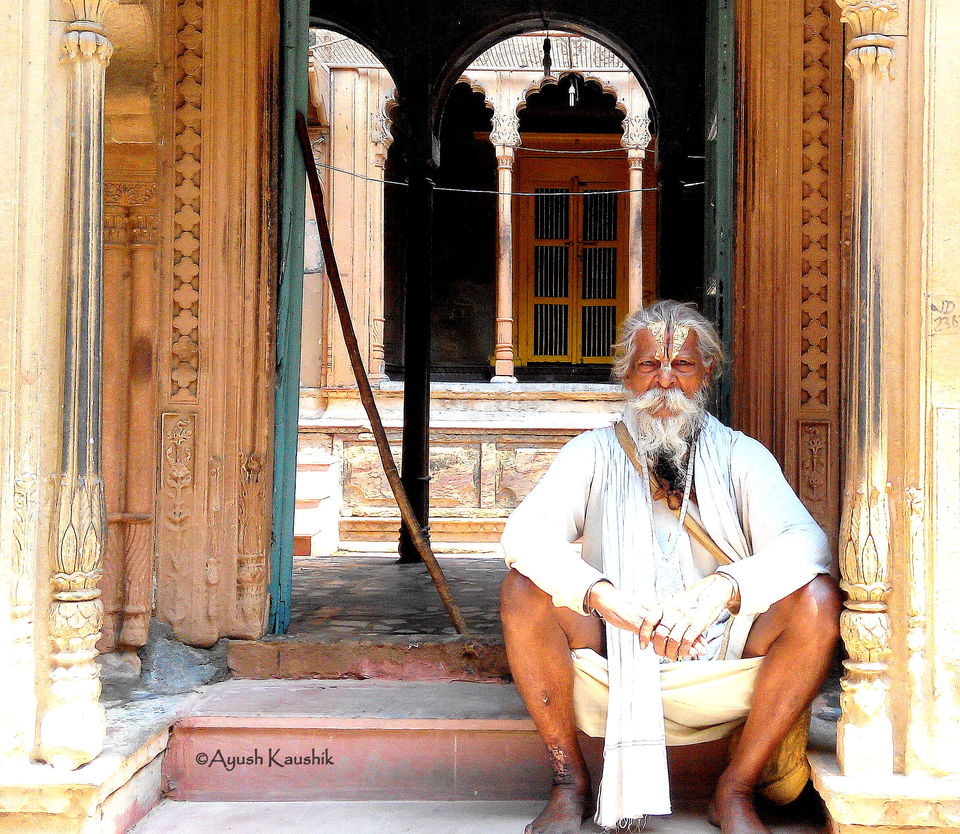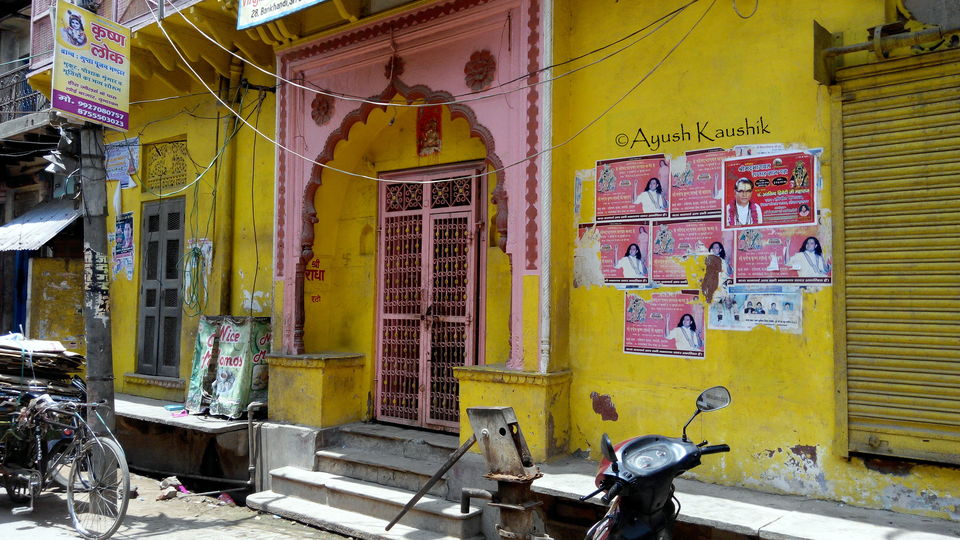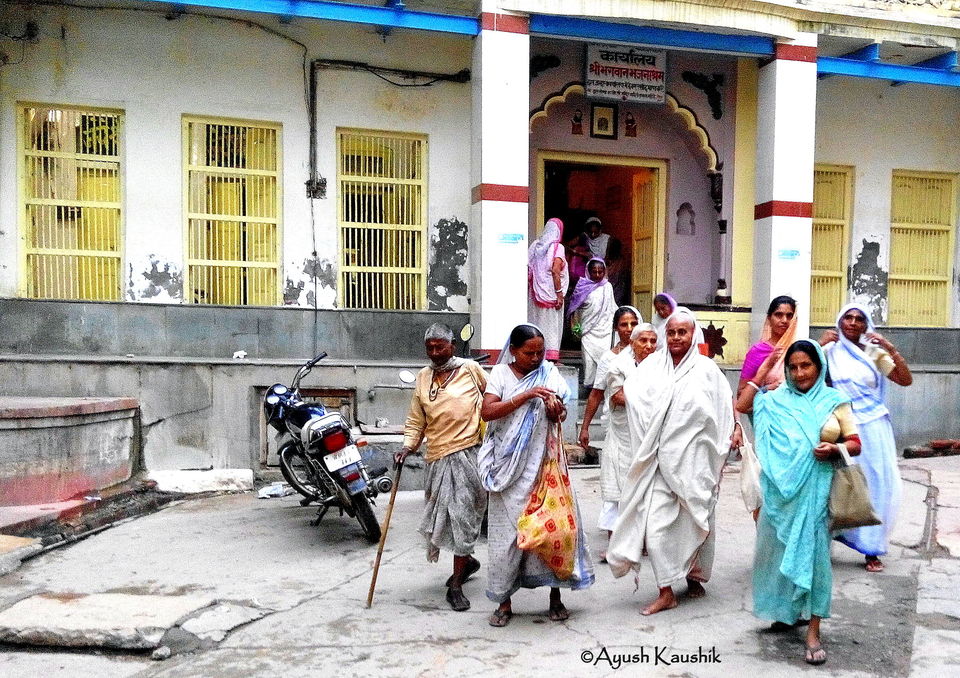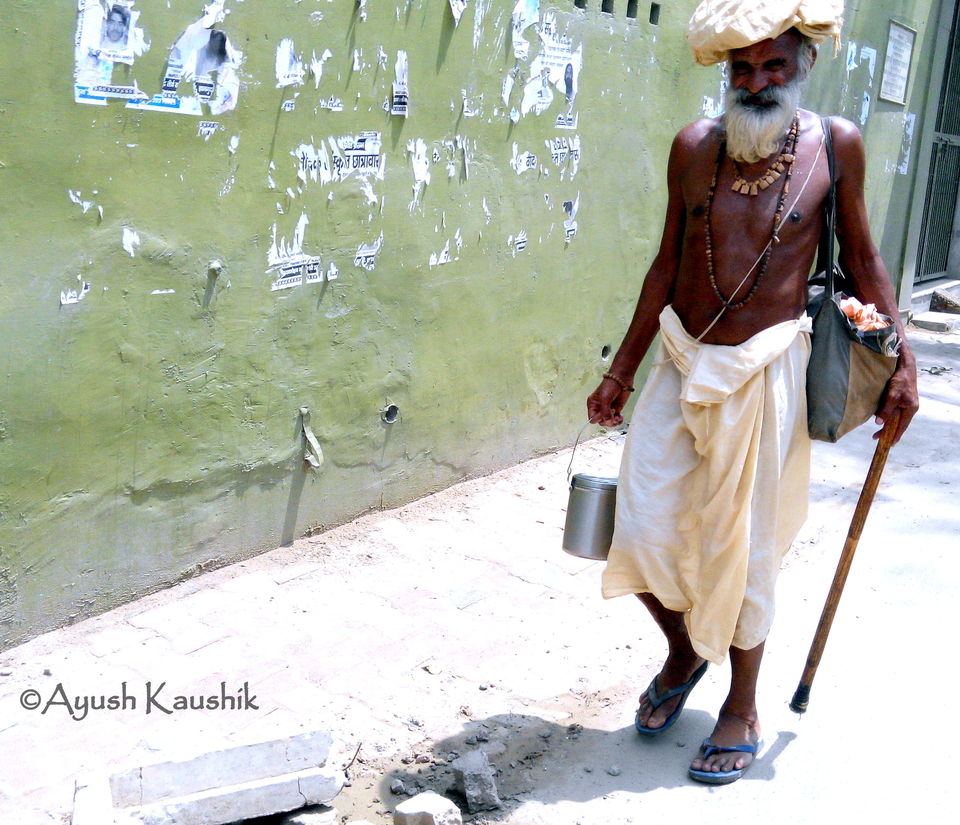 -DayAfter reading the translated verses of Surdas, in praise of Lord Krishna, as a poet and a writer I wanted to travel to Vrindavan myself and see what infused the overdose of love, zeal, happiness, and passion in Surdas and other poets who were part of the Bhakti movement in India between 15th to 17th century. I had only seen love as an expression of emotions of one human being for another human being, but it was a matter of sardonic nature for me to believe in someone's eternal and unrequited love for God, though there was always a certain curiosity to understand it.
I was enthusiastic as a non-believer in God and an absolute believer in the power of words, to find out the secret of absolute happiness and eternal satisfaction in the worship of Krishna or any other God. Was it possible to achieve? Yes, I could read Surdas, Mirabai, and Tulsidas to witness the extravagant love they had for their God. But how? And what if you are sure there is no God?
With such thoughts in mind and an inveterate fascination for spirituality, I planned my first solo trip and decided to spend the first five days in Vrindavan to find out the answers of my several questions. Later, I traveled to 13 more Indian cities in 40 days continuing the same journey.
Among many other things, I also wanted to prove that it is possible to travel cheap, and money should never be a constraint for a traveler. So, I left Delhi and spent Rs 170 in reserving a seat in the sleeper's boggy of an express train. I thought that was cheap but I had to regret it later, because it is possible to travel from Delhi to Mathura in less than 100 bucks via train or bus.
I spent another 20 bucks to reach Vrindavan from Mathura in a shared auto I boarded from Mathura Junction, and another 20 to reach the 'Dharamshala' in Vrindavan on a rickshaw. So, I had spent 210 within the first few hours of my journey on different mediums of transport.
One of my contacts had suggested a cheap dharamshala in Vrindavan, but when I first looked at it from outside, I was doubtful of my whole idea of staying at a cheap place. Yet I pulled myself up and went inside with as much enthusiasm I could gather. An unexpected conversation struck with the caretaker of the dharamshala was a lovely surprise and I later realised the usual sweetness with which almost every native of Vrindavan talks to travelers. He told me about the special rules of the dharamshala, in which everyone has to pay a minimum sum of 100 bucks a day for a single room, but can consciously donate any amount for the better maintenance and the functioning of the dharamshala. He also asked about my profession, the reason of my visit, and after knowing everything, why I chose Vrindavan.
It was a small dingy room with lots of patches on the wall, a single LED to provide for necessary light, and no private bathroom or toilet. So, I faced much inconvenience on the first day, but the happiness in the air prevailed and I became habitual of the surroundings to surprisingly stay there for full 5 days.
As per my goals to trust humanity and look for love, I used to help the caretaker and other workers of dharamshala to serve free food to the Sadhus who used to visit the Dharamshala every morning for a healthy meal. This developed a great bond between me and the caretaker, and he didn't object when I only paid him 500 bucks at the end of the 5 days.
I spent my first evening at Bankey Bihari temple, a splendid flower temple, located somewhere in the maze of narrow lanes in the small town of Vrindavan. Searching for spirituality among among the horde of worshipers of Krishna, I observed everything from the turmoiled twitchings on the face of a frightened worshiper to the unconditional smile on a Sadhu's face in love for Krishna. I had the time and reason to spend quality time with some street kids on the very first day of my stay in Vrindavan, which made my day and kept the desire alive, to search for true happiness in my heart.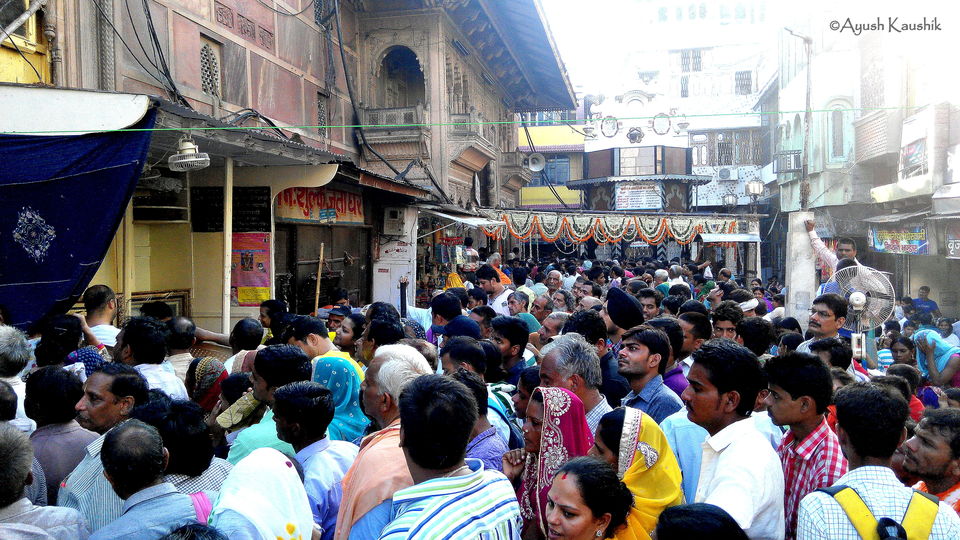 Worshipers of Bankey Bihari waiting outside the Bankey Bihari temple before evening prayers.
I went to almost all the temples of Vrindavan, walking endlessly in the myriad alleys, without spending another penny on transport. The ISKCON temple made me curious as always; there were happy faces, unusual faces, faces immersed in deep love for Krishna. The Madan Mohan temple, Rangji temple, Govind Dev temple, and Shahji temple were architecturally beautiful and as always, I was surprised to see the devotion of worshipers for Krishna. I also visited Bhagwan Bhajan Ashram complex where thousands of Bengali and non-Bengali widows live their last days laughing endlessly with their widow-mates. Their lives are not only inspirational for a melancholic soul, but can also infuse energy and life into a dead guy.
I visited Radha Damodar temple and found out more about the special love affair of Bengalis with Vrindavan and how it started with Chaitanya Mahaprabhu. I deeply savoured each and every moment spent in the company of great musicians in the Radha Raman temple. But it was the Meera Bai temple where I truly realised spirituality like never before, in the company of the priest of the temple, and the blind Sadhu. Blind Sadhu was a storyteller, and a regular at the temple. The priest of the temple was an educated man, and he talked about love like a poet. It was his love for Mirabai fueling him, yet it seemed to me as if he had as much experience of love for another human being as any other great love poet. When he talked, he bore the love for Krishna, and placed Mirabai's love as the benchmark. When I spoke, I bore the love a human possess for another, and considered love to be omnipresent. We were different, yet there was a gleam in our eyes when we talked about love. Hours went by and when it was time for the temple to be closed in the afternoon as per the ritual of serving lunch to God, he closed the doors of the temple, and asked me to stay for some time. He went up stairs to his wife, and appeared through the same stairs in another two minutes with well cooked vegetarian meal carefully plated on an aluminium dish and served it to me. He asked me if I would have lunch at his home-cum-temple and I couldn't refuse. I inquired if he would join me to have lunch. He said, "No, I must adhere to my duty and provide food to the Krishna first; today you are our guest, thus our Krishna." This act of kindness, humility, and love moved me after perhaps the best philosophical discourse of my life, and I experienced a force of realization, astonishment, happiness, and spirituality at the same time.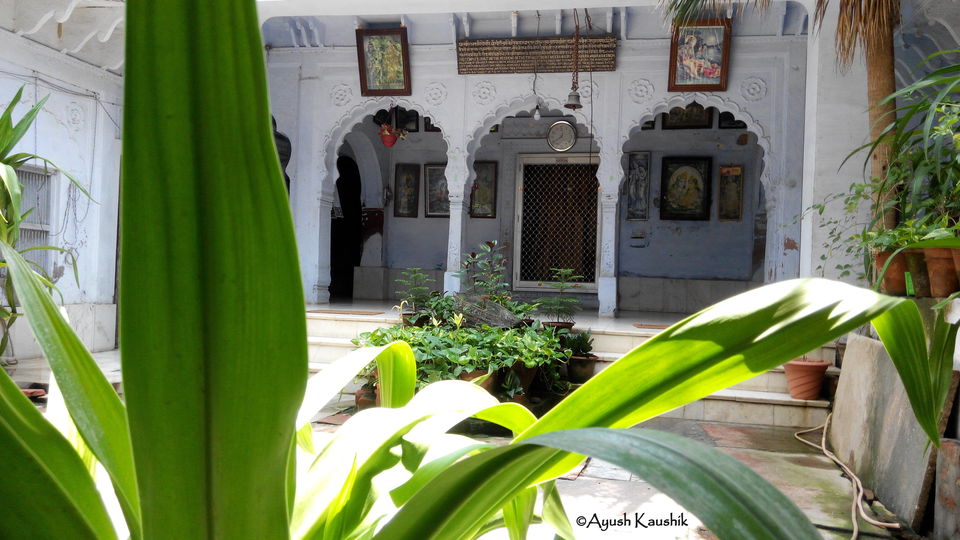 The Beautiful Mirabai Temple in Vrindavan.
In Vrindavan, love was in the air, in the smile of a shopkeeper, in the advice proffered by local men and women to remain cautious of monkeys, in the way animals were treated, and in the endless dance performed by worshipers of Krishna at ISKCON.
The exalted moments of pure bliss experienced by me at Vrindavan, despite being a heretic, proves that spirituality favors neither a religion, nor an individual who believes it can only be attained under subservience to a God. It simply exists for humans to transcend everything and dive into it with any or no belief.
I used to have my free brunches at the dharamshala, and later, evening snacks and dinner at different restaurants and roadside joints. Twice I visited Brijwasi Restaurant spending 200 bucks. Once I visited Sagar Ratna, costing me 120 bucks. Otherwise, I had my dinners at small roadside restaurants near Bankey Bihari temple, spending around 250 bucks in 3 visits. I also used to spend 35 bucks a day to buy a 2 litre Kinley water bottle because there was no RO water purifier in the dharamshala. I also filled the bottle twice to brim when I visited Brijwasi restaurant because there was a filter; if someone would question if 2 litres of water a day is enough to survive. So, I drank 14 litres of water in five days, and spent 175 rupees for it.
Someone might ask, what about other stuff? Well, I was carrying a 60 litres rucksack and almost everything of a value to a traveler in it, including a nail cutter, all-out, odomos, hand sanitizer, and some packets of good quality napkins.
Therefore, I spent only 210+500+200+120+250+175 = 1455 Indian rupees in 5 days, making it 291 per day, and got the answers to most of my questions.

Just for clarity, I still do not believe in God. But spirituality and theism do not necessarily have to co-exist.