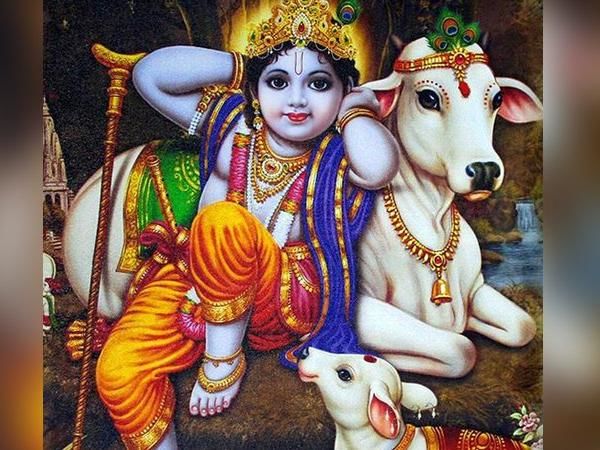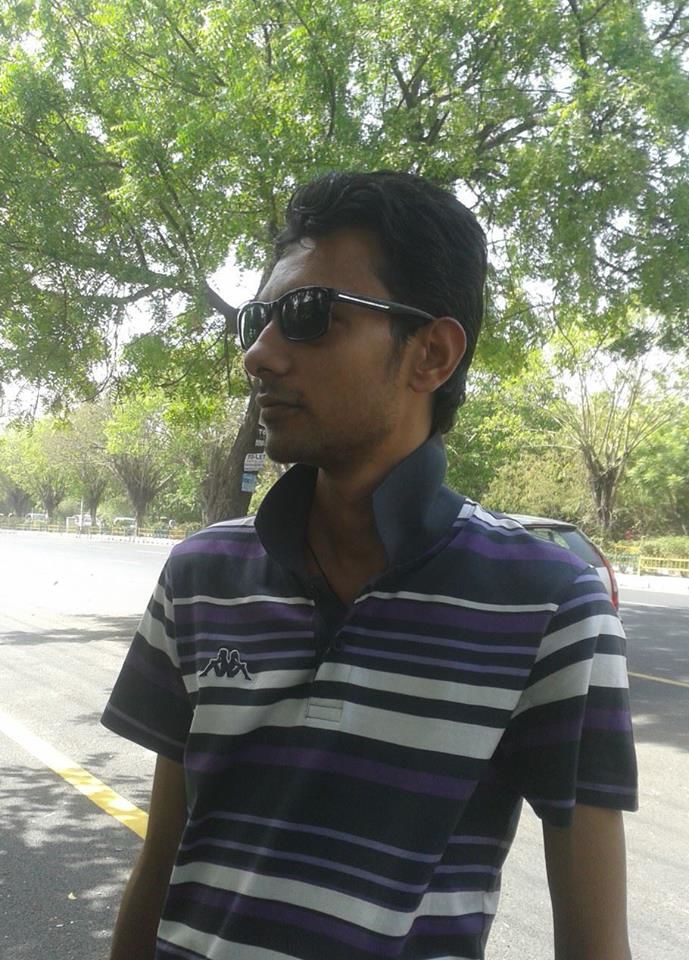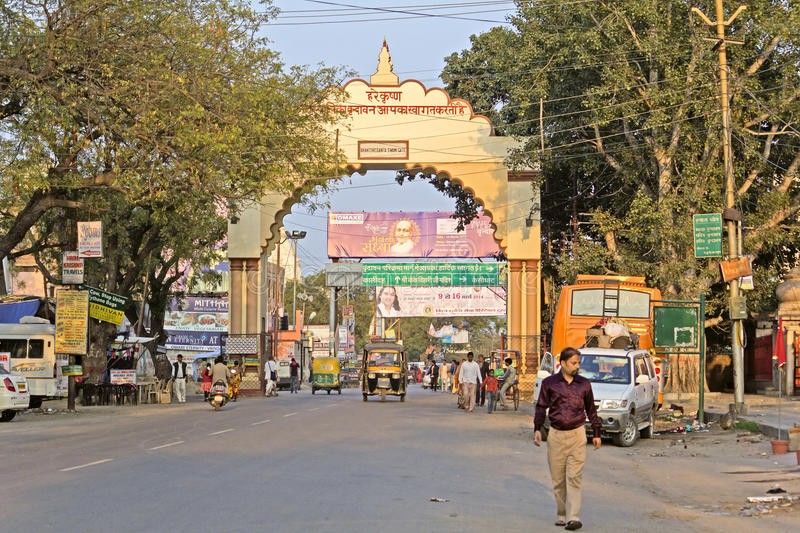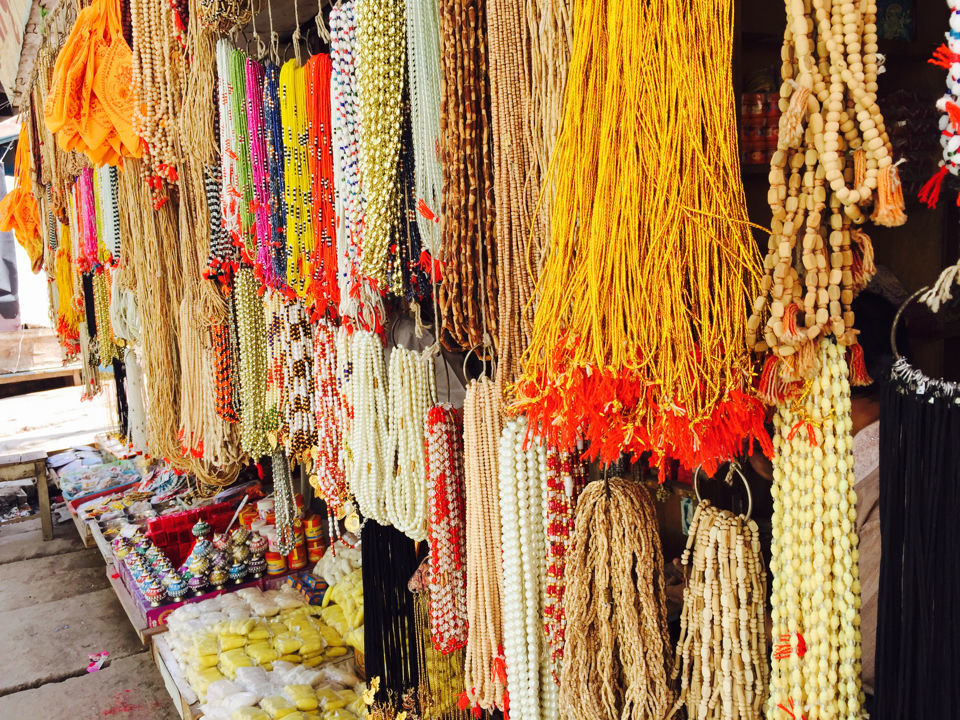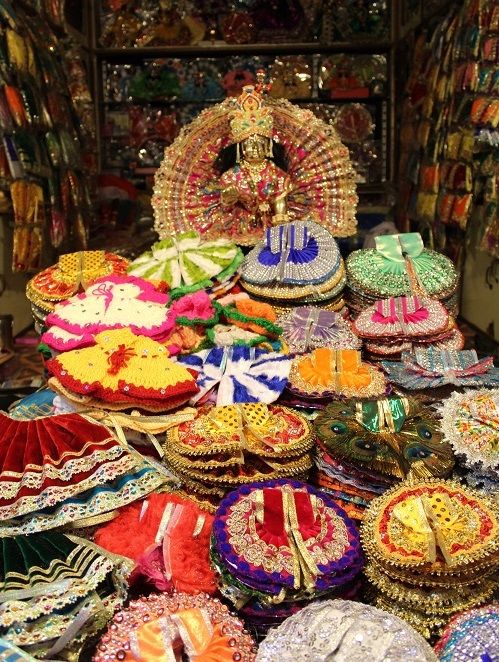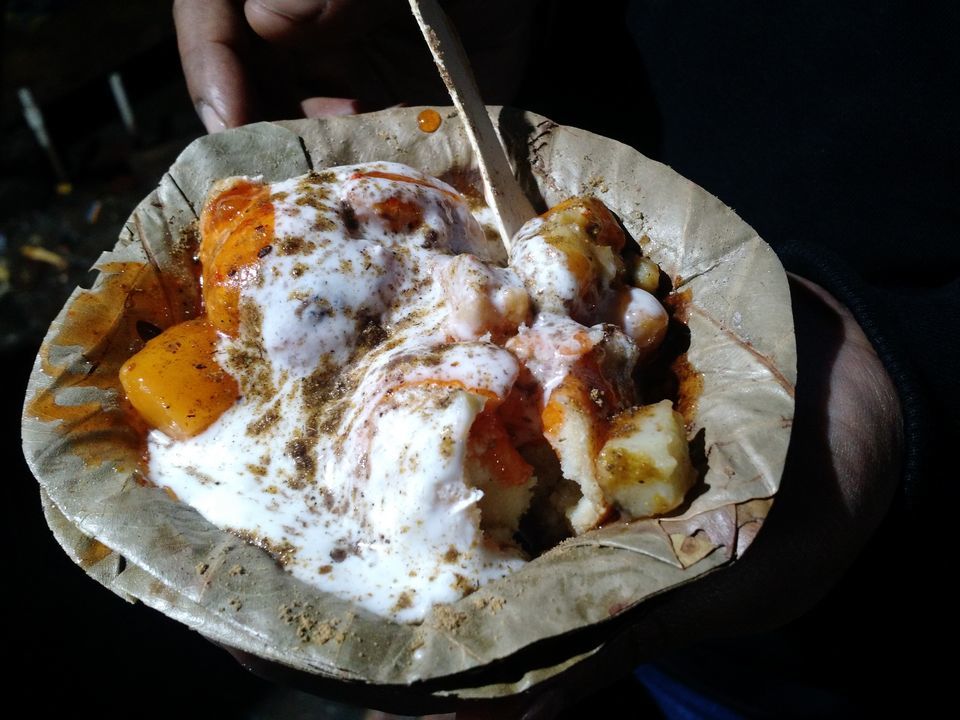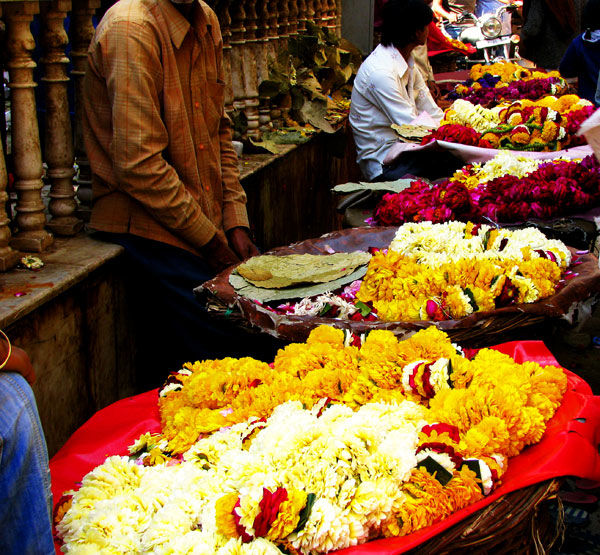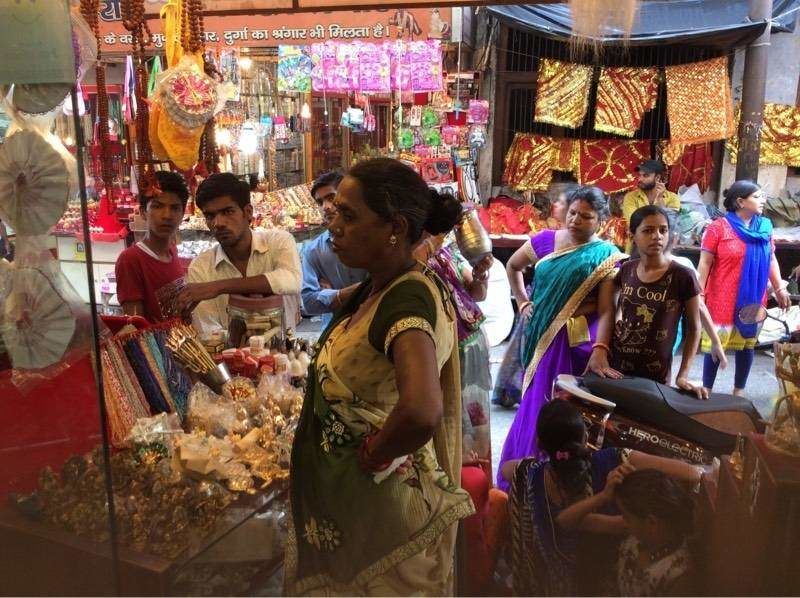 Unexpected trip are always the best trip and remembering those unexpected trip is the other most memorable part of the trip.
This trip also happen just the same way..... It was in the year 2008 when I was in the second year of my graduation ( BPE) in the college. It was in the summer season time before the lunch break , when suddenly I along with my friends ( Gopal, Sunil and Saurabh) were just sitting and chilling out in the ground that suand decided to go to Mathura and Vrindavan. So we just went to our room, packed our bags and headed straight to Sarita Vihar so that Gopal ( who is a bhakt of Krishna) and had visited the place many times before could also pack his bag . From Sarita Vihar we straight away took a bus to Vrindavan. Finally after a long bus ride we reached Mathura road from there we took a tempo to Vrindavan.
It was around 4:00 pm , when we reached Vrindavan. The roads were empty and on one side of the road a temple was being constructed... at that time we didn't know the name of the temple that was being constructed. As it was afternoon time, there was no crowd in the street of Vrindavan. Everything was silent and quite. Only few people could be seen and in the shade of trees cows could be seen resting or eating.
After crossing few lanes with friends Gopal , who was a friend cum guide of our trip took us to a Ashram, where we will be staying for the rest of the time. We rested for sometime and had snacks. In the Ashram we met a Saki ( male person acting and dressing like a women ...as he had fallen in love with Krishna). As Gopal had visited this place and lived in this ashram so he already knew him and they started talking. After talking with the Saki for a while , We could not wait to explore the magnificent temples and get into the vibes of the Lord. Our friend cum guide ( Gopal ) first took us to many temples like :
• Shri Radha Vallabh Temple ( where he asked us to take 3 parikama (rounds) of the temples as it is believed that taking 3 parikama of this temple means you have complete the the parikama of vrindavan).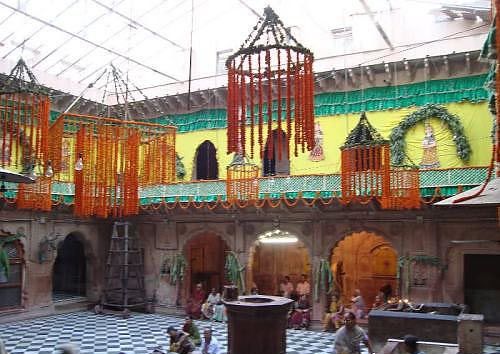 • Gopeshwar Mahadev Temple : Dedicated to Lord Shiva, this temple depicts the lord in the form of a gopi. This has been derived from a tale where he took the shape of a female to see the Rasa dance.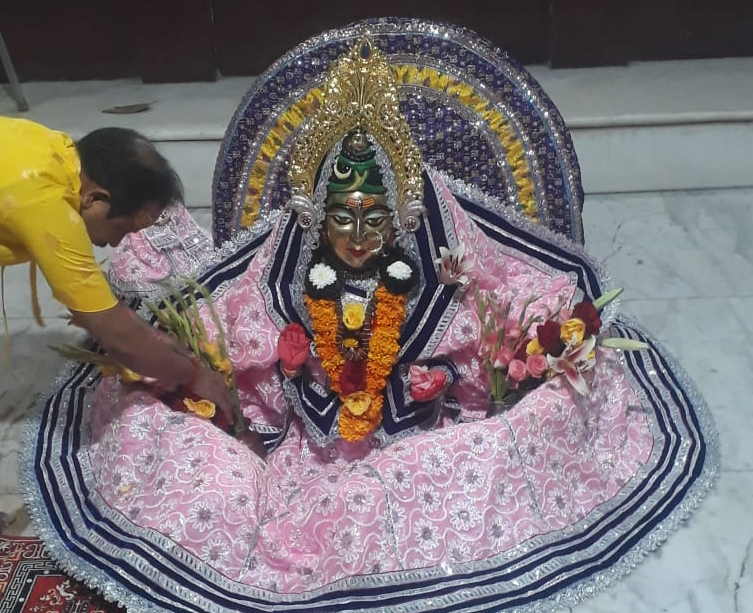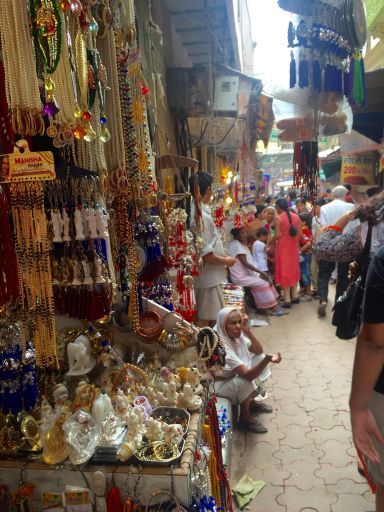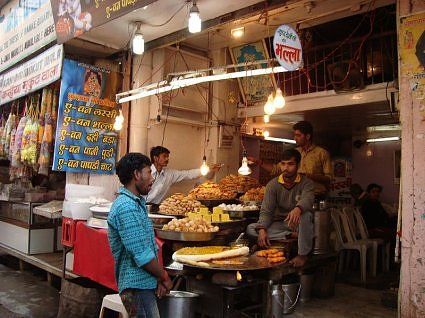 As it was already getting dark, so Gopal decided to take us to the famous Banke Bihari (closing timing: 9:30 pm in the summer). On our way to the temple lane, the road was filled with many mouth watering dishes and street food so we decided to have some and then go to the temple . So we ordered Aloo Tikki Plates. The way the aloo tikki was being made with a prefect combination of crispy aloo tikki , pudina chutney and imli ki chutney, topped with some matar and dahi was so mouth watering that I could not wait to have it. The aloo tikki was too yummy and delicious that I can till remember its taste and had a craving for it. As only having Aloo tikki without having the Golgappe is a bad option. So after this we had the amazing Golgappe from other stall and the Pani also with the chutney was too spicy that it brought water from my eyes.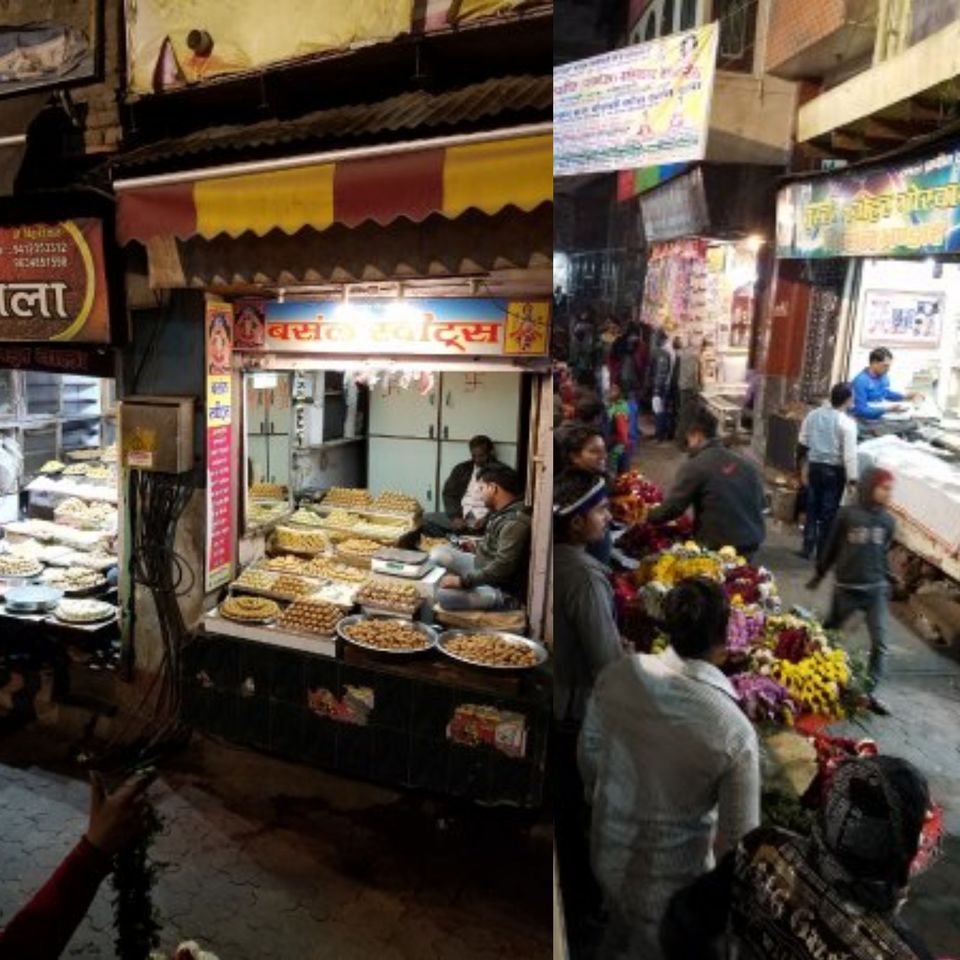 After having the yummy food we washed ourselves and took the prasad of Pede which are offered to Lord Krishna from the lane of Banke Bihari Temple.
After a little walk we reached the Banke Bihari Temple. We removed our shoes in the shoe rack and then went inside the temple.I am not as religious as Gopal but the moment I entered the temple's premises I could feel the spiritually imbibed on the soil of this holy land. The temple was covered with the marigold, rose and mogra garlands along with the Ashoka and Tulsi garlands. The temple was looking like a Bangla ... with the essence of Krishna. There was a huge crowd inside the temple and everyone was chanting 'राधे कृष्णा राधे कृष्णा कृष्णा कृष्णा राधे राधे ...राधे श्याम राधे श्यामा श्याम श्यामा राधे राधे,' and everywhere the echo of राधे कृष्णा could be heard. Even though the temple premises was fully crowded and after every few minutes,the curtain was pulled shut and then opened again. So that the brilliant eyes of Shri Bankey Bihari do not make one unconscious ....But we got fortunate and got the glimpse of Banke Bihari Ji.
We gave the prasad to one of the pandits for the bhog and he returned us the prasad with tulsi leaves and rose garland.
(NOTE: Photography is not allowed inside the temple premise.In case caught the temple authority has the right to seize the camera or take a fine. The photo below has been taken from the Google).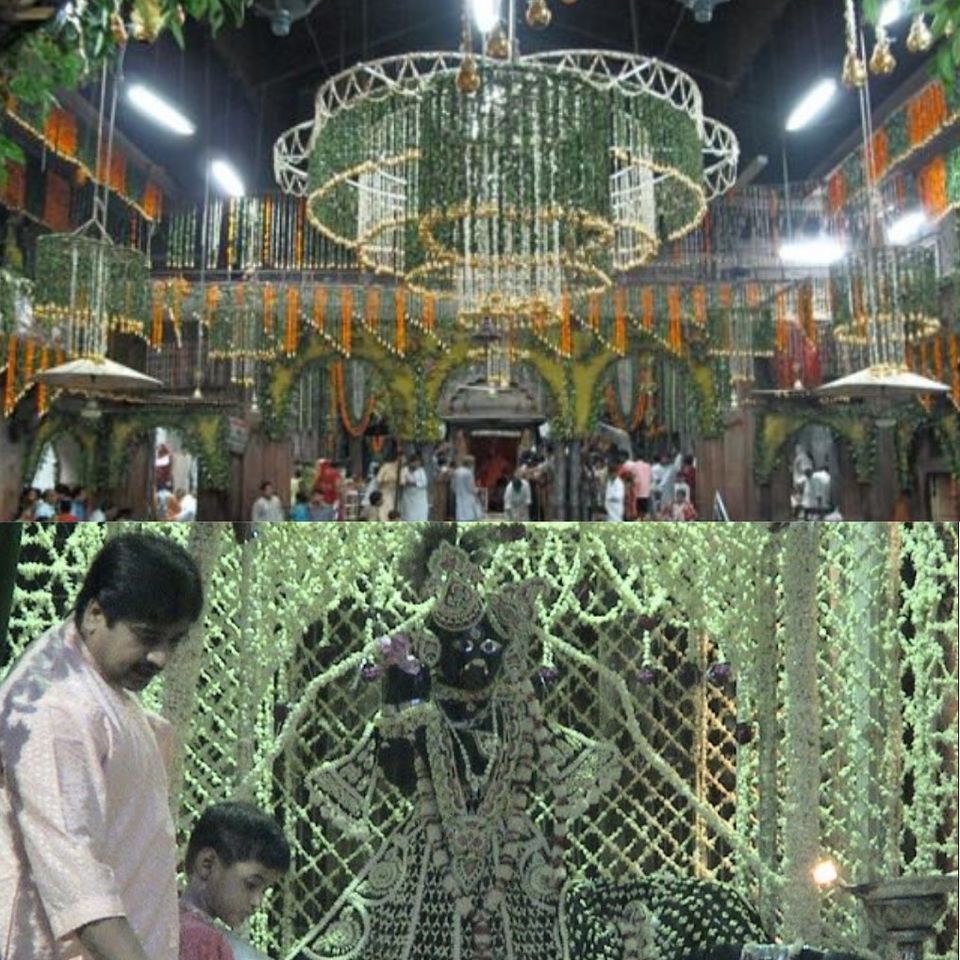 After spending sometime in the glimpse of God. We exited the temple and had our dinner. We ate the Puri which was served with aloo ki sabzi along with the khathi meethi Petha ki Sabzi. As the visit to Vrindavan would be incomplete without the legendary Malai Lassi, which is served in the kulhad. We had the delicious lassi ...
Afterward we went to the Ashram with a little tired body filled with some spirituality and postivity in us. The day in this small town was amazing where everything from Good Morning to Good Night.... honking by rickshaw wala was replaced by 'Radhe-Radhe'.
DAY 2
Next day we woke up and greeted each other 'Radhe Radhe ' in place of Good morning to get into the vibes of the place.
We were just getting ready to freshen up..As Sunil and Saurabh have always been mischievous and always played prank with us, so this time also they decided that we should brush our teeth with Musaka Gul ( a powder used to clean the teeth and had some unconscious effect on mind as well). They asked for the Musaka Gul in few shops but could not find it. But Sunil and Saurabh didn't lose hope and went far away in the outskirts of Vrindavan, where they finally found the Musaka Gul. They brought the Musaka Gul and we cleaned our teeth with it. Their plan was to get us high with that but on the contrary they only got high by using this. As all this happened me and Gopal were laughing and said "जिसने कुआं खोदा वो खुद ही गिर गया......यही है कन्हैया की नगरी ... यही है उसका जादू ...... ऐसा है कृष्णा का वृंदावन...... हरे कृष्णा.... कृष्णा कृष्णा हरे हरे..."
After this we went to have our breakfast in the bhojanalaya . In the bhojanalaya, we again saw Sakhi who was sitting in front of us. While the food was been served to us, I noticed that Sakhi and Gopal were having eye contact and the smiling at each other like the two lovers do. This made me laugh and then Sunil and Saurabh also laughing seeing this. While the food was being served, we asked the person to give us green chilli and Ram Rash (namak as it is called there) and to this he said that Hari mirch is called as Lanka in Vrindavan .
After having the food, we went back to the Ashram. We woke up at around 2 pm and we went to a temple close to our Ashram. We saw that Saki was sitting in the temple. We prayed to the God and then Gopal sat with the Saki. We had a chit chat with Saki and found about his belong that he belongs from a Gupta Family and hail from a foreign country. After some chit chat and intro we found a tabla . As we had heard Gopal singing bhajans in the college once. So we told him to sing it over here as well. In the college time, Gopal had given me the lyrics of the bhajan so we decided to sing those bhajans as it was learnt by me and I also could join him. We sang the bhajan in order...first Gopal used to sing .... followed by me and followed by Sunil , Saurabh and other followers. With few minutes of his playing tabla, other followers joined him and we all started singing the bhajans :
कान्हा की दीवानी बन जाउंगी,
दीवानी बन जाउंगी मस्तानी बन जाउंगी,
कान्हा की दीवानी बन जाउंगी,
जब मेरा कान्हा माखन खावे मैं मिश्री बन जाऊ,
मिश्री बनके मैं कान्हा के माखन में मिल जाऊ,
माखन बन जाउंगी मैं माखन बन जाउंगी,
कान्हा की....,
Suddenly I could witness the most amazing and wonderful scene of my life....and I lost in this wonderful scene.. and I thought ....how not only Gopis but he can make anyone fall for him and could feel why Lord Shiva turned himself into a Gopi . As Saki started dancing just like a Gopi and I could see a male converted into a Gopi while dancing in the tune of Krishna. I could feel the essence and tune of Krishna's magic all around. After getting involved into the tune of Krishna. Everyone clapped for us and asked us from where we came as we didn't look like a professional singer and to this we told that Kanha ji ki kirpa se yaha aa gaye ... unka bulawa tha .. to college bunk kar ke aae hai ... Everyone appreciated us.
We left the temple premises with a lot of happiness and enthusiasm.Afterward, Gopal told us that now, we will go to Nidhivan . On the way he told us the story behind the Nidhivan (i.e. At night the whole forest lits up. The trees turn to Gopis at night, when Lord Krishna comes here for Ras Leela and as soon as dawn breaks, the Gopis turn back to trees. The trees shift their positions every day. Several People have tied threads to check this fact but they could never find the tied thread, If you see on the ground, there are more than 1000 holes, which are the clear indicator that trees have shifted their position. The leaves of these trees are never broken and the ones which fell themselves are also collected in these holes. And these trees are always found in pairs).
He also told us that, The trees found in Nidhivan are of different kind. These trees are mostly short in height and have entangled trunks and there are no nests or insects on these trees. The part of these trees cannot be taken home and those have attempted to do so, have faced severe consequences and no one is allowed to enter this premises after the Arti .
All this sounds interesting but it was equally mysterious too. Listening all this, our mind had started wobbling! We were in total confusion that whether we are in a land of mystery or it is a miracle.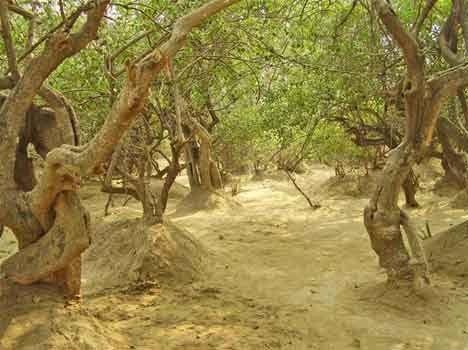 We visited this mysterious and miraculous place and got to witness all the different kind of trees along with the Lalita Kund, Rang Mahal ( where arrangements are made for Raas Leela), we also got a prasad from the temple and also visited Shree Radhe Temple which is also there in the Nidhivan only.
After seeing the mysterious but miraculous place, we went to see the Banke Bihari temple and few other temple around the Banke Bihari Temple like Radha Sneh Bihari Temple.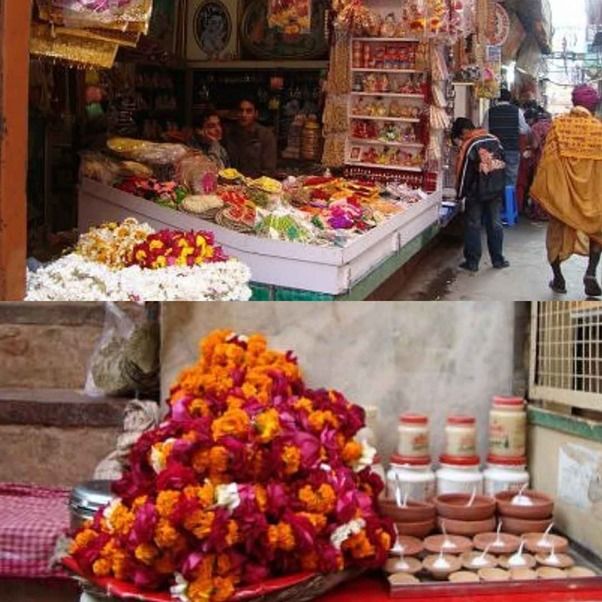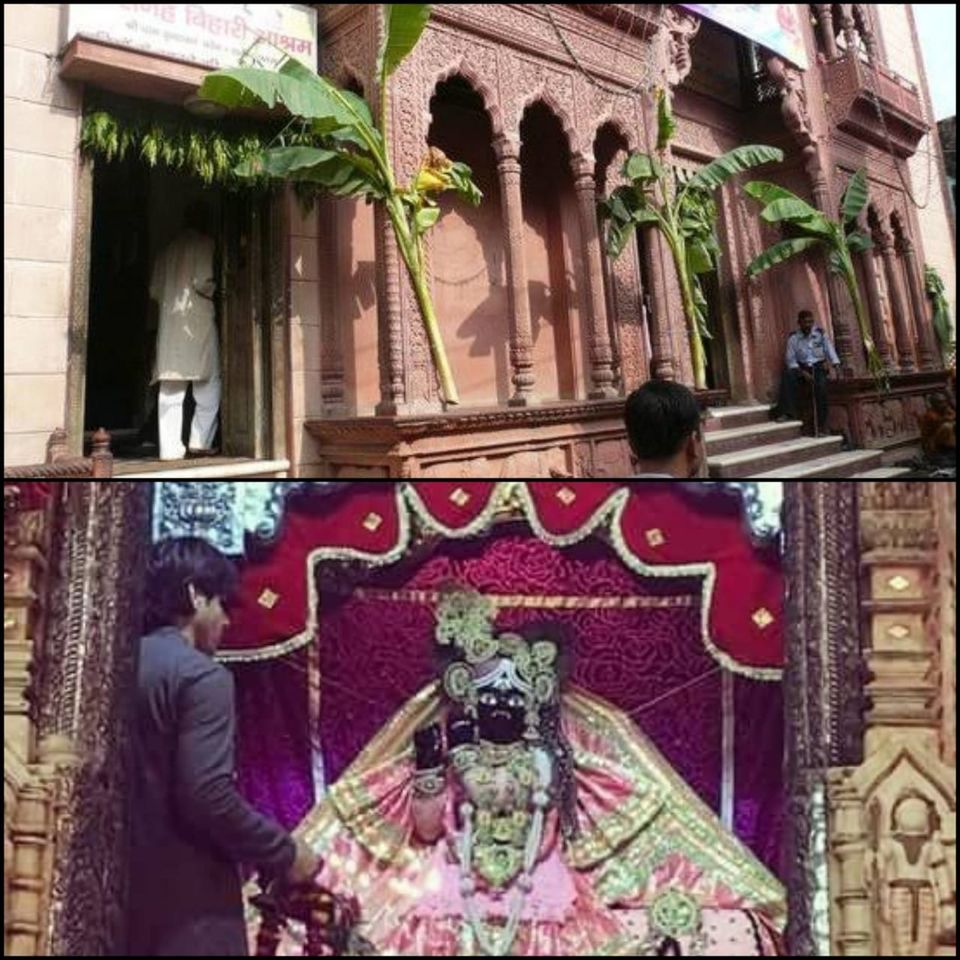 We had our lunch while returning to the Ashram. There we packed our bags and rested for sometime.
We gave our final tribute to other beautiful temple of Lord Krishna. This temple was mostly occupied by foreign people. They were singing, dancing in the tune of Krishna. We saw the Aarti of Lord Krishna at this temple and then took a tempo and headed for the Mathura Road.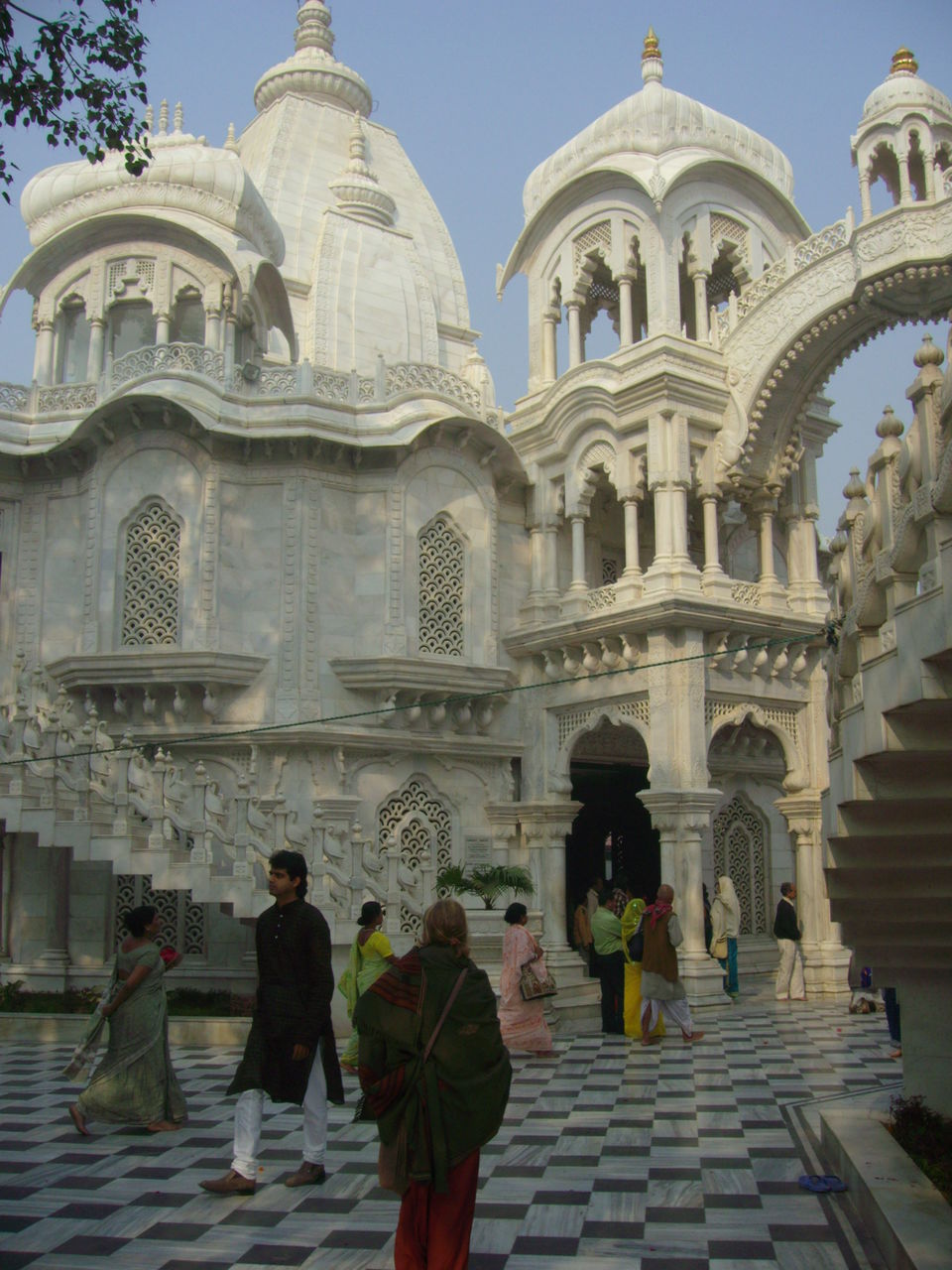 From there we took a bus and headed to our next destination Govardhan. The new destination and the new adventure awaits...and a new trip as awell.....
To be continued..... in Govardhan with more spirituality ,fun and devotion... Till then ... Let's get into the tune of Krishna...........
हरे कृष्ण हरे कृष्णा ,कृष्णा कृष्णा हरे हरे...........हरे राम हरे रामा, रामा राम हरे हरे .....हरे कृष्ण हरे कृष्णा ,कृष्णा कृष्णा हरे हरे.......