We all crave the therapeutic warmth of true love, but as we grow older, it's daunting to realise the possibility that we may never find the one. But then, once in a while, a beautiful story comes along, restoring our faith in love, and healing us in the process. One such story is the whirlwind romance that brewed between two travellers, Sunil and Chandana, while on a solo trip to Hampi! Sounds like the stuff that fairy-tales are made of, right? We caught up with the couple, and I'm warning you, their beautiful story is sure to ignite the traveller as well as the hopeless romantic in you.
Hey Sunil and Chandana, let's begin where it all started! Tell us about how you met.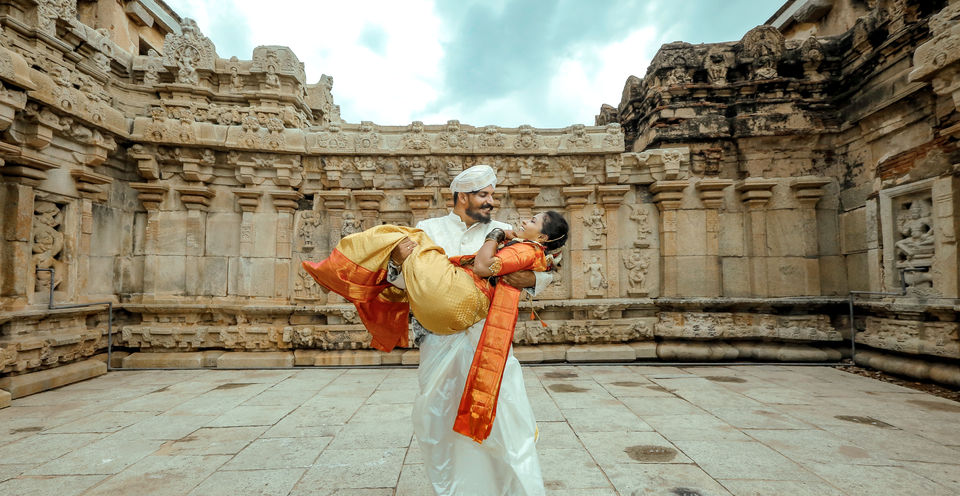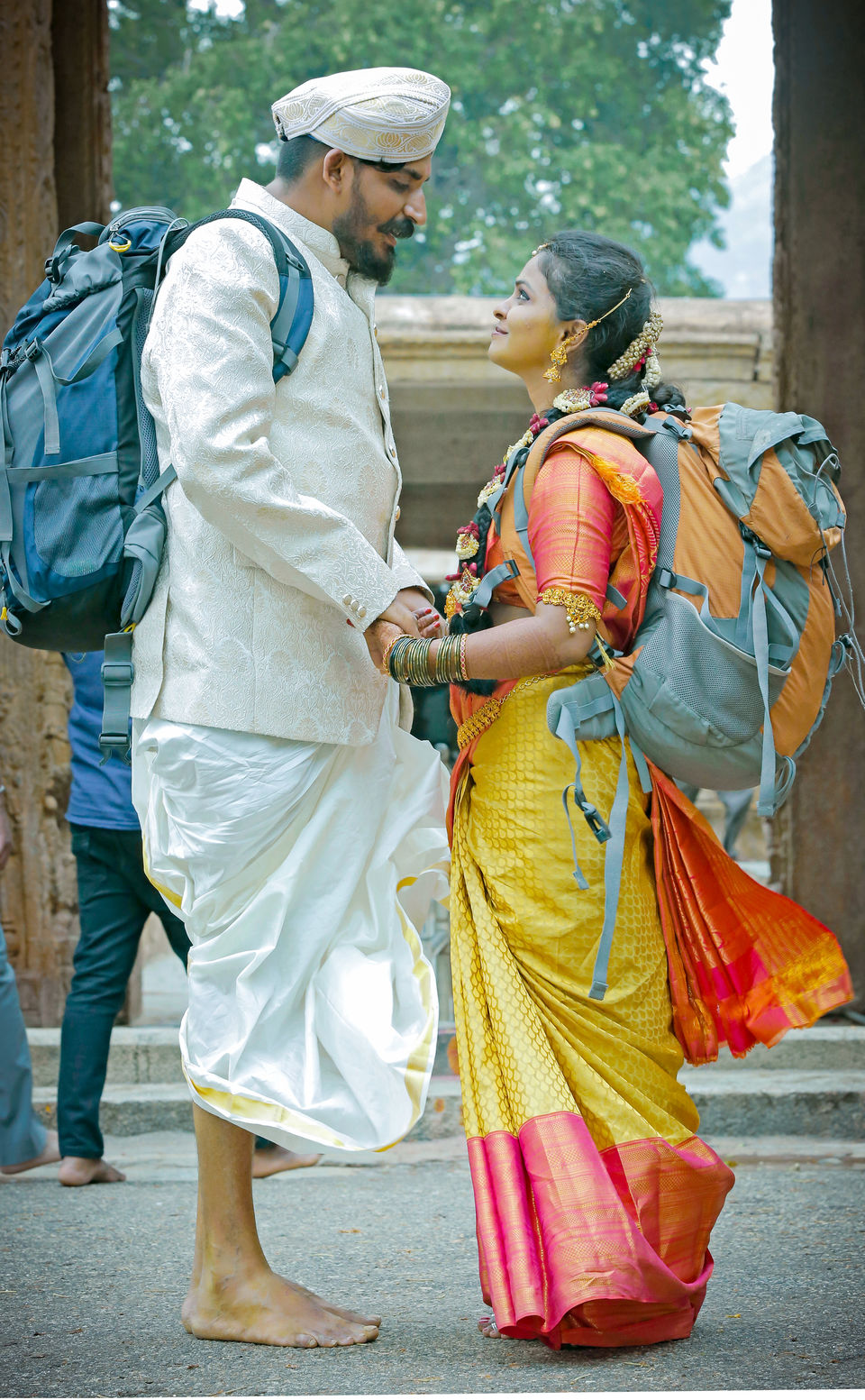 "Back in 2016, I still remember the date, it was May 26, and I was travelling to Hampi for the 10th time on a solo trip," says Sunil. "I had just returned from a flop solo trip to Kerala, and since Hampi is close to my hometown, Bangalore, I decided to head there instead," says Chandana. On the bus from Hospet to Hampi, the two solo travellers found themselves seated across each other.
Like all avid travellers, Sunil and Chandana started chatting and exchanging their travel adventures. Little did they know that this conversation was just the beginning of a very grand plan! "Sunil had travelled to Hampi several times and really knew the place inside and out, so I thought who better than him to tag along with," exclaims Chandana.
On reaching Hampi, instead of heading to their respective hotels, the two ventured on a sunrise hike straightaway. "It was amazing how well we gelled together and how beautiful our chemistry was. Neither of us wanted to waste time, we just wanted to get to exploring. All through our trip, as we'd explore Hampi's history and culture, we'd also share travel stories. Sunil had loads since he was a full-time traveller. I was fascinated because his was exactly the life that I wanted to lead," says Chandana.
Would you say that travel brought you closer? Tell me about a defining travel experience that shaped your relationship.
"Definitely! After we returned from Hampi, we'd often call each other and discuss travel. Funnily enough, it was travel that helped us pursue each other. I was hosting a travel show for which we needed a solo female traveller to cover Cambodia. I approached Chandana for the same, and turned out that it had been her long standing dream to visit Angkor Wat, the world's largest temple. So she arrived and we explored Cambodia together," says Sunil. "It was a dream come true for me. We stayed in backpacker hostels, ate local food, visited the temple in our ethnic attires and worked on the travel show. Once we reached India, we didn't want to stop. We wanted to explore the country together. Together, we headed to Varanasi where we had to attend a friend's wedding. During this trip, it became even more clear how comfortable we were with each other," says Chandana. In Varanasi, the duo was having lunch when they spotted a poster of the famous Rann Utsav. Instantly, they knew what their next destination was going to be. A few weeks later, they had made train bookings to Kutch.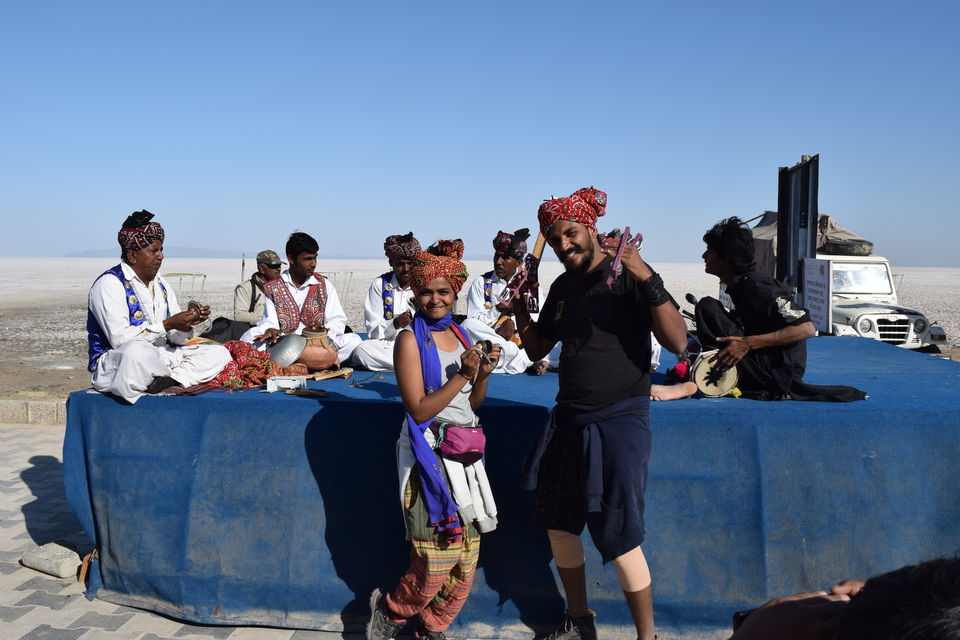 Sunil goes on to narrate their favourite travel story – "This time, we had decided to push ourselves, we were going to travel on a shoestring budget. This wasn't because we didn't have money to spare, we did, but we wanted to experience the true essence of travel. On our way from Bhuj to Kutch was one of the most memorable travel experiences ever. Our bus was delayed by five hours, and we didn't want to waste another minute. We decided to hitch-hike all the way to Kutch. What happened next blew our minds. People travelling in the most expensive of cars would just gawk at us or wave us goodbye. None of them stopped to give us a ride. Finally, it was a truck driver who came to our rescue. We hopped on behind the truck that offered an uninterrupted view of the endless white desert. Fresh air, stunning landscape and each other for company, it was an experience I will remember for years to come. We were completely taken aback when the driver took us all the way to his village just so that we could have authentic food at his home. We were left touched by the kindness of this stranger, and his warmth is one reason why Kutch will always remain special for us. Over the next 15 days, we continued our budget trip. We pitched tents wherever possible, ate at gurudwaras and temples and managed to complete the entire trip in Rs 2453 per head, including tickets!"
They say that the best way to get to know someone is to travel with them. How has your travelling experience been with each other? Are you two different as travellers? Has that ever been a cause for conflict?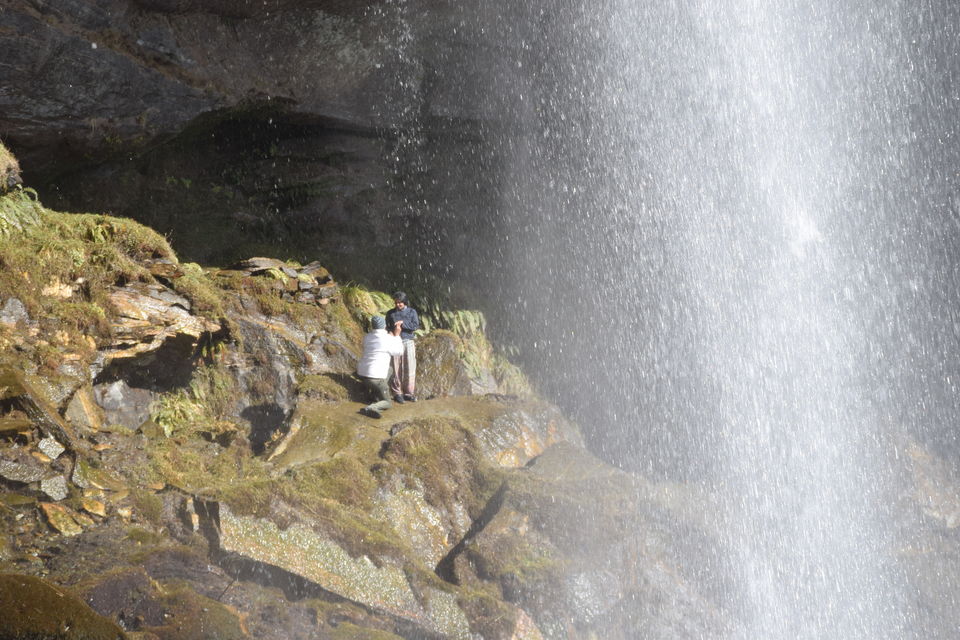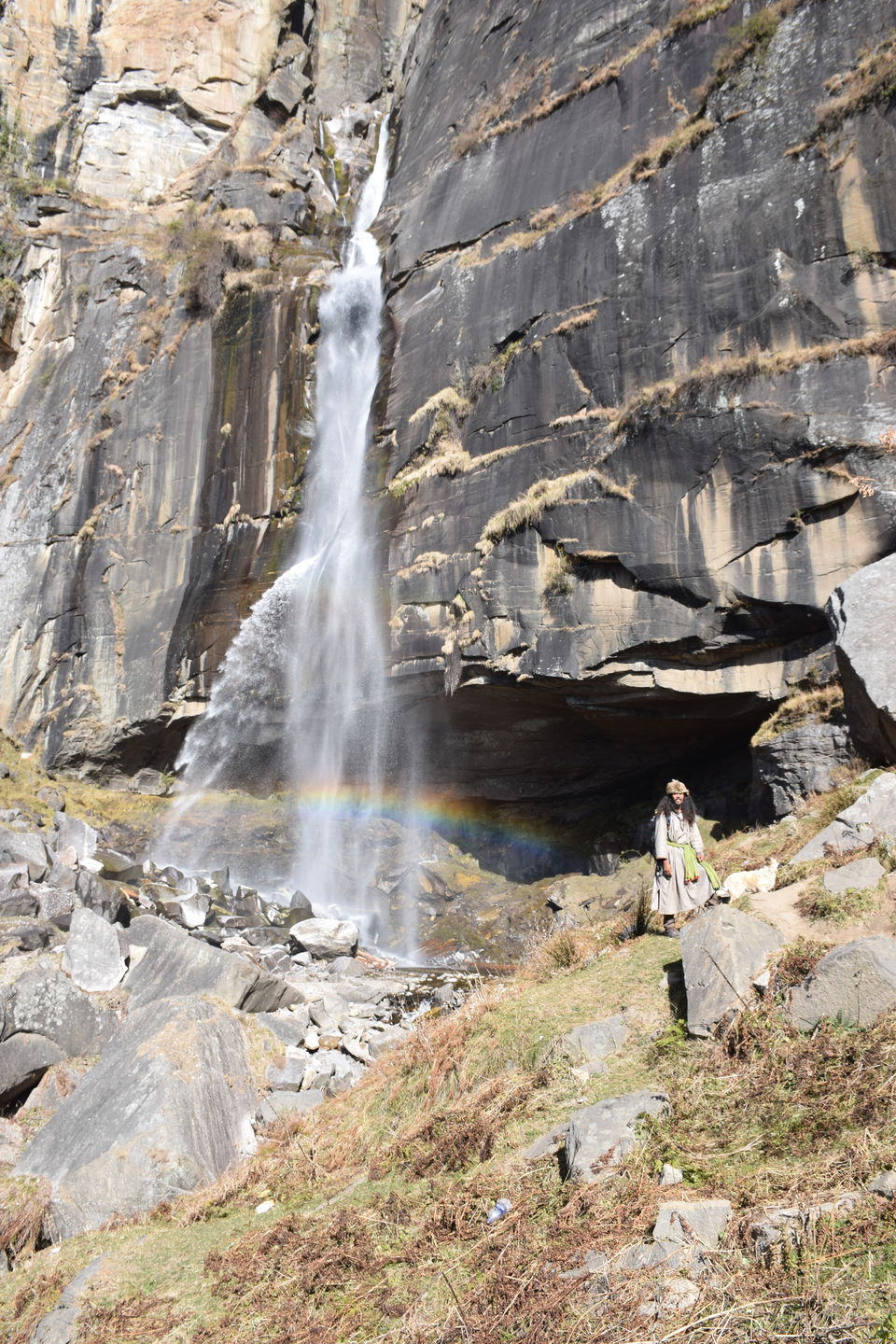 "We couldn't agree more with that saying. More than just love, there are a number of other characteristics that you need to know about a person before you decide to be with them. The one thing that can really bring out these characteristics to the fore is travelling. It's very easy to pretend on dates. In fact, even if you're living together, it is very difficult to know a person through and through," explains Chandana. The couple goes on to elaborate on how travel throws challenges and difficulties your way, and it is one's reaction to them that offers a deep insight into their personality. The best way to test someone's patience and crisis-management skills is by taking a trip with them.
"Surprisingly, both of us are very similar when it comes to our preferred style of travelling. We both like to go with the flow and somehow are very well in sync with each other. Travelling together is always a treat," says Chandana.
You had a travel theme for your wedding. Tell us your motivation behind it!
"Our meet-cute happened while we were both on a trip. In fact, our love bloomed through travels and our shared love for it. So it only made sense that our wedding too embodied our story," says Sunil. The couple tells me that the last thing that they wanted to do was spend an exorbitant amount of money on their wedding rituals. In addition, Sunil and Chandana had always endorsed travelling on a budget, and so they wanted to extend their ideology of spending less money on their wedding as well.
"We decided to have a small wedding and were sure that we didn't want to get married in a wedding hall! We wanted to pay homage to the place that brought us together. However, due to Hampi's extreme weather conditions, we finalised on the beautiful Bhoga Nandeshwara Temple situated near Nandi Hills. The place reminded us of Hampi which was just what we wanted! What was even better was the fact that everyone attending the wedding had to travel. There was no way out. It was a beautiful feeling to bring this heritage temple to the fore and have our friends and family explore it. The temple was the perfect wedding venue. Getting married there made our day even more special."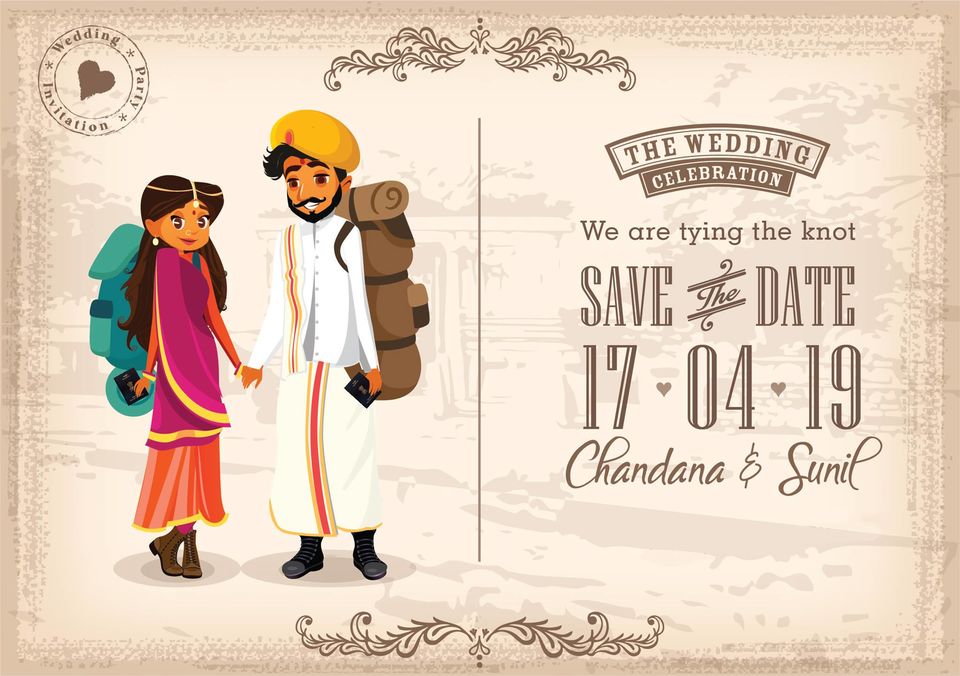 "The cherry on top were our wedding cards. We wanted to do something different, and so we decided to have illustrated postcards as our wedding invites. The cards featured an illustration of Chandana and I in our wedding attire, with backpacks on! Our wedding day was one of dreamiest days of our lives. Everyone that we loved was present, we were in a beautiful location and the thing that bound us together, travel, formed a central part of our ceremony," says Sunil.
You both travel solo even after marriage. How do you balance marriage and independence?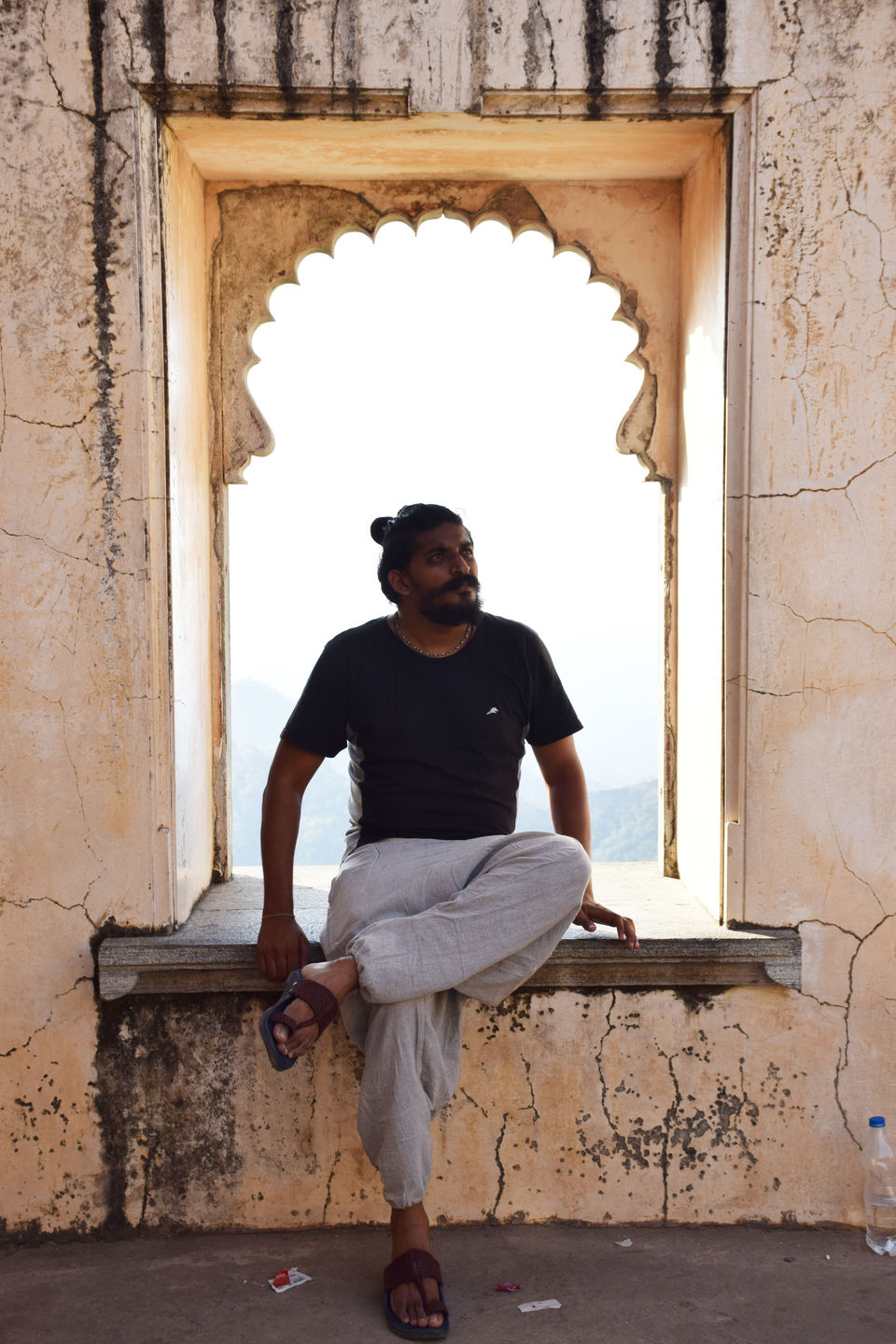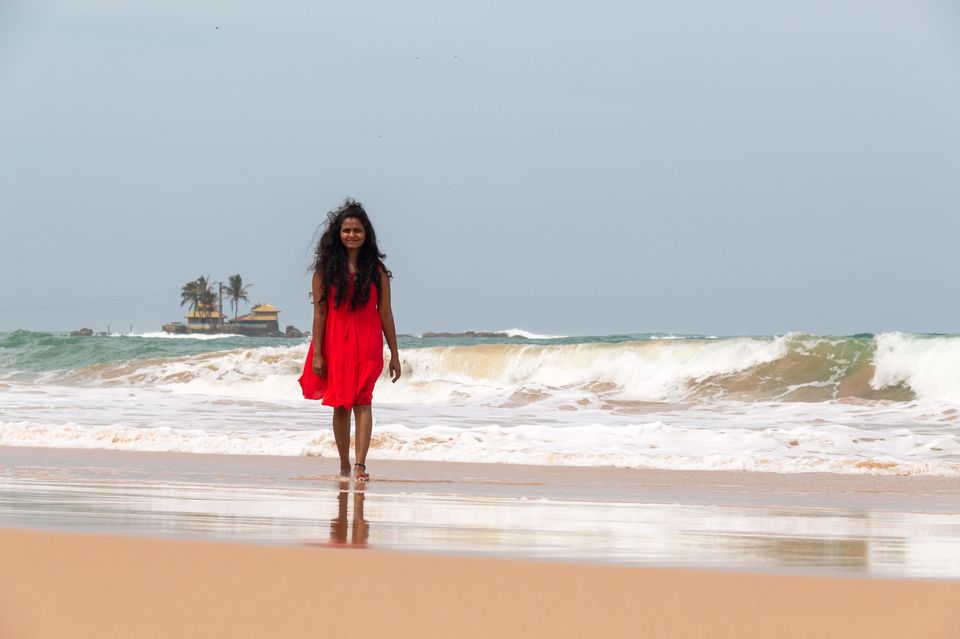 Chandana jumps to answer this question and says, "For the longest time, I didn't want to get married because my parents have raised me as a free-spirited girl who has never been bound by societal expectations. I would travel a lot, I would dress the way I wanted and lived life on my own terms. I was scared that no family could accept me as I was. Sunil has been absolutely lovely that way. Even after marriage, we stand together as equals. Our expectations from each other have not changed. Just because we are married now does not mean that we need to travel together and let go of our individual travel dreams. We have immense respect for one another and that doesn't change no matter what. In fact, if I haven't travelled for a few weeks, Sunil pushes me to take a trip. Similarly, if he gets too bogged down by work, I remind him of his one true passion."
What place comes next on your travel cards? What are your plans for the future?
"For our first year anniversary, which is approaching soon, we have decided to go budget backpacking across Europe. We've travelled extensively on a shoe-string budget across India, and we can't wait to find out how we fare in one of the most expensive destinations in the world," Sunil claims excitedly.
"In addition to exploring the world together, we have also launched a travel initiative called Travelories that allows users to share their travel stories. Anyone can contribute and enjoy a platform through which their travel story reaches travellers across the word," adds Chandana.
Would you like to say anything to young travellers reading this?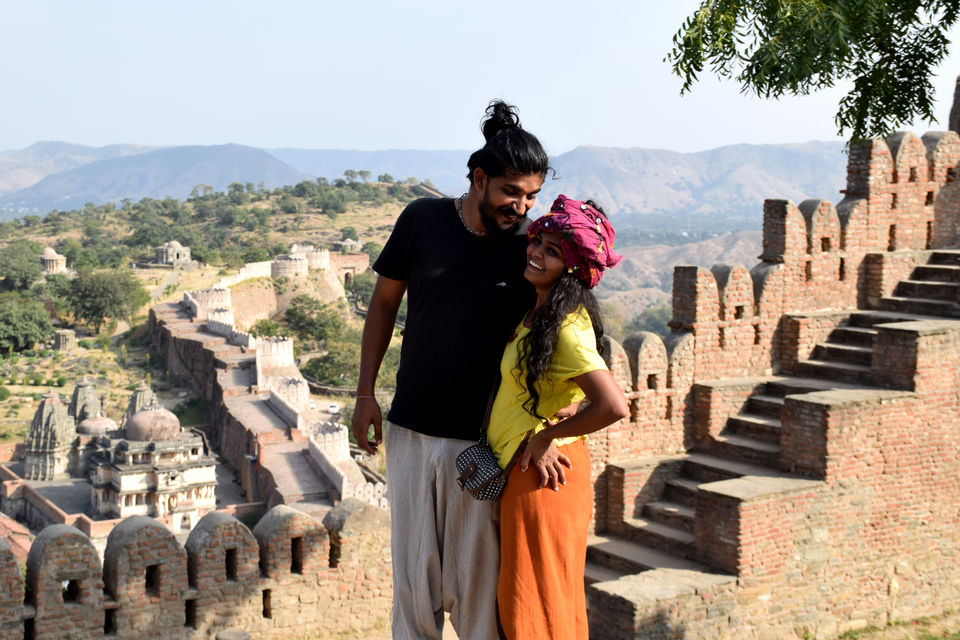 "The biggest misconception around travel is the fact that everyone thinks that you need to be extremely rich to be well travelled. This is something that we really hope to change. All you need is the will to explore, you can travel in as little money as you can imagine. Try and curb unnecessary expenditure, try to spend less as you travel or opt for budget packages," says Sunil.
Chandana adds, "As you sit in your office or your bed reading this, remember that we humans are innately made for movement. We are natural travellers, which means that travelling in our natural state of being. So if the only movement that you have been doing is from your home to your office or the endless scrolling from your phone, you need to get out and head for a trip!"
So what are you waiting for? Pack your bags because you never know, in addition to finding yourself, like Sunil and Chandana, you too might find that special someone you've been waiting for!
Did you too, find love on the road? Share your travel love story by creating a blog on Tripoto here.
Explore the best of travel inspiration on Tripoto Instagram!