Before stating anything else I would tell you that this post is a little long but very useful.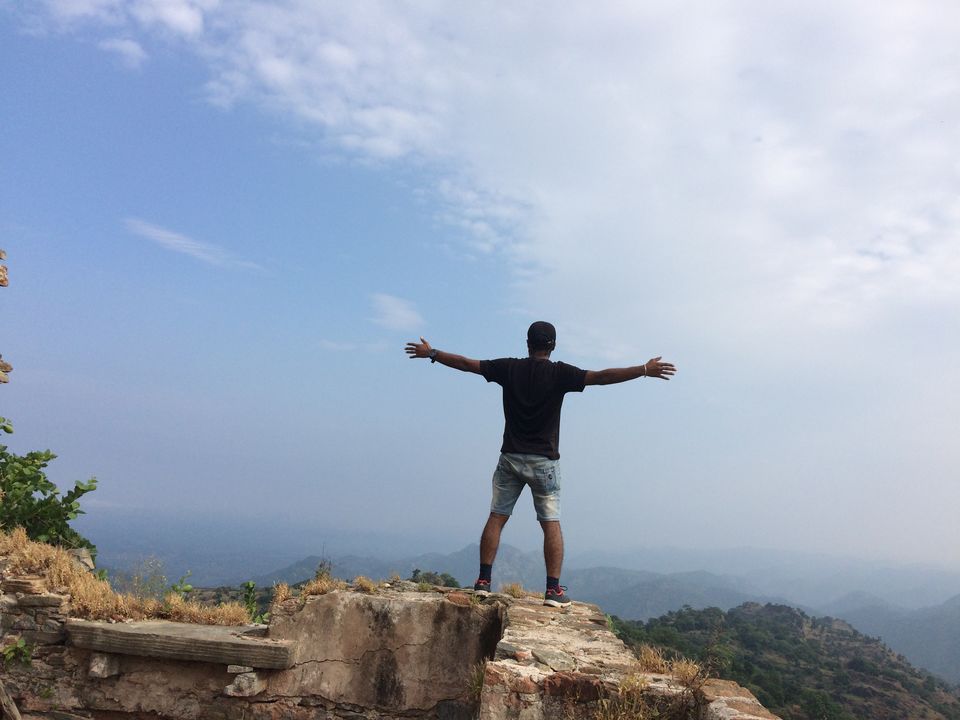 So it won't be true to say most of us who dreams travelling are constantly struggling with their pocket. Some or the other way they are always haggling with the reasons of failing to save enough, not earning enough, have different priorities, have family to support, and many other excuses.
But as it goes 'where there's a will, there's a way'. Likewise it all depends on how you priorities things in your life as simple as that. Do you want to buy a new iPhone? Or want to have dinner at that new urban restaurant? Or want to give your girlfriend a lavish birthday gift? Or you are obliged to support family? Everything is sorted out here!
When I was on my first trip, I had a total budget of 3500 INR, with which I have travelled and stayed and ate and done sightseeing within that amount and you won't believe that I travelled across 3 states with that.
Yeah! That is possible.
But how?
Well I chose trains over AC buses, I chose late night travel in order to skip stays, I chose bus over private taxi for within city transits, I chose group tour and guide over personal tour/guide, I found some other travelers and form a group which proves really good for my pocket in sightseeing, meals, transits and complementary I got some new friends, new stories of theirs and definitely a company.
While travelling, I divides budget into three main categories i.e. accommodation, transit and food.
Here are simple tools which I use and which I prefer you to use while backpacking:
Accommodation:
1. Couchsurfing:
I came to know about this website last year and believe me it's the ultimate application to connect to host who are willing to share their couch, room, whatever they have to have you accommodated and that too with FREE of cost.
Here people are categorized under two categories: host and surfer.
A host is one who is willing to share his room or couch or flat.
A surfer is one who is travelling and looking for such hosts to let him/her stay.
Couchsurfing community is friendly, helping and it's encouraged that community stays safe.
Here people are often travelers or dreams of one, so it is always easy to mingle up among them. Most of the time they are kind enough to help you around sightseeing and suggesting you some great food joints, give you an insight of their culture and place but the best part is to be living like a local which is the ultimate experience one could have while travelling.
Couchsurfing is HIGHLY RECOMMENDED from my side. It's hosts are WORLDWIDE available, It's FREE, it's SAFE, it's friendly and lets you LIVE LIKE A LOCAL.
2. Hostelworld:
It is another best way to stay at cheap accommodations.
If in case you are having second thoughts about staying with someone who is a total stranger, you can always find your cheap accommodations at any hostel through Hostelworld.
It's a platform which connects you with hostels worldwide, well sorted with various requirements such as price, seating, area, in house facilities, payment mode, transit facilities, breakfast availability, etc.
It is just like any other hotel app but with hostels, works the very same way, it's prices are way cheaper than any decent hotel.
But there are its limitations too, you may find issues like cleanliness, but it is a hostel, right? So these are a part of it.
Another good thing about being at hostels is you won't feel lonely; as almost hostels have a common hall/room, kitchens to prepare your own food, other travelers with whom you can talk, spend your time, share stories, get inspired and form your group like I said above, it will help minimizing the expense.
Again Hostelworld is also HIGHLY RECOMMENDED. It's CHEAP and a good way to learn different cultures.
3. AirBNB:
AirBNB is an online marketplace that enables people to list, find, then rent vacation homes for a processing fee. It has over 1,500,000 listings in 34,000 cities and 191 countries. It has villa, apartment, flats, entire house to it's listings.
So by the bio, it's almost everywhere, pretty cheap as compared to hotel standards with the same luxury and facilities. It is also the same kind of any other accommodation app and it's pretty easy use with various sorting of price, area, facilities, etc.
I myself have never used it, but is HIGHLY RECOMMENDED if you are looking for CHEAP stays with STANDARD LUXURY and FACILITIES.
4. FindMyStay:
It is yet another accommodation app but with very unique feature. It also lists hotels but let's you compare and bid on the rates.
It is good for last minute bookings, has comparatively cheaper price than what you find on other platforms and right now it is only available in INDIA.
I would recommend this if you are looking for proper hotel stay without wanting a dent to your pocket.
Flights:
1. Momondo:
Momondo is a flight app which guarantees you best price. The fares are compared from more than 700+ travel sites to give you the best deal. It is a platform where the fares are compared and on selection you are redirected to the travel site which is offering you the deal.
So, it is all in one and must have app if your travel includes flights. It also has hotel booking facilities.
It works best with domestic as well as international flights. It has another interesting feature which let you search anywhere from your base location. I find this very amusing as it lets you plan early. It also provides fare calendar which lets you know the fares on certain day of the month from which you can chose for best deals in advance.
I haven't used it yet as I came to know about this app a few months before, but is HIGHLY RECOMMENDED.
2. Skyscanner:
Skyscanner is also same as Momodo, works on the same principle, compares flights among various other sites. Skyscanner also provides hotel booking facilities.
3. Cleartrip:

If you are from INDIA, I would highly recommend it. I have personally used this before to book flights, it too provides best deals although it doesn't work on concepts as of Momondo or Skyscanner does.
It also has hotel booking facility, train booking facility through IRCTC, lets you know seats availability in trains, it also features some activities to do around your location including workshops, outdoor sports, massages, city tour, art and crafts, bike rentals, etc.
I have used this before and definitely tell you to do so, HIGHLY RECOMMENDED from my side.
4. Kayak:
Kayak is again a fare aggregator which searches hundreds of travel sites so you don't need to. It has car and hotel booking facilities as well.
It also works the same way as Momondo and Skyscanner but I have found that it's fares are comparatively expensive than Momondo and Skyscanner. But I am listing Kayak just because as per my findings it is the app that provides best price for and within US flights.
So, if you are planning to visit US, I will RECOMMEND it to you.
Transits:
1. Hitchhike:
It is an age old method to get lifts from people going into same direction. And why not if you are going from place A to place B and you have sufficient space to let one fit in then why not?
But it is not accepted everywhere but what's the harm in trying. It may take some time to get you the ride or it may not, but the your ride will definitely come, just you have to keep trying after all you chose to hitchhike and it has it's own fun which makes it an important experience to have while travelling.
There are no rules, no guidelines, just find a good place where you can find rides say Petrol Pump, road side hotel, traffic signals, etc. You just have to put up your thumb, a sign board but it's not mandatory and a smile.
Although it comes with a little risk as you are travelling with a stranger in his car/bike but the situation can be avoided if you DON'T PANIC and act wisely.
But with this has never happened and believe me hitchhiking is a very different experience and HIGHLY RECOMMENDED as it's FREE too.
2. Indian Railways:
Indian railways are super cheap, safe, connects almost whole India but the rush is extreme. My most of the very long travels or night travels include Indian Railways. It also provides you a kind of stay while travelling overnight which ultimately cuts your costs.
It is also HIGHLY RECOMMENDED.
2. Redbus:
Redbus is just for advance booking of buses. It has almost all travel agency of that area in it's listing. It is well sorted with prices, time of departure, class, AC/ non AC and provides fairly good price than what you will find through an agent or through the travels office.
It is HIGHLY RECOMMENDED if your dates are already fixed.
4. Public Transport:
Using public transports like state run buses, vans, metros, etc for intra-city transits will prove a savior to your pocket.
Food:
1. Eat like a local:
Eating like a local means eat where locals eat because obviously they know where they can find a great food at bare minimum price. Since locals know which stall is the best, which restaurant serves fresh and delicious food, often you may find a line or some sort of crowd around it or if you find neither, you can always ask a local who would be more than happy to direct you (most of the cases) to the stall.
Eating at local joints and stalls not only saves you from high expense but also gives you flavours of that area.
It's the best way to know 'what to eat?' of the area you are travelling!
I would RECOMMEND to eat at local joints/stalls and savour any local dish.
2. Cook your own food:
You can always find an open kitchen in every hostel or cook at your AirBNB booking or at your Couchsurfing hosts home where you can cook yourself a great meal at a lot lesser price.
If you don't know cooking, you can always make some sandwiches with vegetables and bread that you can get from any bakery or super market.
Aaaaaaand that's pretty much of it. I know it is a bit long but I believe you will find it very helpful planning your trip while keeping above tips in mind.