The Indian Himalaya Range – section of the Himalayas within India, spans the states of Jammu & Kashmir, Himachal Pradesh, Uttarakhand, Sikkim, Arunachal Pradesh, and the hilly regions of Assam and West Bengal. One can find several destinations of tourist importance and those catering to general services scattered across these states.
It's not just their natural topography that make them stand out, it's also the innovative and entrepreneurial spirit behind them. Visiting these place lends an experience that stays on with you for a lifetime, besides having many stories to tell by the fireplace. Sometimes, rather than the actual destination, it's the journey that counts too. This blog brings you India's highest travel points that have world record!!
Rinchen Cafeteria: Highest Cafeteria in the World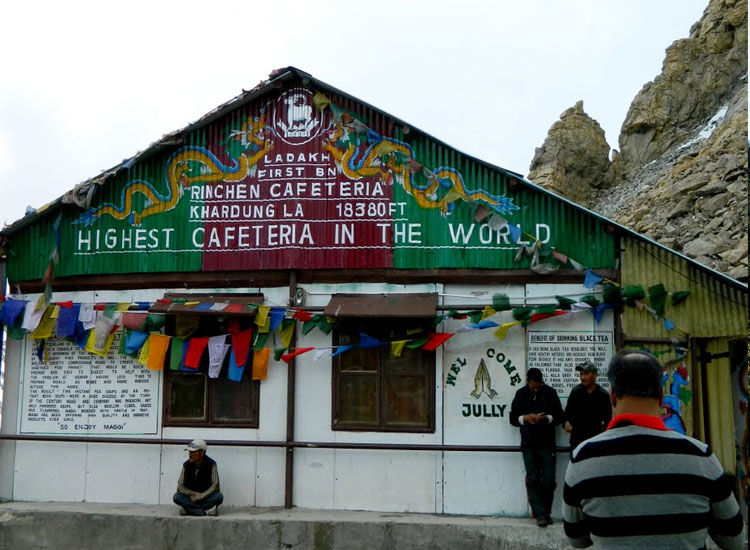 Location: Ladakh, Jammu and Kashmir
Elevation: 18,380 ft
Out of the eight world's highest travel points in India, Rinchen Cafeteria comes as godsend gift in the middle of nowhere! On your journey to the highest motorable pass – Khardung La, through the rugged mountain road, the sight of steaming hot momos, tasty Maggi and piping hot tea really puts a smile across the face. At this café, one also comes across the various aspects of Ladakh, along with some paintings and quotes by the army.
Khardung La Pass: World's Highest Motorable Road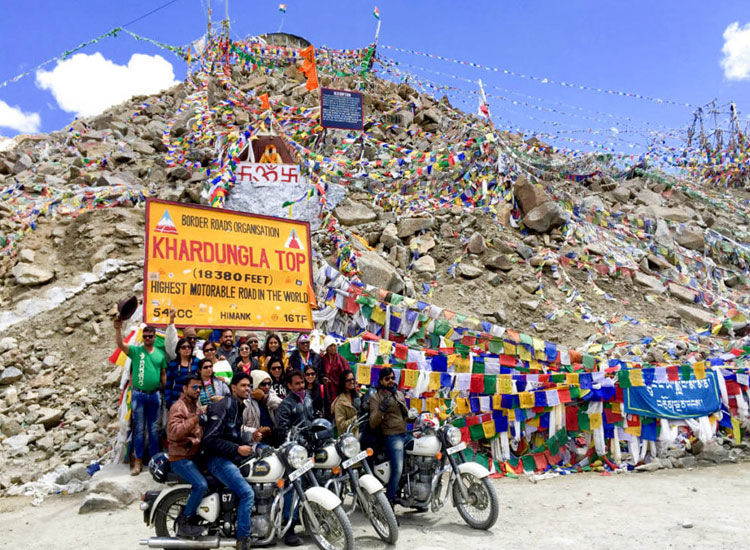 Location: Ladakh, Jammu and Kashmir
Elevation: 18,379 ft
Motoring on the skies? Well, maybe not. But, with an elevation of 18,379ft, this is the closest you would come to that! Besides being the world's highest motorable road, Khardung La pass serves as a gateway to Shyok and Nubra valleys. The entire road offers some incredibly beautiful sights along the way – rolling mountains blanketed in snow and crystal clear skies. The scenic vistas surrounding this place attract a lot of visitors. If anyone wants to go on this scenic journey! Then must visit Lehladakindia.com to get complete solution for your trip.

Hikkim Branch: Highest Post Office in the World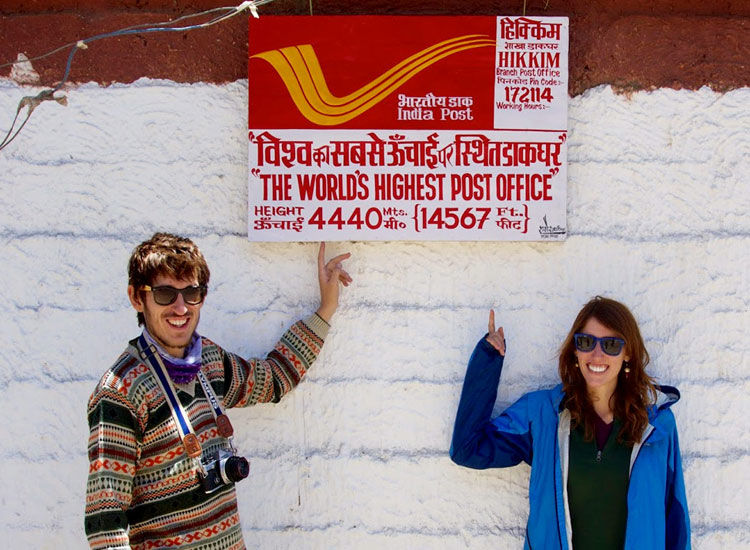 Location: Spiti Valley, Himachal Pradesh
Elevation: 15,500 ft
Finally, a postal service where it really makes a difference! Hikkim Branch post office, located in the Lahaul and Spiti district of Himachal Pradesh, was inaugurated in 1983. Located in the village of Hikkim, it operates nearly 50 savings accounts, for a population of around 600 people. This post office stirs nostalgia of the days when letters were the only means of communication. If all this sounds too good to be true, try writing a letter with this pin code – 172114.
Axis Bank : Highest ATM in the World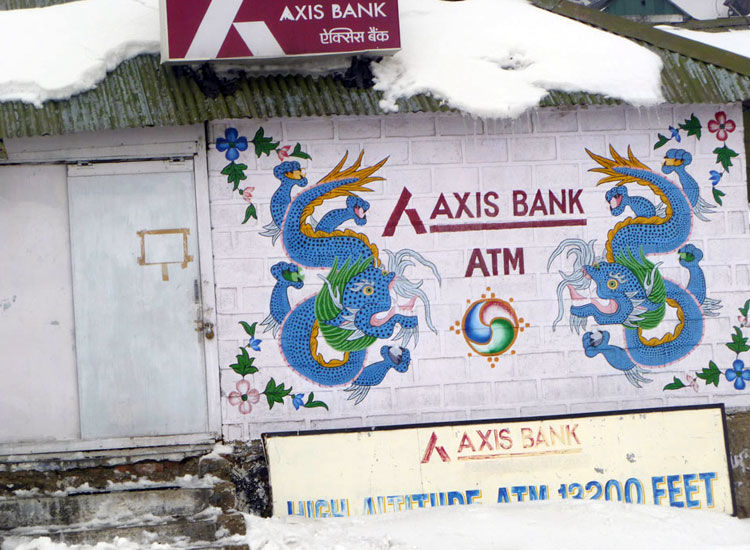 Location: Nathu La, Sikkim
Elevation: 13,200 ft
"Badhti ka naam zindagi," meaning, "Increasing is life," is the official slogan of Axis Bank. Here, they bring every word of that slogan alive! Seated at an altitude of 13,200ft, Axis Bank ATM is undoubtedly the highest of its kind in the world. Located at a small village called Thegu on the route from Gangtok to Nathu-La (Indo-China Border) in Sikkim, this ATM only functions during the day.

Yak Golf Course : Highest Golf Course in the World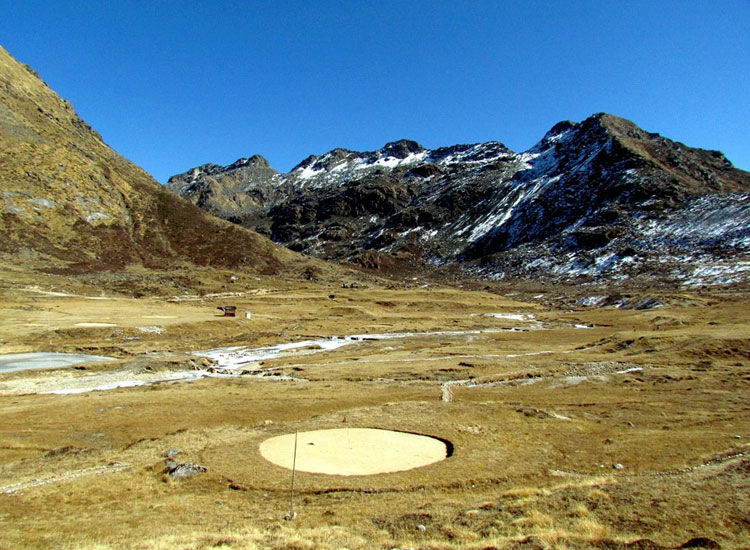 Location: Kupup Valley, Sikkim
Elevation: 13,025 ft
Innovation knows no barriers! Ever heard of a golf course being used as a ski-center and ice hockey field? It's all here at the Yak Golf Course. Located at 13,025 ft above sea level, this sprawling golf course has been named the world's highest by the "Guinness book of world records." Initiated in 1972, the Yak Golf Course was converted into an 18-hole golf course under Brigadier Ranbir Singh and Col. T K Murali. Senior members can get around the golf course with the help of Yaks.
During January to April, when the entire course is snow clad, it's converted into a ski center and a full ice hockey field.
Indian Oil Corporation Pvt. Ltd: Highest Petrol Pump in the World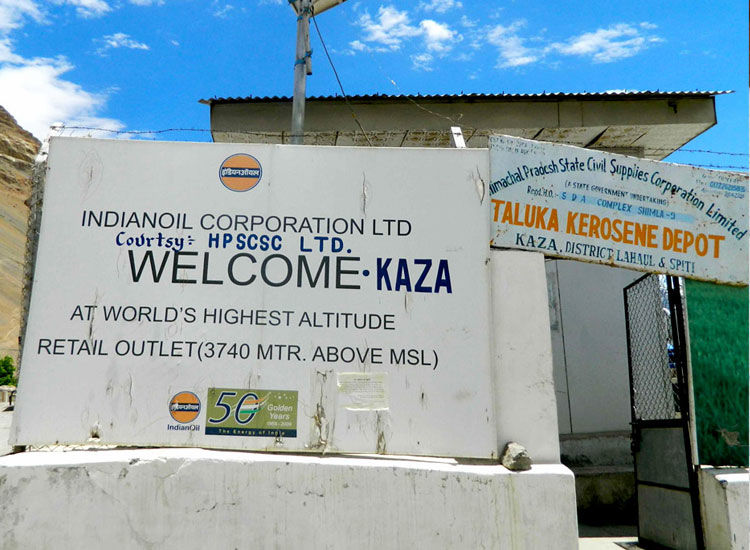 Location: Spiti Valley, Himachal Pradesh
Elevation: 12270 ft
Take your car, petrol will follow! This is precisely the sentiment one is met with when one encounters a petrol pump at an altitude of 12270 ft. Located at the Losar road of Kaza village, this Indian Oil petrol pump functions the old-fashioned way. Travelers say that the fuel dispenser is outmoded, and simply indicates the amount of petrol filled. They money, however, is not indicated.
Kolukkumalai Tea Plantations: Highest Tea Estate in the World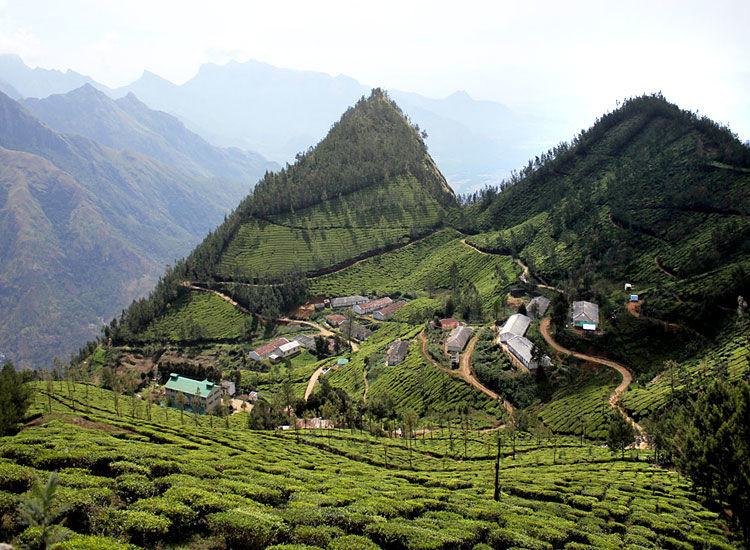 Location: Munnar, Kerala
Elevation: 7900 ft
Sipping tea at high altitudes is the key to good health, apparently! Kolukkumalai Tea Plantations produce tea that possesses a unique flavor and freshness. The secret? High altitude. These sprawling plantations, located about 38 km from Munnar, offers an old world charm to its visitors. Walking amongst its steep and narrow bridled paths, or strolling among the pathways in the plantations creates some very special memories.
Visitors are also offered a guided tour of the factory. The method of tea processing followed here is traditional. Once can choose from a variety of tea like, Broken Orange Pekoe (BOP) and the Flowery Orange Pekoe (FOP).
Chail Cricket Ground: Highest Cricket Pitch in the World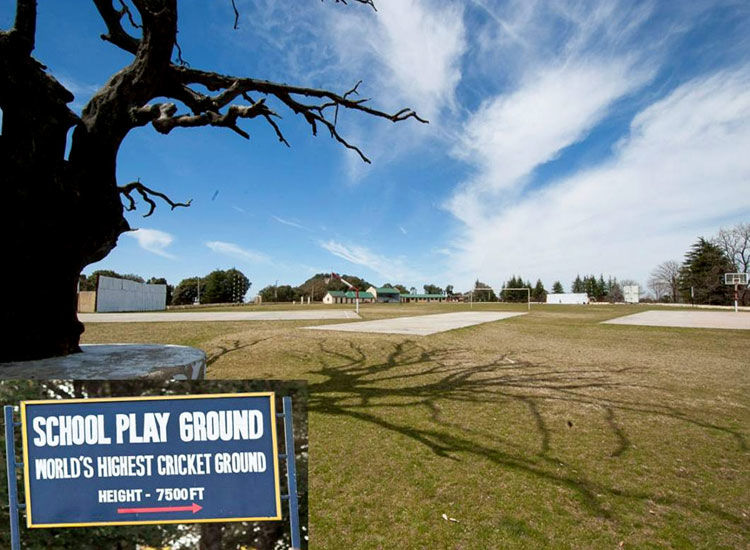 Location: Solan, Himachal Pradesh
Elevation: 7283 ft
This is what one could call "Hilly cricket." Chail cricket ground was brought into existence by Maharaja Bhupinder Singh of Patiala, who also developed Chail village as his summer capital. Although used for friendly matches during the colonial era, this incredible ground is also used for other sports like polo and football. Away from the bustling life of the state capital Shimla, this place is also known to be a "hiker's paradise."