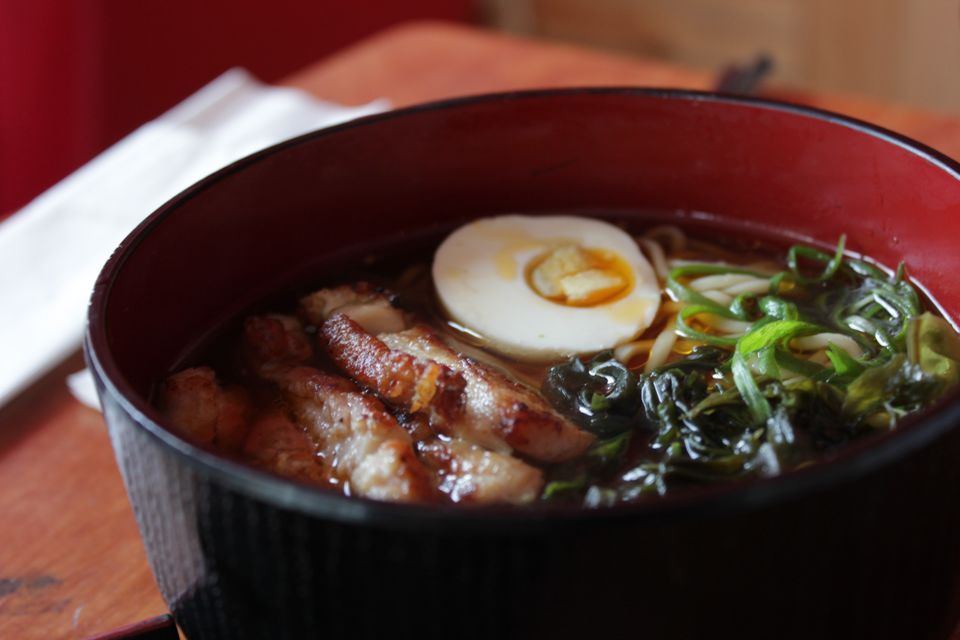 As you enter the noisy streets of Ejipura, flanked by the famous Infant Jesus Church and the food streets of Bengaluru it's easy to get distracted by the alluring smell of 99 Dosas, chaat stalls and the steam-filled air from the seemingly endless food carts that fill the air with mouth-watering flavours each evening.
Tucked away amidst this delectable chaos is a little gem that's the heart of Northeast cuisine in Bengaluru - the Seven Sisters Northeast Shop. An unassuming store filled with treasures from the Northeast, it's home to all the strange and wonderful things that make up the cuisine served by home chefs of the city, who are on a mission to spread awareness about their food. Easily missed, passers by need to look out for these landmarks to spot the shop.
If you've ever toured the North eastern parts of India you'll be treated to the flavours of smoked pork, bamboo shoots, and black rice to name a few dishes. A treat for curious-foodies, the cuisine of the seven states has much to offer and will challenge what you know about food.
Whether you're on a mission to discover the ingredients or just purchase a bag of pork-pickle made by a Naga chef who doubles as the friendly neighbour of the Seven Sisters Northeast Shop, you're in for a memorable experience.

The store has everything a budding chef or a culinary expert needs to complete their dishes inspired by Northeast cuisine. The shop ships across the city and even offers home delivery, courtesy the family behind this lovely treasure who insist on delivering orders themselves!
Orders can be placed either on the store's website or by calling the family. The Instagram page also shares updates on what's in stock so you can plan your next elaborate food-adventure which your palate will thank you for. Products range from INR 50 to a couple of thousands and cater to a wide palate of flavours - from spicy to sweet and everything in between! Specialties such as Giant Hornet larvae are available on a pre-order basis while dishes such as smoked pork can be purchased in bulk.
While Northeast cuisine is heavy on meats such as pork and beef, the store has plenty to offer for vegetarians and vegans. Bhut Jholokia one of the hottest peppers is available here and makes its way to many home chefs' dishes that are sometimes South Indian delicacies with a spicy flair!
The owners source everything from the states of Nagaland and Manipur, primarily. But they also have a great range of noodles to try - Some are Chinese, while others come in unusual flavours which are only available in local markets of the Northeast.
Locals who have been returning to this store for their groceries point out that it's the only place in the city where you get fresh bamboo shoots - an important part of many Northeastern dishes. But more and more Bengalureans are adapting these fresh ingredients to their local cuisine and enjoying the results of their hearty experiments.
If your taste buds are feeling a bit more adventurous, you can even source products like fresh water snails or fox nuts that will transport you to the lush hills of the Northeastern parts of India.
If you're new to the concept of Northeastern cuisine and are feeling unsure of yourself, don't fret! One of the main reasons the family opened the store is to share their food with locals - literally! There are so many misconceptions about the cuisine but the family is ready to help you learn about the dishes from Nagaland, Manipur, Assam and more and take you on a culinary journey through their cozy store.
The market is thriving with more shops stocking ingredients from the Northeastern parts of the country. Don't forget to take a walk through the area to explore some more shops which stock fresh vegetables, fruits, meats and eats:
1) Fresh Organic Point
2) Mavens Kitchen
3) Henry NE Shop
4) Manipur Indigenous Store
5) Tombas Kitchen
6) Tankhul Dukaan
7) Manipur Shop
Whether you're in the area or on a mission to experience everything this store has to offer, it promises to be a cure for cravings which every foodie will appreciate. With so many ingredients to explore, this store will open your senses to the lovely flavours of the Northeast and promise you to return for more!
Follow my foodie-trails on Instagram or drop me a note about your experience at the Seven Sisters Northeast Store!
Ready to travel for free? Earn credits and redeem them on Tripoto's weekend getaways, hotel stays and vacation packages!
Explore the best of travel inspiration on Tripoto Instagram!