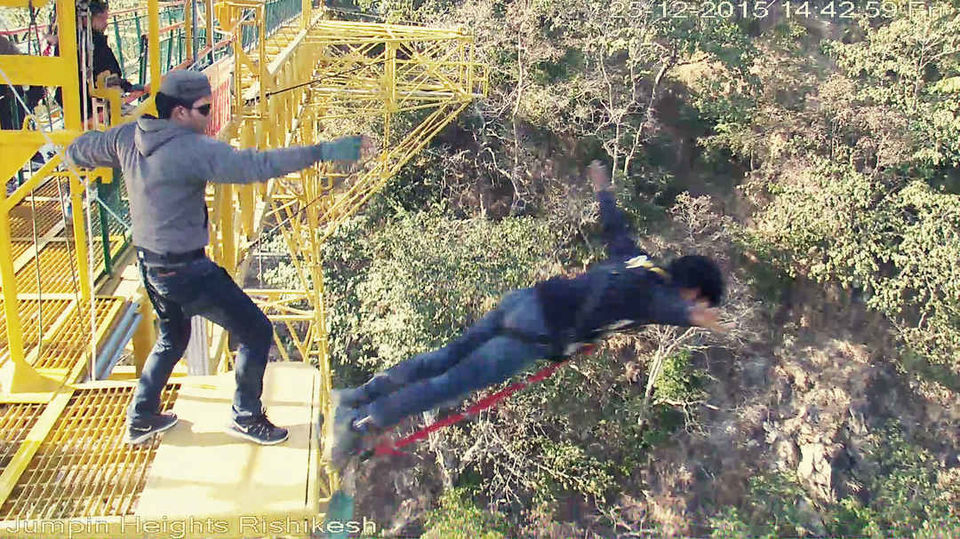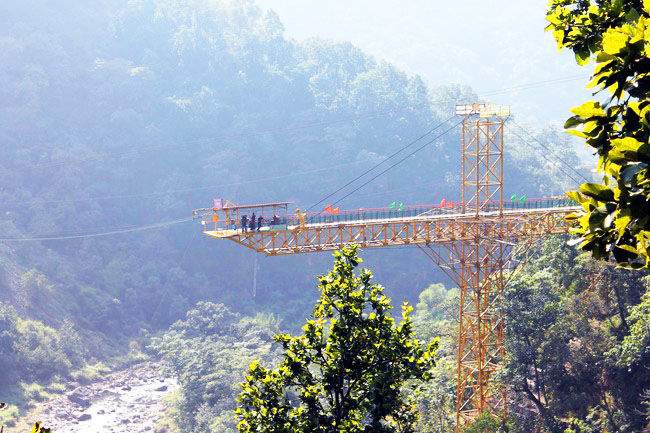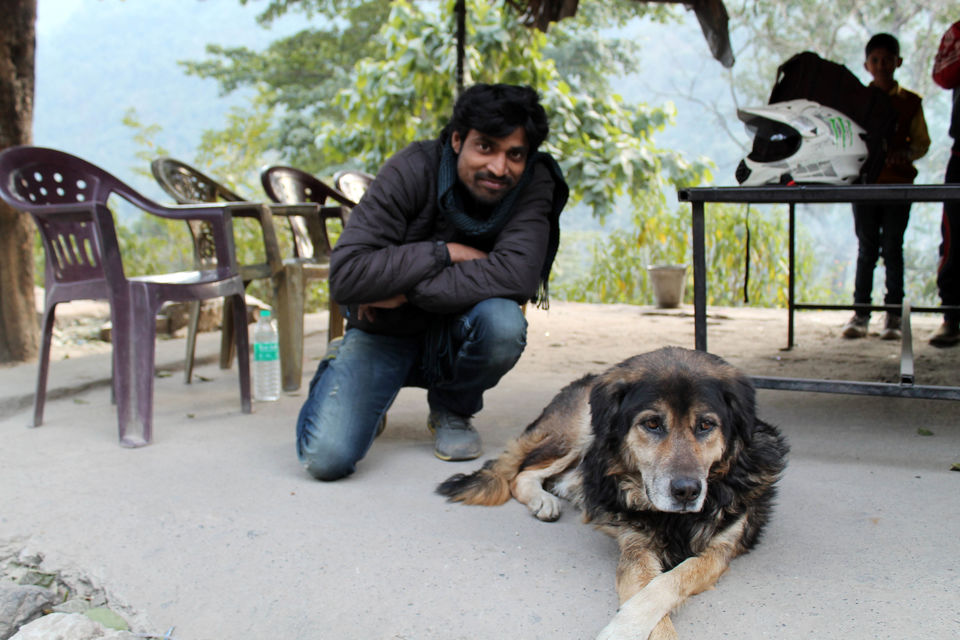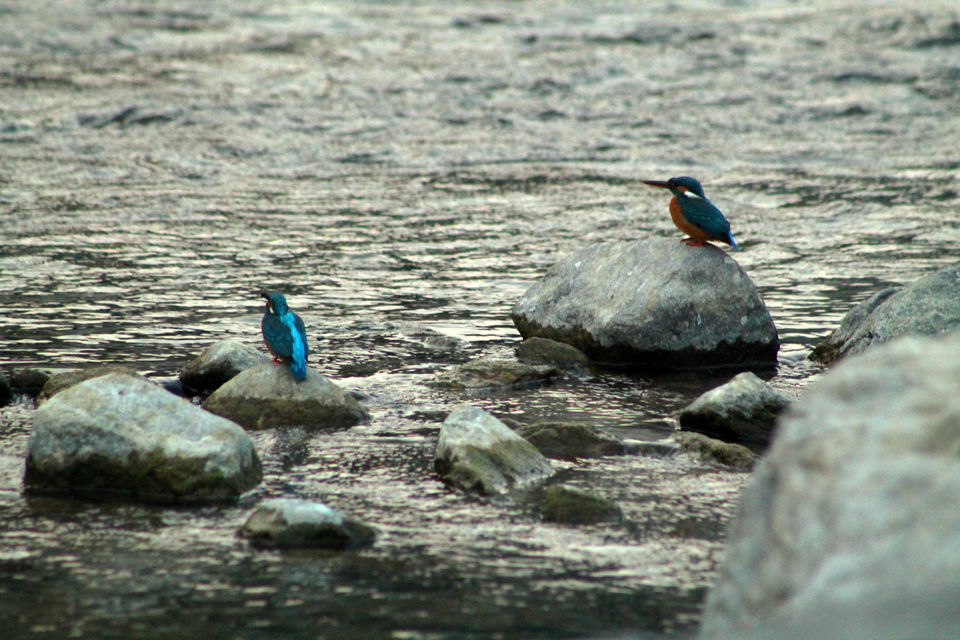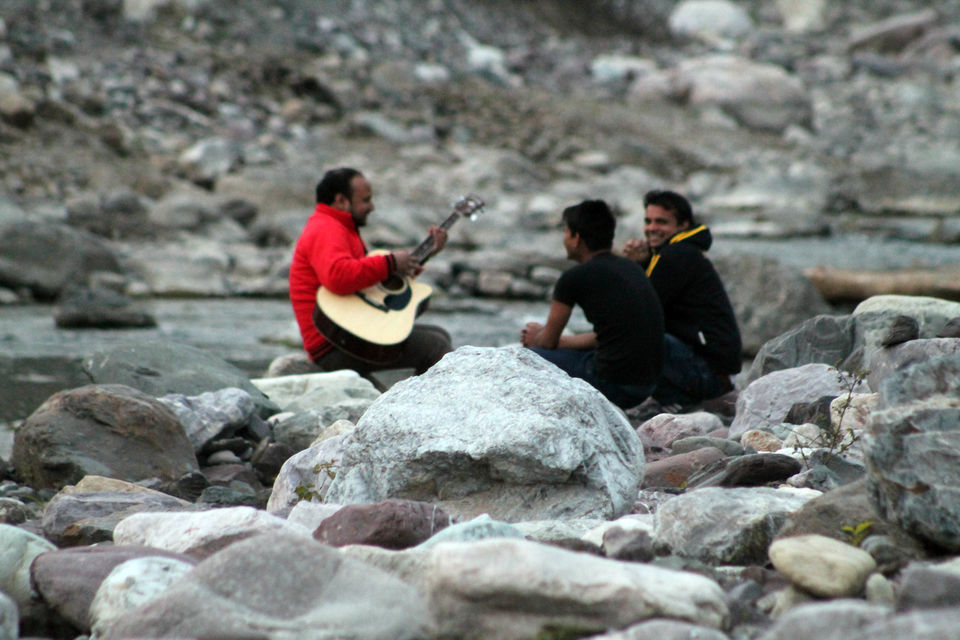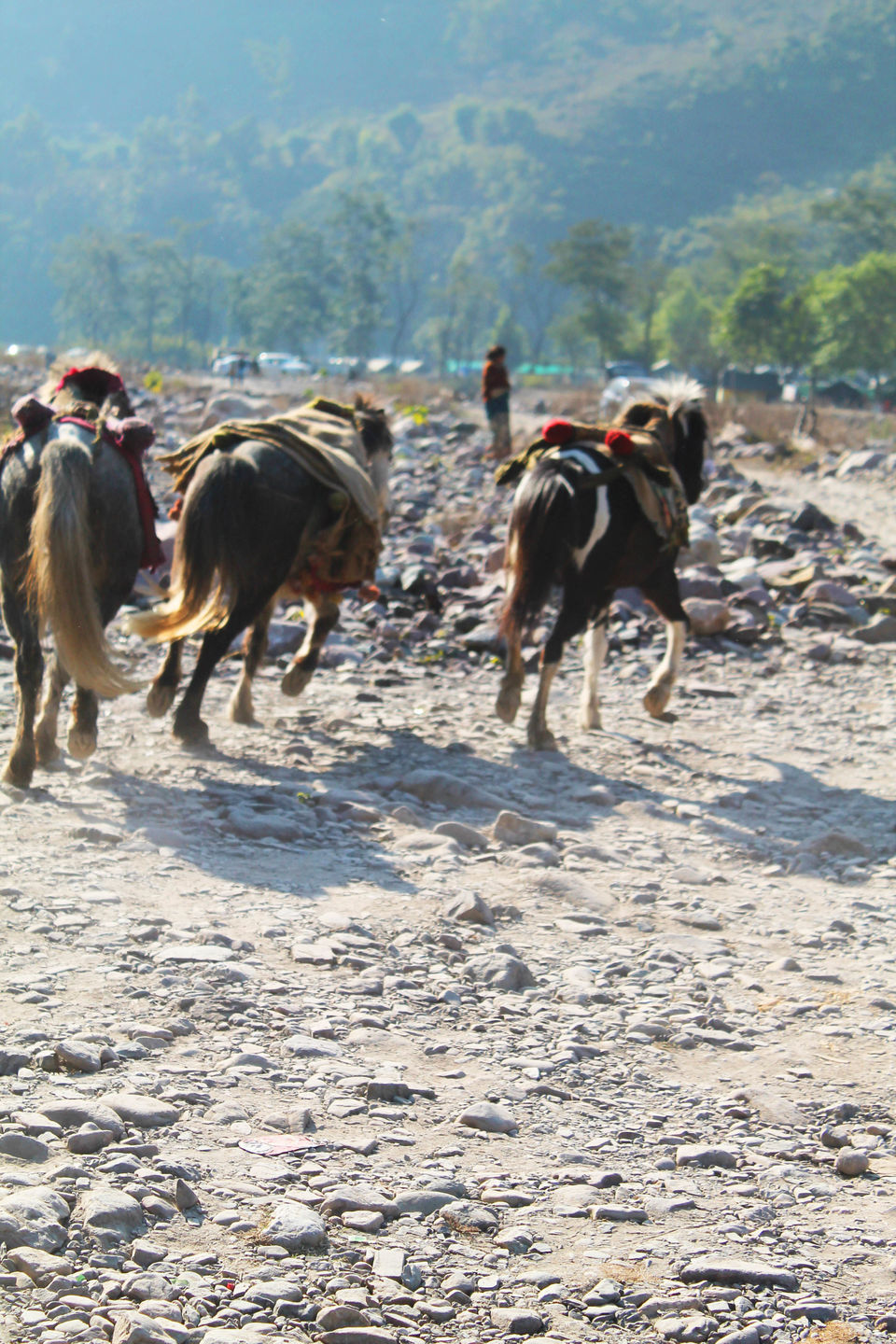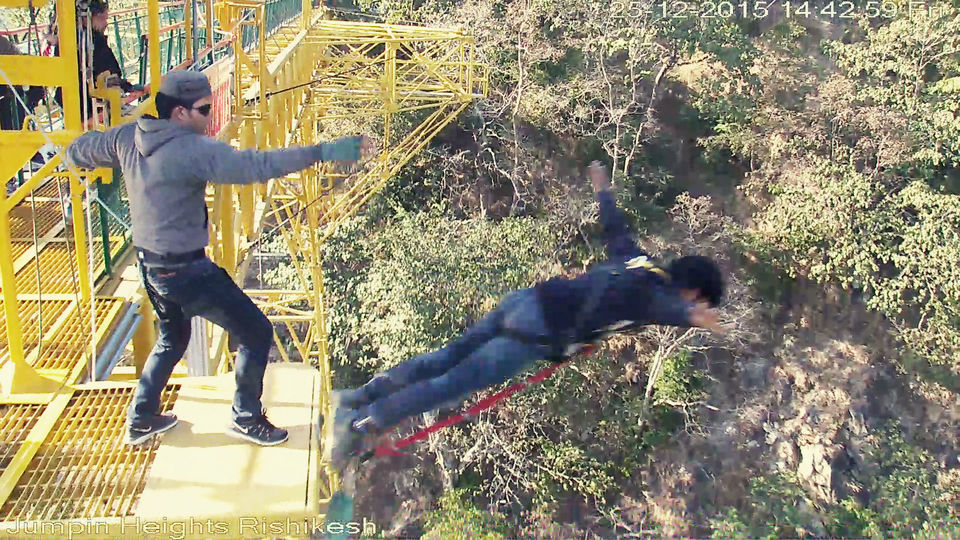 Last week I was at office and during lunch time we were discussing that it's been a while that we have not been to any place. So we decided to go somewhere between 25th to 27th December (being a holiday). Honestly choosing any destination is a tedious job, so we asked everyone what they want. Hills, river, Bone-fire, adventure and lesser than 300 KM were few things they were eying for. So finally Rishikesh was decided.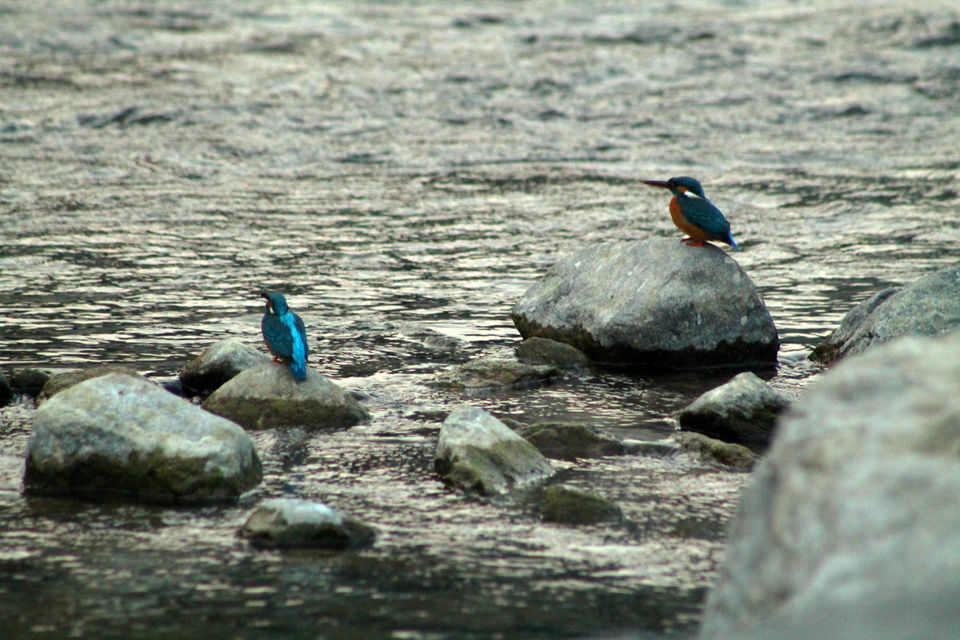 I have been to Rishikesh many times, have written a blog as well about it, but my hidden intention for this trip was to do Bungee Jumping, which was a dream for me, as before during my visit at Rishikesh, either the site was closed or I didn't get an opportunity to do it.
So, 24th we attended office and in the evening a cab was booked, we started our journey at late evening. After many halts and break we managed to reached Haridwar around 12:00 am. We decided to spent the night there. There were many Dharamshala on the way, we choose one and stayed there. Dharamshala is basically a stay place (sort of hotel) for travelers and saint / sadhu's. They would not charge any fees from you as it is free to stay, but you may choose to donate any sum you wish to donate. Early morning around 08:00 Am we continued our Journey.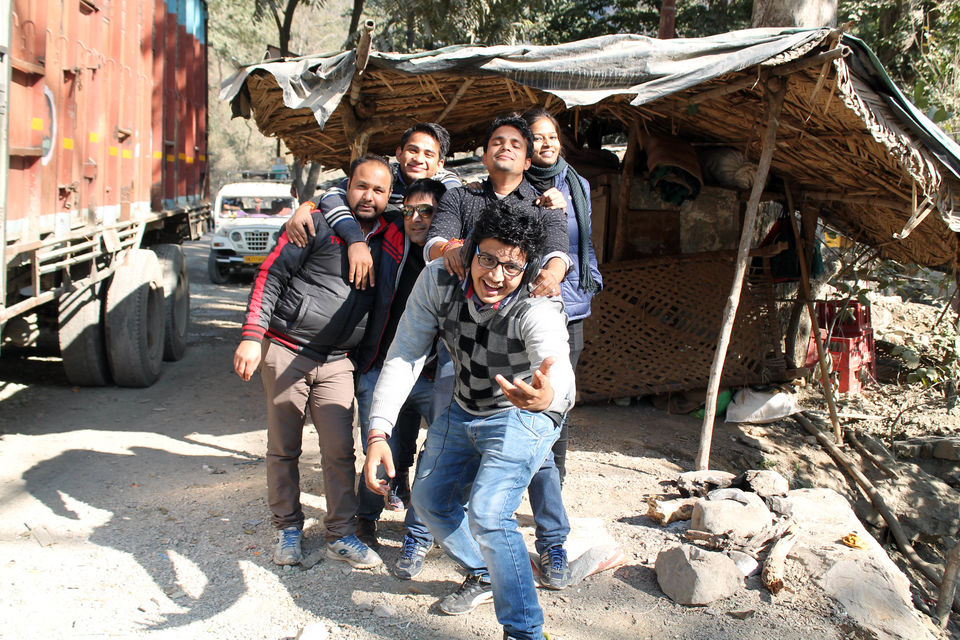 Since our Camp was situated at Shivpuri, which is at far end of Rishikesh, we decided to do Bungee Jumping First. Bungee Jumping is organised and maintained by Jumpin Heights and is situated at Village Mohan Chutti approx 15 Kms from Laxman Jhula Rishikesh.
We got disappointed when on arrival we were told that the Bungee Jumping is full for next three days and they cannot accommodate any more person for today's jump. Well being a Marketing guy (MBA - Marketing), I took responsibility to convince them and was able to take 3 tickets from them. We have to wait for almost 3 hours there for our turn.
It goes like this, first you take entry ticket (mandatory) of Rs/-100 INR to go inside, further they gave you three options as what you want to do (Flying Fox, Giant Swing and Bungee Jumping). Ticket rate for Bungee Jumping is 3500 INR per person, which is non-refundable in case you get afraid and decided to quit at the very last moment.
We took 3 tickets and waited at the cafeteria, where on plasma screen you could see live streaming of jumps going on, just to kill time and make us at ease we click random pictures.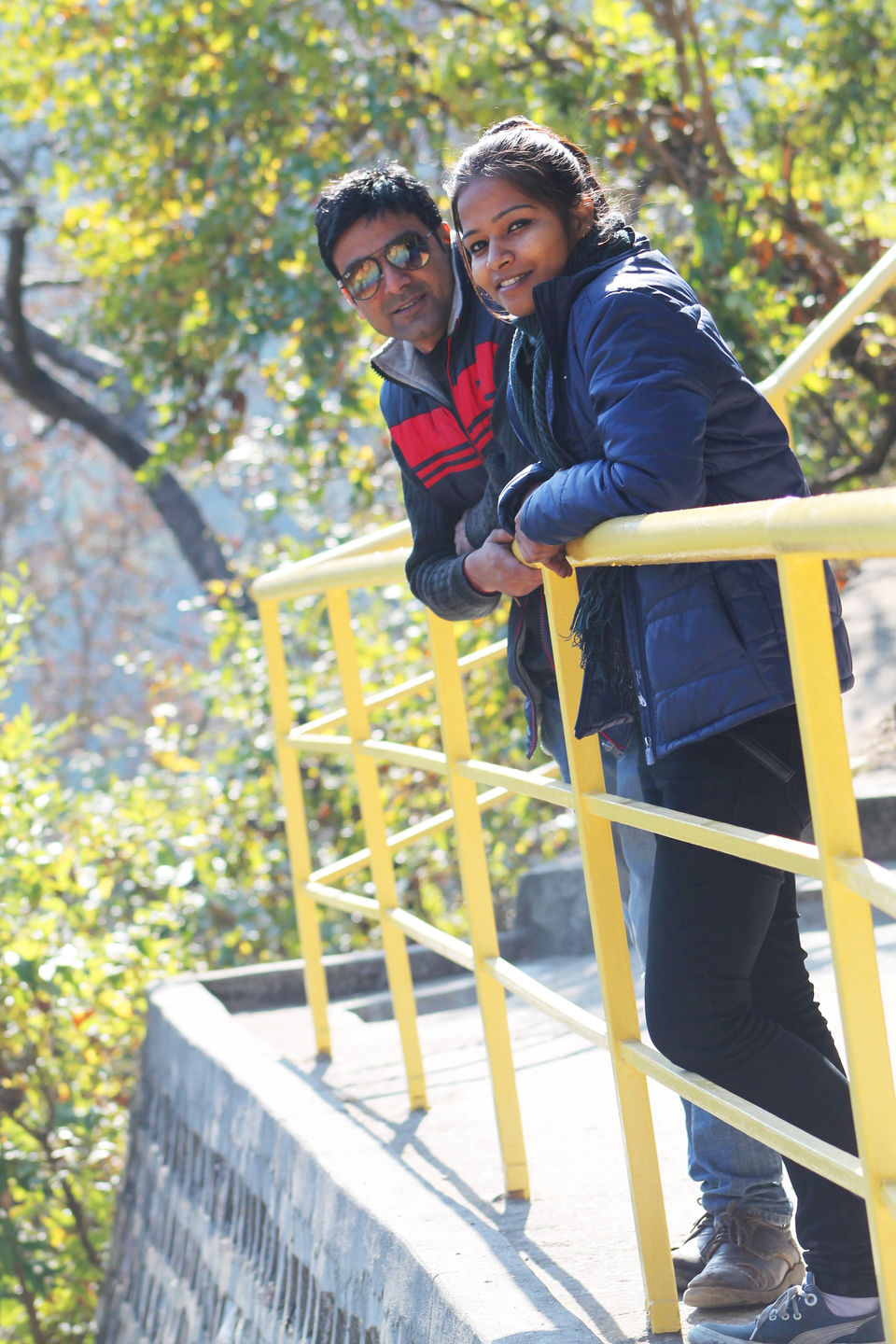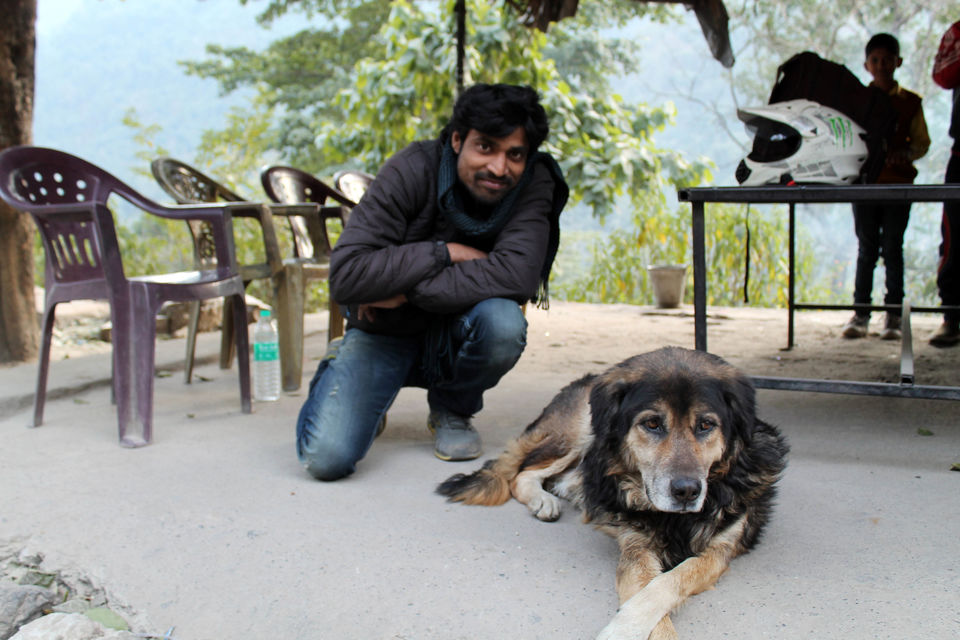 Finally our turn came, and we were asked to be present at the zone area, where actual jumping happens. With mix feeling of excitement and nervousness we approached the area. They checked the tickets and ask us to wait at one corner. Finally they ask you to go one by one. Kunal insisted to go first, further me and finally Nitisha.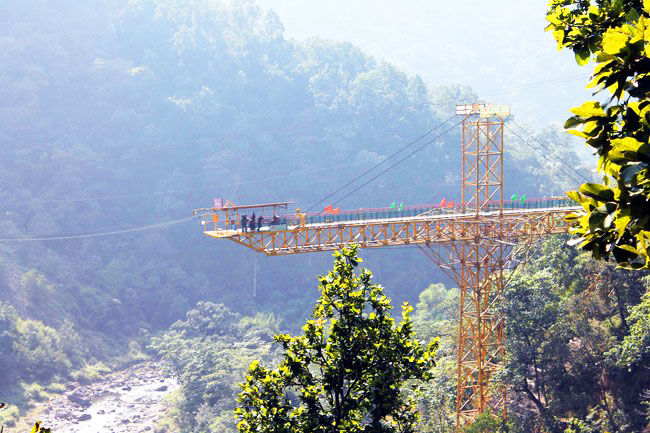 First they check if you are mentally ready to do it, by asking random questions, further they belt you on Chest, and lock your both legs, with a chain and in the same chain the main swing bungee rope is being tighten. One guy is from New Zealand and everyone of them would motivate you like anything, further they ask you to stand at the last line /zone and 3...2....1....Bungee and you need to jump. If you are afraid and didn't do it in first go, they would give you another chance, even if you fail to do it in second chance than you are disqualified and no more chances are given.
So we all three were standing at the main zone, and Kunal went first to do Bungee. He asked all the doubts, crossed checked all the queries and finally decided to jump.
When he was about to jump, I was next and was observing him, but when he jumped and was silent for about 5 seconds in the air, I was worried that is he ok, all went cool or what but after 10 seconds he shouted and said that it was awesome, this gives me more energy and motivation to do it.
Now, I was next, i simply asked the guy one small thing, that i am not interested in long speech at the cliff end, and just wanted to jump, so in case you have some instruction or speech to be deliver just do it here only while sitting on the chair but at the end on cliff I just wanted to Jump. Wish granted and i went next. I was told to jump straight in the air instead of just falling down, which I did. For few seconds all I could feel was strong wind passing by my ears and i was falling endlessly, i don't remember how long I fall but at one point i was stretched by the rope and again went high and further fall, the feeling was amazing, i could see sky, forest and serene.
Now finally Nitisha turned came, since she is a girl, we thought that there might be a possibility that she couldn't do it or may be return back or decide to quit, and I and Kunal waited at the downside in hope that she might jump. And yes we were right she jumped, we could see her falling from Top, straight down, further high and again down, she screamed with joy and finally she was with us at down side.
All three of us were awarded by a Batch which Say's that "I have got Guts" and a certificate which clearly say's that we are lucky few who have done dared to do it.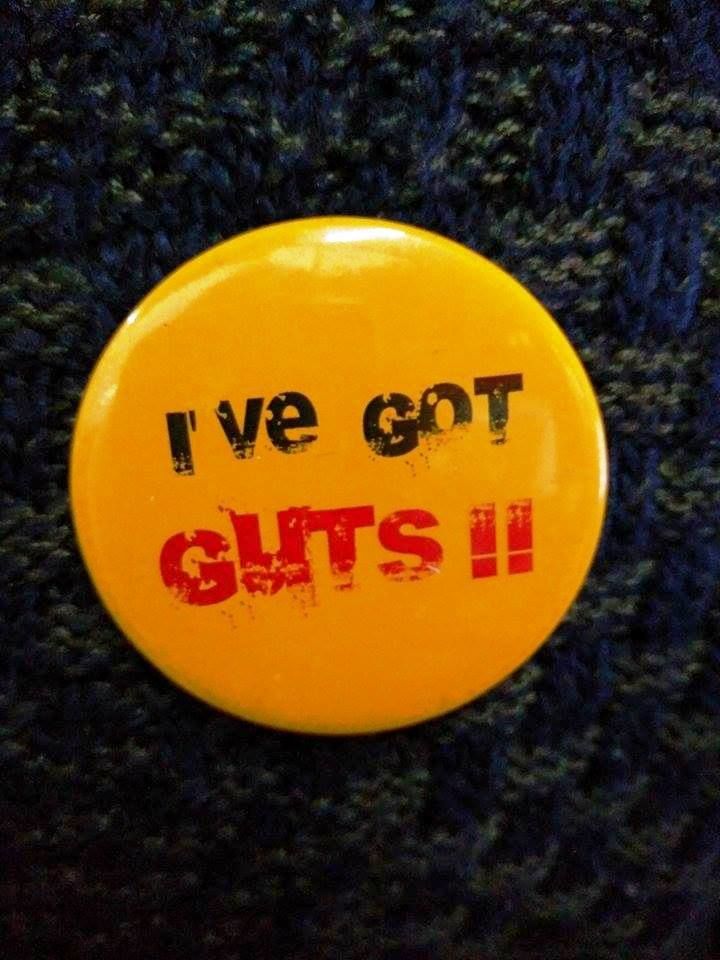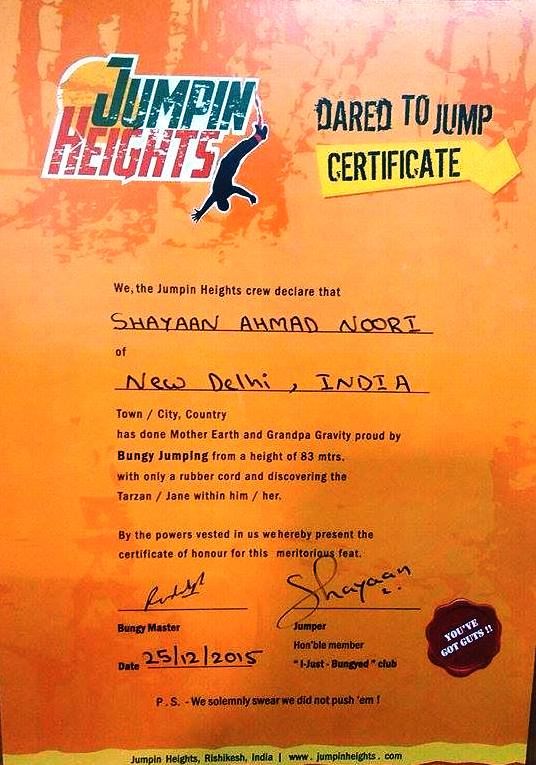 From there we see our video's which came good, so we decide to buy it. 750 INR per person for having your video, but that was the only thing which could revive our memory for life long so we have taken it. So final cost came out to be 100 + 3500 + 750 INR = Once in a Life time achievement.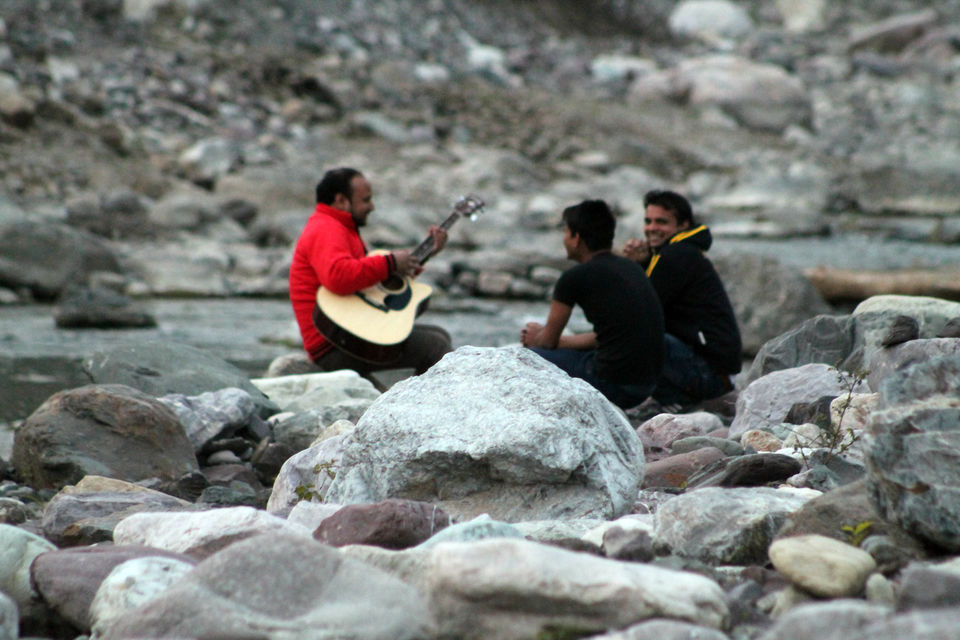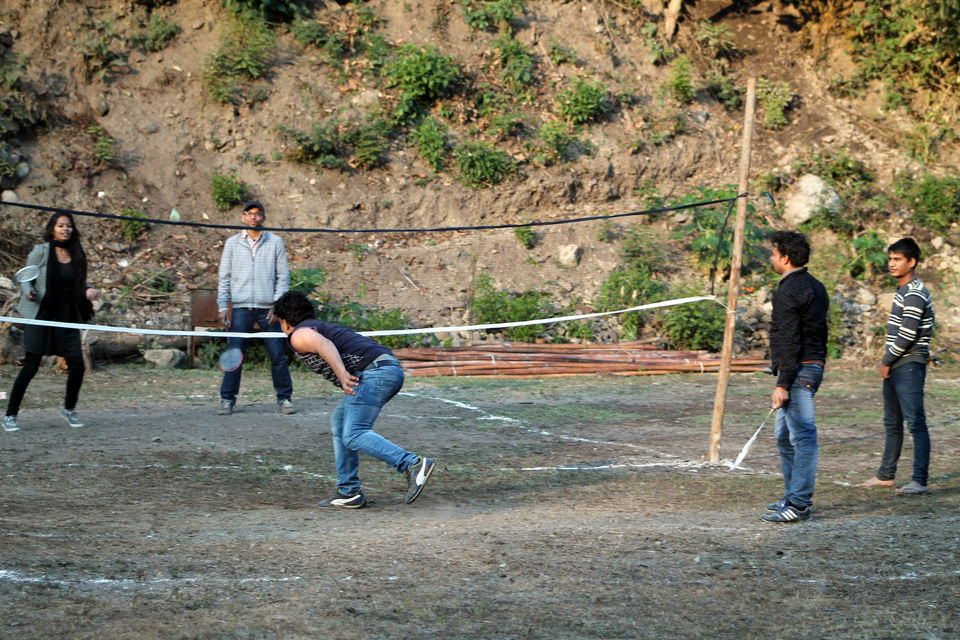 From there we went to our Camp at Shivpuri. Govt. has banned all the river side camp at Rishikesh, but the Shivpuri one was at bit inside end, hence they were allowed. Inside Camp there were many activities like Badminton, Volley Ball, Carrom, Bone-Fire etc. We enjoyed all activity. Roamed around river bed, water game in the small stream of River and did everything which we wished to do.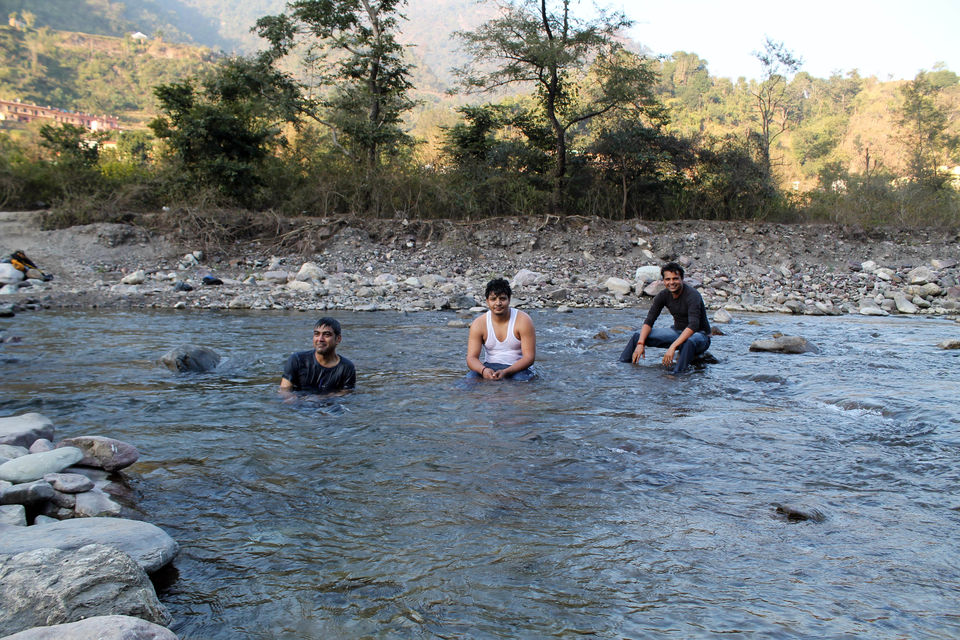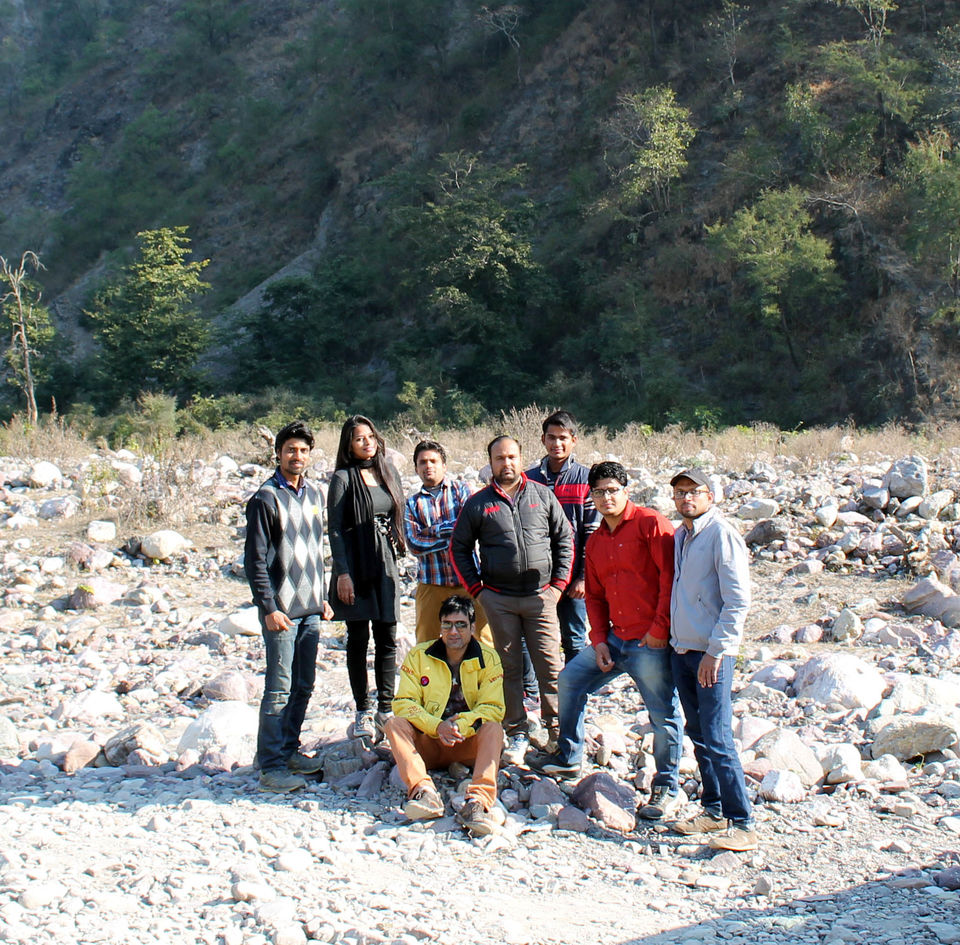 Night spent well with Bone-Fire and next morning after roaming again near river bedside, we returned back to Delhi, with nothing but MEMORIES.
All pictures used in this blog have been clicked by me and I reserve all the rights to display them. If you like the clicks, do drop a courtesy visit to my page (www.facebook.com/shayaan.photograhy - Frames).