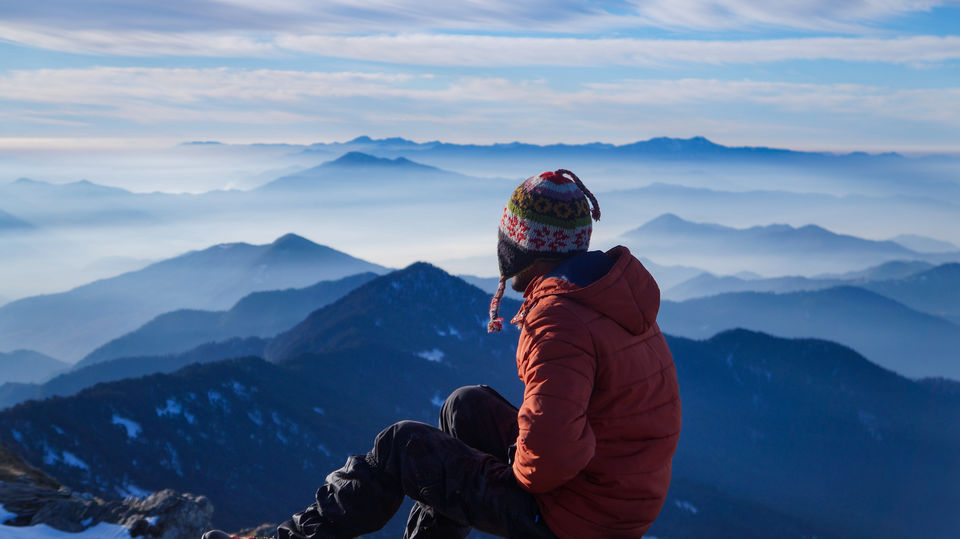 After spending almost 10 months in home I decided to go for a trip because "Mountains were calling".
So, I started my research and found this trek which was already in my bucket list from a very long period. I checked out instagram,google, tripoto to find a best travel company because this was my first time that I'm going through a travel company. After spending a lot of time I found a Profile on Instagram with name Discovery Hike I contacted them and they send me all the details they gave me best offer which I can't share here.. I called Ganga Rana (Who owned this company) he is a very humble man with lots of Mountaineering experience we talked around 30-45 min just sharing our experiences. I was so excited to meet him. I have booked slots for me and my 3 friends for 19 dec.
In the beginning of the trip everything messed up..
I booked a bus from Mohan Nagar to Dehradun which was going to leave at 10:20 but because of heavy the traffic we got late by 10 min and we missed our bus we have requested to conductor to wait for few minutes but he denied.
Then we decided to go Kashmiri gate and take a bus, but when we reached kashmiri gate there was not a single bus available. So we booked a taxi for Dehradun and reached there by 6:30.
Then the fun begins..
Day- 1
The man who came to picked us was so humble and funny we enjoyed our 9 hour journey.. literally my eyes almost filled up when I saw the mountains.. I feel like mountains are asking me where were you??
We reached Sankri(Base Camp for Kedarkantha and Har ki doon trek) around 6 in the evening we met other persons of our group everyone came from different parts of India . After a good dinner and a good chit-chat and introduction we all go back to their tents.
Day-2
We all wake up by 7 and after a good breakfast we all were ready to leave for our first camp site we started our trek around 9-10, trek was lil bit challenging because the trail was steep after taking small-small breaks we were reached our first campsite which was "Jainola Camp site", they served delicious lunch.
After having lunch some starting exploring pine forests around the camp site some enjoying snow and some are resting inside their tents.
Our guides was so friendly and also caring to they are providing hot water to drink and in the evening the served Noodles with chai..
All were gathered around the bonfire and everyone sharing their stories..it was like reading many books..
Day-3
We waked up around 7 and after breakfast everyone packed their bags and we leaved for Kedarkanth base camp. Everyone was so excited to see the first view of the peak which we were going to climb. After 1 hour of trekking we reached the frozen lake "Juda Ka Talab" we spent 1 hour approx their walked on frozen lake had chai and maggie and started out journey. The camp site was so beautiful colorful tents pitched all around on white snow.
We watched the beautiful colors of sunset. Sky turned orange and the snow also reflecting the same so everything became more dramatic and beautiful.
Weather was clear so we saw the sky full of stars I took some night sky shorts from the tent.
After having the delicious dinner we all go into our tent because we have to wake up by 2 to for summit.
Day-4
Randev Bhai (Our Guide) waked u everyone and gave hot coffee and daliya for energy and to keep body warm. Everyone was ready for this final climb everyone wore crampons and gaiters.
The time came we started our final assent, everyone knows this part going to be tough. After 1-2 hour of climb we took a long break at a tea stall and had tea. Then we started our trek again and watching the rising sun.
The whole view was s amazing sky was changing color black to blue, blue to red, red to orange amazing..I can't describe that moment in words.
Temp. was too low at pic we barely taking our hands out of gloves but I took that risk of freezing my hand to take some amazing shots.
After spending 1-2 hours at peak we started descending.. that part was so fun. We came down by sliding in snow that was fresh powder snow it felt like cold sand. Everyone was sliding and enjoying taking the photos on the trail because we crossed that trail in night so that was a surprise for us.
We reached our base camp and had lunch, then after few hours of rest we started again and reached our jainola campsite. This is the day of celebration of successful summit.. everyone enjoying that moment on a special demand our cook made delicious chicken for us.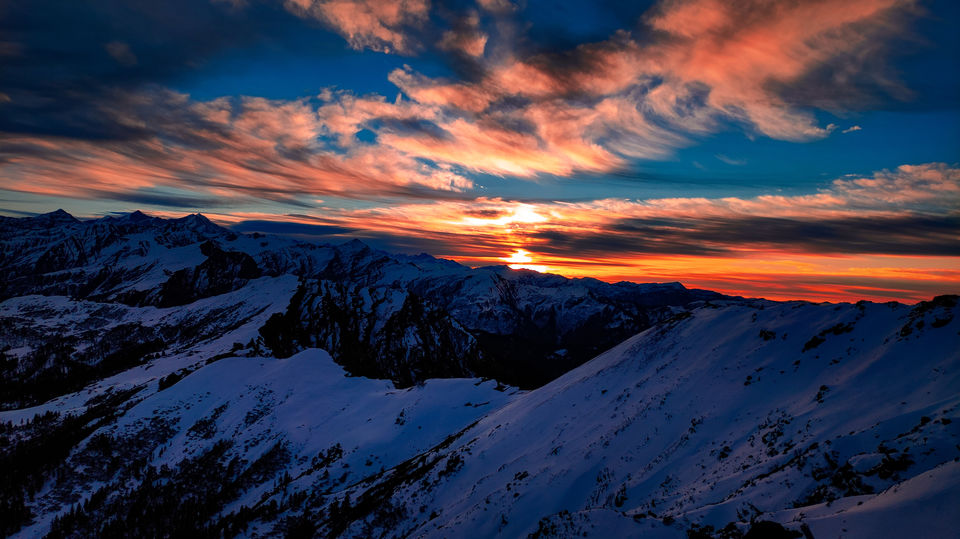 Day- 5
We headed back to Sankri and from there everyone said a warm good bye to everyone and with a promise to share all the photos and to meet again everyone rolled back to their home.
Except 3 of us -- Story continues
If you want to book the package or want to know anything DM me here or on Instagram @jerryroborter