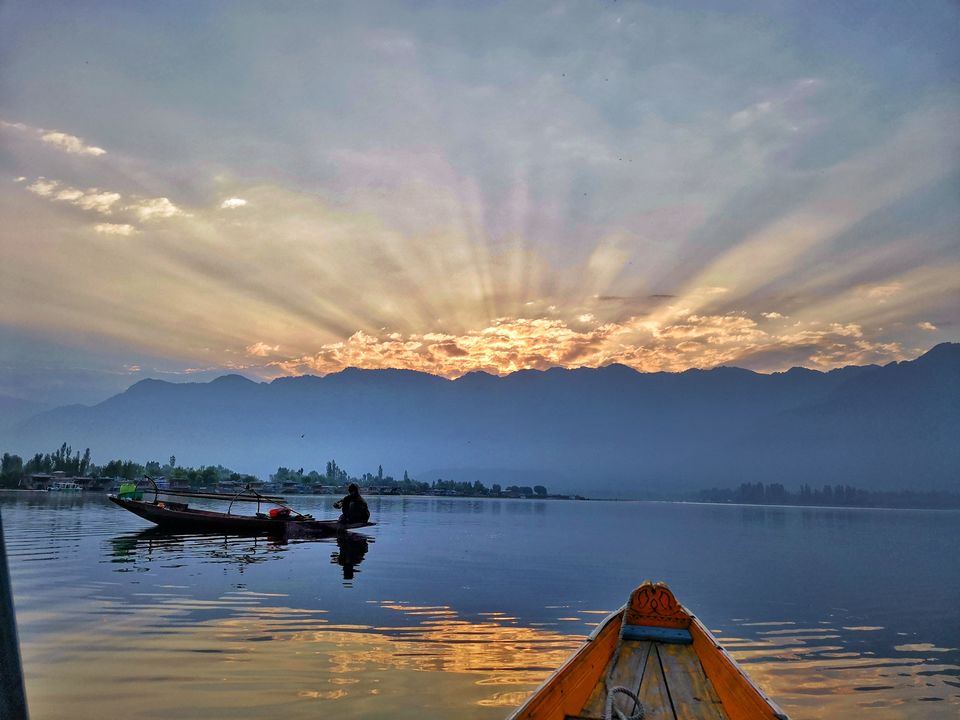 One of the holiest Hindu pilgrimages, the Amarnath Yatra is popular across the country. Lakhs of pilgrims from all parts of the country come to Kashmir in the months of July and August and pay their homage, and seek blessings from the almighty. You can guess it's popularity by the fact that around 3 lakh pilgrims visited the holy shrine cave in just 3 weeks, after it was opened, this year.
While it is a divine experience for the pilgrims, but it may not be as divine an experience for travellers who wish to visit Kashmir during Amarnath Yatra.
Let me elaborate this through my personal experience, when I visited Kashmir Valley in July this year.
1. You cannot have a free access to all places of Kashmir
After driving overnight, we reached Jammu early morning. To avoid the mad rush, and explore a road I had never taken before, we chose to take the Mughal Road, instead of the regular Jammu Kashmir Highway. Was excited to see some new places, and the lesser explore parts of Kashmir through Mughal Road.
We took the Akhnoor road, and were at the Akhnoor bypass, we were stopped at a checkpost. Post checking all papers and making an entry with all personal details, we were allowed to go forward.
Shortly, we reached another checkpost, and while making the entry, we were told that we cannot go any further by the police.
On asking why, we didn't get a clear answer at first. But after requesting, these are the things in brief that were told to us.
1. It is not safe to travel there, as there is no security beyond this point.
2. There could be stone pelters, and we may be in danger.
3. Terrorist may mistake us for pilgrims, and may attack us.
4. Because of Yatra, this region is not accessible, and that's an order from above.
5. None of us were Muslims, hence it is not safe for us to go in that region.
Not only this, even later, we were advised against going to a few other places that we were looking forward to.
2. You are at the mercy of the police and the army
Heartbroken, we had no option but to go back to Jammu and take the Srinagar highway. We lost a lot of crucial time in all of this.
We had barely crossed Jammu, and after crossing few more checkposts, we were told that we may not be allowed to go to Srinagar at all. We were suggested to tell the cops that we are going to Patnitop, as there is a certain time bracket within which we would be allowed to go to Srinagar.
Then, in the afternoon, were stopped at Ramban, and not allowed to go any further. On asking why, we were not even given an answer, but spoken to rudely by the cops. The only thing we knew was that we won't be allowed any further as time is up. While my friend in Srinagar tried helping us and finding a way, but nothing really helped. He even said we are his friends and would be visiting him and staying at his place, but even that didn't help.
We were forced to park our car somewhere a little away from the highway, and were instructed to stay there till 4AM in the morning.
On spending time there, we learnt that now we can only leave post 4AM, because that's when the convoy leaves for Srinagar. We tried returning back and finding a hotel for ourselves, but were forced to stay at a Temple.
An attempt to take our car and going back was also discouraged by the police and the army. Only after almost 3 hours of conversations, we were allowed to leave that place, and go back, where we found a hotel to stay. Which also meant 1 day lesser for us to explore Kashmir.
3. The crowd makes places and things a little more expensive
Nothing against the people of Kashmir, they are probably the most helpful people, but this is just a matter of demand & supply. The Amarnath Yatra attracts lacs of pilgrims. A lot of them stay at hotels. So, finding an accommodation automatically becomes more expensive than in regular times.
Not only this, all other things that people usually plan for, may have a slightly inflated price around that time.
4. A lot of time would be wasted during traffic movement and control
The entire valley becomes an Army Camp during the Yatra. You can spot soldiers standing every 10 meters throughout the highway.
There are frequent traffic stops, or halting of traffic, for letting convoys or pilgrims pass. These may vary from 15 minutes to 2 hours. So, half your day may just be utilized in just waiting at the traffic halt.
5. The army personnel are under tremendous pressure, and it may affect you too.
While driving, we saw an army personnel show us his hand, indicating us to stop. While we stopped, a car coming from behind us, didn't and crossed it. The man started shouting. And for no reason came closer to us and started using derogatory language to us.
On politely asking what's wrong, and politely requesting him to not use such words, as there's a family sitting in the car, he got agitated. He asked me to park my car on the side, showed me his big stick and tried pulling me out of the car.
Had some officer not intervened, after hearing him shouting, I don't know how bad the situation could have become. Though, I respect the army, but his behaviour was by no means acceptable.
6. Whether or not you are a pilgrim, you automatically are treated like one.
It doesn't matter if you're a traveller, all rules that apply to pilgrims start applying to you too. You have to wait at places or halts where pilgrims wait. You cannot travel on your own, but can only take the roads when the army convoy is going there.
7. The security is so tight, that the place starts looking like a battlefield.
Who wouldn't feel safe with thousands, and lacs of army and police personnel standing at every nook and corner. But when you are going to enjoy the beauty of this heavenly valley, sometimes it may be very distracting. One goes for peace, adventure, experience, but with so many people in uniforms, it starts appearing like a battlefield. Like a war may be coming anytime.
8. The army is doing it's duty, and the more the travellers, the more their distractions.
The Yatra season brings lacs of tourists already. The pressure on the army is high to ensure no uneventful thing happens. The more the people would travel to, the more distractions it would be for the army. Checking every single car, every single bike, and every single human adds to their duties.
Let's connect and follow & learn from each other's journeys
P.S.: Neither am I discouraging people from travelling to Kashmir, nor am I against any sect, or institution. In fact, I absolutely love Kashmir, have met many friendly people in Kashmir, and would encourage people to visit this heavenly valley. It's an all season place.

I am just sharing my personal experience and views, about travelling to Kashmir during the Yatra season. If, at all, you can choose different dates for your travel plan to Kashmir, it's wonderful. Else, keep in mind the above things, and plan accordingly.