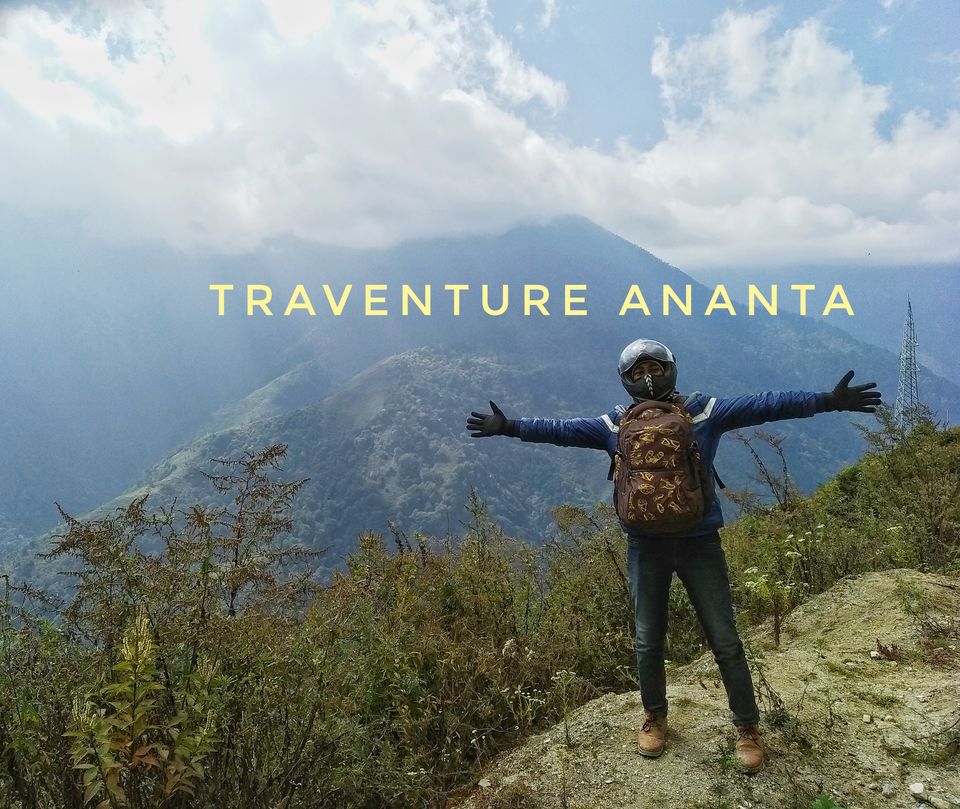 Hey friends!
Let's come with me to an adventourous ride to An spectacular place of India. Which is often called the switzerland of India. You guess it right. It's none other than amazing #Tawang.
Date : 20/10/2018
We have started our journey from Khowang(Dibrugarh district) which is a small town of assam. We started our journey as early as 2:30 am in the morning. Our target for the day is to reached Bomdila which is 427 km away from my home.
We were six people in the group with 3 motorcycles. Yes we have a back pillion with us in each bike.
Crazy!
Right?
Yes,
That's we are.
So as I said I starts my bike 2:30 am sharp.
Two of our group member waiting
for us at Moran.
Another two member will join us at Sivasagar. So by 4:00 am all of the group member joined us at sivasagar and we left for this adventurous ride. As obvious all of us were more than excited.
By 5am we reached Jorhat and by 6am we crossed Dergaon & Numoligarh. At 6:30 am we stoped at bokakhat for a cup of tea with the famous bokakhat's Pera(a kind of sweet).
After tea we again start riding.
By 7:30 am we had crossed kaziranga national park. We spoted 3 one horned Rhino which is Assam's pride.
By 8:20 am we reached Jhakhalabandha.
And guess what we reached tezpur at 9:20 am. Is not it amazing?
We stoped here for breakfast as all of us were damn hungry.
We take an one hour break here in tezpur. So after that about 10:30 am we again starts riding and around 11:30 am we crossed Nameri national park.
So by 12:10 pm we reached Bhalukpong(Assam-Arunachal Border).
Oh i forgot to mention one have to take inner line permit to enter Arunachal pradesh. We have five ILP with us which we applied online. Remaining one we applied here in bhalukpong; at the same time we hv decided to take our lunch here. We did our lunch here.
By 1:30 we left for bomdila which is our destination for the day. We stoped at the bank of kameng river for a photography sesion which looks stunning from the road. We can't stop ourself from taking selfie. So we did take.
After that on our way we saw a water fall named Lumum fall.
We are mesmerized by the beautiful roads of arunachal.
And yes we got some of the muddiest roads out there which are under construction. We have to wait in a place in the middle of nowhere because of the roads construction is going on. For which we were late from our estimated time.
So whatever we managed to reached bomdila at 7pm. After reaching bomdila our first tension
will we got hotel so late?
We stopped in a front of a hotel
before we asked,
Somebody from their stuff told us
"Hotel is full!"
It doubled our tension.
After lots of effort we managed to get a hotel. Our hotel name is "Hotel La".
It's charged us 800 per double bed room with heater and hot running water facility.
As all of were damn tired after all day riding so we took our dinner at a nearby restaurant and sleept early, because next day will be a great day for us.
So Good night see you next morning.
Till than enjoy our photoes.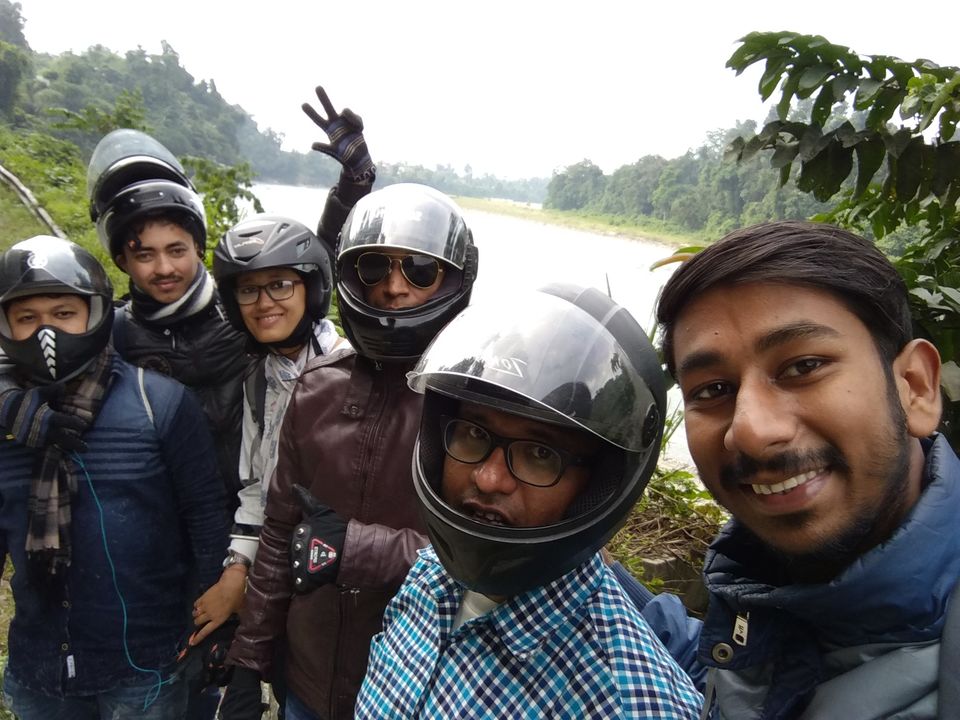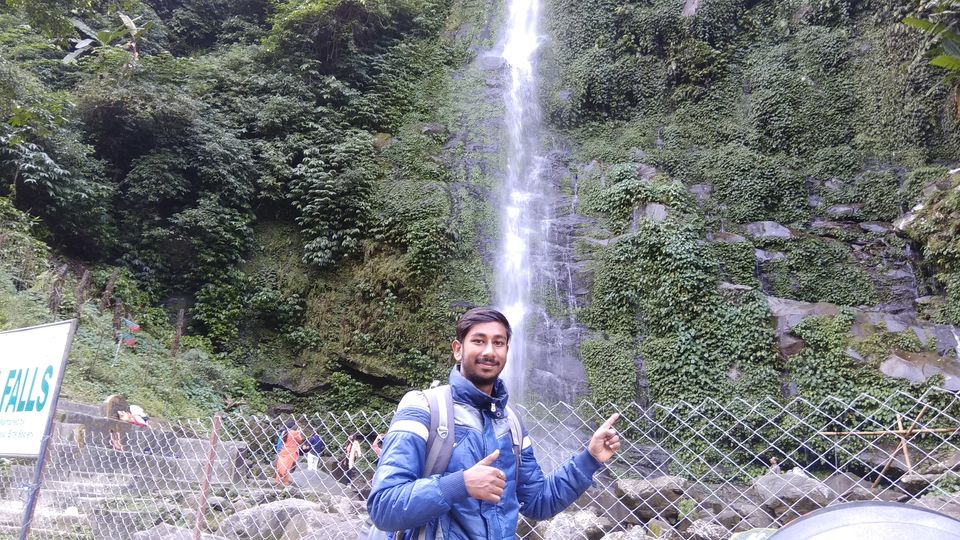 Date :21/10/2018
Next morning we went to fix our bikes at the first place. As we went there with two 150cc bike and one 250cc. Our 2nd day's target was to reached Tawang which is 180 km from tawang. On our way we will be exploring Sela pass, Jaswant garh, Nuranang falls.
We have started riding 8:30 in the morning from Bomdila for Tawang. Dirang is our next stoppage for the day which is around 42km from bomdila. As the road condition is not so good it takes us one and half hour to reached dirang. We did our breakfast for the day and we left for Sela pass which is 62 km from dirang.
But unfortunately one of our bikes starts showing problem although not so major still when you are riding upward in a hill you can't take risk. So we have decided to take lift. It's Our good luck that we got a couples driving to do tawang we ask them for lift and they are so helpful they took our two members in their car and drop them near the hotel room. While four of our members continue riding to tawang.
On our way we've stopped At
1. Sela pass & Sela lake :
We reached Sela pass about 1:30 pm.
The Sela Pass is a mountain pass on path border between the Tawang and West Kameng Districts of Arunachal Pradesh state in India. It has an elevation of 4170 m (13,700 ft) and connects the Tibetan Buddhist town of Tawang to Dirang. The pass carries the main road connecting Tawang with the rest of India. The pass is usually snow-covered to some extent throughout the year.
Sela Lake, near the summit of the pass, is one of approximately 101 lakes in the area that are sacred in Tibetan Buddhism. While Sela Pass does get heavy snowfall in winters, it is usually open throughout the year unless landslides or snow require the pass to be shut down temporarily.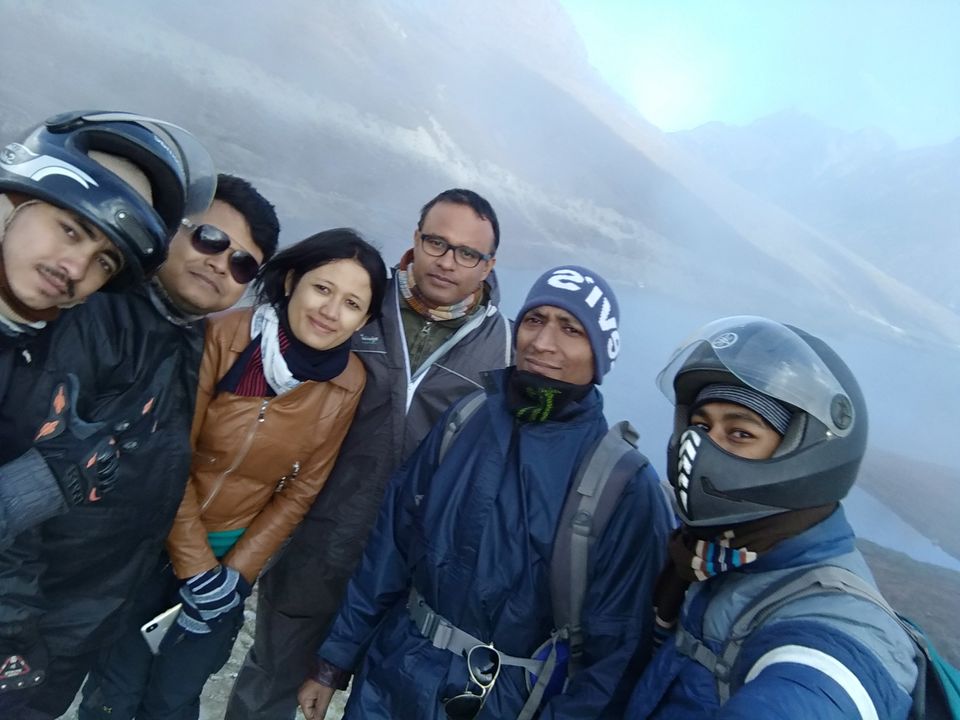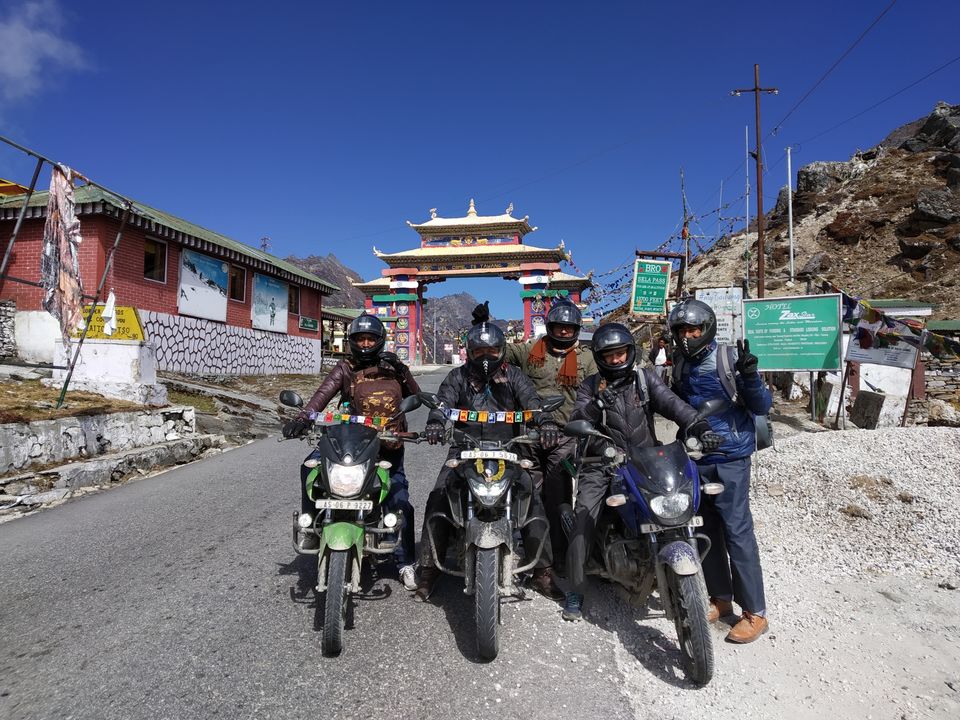 2. Jaswant Garh war memorial :
We've reached here about 3 pm.
Jaswant Singh Rawat was an Indian riflemansoldier of 4 Garhwal Rifles, Uttarakhand who won the Maha Vir Chakra posthumously at the Battle of Nuranang in the present day Arunachal Pradesh during the 1962 India-China war.
He was born on 19 August, 1941 to Shri Guman Singh Rawat, in the village of Baryun, Pauri Garhwal District, Uttarakhand.
The bravery shown by Jaswant Rawat was honoured by building a memorial at the post where he fought the Chinese Army. The post which he held was named "Jaswant Garh". Another honour bestowed upon him is that he continues to serve even after death: he has been awarded promotions as if he is still serving the nation.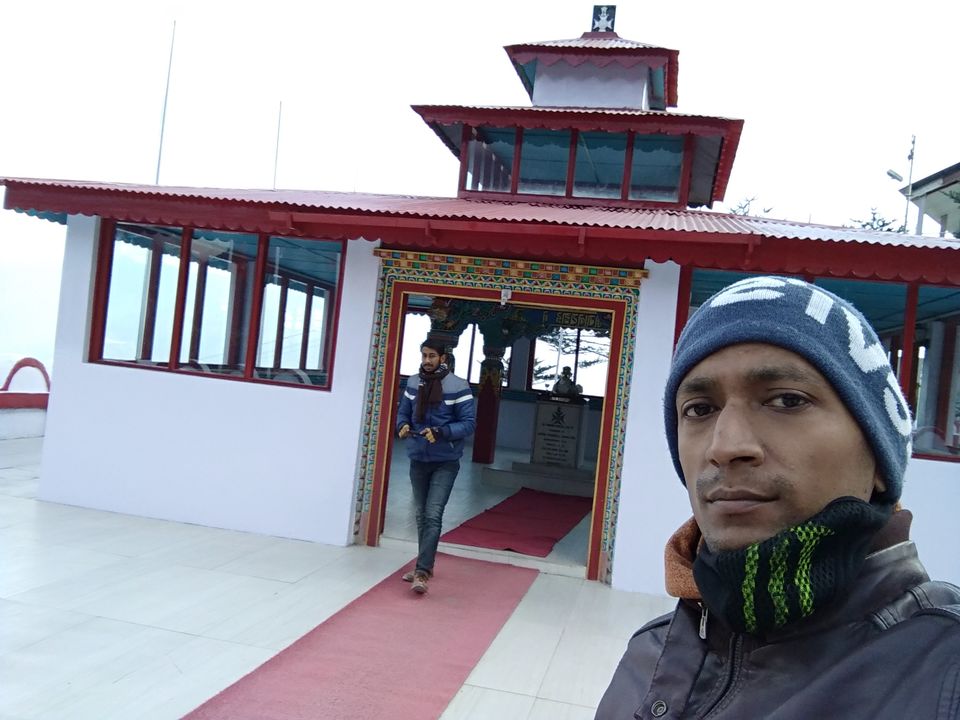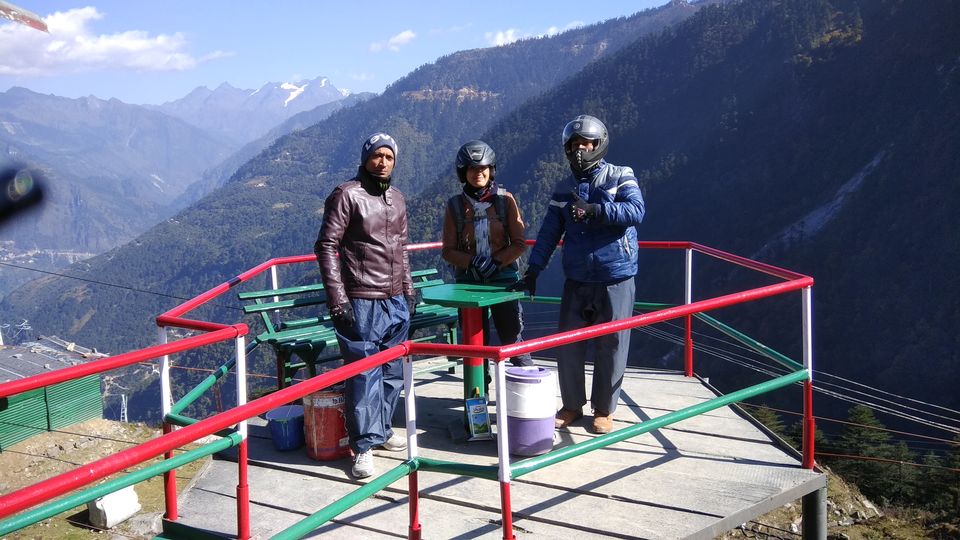 You can watch our video about Jawswant Garh War Memorial :
And also at
3. Nurang falls:
We've reached here about 4 p.m.
Just before reaching tawang there is a place called jung. Where you will find an amazing falls named Nuranang falls.
Nuranang falls some 100 metres high, is located in the Tawang district of Arunachal Pradesh, India.
It is one of the most spectacular waterfalls in this part of the country, yet is unknown to many travelers. It lies some 2 kilometres away from the town of Jang on the road connecting Tawang and Bomdila, so it is also known as the Jang Falls.
There is a small hydel plant located near the base that generates electricity for local use.
The Nuranang river originates from the Northern slopes of the Sela Pass. Just below the waterfall it falls into the Tawang river.
According to a popular myth, Nuranang river and Nuranang falls are named after a local Monpa girl named Nura who had helped a soldier, Rifleman Jaswant Singh Rawat, Maha Vir Chakra (posthumous) in the 1962 Sino-Indian War and was later captured by the Chinese forces.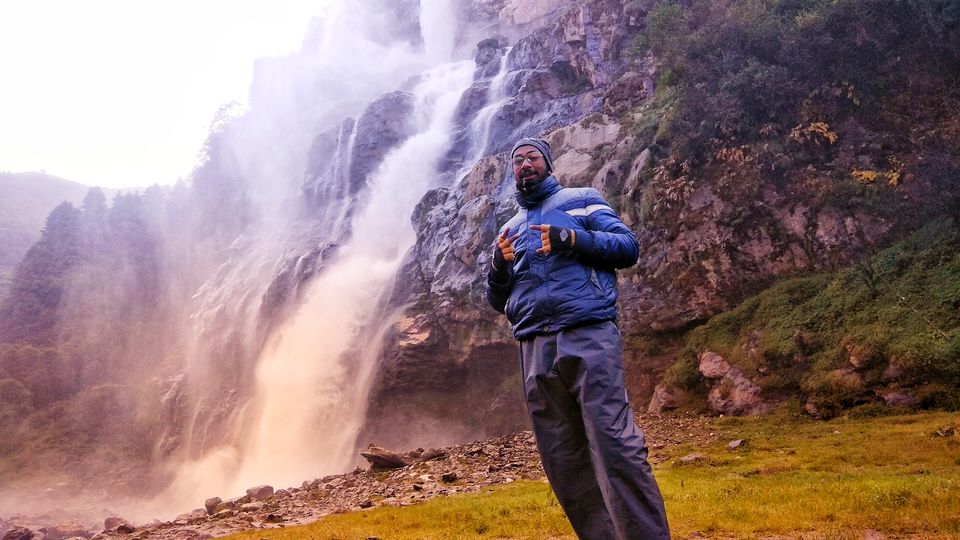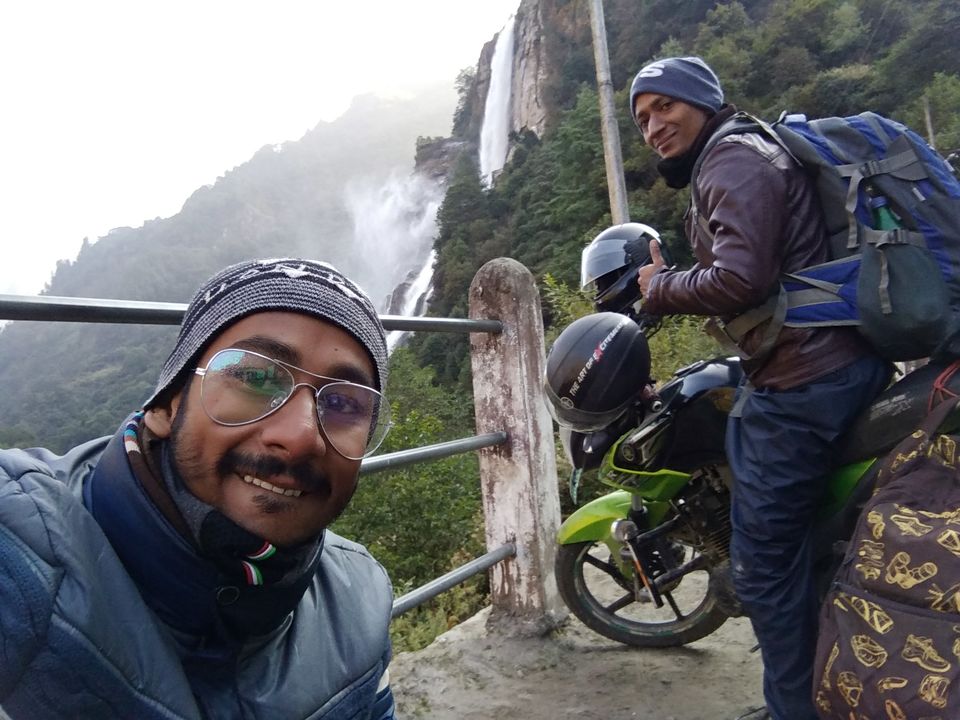 You can watch our video about NuraNang Falls :
Finally We all reached tawang by 6pm.
The two members who reached tawang by car booked hotel for all our hotel name is "Country Guest House".
As of now all of us tired so after dinner and a little bit of gossiping and offcourse selfie session we have decided to
Sleep early for the next day.
Enjoy some of our snaps for the day.
Date : 22/10/2018
Third day early morning we went to explore asia's sencond largest monastery. Which is just above our hotel room.
We all were amazed by the creation, Specially their art and craft skills. And also the huge golden Buddha statue of the monastery. Lovey cute childrens of the monastery is the center of attraction.
After that we have decided to take our bikes to a good mechanic. We did and it takes a little time and now bike is running absolutely fine. By now the time is 12 in the noon.
So we left for the Shungatser Lake.
On our way we have explored
4. Pangateng Tso Lake (P. T. Tso Lake) :
The lake is approximately 16 km from Tawang & it's located at an altitude of 3912 m. It is enroute to Bumla or Shungetser and there is no chance that you will miss it. The lake looks amazing on a clear day & the trekking route around the lake is surely worth it, if you have time. Weather is very dynamic in this part of the country.
But shungatser lake or most of the people said it Madhuri lake is the main target for the day.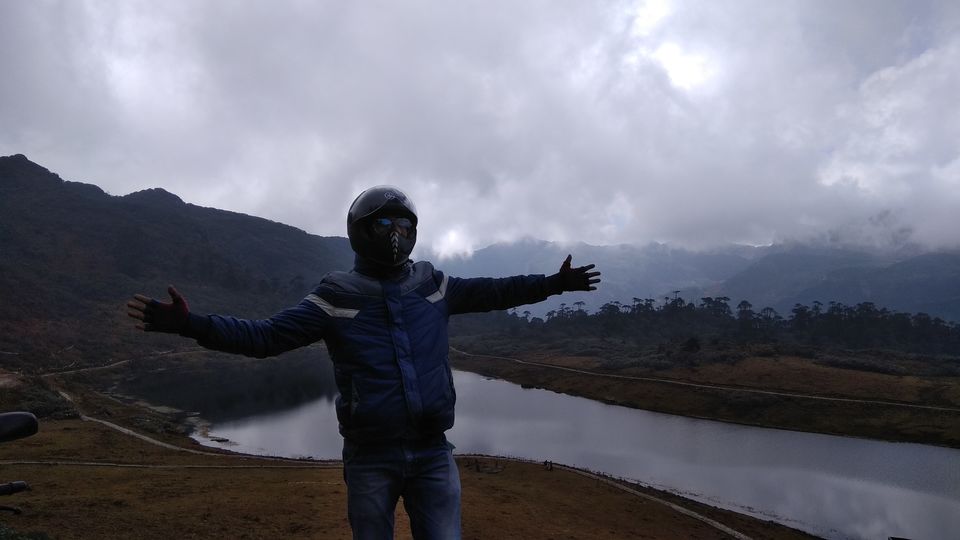 5. Madhuri/Shungatser Lake:
The Sangestar Tso Lake is also called as Madhuri Lake, which is located on the way from Tawang to Bum La Pass in Tawang district of Arunachal Pradesh, near Indo-China border above 15,200 ft above sea level. It is is around 40 km from tawang.
We've reached there by 2 p.m.
We did extreme offroading on our way as the condition of the road is very dangerous. We actually have to put a lots of effort to reached there but
After reaching the lake we realized
It's worth it actually.
Outstandingly beautiful.
There is a café out there one can take decent meal at a reasonable price.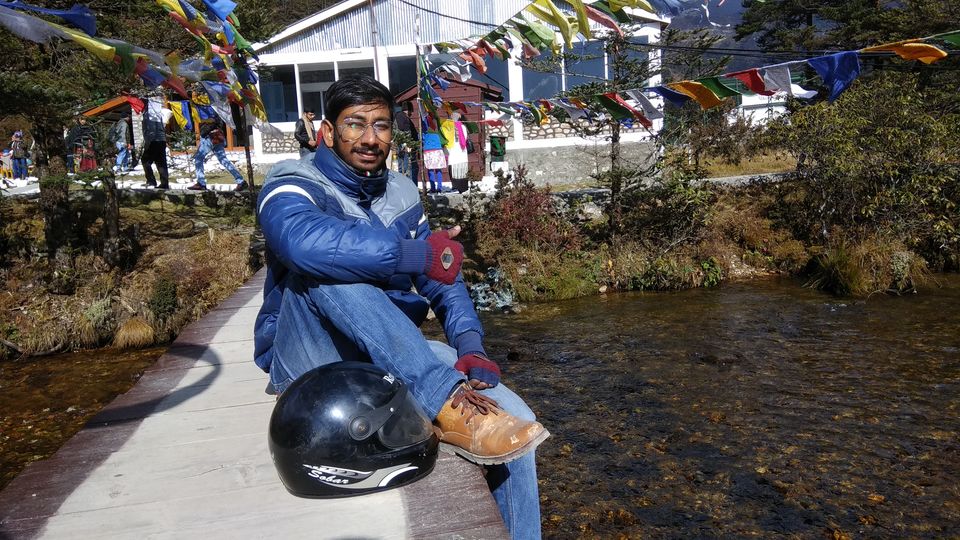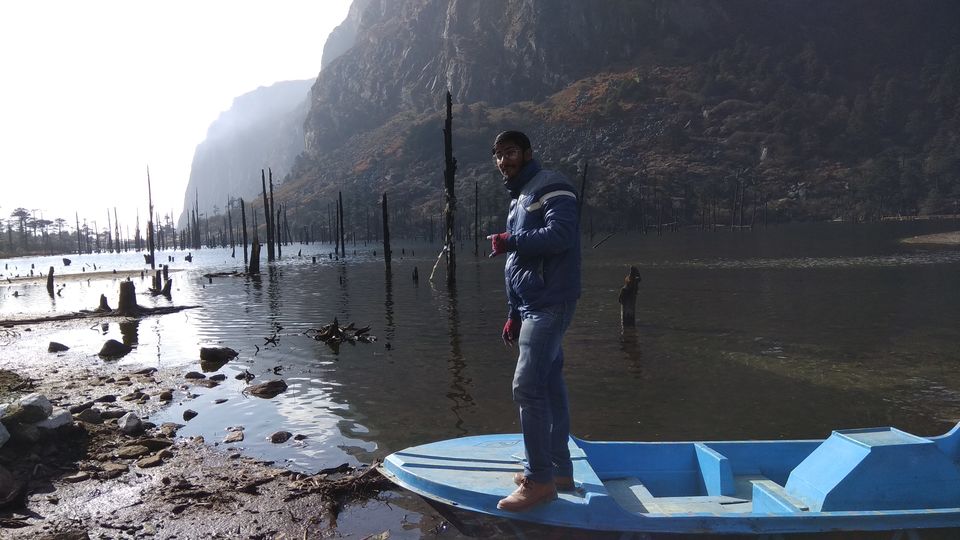 So around 3 pm we left for tawang as the road condition is extreme.
By 5 pm we reached tawang and we stop here to see the huge Buddha statue of tawang.
6. Giant Buddha Statue :
A huge Buddha statue out there in the heart of the tawang city. Which visible from far away and even from the extreme road of Bum La pass. So we spent a quality time here.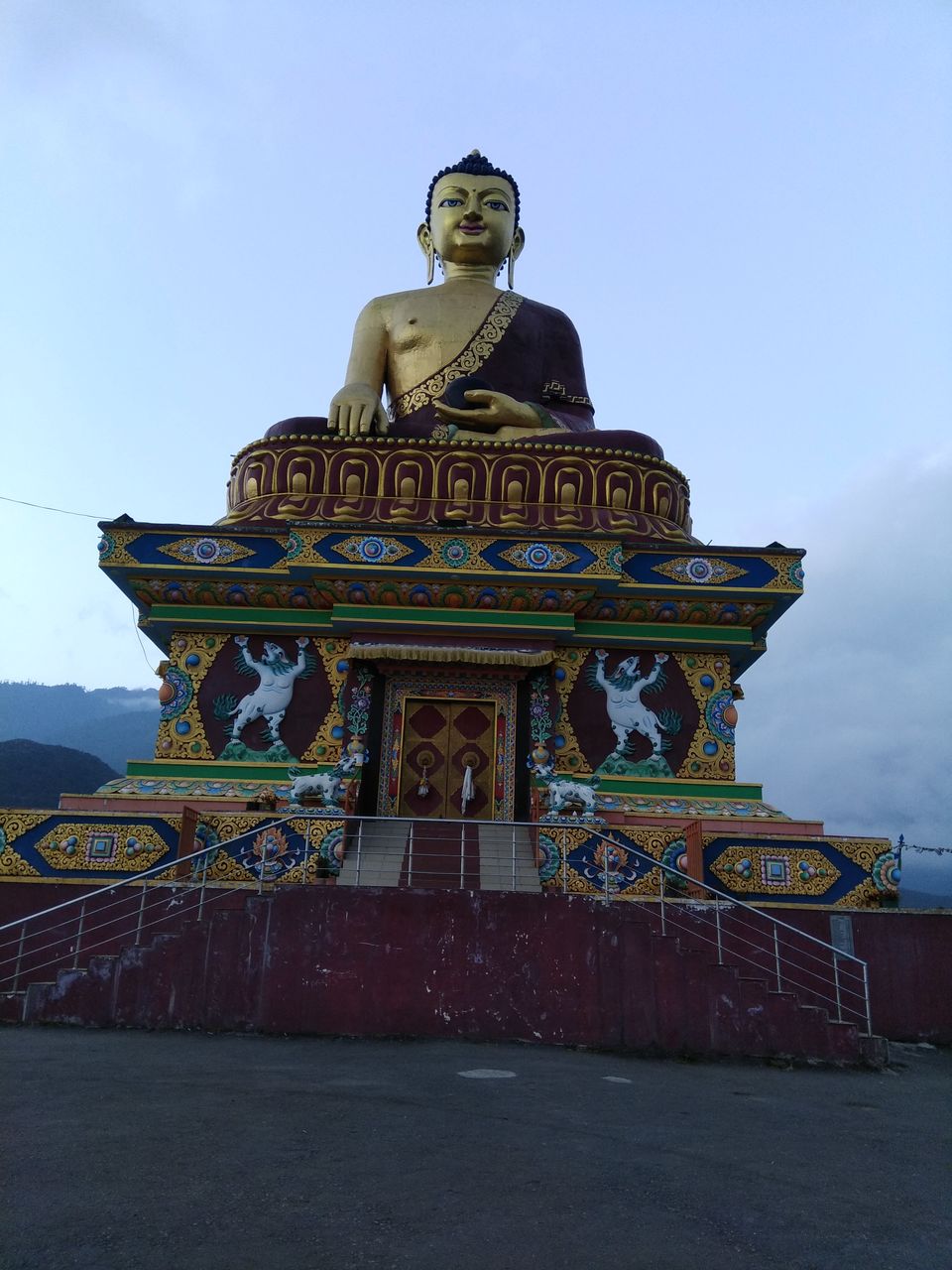 The next whole evening we spent exploring the local shops of tawang.
Date : 23/10/2018
Next morning by 5:30 am we all were ready to return back to our home with a lots sweet and bitter memories for life.
It's a 24 hour non stop riding to our home.
Date : 24/10/2018
And on fifth day early morning we've safely reached our respective home with an amazing feeling and a lots of sweet and bitter experience and a ton of memories. In one word I can say this trip made a strong bond of friendship between all the group members of our this amazing ride to Tawang.
So guys tell me how you find our adventurous story about Tawang.
Do tell your feedback about our travel story in the comment section.
You can check our story in #Youtube
Video Link: Tawang 2018: https://www.youtube.com/playlist?list=PLq7WuE5oxGFgazs28iqYxru-AXhDy97Wg
Thank you so much for giving your precious time reading our story.