For those of us who like seeing a new place without being rushed by queues and enjoy the quiet solitude away from the crowds, there are still several destinations in India that enjoy the privilege of being off the grid, either because of their remote location or their obscurity. While I am usually hesitant of sharing information on these places, for fear that they may be spoilt, I am also hopeful that travellers who bother to go the distance will also steer clear of tainting these gems with pollution of any kind. Enter Long Island!
This lucky find is part of the Andaman and Nicobar archipelago that most us think is limited to Port Blair, Neil Island and Havelock Island.
Long Island is a tiny island around six hours away from Port Blair by boat. It has a beautiful white sand beach which is completely free of tourists. The only people you will meet here are friendly migrant settlers, who came from coastal Andhra Pradesh in early 2000.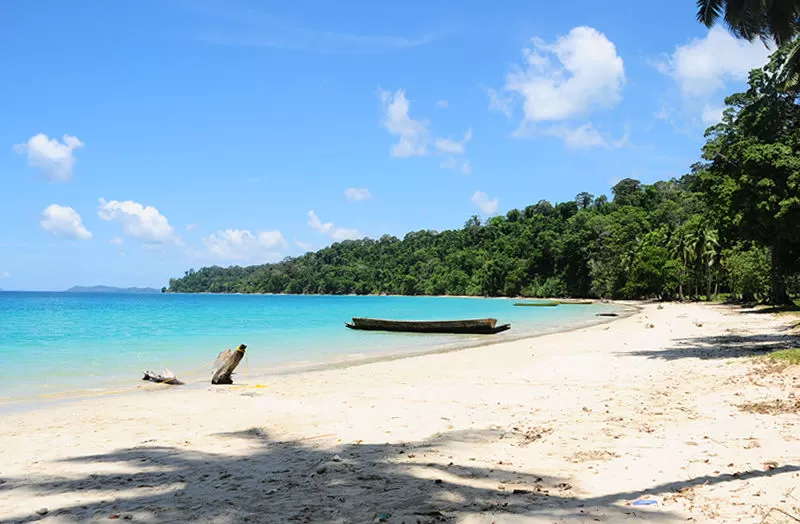 Why travel to Long Island
It might be small, but there is a lot to explore and see on Long Island.
Take a tour of the luscious, thick mangroves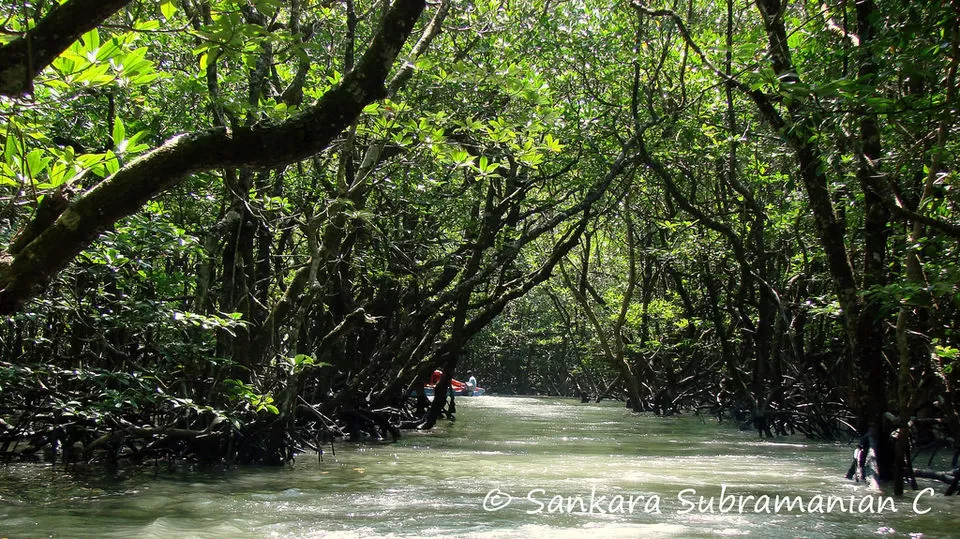 The Andaman and Nicobar Island has about one-fifth of the total mangroves of India, which is roughly around 966 square kilometres. A part of this unique eco-system can be accessed via the Long Island -Yerrata Jetty ferry, on Baratang Island. The ferry drops you to a boat on the island, which then takes you through a fascinating narrow passage that opens to the thick mangroves, offering a spectacular view. Leave at 7am on the first trip to get see the mangroves shining with the sun.
Hike or rent a boat to Lalaji Bay
If hiking is your thing, you are in for a treat. A trail from the main and only village on Long Island takes you along the coast and to Lalaji Bay, a stunning white sand beach on the other side of the island. It'll take you around three hours to do this hike; if you want something even shorter, take the trail through the jungle, which is around an hour to two hours long. You can also rent a boat to the beach for ₹2,500.
Snorkel or dive to explore the water and its quaint inhabitants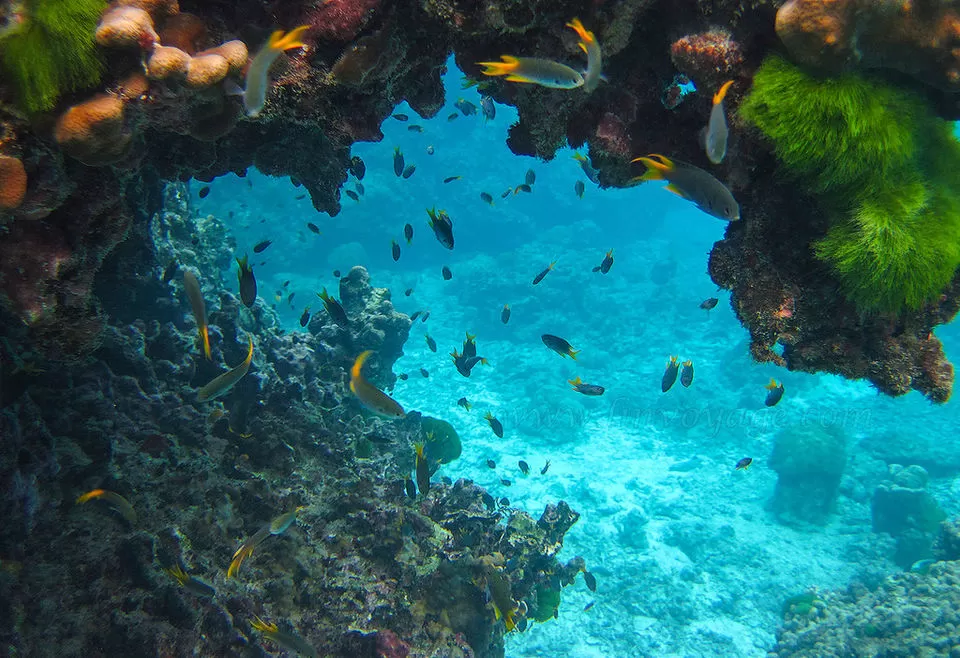 Long Island is a great place for water sports such as diving and snorkelling, as the water here is calm and clear. You can rent a mask for as little as ₹200 a day and head out to snorkel for as long as you like. There are also plenty of dive sites around the island, and you can ask around and bargain on the spot for equipment. Usually a single dive costs around ₹2,500.
Head to the other small island nearby
Rent a boat to other islands nearby, such as Merk's Bay, Button Islands and Guitar Island, which is particularly fascinating because you will be the only one here on its beautiful white beach. In case you were wondering, it is called so because it looks like a guitar from the top.
Cuisine on offer
Being such a tiny place that is so far away from the mainland, there is no "cuisine" per se on the island. You will, however, not go hungry. Blue Planet has your usual Indian fare, including delicious and fresh seafood, along with coffee, tea and a selection of fresh juices. For lovers of south Indian food, there is the Laxmi Hotel, which also serves north Indian snacks. While this information is not confirmed, Corner Bar sells a "special mix" in soda bottles. If alcohol is your poison, check at a roadside booth.
When to go
Andaman Island sees its best weather, which is bright sunshine, from December to February. And so naturally, this is also when it see the highest influx of tourists. The weather improves on Long Island post mid-October. Before then, however, from June onwards, the island sees heavy rain and the weather is super humid.
Getting there
You can reach Long Island from Port Blair, the capital of Andaman and Nicobar.
By air: There are several flights to Port Blair from all major Indian cities. The cheapest one is from Chennai at ₹11,000 onwards.
By ferry: From Chennai and Kolkata, you can also take a ferry to Port Blair. Find all information on tickets and schedule.
From Port Blair to Long Island:
By ferry: A ferry will take you to Long Island at 6.15am on Monday, Wednesday, Friday and Saturday, on a journey that takes around five hours. Buy the tickets a day in advance, as they run out soon. A single ticket will cost you ₹190.
By road: In Port Blair, head to the State Transport Bus Stand, and a bus to Rangat. It'll cost you ₹200 and take anywhere between six to eight hours. From Rangat, take another 30-minute bus ride to Yerrata Jetty for ₹10. At the jetty, catch a ferry to Long Island (one leaves at 9am, the other at 4pm) for ₹9 per person. It takes around an hour to its destination.
Getting around
Long Island is tiny with no motor vehicles. So the best way to explore it is on foot.
Accommodation
There are only two places to stay on Long Island.
Till a while ago, Blue Planet, with its basic rooms, was the only place to stay on Long Island. Today the owners have accommodation on two parts of the island. One is a tree house, with 10 thatched rooms, around 10 minutes from the beach. The ancient padauk tree, in the centre of the complex, lends shade to the rooms and keeps them cool.
Rates
Large room with attached bathroom and bath tub: ₹2,000 (Little Andaman); Family room with three beds and attached bathroom: ₹2,500 (Guitar); Smaller double room with attached bathroom: ₹1,500 (Strait, Ross,and Smith); Budget rooms: ₹500
There is also the Blue Planet Resort with bamboo cottages. Prices are ₹3,000 per night for the 2-bedroom cottages and ₹2,000 for a 1-bedroom cottage.
Forest Resthouse
There is also a new Forest Resthouse with three rooms and some basic facilities at ₹500 per night. Call ahead to make bookings here: 03192-274210
Have you been to the Andaman and Nicobar Island? Were you fascinated by the tale of Long Island? How did your holiday go? Tell the Tripoto community all about it and connect with like-minded travellers.
Frequent Searches Leading To This Page:-
best package for andaman and nicobar, andaman tourism price, best places to visit and explore in andaman, luxury hotels in andaman and nicobar, long island in andaman