Delhi- Imphal- Kaina- Andro- Moreh- Tamu (Myanmar)- Ukhrul- Moirang- Keibul lamjao National Park- Loktak lake- Imphal> Onwards to Kohima
Day1:
…and that day arrived.. After a year of incessant planning, net research and reading blogs, I was finally taking off for Imphal! An early morning IndiGo flight from Delhi on 26th November '12, was the one that was supposed to take me to this beautiful little city. This normal boring flight suddenly turned exciting when it crossed Silchar and started flying above the beautiful blue hills of outer Manipur. I must admit, I had never seen such beautiful varied hues of Blue in the entire life!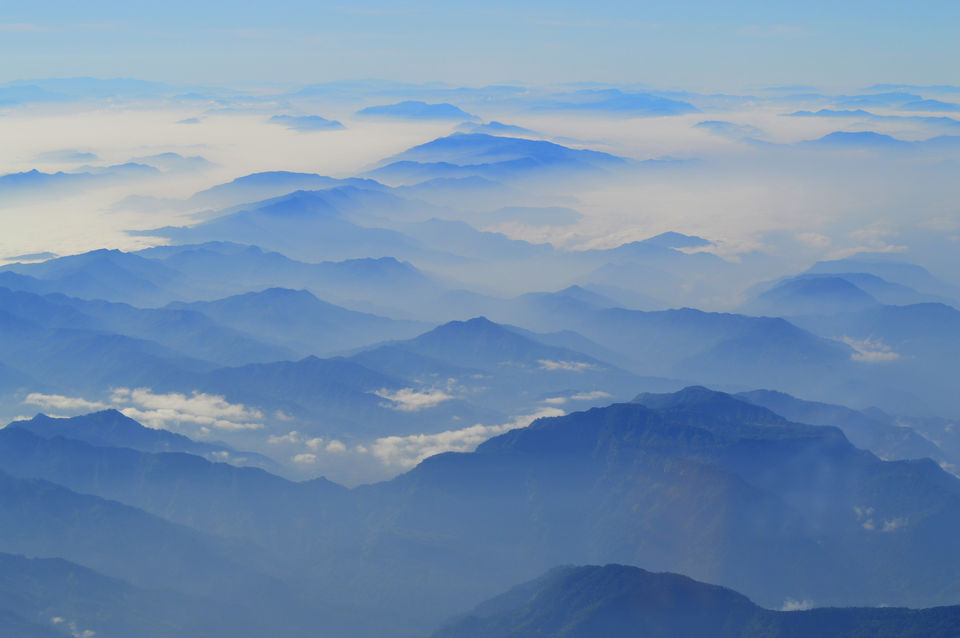 As previously decided, the manager at Hotel Nirmala had sent someone to fetch me at the airport. Mr. Imo- it was- the driver who came to pick me up and as later learnt- my guide and pathfinder for next 4 days in Manipur!
As we started towards the Hotel, me n Imo planned on how to schedule my tight itinerary for these 4 days. While on the way to the hotel, I was also busy observing Imphal's streetscapes- Small roadside temples, banners of Manipuri movies (some with their names as big as 20 letters in a single word!), shawl clad women riding their cycles and of course cutest kids I have ever seen on this planet!
Due to the unexpected traffic on the way (Imphal was celebrating its annual 'Sangai festival' this time) I reached Hotel little late. After freshening up, me n Imo immediately left for Kaina- the sacred place for Manipuri Hindus (Meiteis). This place 29km from Imphal is where Gobindjee (Lord Krishna) told King Bhagyachandra in his dream to build a temple around a jackfruit tree with Gobindjee's image carved in it..! Quite an amazing story, isn't it?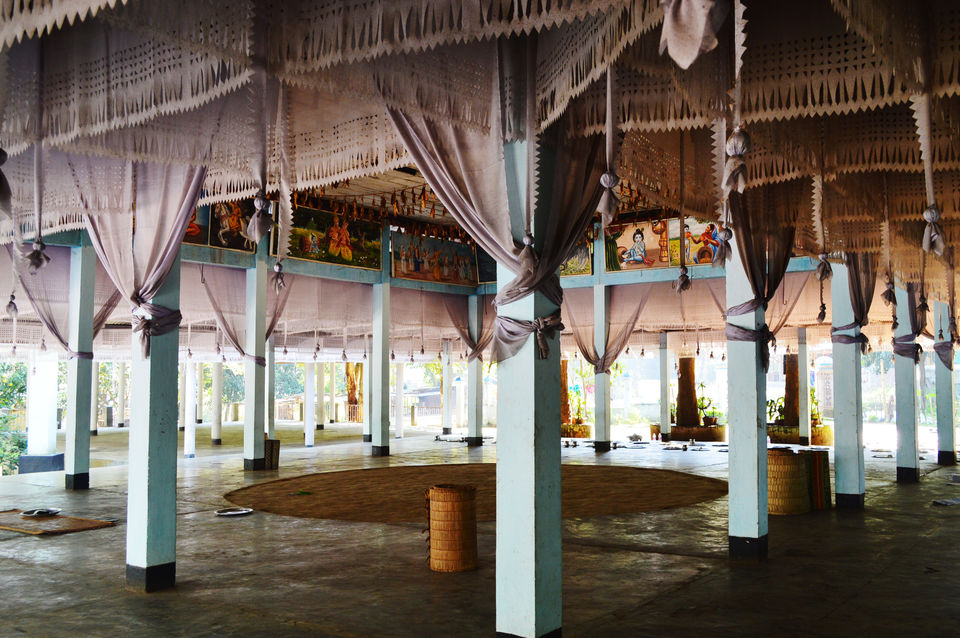 The place itself turned out to be quite pretty. Seemed like the people in the temple had just finished their lunch and were collecting the banana leaf plates back. Just as I entered the premises, one smiling man- actually the Guruji of the temple approached me and welcomed me to the temple. He directed me towards the original temple of Gobindjee and the new Jackfruit tree in the disguise of Gobindjee- just beside it. (The old tree doesn't exist any more). This tree was decorated very beautifully, looks perfectly in good proportion and feels like its Gobindjee himself standing with his hands held upwards towards heavens!
The very friendly Guruji opened the locks of the temples specially for me and offered me Prashad and permission to click pictures around- and also posed happily for my camera. He seemed absolutely delighted to know that I was from Maharashtra and instantly started speaking in amazing English and started telling his story while he was working in Pune in his younger days. A Guruji who speaks good English and is also a qualified professional- is something that I had certainly not expected in this small village of kaina. My first few hours in Manipur had already left me awestruck! I didn't know what more was in the plate for me in next 4 days :D
After eating the yummy kheer of black rice and saying goodbye to all smiley faces in the temple, we left for Andro! Andro 27 km from Imphal but only a few kiometers from Kaina is where Mutua museum in Imphal have established a cultural complex. Neatly done traditional huts of all Manipuri tribes, gracefully arranged memorial and sculptural stones, a huge carved wooden obelisk, old sculptures and the doll museum make the visitors acquainted with the culture of Manipur. A well-maintained lawn perfectly adds to the beauty of the complex and makes it look very photogenic.
Also along with the exhibits, I was lucky enough to see an old Meitei lady working on the pottery – who along with other ladies also looks after the cultural complex. I was so so glad to see another Ima whose picture I had seen on internet only a few months back during my random googling on Manipur.. With her beautiful wrinkled face and a burning cigar in the other hand, she posed for my camera with such a grace that will put all young girls to shame. Some such experiences can feel so great sometimes :D Suddenly meeting someone 4000 km across- who you didn't even know earlier but just seen once on internet- in a massive country of Billions like Ours!- definitely the second surprise of the day!
After Andro, we headed back to Imphal to see The Kangla fort- a fort that sits at the centre of Imphal City- Geographically as well as Culturally! After crossing the majestic gate of Kangla, the first temple on the left was- Pakhangba temple- Manipur's Snake God-king. This white structure is very small but definitely very interesting in its form with snake motifs around its roof. Manipur's state emblem- KanglaSha near Uttra was certainly the thing I was most excited to see. Two of these superwhite mythical dragons stand tall guarding the structure behind them!
Gobindji's brick temple and the pillared hall of which only pillars remain today is another place within the fort one must see coz of the immense creativity the structure reflects even now! While clicking the same, Mr. Imo, asked me if I could come along with him to one of his friends' wedding this evening! I was overjoyed and overwhelmed- so much so that I instantly agreed to go along. After checking out the Kangla museum, we left for Imo's house in Tera area where he gave me clothes to change for the wedding and here I was in white Kurta and woven stole- all ready for the wedding!
As we entered the wedding place, I couldn't help but start clicking the musical ceremony, guests turned up in colorful clothes and groom wearing white turban and chatting with his friends!- ofcourse with due permission! This marriage ceremony was an absolute new experience for me- the first I ever attended in this part of India! Seeing the bride in her trousseau was the best thing of the entire ceremony… Having to catch up with another local friend (who was just an acquaintance in Delhi) for Sangai festival, I went back to Hotel Nirmala, from where he picked me up and took me to Hapta Kangjeibung- the venue of the Sangai festival cultural programs and food stalls..
The food stalls seemed to be selling all sorts of indigenous food as well as fast food, many were also selling food items that I could never imagine eating- worms, snails and likes….. However I had a lot of other options to hog on and hence we caught ourselves a table and enjoyed rice beer with vegetable pakoras. By now the whole ground had become really crowded- as if the whole of Imphal had turned up there that night!..
From the festival venue we went to another neighbourhood of Imphal- inhibited by Hill people i.e. Nagas who brew different fruits flavored local rice beers in their huts. We entered one of those and sat on the stools.. End of this eventful day was nearing and A replay of my whole day was a definitely the inevitable topic between us. I had never known – having home brewed rice beer with an acquaintance, in this naga shanty on a chilly night would do this effect on me- I had after so many days fallen in love with a city- a city called- Imphal!
Day2:
Next early morning Me, Imo, my friend and Imo's friend left for Moreh – the bustling town on Indo-Myanmar border and a trade centre. On the way we passed the Khongjom memorial- the place famous for the war between Manipuris and British. Soon after crossing another town- Kakching in Thoubal district, we reached a place called Pallel in Manipur's Chandel district and halted there for breakfast. Pallel seemed to have mixed population of Meiteis, Kukis and Nepalis. Infact most roadside eateries seemed to be owned by Nepalis. After having garma garam Parantha and alu sabzi, we started the onward journey!
After numerous times of army checking, we reached a beautiful place called Tengnoupal- the highest place on the Burma road. This place offered some of the most amazing views of valley districts. For some time before Tengnoupal village, the road even goes on the top edge of the hill with deep valleys on both sides- which is not a very common scene on the Indian roads.
Another couple of check posts and we finally entered Moreh. As we entered the town, the climate suddenly felt very humid.. After parking our vehicle near the 'Indo-Myanmar gate' in the bazaar, we crossed the border in just 10 rupees and entered an absolutely foreign territory of Myanmar! Just a difference of a formal boundary gate and everything feels changed suddenly- from people, their costumes, language to the buildings and even vehicles. Most outstanding difference being- You are entering from a dry state to an absolute 'Beer country'. Not even 100 metres after entering Burma, there are shops and bars selling all sorts of alcohol for cheap- from super expensive scotches to Burmese beers brewed in Mandalay and Yangon- as tasty as any expensive foreign brands. While having a walk through the Burmese bazaar, we saw another mind-blowing thing- the Burmese had packed their currency notes in plastic thailis and were 'selling' their money against the Indian money for some margin! Never mind, I didn't need to exchange the currency; as just like all border towns, even this side of the border accepted currency of both countries- most vendors had their calculators handy for conversion.
Another 100m further walk, and there was a local auto stand- from where we caught a mini tempoish auto to show us around Tamu town which is some 5 kilometers inside the Burmese territory. After bargaining a bit (you certainly do need some Manipuri speaker along for all this, as most of these people even across the border can converse fairly good in Manipuri language, Thankfully I had Imo and I never faced a problem) the autowala agreed to show us around in 300 Indian rupees. Fair enough. While roaming around in the tempo, every bit of a building on this side constantly made me realise that from the Hinduism and Christianity of Manipur, I had entered Buddhist dominated Myanmar!
After taking us through the well-built Burmese roads and bazaars, we reached a small square shaped lake (word 'pond' would be more apt) and a really small Buddha statue sitting in the middle of it. This spot was disappointing nevertheless we didn't miss the opportunity to hog on the Burmese version of Chowmein in a nearby stall- which was almost like tasteless Thupka- without salt or any spices. Another 10 minutes away was- what seemed to be the main monastery of Tamu- a group of Buddhist pagodas, a watch tower, and few tall Buddhist statues. The central pagoda looked the original and the oldest. A tall watch tower with spiral steps around, gives you a panoramic view of the whole area around- everything green till the end of the sight- only few pretty houses and a lot of golden pagodas popping out of them! (Sadly couldn't take any pictures across the borders as cameras are strictly prohibited) (During my visit, the military govt was ruling Myanmar, hence the restrictions. Things may be a little better now that the democratically elected govt is back in the country.)
Coming back to the border side, we had a few beers each; my friends did some shopping for fruits and meat and we entered back in our own soil!
After a quick lunch in a Meitei rice hotel, we headed back to Imphal. Post an early dinner I passed out in the hotel, coz there was another hectic journey lined up next early morning- Ukhrul!
Day3:
Ukhrul- termed as the highest hill station in Manipur- was the second place in Manipur; I was super excited to visit ever since I planned my trip here. Of course I knew it was very difficult to see all the places in Ukhrul in a day and come back to Imphal same night- so I just concentrated on seeing the Ukhrul town and have a small trek to the 'Khangkui cave'.
First almost 20 odd kilometres of the road to Ukhrul goes through plains of the valley and then as it enters the hill district of Ukhrul, it suddenly starts winding with lots of ups and downs. Within no time you are driving at a tremendous height. The very picturesque jhum cultivation along the roads as well as in the valleys forms the main landscape and an visual asset of the district. Heading ahead, we reached a place with a very weird name called 'Finchcorner'- only later did I learn the reason why it is named so. There are 3 roads from this place that lead to 3 different directions- one goes to Imphal (where we came from), one goes to Ukhrul town and further to Kohima in Nagaland and third all the way to Moreh which goes n meets Indo-Burma road directly near the international border- and this place is the corner of these three roads!
Not very far from here, we had to stop for a while due to a landslide on the road. That's exactly when I knew why we were sitting in an SUV today and that too not driven by Imo but other experienced driver named Shyam.
As we reached Ukhrul town, we straight away took the road that leads to Khangkui village. Path to Khangkui village is why we needed to get here in an SUV- a narrow remote path, with no traces of concreting ever done, very very mucky even in winters- so much so that we were saved from falling off deep down the valley at a few places! Such bad road (actually it didn't even seem to be made for vehicles at all) continued for another 40 minutes. After taking extreme slopy ups and downs we reached the base of Khangkui village where we parked our vehicle and started trekking.
Just 5 minutes of steep walk and we reached Khangkui village. I was awestruck to see such a pretty- well-kept village at such a remote location. A beautiful church just at the entrance of the village seemed to dominate the life of this village. As we went ahead, we saw a few Tangkhul ladies weaving baskets and small kids running around. An elderly couple even helped us in locating the direction of the trek.
An hours walk through mucky pathway, with colorful wild fruits and raw mushrooms around, we finally reached the cave. To our surprise and happiness, the cave turned out to be pretty big.. Not making us regret the pain that we took to reach here- At all!
As we entered the caves from its upper opening, we found ourselves in the middle of an absolutely stunning creation of God! The cave looked just like a thrilling location of some Hollywood movie- with no one even miles around you! The beautiful textures on different parts of caves varied as we moved around- one better than the previous! We moved further inside the cave and saw what could be termed as the epitome of beauty- a natural skylight at least 200 feet above from where we were standing- filtering all the sunlight and carrying it till the deep dark sanctum of the cave!
Coming out of the first cave, we entered its next adjoining cave- as stunning as the earlier one. Few steps below was another natural hall formed out of the cave. Some incense sticks and candles showed; this hall was indeed used for some religious rituals. Wonder who ever had so much time to travel all the way to this remote place to perform rituals….
By now, we were extremely hungry and the only water bottle with us was emptied! Out of hunger my friends started picking up n eating wild apples fallen everywhere around. Dead thirsty out of the desperate want of the water, we finally reached the Khangkui village again. To our luck, there was a small house, where 3 beautiful girls were selling some Britannia cakes and chips- that they probably pickup from Ukhrul town on weekly or Monthly basis. A cup of dark tea and Britannia cake had never felt like heaven before!
After bidding them goodbye, I finally caught hold of some cute kids to click pictures! Such adorable angels that they were- didn't forget to tell me 'Welcome' when I thanked them for letting me click them. Only a few footsteps away was an extremely old-probably in her late 80's- Tangkhul woman weaving cane basket. When I took permission from her to take her pictures in sign language- she gave a smile- adjusted her clothes and her headdress and posed for my camera. Her portrait still remains one of the best pictures of my entire album of my visit to Manipur…………
Day4:
Today I was left just with another 24 hours in Manipur. First thing in the morning we headed to Keibul Lamjao National Park- so called World's only floating national park- hoping to catch a glimpse of Sangai deer- Manipur's most prized possession!
This national park earlier had entry even inside the actual park for people to go but stopped eventually due to increased poaching of this endangered species- as I learnt from my friends. Hence there are alternate arrangements of a viewing gazebo made just outside the park for people to see Sangai with the help of binoculars- I sadly failed to see any even after trying hard for half an hour!
Next was Sandra island- another place which offers stunning views of Loktak Lake and its floating biomass (phumdis). The very beautiful circular phumdis- were only recently removed by Government due to some environmental hazards and encroachments.
Moirang where Netaji Subhash's INA army fought a war with the British- was the next place we visited. To my surprise, these INA memorial and museums were located in the middle of bustling bazaar in Moirang town. A quick browse through the museum, made me rewind this chapter of Indain history of independence. The museum also housed rare photographs of Netaji and also his army men and women from Moirang town and around.
Bishnupur's 14th century Brick temple of Vishnu is probably one of the oldest and best known archaeological monuments in whole Manipur. This tiny temple built by King Khyamba of Manipur, is located some 2 minutes off the main highway between Imphal & Moirang.
After dropping in at 'India peace memorial' on the way, we further rushed to have lunch at Gobindjee temple in Imphal. People there had just finished with their aarti and were getting prepared for lunch. The pujaris and caretakers of the temple seemed happy in showing me around and telling me the stories. They even allowed me to take pictures all around including the very decorative thali that was being offered to Gobindjee. If this was no less, I was offered the place to sit next to few elders to have one of the privileged thalis earlier offered to other Gods! This thali consisting of almost 18 different items was an absolute treat in itself!
Post lunch my friend showed me around Imphal on his scooty. First place was the Imphal cathedral- off Dimapur road- in an area called Mantripukhri. On the way to the cathedral, I also saw Manipur's new assembly as well as the new Imphal Bench of Guwahati high court. Built at a stunning location with the background of hills surrounding the whole complex, adds to the beauty of the whole streetscape.
Imphal cathedral is without a doubt, one of the most aesthetically well designed buildings in whole North-east. The cool blue colour of the neatly arranged roofs dominates the cathedral and its surroundings. Statue of Jesus that adorns the open space in front; along with the well maintained landscape makes this building an absolutely picturesque one!
Coming back to the main town area, we visited the 'State Museum of Manipur'- the human scale statues of Tribal in their traditional avatar are a must see in the museum. Their jewellery, clothes, beads and especially the headgears must definitely be not given a miss! A huge dragon boat of Manipuri King is housed specially in a structure just outside the museum.
Exactly outside the museum's gate is the Mapal kangjeibung (or the main pologround) - the only active Polo ground in the world. Due to the then on-going Manipur International Polo tournament (as a part of Sangai festival), I even got to watch a match live for the first time!
Next my friend took me for a ride in Imphal's Paona bazar- one of the main shopping bazaars in the city- and then to Ima Keithel- the only market in the world where all the sellers are women. Ima market must be a one stop shopping solution for most Imphaliites I guessed- as the Imas inside sold everything right from pulses, fishes, flowers, fruits to spices, earthen pots, clothes and dolls! The black rice that I had had in Kaina was something I didn't forget to pick up from there while moving ahead!
Last place of the day was the beautiful ISKCON temple on the outskirts of Imphal on the way to Airport. As beautiful as it is from outside, it's equally attractive from inside. The main sanctum has its dome painted with Krishna's different life events. A Garuda sculpture stands right in the straight line that of the Krishna- Radha idol on the opposite corner- and not to miss the 'Hare Rama hare krishna' etched on the glasses of windows in different languages of the world.
From ISKCON, we finally headed to the Sangai festival again to watch today's performances of Pung Cholom and Dhol cholom- a beautiful Meitei dance that I had always wished to see live.
After the 3 performances of the choloms, started the fashion show…and then I got the biggest surprise that Manipur gave me on my last night here- the diva herself- M.C. Mary Kom was expected on the ramp any time soon. After a few Manipuri models and actors, walked Mary kom – among a huge rounds of applause and whistles! She came in a blue dress- threw smiles around- bowed down in front of the people- turned around – hijacked everyone's hearts and took them backstage with her! With the darshan of diva herself, i could term my Manipur trip officially 'Complete'!
Day5:
With a morning 10 o clock bus to catch for Kohima, i bid adieu to this beautiful little state and got myself ready for another cultural extravaganza- the Hornbill Festival in Kisama village near Kohima in Nagaland.