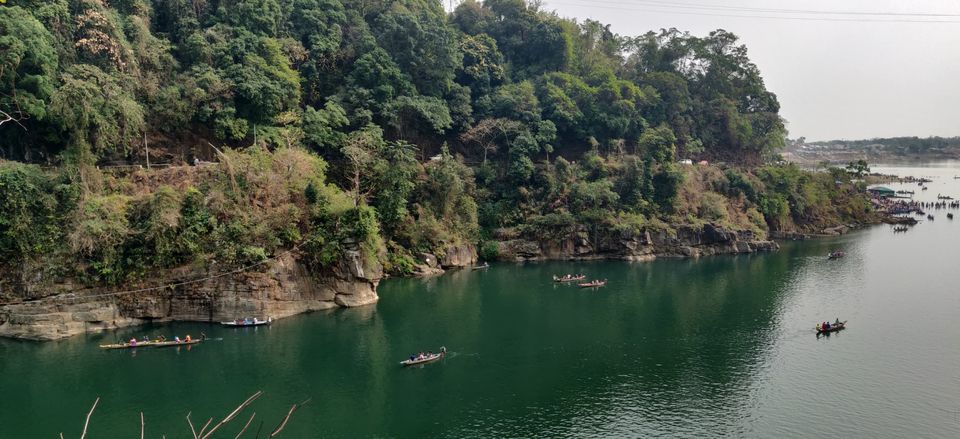 "Jeita hobe dekha jaabe", one of the ladies who got into the bus I was travelling from Shillong to Cherrapunji, chirped! I tried to decipher their joyful dialogue in Bangla and understood to the extent that this group of ladies missed the original bus they were supposed to travel and took a lift in my bus till a point where they would meet their original bus.
"Jeita hobe dekha jaabe", wasn't this the exact emotion I carried as I got ready to embark my first ever solo trip? Getting ditched at the last minute by my co-traveller did try a lot to beat my desire to explore Meghalaya to the dust, but eventually, it failed.
I wouldn't brag that I was completely at peace with the idea of travelling alone to the farthest part of the country, or that the thought of 'what will I do if I get lost or mugged or duped or worse' didn't cross my mind! But then I resorted to reading and researching about Meghalaya and understood that it is one of the safest places in India for a solo female traveller. Well, my experience in the coming days, only strengthened this fact.
And so I boarded my flight from Mumbai to Guwahati. Since there is only one direct flight to Shillong which also is highly susceptible to cancellation, I decided to fly to Guwahati and then take my further journey till Shillong to the road.
My heart raced fast as I stepped out of the Guwahati airport and noticed that even though my watch showed 4.30 in the evening, the sun had started to make its bed and the parking lot of the airport was getting deserted. Since the prepaid taxi counters were also closed down for the day, I desperately started looking for a private cab driver who would agree to take me to Shillong. Luckily, soon I found a Sedan charioted by a friendly faced middle aged man to drive me to Shillong. While the car swept on the curling and winding roads of the Khasi hills, the gentleman engrossed me with details of places to visit in and near Shillong. By the time I reached my hotel, I had already booked his cab for the next day.
Mawlynnong
I started a super bright day with a super blue sky smiling above me and headed to Mawlynnong. This tiny hamlet is known for it's exceptional cleanliness and has even been felicitated with the title of 'Asia's cleanest village in the year 2003'. I walked through the sparkly clean yet dazzlingly humble roads of Mawlynnong, interacting with the locals (ahem, okay the socially awkward me was trying her best and was able to seize a few heartwarming smiles and a picture or two with the adorable kids there!) and basking in the soothing silence. I further walked to a natural marvel, a living root bridge (a bridge made of naturally toughened live roots of tress which connects two sides of a small stream).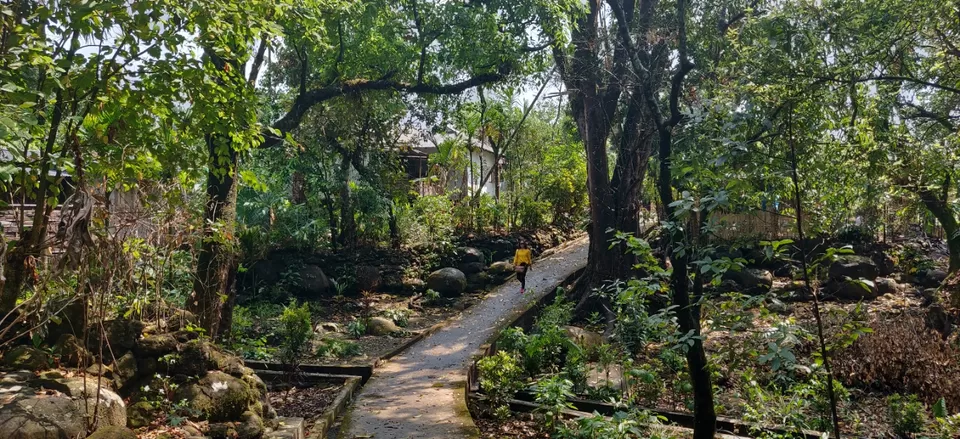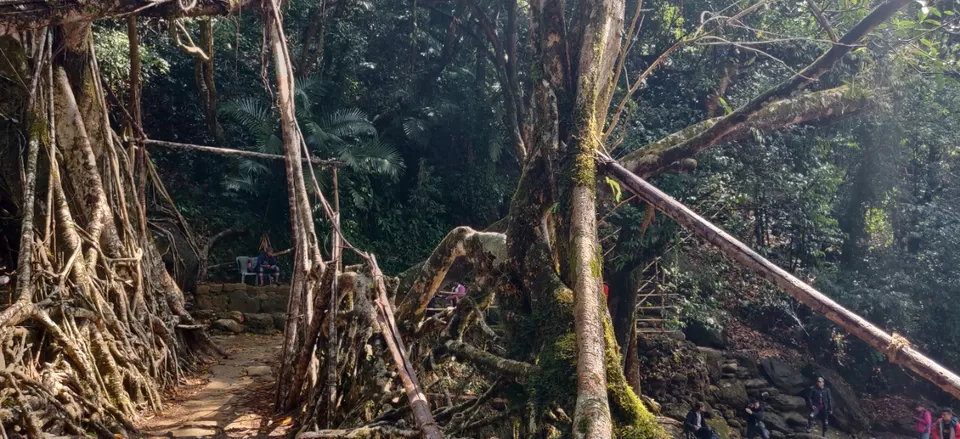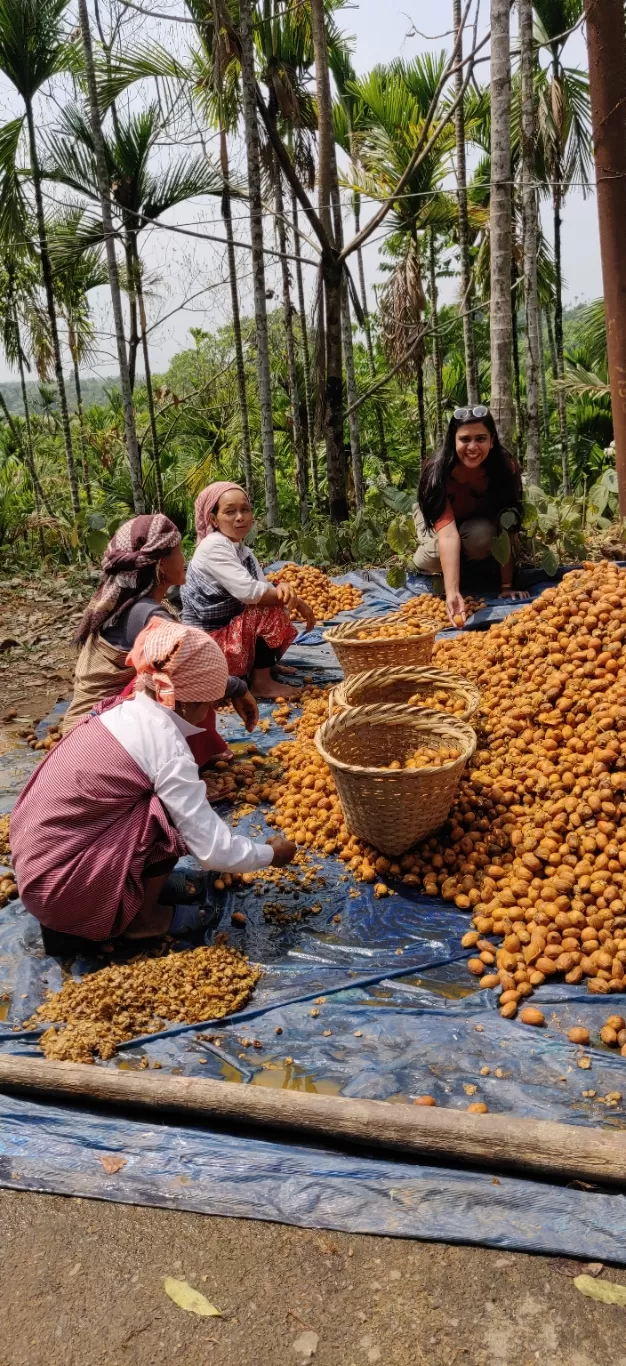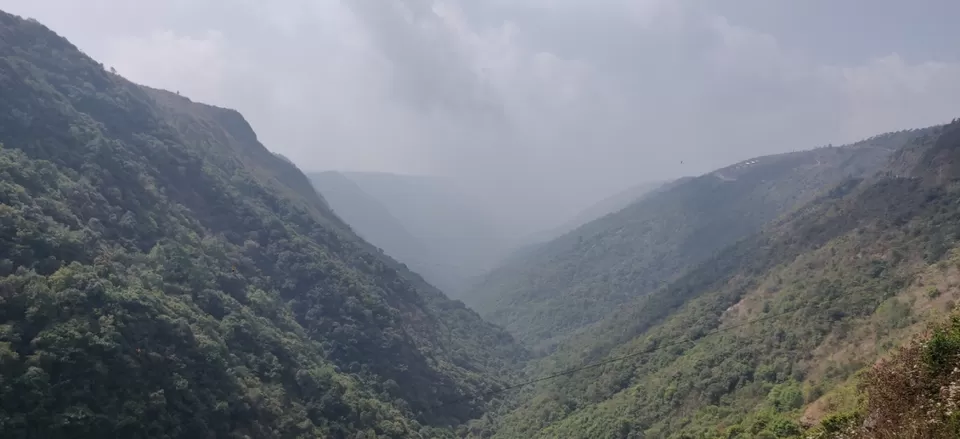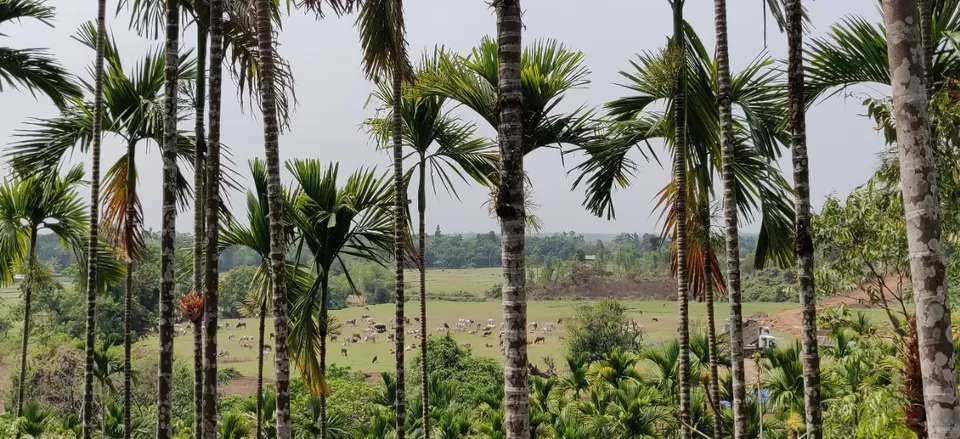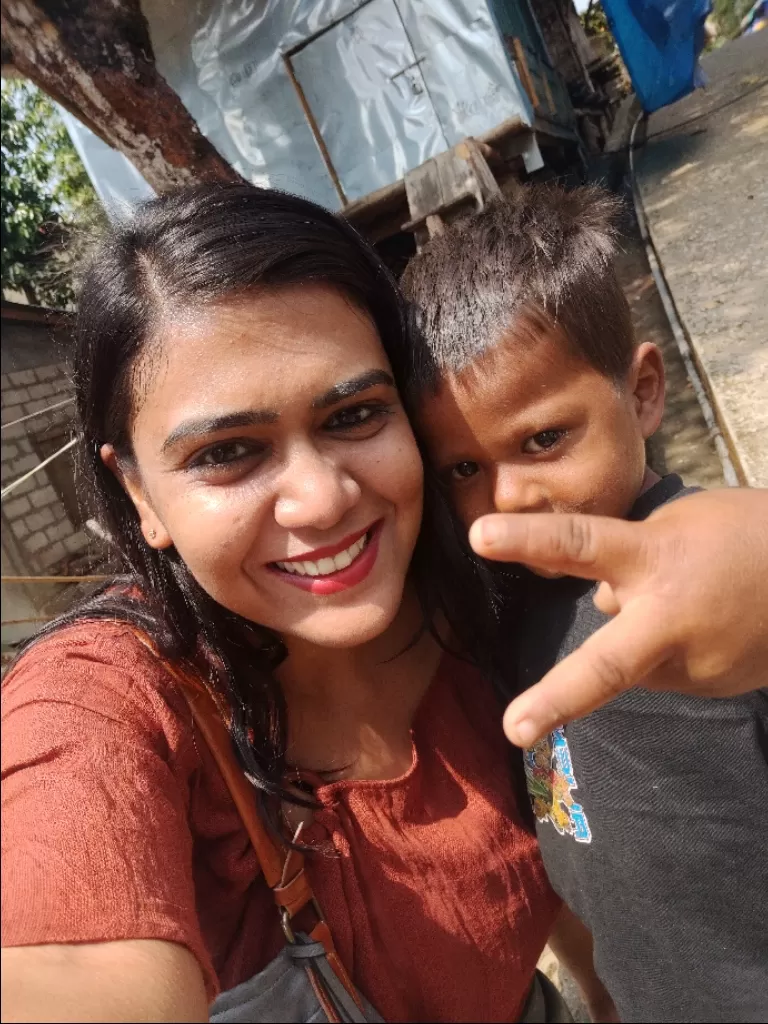 Umngot River, Dawki
My next destination was arguably one of the most photographed places of India. Umngot river in Dawki village ostensibly brags being the cleanest river in India where on a lucky day, the water is so clear that the canoes and boats sailing on it seem as if they are floating in the air! This spectacular river flows from India towards Bangladesh and their are boat services available which take you to the 'Zero Point' between India and Bangladesh. These boats also give you a tour on the glistening waters which are calmly making their way through steep ridges on either side. This was an experience of a lifetime! (Plus I got to click few pictures of a lifetime, yay!)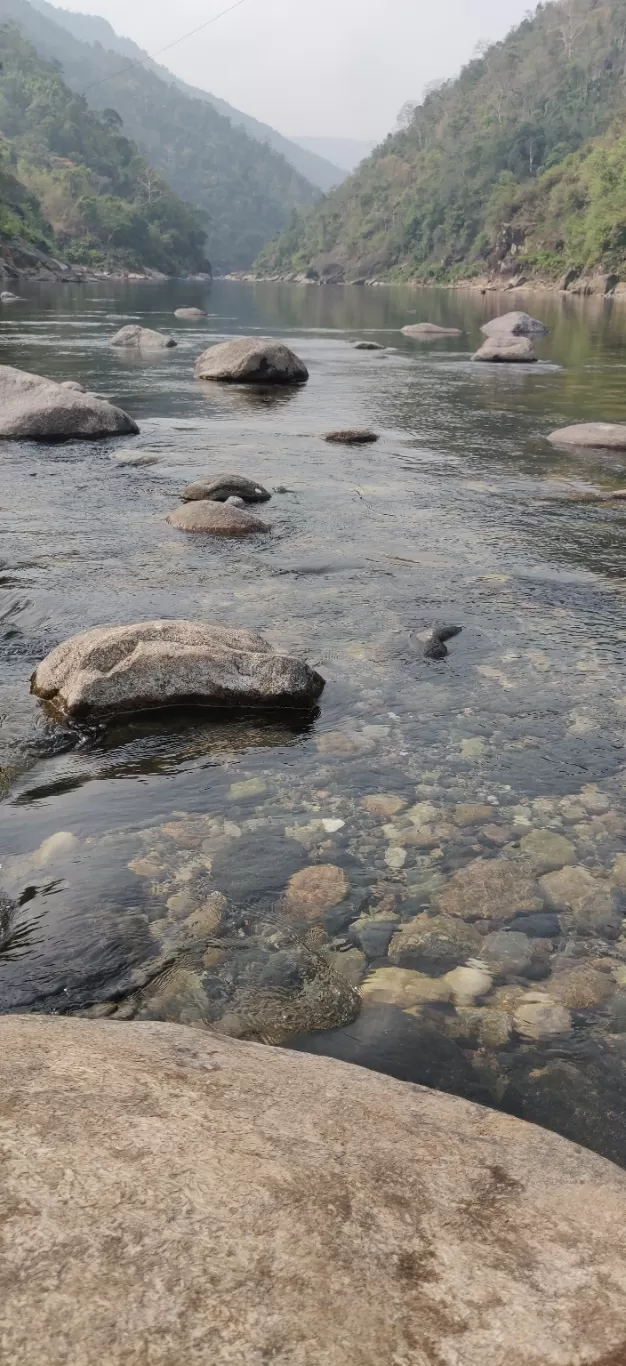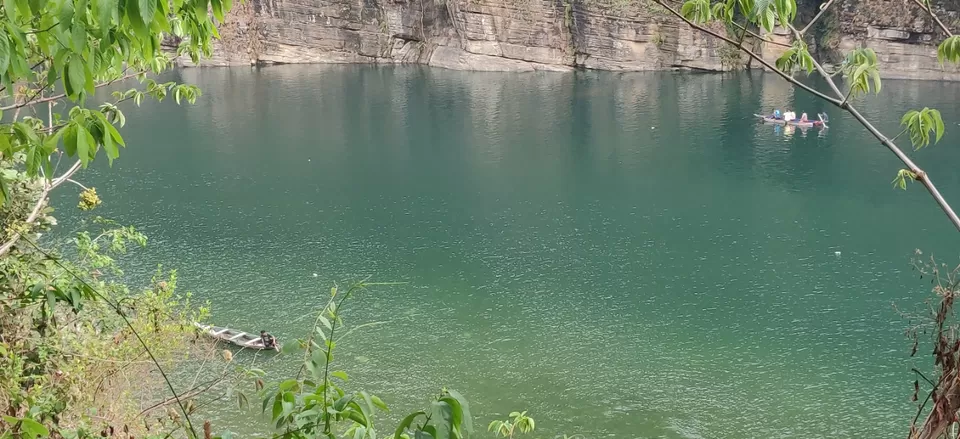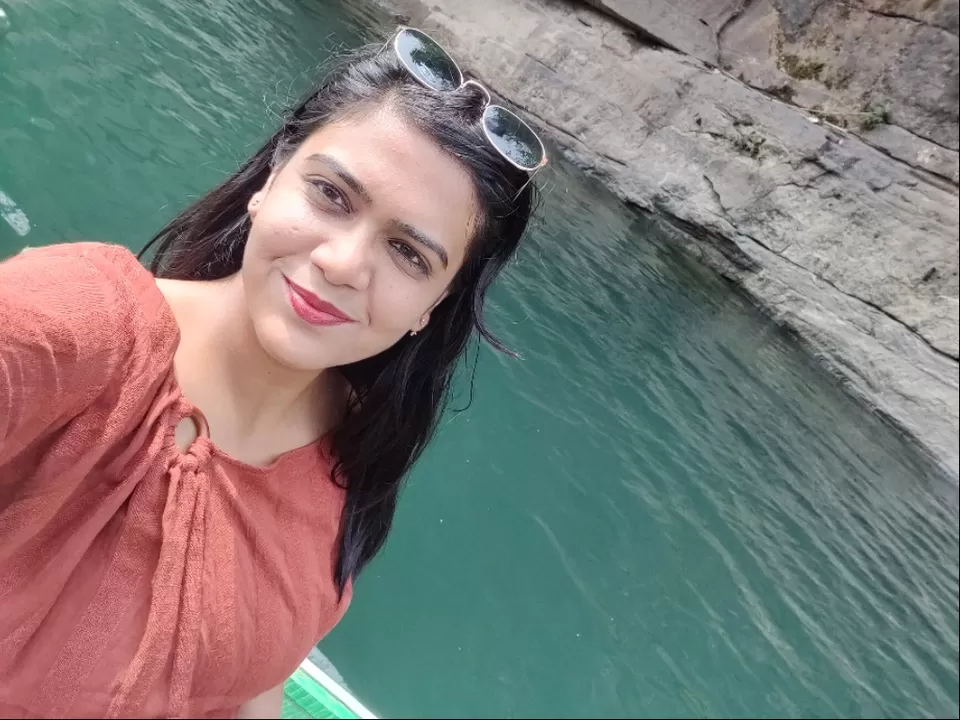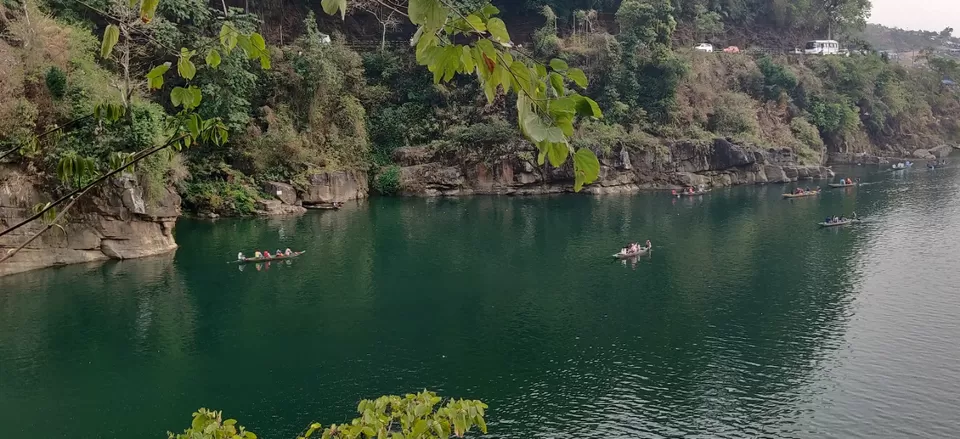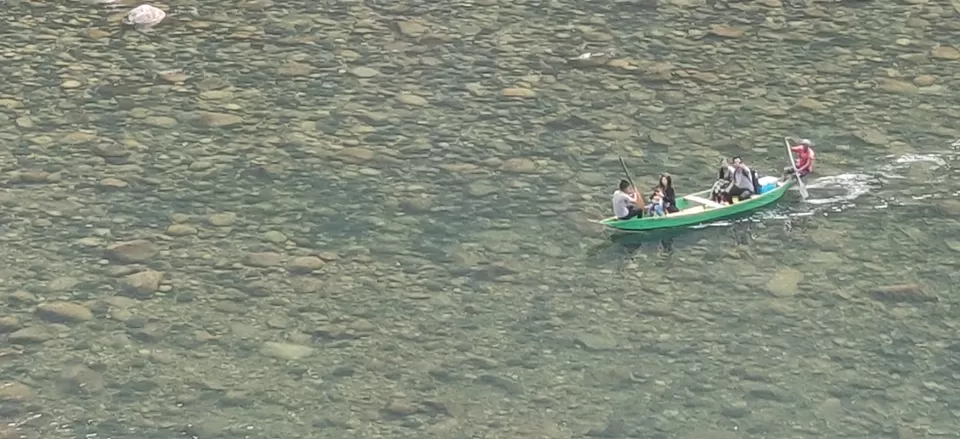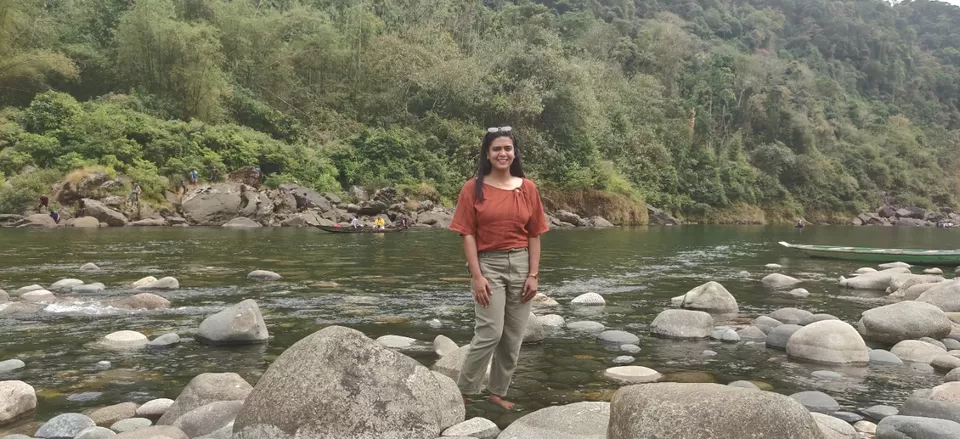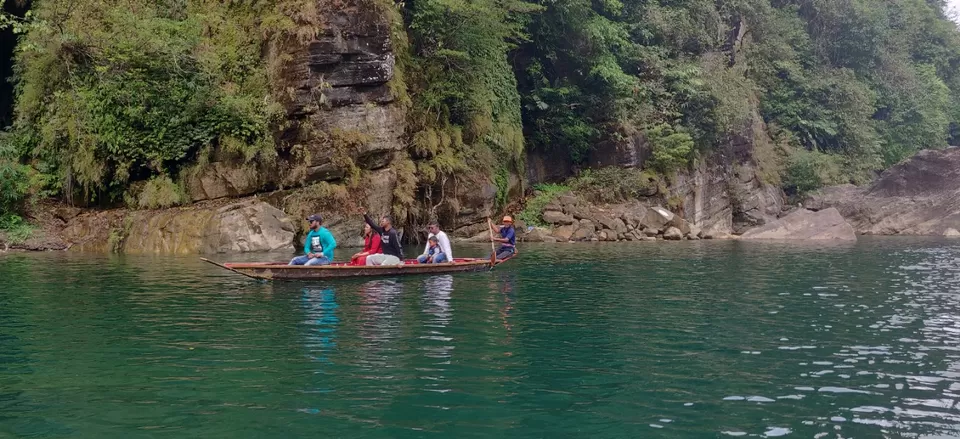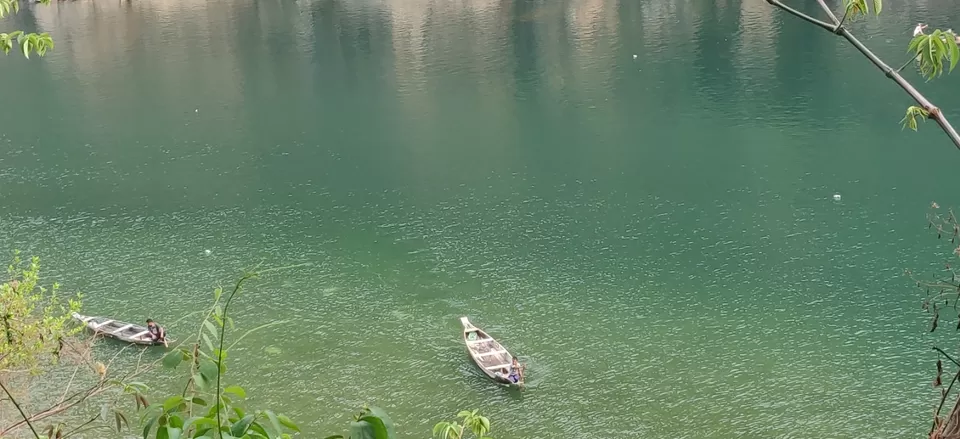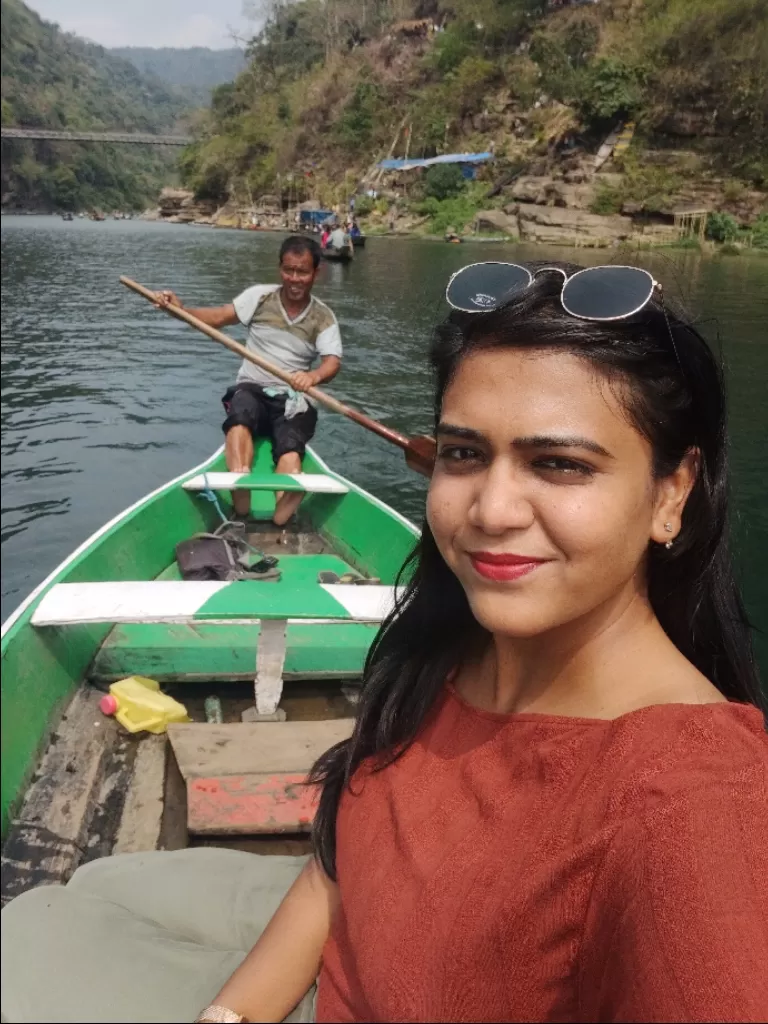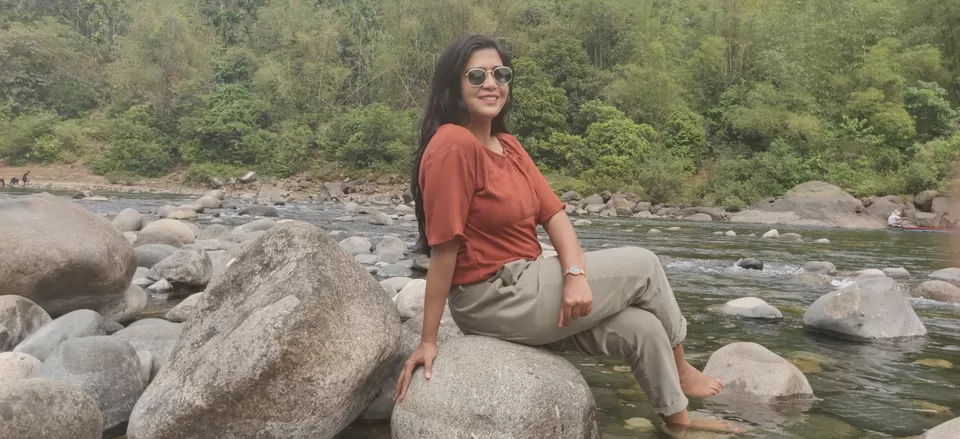 Shnongpdeng
A lesser known, but equally pretty cousin of Dawki is a village named Shnongpdeng, which is also blessed with the flowing waters of sparkly Umngot. This town offers a few campsites on the bank of the river, though owing to paucity of time, I could not halt at the campsite. There was an innocent, wooden bridge across the river which locals would walk to reach to the either side of the village. I walked till the centre of the bridge and sat in the centre, my legs dangling with glee, my head filled with utmost content. I soaked up the vast expanse of unhindered sky above, clam yet strong waters below and the feeling of being with no one else but myself.
As the dusk started to fall, I returned to my hotel in Shillong and slept off rejoicing the impeccable memories the day gave me.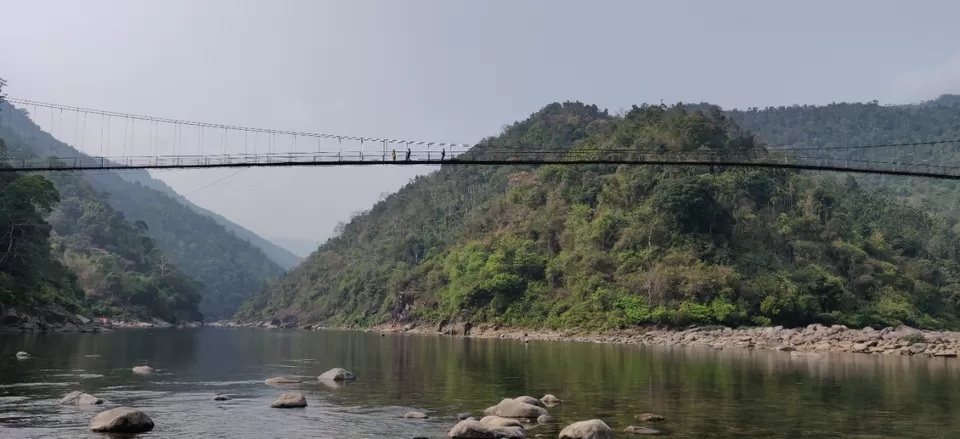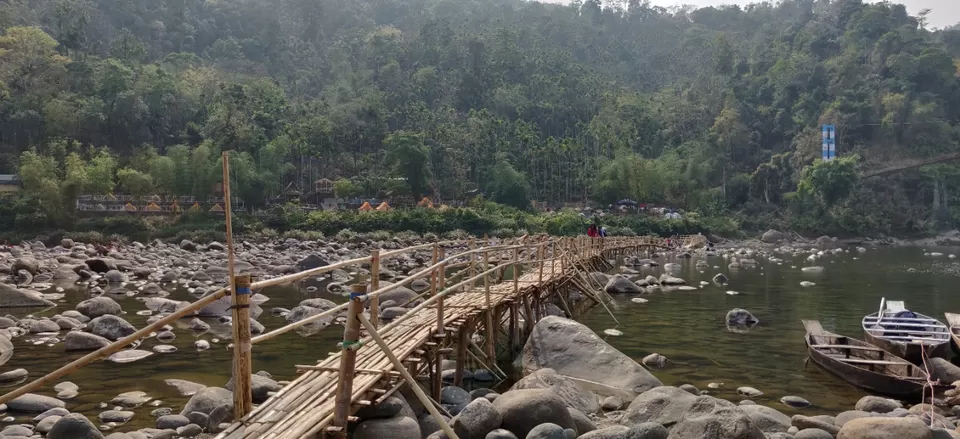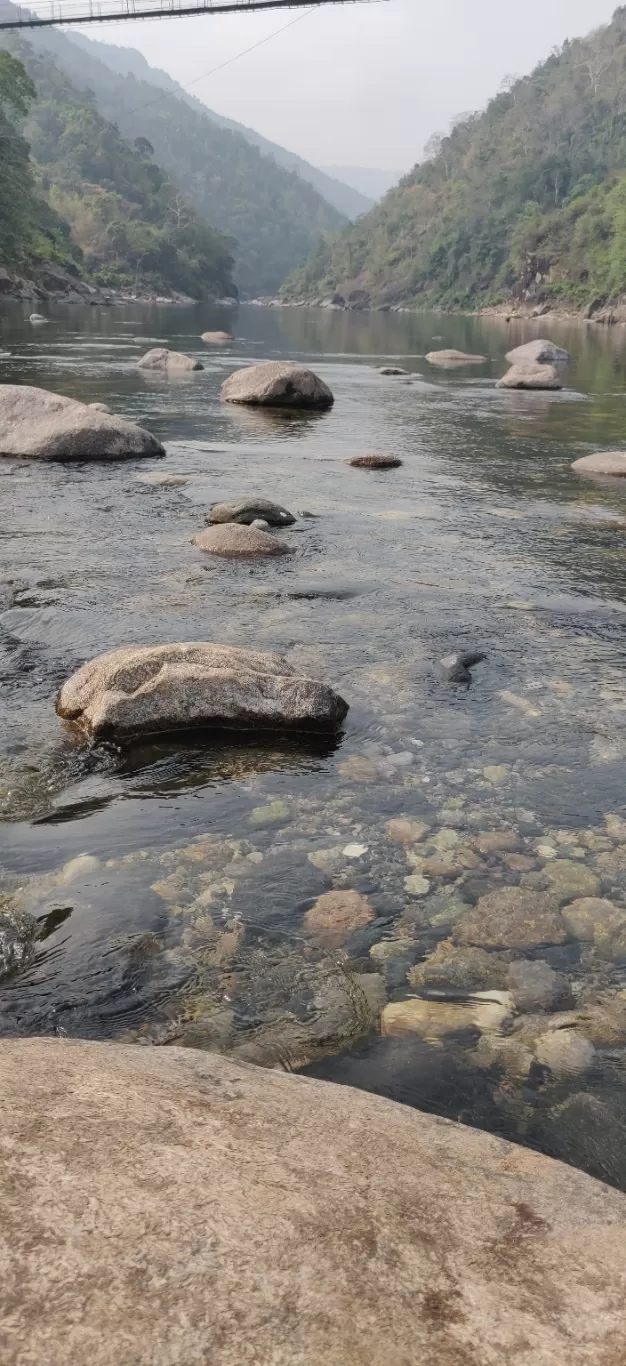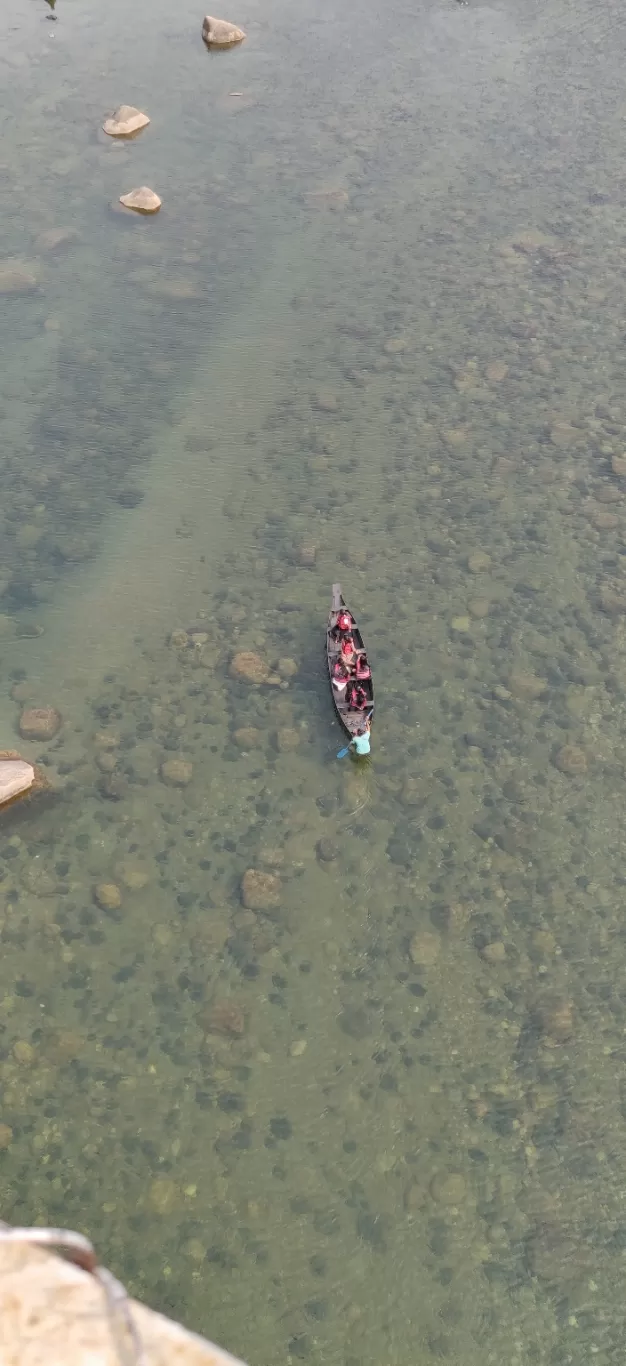 As my first day of solo trip had exceeded my expectations, I decided to push my boundaries even further and ditch the safety amd comfort of a private taxi on the second day. What came handy for me was the great tourism packages offered by Meghalaya Tourism Development Corporation (MTDC). With per person tarrif of as low as Rs. 450/-, MTDC provides day packages from Shillong to various places like Cherrapunji, Nartiang, Mawsynrum, Krang suri falls, etc. The package includes most of the Tourist places in the selected destination and a group of people are given to share a non-ac bus. One can book the desired package 1 or 2 days prior or even on the same day (subiect to availability) by visiting the office. Details of packages is available on the official website - http://megtourism.gov.in/packagetours.html.
I decided to visit Cherrapunji. There were 8-10 co-travellers with me on the bus, though for almost half of the journey through Cherrapunji, we were joined by a group of ladies (who became my source of inspiration towards writing this article and graciously featured in the opening lines of the same😝).
The bus took us to Mawsmai Caves, Eco Park, Seven sisters falls, Nohkalikai Falls, Thangkarang Park among others, though my most favourite places was Ramakrishna mission Museum. The upper floor of this museum had life-like Miniatures of the 7 states of North East India plus Sikkim. 8 glass frame boxes contained little men-figures cutting the crops, procuring waters from rivers, making bamboo sculptures, while little lady-figures danced to the tunes of local music, and went about doing other chores. These were adorned little version of either the Himalayas or the Khasi/Garo/Jaintia hills in the background. Sadly, pictures were not allowed here. So I had to content myself with the vivid pictures of these in my head.
Another sight to behold was of the Nohkalikai Falls, which get swallowed by thick clouds at one moment while the very next moment satisfy you with a glimpse of themselves.
After covering all the spots in the package, the bus took us back to Shillong and once again I walked to my hotel while cherishing another mesmerizing day that I was lucky enough to obtain.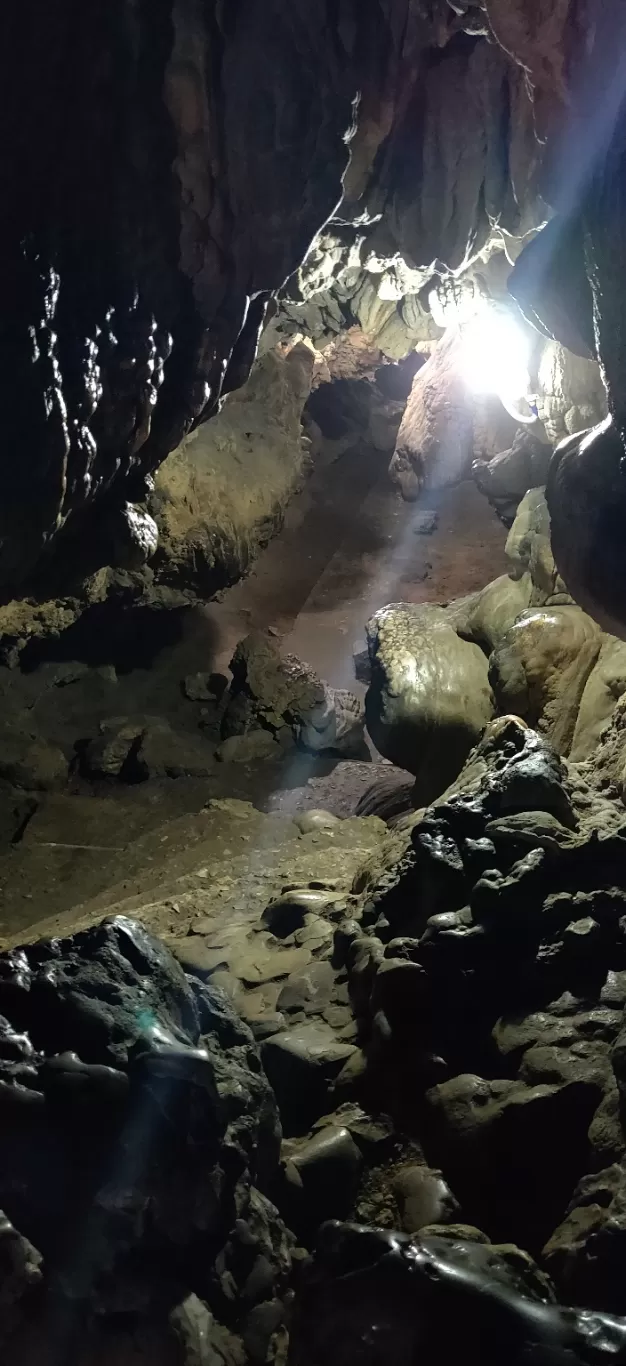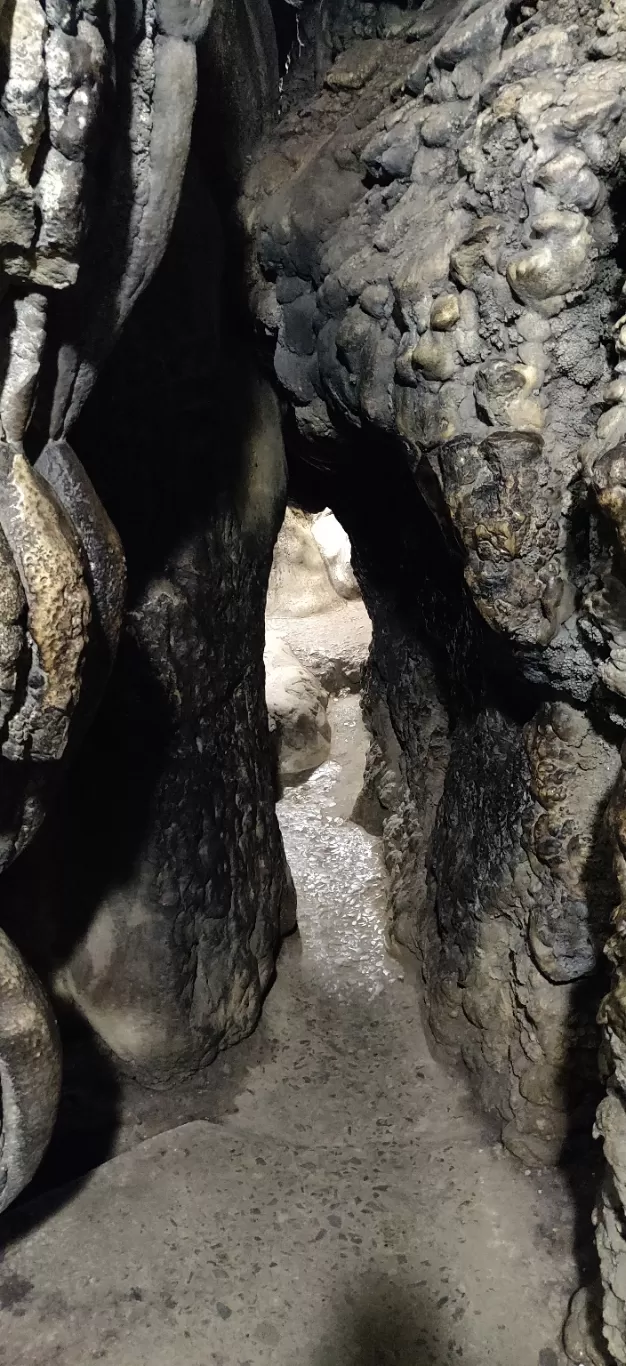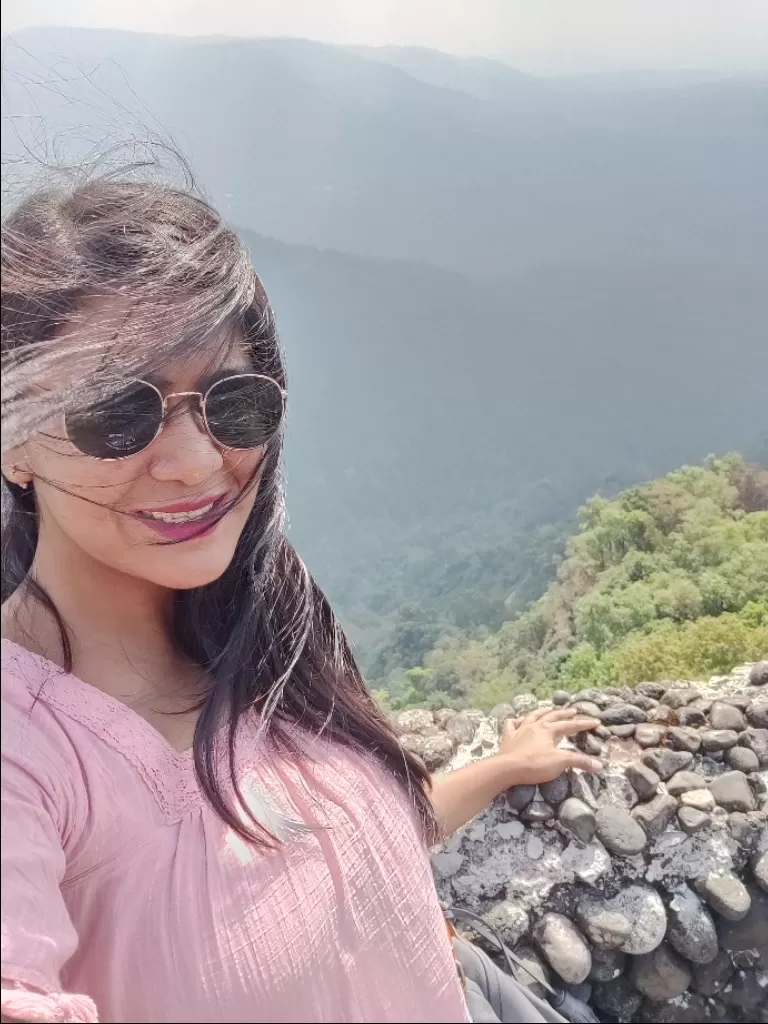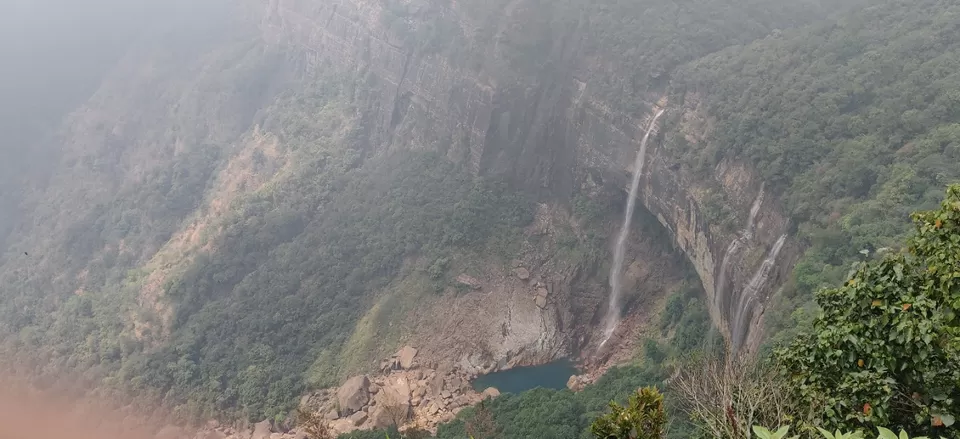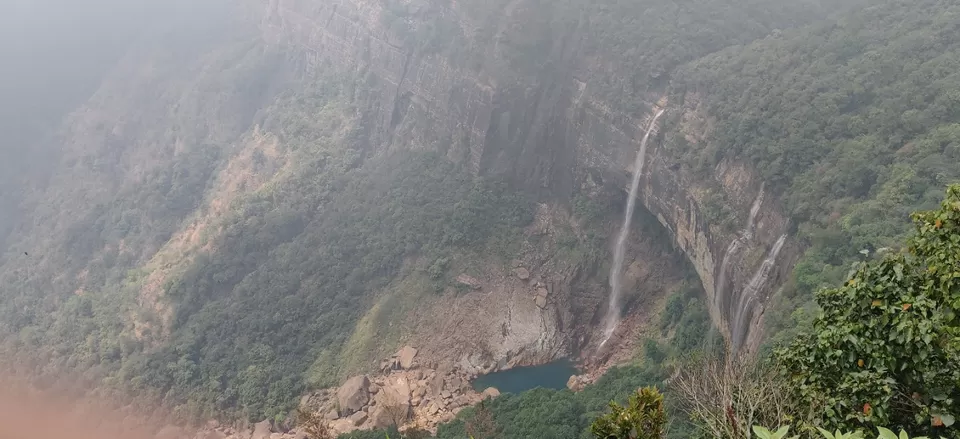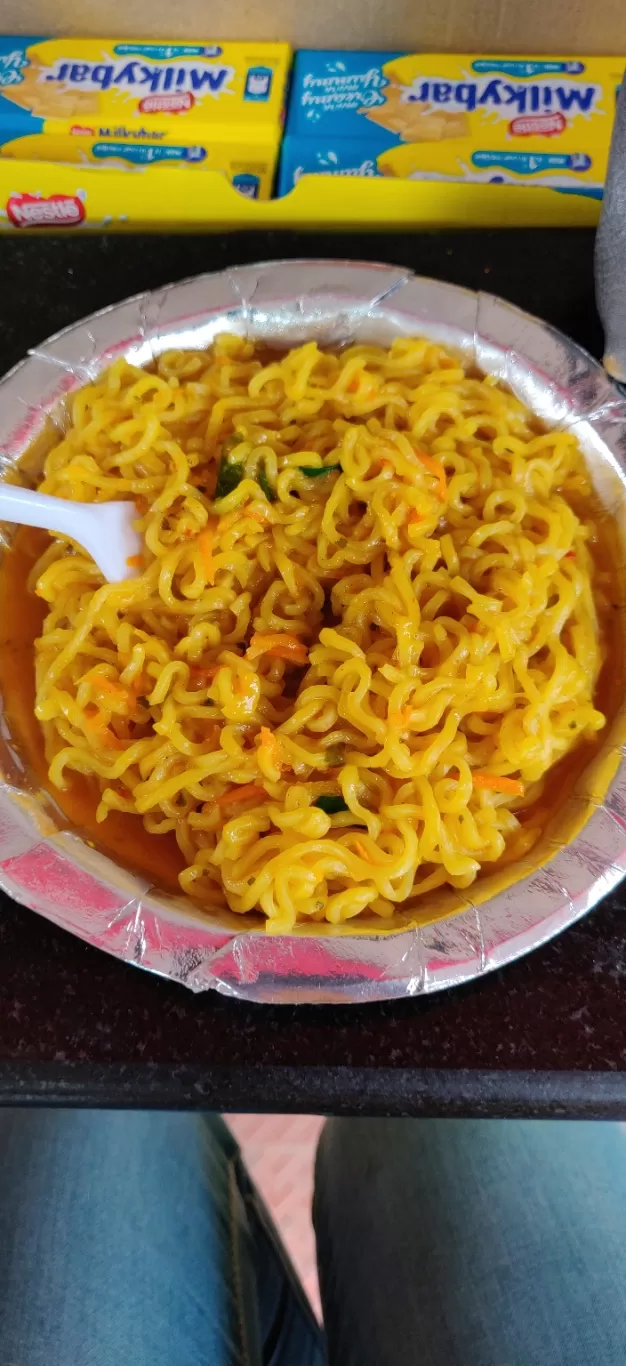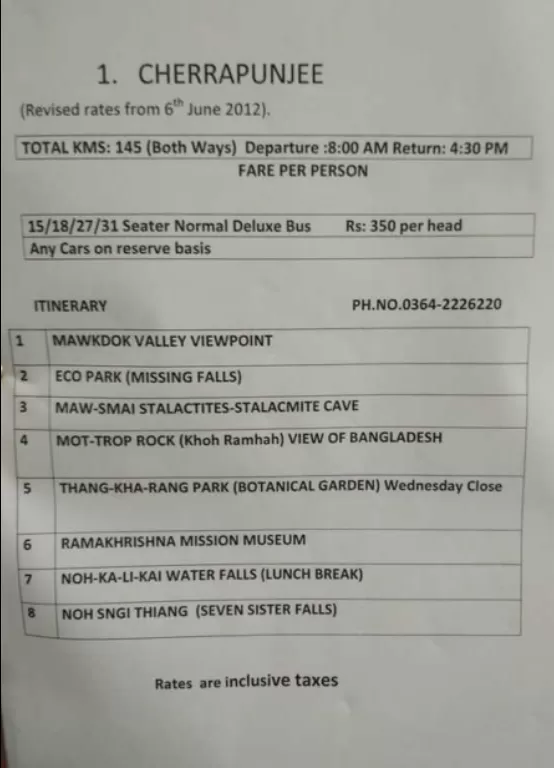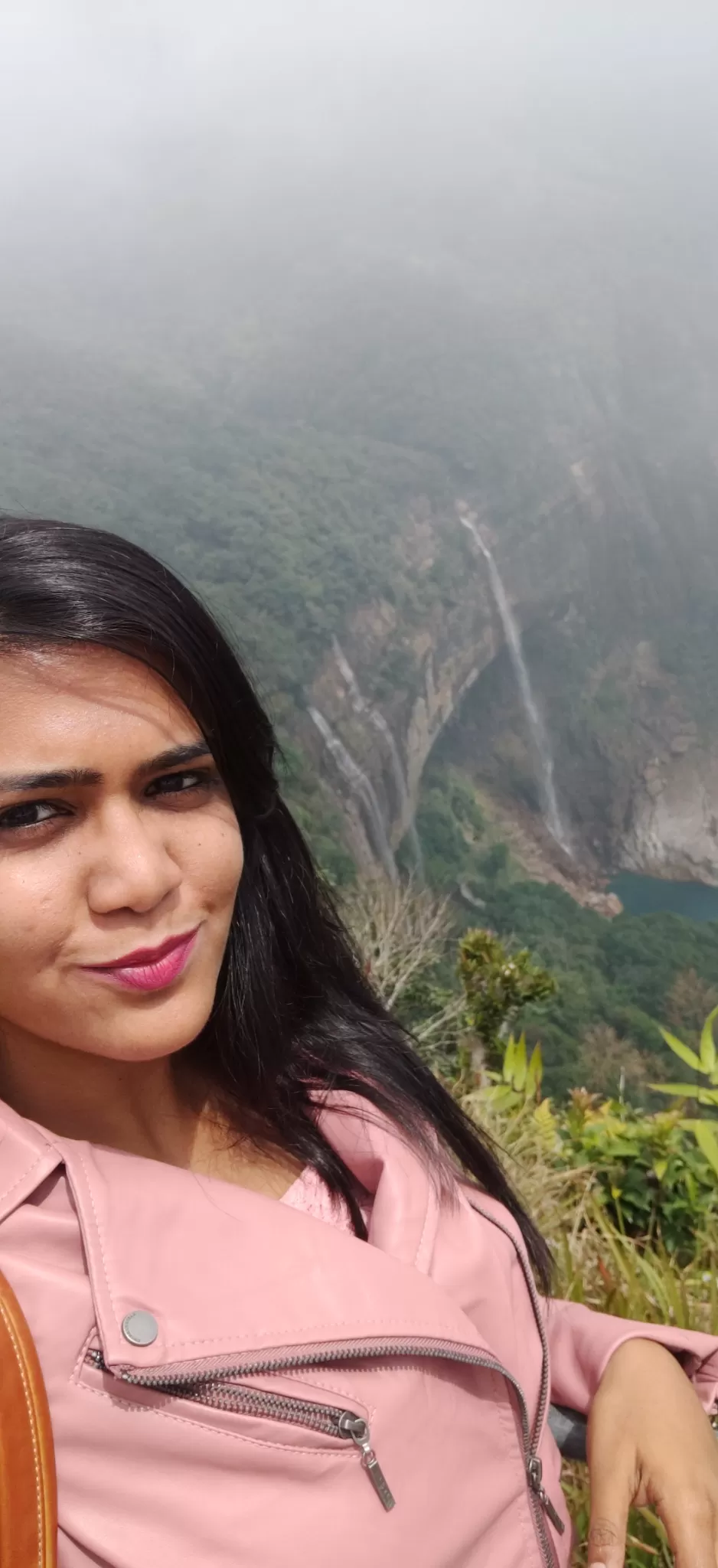 Shillong
I had reserved the last day of the trip to roam around in Shillong. I started with visiting the mesmerizing Umiam lake. Morning sunlight glistening on the mirror-like waters of this lake makes it a sight to behold. My second stop was the most famous elephant falls, in the heart of Shillong city. The falls get their name by an Elephant shaped rock, which however was destroyed in an earthquake in the year 1987.
Unfortunately as the day progressed, clouds, heavily laden with rain-water crowned the city and sokn it was pouring Hence I missed a few spots such as Ward's lake and Don Bosco Musuem. Nevertheless, I came back home being a much stronger and a much more confident person.
I always knew that travelling gives your personality a different dimension, but little did I know that travelling 'solo' has so much more in its store to offer! It makes one enjoy her/his own company, makes you realise that when one connects with oneself and the nature, a necessity of company of others seem so trivial.
What I also took away from this trip was that people of Meghalaya have hearts of Gold. ❤️
Wherever I went, people were super sweet, helpful and respectful. I promised Meghalaya that one day I will come back in its embrace, while I also sought a promise from it...that it will stay the same it was. ❤️