Meghalaya - the abode of clouds - home to some of the wettest places on earth. Place where mesmerising bridges made of roots of living trees thrive. Where some of the most haunting limestone caves are found. Where sights of Bangladesh plains greet and constantly accompany you during many of the road trips. Where beautiful lake such as Umiam and magnificent river such as Umngot are found. Place which boasts of the cleanest village in Asia. Where you can taste amazing Khasi food and experience hill people's hospitality. That is Meghalaya for you in summary.
This was a state I wanted to visit from a long time. Hence when I got a much awaited leave of 6 days, it was the 1st place which came to my mind. Found a perfect travel companion and we made a plan. Except that nothing was planned. But that's the flexibility you need while visiting the wettest place on Earth in monsoons.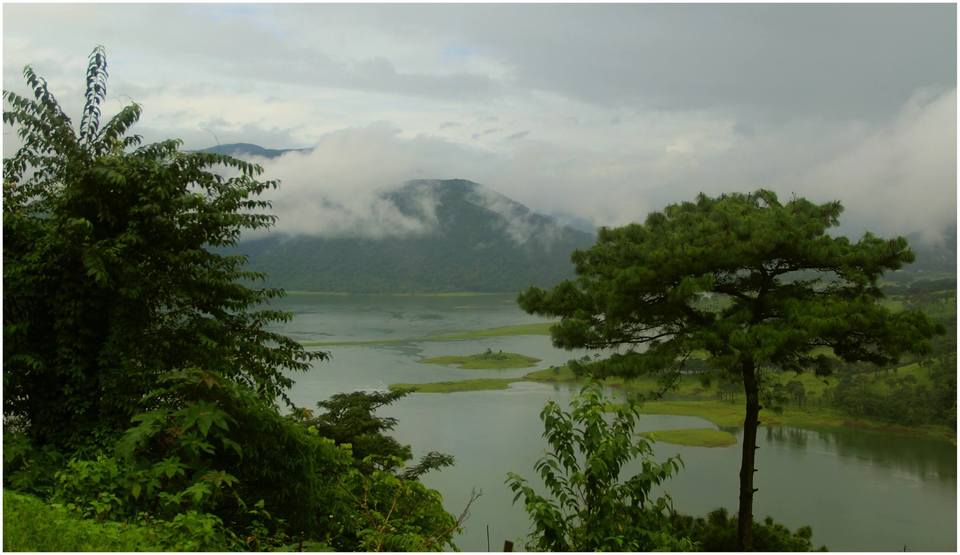 Day 1: We landed in Guwahati and took a shared cab at Rs 500/head for Shillong. It takes about 3 hours to reach and in the way you see the magnificent Umiam Lake. It is a man made lake 15 kms North of Shillong and was formed by damming the Umiam river. It has an island in the middle and surrounding greenery and dense clouds and mist make the site truly breath-taking. However, we had not planned for accommodation in Shillong and hence decided not to stop for Umiam now but to come here while returning back.
As we started approaching Shillong, the scorching heat of Guwahati gave way to drizzle and mist. However, we were greeted with a long traffic jam in Shillong near the central point of the city, called the Police Bazaar. It is a highly commercial area of Shillong with usual KFCs and CCDs lining up in a clutter. As we started looking for accommodation near Police Bazaar, we realised everything was full and there was not a place available. Unlike what I had thought of Meghalaya as an offbeat destination, it was anything but that. It is an immensely popular tourist destination, especially on weekends.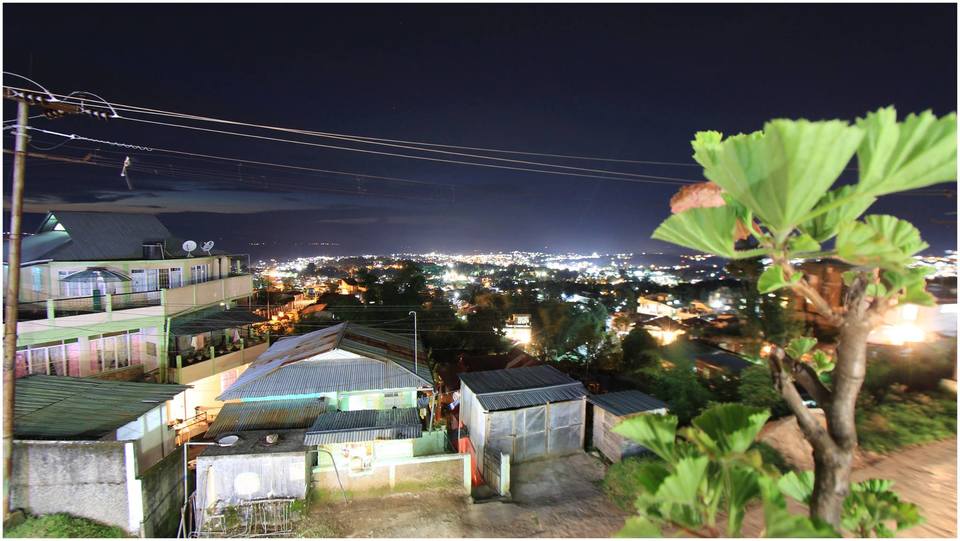 Finally we managed to find a homestay called Dew Drop inn, which is in a place called Lumparing. It is 5 Kms from Police Bazaar and miles away from hustle bustle of the main city. It has a fabulous view of Shillong city and has a monastery nearby. We loved the place and booked it for the rest of the trip. Its owner is a guy called Martin who also helped book cab for travelling to various destinations. We also got to have authentic khasi dinner there and absolutely loved it!
Cost of Residence: 2000 for 1st Night and 2500 thereafter (we had to upgrade to a larger room due to pre-booking of smaller one)
Day 2: Sun was shining brightly and we thought going to Cherrapunji would be better as we had heard of its torrential downpours during rains.It is at a distance of 60 kms from Shillong and takes about 2 hours to reach. Cherrapunji, locally known as Sohra, lies on the southern part of East Khasi hills overlooking plains of Bangladesh, and the sight of flooded plains is a constant companion while travelling. It looks hazy in the mist and clouds which adds to its beauty, and simultaneously makes photographing it very difficult.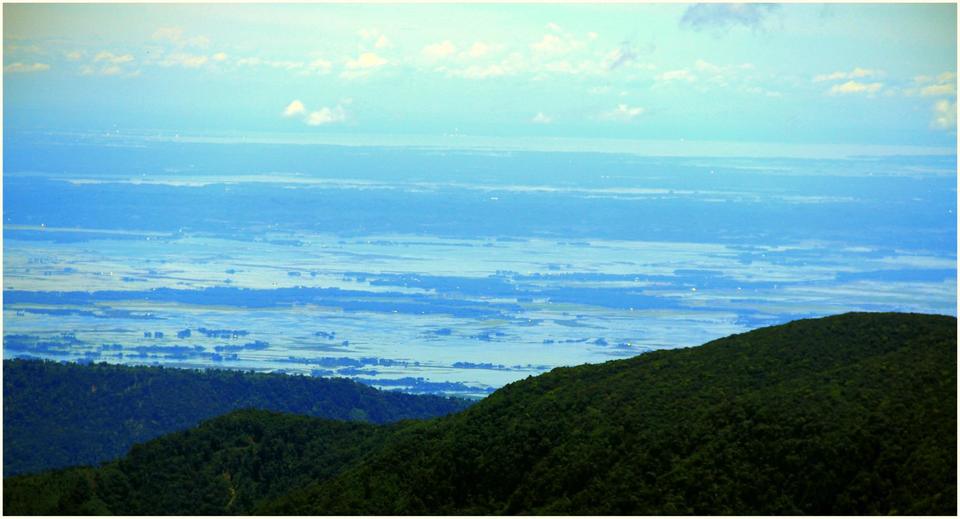 Meghalaya is a land of waterfalls. In Cherrapunji, we saw Wah Kaba Falls, Nohkalikai falls, Elephant falls and a few others. In one of the mesmerizing sights of a struggle between nature and nature, a small waterfall was completely blown away by the wind before it could plunge down.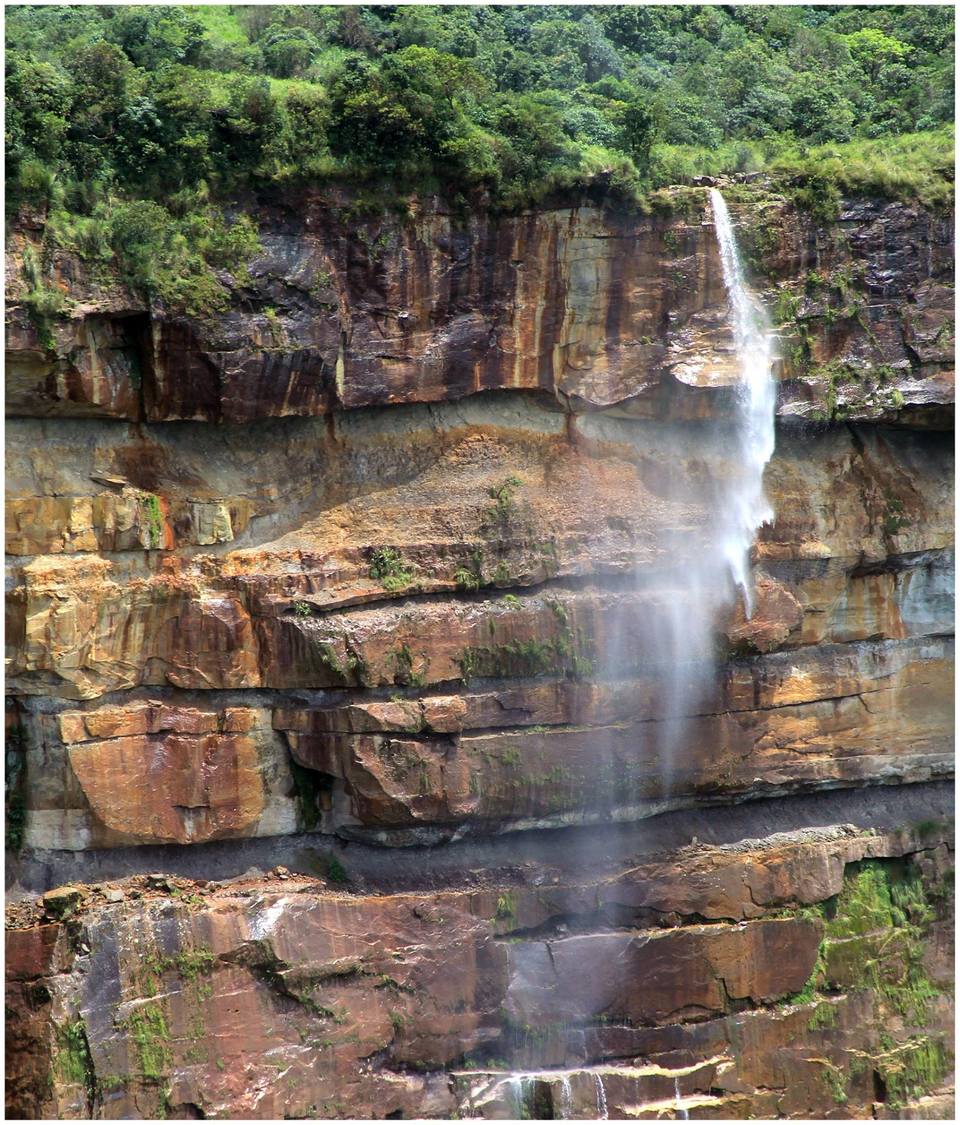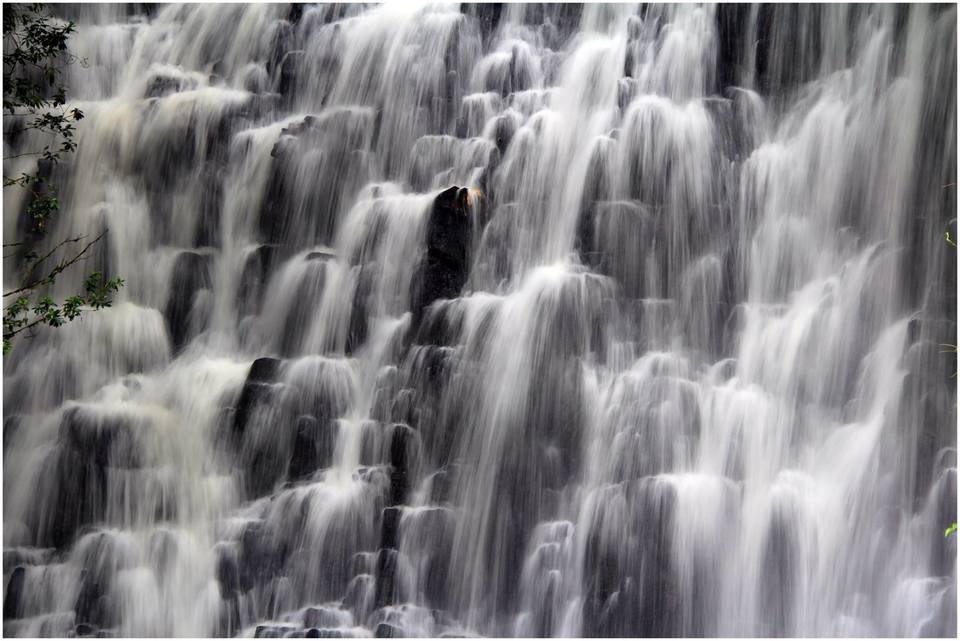 Nohkalikai falls is the highest plunge waterfall in India falling from a height of 340m.The name of the falls in Khasi language mean "Jump of Ka Likai" is linked to a legend about local women Likai who jumped off the cliff next to the falls due to murder of her infant daughter by her 2nd husband. This legend adds a bit of mystery to the falls.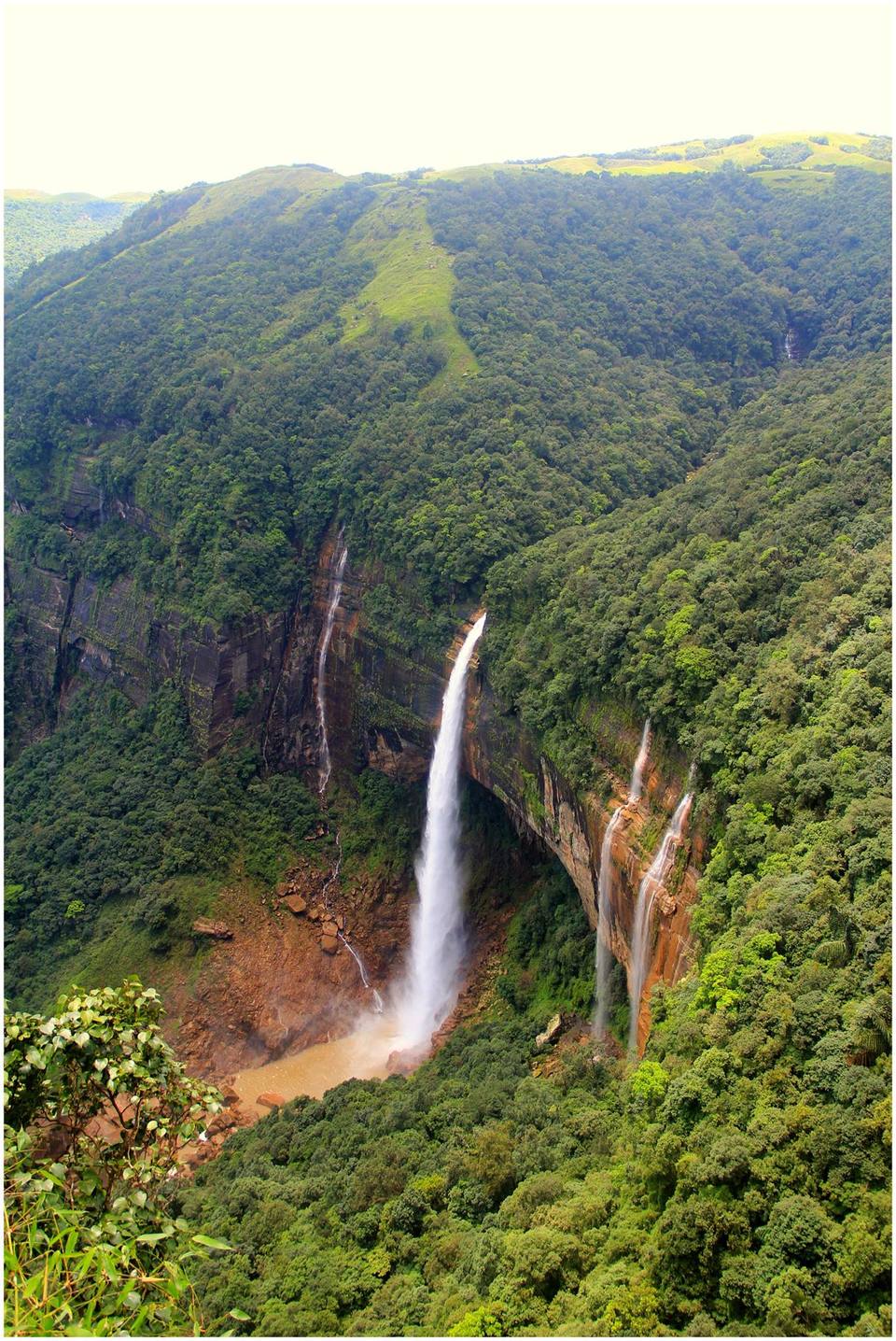 Just about 6 kms from Cherrapunji centre are the mysterious Mawsmai caves. These are made of limestone and water keeps dripping from the cave roofs, forming mesmerizing geographical formations such as stalactites (hanging pillar from ceiling), stalagmites (rising pillar from the floor) and columns. The opening is sufficiently wide but soon it narrows down at the neck and at many places, the passage is quite slippery and at others there are water pools. Despite being artificially lit from inside, the place is semi-dark and despite it being just 150 m in length, it is quite adventurous to traverse by bending and squeezing through narrow openings.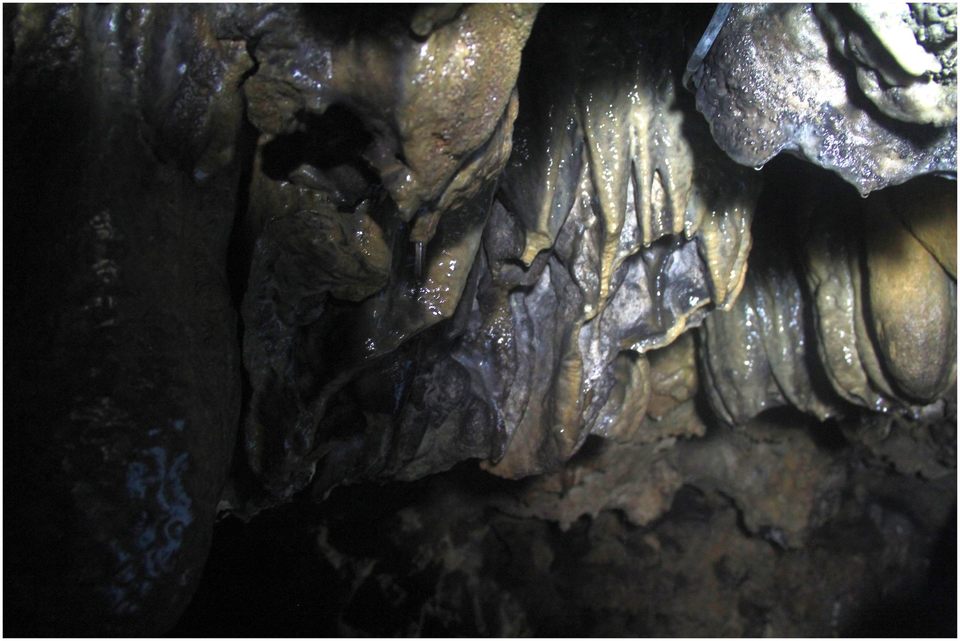 After returning to Shillong in the evening, we decided to visit the Cathedral of Mary Help of Christians. It is quite old and one of the most beautiful churches in Shillong.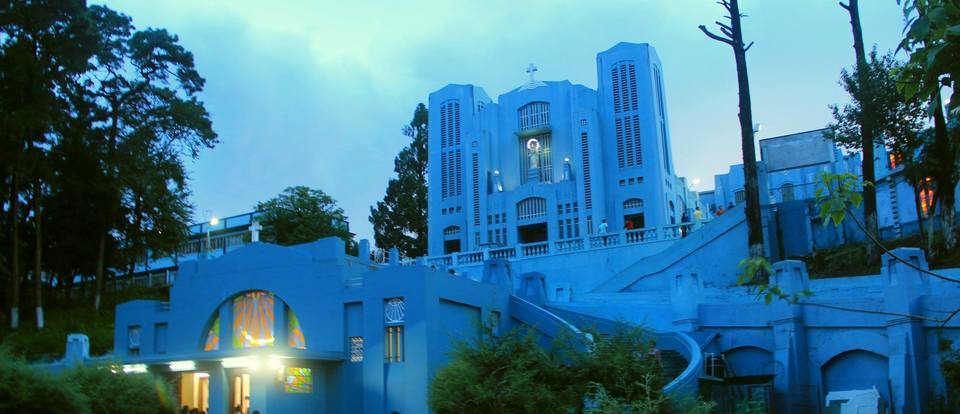 For dinner, we went to a place in police bazaar called Cafe Shillong. That marked the end of a hectic day 2.
Day 3: Another day greeted us with bright sunshine and we decided to visit Living root bridges. It is located in a village called Nongriat near Cherrapunji. There are steep 3500 steps to reach from Tyrna village to Nongriat (takes about 4 hours) and another 1.5 hours trek to Rainbow falls.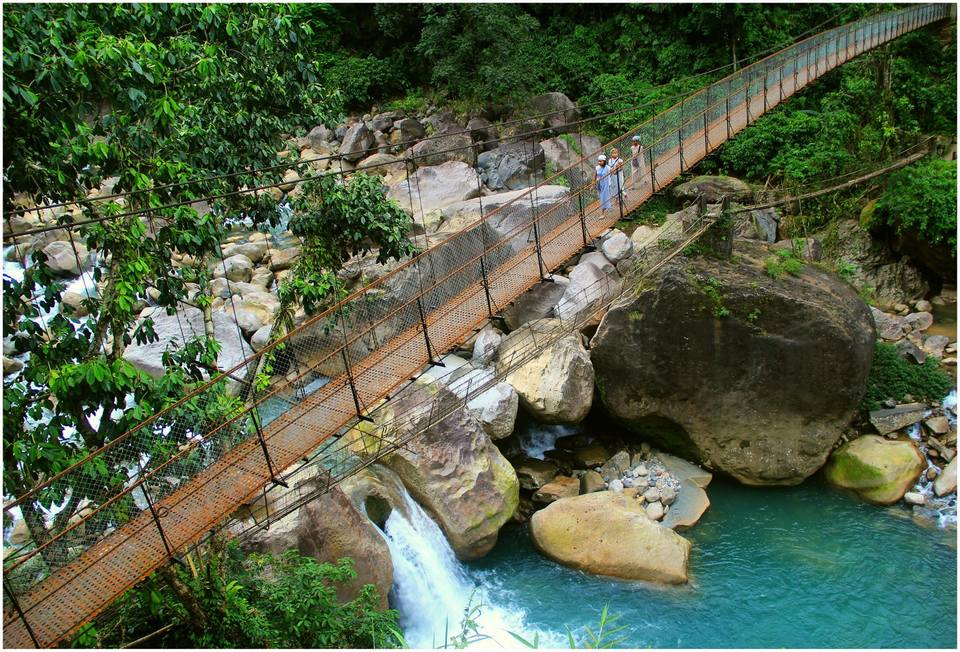 Generally people do rainbow and double decker on a single day which takes a total of 5-6 hours and then stay back the night at Nongriat, and next morning start the climb back to the base village Tyrna. However, we choose to trek back the same day and reached Tyrna by about 7pm (after starting at about 10.30 am). Though the path is made of concrete steps unlike in usual trekking trails, a great deal of stamina is required.
Living root bridges have been made by the locals there by tying the aerial roots of trees, and then stabilized by stones, mud, wood etc. Such bridges can survive centuries as long as the trees from which they are formed remain healthy.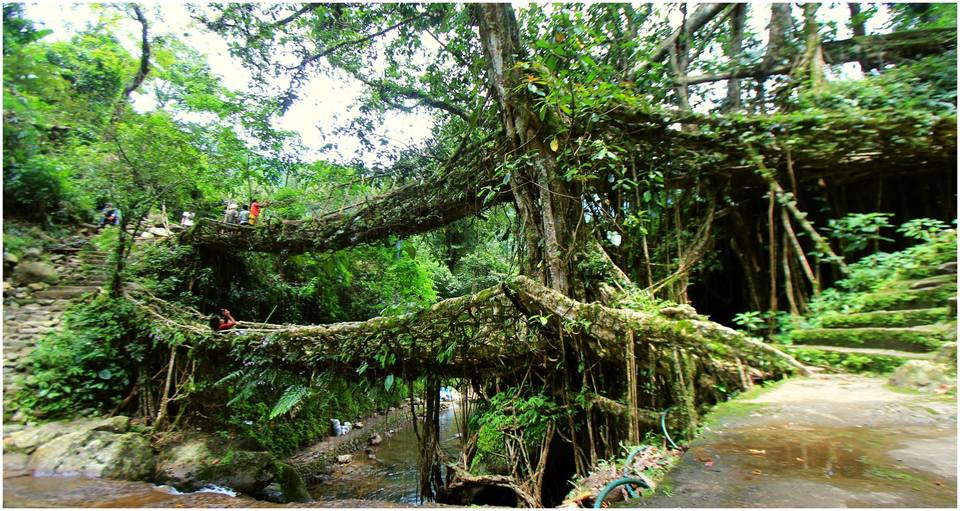 During the trail, we found sacred groves as well, which are a portion of forest used for religious purpose and hence is never cut or damaged.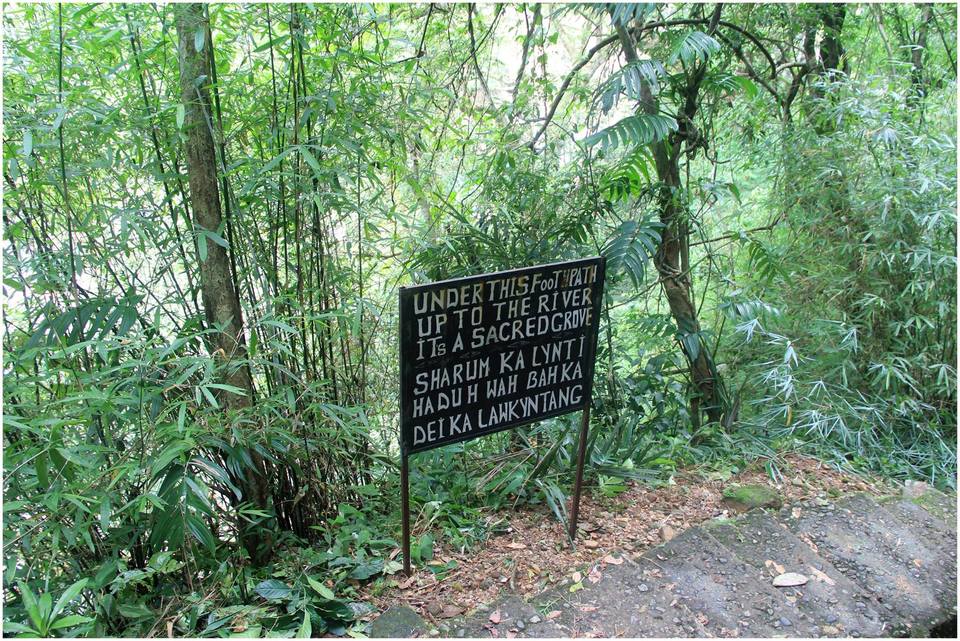 After returning back, we had a local khasi dish called "Khasi Neiyong", which was amazingly delicious. The lady was kind enough to share its recipe as well!
Day 4: Today we decided to stay back and spend time reading amidst serene mountains. In the afternoon, we walked to a nearby monastery.

Day 5: Today it was raining heavily. Surprisingly for monsoons, till this day, Meghalaya had only shown us bright sunshine.
1st destination we went today was a small village called Mawlynnong which was awarded the prestigious tag of 'Cleanest Village in Asia' in 2003 by Discover India Magazine. This village is located 90 kms from Shillong on the India-Bangladesh border. There is a private wooden stairs here, from where a magnificent view of Bangladesh can be seen.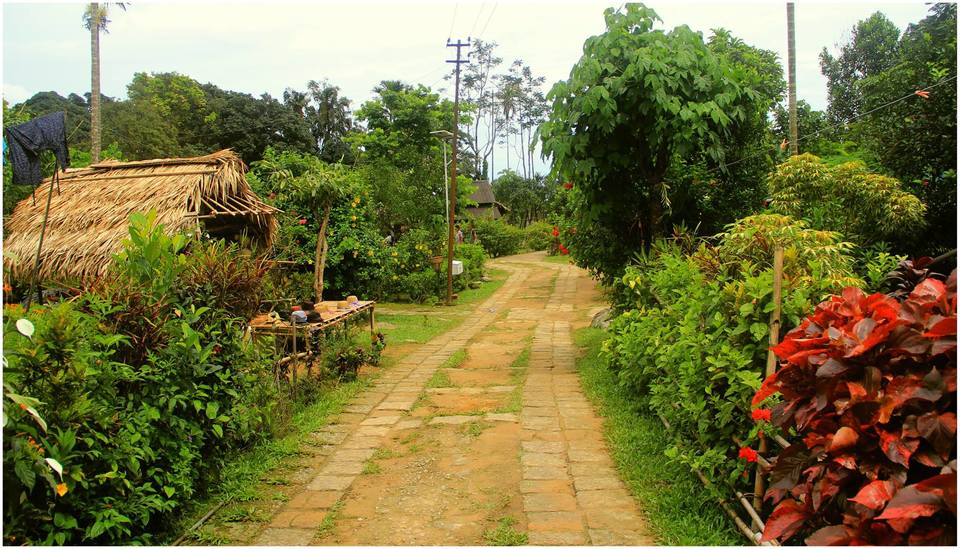 Mawlynnong villagers have maintained clean roads, beautiful gardens in every home and surroundings and many shops selling local handwares can be found. There is also a beautiful church nearby.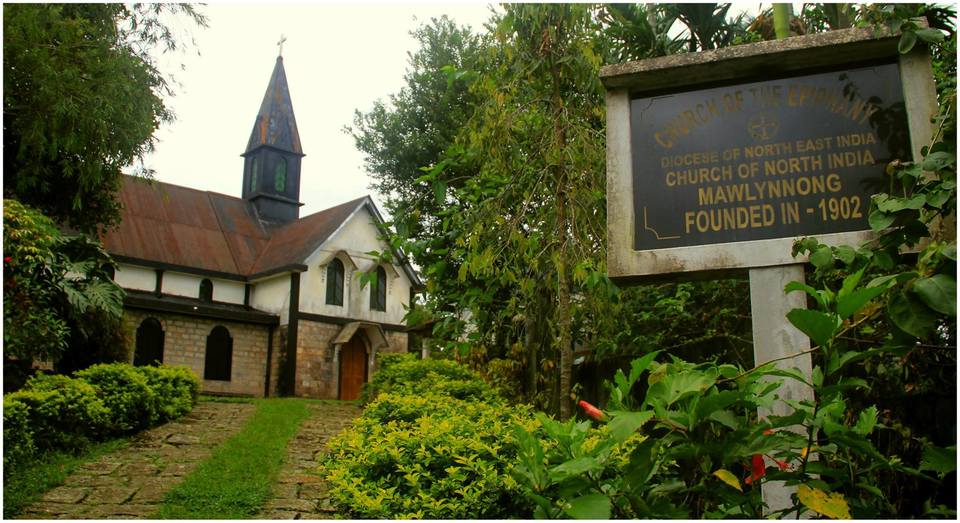 Next we left for Dawki. It is situated in West Jaintia hills, unlike all other places that we visited which are in East Khasi hills. From here, we visited India-Bangladesh border crossing. Other side is a Bangladeshi village called Tamabil.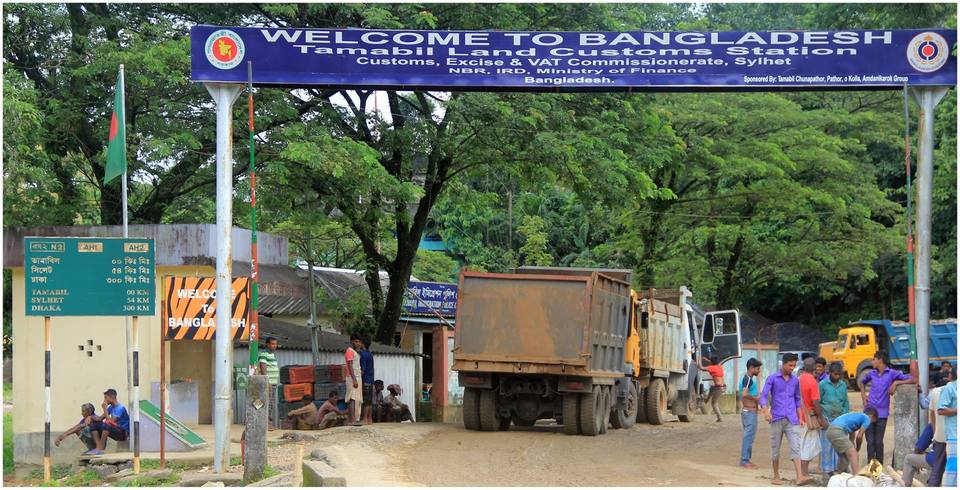 A magnificent river called Umngot flows through Dawki. A suspension bridge made by Britishers in 1932 can be seen.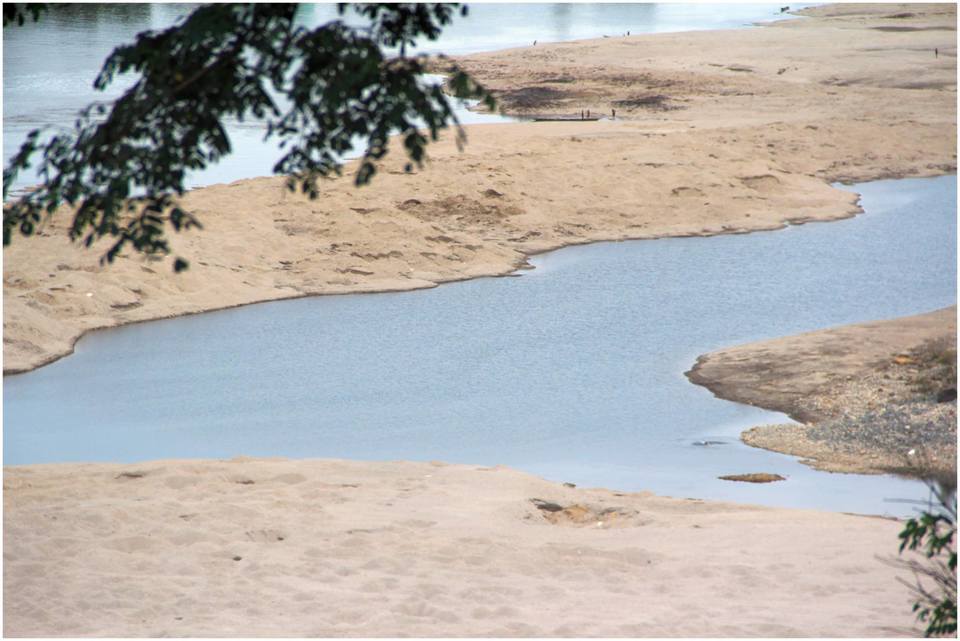 Day 6: Farewell day! While returning, we visited very pristine Umiam Lake.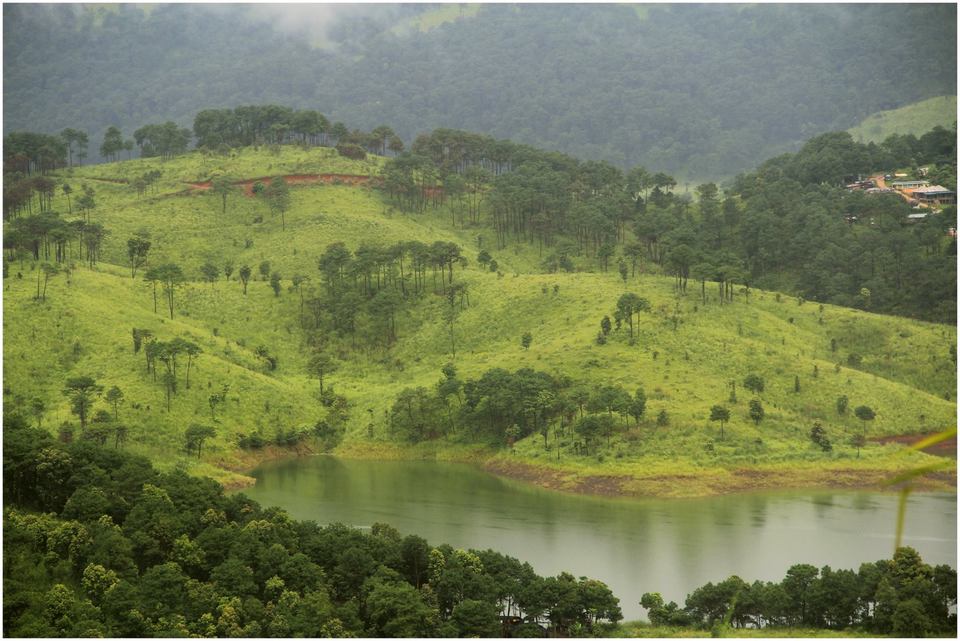 It was a very memorable trip. Exceptionally good people and amazing beauty! Looking forward to more of North East in near future.