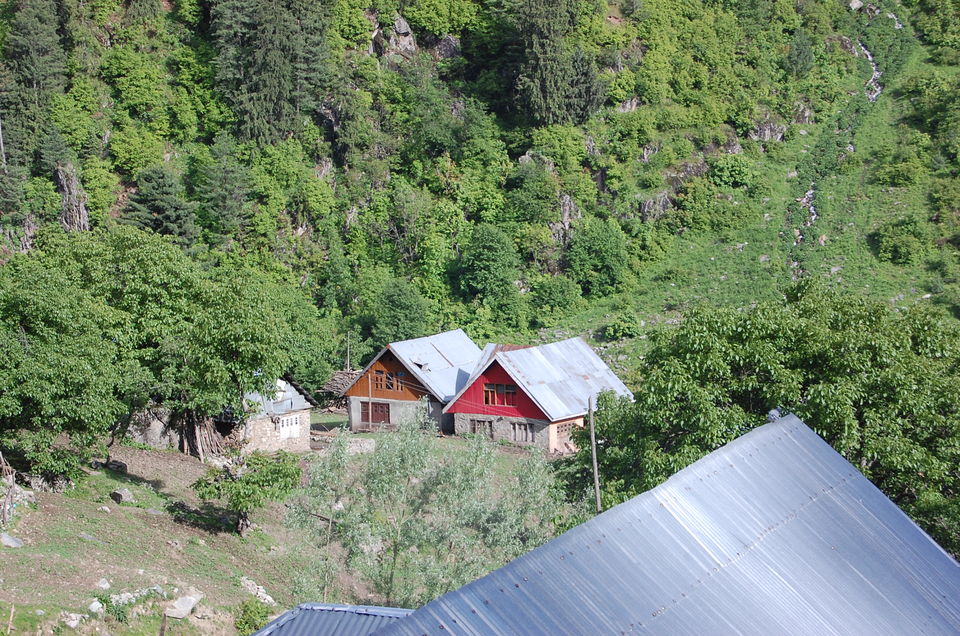 Relaxing in my houseboat in Srinagar I said to Ghulam the houseboat owner, "I am satisfied with Srinagar. I would like to experience some village life. Where shall I head next?"
He replied promptly, "Sonmarg, Gulmarg, or Yusufmarg".
"Umm too touristy. Any place quieter?"
"Naranag".
I took the last sip of the sugary kahwa and packed my stuff. I took the city bus from Dal Lake to Srinagar Bus Station. You can also arrange for a private car to take you to Naranag for a day trip or overnight stay. Ghulam (+919697384417) can arrange transportation and homestay in Naranag. Since I was traveling solo, I chose to go by bus. Naranag is 50 km from Srinagar on the road to Kargil. The bus drops you at Kangan, the town at the base of the hill some 14 km from Naranag. From there, you take a shared car to Naranag. There are frequent buses between Srinagar and Kangan but they tend to leave only after they are semi-full and they stop frequently. So, not the fastest way to reach Naranag. The last shared car from Kangan to Naranag leaves at 4 pm.
Deep into the little known valley
The bus ride from Srinagar to Kangan takes you through some prime Kashmiri countryside not usually seen in the brochures. Manicured farms tended by Kashmiri men and women wearing traditional dresses and colorful hijabs. Smoke coming out of wooden houses. Tiny villages and their local markets. And, the bus stops frequently replacing Srinagar passengers with joyful villagers and their local produce or livestock. As you cross the Sind River the mighty mountains reappear. You get a feeling that you are traveling deeper into the valley, far far away from the shikaras and char chinaars of Dal Lake.
The bus ride to Kangan took two hours. Fortunately, I found a Toyota Sumo heading to Naranag. Naranag is a hamlet hidden in the hills. And, the road is full of twists and turns. Drivers in hilly areas have a deep confidence in their driving. One of the co-passengers didn't share the same confidence. He cried out from behind, "8 logon ki sumo mai tum 14 log bithaye ho aur ek murga bhi. Sabki zindagi ki zimedari tum par hai. Allah tallah ko kya jawab doge?" Roughly translates to "You are carrying 14 people in an 8-seater car including one hen. You are responsible for their lives. How are you going to give an answer to go?" The driver reduced the pressure on the paddle.
The prime ride to paradise
If the road from Srinagar to Kangan is prime countryside then Kangan to Naranag is prime paradise. The farms wear a virgin green and gracious gold goat. The air gets cooler as the chickens hurriedly run on the road scared by the sound of the car. Children stand on the side of the road waving and smiling an innocent smile. Those who are not standing by the roadside hang on to the side of their moms. The trees emanate aroma of primeval nature. Mules carry chopped wood with their shawl-wrapped master guiding them along.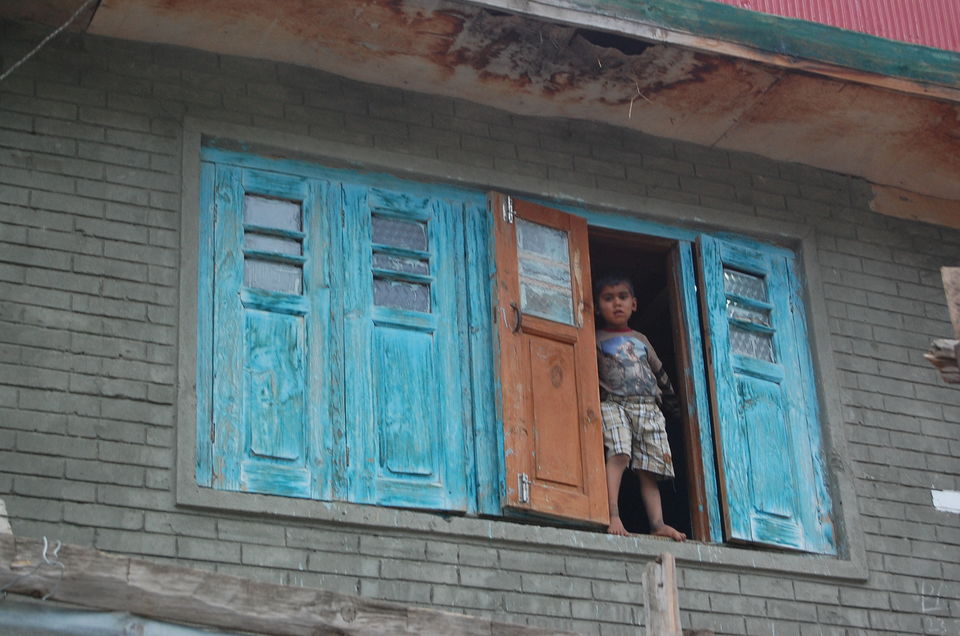 The mystery of Naranag is that you don't see it until you reach. It nestled in the mountains surrounded by dense forest. The mountains are clad in green with not a bare spot but at the top where the last shade of snow still sits even in the warmest (relatively) month of May. There are fewer than 100 houses but each one is a kaleidoscope of colors perfectly contrasting the green background. Half of the tin-roofed house front is bare grey stone while the rest is painted in red, brown, blue or other bright colors. An unnamed and untamed river flows next to the village. The dance of the river and the song of the stones is a sight to behold. A proud glacier sits on the banks of this river.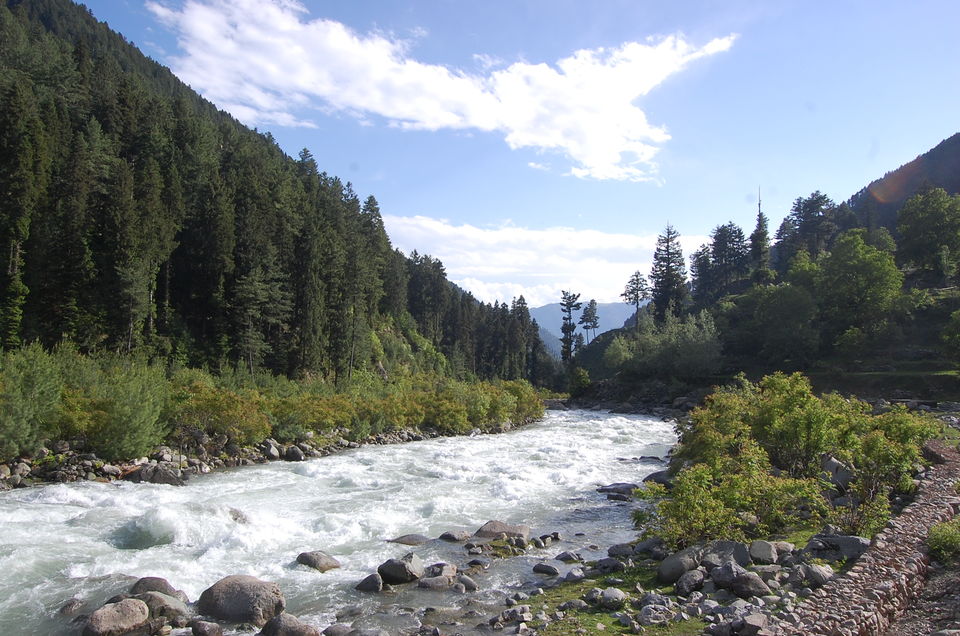 The moment I got out of the car I felt rejuvenated. I felt a sense of indescribable happiness. Despite being only 50 km from Srinagar, it felt a world apart. Little did I know that it housed a few surprises for me. As is customary, I sat down at a tea-stall and ordered a chai.
We Are Brothers
As I lifted the cup, the guy from across asked, "Where are you from?"
"Gujarat".
"Oh wow. Then we are brothers from the same land", he replied with a smile.
I was taken aback, "How exactly?"
He smiled again, "See we are Gujjars originally from Gujarat. Our forefathers were nomadic shepherds who left Gujarat many years ago and somehow founded this village. But, essentially our roots are in Gujarat".
I was shocked and surprised to hear this. In a separatist state that wants no association with India, a humble villager is proud and nostalgic of a state of India he has never visited. I was wrong. Not just a humble villager but most of the village repeated the same narrative. To them, I was a brother from their ancestral land. I had spent time with nomadic Gujjars back home and I knew of their migration along the border all the way to Himachal. I never imagined they went as far north as here.
The Gujjar guy called out to a passerby and said something in Gujjari, their mother tongue. Teardrops rolled out of my eyes as I couldn't believe that I understood most of what he said because it resembled Kutchi, the language of my district. Centuries ago they brought the language with their sheep and goats. Kutchi language only resides in Kutch, even other Gujaratis don't understand it. Yet, here in this hamlet, the language is thriving as Gujjari.
Naranag and its treasures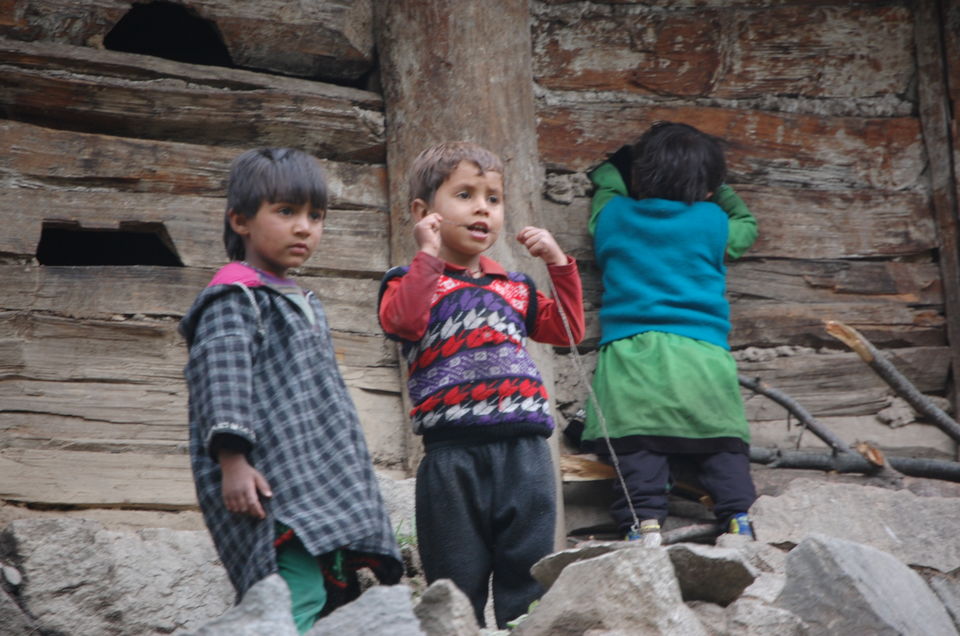 Three kids approached with the offer to show me the village. I went along. We first stopped at the ruins of the 8th-century temple from which Naranag derives its name. The temple is dedicated to Shiva and has a rock-cut shiva linga in the temple compound. The temple was built by Lalitaditya Muktapida of the Naga dynasty. What remains of the stone temple gives glimpses of Aryan Kashmiri architecture. Sadly, it is neglected and more of a ruin than a temple. Yet, it is worth seeing.
Next up we went to the banks of the river to see the glacier up close. A waterfall from up above pierced through the glacier to join the river. It was quite a sight. A glacier sitting on the precipice of a wild and ferocious river. I just sat there staring at the force with which the water hit the rocks in the river and yet the rocks remained unperturbed.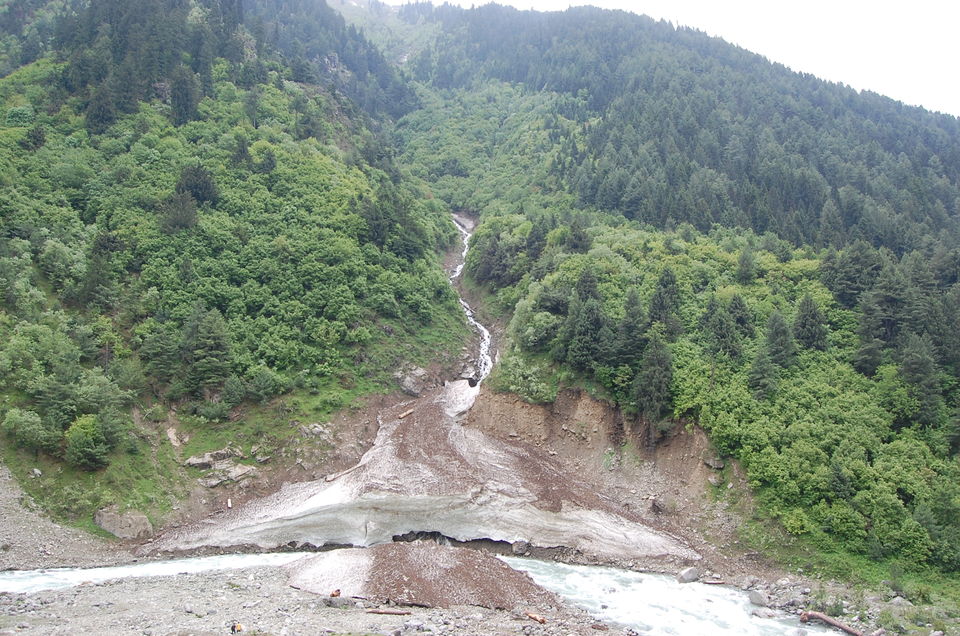 Next up, I went for a walk in the village. A narrow cobblestone path takes you through the colorful houses and chirpy villagers sitting outside their houses. The villagers are the living embodiment of the word friendly. They often stopped me inquiring about where I come from and what brought me to their village. They all offered salted tea and chapatti in return for a conversation.
Another surprising aspect was the openness of women. They openly talked to me, even posed for photographs and they didn't try to maintain an imaginary distance. The children were playful and posed plenty for photos. Some children had brown hair and blue eyes. It is believed that the Gujjars belong to the Aryan race that migrated from Central Asia into India.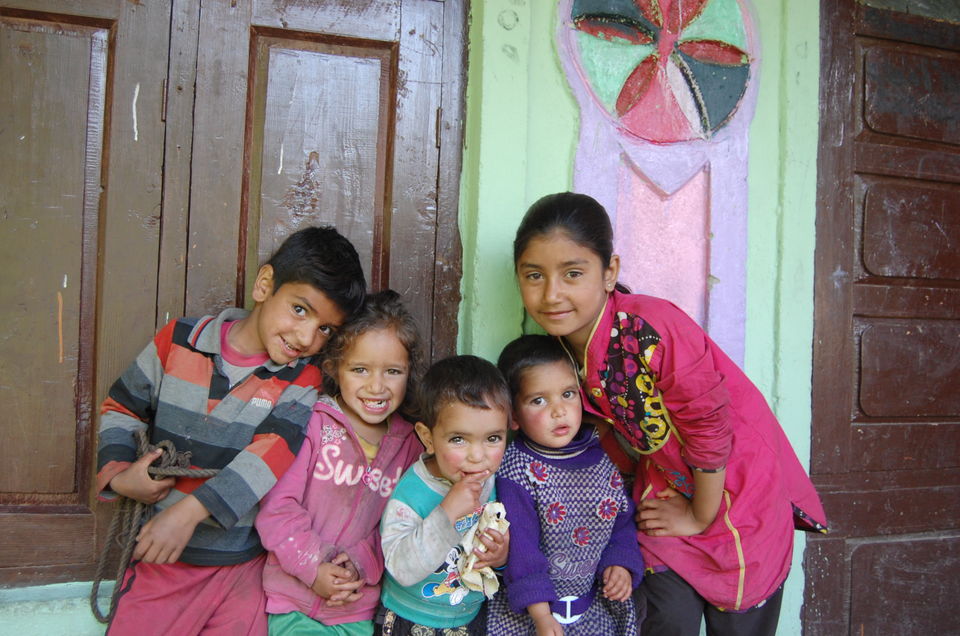 Naranag has no hotels or restaurants, one tea shop and two stores selling basic stuff. Homestay is the way to go. You can contact Ghulam (+919697384417), Srinagar houseboat owner, to arrange transportation and homestay in Naranag. Or you can directly contact Jaffer (+919858454621/+919697369347) at whose house I stayed in Naranag. They have a nice house with comfortable beds and warm blankets. They provide meals as well. Just tell them in advance about dietary restrictions. Jaffer is a certified trekking guide and takes people to Mount Haramukh and the glacial Lake Gangabal. He also heads various expeditions into high alpine country ranging from two-day treks to a week long. He is very warm, friendly, and intelligent person and mountaineer as well.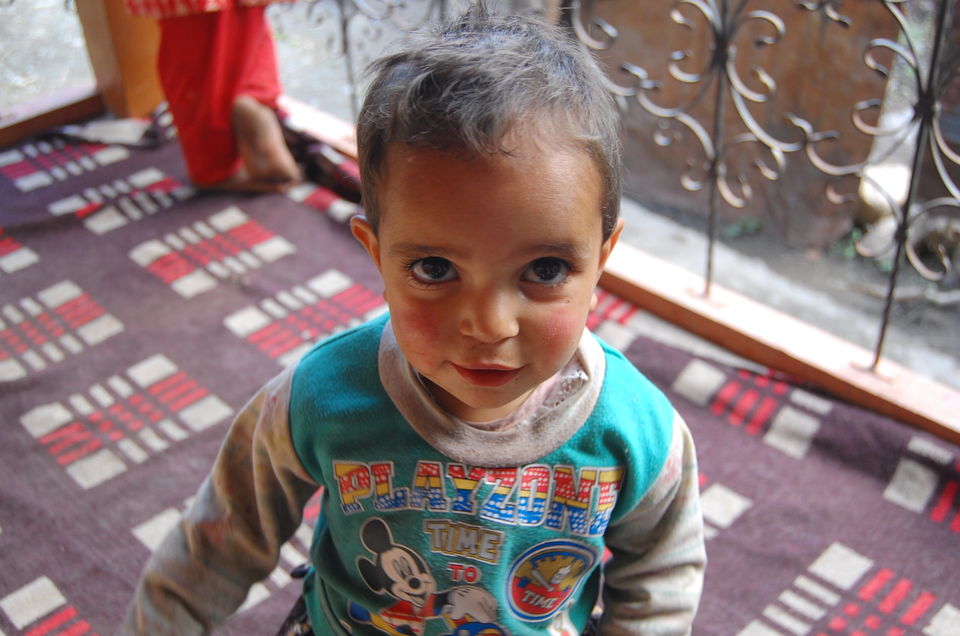 Naranag was full of unexpected surprises and a welcome break of the Kashmir I knew. Sometimes when we are not searching for anything particular, we find something incredible that leaves a mark on our lives. Naranag is a place to see and be. Its tranquil nature lets one disconnect while its friendly locals are there if one seeks connection. You will see, hear, and experience a different side Kashmir in these neck of woods. Remember, however strong the force of the river, some rocks always remain unperturbed.