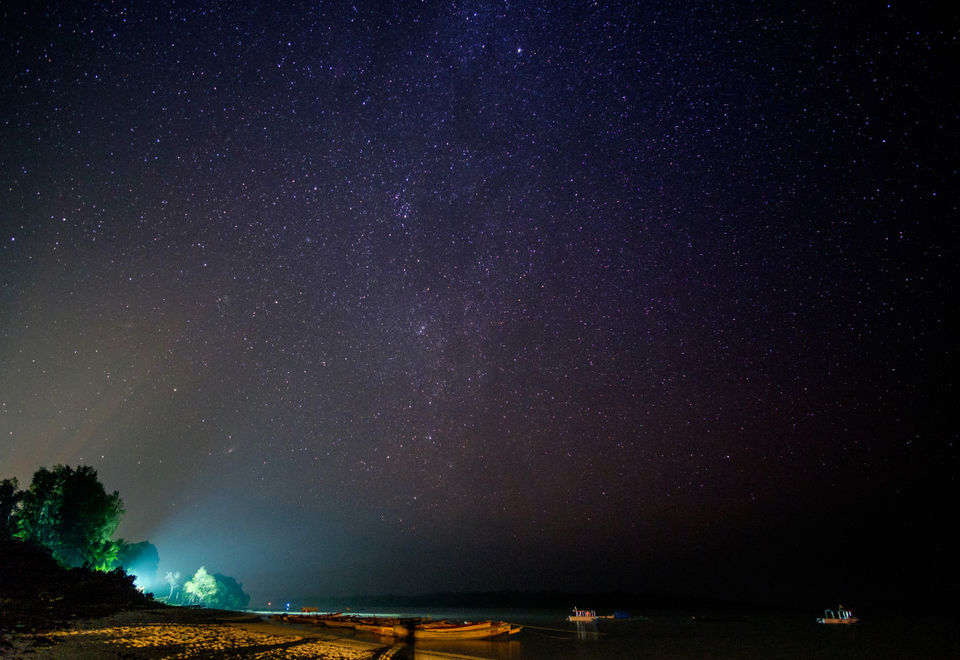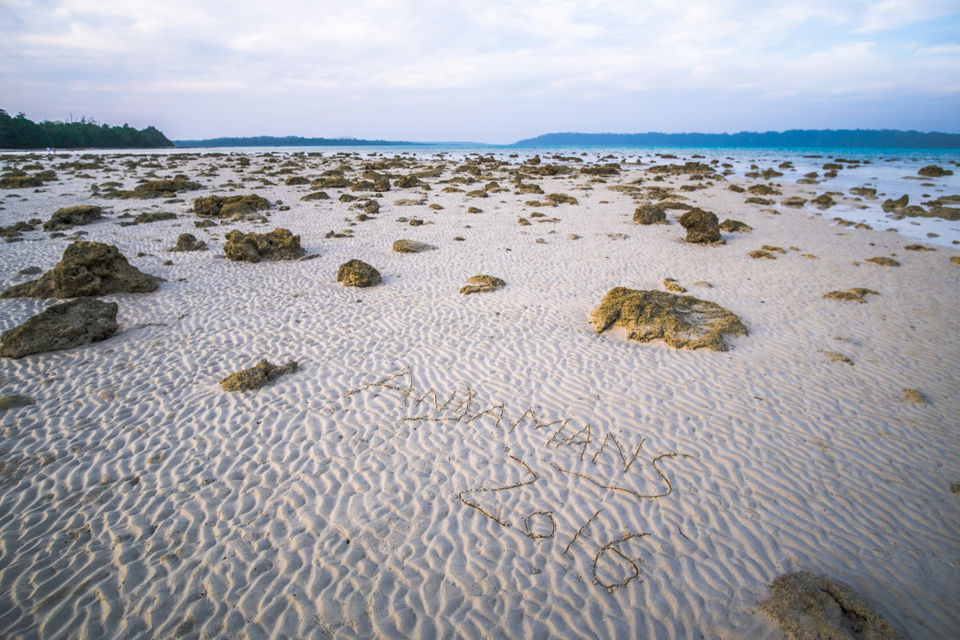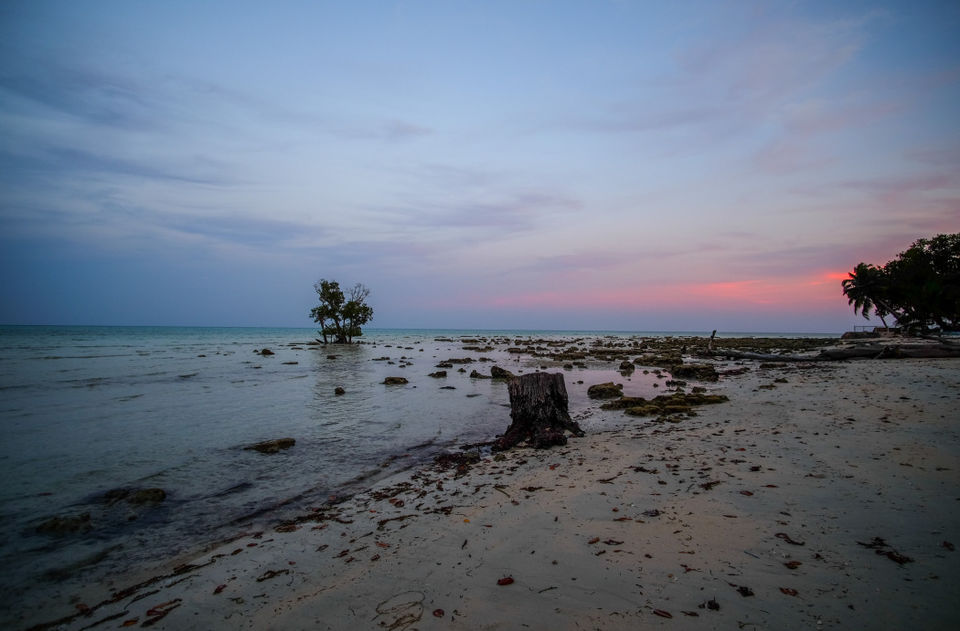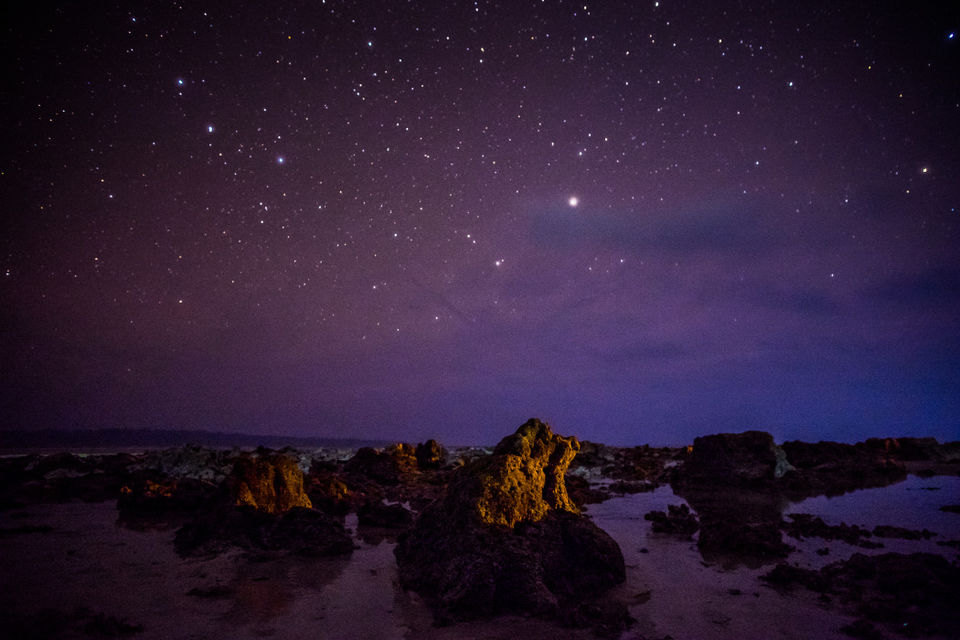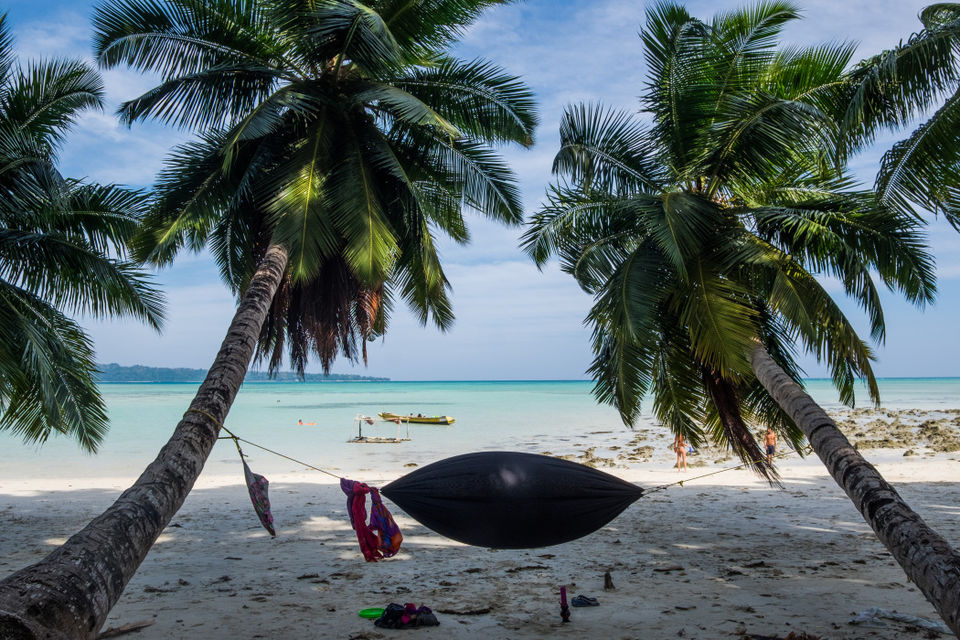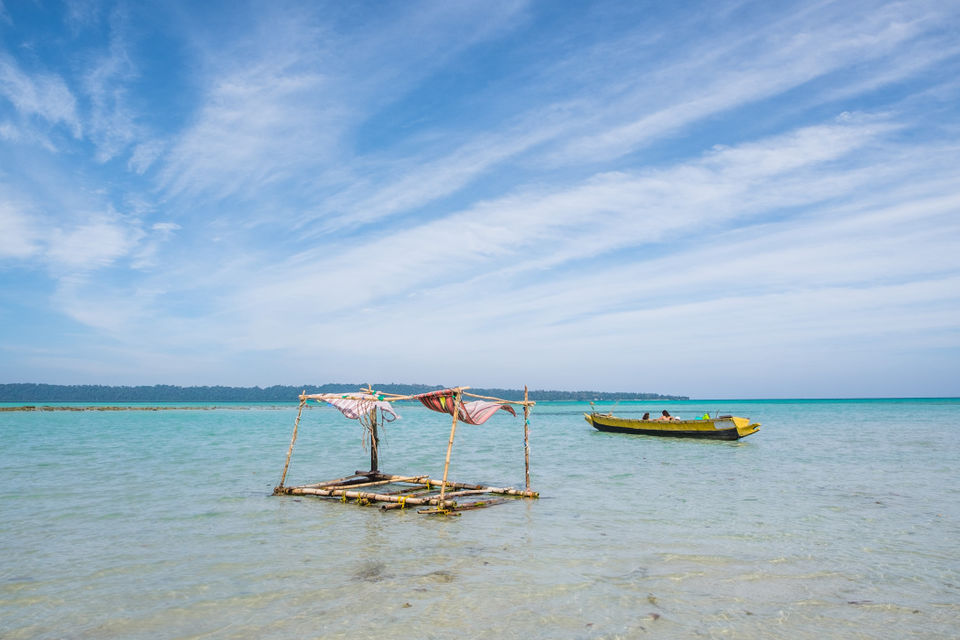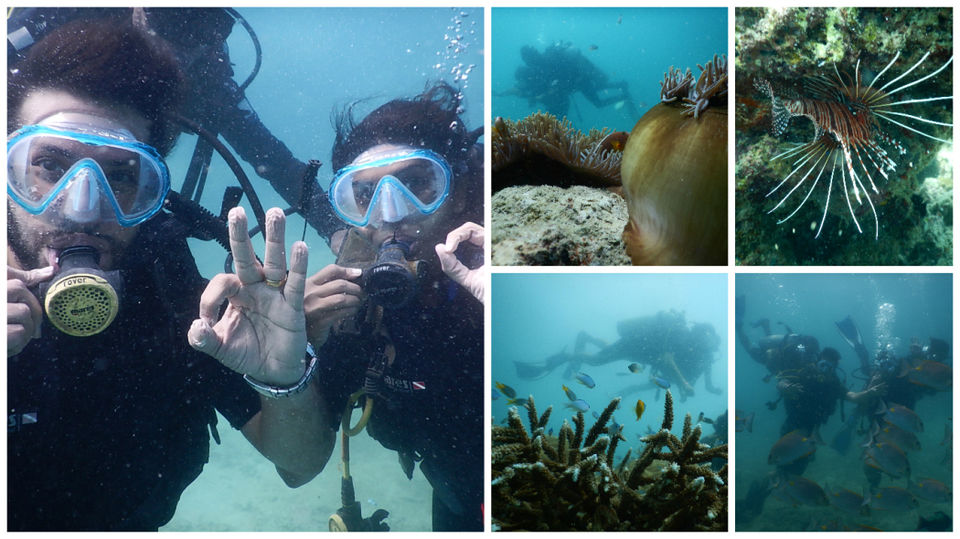 Day 1 – it seems we have landed in a classic definition of paradise. Pristine waters, with shades of blue and green stretching out for miles, soft white sands, swaying palms trees and thick green forest that line the shore, and a calmness in the air that can only be attributed to people who are at peace with themselves and nature. If you live in India and are used to the brown-grey water in most parts, the tourquise shades of the sea here simply boggles the mind. It is early afternoon, but the sun is already setting, there is softness in its rays and the low hills in the distance are basking in the last bits of warmth. The tide is low and funky misshapen rocks poke their head out of the water. It is paradise indeed, and we may never leave.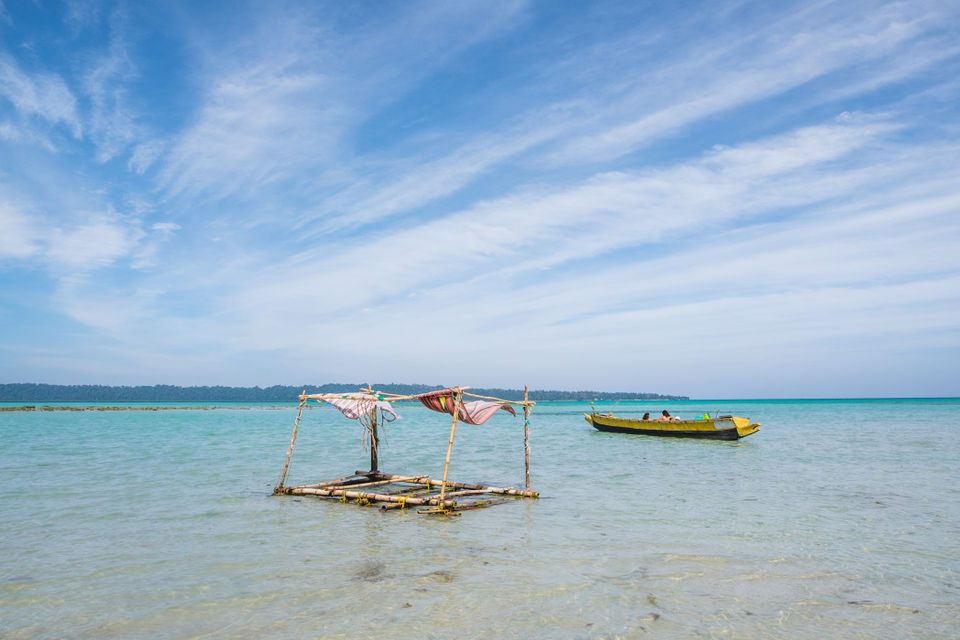 Can you think of a better scene to kick back and relax…
Day 3 – we've done very little in the last two days except one dive, which was nothing short of spectacular. Ocean Tribe, with whom we went for the dive, is run by three brothers, native to the region and with dive sites named after them. We were rather kicked to realize that one of the brothers, Jonny, was going to be our instructor. Due to budget and time constraints we decided to do one of the discover dives, where you have a personal instructor with you at all times, who manages everything under water and you simply have to experience everything around you. In a way, it's a great way to dive, especially for the first time, because one doesn't have to worry about the tank and the regulator and to remember to swim and all the hand signals. You only have to remember to breathe right and gape at all the beautiful marine life around you. We saw all sorts of colourful fish, coral and other aquatic creatures and the hour we spent underwater felt like five minutes.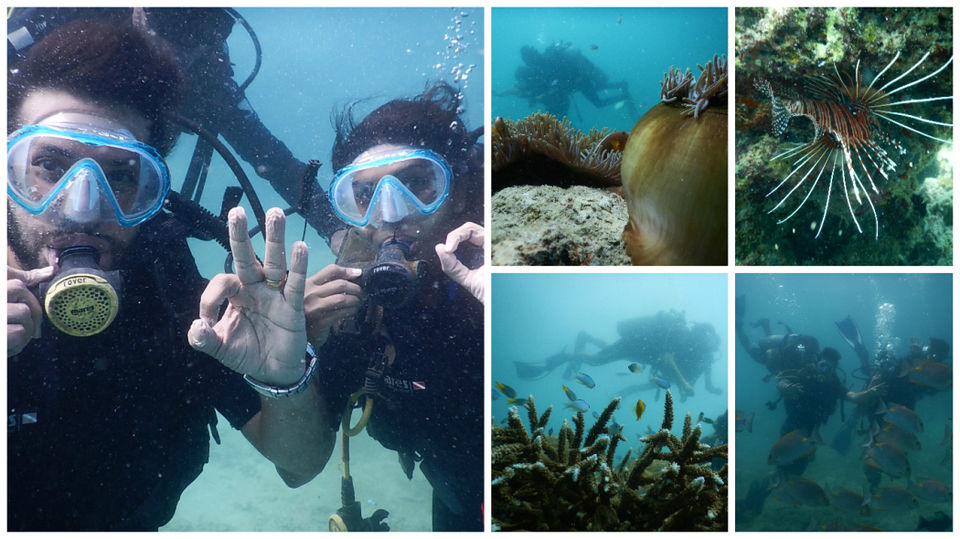 It's a beautiful alien world down there and we couldn't get enough. We did just the discover scuba dive this time around, but next time we have promised ourselves that we will do a full certification which will allow us to dive up to 30 meters! The really cool stuff is deep down.
Other than this one exhilarating activity, we have done little else. Havelock Island is perfect for people like us who love doing nothing. Of course after two months of constant travel and life on the road, lying about on the beach, swimming in crystal clear waters, cocktails in the early evening and reading under the shade of palm trees was just what we needed to get our energy levels up and revive the body and mind.
Day 4 – more of the same. Lazing on the beach, sipping on cold beers, basking in the golden sunset and watching the stars. Sorry Goa, this may be a new favourite.
Gentle sunset over Havelock.
Day 5 – Havelock is a strange and unique place. With several small beaches that surround the island, it is easy to stay in one general area and see your days roll by without interacting too much with others. Time has found a new meaning, where the sun begins setting at 5.30pm and a languid pace fills you up. There are people from all over the world and we've met all sorts, including the customary Brits, Italians, Spaniards, Belgians, a lovely girl from Slovenia, a mother-daughter biker duo from Finland, the one token lone American tourist and of course the Israeli's. One has to hand it to them, they do manage to find some of the most beautiful locales in India, set up base, spread the word to their friends and create mini oases of home with an impenetrable bubble around them. The Indian tourist seems fairly outnumbered, compared to the foreigners, though we heard from many that they are increasing in number due to the fancy resorts that are coming up and the affordable tours being set up by various operators.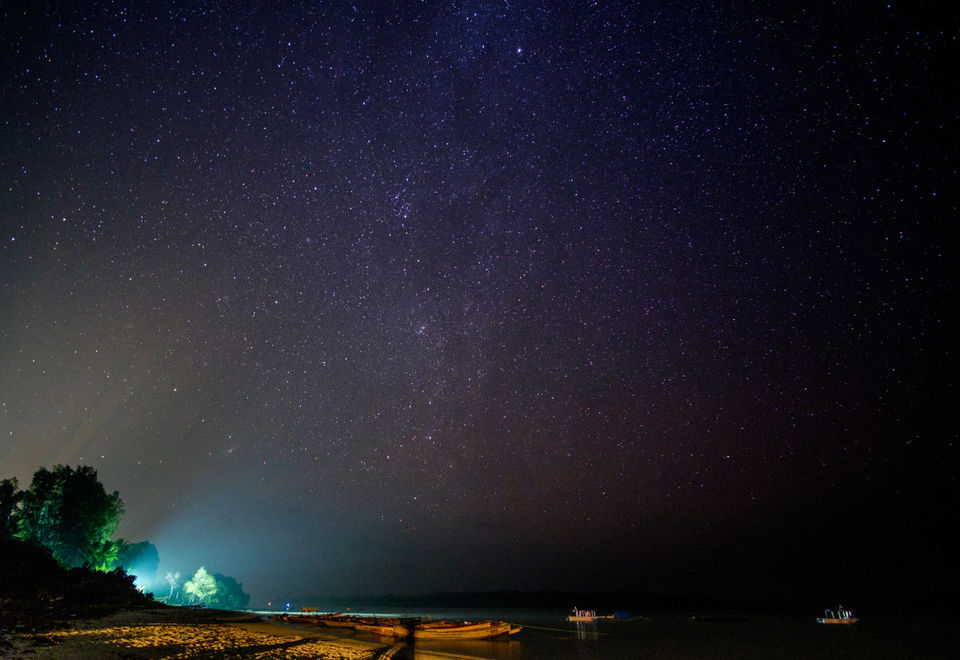 Stargazing
True to nature, we have developed a routine, especially with where we like to eat, and several evenings we found ourselves sitting at Fat Martins, sometimes alone and sometimes sharing a table and swapping stories with a group of strangers. Peppered with black and white photographs of the Islands from a few decades ago, taken by the present owner's father, it's a great place to while away the hours with some great food. The photographs tell interesting tales from a different era, and it is easy to spend some time lost in them. If the bar is not too busy, Martin is happy to take a moment and chat about the photographs. By now we've become regulars and are greeted with welcoming smiles.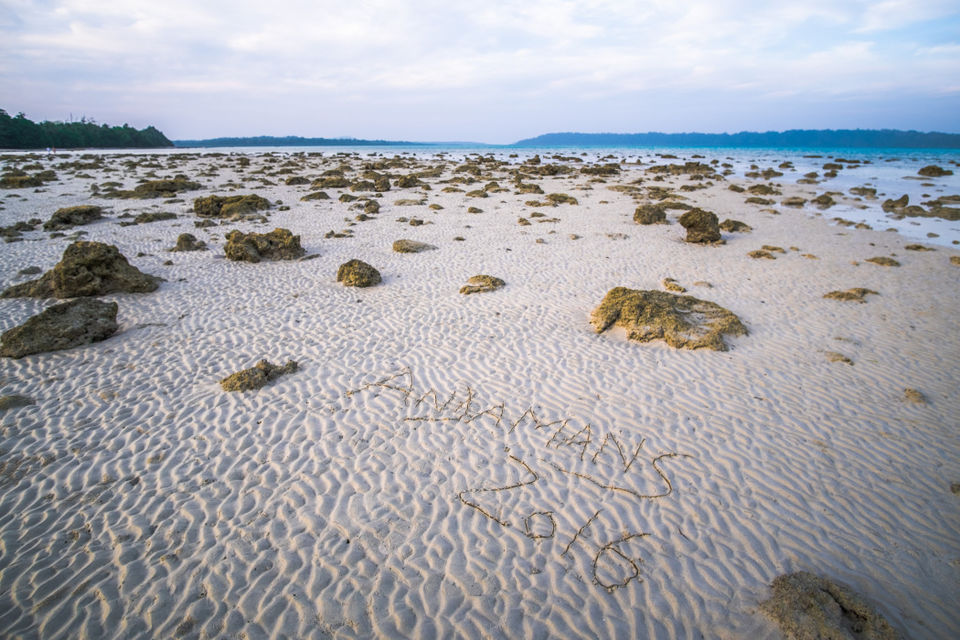 What a brilliant way to start 2016!
Day 7 – after yet another day of nothing, we decided to venture around the island, and visit another beach. We did go on a boat ride and snorkelling trip the previous evening, with another lovely couple from Belgium, on their second visit to India. That was our 'activity' for the previous day. Zipping around the island today gave us a glimpse into some of the village life in the forest areas, as we rode our bike to Radhanagar beach on the other side of the island. It was truly one of the most stunning beaches we had ever seen, and worth the one-hour long bike ride. Of course, once there we did what we do best, which is swim, lie on the sand and take in all the beauty around us.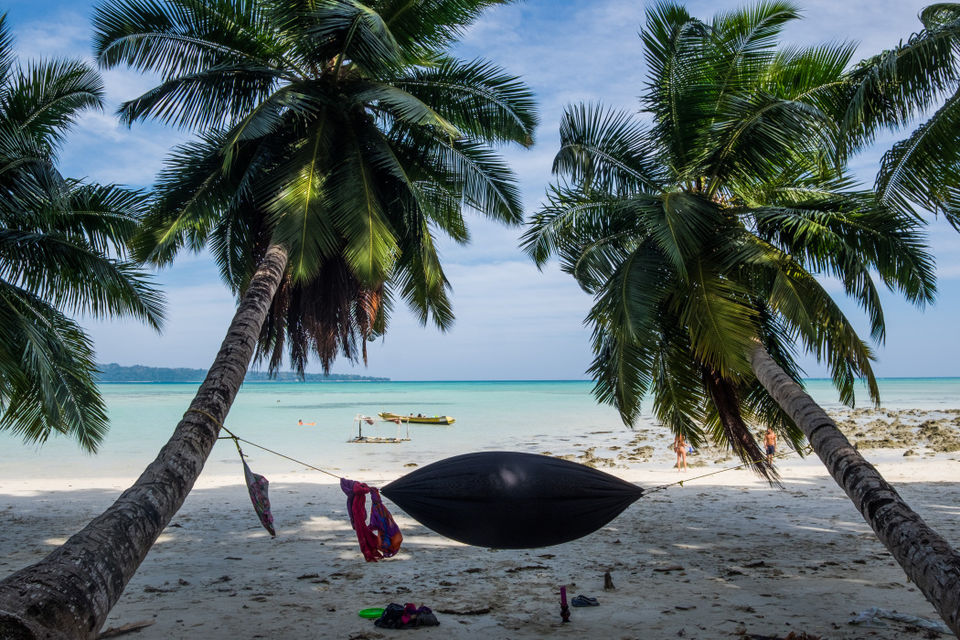 The ideal setting to idle.
Day 8 – after a second dive in the morning, we had a lovely, albeit slight sad breakfast at the Full Moon Cafe, before we packed our bags and left. Chic and understated, yet comfortable and homely, it was a lovely place with great food to spend our last few hours in paradise. There is much still to be explored and experienced in other islands of the region, and it is certain we will return one day.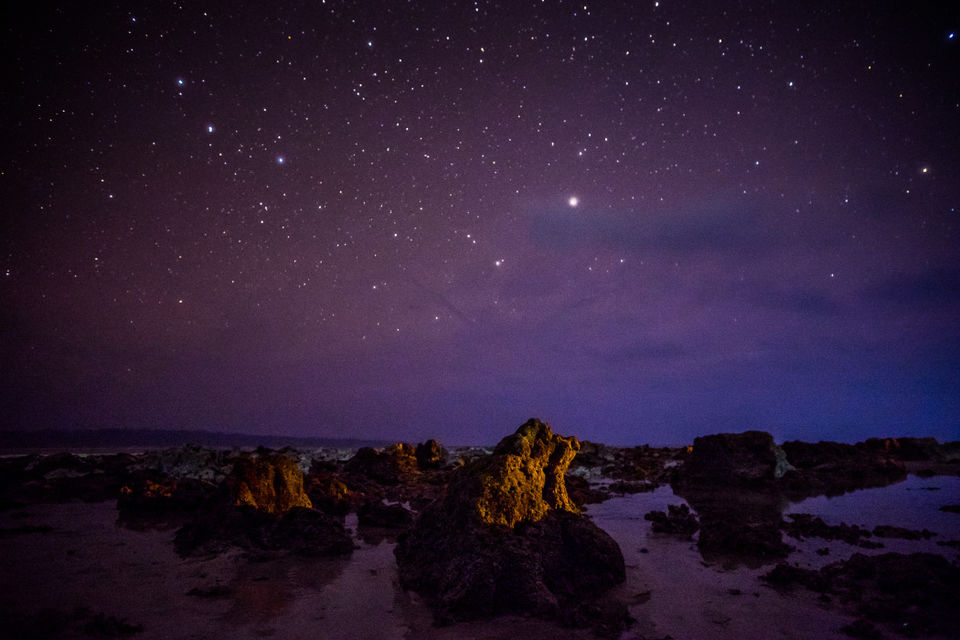 Low tide in the night looks surreal when the reefs are exposed and the sky is lit up by a million stars.