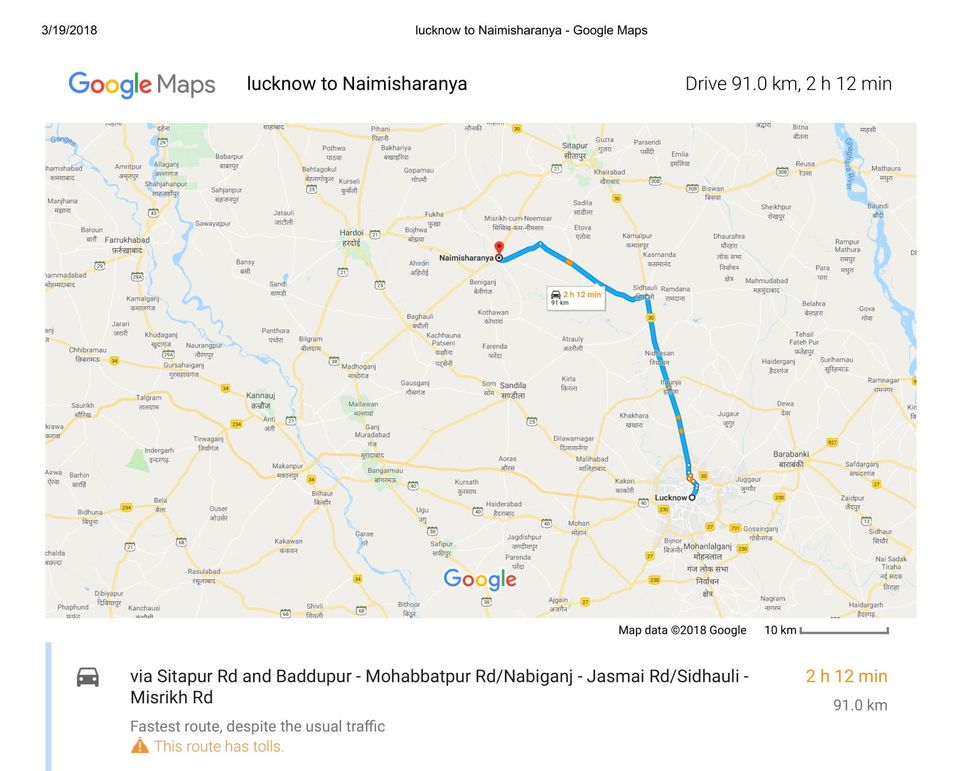 Naimisharanya is far-famed from the time of Satya Yug or Kritha Yug. it's the place wherever several sages have performed their penance. it's believed that on visiting this sacred place, folks ar obviate their sins. Upon visiting Naimisharanya, man attains Moksh (liberation) and attains large powers (the eight powers that ar talked regarding in Hindu philosophy). These words and their importance ar mentioned in numerous ancient scriptures of Asian nation. Naimisharanya is additionally stated as Naimish or Neemsaar or Neemshaar.
We started our journey from Lucknow To Naimisharanya around 8o'clock Morning. The distance between these two places are near about 91 KM so if you travel at the consistent speed of 50 KM per hour you can reach Naimisharanya in 2 hours and 12 minutes.
How to Reach :
There are all faciliies availabe like UP Govt Buses, Train but I like to say that you have to prefer Cab from Lucknow so you can go there in the morning and back to lucknow by the evening without any husstle.
A Little History Of Naimisharanya :
Naimisharanya (Neemsar) may be a land steeped with Hindu mythology linking it to Lord Brahma, Lord Vishnu, god Sati and Lord Shiva. The place is exclusive thanks to the idea that it's the land wherever the pantheon of thirty three Hindu God & Goddesses reside. It additionally believed to be the primary most sacred of all pilgrim centres for Hindus. it's aforesaid that if one performs penance for twelve years on this land, one moves to Brahmaloka. The place is found on the banks of watercourse Gomti in Sitapur district. This place finds mention as a dense forest in many ancient scriptures, together with the sacred writing.
The far-famed saint Goswami Tulasi Das wrote concerning the prominence of Naimisharanya in Raamcharith Maanas. Naimisharanya is that the abdomen of our deceased elders. Paying respect to our elders at naimisharanya satisfies them and any sins aquried by Us are going to be quenched and it's useful to our family.
Place to be seen in Naimisharanya :
Chakra Theerth :Legend has it that the results of AN impending Kalyug drove several sages to Brahma to hunt refuge. He rolled his Chakra (wheel) across Earth and told them to follow it until it rests; it's believed that Chakratirth is that the place wherever Lord Brahma's wheel cracked through the world developing an oversized supply of water. However, because of high flow of water the saints then requested Lord Brahma to assist them. On Lord Brahma's request then arrived divinity Lalita Devi who re-established the Chakra (Wheel) and controlled the flow. This fashioned a kund (pond) here, called Chakra Kund. Today, this spot is enclosed by a promenade dotted with shrines honouring several Hindu deities.
Suth Gaddi: It is believed that this is the place where Maharishi Soot narrated the Shri Shaunak to around 88000 saints and rishis. Manu chose this place for 'tapasya' (deep meditation). There is an age old Vat tree nearby.
Lalitha Devi ((presiding female deity of Naimisharanya)) : Lalita spiritual being is that the presiding deity of Naimisharanya. The temple is AN ancient shrine and as per the legends or varied Puraanas once Devi Sati burnt herself within the Yogi Agni when Daksha Yajna, Shiva carried her body on his shoulder and began activity Shiv Tandav due to that the creation of universe was affected so Lord Vishnu divided Devi Sati's body into 108 components. it's believed that the heart of Devi Sati is present in Naimisharanya and is one amongst the Sakti Peeth's referred to as Lalita Devi. As per another lore it's conjointly believed that by Lord Brahma's order Lalita Devi appeared here for the destructions of Asurs in Devasur Sangram. The temple could be a stunning cantilevered, multi-limbed divinity over entrance flanked by elephant statues.
Hanumaan Gaddi : After his finish over Ahiravana in Patal Lok, Lord Hanuman initial emerged here, thence the place attracts high significance for his devotees. there's an impressive stone-carved sculpture of Lord Hanuman, with Lord avatar and Lakshman sitting on his shoulders. The temple is termed, Dakshineshwar, as idol of Lord Hanuman here is facing southward.
Pandav Kila : This is the fort of King Virat of Mahabharata. During the 'Vanvas' (exile), this is the fort where Pandavas lived. It is home to some splendid statues of Pandavas and Lord Krishna.
Vyaas Gaddi :This is the place wherever Ved Vyaas divided the Vedas into four main components and shaped Puranas. He preached Shrimad Bhagvathgita and Puranas to his disciples Jaimini, Vaisamaayam, Shuk Dev, Suth, Angeera and Pail. there's associate degree associate degreecient banyan that is claimed to be a blessed and is believed that anyone who performs Yoga beneath this tree will get obviate even an incurable disease.
Dasaashvmegh Ghaat : This is the place where Lord Rama performed the tenth Ashwamedha Yagna. The spot is marked by an ancient temple with idols of Lord Rama, Lakshman along with Janaki and Lord Shiva called Siddheshawar Mahadev.
Dadheechi Kund : When ousted from devlok by the Asura Vritra United Nations agency might solely be killed by a pious object, not weapons Devraj Indra pleaded to Hindu deity, United Nations agency suggested him to request Maharishi Dadhichi for his ribs; the sage reluctantly united. Indra is claimed to possess then intentional a Hindu deity and slain the demon. All of this transpired in Misrikh, 10 KM away, wherever a temple, ashram (hermitage) and kund (pond) mark the event.
Swayambhu Manu and Satrupa: This is the spot where Swayambhu Manu and Satrupa performed penance for 23000 years to obtain their boon that Lord Narayana be born as their son.
Most Important thing to do in Naimisharanya is Parikrama :
The Parikrama (circumambulation of holy places) of Naimisharanya has a great significance. It is held annually between Phalgun Amavasya to Phalgun Poornima.
And Bath in Chakra Theerth ( Many Believes that once you take bath in Chakra Theerth you romove all your sins.)
Weather :
Located in the plains of North of India the weather here is subtropical. In summers the temperatures can go up to 40 deg. C. Monsoon is nominal with an average rainfall of 35.28 inches during the season lasting from July to September. Winters can be cold with the minimum temperature falling to 3 °C. The best time to visit Naimisharanya is September/October when the weather is cool but not too cold.
Accommodation :
Naimisharanya offers dharamshalas and accommodation may also be available in Mandirs in the vicinity, such as the Balaji Mandir. However, tourists would be advised to find accommodation in Lucknow, Sandila, Khairabad or Sitapur.
Frequent searches leading to this page:-
lucknow to naimisharanya, places to visit near lucknow in summers, famous temple in lucknow, lucknow to naimisharanya to ayodhya, lucknow to naimisharanya car, naimisharanya nearest railway station, lucknow to neemsar bus time table, hotel in jankipuram lucknow