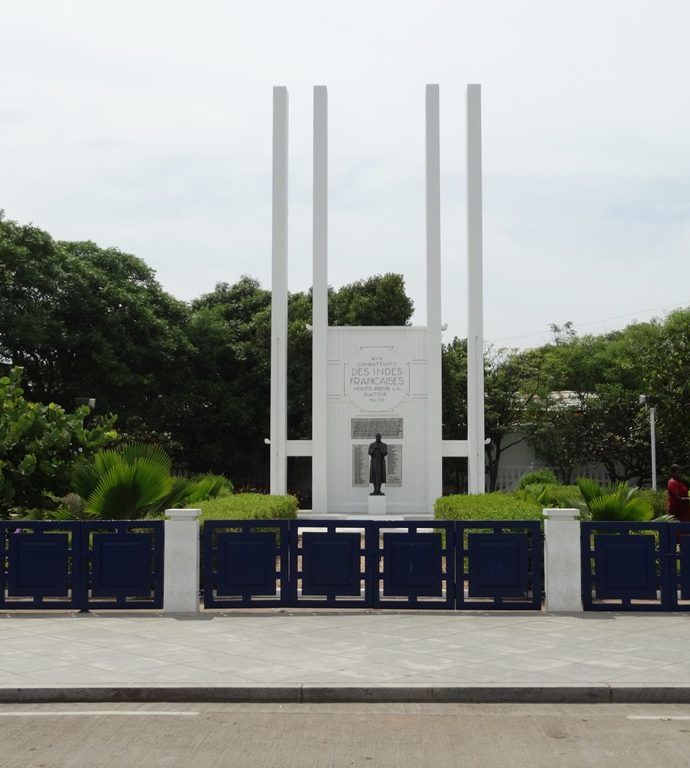 Through the internet search, I had got a fair bit of an idea on Pondicherry being a very small-yet-lively city (a Union Territory, by the way) and that 2 days actually would be more than sufficient really to explore every nook and corner of it. Somethings were pre-decided, like Cycling, to explore the "French" culture. So then, I thought this seems to be an apt destination for a short weekend get-away beginning 11th Sept 2015 (Friday) to 14th Sept 2015 (Monday).
I have been reading about quite a few popular travel bloggers from India and overseas, on how they have left their corporate jobs and have started out & continued their travel trails full time. It is great if this happens to me. But somewhere I may not prefer that kind of a lifestyle. So, my kind of style and my USP will always be that of a working professional (I am a full time HR Manager with an MNC in Pune India), who tries hard with thinking of ways to save money for his travels and also squeezes time & schedule, wherever possible, from his office life, to visit several places and help fulfill his dream.
With only around 20 days to go for this trip, I had to configure the fastest & the cheapest way to travel, which ensured that I didn't keep spending unnecessary time in transit. Rather, I had to be at the "place"... in the "city" and make the most of it - by my own standards. So, did the scheduling in the following manner:
11th Sept 4.00 pm to 5.30 pm: Flight - Pune to Bangalore
11th Sept 9.00 pm: Train - Puducherry Express - Yeswantpur to Pondicherry
12th Sept 7.45 am: Arrival & exploration of Pondicherry
13th Sept 1.00 pm to 2.30 pm: Bus - Pondicherry to Villupuram
13th Sept 5.30 pm to 9.00 pm: Train - Garuvayur Express - Villupuram to Chennai
14th Sept 5.15 am to 6.45 am: Flight - Chennai to Pune
Flight bookings on SPICEJET helped me bag the cheapest tickets @ only INR 2,111 and INR 2,107 both ways respectively. It turns out that this is actually the best thing to happen for a Solo Budget Traveler like me. That too, getting them so cheap with only 15 days in advance is damn lucky. As for trains, I preferred Sleeper Class on both my journeys i.e. from Yeswantpur to Pondicherry and then while returning from Villupuram to Chennai, costing me hardly INR 451 via IRCTC website. So, 15 days prior to the date of journey, I was done with the travel booking part & was quite happy on how lucky it turned out to be for me. Here I give a day by day briefings, hopefully it will be useful to you:
Day 1: 11th Sept 2014
Once you arrive at the Kempegowda International Airport at Bangalore, no need to take taxis etc. Just outside the Airport, there are AC buses that take you to all parts of the city. This Airport is way outside the city limits, around 35 kms if I am not mistaken. So going by taxi will seriously ruin your budget. Since I had a train from Yeswantpur Railway Station (an area of Bangalore itself) at 9.00 pm, I had quite a few hours to reach & no need to hurry. The bus is comfortable, takes INR 210/- and about 75 to 90 minutes, depending upon traffic. Halts at a bus stop 1 km away from Yeswantpur Railway Station & you can walk the distance.
The train Puducherry Express was very clean (even in Sleeper Class), had on time departure and fairly vacant. May be since it runs everyday, it isn't crowded at all. My bogie contained quite a few young working professionals I guess, who had come in groups to see around. Reaches next day morning at about 8.00 am.
Day 2: 12th September 2015
Pondicherry Railway Station is small yet clean. There is only one way of exit and outside, it is not like the typical outer side of any railway station - noisy, cluttered, too much congested, vehicular traffic coming in from all sides - no, nothing of that sort. There is only an auto stand and the drivers too don't really come onto your face, forcing you to hire them. I found them very decent.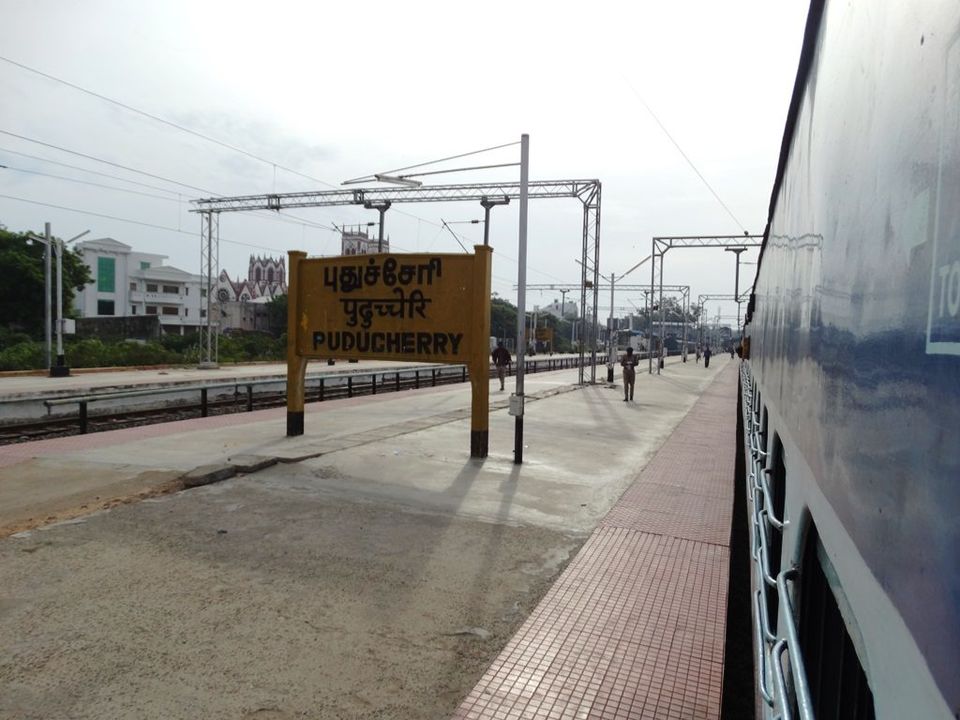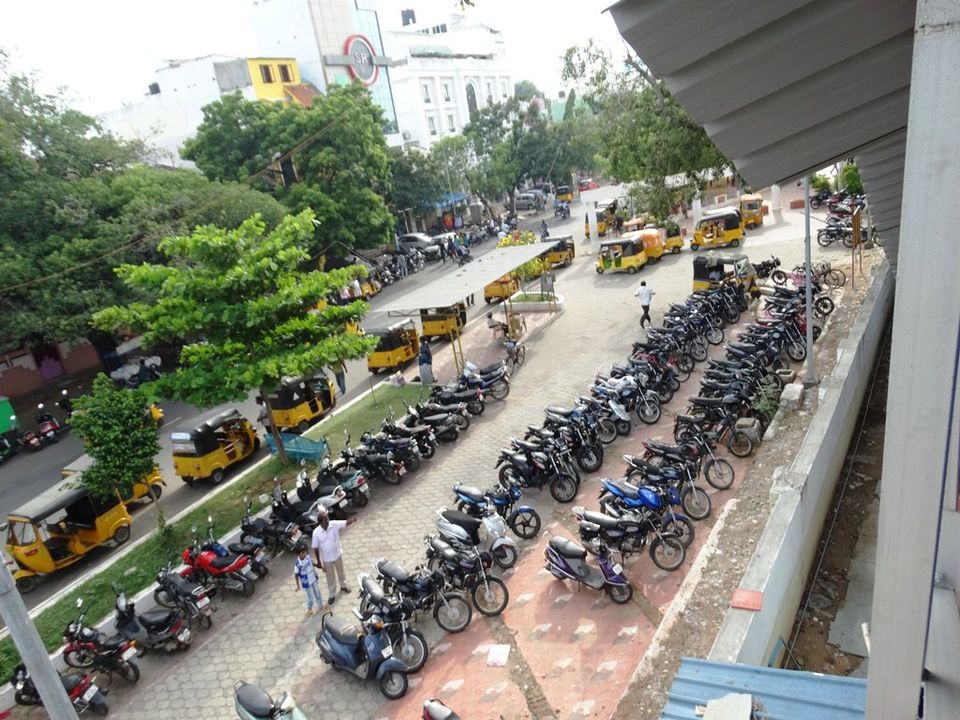 Having reached right time, at around 7.45 am, I hired one Auto to my hotel Aadhaar Guest House at INR 60/- which is reasonable. Below this, they won't drop you anywhere. You may read full review of the hotel by clicking on the above link.
Something about Pondicherry
Pondicherry has been renamed as Puducherry since 2006, as has now become the trend in India to keep changing names of the cities & towns alike - as if the love for one's place is suddenly going to sky-rocket. Anyway, I don't wish to get into the politics of it and if the local people like it that way, I appreciate & respect their point of view. I find it interesting to note that it was, at one point in time, the biggest French Colony in India. This is prevalent today as well, especially if you manage to visit the beach-side area. I found the word "Rue" being used often - it means "Street". Typically, most of the streets are pretty similar to what you find in India, except the beach side area, wherein the streets are very quiet and houses have their own style. The exquisite use of paints on houses brings in a lot of vibrancy overall and I really liked clicking the pictures of these.
Abstract Pondicherry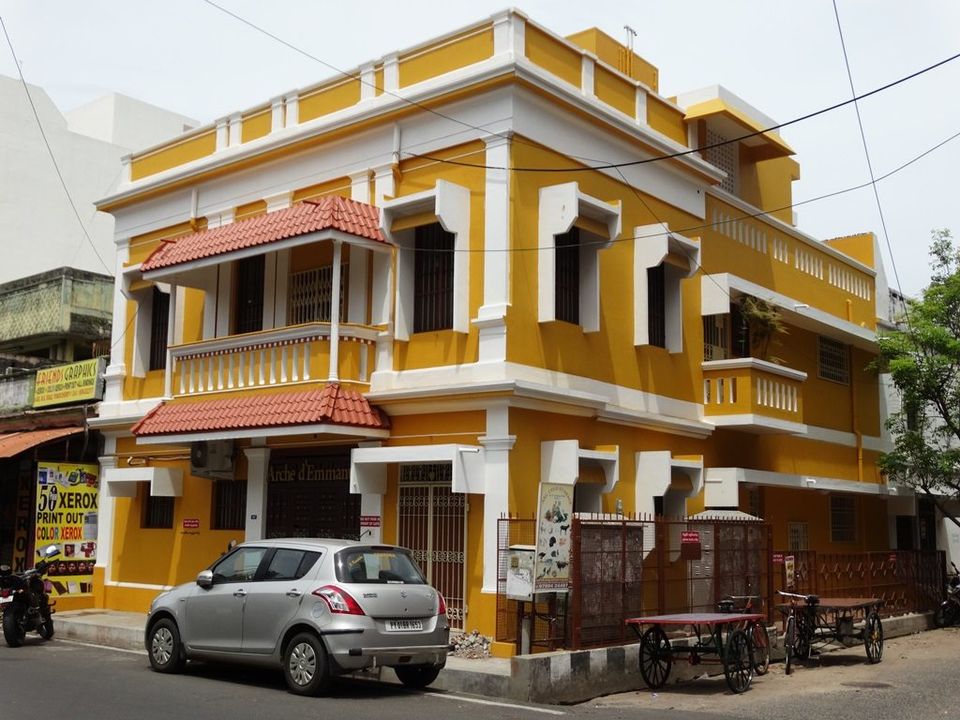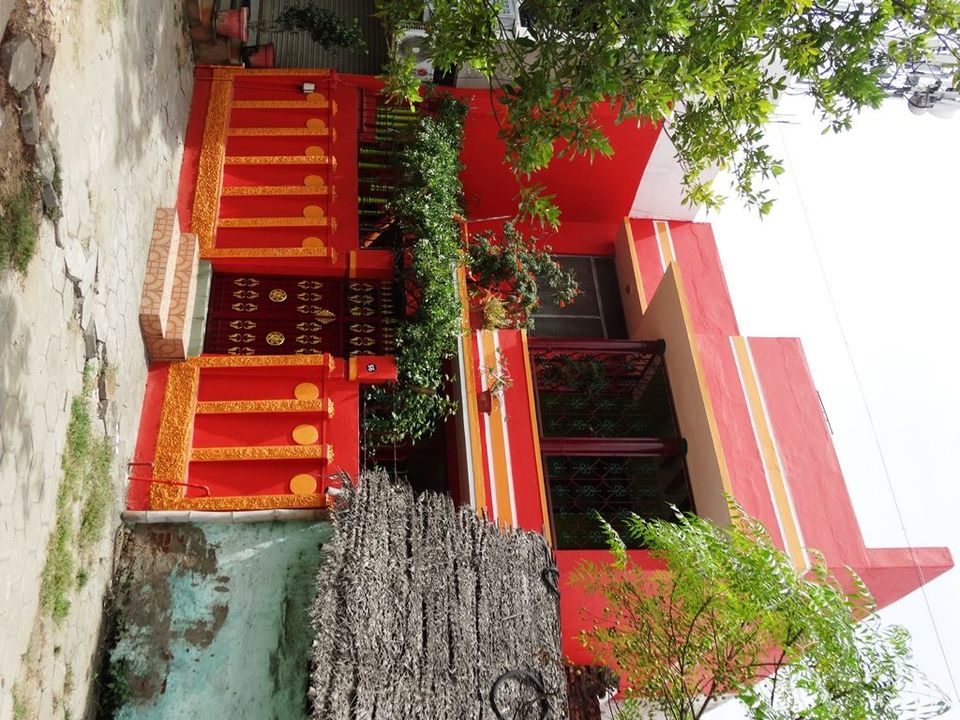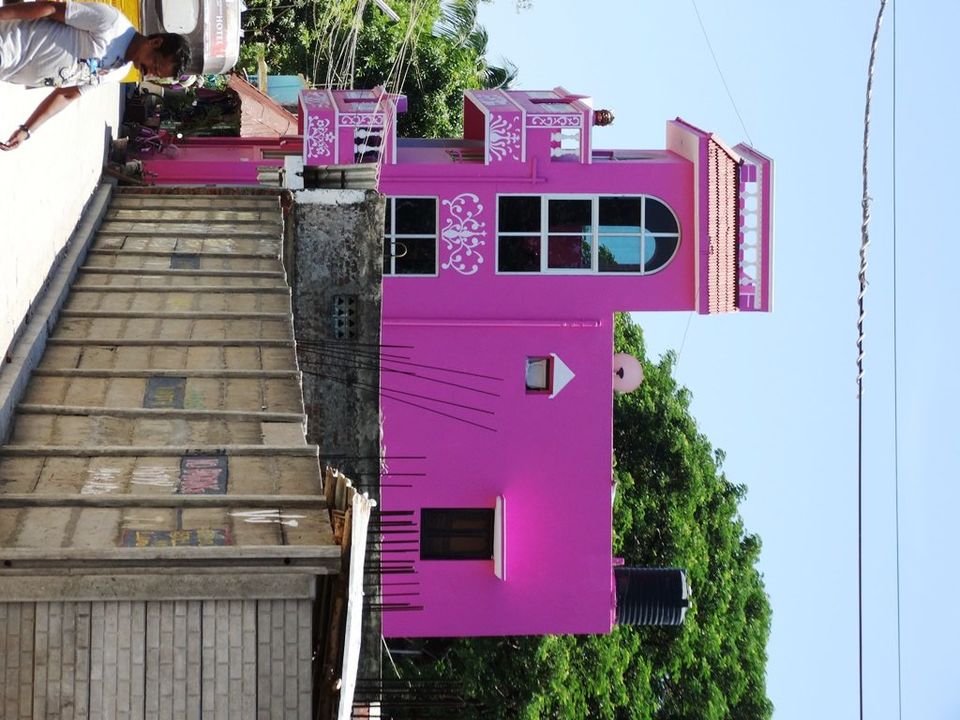 I didn't have any problem communicating in English, although of course yes, had I known Tamil, I guess the locals would have gone out of their way to help me even more with anything. The weather was very hot & humid. As I settled down in my hotel and then started my exploration part of a bicycle by around 11.00 am, it was only time before I was to get tired. Wanna see my trendy companion:
I found a lot of boys & girls on Royal Enfield Bullets roaming the city, but I still feel my decision of choosing a bicycle over bike was better off, considering the small size of the city, the slow speed of pedalling helping me to "see more" while riding too, rather than stopping every 10 minutes everywhere. I admit it was tough to ride after around 20 years. The last time I rode a cycle was in 1995 :)
I had great meals everytime I was hungry and there are some quality restaurants or even local "tapri" for your snacks & tea etc. Even that taste so much better. And believe me, it is DAMN CHEAP. May be INR 150/- for a wholesome lunch or dinner. Not bad.
There is really not much to do in Pondicherry, except soaking in the sun and looking around, observing etc. However, somethings like Ocean Swimming, Massages, Scuba Diving etc can be experienced. I didn't do any of these. Some of the places to be visited are:
Sri Aurobindo Ashram (with prior booking),
The Promenade,
The Sacred Heart Church & French Quarters
Le Cafe (at night) on the Beach Road
Goubert Market
Botanical Garden
Local streets M G Road, Nehru Street, Lal Bahadur Shastri Street etc
The building of Public Works Department (PWD) - because it looks even better than a boutique hotel :)
Pondicherry in Pictures
Since this day 12th Sept was a weekend, I guess there was local crowd coming in from all directions on these streets, haggling for purchases etc. Sharing some snaps that I felt like capturing: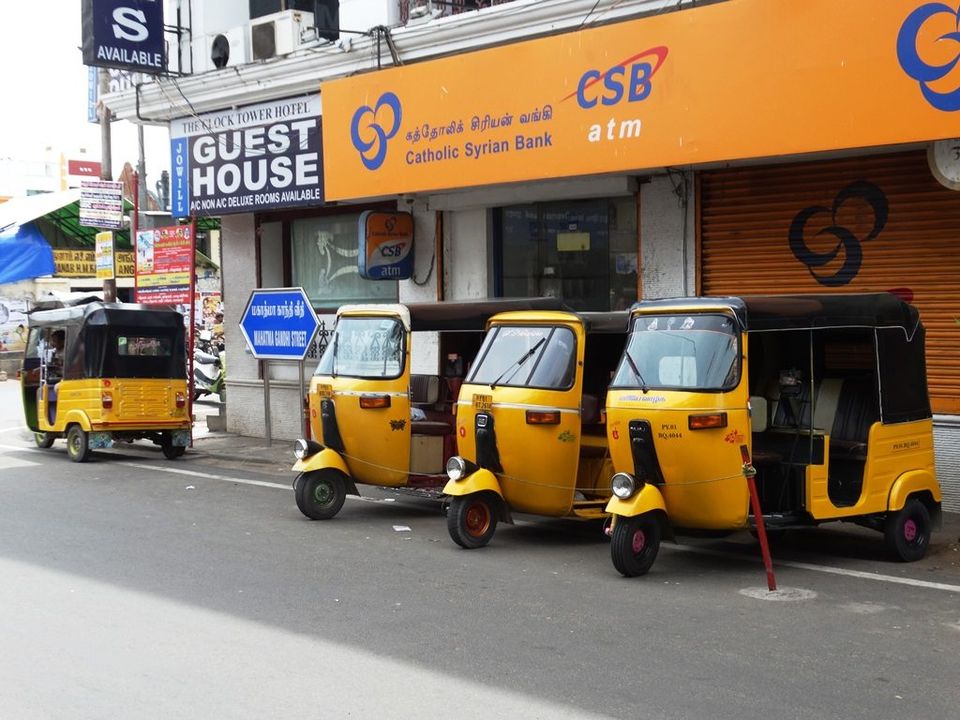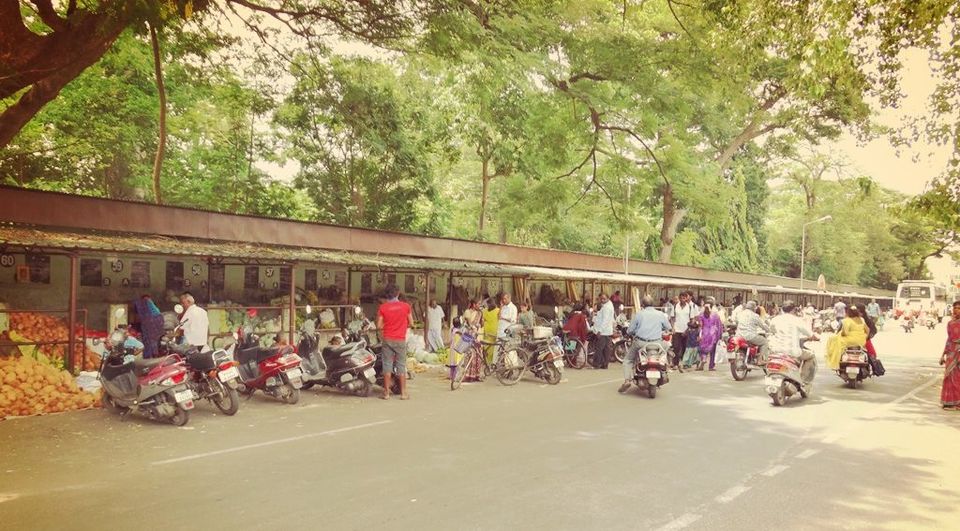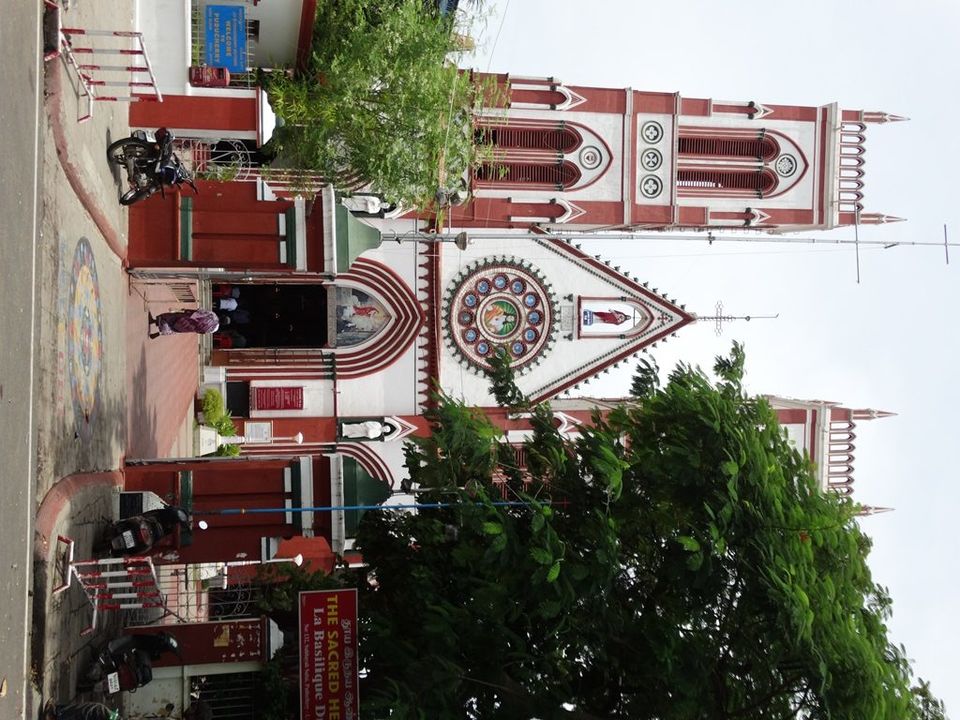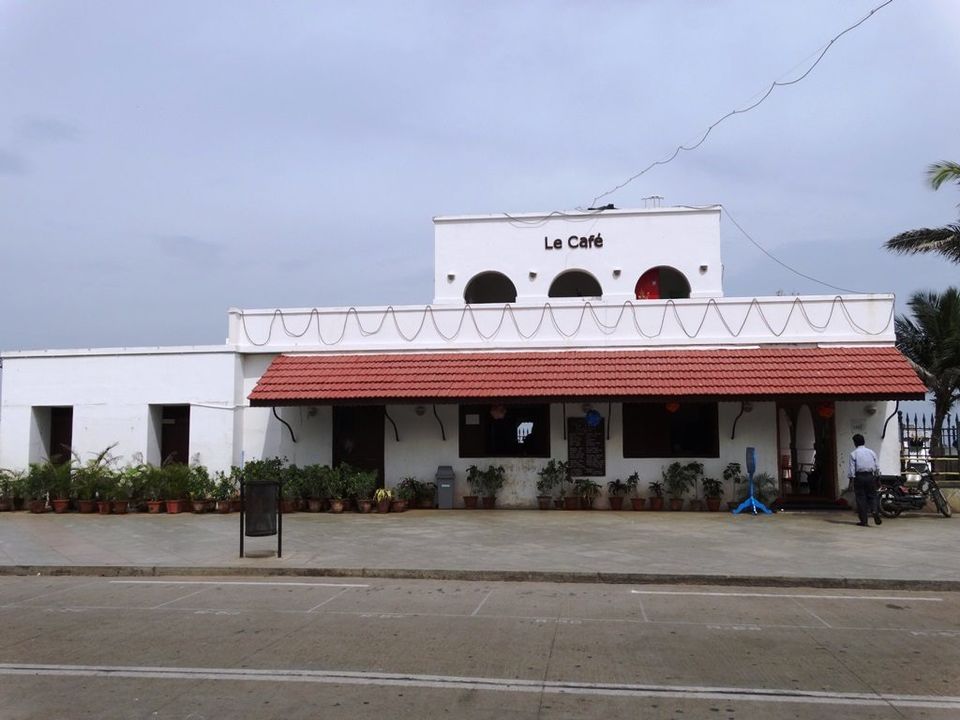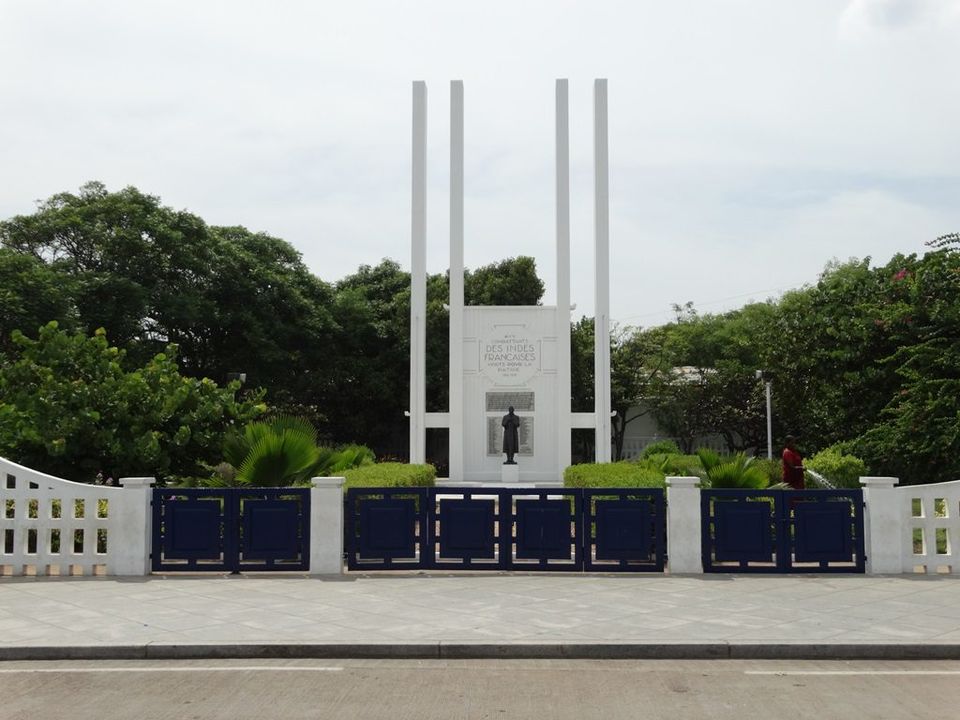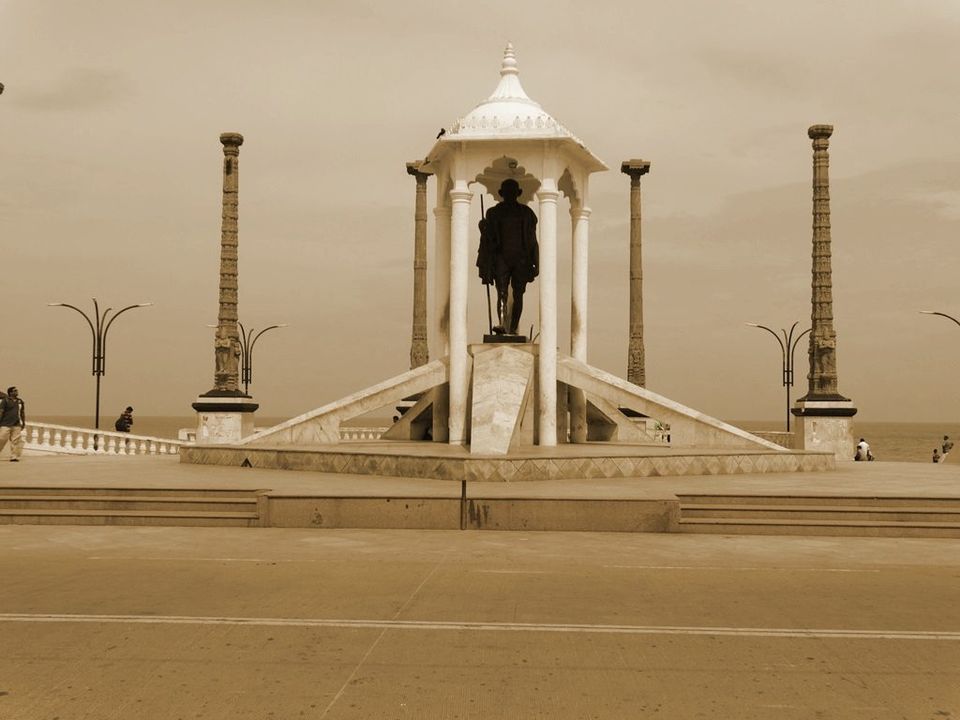 Day 3: 13th September 2015
My this day was more of relaxation, to recover from the cycling dare-devilry, upon realizing that I have actually fuc**d my legs, with too much of my enthusiasm. So, it was a quiet breakfast in my hotel Aadhaar Guest House rooftop restaurant and vacating their premises by 12 noon.
Thereafter, it was a long journey ahead - going from Pondicherry to Villupuram, which was some 40 kms. The public transport bus can be taken from the New Bus Stand in Pondicherry. When the conductor first asked me for INR 18/- only, I confirmed with him thrice - I felt it was that cheap. Having reached Villupuram Railway Station by 2.00 pm and my onward train to Chennai scheduled at 5.30 pm, it was pretty boring in those 3 hours, I had no laptop, my mobile internet was down too. Villupuram, although a big railway junction now in the state of Tamil Nadu, doesn't have many eating options too, except Dosa & Idly at the railway station itself - which is not really a thing to look forward to.
Whilst on train to Chennai, I met a fine 60-year old lady Mrs. Bhuvaneshwari, who was taking her grandson along with her. What started as a casual conversation about my "antics" (as Solo Travel is considered in India still), it was heart-warming to know how, despite her struggles since 1990 (after loss of her husband - she was only 35 that time !), she managed to raise her 2 kids to make them what they are today, both Engineers, well settled in life & career. I wish her dream of "traveling", that she had to forgo for the sake of her home responsibilities, comes true sooner.
It is amazing how travel can open you up to so many situations, allow you to meet so many different people, each one having his or her own story... some stories are worth knowing. Most importantly, it makes you realize that there are people whose struggles are more serious and much bigger than yours.
My entire journey, spanning some 2,200 kms, cost me just under INR 7,000/- all inclusive, which is very reasonable. I am also content & satisfied with this. Cheers !
Last Visited in September 2015
Trip first published on Fly with Shaunak