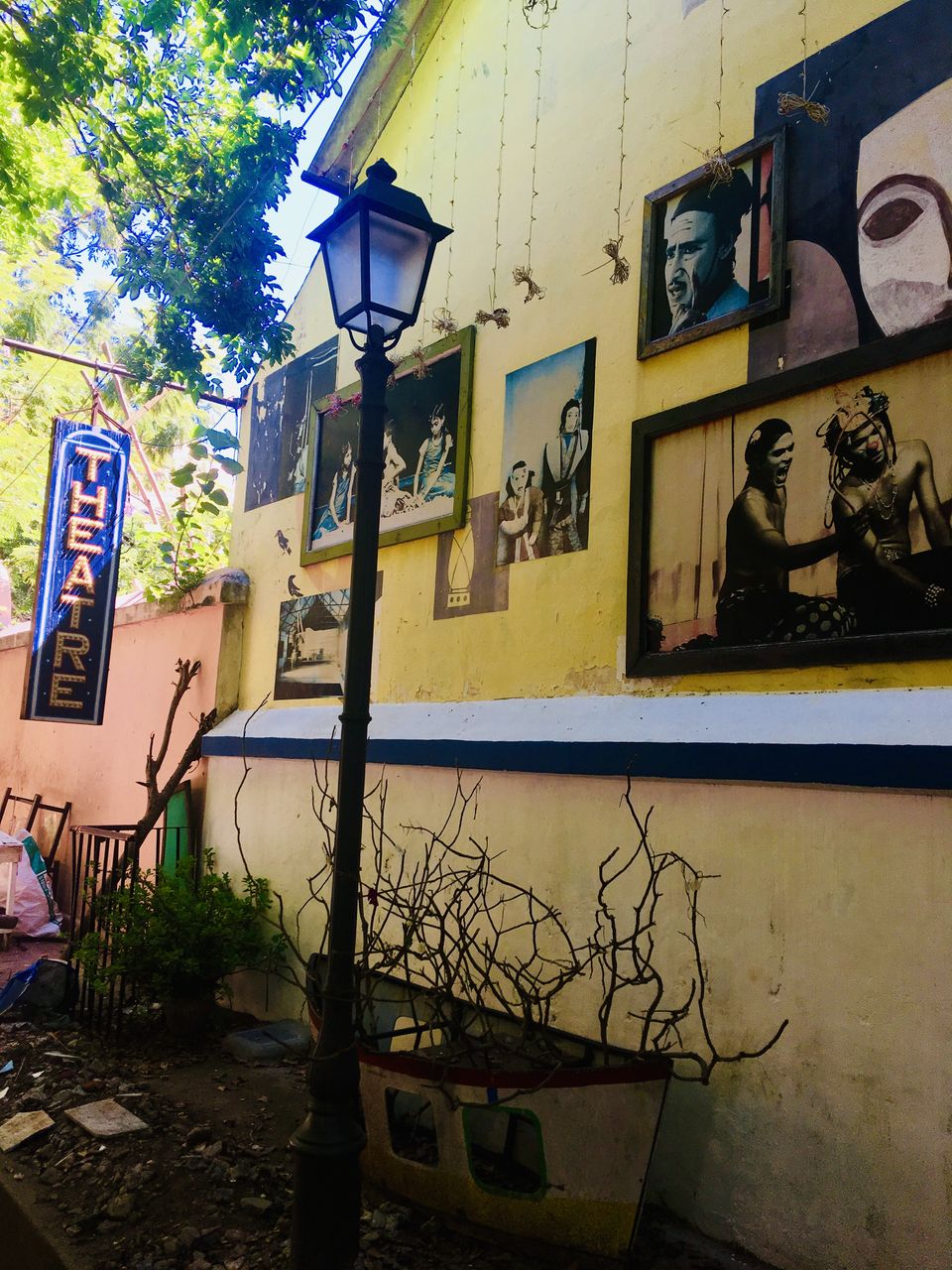 I have always been in love with the name of the place - Pondicherry and that is one of the reasons it has always been on my mind.
After a trek in Himalayas, all I wanted next was some family and BEACH time.
Adding to it, my grand father, who retired in SBI, has traveled all over India on work and vacation, and the only place he did not visit was Pondy.
So this called for a trip to Pondicherry, with my family.
Planning for a trip excites me soo mucchh and it only ends, when the trip ends. I get so excited, I want to do this, do that and do everything possible.
We decided to go till Chennai by train and then take a bus to Pondy from there. We got our train tickets done nearly 2 month before, so the next excitement was to check for our stay.
After a good research, the best option we found was the Aurobindo Ashram's - New Guest House, suggested by my cousin.
New Guest House is one of the many guest houses, that belongs to Sri Aurobindo Ashram. It is a very simple, yet a decent place to stay.
I made a list of places I need to visit and the food I must definitely make space for.
Many of them who have been to Pondy, told me there isn't much to see there and one day would be more than enough. They laughed at me for planning a 4 day trip. I did not understand if it was true, but I was very sure Pondy has much more than that and deserves some time to explore.
So, Pondiiii, here we come !
Our Trip Itinerary
Cost - 10k around for 4 people from Hyderabad.
We took train from Hyderabad to Chennai Egmore station.
Day 1 - 29th Sept, 2018 : We got down in the Egmore station at around 6 AM and had our breakfast at Saravana Bhavan, located just outside the station. The tiffin center just opened then, and the breakfast here was of perfect Tamil Nadu style with hot Idly, Pongal, Vada, Sambar and some chutneys and finally one aromatic glass of coffee. (It's not a cup of coffee here. They serve coffee in a steel glass and a saucer)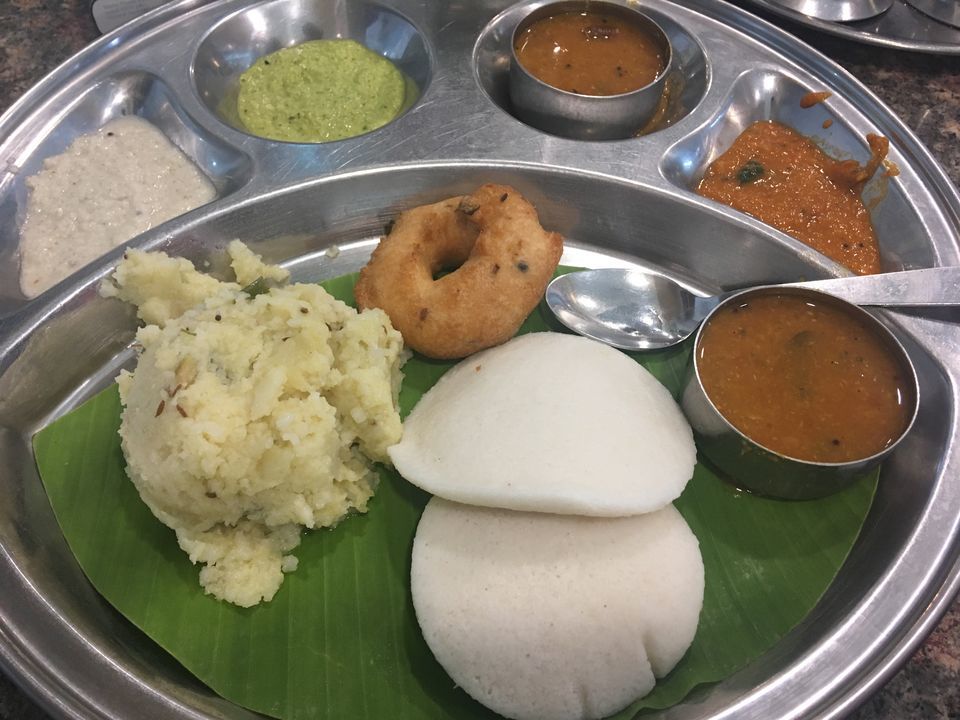 After a good breakfast, we headed to Chennai Mofussil Bus Terminus (CMBT) and took a bus to Pondicherry. RTC buses run from CMBT to Pondy every 10 mins, or there are a few AC Private buses, which run at specific timings.
Prefer to take a bus that goes along the East Coast Road (ECR). This route is a little longer, but the road and the view cannot be compromised for. We took a normal RTC bus, via ECR road. The journey lasted for 3 hours, with a stop in between.
Auto charges are a little pricey in Pondy, especially if you do not understand the language or during the season. We reached the New Guest house by afternoon and the rooms are affordable and comfortable. They have AC and non AC rooms, with 2, 3, 4 beds. Rooms are neat and clean, with basic necessities. They also provide bicycles for rent at a minimal cost. Food here is again clean, healthy and veggie. Being an Ashram, the place is calm and they have certain rules which should be abided by. Please read the instructions, and only book if you agree to them.
It again depends on the purpose of your visit ! I found this place amazing to stay with my family. My grandfather spent most of his time reading books in the ashram library. Also, it is located in the French colony, and is quite close to the Rock beach.
We got fresh and explored the Beach and the beach road. Vehicles are not allowed on the beach road after 4PM till 6AM in the morning, and that gives so much space for travellers to enjoy the beach, walk along the road stretch and shop around.
Day 2: 30th Sept, 2018 - A day dedicated to French Colony !
Well, I made a huge list of places to check out in Pondy, but at that time we just decided to spend the whole day around the beach and the colony. All the 3 mornings I was in Pondy, I woke up early to see the sun rise from the Rock beach, went on a walk along the beach road.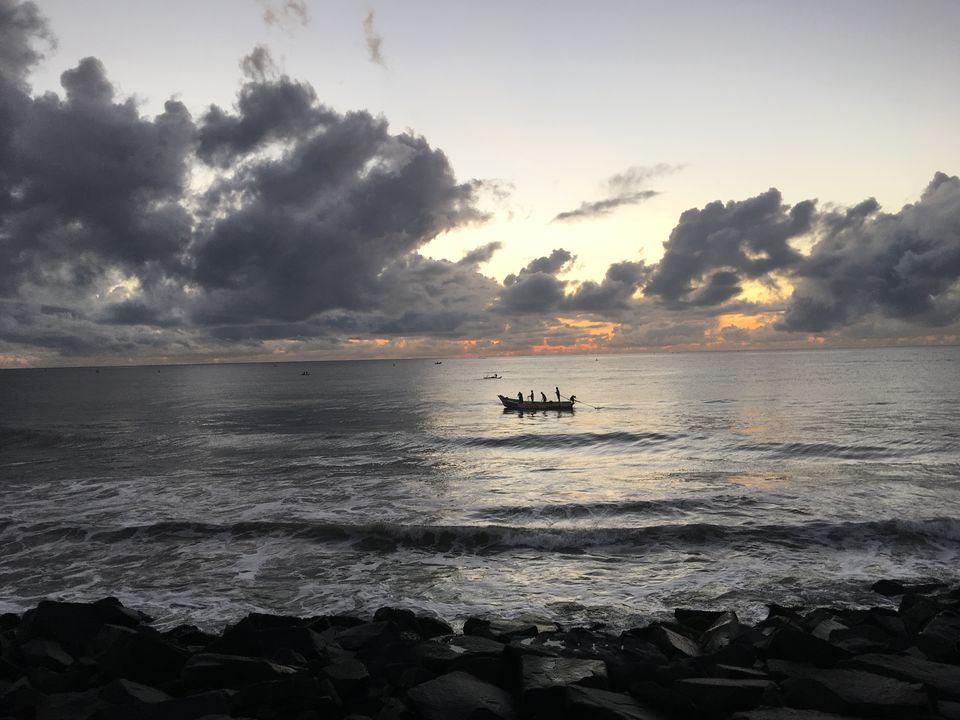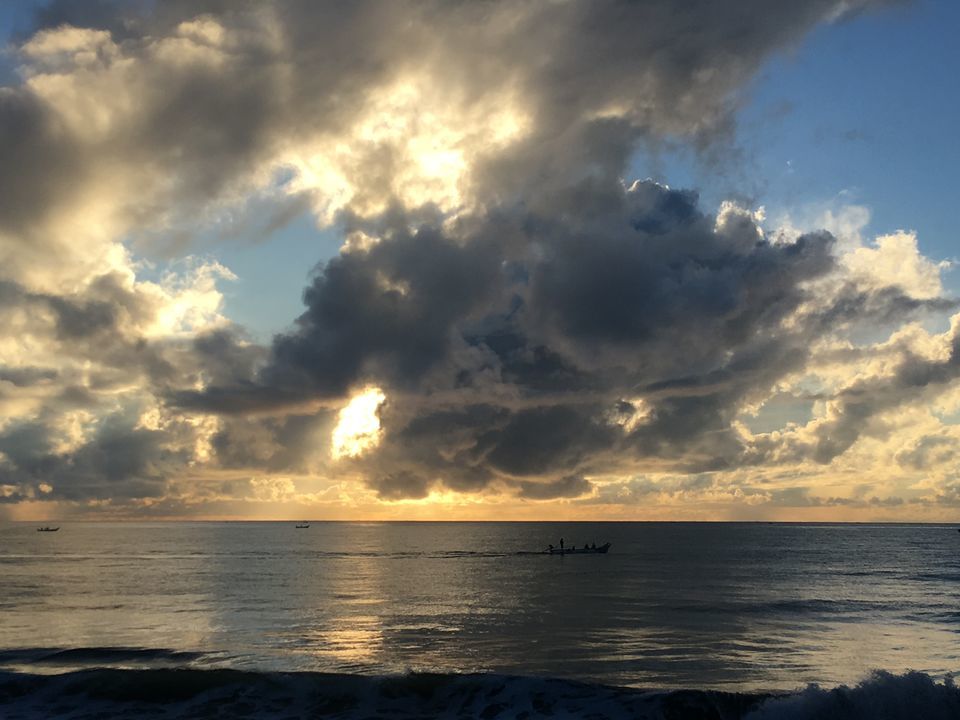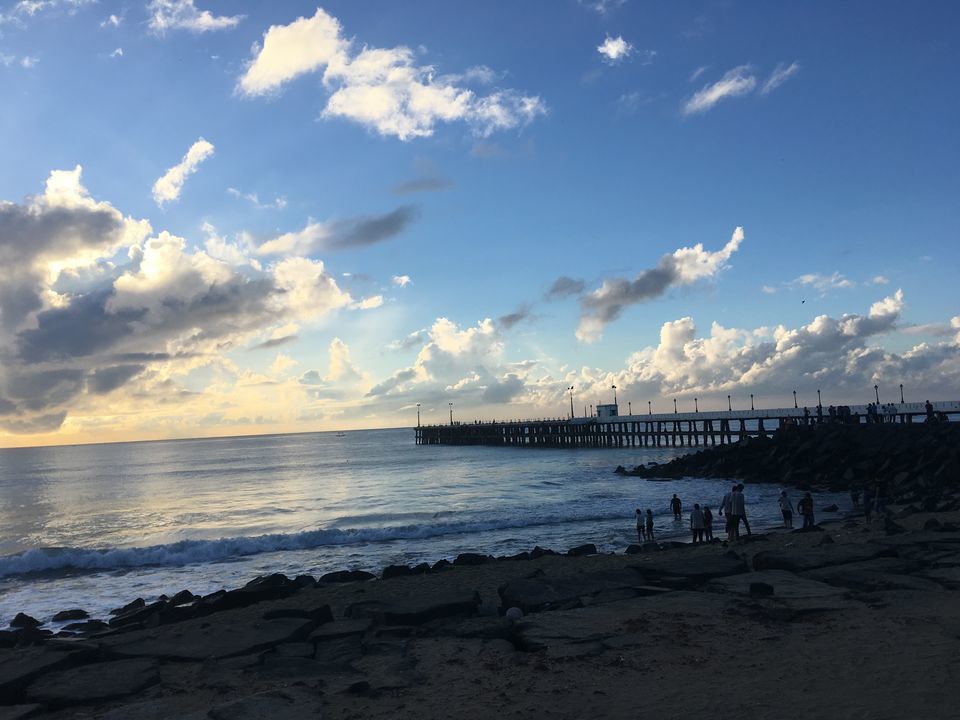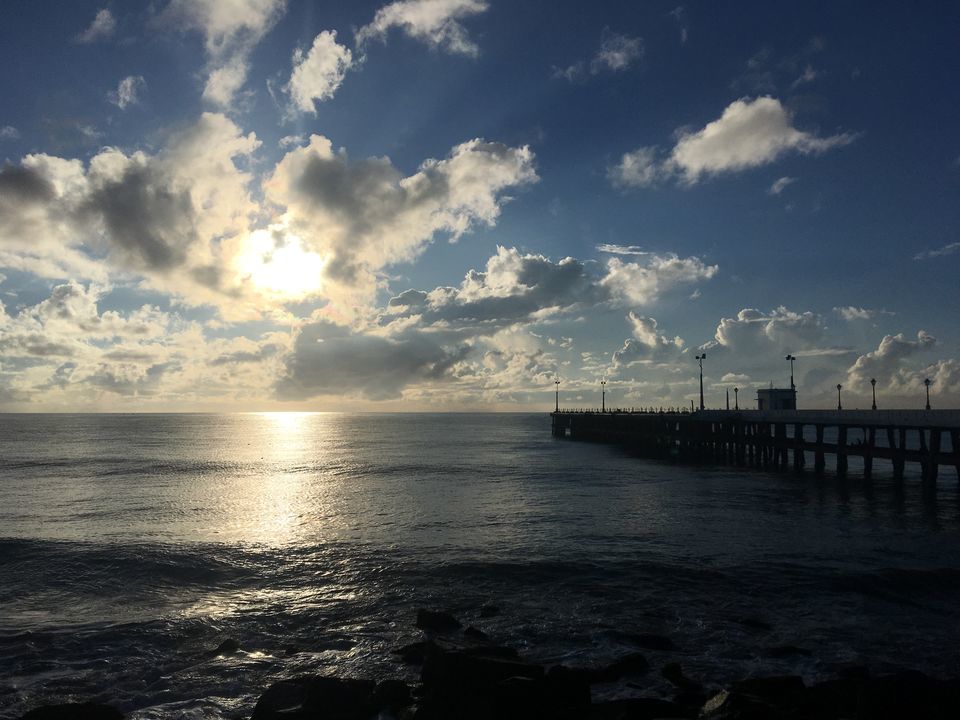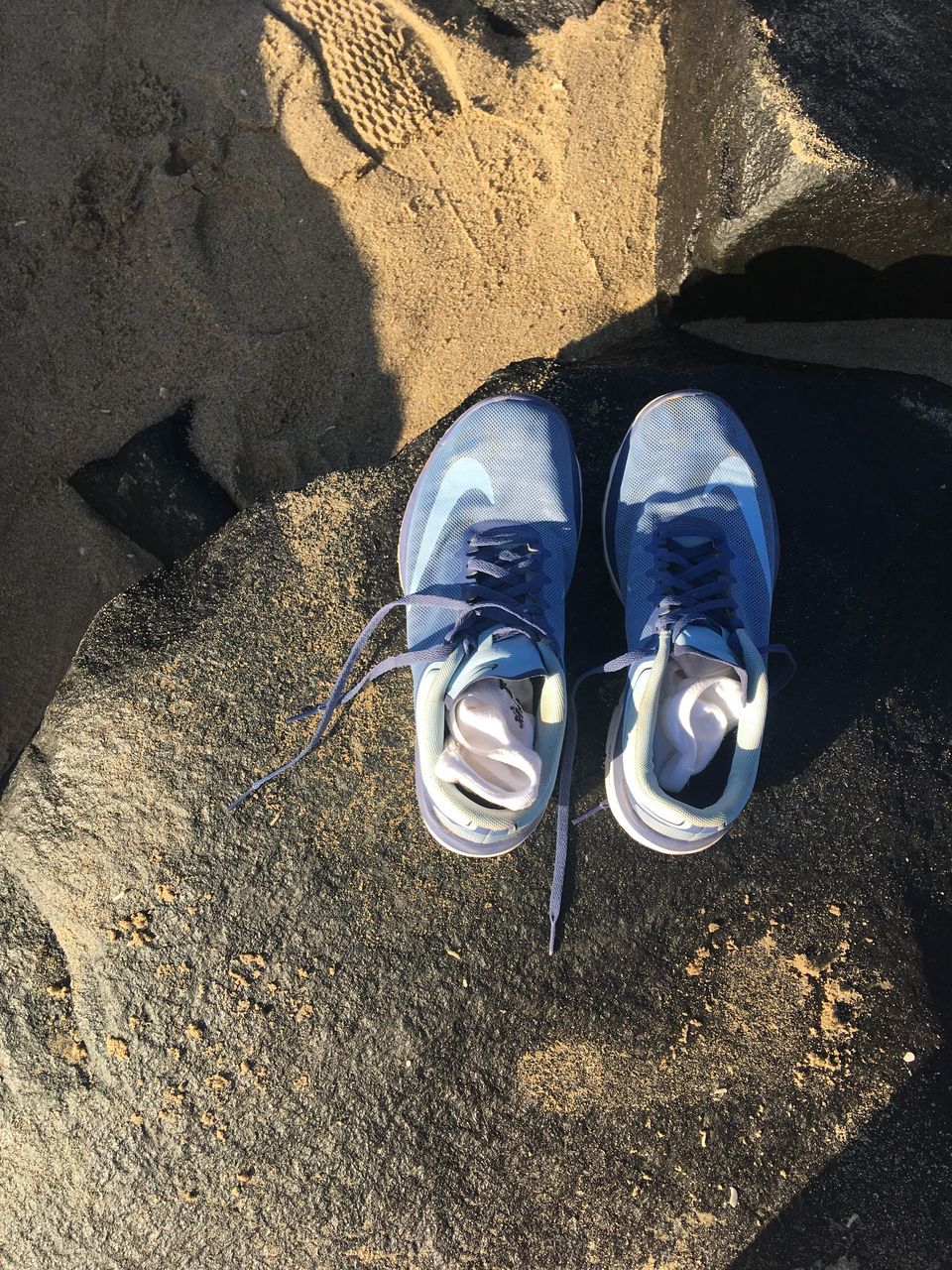 After a satisfying play with the waves, we had our breakfast and checked out the little streets within the colony.
Dad and I rented a bicycle to roam around the streets. Though I was a total failure, it was fun.
Pondy trip is incomplete without a click with these beautiful doors !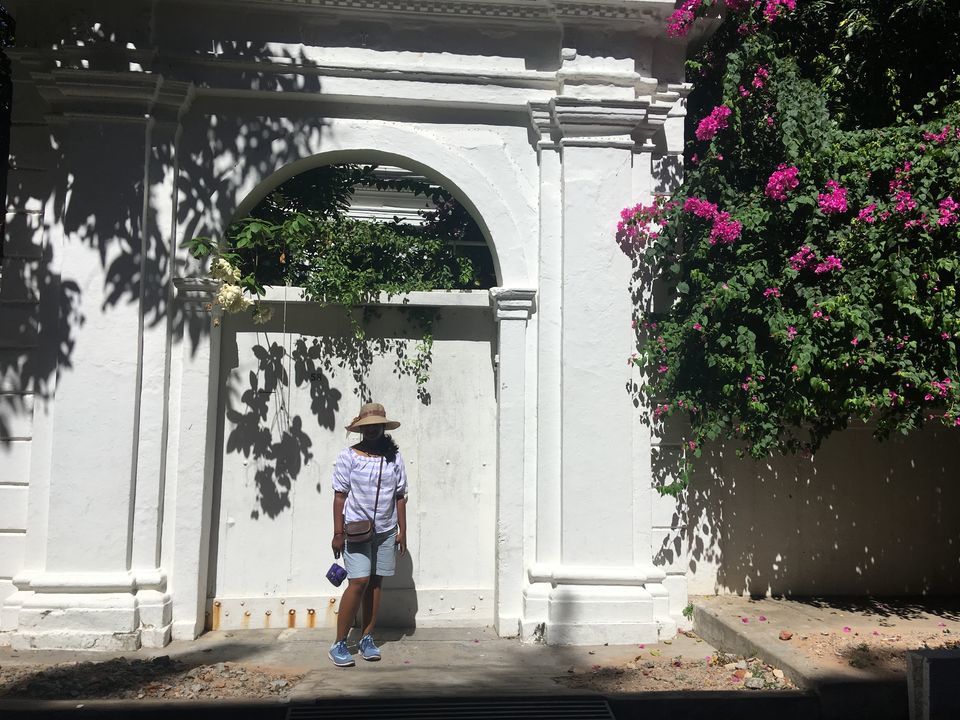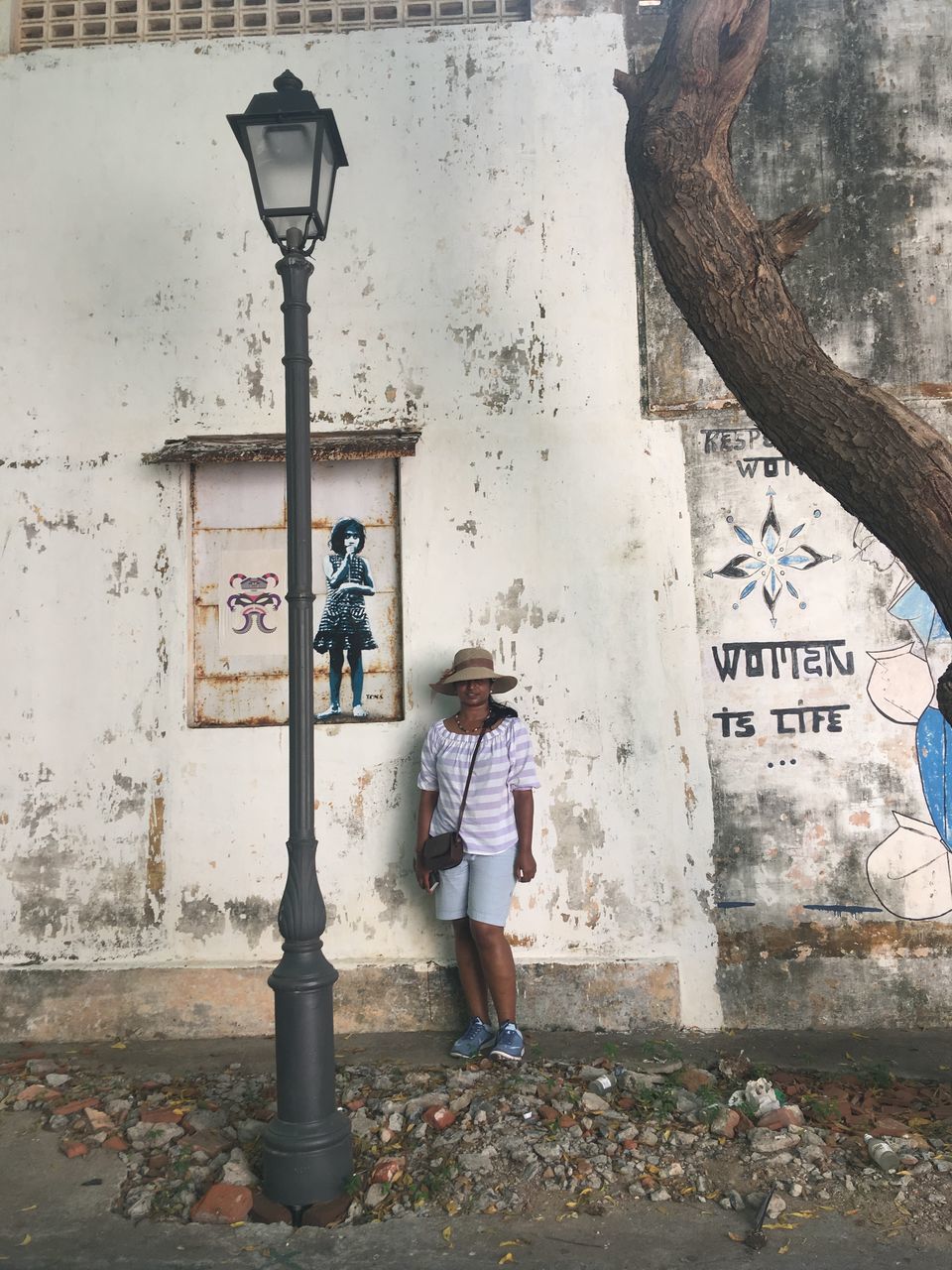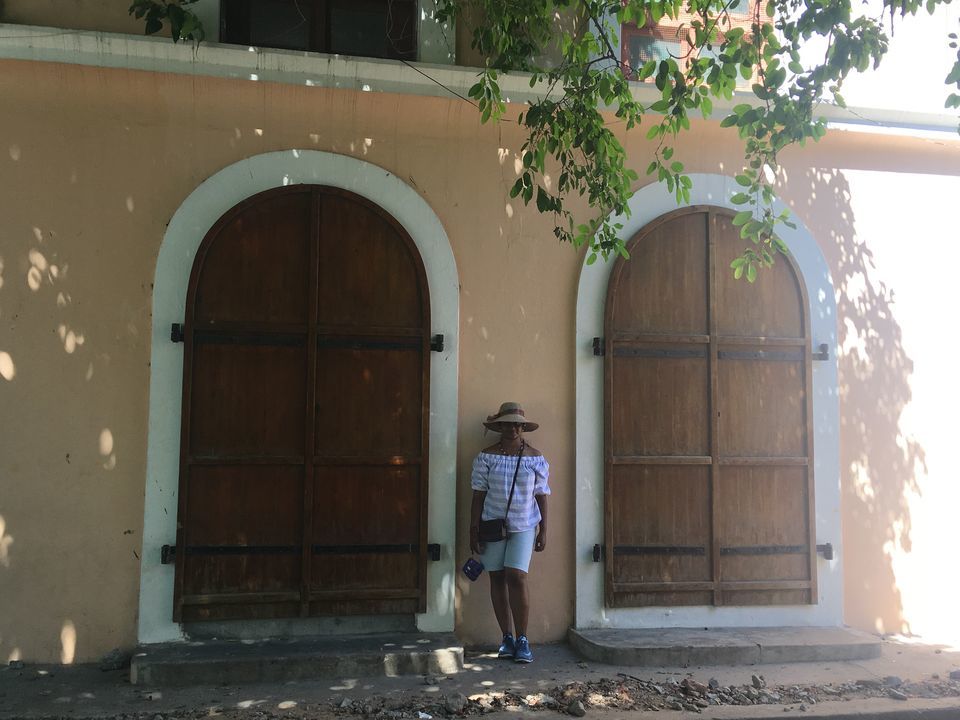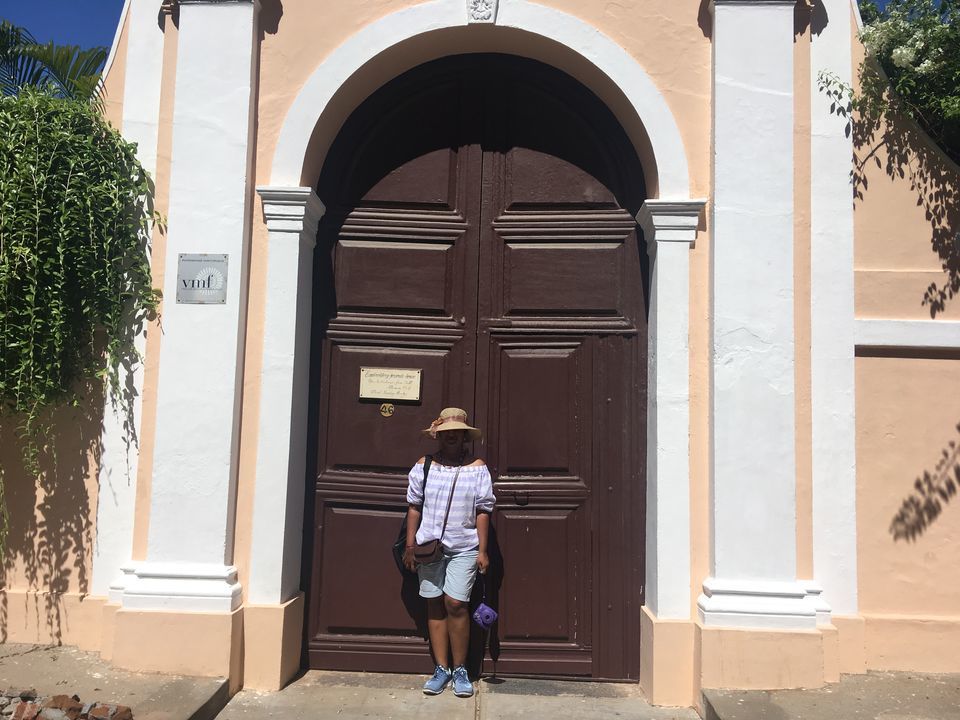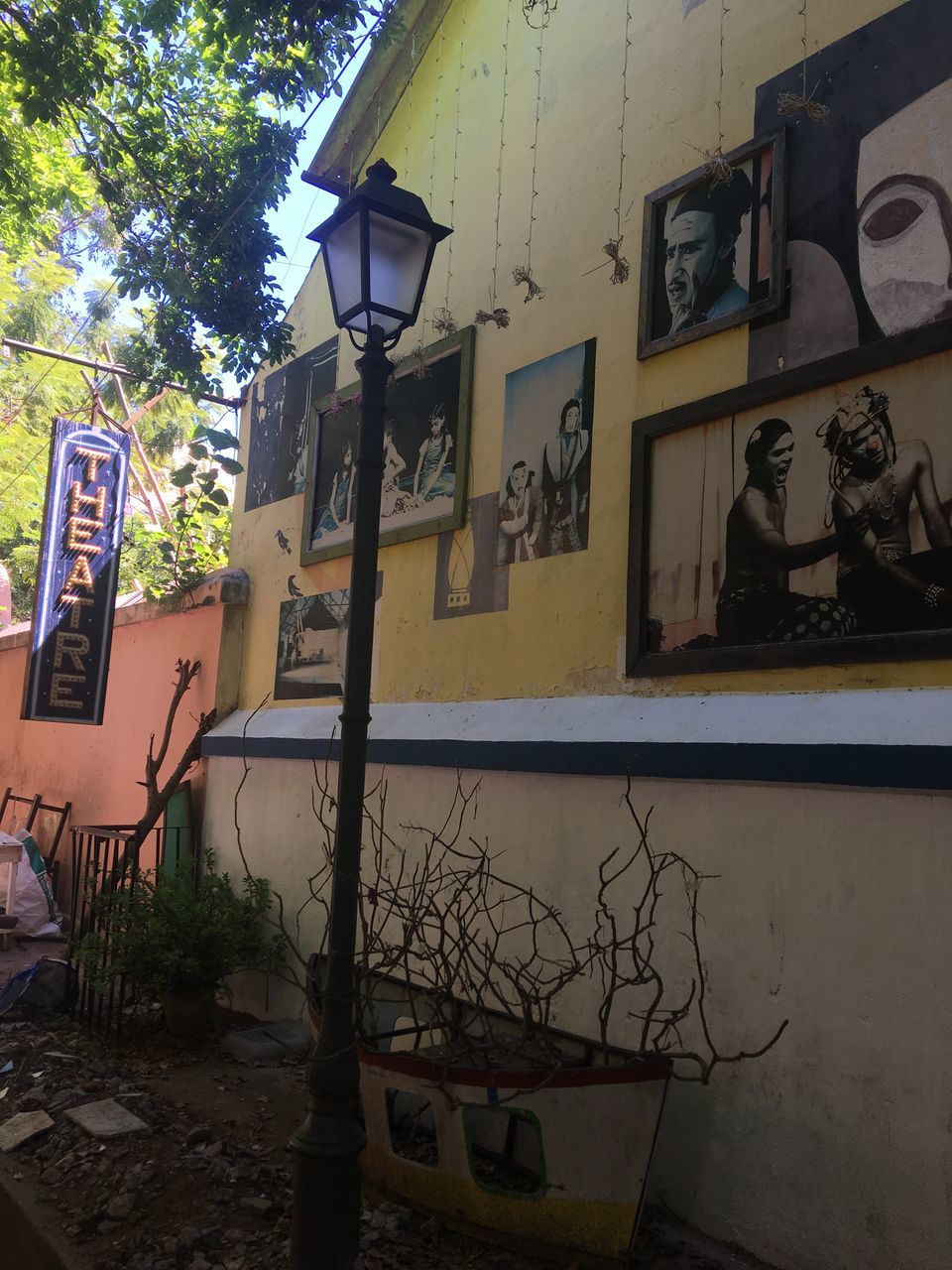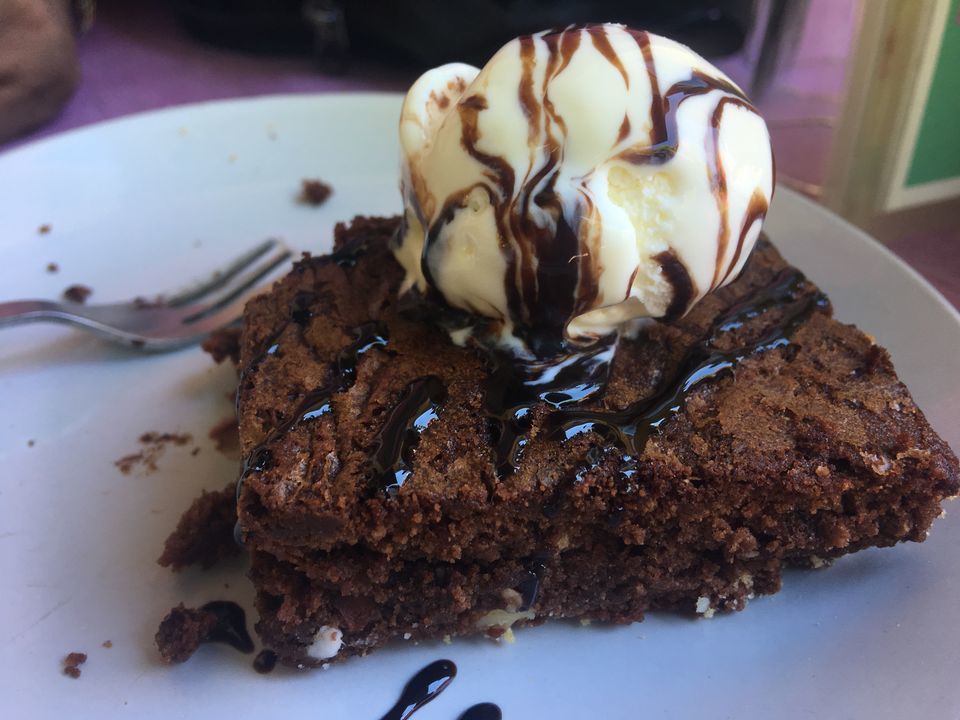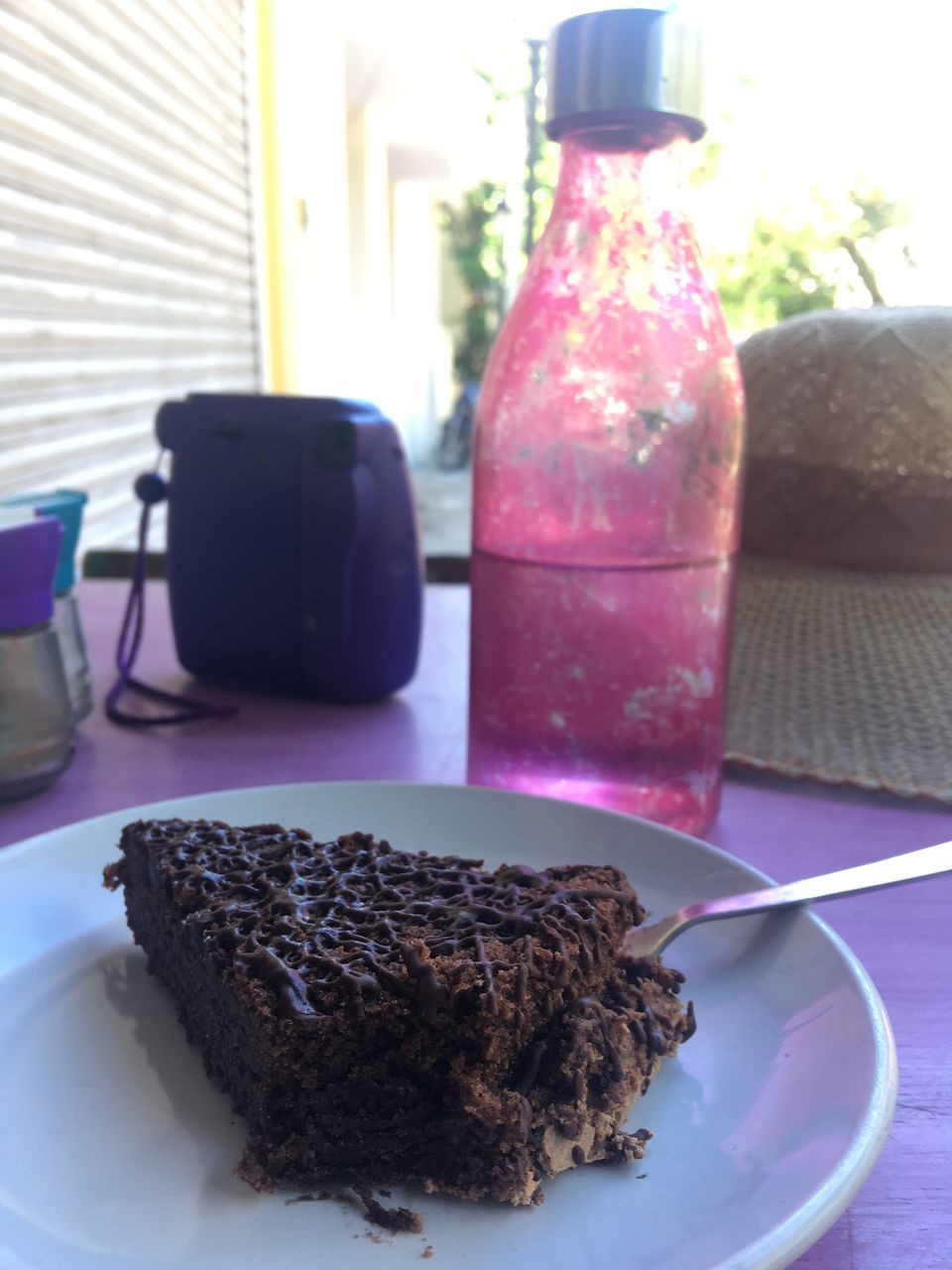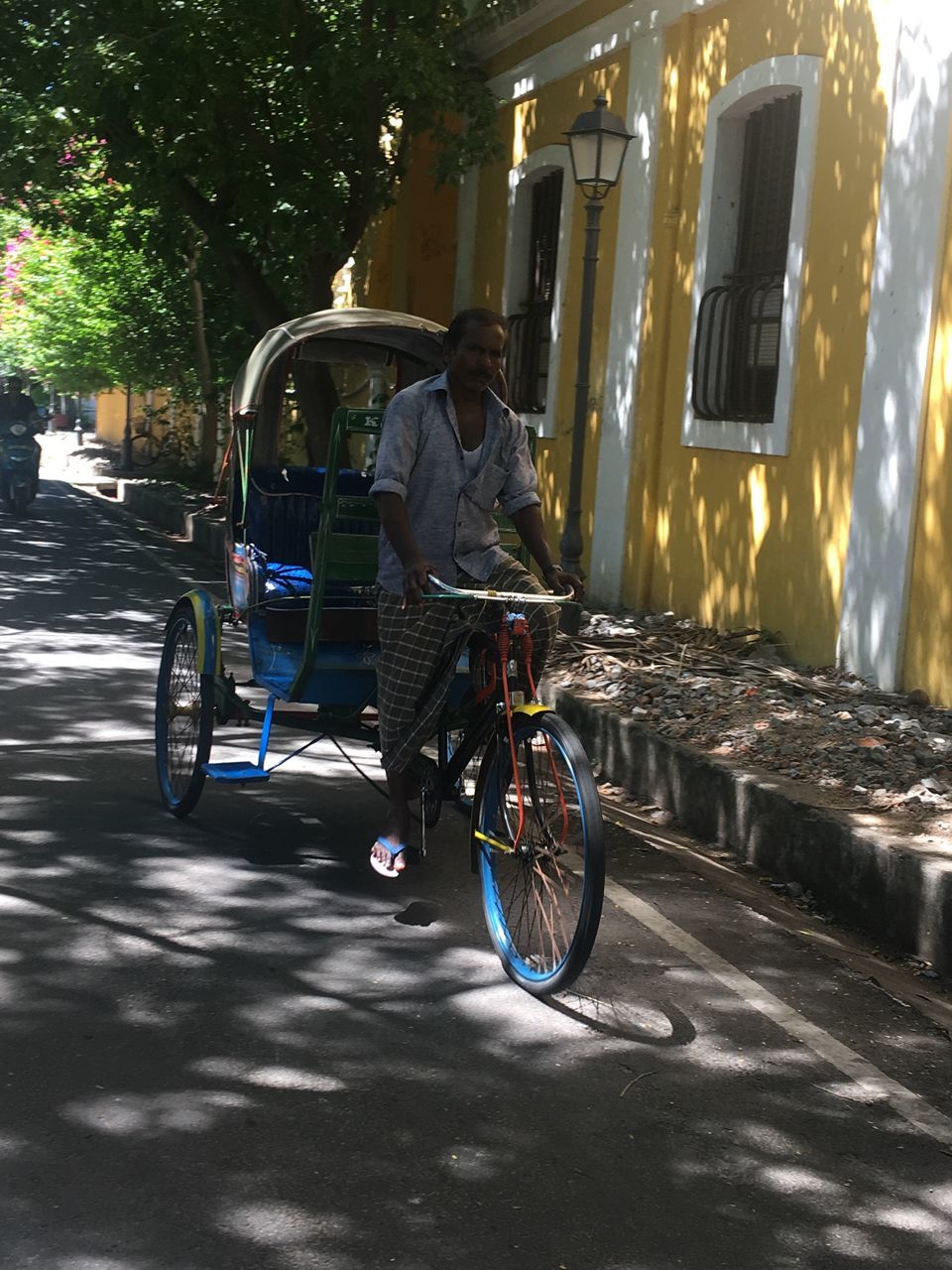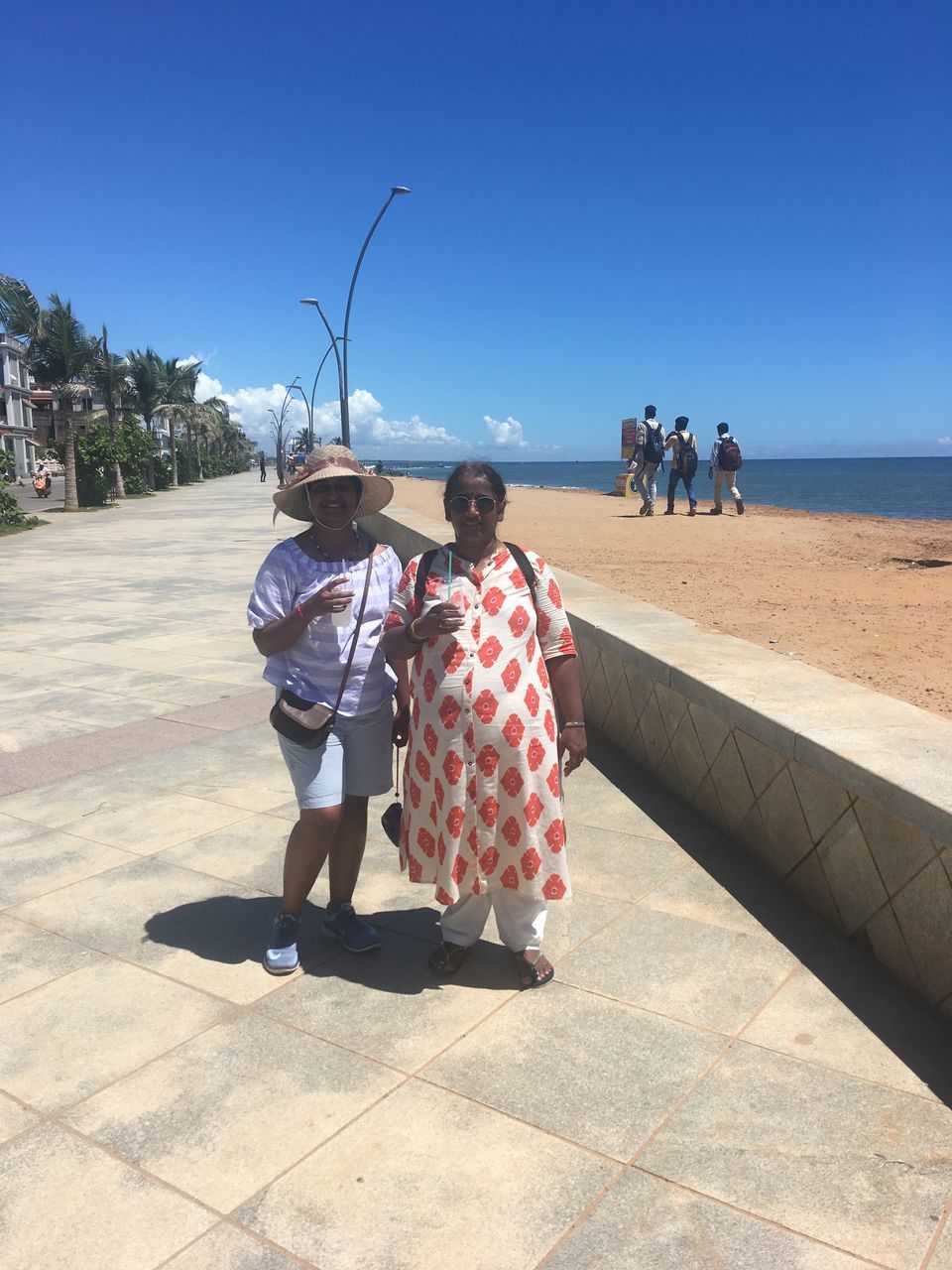 Pondicherry is famous for its Tamil-French cuisine.
Here are some really cool places to eat and shop on the French streets.
Le Café : The Café is on the beach side, and is open 22 hours everyday. Best place for some early morning coffee and light breakfast.
Surguru , Anand Bhavan : For Perfect South Indian Food !
Café Xtasi : Best thin crust wood burnt Pizza ! All Pizza varieties are good here, both vegetarian and non-vegetarian. Must Try ! The place is a little crowded and we had to wait for 15 mins just to get in !
GMT : Ice cream !
There are many eateries in every lane of the colony - Café de arts, Baker Street, Auroville Bakery, for some fresh croissants, waffles and pastries !
Aurobindo Ashram visit : We then visited the Aurobindo Ashram, which is a 5min walk from the Ashram Guest house. It is such a calm and serene place to be at ! Spend some peaceful time in the Ashram and get to know about the Mother and her teachings.
Vinayagar Temple : At 4pm in the evening the temple opens, and Lakshmi, the elephant offers her first prayers. Be there by 4pm to see Laxmi and say a Hi ! The temple is a pretty good construction. Don't miss to observe the roof of the temple, with beautiful paintings depicting Ganesh's stories.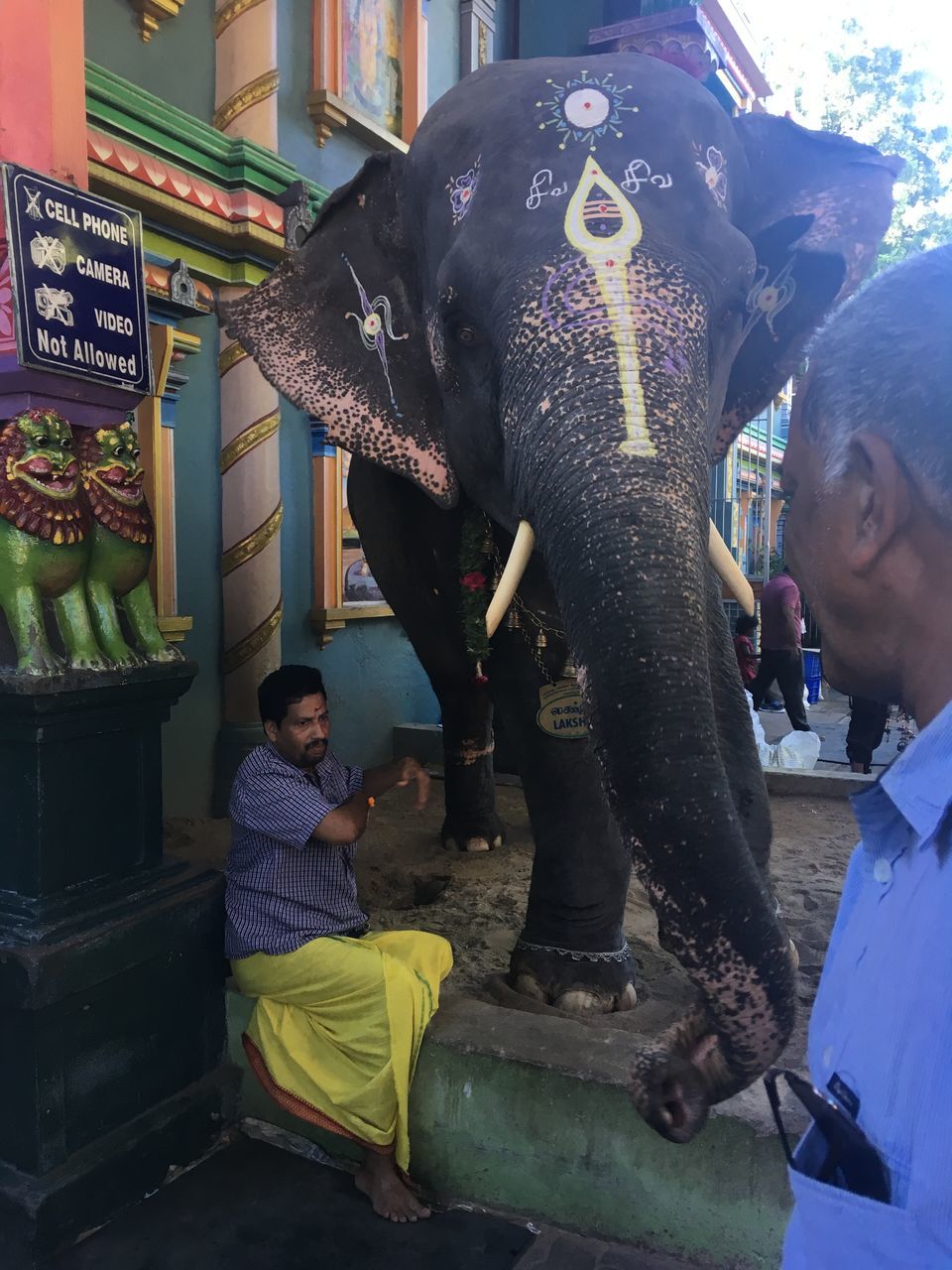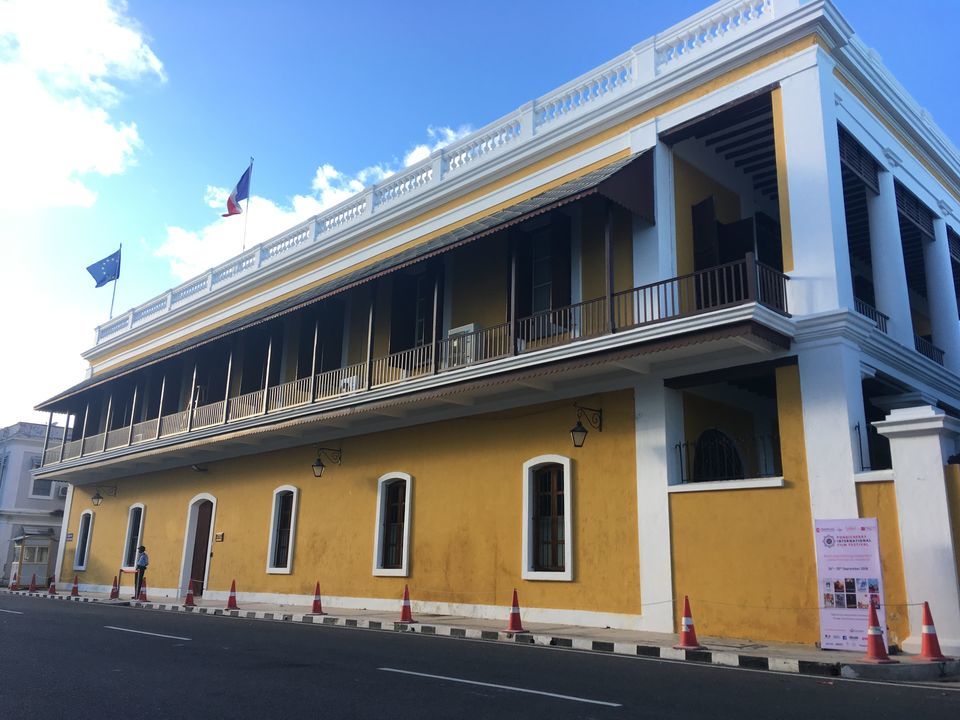 In the night, Mom and I planned to have a wood crust pizza, and rushed to Cafe Xtasi. Its a 15 min walk from our stay. The place is so full all the time, we have to wait for tables. After a short wait, we got a cool place and some truly amazing pizza. Do not miss this place and the wood crust pizza here, when in Pondy.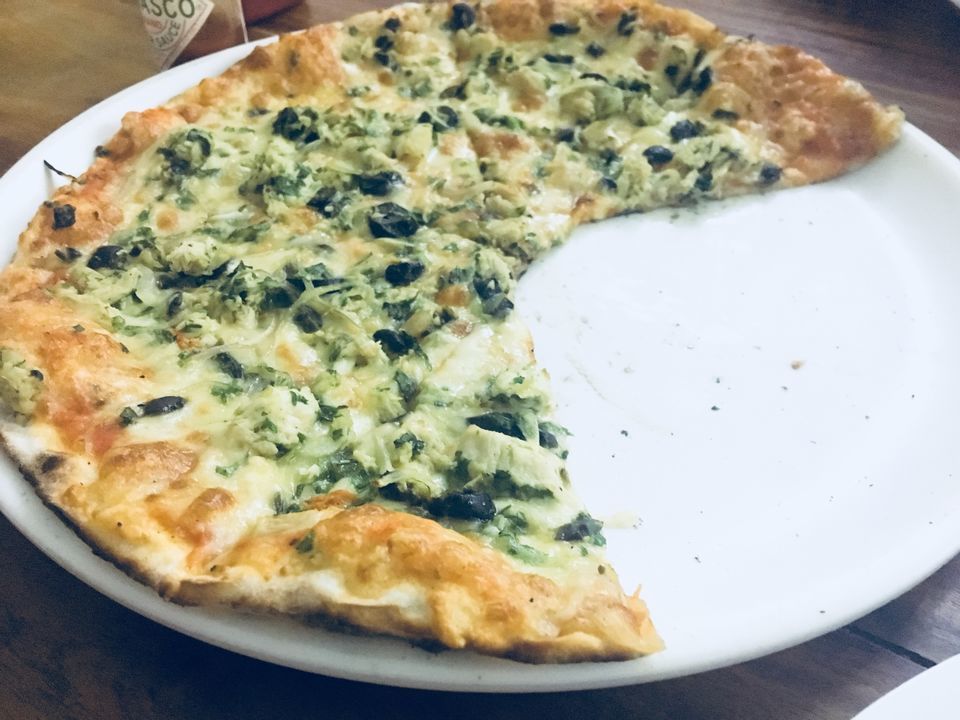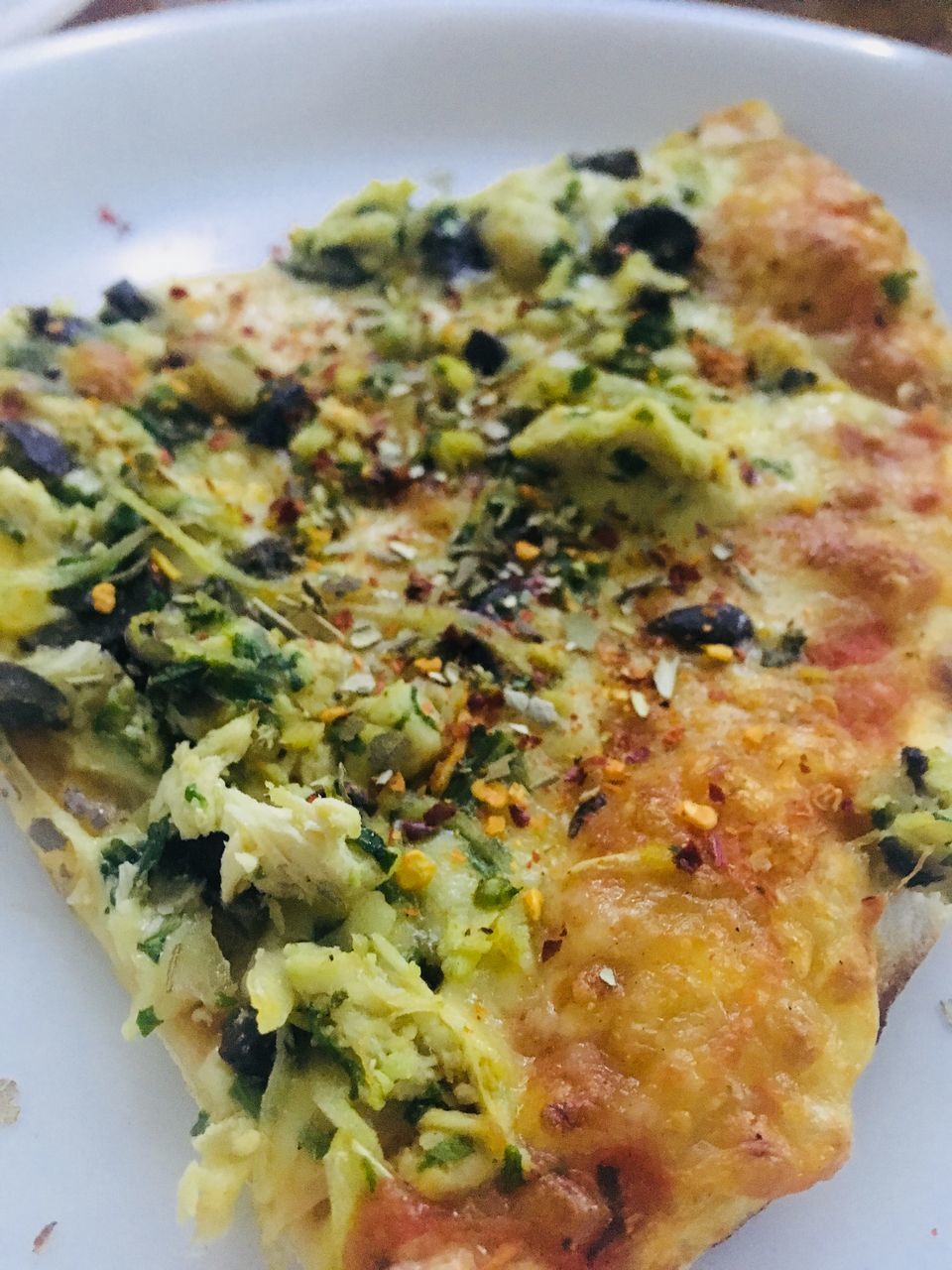 Day 3 : 1st October, 2018 - Visit to Auroville
Next day, after the sun rise view, we started to Auroville.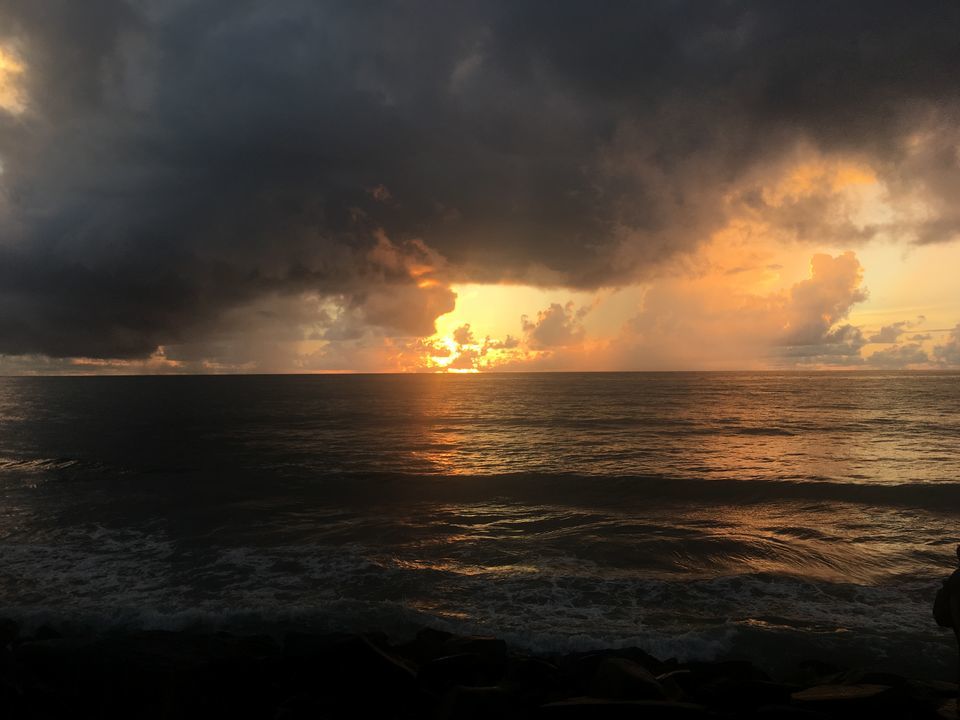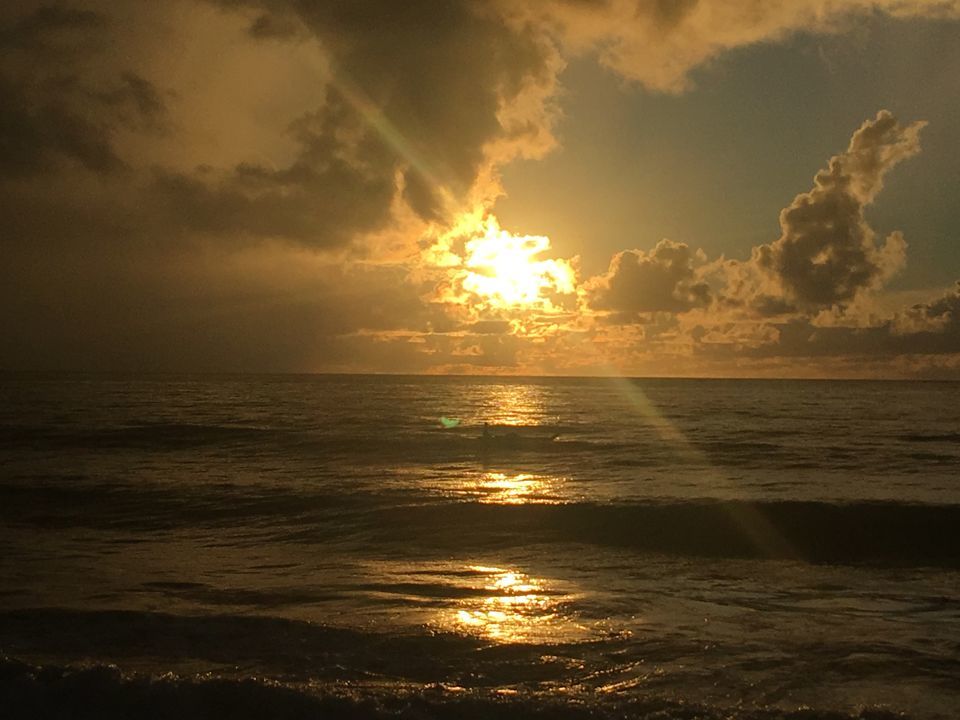 We booked an auto to Auroville, which is 15 km from the french colony. Its a half an hour drive. After reaching there we need to take a pass to visit the globe. We need to walk for a while, to reach there !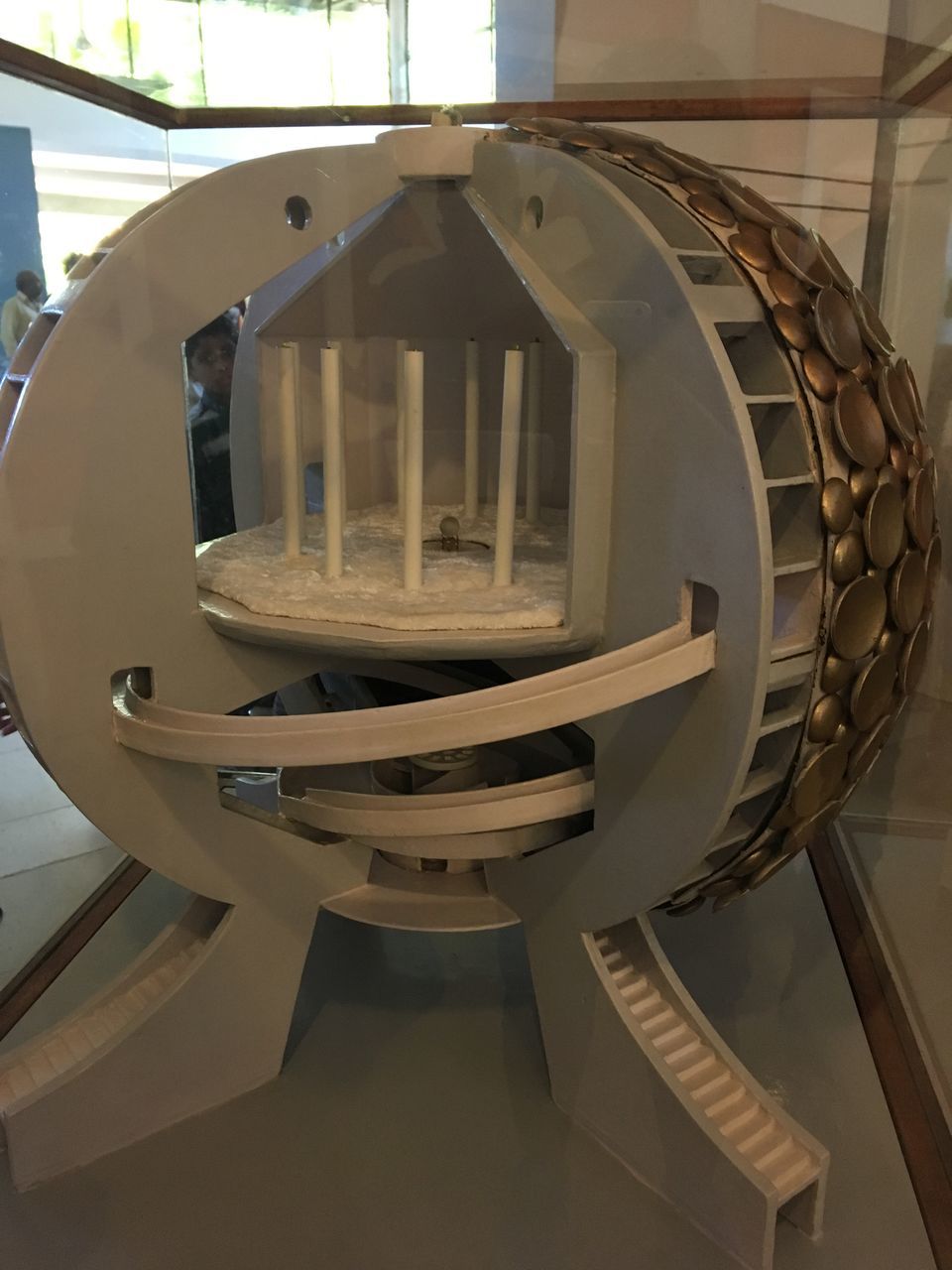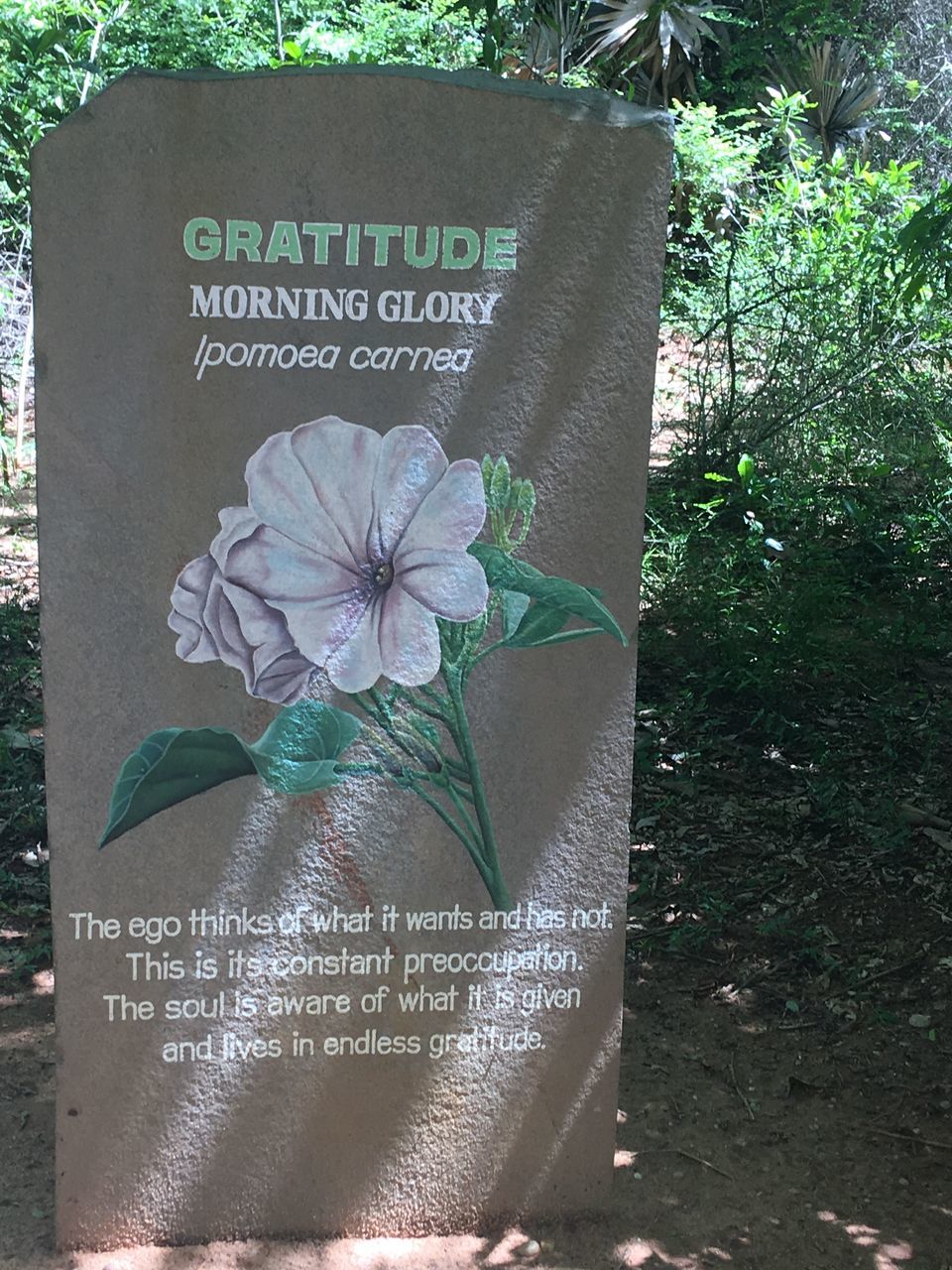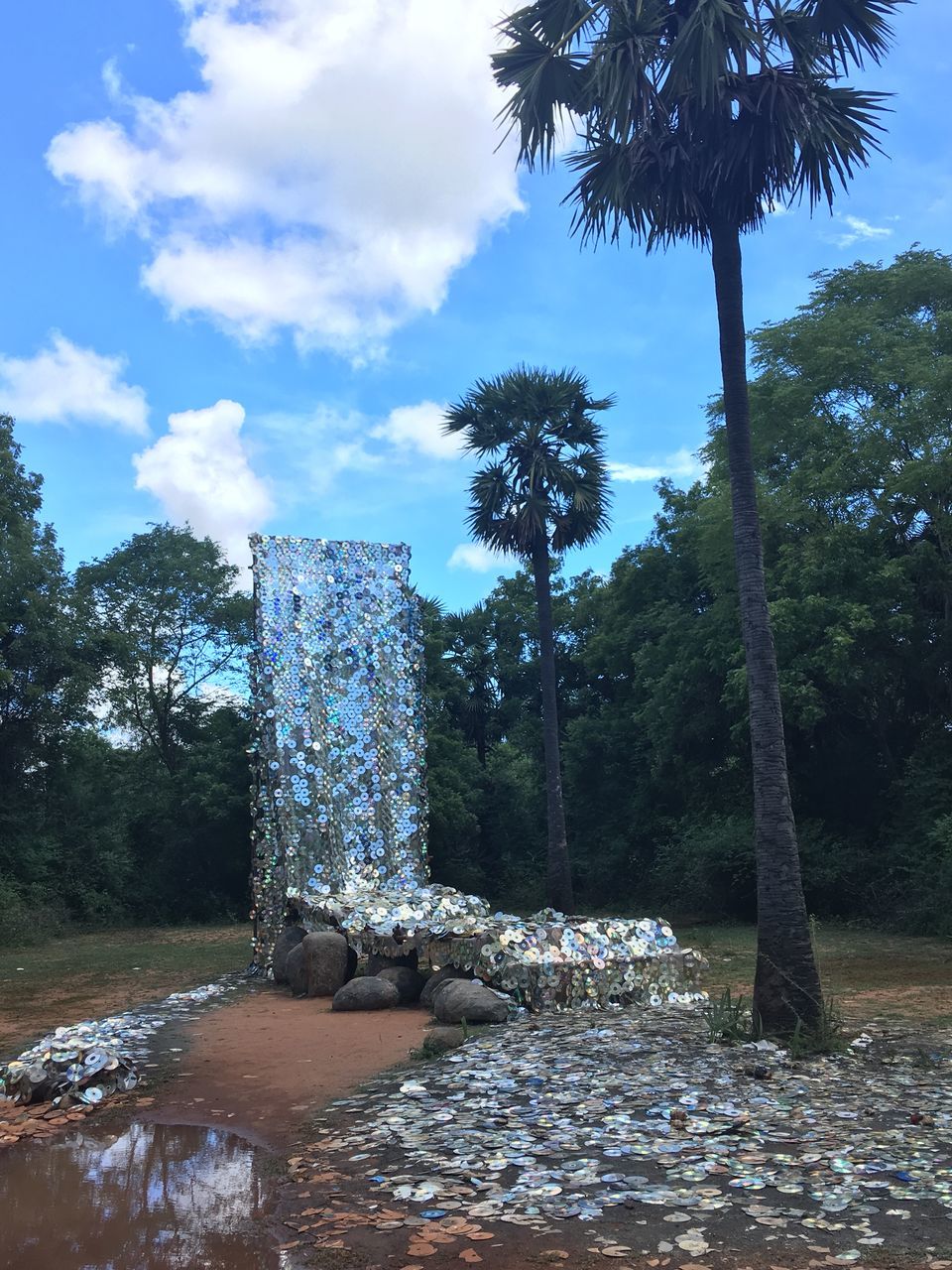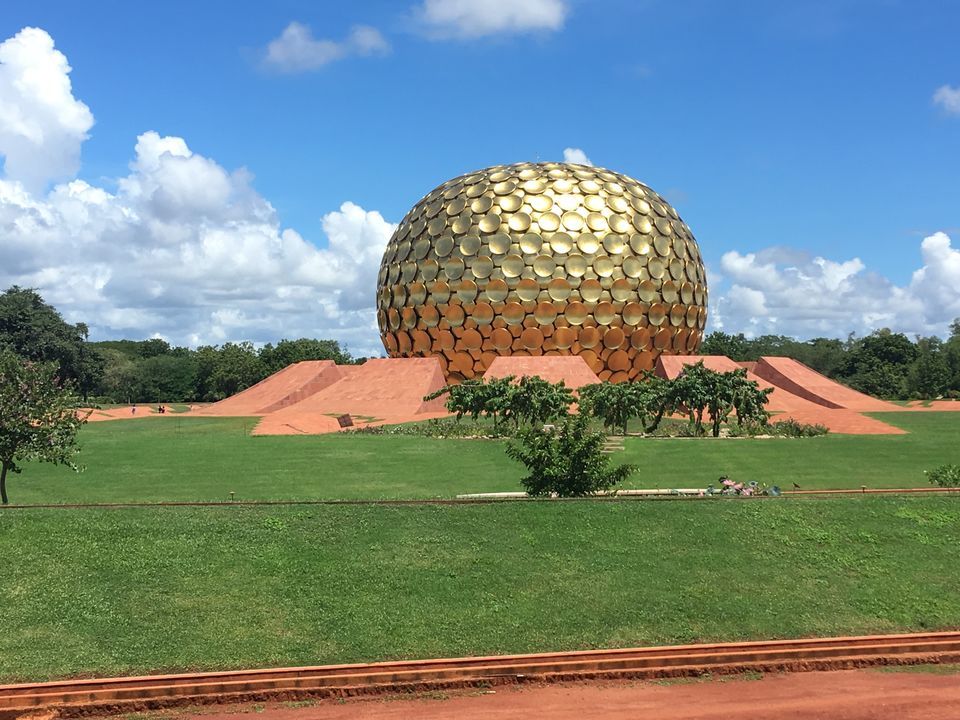 The place is calm and very well maintained. We can only see the globe from a distance. However, to go inside the globe and meditate, we need to take a special pass 2-3 days before.
People here have a very simple lifestyle, yet are all happy. You can find a lot of potters, doing their pottery, number of stores, hand made exhibitions in and around Auroville.
Don't miss to visit the Auroville Bakery, which is on the way to Auroville from Pondy. Freshly baked breads, buns, jams, pastries sell like hot cakes (of course, they are), and if you are late, you might miss out on the best.
We reached back in the late afternoon, and after some rest, again wandered on the colony streets. Best part was roaming on the beach road. I want to be there again and again ! It just feels like roaming in your home garden, with so many people around you !
Day 4 : October 2nd , Gandhi Jayanthi.
Woke up for the sun rise again, and the celebrations at the Gandhi statue already began with school children displaying their work on Indian history.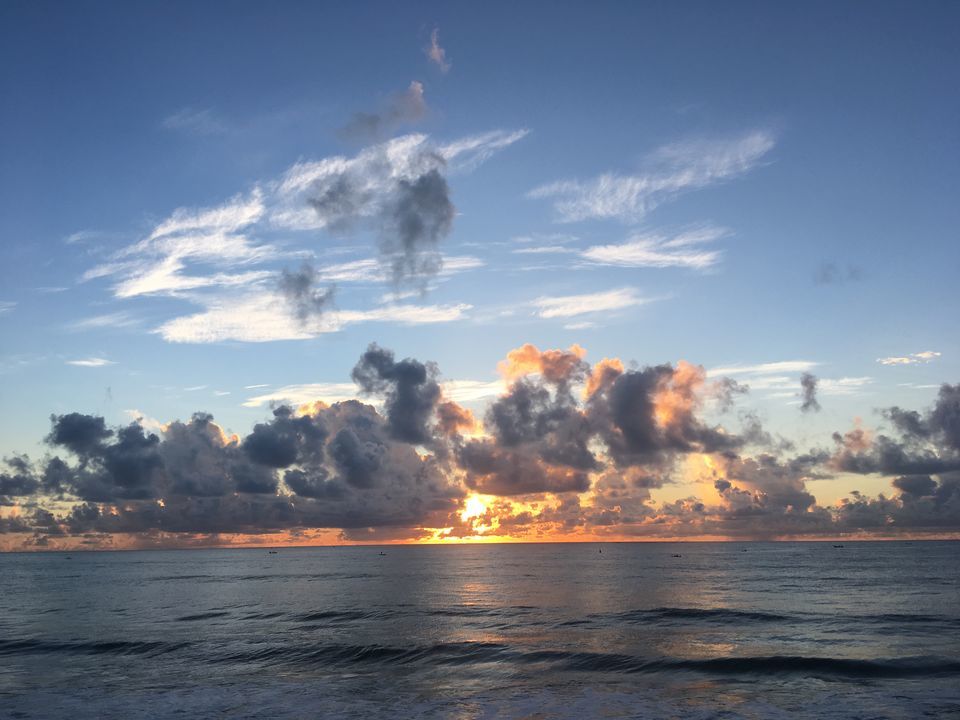 We started our journey back to Chennai by 10 AM in the morning. The buses were less crowded, and we were lucky enough to get the front and window seats, with full view !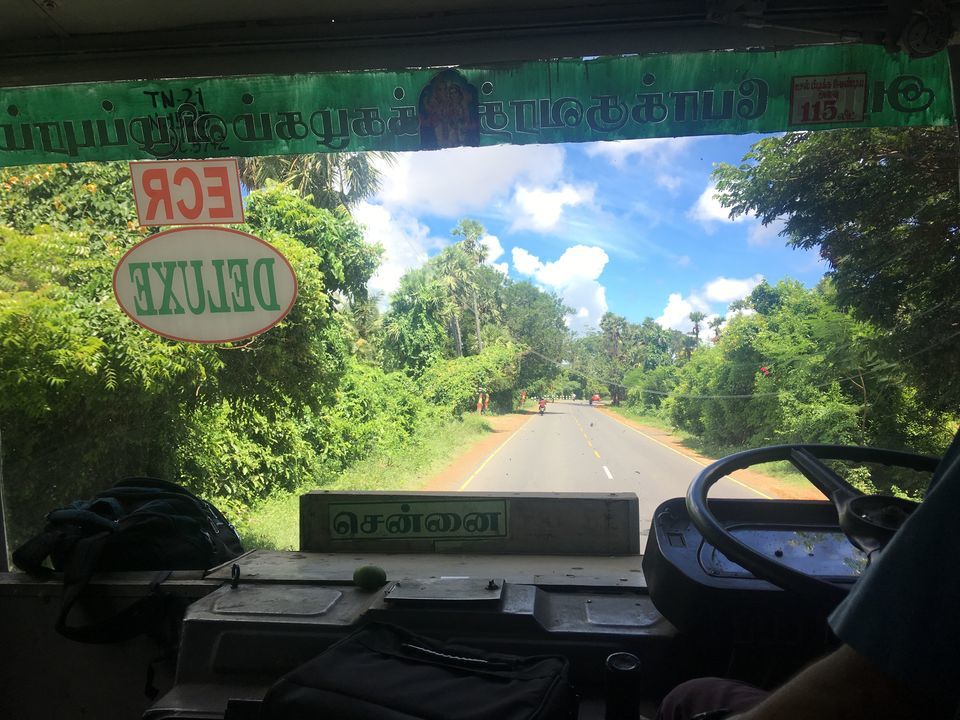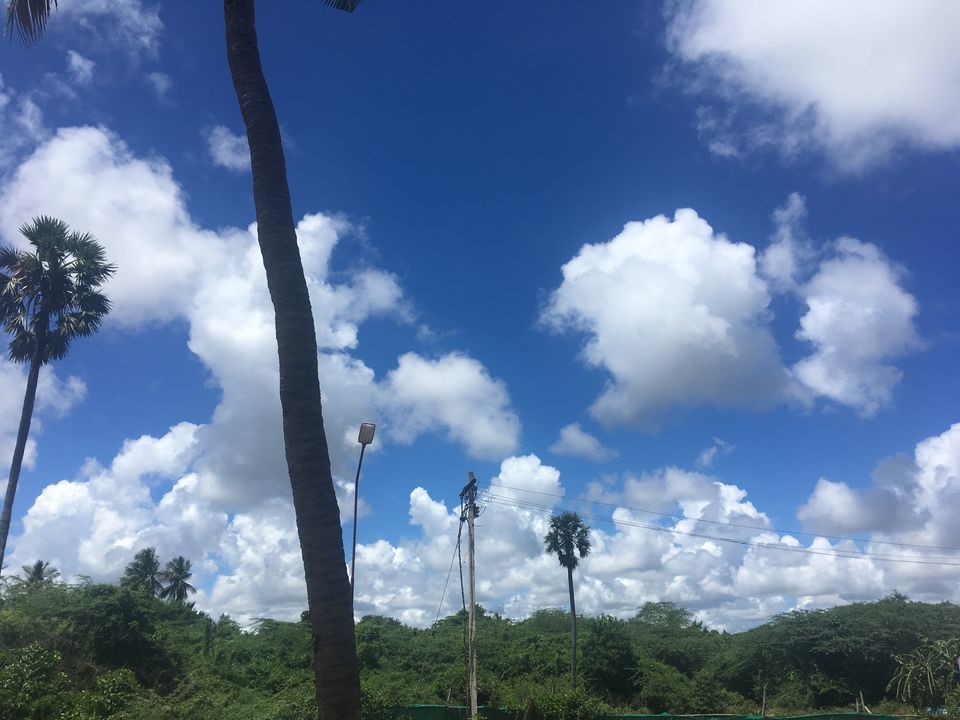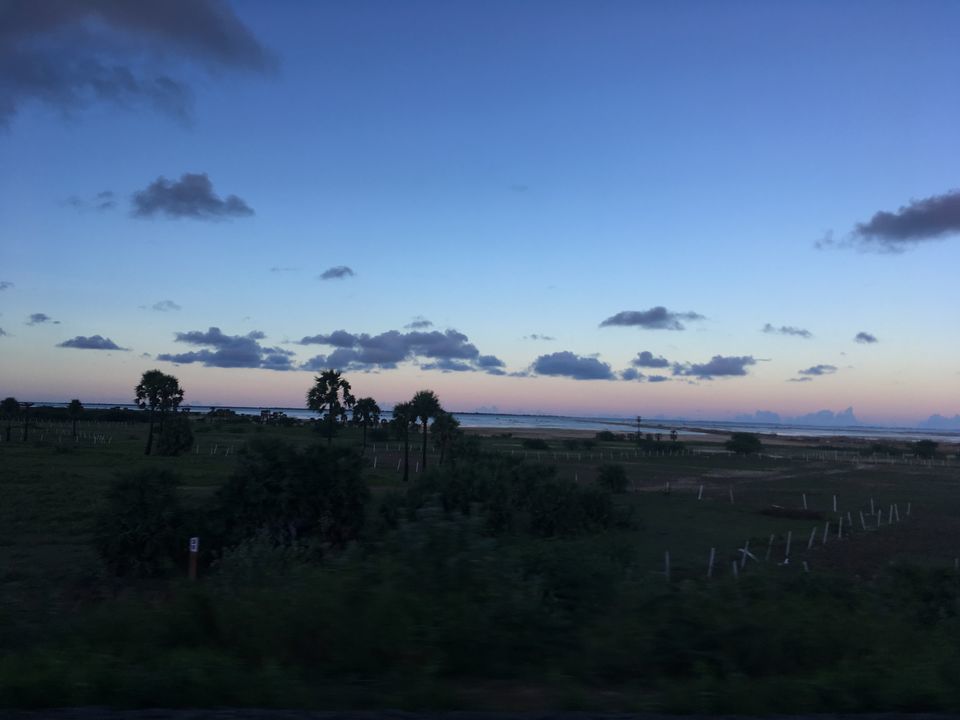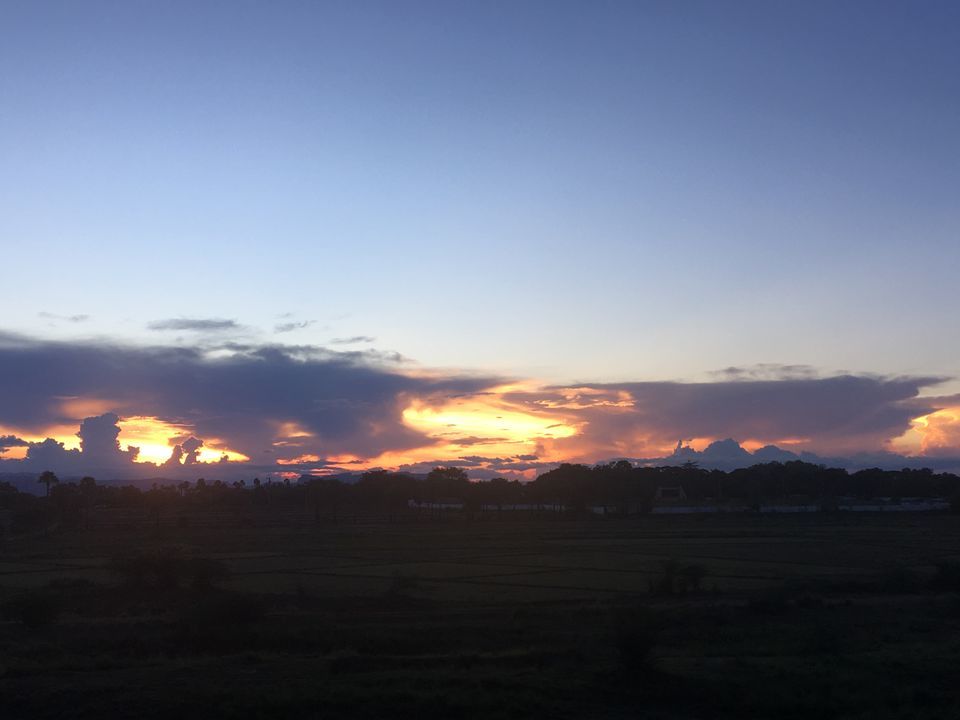 We were back in Hyderabad by 3rd October morning !
Pondy is a place for everyone ! Be it a peace seeker, foodie, photographer and the party kind !!!
It was one best holiday I had with my family after a long time, and would suggest it to everyone else too !
And remember, one day is definitely not enough to explore Pondy. There are still many more places in Pondy I haven't visited, and I am ready to go again !
Hope you have a wonderful holiday and message me, if you need help !
Thanks for reading !