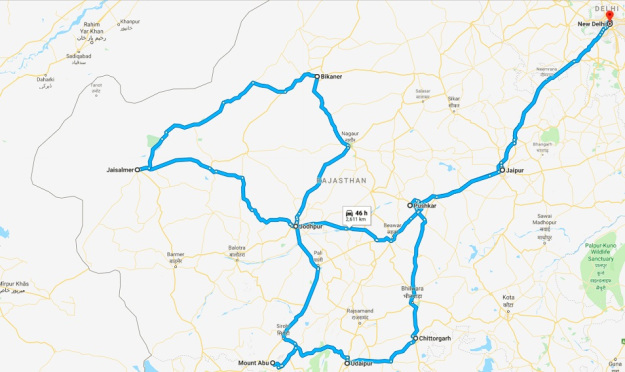 For the first leg of our journey, I booked ourselves in Howrah Rajdhani till New Delhi. After a brief hitch (which made us almost miss the train) we boarded the 2AC coach one March evening. We, including my son, enjoyed the journey to the most. Food was good, and so were the co passengers. Our connecting train to Jodhpur was at same night from Old Delhi Jn. I had booked a retiring room and got ourselves transferred to Old Delhi on reaching New Delhi. Retiring rooms can now be booked online from the IRCTC website - Accommodation link or directly from http://www.rr.irctctourism.com. The room at Old Delhi Jn. was old but spacious. We made the most of the time available to us, and after a quick nap went to the Red Fort in the evening. It is closeby from Old Delhi Jn. and rickshaws are available from outside the station. I have been there before, but entered the complex for the first time. We relished the Mughal construction and my son enjoyed the lush green lawns. Then we did some quick shopping in the famous Chandni Chowk, known for zari embroidered cloths and street food. After a quick dinner we waited impatiently for our first connecting train to Jodhpurand begin our journey into the Land of Maharajas, Rajasthan...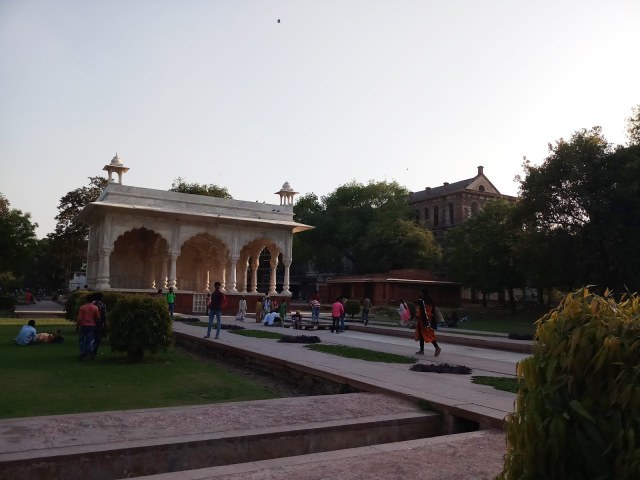 I will cover the entire trip in multiple posts. First one being from Kolkata till New Delhi.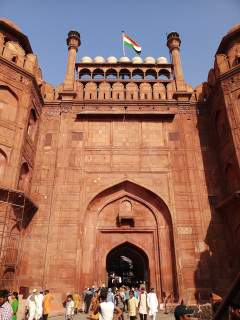 This entry was posted in Travel and tagged Delhi, Rajasthan, Red Fort, Travel on by The Secured Traveller.
Part 1 of a 15 days Rajasthan Trip in 2018
When I was planning a vacation in Rajasthan starting end of March, people thought I was out of my mind. One colleague from Rajasthan warned me that in April even car ACs fail in Rajasthan! I relied on Wikipedia and advices of few likeminded well-wishers (2 of them from Rajasthan, whom I met accidentally at an official training). Rajasthan is not entirely desert. In fact the state can be distinctly divided into desert area and semi-arid area. My research showed the maximum temperature during my visit hovers in the range of 33-35 C, which is acceptable compared to Kolkata standard. Also I had some personal constraints regarding the time selected. So finally I went ahead with the planning.
My intention was to cover maximum places during the trip. Given the rail heads from Kolkata, Rajasthan can be entered from two major cities. Either through Jaipur (via Agra Fort or Old Delhi) or Bikaner (via Old Delhi). One can also enter from Mount Abu (via Ahmedabad), but that is a longer route and falls in between the usual routes. Major cities to be covered in the state are Jaipur, Jodhpur, Udaipur, Jaisalmer, Bikaner, Mount Abu, Ajmer, Bharatpur and Chittorgarh. I like to plan and arrange for my trip myself. Various packages offered by online travel providers and local operators give me an idea of the route and places. I avoided flight, as in my opinion travelling with kid is best enjoyed by train. They get time to be accustomed and enjoy the journey. I initially planned my trip as:
Howrah - Bikaner - Jaisalmer - Jodhpur - Mt. Abu - Udaipur - Ajmer (via Chittorgarh & Pushkar) - Jaipur - Howrah.
Since I was travelling with my 2.5 year old son there were certain constraints. So I had to tweak my plan a bit.
Howrah – New Delhi – Jodhpur – Jaisalmer – Bikaner – Mt. Abu – Udaipur – Ajmer (via Chittorgarh & Pushkar) – Jaipur – New Delhi – Sealdah.
This ambitious plan was covering almost entire of Rajasthan in a single trip!